Where to Find the Best Cake Delivery in Ottawa
Need to satisfy sweet tooth cravings? Celebrating a special day? No matter what the day calls for, it's always nice to know you can get your hands on special sweet goodies conveniently delivered to you.
That's why we're helping you track down the best cake delivery services here in Ottawa. Check out this list to know where you can grab your next dose of sweetness!
Cakes for Every Occasion — and Budget!
Depending on what you need the cake for, you can find a shop that will cater to your needs and budget.
| Type of Cakes | Price Range |
| --- | --- |
| Ready-made cakes | $25 - $65 |
| Pre-ordered cakes | $35 - $220 |
| Digitally printed slab cakes | $50 - $325 |
| Customized cakes | *Price may vary depending on design ad ingredients |
What to Look For in Cake Delivery in Ottawa
Each cake shop offers a unique experience. The best ones vary for each customer depending on their preferences in flavor, presentation, etc.
That's why we looked for the best cake shops that offer delivery services depending on what matters to you most.
1. The Cake Shop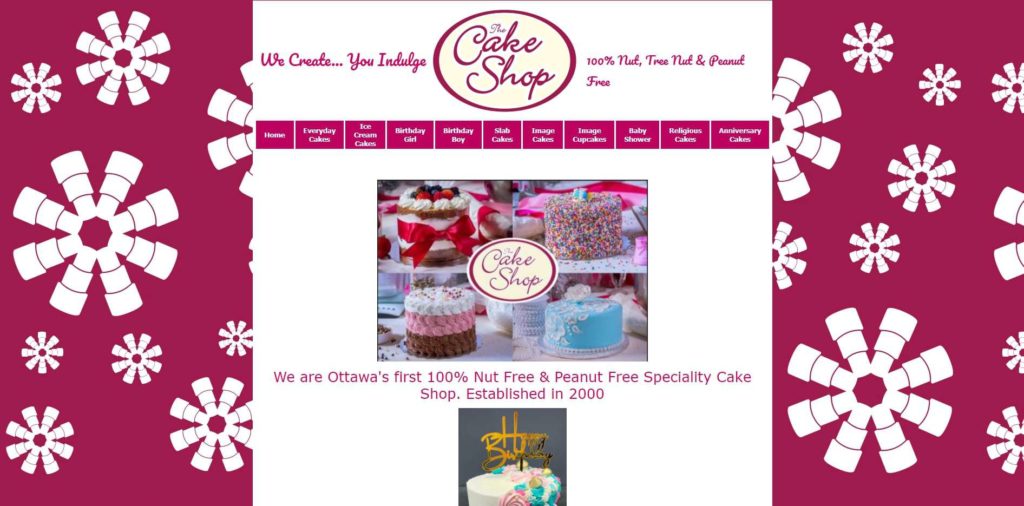 Test
Info
MUST-TRY:
Kitty-Kat Cake: It's a moist chocolate cake all covered in milk chocolate buttercream and topped with KitKat bars that are perfect for chocolate lovers.
WEBSITE:
https://www.thebestcakeshop.com/
ADDRESS:
1200 Wellington St West, Ottawa
CONTACT DETAILS:
613-721-9062
OPERATING HOURS:
Monday to Saturday: 9 am to 4 pm

Closed on Sundays

DELIVERY FEE:
Starts at $6.99 on online delivery platforms, free on your first order on Uber Eats and Door Dash
| | |
| --- | --- |
| Taste and quality | ★★★☆☆ (3.5/5) |
| Accessibility and delivery options | ★★★★★ (5/5) |
| Store hours and delivery schedules | ★★★★☆ (4/5) |
| Price range | ★★★☆☆ (3/5) |
| Cake selections | ★★★★★ (5/5) |
The best part about The Cake Shop Inc.'s cakes is that they are completely nut-free, and they offer a wide range of cake selections for those with dietary restrictions. They have vegan cakes, gluten-free, and sugar-free options, so there's a cake for everyone to enjoy.
If you're someone with peanut allergies or have celiac issues, The Cake Shop is going to be one sweet haven for you!
However, it pays to keep in mind that sometimes, healthier ingredients may compromise the taste. But that may vary depending on what's not on the cake and who's eating it.
That being said, the taste is not bad but not exactly top-tier. Nevertheless, knowing that you can still enjoy a good cake despite it leaning on the healthier side already makes up for that!
If you have enough time to plan for your special events ahead, their pre-designed and customized cakes are a delight for the eyes! You'll get artistically done and well-made cakes that can be a center of attraction for your special occasions.
Their staff and the owner will openly accommodate design requests and ingredient restrictions very well. Just make sure to book a week before to get your cake on time!
If you need a cake at the last minute, their ready-made cakes are pretty and elegant too, which makes them presentable for any occasion. Plus you can conveniently order these in food delivery services like Uber Eats and Door Dash!
Absolutely nut-free specialty cakes that those with peanut allergies can enjoy
Offers cake options for various dietary needs (vegan, gluten-free, and sugar-free options)
Available in multiple food delivery platforms like Ubereats, Door Dash, Skip the Dishes, and Givopoly
Offers ready-made cakes perfect for last-minute purchases
Accepts customized orders for special occasions
Not all cakes in their menu are available for online delivery
Customized cakes require at least seven days pre-order
Closes early at 3:40 pm, so you have to make sure to always book early if you want your cakes delivered within the day
Customer Reviews
Family Friendly Cakes
We've tried many of the cakes offered throughout the past 6 years, plus the cupcakes and cookies. For many occasions, mainly birthdays and anniversaries. Having family members with tree nut allergies, the cake shop is an amazing place. Always friendly, always welling to help and even created designs that were not in the website. – Sohail A.
Gorgeous Cake
Amazing customer service! I ordered a cake for a special anniversary and it turned out so beautiful and very delicious. Gorgeous work done on the cake, and it was packaged in a very secure box. Will definitely be ordering from here again. Very happy with this cake! – Smriti Vatsa
2. The Cupcake Lounge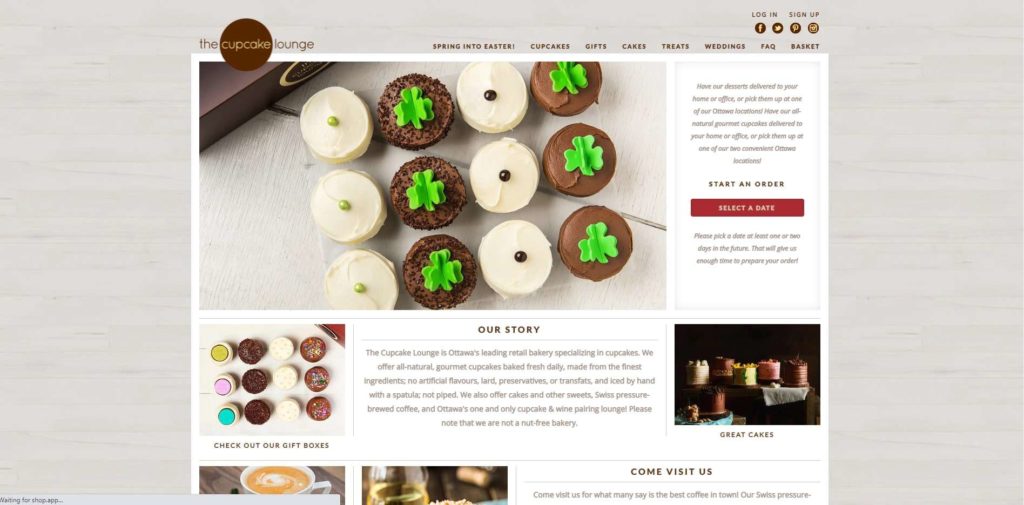 Test
Info
MUST-TRY:
Classic Carrot Cake: A beautiful and delicious take on the classic favorite. It's simple, familiar, and can make you feel warm on the inside.
WEBSITE:
https://thecupcakelounge.com/
ADDRESS:
6 Byward Market Square Ottawa / 324 Richmond Road Ottawa
CONTACT DETAILS:
Byward: 613-862-0926 (Byward)

Richmond: 613-862-0926 (Richmond)

OPERATING HOURS:

Byward:

Every day: 10 am to 7 pm every day of the week

Holidays may differ




Richmond:

Sundays to Thursdays: 10 am to 6 pm

Fridays and Saturdays: 10 am to 7 pm

Holidays may differ

DELIVERY FEE:
$15 to $40
| | |
| --- | --- |
| Taste and quality | ★★★★☆ (4/5) |
| Accessibility and delivery options | ★★★☆☆ (3/5) |
| Store hours and delivery schedules | ★★★★☆ (4/5) |
| Price range | ★★★☆☆ (3/5) |
| Cake selections | ★★★★☆ (4/5) |
Cupcakes are cakes in tiny! And although the Cupcake Lounge is known as the top cupcakery in town, their cakes won't fall short of your expectations.
To be honest, their cakes are actually even better than their cupcakes.
The Cupcake Lounge serves comforting gourmet treats that are hand-baked and freshly made on the site every day. Their seasonal flavors are always a must-try!
All their cupcakes, cakes, cookies, and pastries are vouched to have no artificial flavors and preservatives. It's the best option if you're the type who watches what you eat.
However, gourmet organic ingredients can be a little expensive, so don't be surprised if their cakes are a little on the pricey side.
Not to mention that their locations are pretty much in hot spots. Their two convenient locations in Byward and Richmond are both also very welcoming in accepting consultations if you need to have your cakes customized for special occasions.
Aside from their tasty cakes and cupcakes, their staff can be pretty sweet too. They'd go the extra mile for their customers, be it adding simple notes on their cupcakes or giving you an extra treat if your order is out of stock.
Did I mention that they're also open all seven days of the week? You can get your sweet fix delivered to you any day you want if you book right on time.
If you're in a hurry to get a good cake though, you might want to reconsider. Their cakes need at least one to two days lead time for delivery.
The good news is, you can have their cupcakes delivered to you anytime through online delivery platforms like Uber Eats and Door Dash. Custom cakes need to be booked at least a week in advance.
All cupcakes, cakes, and pastries are made of all-natural ingredients
Freshly baked goods every day
Cupcakes are available in online delivery platforms like Uber Eats, Door Dash, and Givopoly
Open every day of the week
Requires one to two days preorder for cakes and seven days for custom cakes
Can be pricey
Limited cake options
Customer Reviews
Impressive Cakes
As an expat in California, I am surrounded by many famous cupcake brands; Cupcake Lounge should be proud that can stand toe-to-toe with all of them. I have ordered cakes from cupcake lounge once for a birthday and once just as a treat walking through the market, and I have been very impressed each time. The cakes are moist and the icing is super flavorful. I am especially a fan of the maple cake, which is a nice Canadian twist on a standard cupcake offering. – Vijay N.
Never a Bad Experience
I have never had a bad experience with Cupcake Lounge! Their classics such as Oreo and Red Velvet are always dependable and I love the seasonal options as well.
My recent Uber Eats experience was even more lovely. One of the items I had ordered was out of stock and they subbed it out for an even better Marshmallow Ganache! Thanks so much, guys for the friendly note and the A+ service.– Stephanie Moodie
3. Three Tarts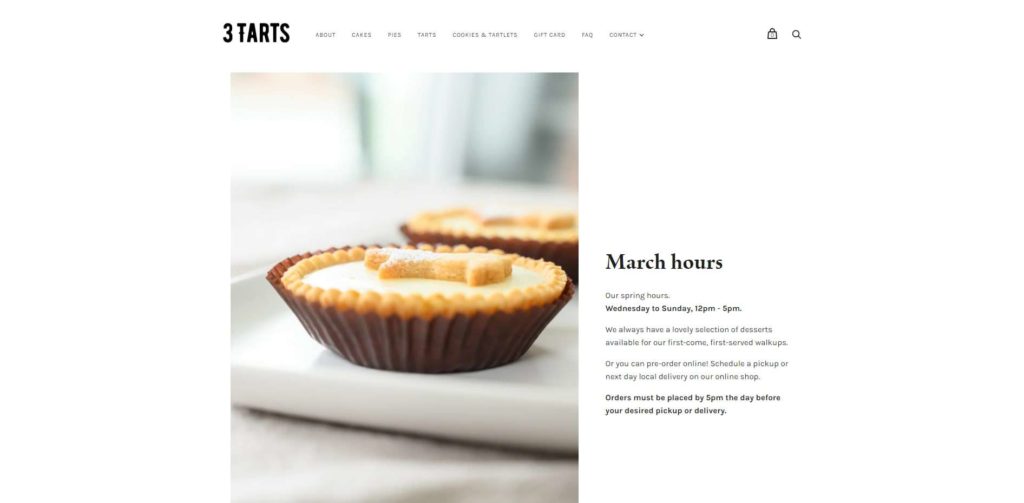 | Test | Info |
| --- | --- |
| MUST-TRY: | Symphony of Chocolate: Layers of white chocolate mousse and dark chocolate mousse in harmony on top of a chocolate sponge cake and glazed with dark chocolate ganache |
| WEBSITE: | https://threetarts.ca/ |
| ADDRESS: | 3-464 Banks Street, Ottawa |
| CONTACT DETAILS: | 729-9832 |
| OPERATING HOURS: | Wednesdays to Sundays: 12 pm to 5 pm (March hours) |
| DELIVERY FEE: | $15 with a minimum order of $30 |
| | |
| --- | --- |
| Taste and quality | ★★★★★ (5/5) |
| Accessibility and delivery options | ★★★☆☆ (3/5) |
| Store hours and delivery schedules | ★★★☆☆ (3/5) |
| Price range | ★★★☆☆ (3/5) |
| Cake selections | ★★★☆☆ (3/5) |
Since 1996, Three Tarts has been bringing old-school-style Canadian cakes and pastries that are handmade and served fresh daily. You can almost feel the love when you bite in on their goodies.
Locals love them for their sinfully great tarts, pies, and cakes, but they also have gluten-free options. In fact, it's hard to find anyone with a bad thing to say about the tasty goodies that they serve.
Fresh, delicious, pretty, and with just the right amount of sweet, their goodies are obviously of high standards. A bit on the expensive side but rightfully justified.
You'll also love that they have gift cards that can be used to purchase online. If you're not sure which treat a friend or a loved one will like, you can send them a gift card instead so they can freely choose for themselves.
Their menus change with the season—which may or may not be a bad thing. Just prepare yourself not to crave for a certain flavor when it's not in season to avoid getting disappointed.
On the brighter side, that also means you'll always have new flavors to look forward to as the seasons change!
Impromptu cravings are also to be avoided if you love their treats. They only do deliveries on Wednesdays, Thursdays, and Fridays from 1 pm to 4 pm.
It's unfortunate too that they only deliver in locations with K1 & K2 postal codes in the Ottawa area.
If you want to pre-order cakes, you'll have to send them an email. The shop may run crazy busy during business hours, and your calls may just end up in the voice mail.
If not for their limited operating hours and limited delivery options, Three Tarts would be the best choice to get the best tasting cakes in Ottawa. Some good things can be pretty hard to get sometimes.
Exquisite-tasting gourmet cakes and pastries
Gluten-free options are available
Reasonably priced for the taste
Offers gift cards for online purchases
Limited delivery days and time
Limited delivery areas (only K1 & K2 postal codes in Ottawa)
Limited cake options
Elusive phone lines during business hours
Does not make customized cakes and desserts
Customer Reviews
Best Bakery in Ottawa So Far
Great staff and the cakes and tarts are unbeatable. Try the Symphony cake. Bet you it won't be the last one that you will buy. Always made fresh with high quality ingredients. What an amazing bakery. We're so lucky to have it in Centretown. – Y5119DDmv
Great Cakes!!!
Three Tarts is the go-to place for high-quality cakes and desserts.
Prices, while not cheap, are reasonable; especially when you consider the finished product.
If you need a cake that will impress with its looks, then satisfy with its taste, Three Tarts is your place. – Brandon C.
4. ThimbleCakes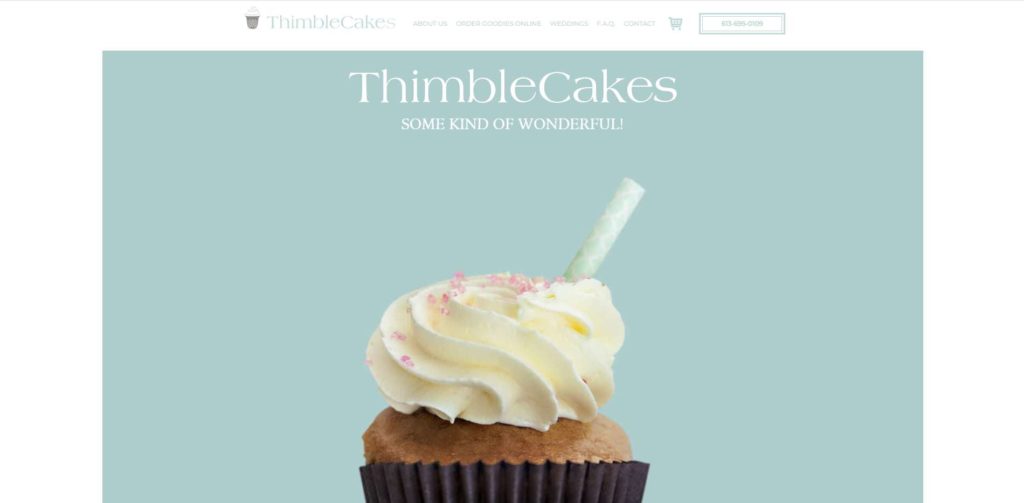 Test
Info
MUST-TRY:
Gluten-Free Candy Cake: It's a fun chocolate and banana marbled cake covered in purple candy icing—all gluten-free and tummy-friendly!
WEBSITE:
https://thimblecakes.ca/
ADDRESS:
369 Bank St, Ottawa
CONTACT DETAILS:
613 0109
OPERATING HOURS:
Tuesday to Saturday: 11 am to 6 pm

Sunday: 11 am to 5 pm

Closed on Mondays

DELIVERY FEE:
Rates based on distance with a minimum order of $50
| | |
| --- | --- |
| Taste and quality | ★★★★☆ (4/5) |
| Accessibility and delivery options | ★★★☆☆ (3/5) |
| Store hours and delivery schedules | ★★★★☆ (4/5) |
| Price range | ★★★☆☆ (3/5) |
| Cake selections | ★★★☆☆ (3/5) |
If you want classy and elegant wedding or celebratory cakes, think ThimbleCakes!
Though taste can be subjective, we must say their level of sweetness is loved by many. For ThimbleCakes, just the right amount of sweetness is the way to go.
They stand by the quality of their products so firmly that if you find yourself unsatisfied, they'll be willing to replace it or send you another one.
More importantly, their cakes are allergy conscious. This makes their cakes perfect for gifting or serving guests on your special occasions.
Give them a call to notify them of ingredients to avoid!
They make all their cakes and pastries in-house and are completely free of nuts, sesame, honey, and gelatine. Their vegan and gluten-free options are favorites for those observing said diets.
Not only are they allergy conscious, but they also claim to be environmentally conscious. You'll see for yourself that they use eco-friendly materials that are either compostable or recyclable right up at the storefront—from their product displays to packaging.
They do accept orders through delivery platforms like Uber Eats, Givopoly, and Pure Kitchen for their treats. However, cakes must be ordered directly from the store and may take 48 hours, so call ahead of time if you need it on a specific date!
They make really prettily styled cakes, but if you love fondant, this might be a skip for you because they don't make cakes with this type of icing.
If you need a cake for your wedding, their cake designer will make sure your requests are taken seriously.
This meticulousness can be a hindrance for some because booking a wedding cake requires you to speak to their stylist, or your cake won't be booked!
Not everyone will have the time for a close conversation, but we totally understand that this is done so the client's instructions will be followed to a T.
They also offer other stylized wedding goodies, chocolate fountains, and tablescapes to make your event extra sweet and special.
Wide range of cake prices (starts from $27 to $325)
Allergy-conscious cakes
Offers vegan and gluten-free options
Utilizes eco-friendly materials
Other wedding goodies like chocolate fountains and tablescapes are also available for delivery
Doesn't accept customizations on their cake and icing flavors
Can be pricey
Fondant cake options are unavailable
Customer Reviews
Not Disappointed
We booked with ThimbleCakes for our Sept 25th wedding and we were not disappointed! We needed a cake that was peanut-free (my husband is highly allergic), and we knew we could trust ThimbleCakes. The booking process was super easy, and we loved that we got to try samples before we ordered! We ordered a small tiered cake as well as cupcakes of the same flavour so our guests could easily grab a taste throughout the evening. ThimbleCakes delivered right to our reception room and set up everything beautifully. Of course the cake was DELICIOUS – we can't wait to have our frozen top layer on our anniversary just to taste it again! – Kristie Comeau
Gorgeous Masterpiece
I ordered the Candy Cake for my fiancee's birthday and she loved it!
First of all, look at that masterpiece, gorgeous! On top of that it was absolutely delicious!
Everything from the order placement to the delivery was top notch. Honestly If i could give more than 5 stars I would. Great job! – Marco C.
5. Batter Up Bakery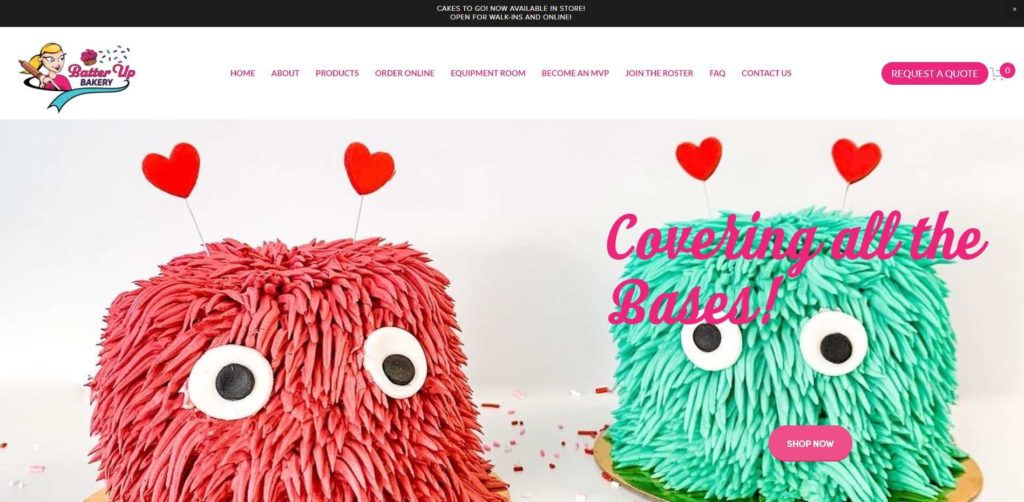 Test
Info
MUST-TRY:
Decorate Your Own Cake! It's a blank canvas of a cake that you can paint on your own!
WEBSITE:
https://www.batterupbakery.ca/
ADDRESS:
396 Athlone Avenue, Westboro
CONTACT DETAILS:
793 2253
OPERATING HOURS:
Tuesday to Friday: 8:30 am to 5:30 pm

Saturdays: 9:30 am to 12:30 pm

Closed on Sundays

Sometimes open on Mondays

DELIVERY FEE:
Starts at $15
| | |
| --- | --- |
| Taste and quality | ★★★★☆ (4/5) |
| Accessibility and delivery options | ★★★☆☆ (3/5) |
| Store hours and delivery schedules | ★★★★☆ (3/5) |
| Price range | ★★★☆☆ (3/5) |
| Cake selections | ★★★☆☆ (3.5/5) |
If you're planning a big event, you might want to consider Batter Up Bakery. They offer cakes for occasions like weddings and corporate events and can handle a big bulk of orders for your guests.
When it comes to special events, customized cakes are probably the best choice, and they will cater to this as you wish. You may pick your own flavor combinations to your heart's delight.
They also offer cakes to go if you have no time to "build" your own cake, but you need to place your orders at least three days in advance.
Their special add-ons like custom note cards and flower bouquets can also be a sweet addition if you're thinking of sending cakes as gifts.
Their cakes can be a tad expensive, but the owner and baker Jamie-Lynn will definitely be hands-on with all your requests and sometimes can try to squeeze in last-minute requests if time permits.
What we find special with Batter Up Bakery is how they treat cakes like art pieces. Their handiwork is so impressive; clients that have used their services for special events often become regulars afterwards.
Plus, they can also set up the cake for you in your event's venue! If you have themed celebrations, they'll be a great choice to make your events aesthetically pleasing with a personal touch.
Ideal cakes and desserts for big events
You can make your own flavor combinations
Option to include note cards and flower bouquets for deliveries
They also offer onsite set up for special occasions
Can be pricey
Requires early lead time: three days ahead for ready-made cakes and two weeks ahead for custom-made cakes
Requires 50% non-refundable deposit
Customer Reviews
Perfect Level of Sweet
For a Covid birthday during lockdown I wanted something special and Batter Up Bakery knocked it out of the park!! The cake was delicious and beautiful, often two things that don't go together in fancy cakes. It wasn't dry, and the fondant was the perfect level of sweet. My friends all raved about it, and a solid 2 weeks after my birthday, one of them was still craving it, and she's not a dessert person. Luckily I froze a few slices, and am embarrassed how quickly I ate one when the craving hit haha. If you want a fancy cake (or any cake really) that also tastes amazing, you will not be disappointed!! – Chelsea Hoagland
Beautiful and Delicious
I have ordered from Jamie-Lynn for years, so there was no doubt that I wanted her to make my wedding cake. I told her, "surprise me" and she created an OUTSTANDING wedding cake! It was a cookie cake mixed with red velvet. She drew on with icing our detailed monogram by hand. My guests couldn't stop talking about not only how beautiful the cake looked visually, but how delicious it was! – Isabella Stanisic
FAQS about Cake Delivery in Ottawa
---
Looking for more dessert spots for your sweet cravings? Check out the 5 Best Ice Cream Shops in Ottawa!