5 Best Auto Detailing Shops in Ottawa
Featured Photo by Tim Samuel from Pexels
Like their drivers, even cars need regular bathing and pampering to look their best, too. If your vehicle is looking the worse for wear, it's high time to give it the best auto detailing service in Ottawa.
If you want to know more about auto detailing, read on until the end of this listicle for some helpful FAQs.
In the next section, we'll take a look at the costs associated with this service.
How Much Does Auto Detailing Cost in Ottawa?
Some auto detailing shops in Ottawa offer their services a la carte. However, since it's practically a spa for cars, it only makes sense to offer them in packages for a full-body treatment, as well.
We took a look at the pricing scheme of some shops we're reviewing today. Below are some estimated costs for common auto detailing services they offer.
AUTO DETAILING SERVICE
ESTIMATED COST
Interior detailing (carpets and seats vacuuming, door panels and mats steam cleaning and shampooing, door jambs degreased, mirrors polished, etc.)
$140 for cars (sedans)
$160 for trucks or SUVs
Exterior washing (washing and drying by hand, wheels detailing, tires dressing, etc.)
$40 for cars (sedans)
$60 for trucks or SUVs
Washing and vacuuming only (window and wheels/tires washing and interior vacuuming)
$50 up for all vehicle types
Washing and waxing by hand (wash and dry by hand, complete interior vacuuming, polishing of windows and mirrors, door jamb degreasing, wheels detailing, wax coating)
$80 for cars (sedans)
$100 for trucks or SUVs
Please note that detailing costs are likely to be higher for bigger vehicles like SUVs and trucks. Some special services could also be accommodated within bundled services at an additional cost.
The Best Auto Detailing Shops in Ottawa
Ready to get your car feeling and looking brand new with the best auto detailing services in Ottawa?
If you're wondering which shops made the cut, we based the criteria on the following:
1. JREK Autocare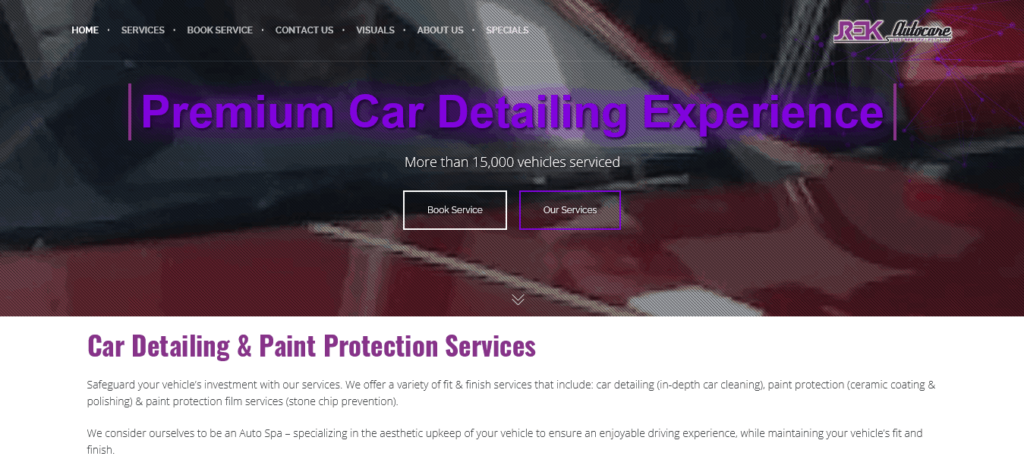 SERVICES
Car detailing packages, ceramic coating, paint protection film, odour removal, gift cards
ADDRESS
1638 Carling Ave, Ottawa, ON K2A 1C5
CONTACT NUMBER
613-723-8181


[email protected]

WEBSITE
https://www.jrekautocare.com/
OPERATING HOURS
Monday to Friday 7.30 AM – 4 PM
Closed on Saturdays and Sundays
We're starting off this listicle with a Better Business Bureau-accredited shop that's consistently gotten an A+ rating since 2004.
JREK Autocare is proud of its quality control that includes internal training of all its staff members complete with a review and guarantee. Each detailing procedure also comes with a before and after "look over" using a LED light inspection to guarantee a thorough clean.
Its car detailing packages come in three tiers: bronze, silver, and gold. The pricing is definitely more expensive than most, with the bronze package starting at $295 for cars, $320 for SUVs, vans, and trucks, and an additional $50 for extra-large vehicles.
However, since its most basic detailing services run for three and a half hours and come with a one-year ceramic sealant paint protection plus vinyl or leather conditioner, these prices could be seen as fair.
The company also offers a salt stain removal guarantee which comes with every comprehensive package and spot shampoo service. If clients discover road salt on their vehicle carpets a week after being serviced, the JREK team can steam clean them again, free of charge.
Salt stain removal guarantee
BBB-accredited, A+ rating
Before and after "look over" offered
Expensive detailing package rates
Plus $50 for extra-large vehicles
Open on weekdays only
Customer Reviews
Completely satisfied and in awe of a great job
"All I can say is wow. My car looks better than new. I'm completely satisfied and in awe of what a great job they did. I would definitely recommend this business." – Michael Carr
Brought back depth of colour
"Thank you for bringing back the depth of colour and making my 80′ Vette look brand new! The ceramic coating is amazing." – Angelo Domenico
2.  Rollout Autocare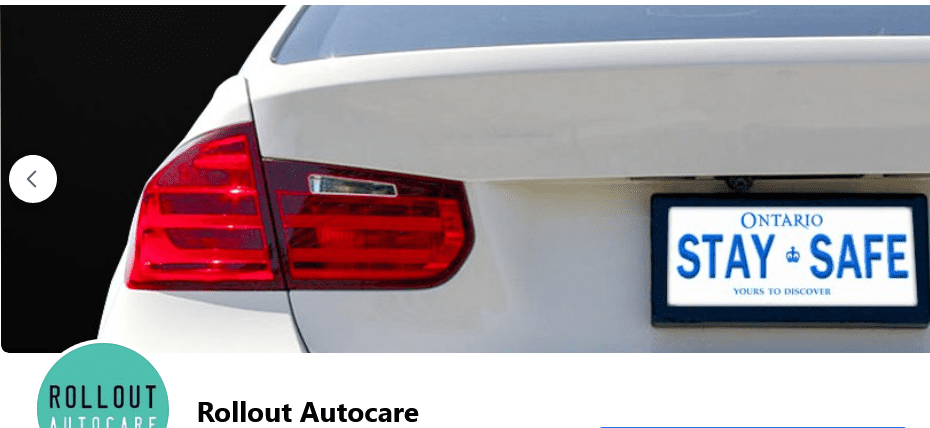 SERVICES
Car wash, auto detailing service, tire dealer & repair shop
ADDRESS
1339-C Cousineau Street Ottawa, ON, Canada K1C1P5
CONTACT NUMBER
+1 613-852-5858


[email protected]

WEBSITE
https://rolloutautocare.ca/
OPERATING HOURS
(Strictly by appointment)
Monday to Friday 9 AM – 5 PM
Saturdays 9 AM – 3 PM
Closed on Sundays
Rollout Autocare is a family-owned auto detailing business that's been around for over 13 years. It aims to give its clients a stress-free experience by way of chemical-free cleaning products and high-quality labour.
It's also got one of the most affordable packaged starter rates to offer. Basic exterior hand washing and drying (including tires and wheel wells) start at only $19.99 for cars and sedans, $24.99 for SUVs, and $44.99 for trucks or vans.
The company offers additional services that include waxing, buffing, engine cleaning, salt stain removal, brake dust removal, headlight restoration, leisure vehicle detailing, and even pet hair removal!
It also takes pride in its tire services, also offering balancing, gauge checks, torquing, and valva changes. Those looking to swap or sell their tires and on and off rims can be accommodated at Rollout Autocare.
The downside is that the company has currently limited contact by adhering strictly to by-appointment scheduling. No walk-ins are allowed at the moment.
Full range of detailing and repair services
Uses chemical-free cleaning products
Very affordable packaged rates
Tire swapping services are available
No services available on Sundays
Strictly by appointment basis only
No BBB accreditation
Customer Reviews
Fast, efficient service
"All I can say is wow Ron at Rollout Autocare did a really fabulous job of cleaning my truck from top to bottom it looks brand new again. Fast efficient service. We will be back and highly recommend." – Kelly Langelier
Took out some of the toughest salt stains
"Professional, efficient and thorough service at Rollout Autocare. I had my car detailed with Rollout two years in a row and my car came out looking like new inside and out. Ron was able to take out some of the toughest salt stains in the front driver's seat and vacuumed every single hard-to-reach corner of the interior. Very happy with the service and will be going back again!" – Green Camay
3. Luxus Auto Care Car Detailing
SERVICES
Auto detailing packages, mobile auto detailing, ceramic coating and PPP film, restoration and repair, window tinting
ADDRESS
1455 Youville Dr Unit 110, Orléans, ON K1C 6Z7
CONTACT NUMBER
613-883-5095


[email protected]

WEBSITE
https://www.luxusottawa.com
OPERATING HOURS
Monday to Saturday 9.30 AM – 6.30 PM
Sundays (by appointment only) 10.30 AM – 6.30 PM
Luxus Auto Car Care Detailing offers clients packages that include interior and exterior auto detailing, and also complete paint and automotive surface restorations.
The interior and exterior detailing packages come with different starting prices that correspond with the kind of services that fall under each one. The most affordable one is below $80 for interior cleaning only, but the full Luxus detailing that includes full paint decontamination and leather treatment creme costs nearly $500.
Aside from a full range of auto detailing, Luxus also has restoration and repair services to offer. The good news is that most of its repair services have a 25-year warranty!
Its paint restoration services promise to match your vehicle's factory colour code post-vehicular mishap so it will look "like it never happened". But better hustle if you want to avail of this particular service since it's in-demand and nearly always fully booked.
Reasonable base rates
Full auto detailing services
Restoration and repair services offered
25-year warranty for most repairs
Can get quickly booked up
Sundays strictly by appointment only
The full detailing package is a bit pricey ($500)
No BBB accreditation
Customer Reviews
Made a 2010 Dodge Ram look brand new
"Sutton is one of the owners and I have taken 4 cars to him already this season. The guy is always smiling and he has great energy, you can tell he cares. I brought him a 2010 Dodge Ram truck this week that I had just bought and he made it look brand new." – Jacob Kataki
Great work and great price
"Great work and great price. I had a full front pff kit, ceramic coating and tint done. Worth booking and waiting – they are very busy." – Matthew Jarrett
4. Premium Auto Spa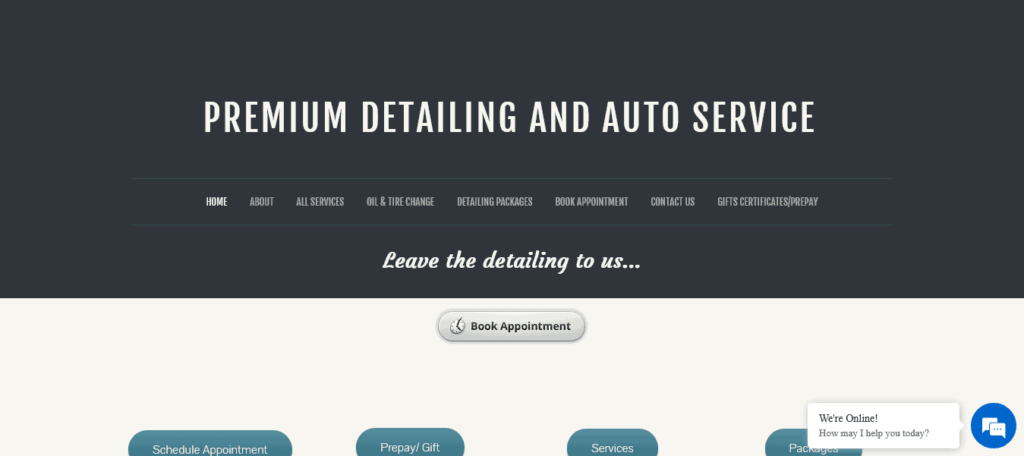 SERVICES
Interior detail, oil and tire service, exterior wash, wash and vacuum, rustproof and undercoating, wash and wax, additional services
ADDRESS
1112 Gladstone Ave, Ottawa ON K1Y 3H3
CONTACT NUMBER
613-600-8930 


[email protected]

WEBSITE
https://www.premiumautospa.ca/
OPERATING HOURS
Monday to Friday 7 AM – 7 PM
Saturdays 9 AM – 7 PM
Sundays 9 AM – 5 PM (by appointment only)
Premium Detailing and Auto Spa offers a full range of auto services and detailing packages.
The auto detailing services are offered via Bronze, Silver, Gold, and Platinum packages corresponding with the number of hours and included services they come with. They're reasonably priced, too!
One-hour bronze packages come with exterior washing and drying, interior vacuuming, wheels and doors cleaning for under $80. Four-hour platinum packages cost less than $250 but come complete with exterior wax protection and deodorizing treatments.
If you want to give the gift of nice-looking (and smelling) cars to your loved ones, hop on over to Premium's gift certificates and prepaid page.
You can order washing and detailing, packaged, and add-on services to be presented as prepaid gift cards to give your loved ones' cars the pampering they deserve.
Though the shop closes at 7 PM, busy clients can avail of Premium's after-hours drop-off services. Customers can simply leave their cars in the private parking lot and drop their keys in a secure slot at the shop's doors.
Reasonable detailing package rates
Offers gift certificates and prepaid cards
After-hours drop-off service offered
Wax protection and deodorizing included in full detailing
No BBB accreditation
No free estimates offered
Sunday hours are strictly by appointment
Customer Reviews
Interior and exterior was like new
"Great service. My car (interior & exterior) was like new as if it was coming from the dealership. I will go back and I recommend it. Thank you again!" – AC Duroseau
Amazing service and great work
"My jeep looks brand new! The owner Francis went out of his way to make sure my car was done on time and even came into the shop on his day off to meet me to make sure I was satisfied before paying. Amazing service and great work, I highly recommend them." – Danny Dawson
5. Bemac Automotive Group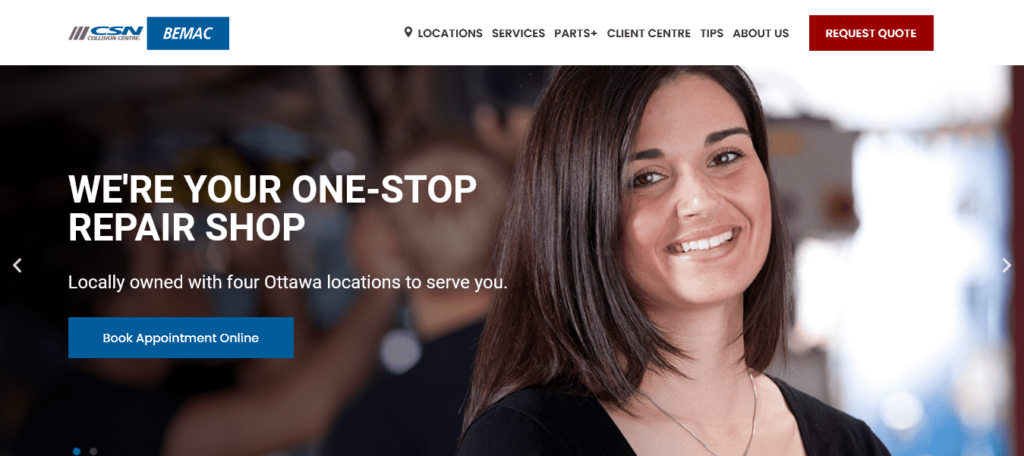 SERVICES
Auto body repairs, automotive services, commercial services
ADDRESS
1615 Laperriere Ave Ottawa, ON, Canada K1Z 8S7
CONTACT NUMBER
(613) 247-0857


[email protected]

WEBSITE
https://www.bemac.ca/
OPERATING HOURS
Monday to Friday 7.30 AM – 5 PM
Saturdays 8 AM – 12 noon
Closed on Sundays
24-hour emergency towing service
As a Better Business Bureau accredited company since 1997, Bemac aims to be its clients' one-stop repair shop. It currently has four Ottawa branches (the Merivale one is temporarily closed) offering auto body repairs, automotive parts, and collision repair services.
The car detailing services fall under Bemac's auto body repair arm. The great news is that washing, interior and exterior detailing are all free if a customer comes in for a mechanical, collision, auto body, or repair job!
It takes pride in being approved by all Canadian insurance providers. This allows Bemac to insurance paperwork in a speedy manner and to perform its collision repair process efficiently.
Though the shops are closed on Sundays, they offer a 24-hour emergency hotline for anyone in a vehicular accident. Potential clients can also request a free assessment of Bemac's other services.
There's no pricing information on the website but the free quotes should set things straight for customers. And while there's a sales and rebates page, Bemac is not offering any promos or discounts at the moment.
Has four branches in Ottawa
Approved by all Canadian insurance providers
Free quotes
Free auto detailing for auto body jobs
Has a 24-hour emergency towing service
BBB-accredited, Aᐩ rating
No base pricing info given
Currently not offering rebates, promos, or discounts
Merivale branch is temporarily closed
Customer Reviews
Nothing but exceptional customer service
"Bemac has been a go-to source for me and getting my car repaired. I had moved from Toronto to Ottawa and needed a reputable mechanic since I did not know anyone. A coworker of mine suggested Bemac. From the minute I called until the minute my car was repaired, I had nothing but exceptional customer service." – Meg M.
One of the best garages I've been to
"Honestly one of the best garages I've been to. My door latch was seized shut and they had it open in less than 10 minutes fixed the problem and showed me the problem. Even went out of his way to try and find me a replacement part for a different problem I was having with my vehicle. I will be recommending them." – Phil Dagenais
FAQs About Auto Detailing in Ottawa
---
We hope that this resource helps you find the best auto detailing in Ottawa for your car's needs.
If you think we left out a good auto detailing shop, send us a message and we'll schedule it for a review.
You could also find other great car-related services with some of our published listicles: