The 5 Best Acne Scar Treatment Clinics in Ottawa
Acne scars can be frustrating and embarrassing, but fortunately, there are a variety of treatments available to help.
Ottawa has some of the best acne scar treatment clinics in Canada. In this article, we will review each of them.
How much does acne scar treatment cost?
Acne scar treatment usually costs between $500 to $3,000. The table below should give you a better idea of the pricing you may encounter.
| Service | Average cost |
| --- | --- |
| Laser Acne Scar Treatment | $1,000 - $2,000 |
| Micro | $100 - $200 |
| Chemical Peel | $600 - $1,500 |
| Tissue Filler | $600 - $1,500 |
| Packaged Treatment (Combination) | $2,000 - $3,000 |
The Best Clinics for Acne Scar Treatment in Ottawa
When looking for the best clinics for acne scar treatment in Ottawa, we considered the following criteria:
1. Body 'N' Bloom Laser Clinic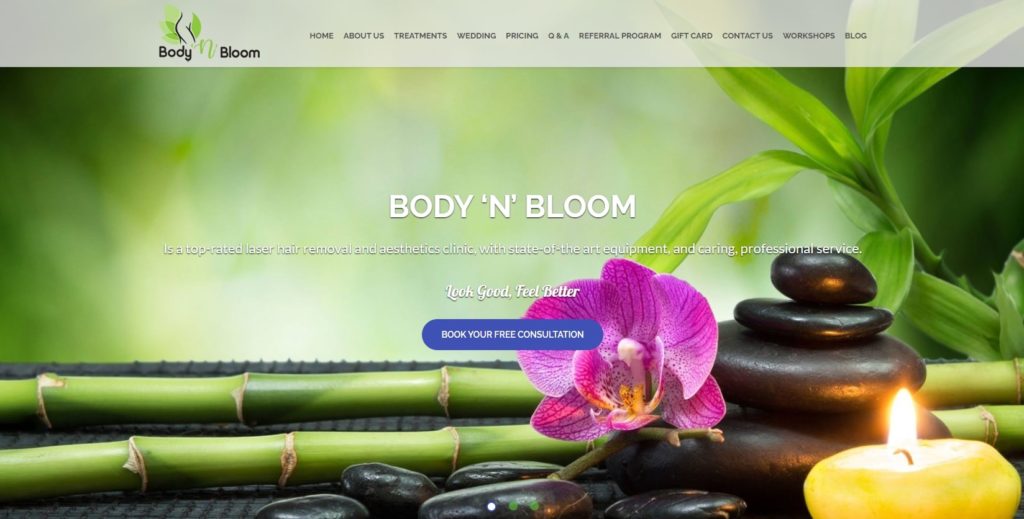 Test
Info
SERVICES

Acne Scar Treatment

Laser Hair Removal

Sun Spot Damage Treatment

Spider Veins

Hydrafacial

WEBSITE
https://bodynbloom.ca/
ADDRESS
2785 Baseline Rd #209, Nepean, ON K2H 0B7, Canada
CONTACT DETAILS
Phone: 613-552-8504
OPERATING HOURS

Monday to Friday : 9AM–9PM

Saturday to Sunday : 10AM–5PM
| | |
| --- | --- |
| Criteria | Ratings |
| Rates | ★★★★(4/5) |
| Availability | ★★★★(4/5) |
| Location | ★★★★★(5/5) |
| Feedback | ★★★★★(5/5) |
The Body 'N' Bloom Laser Clinic uses state-of-the-art technology to help erase acne scars. It specializes in laser technology, which is known for its ability to remove wrinkles, scars, and other signs of aging.
It also offers laser hair removal, suns spot damage treatment, spider veins treatment, and more.
What makes it great is its accessibility. You can book an appointment on its website or over the phone.
The location is also wheelchair friendly and easily accessible.
We love that it offers multiple services and has great equipment behind these procedures.
One of the best things about the clinic is its collagen-replenishing masks that help fade scars and tighten your skin. These masks can be ordered from the clinic itself for a nominal fee.
They are also a great option for those who do not have time to visit the clinic regularly but still want to get rid of their scars.
Body 'N' Bloom has received great feedback from previous clients. The staff is known to be warm and friendly, so you can expect to be treated well when you visit.
The only drawback is its pricing. It's a bit more expensive than some of the other clinics in the city, but that shouldn't deter you from checking it out because of its fantastic results.
Multiple services available
Great technology for procedures
Also offers collagen masks
Good feedback and location
Customer Reviews
Definitely recommended
"Been seeing Ilona for a few months now for laser treatments and she's awesome! Very down to earth, easy to talk to, considerate and super friendly. I enjoy the intimate setting and feel very comfortable every time I see her. Would definitely recommend her services!" – Laureen
Great experience
"Ilona is absolutely amazing, she makes the experience so much better. It as if catching up with an old friend you haven't seen in a while. She makes you feel comfortable and at home. Pricing is fair and she does not overcharge by making you pay for packages with a set number of treatments. Some may need more sessions and others fewer depending on what your getting done. Space is clean in inviting. I would suggest Ilona especially if your doing laser treatment for the first time." – Malsters
2. Luminesse Laser & Skin Clinic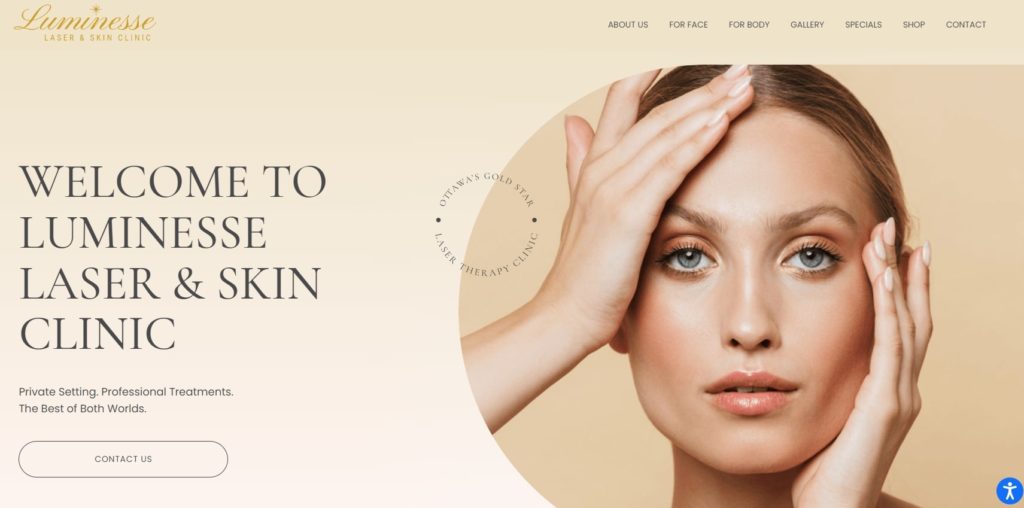 Test
Info
SERVICES

Acne Scar Treatment

Chemical Peels

Dermaplaning

Microcurrent Facial Therapy

Picoway Laser

Hydrafacial

WEBSITE
https://luminesselaser.ca/
ADDRESS
117 Centrepointe Dr Suite 255, Ottawa, ON K2G 5X3, Canada
CONTACT DETAILS
Phone: 613-727-0714
OPERATING HOURS

Monday to Sunday : Closed

Tuesday to Friday : 10AM–6PM

Saturday : 10AM–3PM
| | |
| --- | --- |
| Criteria | Ratings |
| Rates | ★★★★★(5/5) |
| Availability | ★★★★ (4/5) |
| Location | ★★★★(4/5) |
| Feedback | ★★★★(4/5) |
Luminesse is another great acne scar treatment clinic in Ottawa. It offers a variety of treatments perfect for solving acne scars like chemical peels, facial therapy, hydrafacial and more.
The clinic's main therapist, Sandy, has over 20 years of professional experience and is well-known in the community for the quality of her work.
When choosing a dermatologist or skincare clinic for your acne scar treatment, it's important to look for one that has experience dealing with scars of all types.
This is why Sandy and her team are knowledgeable and skilled in performing a variety of different treatments.
Hydrafacial is the most unique service that the clinic offers. The procedure combines
cleansing, extraction, hydration, and antioxidant protection to remove dead skin cells and other impurities.
We also love that Luminesse has high-end technology like laser systems and skin analysis software to help its patients achieve the results they want.
Clients can use this information to track their progress and choose additional treatments that target specific problem areas on their faces.
Overall, the only drawback of this place is the fact that it can be fully booked during busy days. Be sure to plan ahead and book your appointment in advance to avoid waiting.
Multiple services available
Great equipment for procedures
Hydrafacial
LED therapy
Customer Reviews
Great staff
"Sandy and her team are also just a delight to be around. Friendly, warm, and armed with amusing anecdotes about past sessions they've done. " — Geordin Crosbie
Quick consultation
"After a quick consult, they will ask if you want to do a treatment that day. They book an hour session for a consult and treatment if you choose such. You're led to a separate room. Sandy was warm, yet professional." – Laurel Nielsen
3. The Ottawa Skin Clinic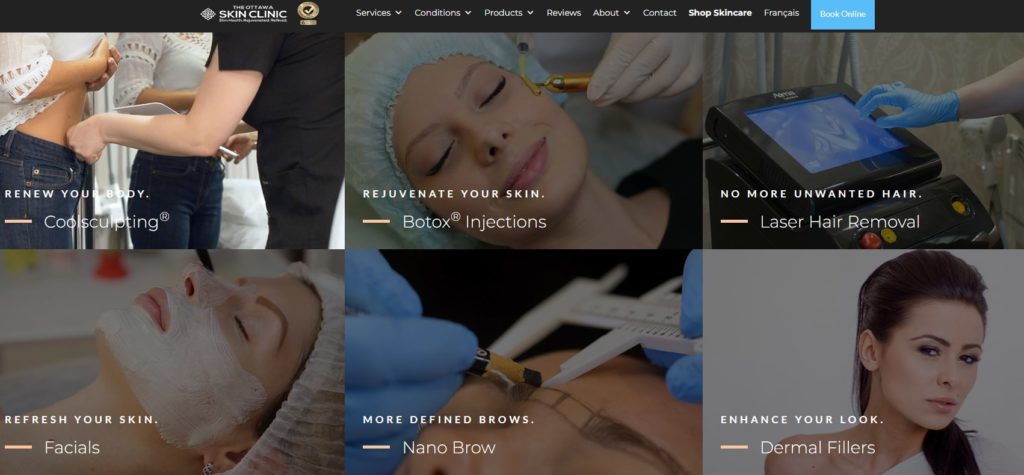 Test
Info
SERVICES

Acne Scar Treatment

Microneedling

Injectables

Skin Care

Body Sculpting

Laser Treatments

WEBSITE
https://www.ottawaskinclinic.ca/
ADDRESS
349 St. Laurent Blvd, Ottawa, ON K1K 2Z7, Canada
CONTACT DETAILS
Phone: 613-745-7546
OPERATING HOURS

Monday to Friday : 9AM–5PM

Saturday to Sunday : Closed
| | |
| --- | --- |
| Criteria | Ratings |
| Rates | ★★★★ (4/5) |
| Availability | ★★★★ (4/5) |
| Location | ★★★★★(5/5) |
| Feedback | ★★★★★(5/5) |
The Ottawa Skin Clinic is an excellent choice for acne scar treatments. It's one of the city's most popular cosmetic clinics.
The doctors and nurses at the Ottawa Skin Clinic are well-versed in acne scar therapy, specifically micro-needling. It provides both conventional micro-needling and radiofrequency micro-needling.
Radiofrequency micro-needling is a more advanced variation of the treatment. Radio frequencies are used to stimulate collagen formation in the skin, making it more elastic.
This medical center has garnered multiple honors, including Top Choice Cosmetic Clinic of 2021, as a result of these options and the additional services it provides.
It has also received excellent feedback from most, if not all, of its prior patients.
We really like how clean the cosmetic facility is and how everything appears to be disinfected on a regular basis. Nowadays, it's critical to understand whether you're going to a facility where hygiene is a top emphasis.
Overall, the Ottawa Skin Clinic is a terrific place to obtain acne scar treatment, but its pricing has us concerned. If you are on a tight budget, another cosmetic clinic may be a better option.
However, if you can afford it, we believe the Ottawa Skin Clinic's services are well worth it.
Multiple services available
Clinic is cleaned regularly
Awarded as top skin clinic multiple times
Expert staff
Customer Reviews
Talented team
"Excellent customer service! Knowledgeable and friendly staff. Sarah is very talented and an absolute gem. Thank you so much Sarah for everything! I'm incredibly happy with my results and very appreciative of the time and care you took in addressing the issues we discussed together." – Tania Turner
Excellent clinic
"The clinic is sparkling clean and the whole staff is charming. Building rapport is essential to foster trust and improve patient satisfaction and that is no secret to Dr Michon, who takes the time to actively listen, explain the procedure, risks and expected results, and address any questions or concerns" – Juliet E
4. Concept Medical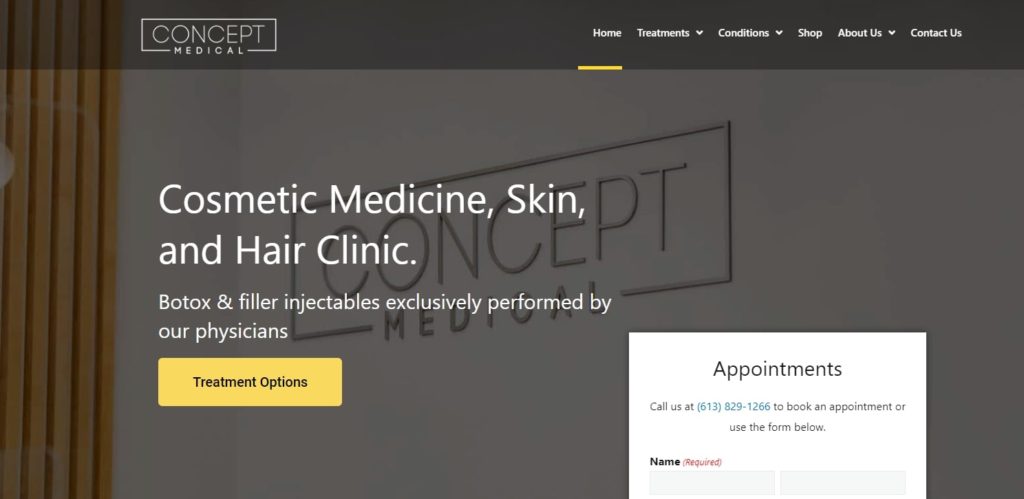 Test
Info
SERVICES

Acne Scar Treatment

Botox

Chemical Peels

Lip Fillers

Microneedling

Coolsculpting

Skin Tightening Chin Fillers

Dermal Fillers

WEBSITE
https://conceptmedical.ca/
ADDRESS
1272 Wellington St. W, Ottawa, ON K1Y 3A7, Canada
CONTACT DETAILS
Phone: 613-829-1266
OPERATING HOURS

Monday to Friday : 9AM–5PM

Saturday to Saturday : Closed
| | |
| --- | --- |
| Criteria | Ratings |
| Rates | ★★★★★ (5/5) |
| Availability | ★★★★ (4/5) |
| Location | ★★★★★(5/5) |
| Feedback | ★★★★(4/5) |
Concept Medical is an excellent center for acne scar treatment. It has been in the sector for over ten years, and its doctors and nurses have extensive experience.
It has garnered numerous accolades from renowned organizations for its high-quality services. The Consumer Choice Award for 2021 and 2022 is one of the most well-known.
Aside from acne scar therapy, it also provides other services such as laser hair removal and CoolSculpting. It may also perform complex operations including dermal fillers, botox, lip fillers, and more.
We appreciate Concept's convenient location on Wellington Street. The clinic is also easily found using navigation programs and can be immediately recognized by most people who are familiar with the neighborhood.
Concept can also do numerous treatments every day with its high-tech equipment.
The only criticism we have is that it has a large number of clients. This is unavoidable in a popular cosmetic clinic, but as a result, clients may have to wait a while before getting an appointment.
Overall, despite its shortcomings, we would still strongly recommend Concept to any of our readers due to the experience of its therapists and its high-quality customer service.
Waiting shouldn't be that much of an issue if the services are worth it and this clinic's services definitely are.
Impressive equipment
Great location
Consumer Choice Awardee in 2021 & 2022
More than 10 years of experience
Multiple services offered
Customer Reviews
Highly recommend
"This wonderful place was everything I had hoped for. It's stunning when you walk in, very beautiful place decor-wise that I was so impressed with. The girls at the desks were on the ball, friendly and helpful. " – Madox P.
Amazing
"What a gorgeous space! The staff at Concept Medical were so warm. They went above and beyond to make my experience memorable. Dr. Hetz is so inviting, knowledgeable and informative" – D. D.
5. MSA Beauty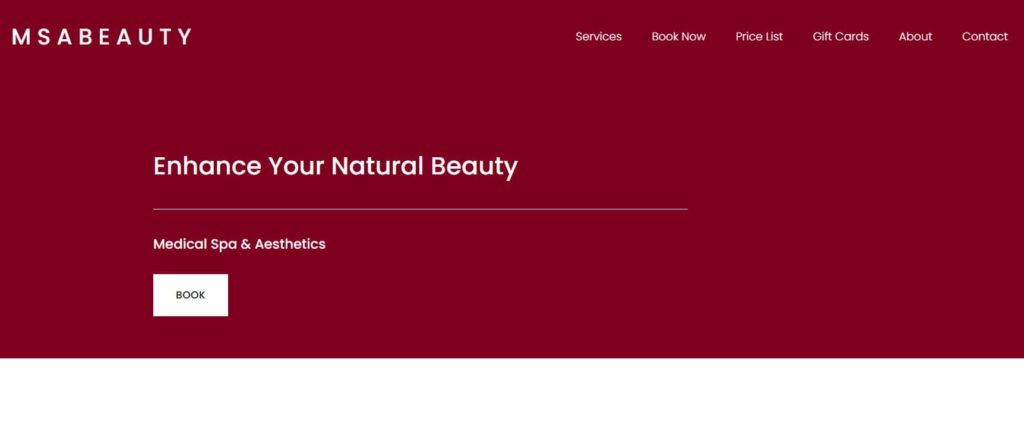 Test
Info
SERVICES

Acne Scar Treatment

Skin Rejuvenation

Microneedling

Photo Facial

Glow Facial

Skin Care

Laser Hair Removal

WEBSITE
https://www.msabeauty.com
ADDRESS
1209 Evans Blvd, Ottawa, ON K1H 7T6, Canada
CONTACT DETAILS
Phone: 613-407-6452
OPERATING HOURS

Monday to Tuesday : 9AM–6PM

Thursday to Friday : 9AM–6PM

Wednesday : 9AM–7PM

Saturday to Sunday : Closed
| | |
| --- | --- |
| Criteria | Ratings |
| Rates | ★★★★ (4/5) |
| Availability | ★★★★★(5/5) |
| Location | ★★★★(4/5) |
| Feedback | ★★★★★(5/5) |
MSA Beauty is another great clinic you should be on the lookout for.
It is well-known for its cutting-edge acne scar treatment and non-invasive laser hair removal. Acne scar treatments such as micro-needling and collagen induction therapy are performed by the clinic's experienced aestheticians.
Its extremely flexible services are excellent solutions for addressing flaws and making clients feel like themselves again. If you have scars, wrinkles, big pores, stretch marks, or hyperpigmentation, this is the clinic for you.
Another thing we like about MSA is its convenient location. It's conveniently positioned and accessible, especially to people with disabilities, which we gladly appreciate.
We appreciate MSA Beauty's spa services as well. After a rigorous session of micro-needling, clients can receive thorough post-procedure care at one of the facility's spa areas.
If asked early in the week, MSA will also take weekend appointments. This is a wonderful alternative for clients who have to work on weekdays.
Overall, the only disadvantage of MSA is that its services can be costly. However, if you can afford them, it's an excellent choice for acne scar regeneration.
Clients of all shapes and sizes can benefit from the clinic's efficient treatment techniques to enhance their appearance and boost their self-confidence.
Flexible services
Expert team
Spa services available as well
Good location
Weekend appointments available (by request)
Customer Reviews
Good services
"I have done several things with her including eyelash extensions, facial, laser hair removal and I will not be going anywhere else! I don't write reviews often but I felt this was necessary so that I can recommend her to everyone!" – Manda
Professional
"I would 10/10 recommend Mikaila to anyone and everyone. She is a professional and her new location is beautiful. Could not say enough good things about her and the quality of her work!!" – Katie C.
FAQs about Acne Scar Treatment
---
And that's it for the best acne scar treatment clinics in Ottawa! For similar services, check out the following: