The 5 Best Tuition Centers in Ottawa
Tuition centers or more commonly known as tutoring services, are a great investment, especially for growing kids. Whether your child has upcoming major exams or needs a little more help with their studies, tuition centers can be just what they need.
In this article, we'll guide you through the best tuition centers in Ottawa.
The Cost of Tuition Centers in Ottawa
These days, learning can be divided into in-person and virtual, which are offered by educational institutions around the world. On average, you'll be paying tuition centers $50 – $60 per hour for any of its services.
You may refer to the table below for a breakdown of the estimated costs:
| Service | Average cost |
| --- | --- |
| In-person tutoring (bi-weekly payments per hour) | $60 |
| In-person tutoring (10 hours) | $550 |
| In-person tutoring (50 hours) | $2550 |
| Virtual tutoring (bi-weekly payments per hour) | $50 |
| Virtual tutoring (10 hours) | $450 |
| Virtual tutoring (50 hours) | $2050 |
Top Tuition Centers in Ottawa
Education is nothing to scoff at, and that's why we kept the following criteria in mind while choosing the best tuition centers:
1. Ottawa Tutoring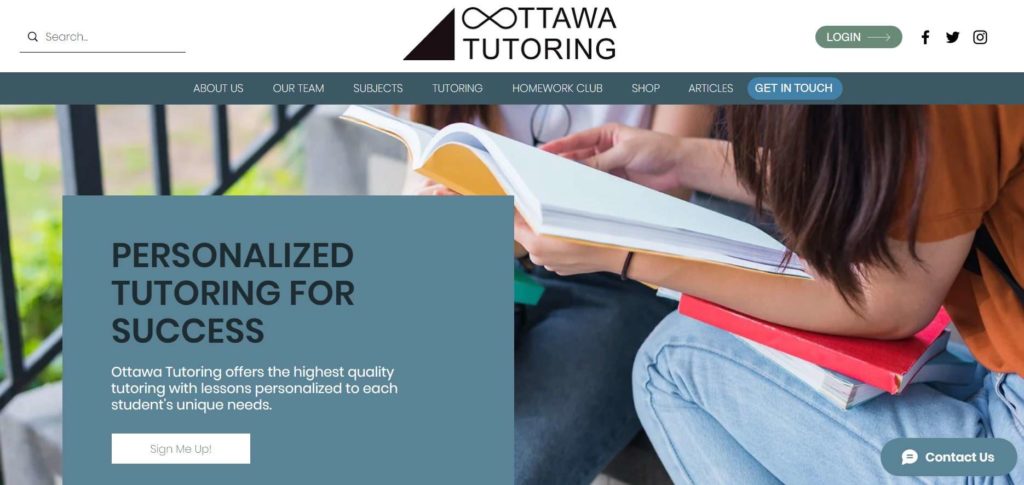 Test
Info
SERVICES
Online tutoring, in-person tutoring, study manuals, crash courses, formula sheets, exam reviewers,
WEBSITE
https://www.ottawa-tutoring.com/
ADDRESS
838 Somerset St W Unit 40, Ottawa, ON K1R 6R7, Canada
CONTACT DETAILS
613 230 9675
OPERATING HOURS
Monday - Friday: 9:00 AM - 9:00 PM

Saturday - Sunday: 10:00 AM - 5:00 PM
| | |
| --- | --- |
| Pricing | ★★★★☆ (4/5) |
| Subjects offered | ★★★★★ (5/5) |
| Available services | ★★★★★ (5/5) |
| Customer satisfaction | ★★★★☆ (4/5) |
Ottawa Tutoring was established in 2013 and has since then grown to employ over 60 competent tutors and teachers. Whether your child is in elementary school, high school, or even in university, this tuition center has the drive to help them all shine.
Not surprising when it has tutored over 1750 students and has rendered over 60000 hours of tutoring since its establishment. It's because of its glowing reputation that it's already been featured on CTV and CBC Ottawa and awarded as one of the best in the city.
The tutors and teachers in Ottawa Tutoring are all university students or graduates at the very least and have extensive experience in the subjects they teach. They also all have the skill to pass over this knowledge to their students.
What we love about this tuition center is that it offers subjects for all levels of education. If you're unsure about whether or not it has the subject you need, feel free to give it a call to find out.
As for its services, you can definitely appreciate that it has both virtual and in-person tutoring. Whether you'd prefer to keep your child at home so you can monitor their class to drop them off at the tuition center, it's all up to you.
Though all of Ottawa Tutoring's clients that we interviewed said good things about it, there was one who expressed a negative experience with it but refused to elaborate. If that doesn't bother you, then this tuition center might be the right one for you.
Offers all subjects
Virtual & in-person tutoring
Highly experienced and knowledgeable staff
Customer Reviews
Very knowledgeable
"My daughter used Ottawa Tutoring for a couple of grade 12 math courses (Calculus and Advanced Functions) and found the lessons very valuable, the tutors are very knowledge and easy to work with. The proof was certainly in the marks she received. Would recommend." – Cory Miles
Amazing service
"We contacted Ottawa Tutoring last spring to help our Grade 11 son prepare for his physics exam. We were connected within hours to a fabulous tutor who contacted me directly to set up the meeting and get details on the needed lesson. He came the next day to our place, arrived on time, was fully prepared and kept my son engaged the entire lesson. The following morning I received a follow up email from the tutor with a breakdown of what they had reviewed and what he felt my son needed to continue to work on. I also was contacted by the company to make sure we were happy with the lesson. We continued to use the same tutor a few more times after that and received the same amazing service each time. My son has already asked me to book a math tutor for this school year and I will certainly be using Ottawa Tutoring. What a relief for parents who aren't able to teach the tough lessons to our kids! Thanks so much Ottawa Tutoring – one less stress for us!" – Brenda Papp
2. TutorBright – Tutoring Ottawa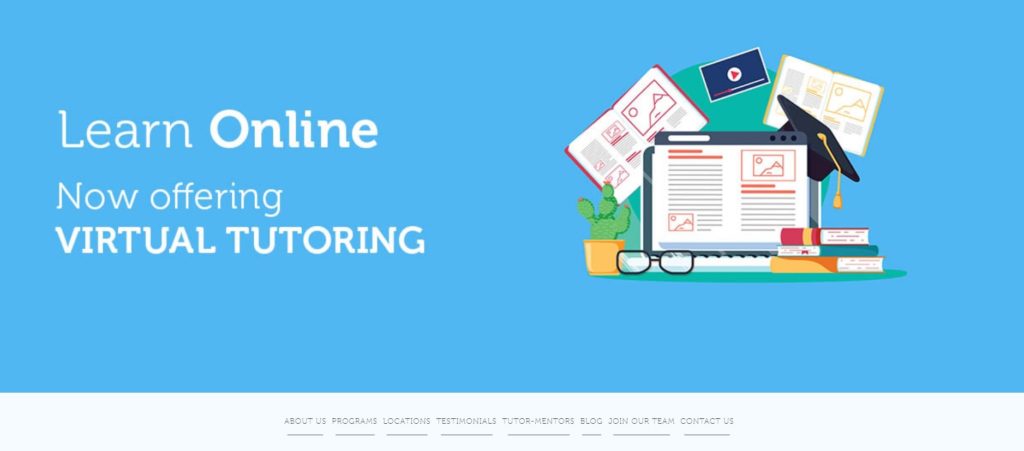 Test
Info
SERVICES
Online tutoring, in-home tutoring
WEBSITE
http://tutorbright.com/
ADDRESS
Ottawa, ON, Canada
CONTACT DETAILS
613 366 2201
OPERATING HOURS
Monday - Friday: 9:00 AM - 9:00 PM

Saturday - Sunday: 10:00 AM - 5:00 PM
| | |
| --- | --- |
| Pricing | ★★★★☆ (4/5) |
| Subjects offered | ★★★★★ (5/5) |
| Available services | ★★★★★ (5/5) |
| Customer satisfaction | ★★★★☆ (4/5) |
TutorBright is another well-known tuition center that's famous for its world-class methods that ensure every student leaves with a bright future ahead. It also appeared and was mentioned in shows and publications like Breakfast Television and City Parent.
It has been serving the Ottawan community for more than 7 years and offers both virtual and in-home tutoring. So if you prefer your child to have classes in person, a tutor will come to your house instead of the other way around.
This allows you to save gas from having to drive your kid to and fro, which is a big help when gas prices aren't cheap these days.
TutorBright is great because it doesn't just have a universal plan for all students but will instead customize and tailor a customized lesson plan. Parents with neurodivergent children, for example, will benefit a lot from this teaching method.
Speaking of neurodivergent children, this tutoring center also offers education programs for your special little learner. Plus, it's never too early to get your child started because it also offers programs on early skills.
Our only issue is that parents have complained about some of the tutors being unqualified, while others didn't like the content of the students' exercises. Additionally, it doesn't offer any classes at its own physical office.
Virtual & in-home tutoring
Special education classes
Tailored lesson plans
Unqualified teachers
Doesn't offer classes at its physical office
Customer Reviews
Most organized and easy to access
"TutorBright is probably the most organized and easy to access tutoring services I have ever seen. The commitment that the TutorBright team has to make sure that students have a quality tutoring education is amazing to see. Communication is a must, and because of their well-organized and transparent approach, things run smoothly! I am very happy TutorBright does what it does as it helps so many students who might be in need of a little more support than they get in school. I wish I had TutorBright growing up, because they truly make learning fun. Beyond proud of this team!" – Arta Ghiami
Excellent services
"TutorBright is providing excellent services. My son has been working with the tutor for 3 month. He enjoyed a lot of the sessions and made a great progress. The coordinators who matched the tutor for us was very professional. The administrator is very diligent to follow up to facilitate the requirement. The tutor is awesome to put together the tailored teaching plan. I have referred TutorBright to many of my friends with the needs." – Joyce Xiong
3. Go2Grad Tutors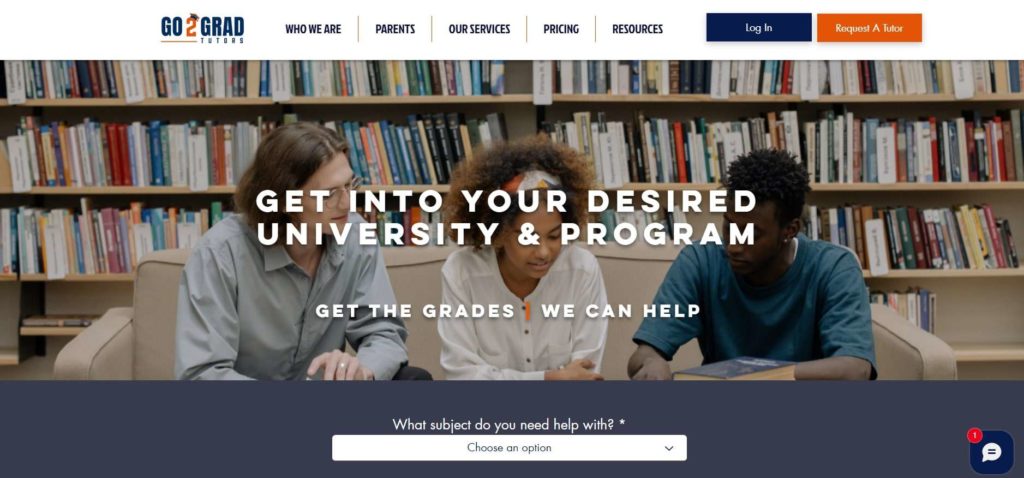 Test
Info
SERVICES
Online tutoring, in-person tutoring, Elevate
WEBSITE
https://www.go2gradtutors.ca/
ADDRESS
Ottawa, ON, Canada
CONTACT DETAILS
613 974 6916
OPERATING HOURS
Monday - Friday: 10:00 AM - 7:00 PM

Saturday: 10:00 AM - 5:00 PM

Sunday: CLOSED
| | |
| --- | --- |
| Pricing | ★★★★★ (5/5) |
| Subjects offered | ★★★★☆ (4/5) |
| Available services | ★★★★☆ (4/5) |
| Customer satisfaction | ★★★★☆ (4/5) |
Young children aren't the only ones in need of a good tuition center to help give them the specialized guidance they require to reach their full potential. Here at Go2Grad Tutors, your older children, especially those in high school, will get the help they need.
This tuition center specializes in teaching students in high school in order to help them get into the university of their dreams and prepare for university life in general. With personalized lesson plans and 1-on-1 tutoring, each child's needs will be catered to.
Go2Grad Tutors hires only local graduate students experienced in their respective fields to ensure your kids are getting the guidance and headstart they deserve. Its best-fit-tutor-guarantee ensures that every student gets the right teacher for them.
It takes into account your child's needs, personality, and preferences to find the best tutor that can help them achieve their academic dreams. You'll also be happy to know that these tutors are all graduates from some of the best universities in Canada.
They came from schools such as the University of Toronto, the University of Ottawa, Carleton University, and Western University, to name a few.
Although the subjects that Go2Grad Tutors offer are limited, it makes up for it with its competitive prices as it has some of the lowest rates we've seen so far.
Specializes in high school education
Tutors are all local graduates
Personalized 1-on-1 tutoring
Competitive rates
Very limited subjects offered
Customer Reviews
Professional and patient
"Go2Grad has been very helpful for us. The tutors are very professional and patient with my son. They work hard to establish a good relationship with the student, which results in better learning ongoing. We have used their services for Math, Chemistry, and English. We truly appreciate that the director and tutors go above and beyond to meet our needs. Highly recommend!" – Riham Elhabyan
Highly recommend
"From the initial interview, to the end result I have nothing but absolutely positive things to say about Go2Grad Tutors. My daughter had a perfect match in Safah, she was knowledgeable, kind, and creative. My daughter set out a realistic goal, and Safah helped her attain that goal, and them some! I highly recommend Go2Grad! Thank you Ahmad for making the process so easy!" – Andrea Dewar
4. STEM Tutoring Ottawa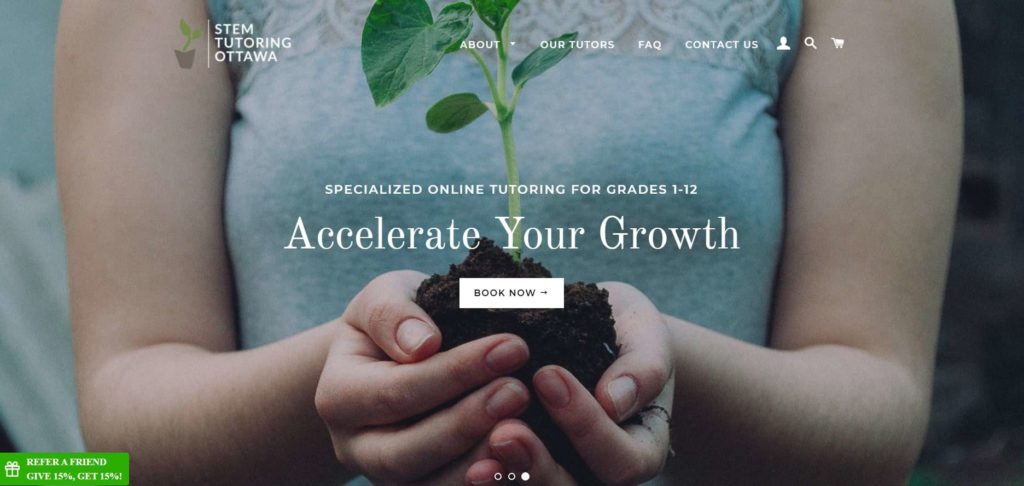 | | |
| --- | --- |
| Pricing | ★★★★☆ (4/5) |
| Subjects offered | ★★★★★ (5/5) |
| Available services | ★★★★☆ (4/5) |
| Customer satisfaction | ★★★★☆ (4/5) |
STEM Tutoring Ottawa is a tutoring center that conducts all its services purely online. Although its team is small compared to other tutoring centers, you can rest assured that they're all highly qualified graduates from top universities.
Enrolling at this tuition center is very straightforward and easy because you don't need to undergo any long procedures or sign any sort of contract beforehand. It's actually as easy as online shopping since it's all fully automated through its website.
With its tutors and their specialties listed, you can simply choose the length of the session and then the one that fits your child's needs. Small reminder, only students from grades 1-12 are accepted here, so older kids might have to be booked elsewhere.
After inputting the correct course code, you can then add the teacher of your choice to the shopping cart. Finally, choose an open schedule and pay the corresponding fees, then voila!
There are several payment methods available at STEM Tutoring Ottawa, which is a plus in our books. However, its prices are a bit higher than the other tuition centers we came across, despite operating purely virtual tutoring sessions.
If you like having a flexible schedule when it comes to your child's online tutoring sessions, this might be right up your alley.
Highly qualified tutors
Flexible scheduling
Easy enrollment
Purely virtual learning
Expensive fees
Customer Reviews
Worth the money
"COVID started when my daughter was in Grade 10. She struggled with online learning especially Math and Science. 4 hour classes, one week on and one week off etc was affecting her learning. STEM Tutoring really helped her get through and get her grades up particularly in Grade 12. It was easy to book lessons, as well as cancel and reschedule when the high school schedule was in flux. The tutors were friendly and did an excellent job clarifying and explaining complex topics. Totally worth the money." – Diane Ramanathan
Friendly, encouraging, and respectful
"I hired Stem Tutoring Ottawa to assist my son during grade 12 exam time. They were able to effectively help him prepare for his exams with a series of sessions. They were friendly, encouraging and respectful of his learning style. He scored well in all of his exams and he was able to take their exam preparedness skills he learnt into his time in college. I would highly recommend Stem Tutoring Ottawa." – Melanie Blackwell
5. Mathnasium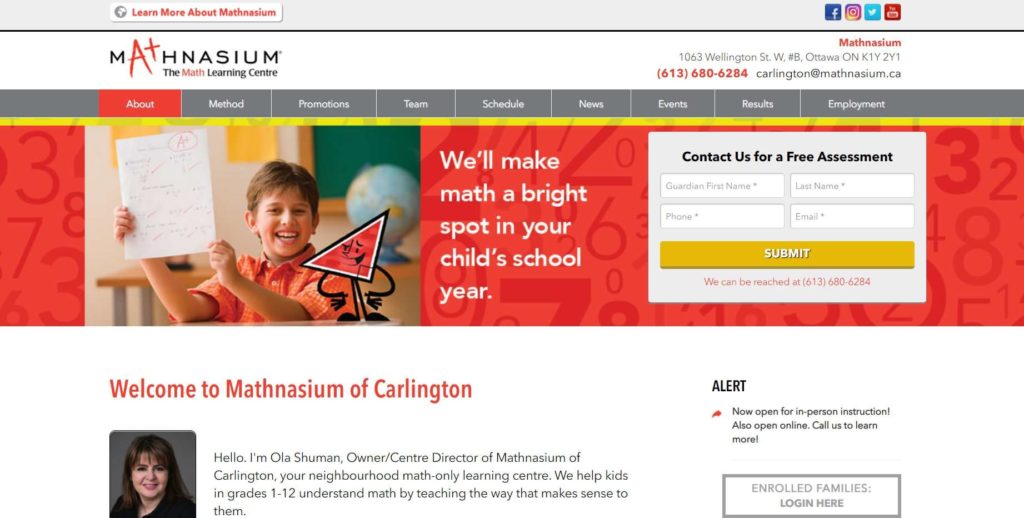 Test
Info
SERVICES
Online tutoring, in-person tutoring
WEBSITE
https://www.mathnasium.ca/carlington
ADDRESS
1063 Wellington St. W, #B, Ottawa ON K1Y 2Y1
CONTACT DETAILS
613 680 6284
OPERATING HOURS
Monday - Thursday: 3:00 PM - 7:00 PM

Friday: CLOSED

Saturday: 10:00 AM - 2:00 PM

Sunday: CLOSED
| | |
| --- | --- |
| Pricing | ★★★★★ (5/5) |
| Subjects offered | ★★★☆☆ (3/5) |
| Available services | ★★★★☆ (4/5) |
| Customer satisfaction | ★★★★☆ (4/5) |
The last but certainly not the least on our list is Mathnasium. It's no secret that the subject most kids dread is math, which is exactly why Mathnasium is here to help!
Children in grades 1-12 are its primary targets, with teachers being specially trained to spot your child's learning deficiencies and guide them to where they should be. Furthermore, the tutors will also take the time to help students with their homework.
Another thing that's awesome about this tuition center is that it now offers its curriculum in both English and French. So whichever language your child feels is easier to use when learning, Mathnasium has them covered.
If you don't have any plans in the summer for your kids, then you might also want to consider enrolling them in Mathnasium's math camp for grades 2-8. Make your little learner's summer a fun learning experience and prepare them for the school year.
While it's no doubt that this tuition center's specialty in math makes it perfect for those with troubles in that subject, it's still a shame that it doesn't offer anything else. But hey, if math's the only subject you need, then we highly suggest you go for it!
Specialized in Math subjects
Bilingual instructors
Offers summer math camps
Doesn't offer any other subjects
Customer Reviews
We were very happy
"My son has loved his time at Mathnasium. He always looked forward to his sessions and progressed quickly. We were very happy with Ola and all the staff." – Caitlin Downing
Easy to work with
"We used Mathnasium of Carlington tutoring for my daughter and we found the lessons very valuable, the tutors are very knowledgeable and easy to work with." – M.H
FAQs about Tuition Centers in Ottawa
---
Want to know more about other educational services? Take a look at our article on the best schools for Chinese tutors in Ottawa!