Top Truck Driving Schools in Ottawa
A trucking career is a demanding albeit well-paying job that requires a high level of driving skill. That said, operating a truck requires additional requirements apart from the Class G licenses most of us own.
Fortunately, you can upgrade your driving qualifications by applying to a training center and undergoing lessons for a few weeks.
To help, we have listed the top truck driving schools in Ottawa you can enter. Apart from the wealth of courses they offer, these teaching grounds consistently tune up their lessons to ensure you pass your license tests.
We also provided information about probable expenses for vocational driving programs so that you can prepare your budget or secure funding. And if you have questions, our FAQs section might contain the answers you're looking for.
How much does enrollment in truck driving schools cost in Ottawa?
Most truck driving schools will charge you between $3,000 and $7,000. Private training centers will, of course, cost you more, with some reaching about $10,000.
The exact total of your truck driving training fees will depend on your school and what program you need to acquire your desired license. Moreover, you can expect miscellaneous expenses for requirements and learning materials.
Apart from the tuition fee, which tends to change from school to school, here are other miscellaneous items you need to include in your budget.
| Items | Estimated Cost |
| --- | --- |
| Air brake course | $300 - $500 |
| Official air brake handbook | $20 |
| Air brake examination fee | $16 |
| Air brake practical test fee | $50 |
| Medical report | $50 |
| Official truck driver's handbook (for knowledge test) | $20 |
Your total expenses will also depend on the license you want to acquire. As a quick guide, here are the following Commercial Drivers License (CDL) types that require training and the vehicles you can drive with each.
License Class
Vehicles
Class A
- Truck/tractor-trailer combination

- Motor vehicles and towed vehicles combination where the towed vehicle exceeds 4,600 kg and has air brakes

- Vehicle pulling double trailers

- Cars or light trucks allowable for Class G license holders

- Heavy trucks allowable for Class D license holders

- Vehicles covered under Class AR (Restricted Class A)

Class AR (Restricted A)
- Smaller truck-trailer combinations

- Cars or light trucks allowable for Class G license holders

- Heavy trucks allowable for Class D license holders

Class D
- Trucks weighing more than 11,000 kg

- Trucks or truck and towed vehicle combination over 11,000 kg where the towed vehicle doesn't exceed 4,600 kg

- Cars or light trucks allowable for Class G license holders
Best Truck Driving Schools in Ottawa
One key to trucking industry success is building a solid foundation of knowledge and practical skills, and a good school can provide you with both. Here are the criteria we applied to select the best truck driving schools in Ottawa you can enter.
1. North American Transport Driving Academy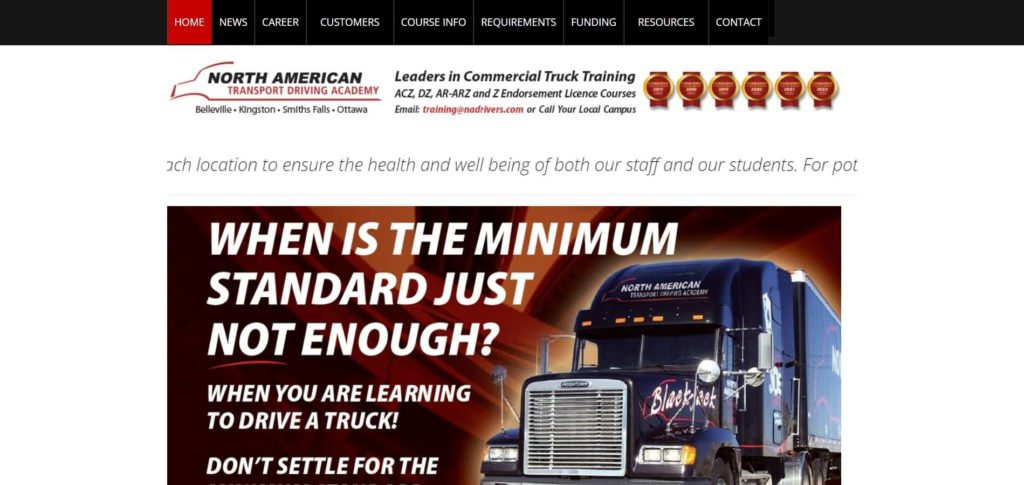 Test
Info
COURSES
- ACZ license course

- DZ manual license course

- DZ auto license course

- AR license course

WEBSITE
http://nadrivers.com/
ADDRESS
2473 Sheffield Rd., Ottawa, ON K1B 3V6
CONTACT DETAILS
(613) 561-4675
OPERATING HOURS
Monday to Friday: 8:00 AM - 4:30 PM
| | |
| --- | --- |
| Criteria | Rating |
| Diversity of programs | ★★★★☆ (4.5/5) |
| Expertise | ★★★★★ (5/5) |
| Program efficiency | ★★★★★ (5/5) |
| Instructor competitiveness | ★★★★★ (5/5) |
| Customer service | ★★★★☆ (4/5) |
| Responsiveness | ★★★★☆ (4/5) |
| Assistance | ★★★★☆ (4/5) |
Driving a truck can become complicated quickly when you discover that the necessary license comes in different types, depending on what vehicle you will handle.
Thankfully, the North American Transport Driving Academy offers programs that will help you acquire your desired license systematically.
Each of the school's courses is labeled by license type and comes with a breakdown of classroom and practical lessons plus the hours needed at each phase. We love it, as it provides aspiring truck drivers with a clear picture of what they will go through.
We also like that the academy emphasizes that more lessons occur outside the classroom (physical or virtual). Because of that assurance, enrollees can expect to practice a lot of actual driving, which is the right way to learn the skill.
Truck drivers willing to upgrade their licenses from DZ to ACZ can also avail themselves of the school's learning advantage program.
When you choose to go with the academy, the instructors will do their best to equip you with the knowledge you need to pass the license exam.
We love that the academy included pricing information for its air brake endorsement course. However, we had hoped it'd do the same with the other programs to help drivers prepare their budgets.
The school has several requirements that can also cost you some money, including a driver's abstract, criminal record check, and medical certificate. You would have to go a few extra steps to secure these documents, which can be a hassle if you're busy.
Nonetheless, we believe the quality training you'll get from competitive instructors will offset the few admission hassles.
Comprehensive programs
Longer hours of truck driving practice
Knowledgeable and supportive instructors
Funding options available
Admission entails several requirements
Possible issues with schedule management due to a high volume of students
Customer Reviews
Makes sure students succeed
"Incredible truck driving school! I just aced my DriveTest with ease. Not only was the course competitive in price, but the quality of course material and teaching staff are top-notch. The instructors and support staff went above and beyond to ensure my success in MTO tests and beyond. The school director stayed with me and a classmate two hours after class to ensure we understood some airBrake concepts before our written test. These folks are passionate about their students, and it shows in everything they do. Thank you, Ben, Tracey, and teaching staff for your kindness and hospitality." —Rami Elsayed, Google Reviews
Trainers you'll remember for life
"Just completed my DZ driver's license yesterday with this company. It was an awesome experience. Mark, the head trainer in the Ottawa location was great and knowledgeable. And for my on-road training, I had Bill from Smith's Falls who was great and made driving fun while still testing my skills throughout the small town. Both Rachel and Chantelle helped me get through the course as fast and efficiently as possible. And Bill from the Ottawa location gave me great insight on passing my pre-trip! It was a great experience, and thanks to you all!" —Eric Bottos, Google Reviews
2. Transport Training Centres of Canada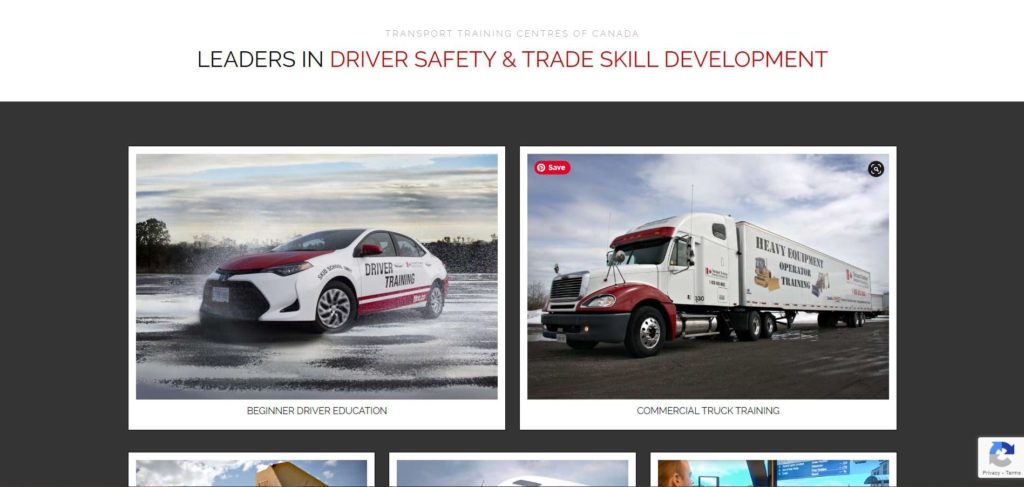 Test
Info
COURSES
- Transport driver (AZ)

- Three-week DZ straight truck

- Three-day DZ automatic transmission

- AR training

WEBSITE
https://ttcc.ca/
ADDRESS
1540 Star Top Rd., Gloucester, ON K1B 3W6
CONTACT DETAILS
(613) 244-3444
OPERATING HOURS
Monday to Friday: 8:00 AM - 4:00 PM
| | |
| --- | --- |
| Criteria | Rating |
| Diversity of programs | ★★★★★ (5/5) |
| Expertise | ★★★★☆ (4.5/5) |
| Program efficiency | ★★★★☆ (4/5) |
| Instructor competitiveness | ★★★★★ (5/5) |
| Customer service | ★★★★☆ (4.75/5) |
| Responsiveness | ★★★★☆ (4/5) |
| Assistance | ★★★★☆ (4.5/5) |
Knowing about air brake systems is an essential addition to your skill set as a truck driver. The proof is you need to undergo a 12-hour course and pass a test before you can get an endorsement.
The Transport Training Centres of Canada (TTCC) understand the struggle and want to help you. Hence, they made their teaching method simpler, incorporating air brake training into the AZ and DZ courses.
Drivers will have different learning curves, so we can't guarantee that everyone can master air brakes within the school's allotted hours. Nonetheless, the trainers follow a systematic program with a high chance of success.
We also love that the said training is free, reducing student expenses.
Moreover, the center guarantees that once you finish the air brake training, it will allow you to return for a refresher free of charge. But refreshers are rare because the teaching method appears to be effective.
The training center also opens more opportunities for you to develop your skills with its heavy equipment training. This is good news if you want to operate a backhoe or bulldozer or increase your employment opportunities.
We like that the center also offers beginner driver education, which aspiring truckers without prior driving experience need to clear before jumping to more advanced lessons.
Unfortunately, the program isn't available at the Ottawa campus. That means you need to enroll somewhere farther if you're a complete beginner.
We appreciate that the school provides a comprehensive list of lessons each course covers on its website. It gives the enrollees a bird's eye view of what to expect, making it easier to make decisions.
However, you would have to request more information about the hour allocation of each lesson and the pricing per course. That can mean a bit of waiting for a response from the school.
Know that TTCC is quite a busy driving school, so you can't always expect its service desk to respond to queries and concerns on the dot.
We hope that when you do get a hold of them, you will graduate with more skills and confidence under your belt.
Also offers heavy equipment training
Plenty of campuses to choose from
Doesn't charge for air brake training
Comprehensive course plans
No at-a-glance pricing information
Might be hard to reach at times
Customer Reviews
Instructors committed to helping you pass
"Just got my AZ license after taking the course, it was an awesome experience that has me prepared for the industry. My trainer Mike was an immense help and an incredible instructor!!!" —Jay Cres, Google Reviews
Accommodating and inclusive
"They are patient with me even tho I'm not the easiest person to teach because I don't learn like normal people and have lots of anxiety. I have progressed a lot but it's taking me longer than normal people to learn and they are still patient and go out of their way to help accommodate their students. They are friendly and I learned a lot from the trainers there." —Rita Abou Arrage, Google Reviews
3. Cross Roads Truck Training & Career Academy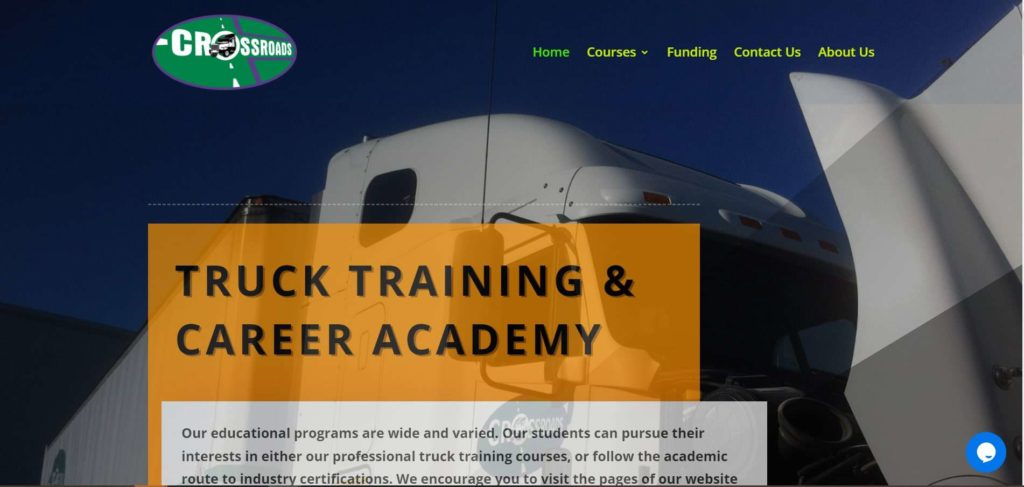 Test
Info
COURSES
- AZ course

- DZ course

- A Restricted

- F Class

- Air brake endorsement

WEBSITE
https://cttca.ca/main/
ADDRESS
1392 Cyrville Rd., Gloucester, ON K1B 3L9
CONTACT DETAILS
(613) 742-7499
OPERATING HOURS
Monday to Thursday: 8:00 AM - 4:30 PM

Friday: 8:00 AM - 3:00 PM
| | |
| --- | --- |
| Criteria | Rating |
| Diversity of programs | ★★★★☆ (4.5/5) |
| Expertise | ★★★★☆ (4/5) |
| Program efficiency | ★★★★☆ (4/5) |
| Instructor competitiveness | ★★★★☆ (4/5) |
| Customer service | ★★★★☆ (4.75/5) |
| Responsiveness | ★★★★☆ (4/5) |
| Assistance | ★★★★☆ (4.5/5) |
It's worth learning how to drive manual transmission trucks to increase your employability, as many fleets of transportation companies still use them. But cramming manual driving lessons and truck driving into one program can be overwhelming.
Fortunately, the Crossroads Truck Training and Career Academy (CTTCA) offers an extra course for operating manual transmission vehicles called the AZ Program Plus. It comprises an additional 50 hours of manual driving lessons on top of the six-week AZ program.
While a six-week, 50-hour course sounds a bit long, we believe the time is worth it. After all, you will be able to learn the skills necessary to acquire the highest type of license in Ottawa, plus you will be a more flexible driver.
If your target is a DZ license, know that you can also request an additional module to learn how to operate manually. Specifically, the school under this course will teach you how to shift semi-synchronized 10 or 13-speed vehicles.
As for the air brake endorsement course, the school offers a standard two-day program. It includes theory and practical classes, helping you prepare for the exam and test drive.
However, know that the training runs only once per month and is open to the public. That means you need to secure a slot on time by paying in full or risk waiting another month to register again.
The training center can also be busy, so you might have to deal with slow responses and scheduling difficulties.
We recommend taking advantage of the school's one-hour consultation for the AZ and DZ programs. That way, you'll know more about the courses and compare them with other training centers to make an informed decision.
Offers extra lessons for manual driving
Highly capable instructors
Will assist in securing funding
Better Business Bureau (BBB) accredited
Slots for air brake endorsement tend to fill up fast
No at-a-glance course breakdown online
Customer Reviews
Beginner-friendly training
"Amazing school with dedicated teachers, and extremely helpful staff. If you're wondering which school in Ottawa offers you the best chance at getting your AZ: this is the one. This is coming from someone with no previous experience whatsoever, so the instructors took great care and I feel confident with my abilities for any job in the future. Thanks again!" —Jacob MacDonald, Google Reviews
Makes learning enjoyable
"Great school and Instructors were great!! There was a lot to learn but you have fun doing it :). I felt very ready for test time and passed with flying colors! Thanks, Cross Roads, and special thanks to Joe and Phill, My instructors :)" —Tyler William, Google Reviews
FAQs about Truck Driving Schools in Ottawa
---
Truck driving is an attractive prospect if you enjoy long drives and meeting new people while earning substantially. Entering a reputable school for aspiring truckers is an essential step, and we hope our list of the best truck driving schools in Ottawa has helped you decide.
Don't have any prior driving experience but aspiring to become a full-time trucker? Then start acquiring the necessary documents by enrolling in a beginner driver education program offered by the best driving schools in the city.