The 5 Best Sporting Goods Stores in Ottawa
Whether you're an athlete who wore out your gear, or a beginner who's only just getting into a sport, it's best to get your gear from quality stores.
Thankfully, you don't need to take an airplane just to find a good place to get your sporting goods. The best places can be just a few blocks away as long as you know where and how to look.
In this article, we'll take you on a tour of the best sporting goods stores right here in Ottawa.
The Cost of Sporting Goods in Ottawa
With how many available sports there are these days, prices generally depend on what sort of equipment you're looking for and its brand name.
Some sporting goods are also meant for children and beginners, while others are for experienced players.
You may refer to the table below for the estimated prices of some popular sporting goods:
| Service | Average cost |
| --- | --- |
| Hockey sticks | $50 - $300 |
| Basketball balls | $18 - $129 |
| Baseball balls | $5 - $110 |
Top Sporting Goods Stores in Ottawa
Choosing the best sporting goods stores in Ottawa wasn't easy, but we based our decision on the following criteria:
1. Décathlon Ottawa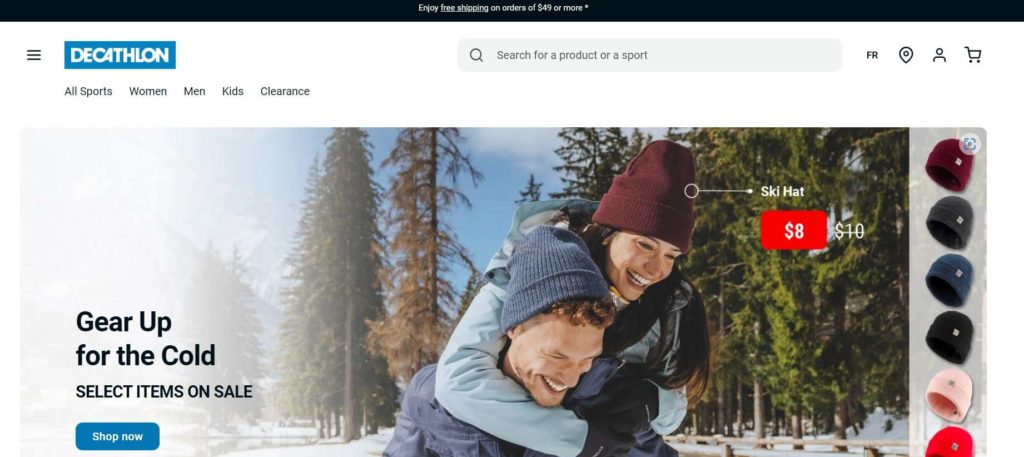 Test
Info
PRODUCTS
Various sporting goods
WEBSITE
https://www.decathlon.ca/en
ADDRESS
1055 St. Laurent Blvd, Ottawa, ON K1K 3B1, Canada
CONTACT DETAILS
613-690-2223
OPERATING HOURS
Monday - Friday: 10:00 AM - 8:00 PM

Saturday: 10:00 AM - 7:00 PM

Sunday: 10:00 AM - 6:00 PM
| | |
| --- | --- |
| Available goods | ★★★★★ (5/5) |
| Pricing | ★★★★★ (5/5) |
| Product quality | ★★★★☆ (4/5) |
| Customer satisfaction | ★★★★☆ (4/5) |
Décathlon Ottawa is one of the largest sporting goods retailers in the world, starting out as a family-run company in 1976 France. Its 7000 products consist of 65 kinds of sports, and its stores are available in 60 countries.
What we liked about Décathlon is that it's not just a retailer. It also creates its own products, from design and engineering to testing, manufacturing, and distribution — it does all of it.
That's how it controls the prices of its own products to give them at the lowest prices without sacrificing quality. It's also no wonder why its stores have regular discounts for products, making it a good place to visit if you want to save money.
Even if there's no Décathlon store close enough to you, that's not a problem because it offers home delivery services. Most of its products can now be delivered anywhere in Canada.
Have any second thoughts about your latest purchase? Décathlon has a 30-day return policy for non-Décathlon members and up to 1 year for Décathlon members.
Aside from equipment for all sorts of sports, there are also accessories available for you, like winter apparel or even safety equipment. Honestly, we could go on and on about all the products it has in store because there are just that many!
With that said, though, what concerned us is that some of its products may not be as sturdy as advertised. There's also some concern over the unpleasant attitude of a few staff that left past customers unhappy.
Large product catalog
Manufactures its own products
Nationwide delivery
Long return period for members
Some faulty products
Possibly unpleasant staff
Customer Reviews
Fairly priced and great quality
"This place is your Costco when it comes to sports. Quite dangerous if you go alone as you might end up spending much more than anticipated. Goods are fairly priced and of great quality. They cater to a lot of sports. Their bikes are awesome and their staff are knowledgeable and friendly."- Minhaz S.
Great place
"Great place with really helpful professionals. Had some problems with a bike that I bought, and they fixed it no problem. Fairly priced items all around so great place to pick up some gear for a sport you're just getting into. I've been relying on a decathlon bike for commuting for almost 3 years now and it's been very nice!" – Ver Pol
2. Sports 4 Ottawa
Test
Info
PRODUCTS
Activewear, sports accessories
WEBSITE
https://sports4.com/
ADDRESS
149 Bank St, Ottawa, ON K1P 5N7, Canada
CONTACT DETAILS
613-234-6562
OPERATING HOURS
Monday - Wednesday: 10:00 AM - 5:00 PM

Thursday - Saturday: 10:00 AM - 6:00 PM

Sunday: 11:00 AM - 5:00 PM
| | |
| --- | --- |
| Available goods | ★★★★☆ (4/5) |
| Pricing | ★★★★★ (5/5) |
| Product quality | ★★★★★ (5/5) |
| Customer satisfaction | ★★★★☆ (4/5) |
Sporting goods doesn't just mean the equipment you use to play the game, but it also includes the right sportswear too!
Sports 4 Ottawa specializes in sports apparel, footwear, and accessories of all kinds.
Its selection of footwear is very impressive because it stocks a lot of different running shoes depending on what you need. There are neutral running shoes, stability running shoes, winter running shoes, and so much more, available for both men and women.
For us, it's definitely one of the best places to visit if you only need the right shoes and sportswear. Plus, there are also cleaning products to help maintain all of your sports shoes in tip-top shape.
Sports 4's Fit Specialists are trained in footwear fitting principles, proper foot measurement/sizing, and the relationship between footwear and orthotics. This means that its team is dedicated to helping all customers leave with the right product for them.
This isn't surprising because it's a local business that's been running for over 37 years here in Ottawa. Although it's a small 'mom and pop shop,' there's no denying that it's a constant presence and source of good activewear even after how many years.
What it lacks is more variety in its products because it mainly focuses on activewear, especially footwear. While it does offer a few other items aside from what we mentioned already, there's really not much else to see here.
Wide selection of activewear
Large catalog for both men and women
Local business
Limited sporting goods available
Customer Reviews
Best running shoe shop
"When I found this place five years ago, I could not believe my luck. I am happy to report that it is still the best running shoe shop in Ottawa. Just passing this place on the street makes me smile. Every time I go here, I find something. The staff is honest, helpful, and upbeat. Most shoe stores don't carry the weird barefoot sneakers I like, but this place actually still has a decent selection." – Nicole Z
Well-trained and attentive
"Their staff are well trained and attentive – this is the place to go in Ottawa if you need advice on what type of footwear, sizing, gait assessments, etc. They will take the time necessary to get you the proper shoe for your foot." – Braek Urquhart
3. SAIL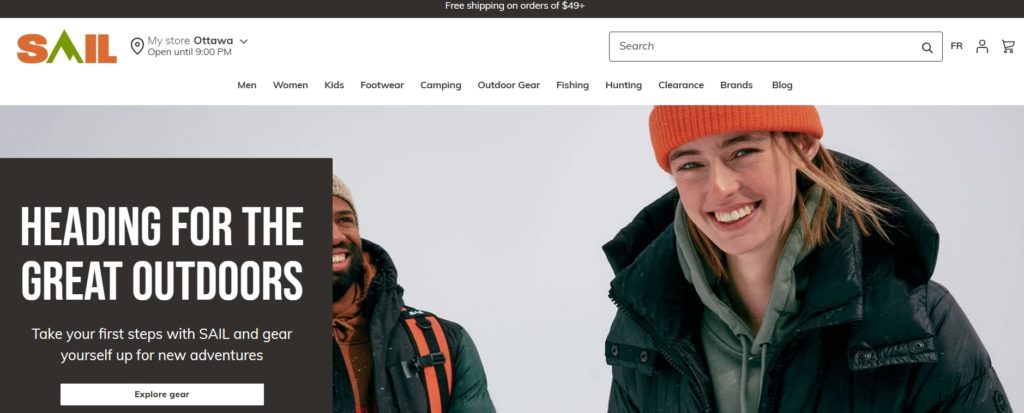 Test
Info
PRODUCTS
Activewear, outdoor sports accessories, outdoor gear, camping equipment, fishing equipment
WEBSITE
https://www.sail.ca/en/
ADDRESS
175 Trainyards Dr, Ottawa, ON K1G 3X8, Canada
CONTACT DETAILS
613-800-0939
OPERATING HOURS
Monday - Friday: 10:00 AM - 9:00 PM

Saturday- Sunday: 10:00 AM - 6:00 PM
| | |
| --- | --- |
| Available goods | ★★★★★ (5/5) |
| Pricing | ★★★★★ (5/5) |
| Product quality | ★★★★☆ (4/5) |
| Customer satisfaction | ★★★★☆ (4/5) |
While sports held inside dedicated playing areas like courts, fields, and stadiums are fun, outdoor sports will always be one of the best things to experience while growing up. For all those happy campers out there, SAIL might be the one for you!
Everything you need for an exciting camping trip, hiking, fishing, and everything else you can do in the great outdoors is available at SAIL. Heck, there are even kitchen accessories and appliances available if you want to cook a steak or brew coffee.
From burner stoves or BBQ grills for leisurely camping trips to backpacking stoves that could fit in your bag while trekking up mountains, there's probably something for you. If you prefer water activities, there's also a nice selection of clothing and gear for that.
SAIL is every outdoor sports enthusiast's or even just a nature lover's treasure trove because we can't even list everything it offers here. Additionally, it has firearms for any aspiring hunter, which you can check on its website.
Plus, what's not to love about regular discounts? Its clearance aisle offers discounts of up to 70% for a variety of branded items.
Sadly, however, since its products are geared toward outdoor activities, you can't find any equipment for anything else.
Large catalog of outdoor gear and activewear
Has firearms for hunting
Big discounts
Items limited to only outdoor sports
Customer Reviews
Great store
"Great store for outdoor sports with good selections. One of the few store that are pet friendly. Good customer service and never had a problem with an item return." – Jérémie Beaudoin
Huge selection
"Great place with a huge selection overall! Very helpful and knowledgeable staff, friendly and not invasive, definitely there to ensure a customer's best outcome. Went there for more rugged winter gear, though you have to expect higher prices, it makes sense based on the quality of product. However the selection range offers a good price distribution as well, and good prices can be had if you watch for sales." – Toma Feizo Gas
4. MEC Ottawa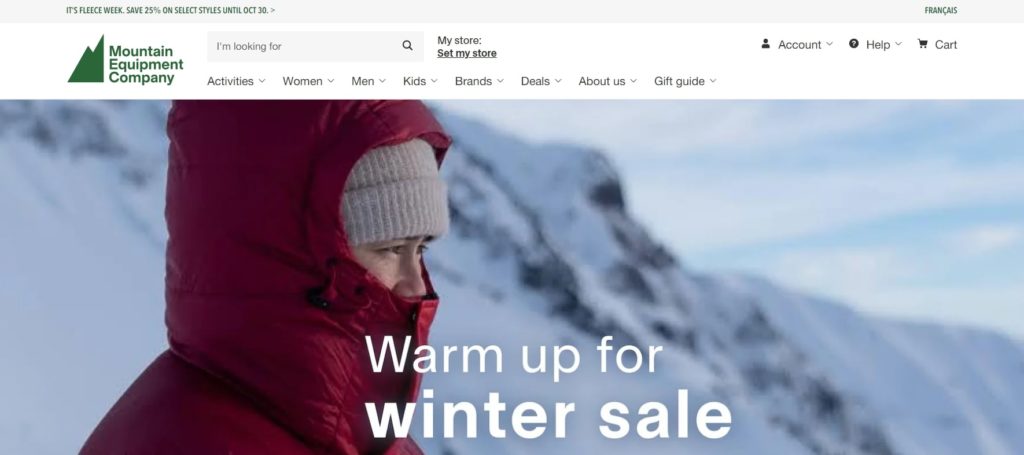 Test
Info
PRODUCTS
Activewear, snow gear, electronics, footwear, cycling gear, kids' activewear
WEBSITE
https://www.mec.ca/en
ADDRESS
366 Richmond Rd, Ottawa, ON K2A 0E8, Canada
CONTACT DETAILS
613-729-2700
OPERATING HOURS
Monday - Wednesday: 10:00 AM - 7:00 PM

Thursday - Friday: 10:00 AM - 9:00 PM

Saturday - Sunday: 10:00 AM - 6:00 PM
| | |
| --- | --- |
| Available goods | ★★★★★ (5/5) |
| Pricing | ★★★★☆ (4/5) |
| Product quality | ★★★★★ (5/5) |
| Customer satisfaction | ★★★★☆ (4/5) |
Planning a skiing trip during winter or going abroad to get some warm sun? MEC Ottawa has all your fashion and safety needs covered.
Whether you need a new pair of winter boots to trek up those snowy alps or a wetsuit while you're catching some waves, there's gotta be something for you. Even if you don't have any plans to go out, MEC Ottawa has fitness gear for your home workout needs.
Having the right activewear is just as important as having the right equipment for any sport. You can't expect someone who does skiing to wear running shoes or for cyclists to have hiking boots, right?
Regardless of what sport you're into, MEC Ottawa's large catalog of products is a great place to look. It offers branded items like The North Face, Black Diamond, Patagonia, and several more.
What's great is that there are also choices for kids, which makes your job a lot easier if you want to take the whole family out for a little shopping trip. We're also very happy to see that there's both a clearance aisle and regular discounts too.
Fair warning, some past customers we interviewed stated their dissatisfaction with MEC Ottawa's inventory. Reports of particular items left unstocked or being informed late that a product they ordered was sold out were some of the most common issues.
Good selection of branded sporting items
Offers children's sporting goods
Clearance aisle and regular discounts
Customer Reviews
Good quality items and service
"Good quality items and service. Salesman at the shoe section took his time to get proper fitting shoes. I started wearing them to break them in, but they're comfortable enough to use daily. I bought a day pack on sale online + hydration pack. Still looking for one for backcountry camping. I bought a rain jacket on sale, socks, dry pack and they're definitely better quality than other places. Backpacking is an expensive hobby. Beware, it can get addicting, and it's bad for your wallet. 😉
Also, I recommend parking about 5-10 min walk away, near the old Suzy Q's location, since it can get pretty dangerous when drivers are rushing in and out of Westboro and the parking lots there." – R B (Rizbaltech)
Awesome deals always
"Great store and location. Easy to find everything with the convenient and clean layout. Awesome deals always. Phenomenal quality of ALL the products. Love the variety available. I can find what I need and more every single time." – Olga Pekalska
5. Li-Ning Ottawa Dealer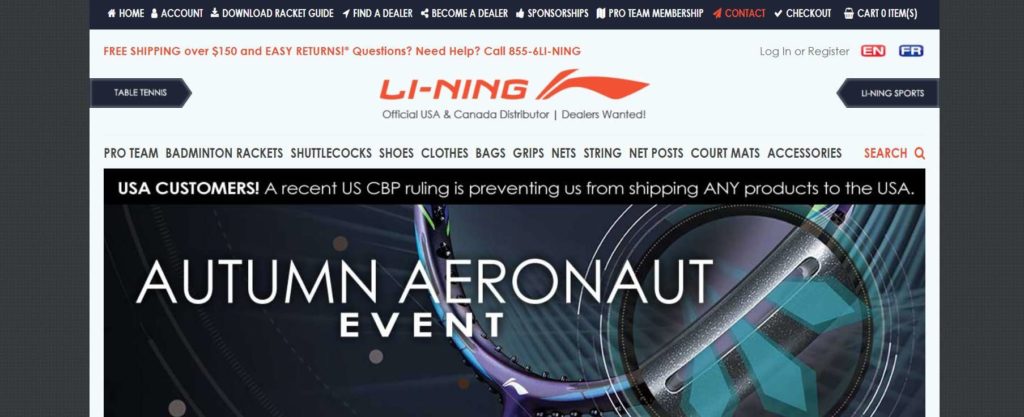 Test
Info
PRODUCTS
Badminton gear, activewear, bags, grips, nets, court mats, accessories
WEBSITE
https://shopbadmintononline.com/
ADDRESS
2451 Riverside Dr., Ottawa, ON K1H 7X7, Canada
CONTACT DETAILS
855-654-6464
OPERATING HOURS
Monday: CLOSED

Tuesday - Wednesday: 11:00 AM - 7:00 PM

Thursday - Friday: 11:00 AM - 9:00 PM

Saturday: 10:00 AM - 5:00 PM

Sunday: 12:00 PM - 4:00 PM
| | |
| --- | --- |
| Available goods | ★★★★☆ (4/5) |
| Pricing | ★★★★☆ (4/5) |
| Product quality | ★★★★★ (5/5) |
| Customer satisfaction | ★★★★★ (5/5) |
Li-Ning Ottawa is Canada and the USA's official dealer of professional Chinese sporting goods. Most of its products are geared toward badminton, table tennis, and pickleball players, but it offers activewear as well.
Of all the stores we came across, Li-Ning's caught our eye because it didn't just sell the equipment itself but also replacement parts and other helpful gadgets. An example is badminton strings and even an actual stringing machine.
Pretty much all your badminton needs can be found here. Whether you need nets, net posts, court mats, or a shuttle feeding machine to practice with, it's one visit away.
Another unique thing about Li-Ning is that it offers sponsorships for adult athletes and coaches. Successful applicants can enjoy 25% discounts off regular prices and free shipping on orders over $150.
Everyone we talked to had nothing but glowing praise for its staff and general customer service. They were all very satisfied with the selection of activewear, including the shoes and apparel too.
Li-Ning Ottawa is a stellar choice for badminton players or customers who are only interested in checking out activewear, but for everyone else, it's very lacking. The very limited choice of sports equipment is a bit of a bummer if we're being honest.
Specialized store for badminton players
Wide catalog of activewear for adults and children
Offers sponsorships
Lack of other sports equipment
Customer Reviews
Wonderful service
"Wonderful service at the RA Center store. Personnel were very knowledgeable and helpful. Great Li Ning product selection."- Tracey Ramsay
Outstanding selection
"Amazing little store bringing lots of life to the RA Centre; very friendly, knowledgeable staff on site! I was also blown away by the outstanding selection of products available!" – Blair Alexander
FAQs about Sporting Goods in Ottawa
---
No matter what type of sports you're playing, it's always a good idea to get yourself checked by the best sports doctors in Ottawa to get the right advice and guidance.