The 5 Best Spine Specialists in Ottawa
Our spines are especially weak to the effects of aging, which is why back pain is one of the first signs of its weakening health. Other factors like spinal injuries or issues can also cause a lot of pain and stress.
Whether you're already approaching your golden years or not, seeing a spine specialist is a must. In this article, we listed the best spine specialists in Ottawa, so sit back, relax, and read on.
The Cost of Spine Specialists in Ottawa
There are many types of spinal treatments available, but they're normally divided into surgical and non-surgical treatments. Each one has its own rate due to the procedures involved and depending on the exact type of care you need.
Some treatments are more expensive, especially when it comes to surgical treatments, which require more specialized care and equipment. You may refer to the table below for the estimated:
| Service | Average cost |
| --- | --- |
| Spinal decompression surgery | $3000-$5000+ |
| Physiotherapy | $75-$85 (per hour) |
| Chiropractic massage therapy | $75-$150 |
Top Spine Specialists in Ottawa
There's a lot we need to consider when making our choice, but we ultimately based our picks on these criteria:
1. Broadview Spine & Health Centre

Test
Info
SERVICES
Chiropractic adjustments, non-surgical spinal decompression, surgical spinal decompression, soft tissue therapies, and neurological rehabilitation
WEBSITE
https://broadviewhealthcentre.com/
ADDRESS
765 Broadview Ave, Ottawa, ON K2A 3X3, Canada
CONTACT DETAILS
613-728-2929
OPERATING HOURS
Monday & Thursday: 10:30 AM - 6:30 PM

Tuesday: 7:30 AM - 6:00 PM

Wednesday: 8:30 AM - 6:30 PM

Friday: 7:30 AM - 3:00 PM

Saturday & Sunday: CLOSED
| | |
| --- | --- |
| Facilities & equipment | ★★★★★ (5/5) |
| Areas of expertise | ★★★★☆ (4/5) |
| Rates | ★★★★☆ (4/5) |
| Customer satisfaction | ★★★★☆ (4/5) |
Broadview Spine & Health Centre is a leading center for advanced rehabilitation for brain injuries in Ottawa. It's led by two neurologists who use various types of equipment and treatments for all patients depending on what suits their needs.
Its specialists are well-known for providing quality concussion care, are experts in the study of clinical neuroscience, and are experienced in chiropractic treatments and clinical nutrition.
Although its services are few, patients can avail of treatments like chiropractic adjustments, soft tissue therapies, and neurological rehabilitation here. Past patients of Broadview Spine & Health Centre include the NHL's Sidney Crosby.
It's a given that most people would prefer not to need any surgery, but issues like chronic back pain and other spinal injuries tend to need it the most. What we love about Broadview Spine & Health Centre is that it has non-surgical treatments available.
The non-surgical spinal decompression therapy it offers can help heal damaged discs and, in doing so, may relieve symptoms like neck and head pain caused by spinal injuries.
What's more, it's a drug-free and non-invasive treatment that lasts for a period of several weeks. This allows the treatment to be a gentle and comfortable experience for any patient.
Our only issue with Broadview Spine & Health Centre is its lack of other services and its area of expertise is limited only to neurological issues. If you're only looking for a spine specialist, however, it definitely has the expertise and experience for you.
Clinical neurology experts
State-of-the-art neurology equipment and spinal treatments
Offers non-surgical spinal decompression therapy
Lack of other kinds of services & areas of expertise
Customer Reviews
Great services
"I have been a patient of the Broadview Spine & Health Centre for over 20 years. I have had great service from everyone who works in the building. I, primarily see Dr. Joseph Lawrence. He helped me though back pain when I was pregnant with my 1st daughter and I have had confidence in him ever since. The office staff are always very friendly and happy to hear of my day. I have been to the clinic since the covid restrictions have been in place and I feel very safe and comfortable with all they are doing to keep me healthy. Great results in my health and happy place to go!" – Ellen Gagne
Strongly recommend
"I have been going to this clinic for over 15 years. I have always experienced a warm and welcoming reception upon arrival. I go in to see the most experienced and professional massage therapist ever, Mike. He knows how to fix and control your pain. I highly recommend his services to everyone. Like I say, I have been seeing him for over 15 years, and thanks to him I lead a very functional life. Strongly, strongly recommend this Centre." – Eric Knight
2. NeuPath Centre for Pain & Spine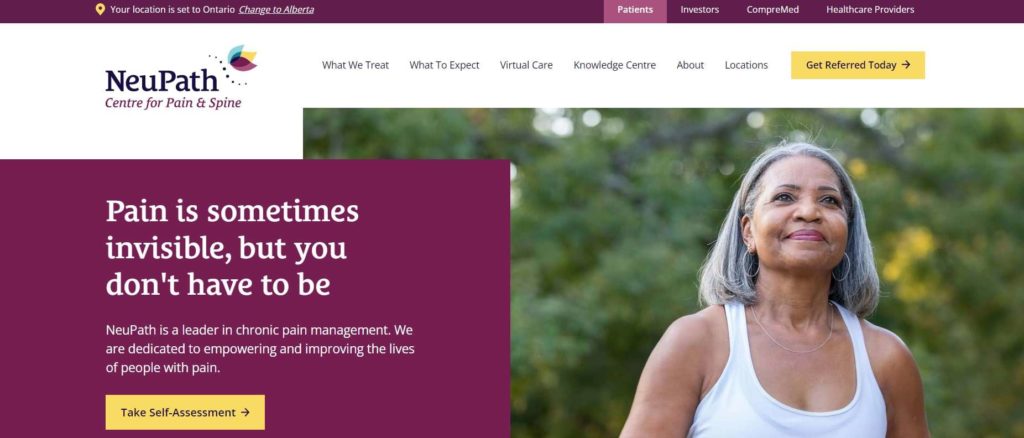 Test
Info
SERVICES
Epidural injections, intramuscular stimulation treatment, IV Lidocaine infusions, nerve block
WEBSITE
https://www.neupath.com/
ADDRESS
1770 Woodward Dr, Unit 100, Ottawa, ON K2C 3J2
CONTACT DETAILS
613 755 2095
OPERATING HOURS
Monday - Friday: 8:30 AM - 4:00 PM

Saturday & Sunday: CLOSED
| | |
| --- | --- |
| Facilities & equipment | ★★★★★ (5/5) |
| Areas of expertise | ★★★★★ (5/5) |
| Rates | ★★★★☆ (4/5) |
| Customer satisfaction | ★★★★☆ (4/5) |
The first thing that stood out to us about NeuPath Centre for Pain & Spine is that it doesn't just focus on a particular system of the body, but rather on relieving pain itself. Regardless of where your pain came from, NeuPath aims to improve your life anyway.
That's why its healthcare team is made up of pain physicians, physiatrists, medication management physicians, athletic therapists, nurses, and anesthesiologists. All of them are trained and experienced in helping patients deal with any and all issues.
Its clinics are equipped with the right tools to deal with all sorts of conditions and injuries. It even has non-opioid alternatives for spinal injury treatments, chronic pain, etc.
Even if you don't live in Ottawa or are planning on moving away, there's no need to worry about leaving this clinic behind. The NeuPath Centre for Pain & Spine has several other branches in Ontario, and you can check the locations on its website.
If you want to get to a physician faster, then that's not an issue because self-assessments are also available through a few of its branches.
Hands down, our favorite thing here at NeuPath is that all its initial assessments and most of its services are covered by the Ontario Health Insurance Plan (OHIP). That's not all, as some services are also eligible for third-party coverage and reimbursement.
This makes NeuPath Centre for Pain & Spine one of the most affordable spine specialists in Ottawa. So if you're covered by the OHIP, then don't be afraid to take advantage of it here!
What we're not so happy about, though, is its availability. It's unavailable during the weekends, which means you'd have to wait until the weekdays to get treatment. Plus, its early closing times make it a rush against time to arrive before it closes.
Covers all body systems
Large team of various specialists
Many branches
Non-opioid treatments
Covered by OHIP
Closed on weekends
Early closing times
Customer Reviews
Would highly recommend
"Everyone and I mean everyone from the front desk to the nurses to the doctors are all very kind. Any anxiety you may have they will put you at ease. Doctors give the patients the time they need and are very skilled in there field. The nurses are very caring and compassionate. The front desk staff are always smiling and greet you when you come in and they are always accommodating when it comes to finding you an appointment time that works for you. The treatment I have recieved here has been second to none. Would highly recommend 👌" – Jason Mousseau
Genuinely cares
"I have been with Dr. Constante for about 5 years and see him weekly. I've followed him from his first location up to his newest because he is so great and worth the change. That being said, Neupath is by far the best out of all 3 locations. Staff is amazing from start to finish! Front desk (super friendly, very helpful and compassionate). Nurses ( also very friendly, talkative, very professional and most importantly very quick and efficient). Doctors (extremely helpful, takes the time to answer any questions you have and even gives visual explanations, genuinely cares about the well being of his patients, very accommodating to patient needs and very professional yet still has a way of making you feel like you're part of the family)!" – Pierrette Meilleur
3. Kent Chiro-Med Physiotherapy & Chiropractic Clinic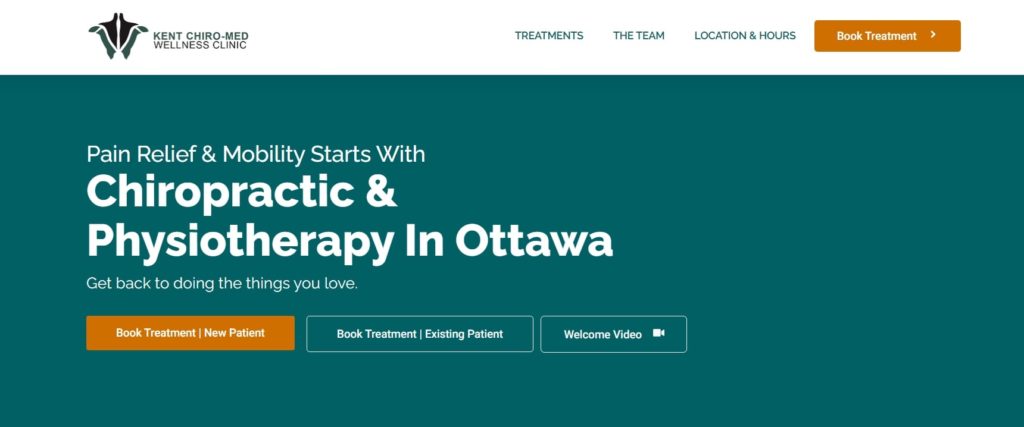 Test
Info
SERVICES
Chiropractic, physiotherapy, sports physiotherapy, spinal decompression, Graston technique, shockwave therapy, acupuncture
WEBSITE
https://www.kentchiromed.com/
ADDRESS
563 Gladstone Ave, Ottawa, ON K1R 5P2, Canada
CONTACT DETAILS
613-508-0113
OPERATING HOURS
Monday - Friday: 9:00 AM - 6:00 PM

Saturday: 9:00 AM - 3:00 PM

Sunday: CLOSED
| | |
| --- | --- |
| Facilities & equipment | ★★★★★ (5/5) |
| Areas of expertise | ★★★★☆ (4/5) |
| Rates | ★★★★☆ (4/5) |
| Customer satisfaction | ★★★★★ (5/5) |
When it comes to spinal issues specifically, Kent Chiro-Med Physiotherapy & Chiropractic Clinic is the right place to go in Ottawa. Other issues, such as sports injuries, ankle sprains, hamstring strains, shin splints, and more, are also welcome.
Its team is composed primarily of certified and trained chiropractors and physiotherapists who each have their own specialties. At its core, however, the team is aimed and ready to serve all patients who walk through their doors.
What caught our eye while looking over all the available treatments is its NeuroKinetic therapy. It's a great treatment that can be used as part of a regimen to treat conditions like impact or trauma injuries and lower back pain.
And do you know the best part? It's a completely natural and non-invasive treatment that aims to address and eliminate the root cause of any acute and chronic pain.
That's not the only unique treatment it has, though, because it's also proud to be one of the few treatment centers in Ottawa that offer shockwave therapy.
Acupuncture is one such natural treatment that's been recommended to help with spinal issues, and, you guessed it, Kent Chiro-Med Physiotherapy & Chiropractic Clinic has it.
OHIP also covers physiotherapy for chronic diseases so long as you have a prescription for physiotherapy and meet all the requirements. Keep in mind, though, that OHIP only covers up to a certain point in your recovery and isn't meant for a lifetime of funding.
Although Kent Chiro-Med Physiotherapy & Chiropractic Clinic is open on Saturday, there's still the issue if you were to need its services on a Sunday suddenly. While some may say, you can wait a day, having to endure the pain until then doesn't get any easier.
Specializes in spine care
Team is made up of chiropractors and physiotherapists
Offers NeuroKinetic & Shockwave therapy
Acupuncture treatment
Can be covered by OHIP
Customer Reviews
Best around
"Kent Medical Clinic is definitely the best around! As a professional athlete in Squash, I have seen many chiropractors / physios but this has definitely been the best experience! I met with Dr. Raphael, based on a injury I had that happened at the 2022 Canadian Squash Nationals. When I came out of our first appointment together, I was ecstatic that I had no pain and I was able to go back to the sport I love so much while being pain free! Dr. Raphael's treatment was exceptional and his humour had me laughing the entire appointment! I definitely put a lot of trust into Dr. Raphael, and I'm extremely happy to have him apart of my professional journey!! THANK YOU!!" – Jayden Shortt
Goes above and beyond
"Dr. Raphael and Dr. Ghaith are the best chiropractor and physio therapist I have ever met. They are both very caring about you and go above and beyond what most other therapy clinics do. You feel welcomed and listened to about all your issues. Both of these guys have worked magic on me and I feel 1000% better." – Imran Anwar
4. Ottawa Spinal Decompression Center

Test
Info
SERVICES
Chiropractic, spinal decompression, massage therapy, structural integration therapy, float therapy
WEBSITE
https://ottawadecompression.com/
ADDRESS
2043 Meadowbrook Rd. Ottawa, ON K1B 4W7
CONTACT DETAILS
888-456-0454
OPERATING HOURS
Monday - Saturday: 8:00 AM - 8:00 PM (By appointment only)

Sunday: CLOSED
| | |
| --- | --- |
| Facilities & equipment | ★★★★★ (5/5) |
| Areas of expertise | ★★★★☆ (4/5) |
| Rates | ★★★★☆ (4/5) |
| Customer satisfaction | ★★★★☆ (4/5) |
Ottawa Spinal Decompression Center is an expert when it comes to both surgical and non-surgical spinal decompression therapy. It has rendered over 25 years of service to the people of Ottawa and has since then earned its place in the community.
Before availing of any of its treatments, you can book a free consultation to find out if you're a candidate for spinal decompression therapy. The advantage of this particular treatment is it's non-invasive and performed in-office by its team of spine specialists.
Plus, the majority of extended healthcare plans include this service, so you won't have to worry much about the fees. You don't need a doctor's referral, nor are there any long waiting times for this procedure as compared to common surgeries.
Don't need that type of service but still need professional spine care? Ottawa Spinal Decompression Center's team of experienced professionals offers chiropractic care.
Even if you don't have any actual spine health issues, it still has a service for you! Its massage therapy services are open from 30 minutes up to 90 minutes per session.
There's a lot to appreciate about the Ottawa Spinal Decompression Center and its dedication to serving Ottawans. We're just a bit iffy that you can only visit it by appointment and who knows when you'll be able to book your slot.
Surgical & non-surgical spinal decompression therapy
Chiropractic care
Professional massage therapy
Visits can only be done by appointment
Customer Review
Changed my life
"I am a dental hygienist and at the beginning of the year I thought I was going to have to change my career because of the severe neck and back pain. After a few weeks of seeing Dr. Hudson, I felt like I had a new neck. A combination of appointments with Dr. Hudson and deep massage therapy with Monika have changed my life and made me love my career again! They are both extremely knowledgeable and empathetic, I cannot say enough great things about both of them! They fixed me ! Thank you for giving me a pain free life again!" – Janine Ryan
Worked wonders
"My dad recently developed severe sciatica symptoms and Dr. Hudson's chiropractic + spinal decompression treatment worked wonders! Saw in his office also a letter of commendation from the CAF's flight surgeon, reliable and solid +1!" – Shirley Z
5. The Happy Spine – NeuroStructural Chiropractic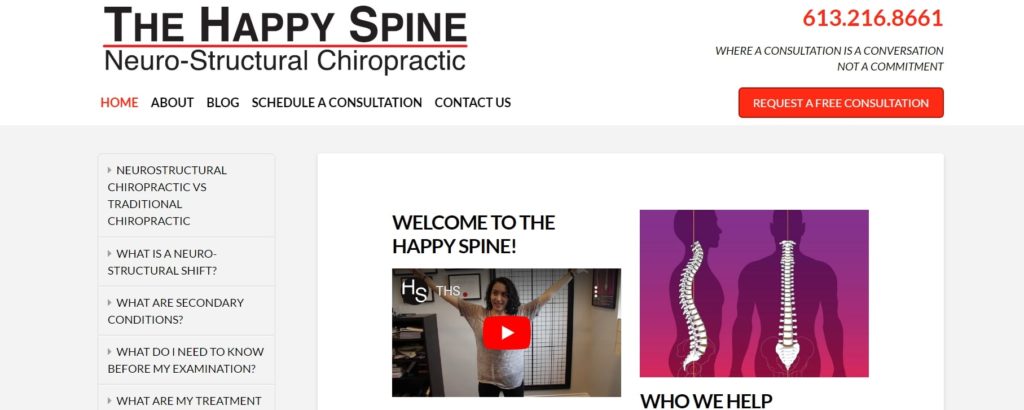 Test
Info
SERVICES
Neuro-structural chiropractic care
WEBSITE
https://thehappyspine.ca/
ADDRESS
370 Churchill Ave N Suite 202, Ottawa, ON K1Z 5C2, Canada
CONTACT DETAILS
613-216-8661
OPERATING HOURS
Monday - Thursday: 10:00 AM - 1:00 PM & 3:00 PM - 6:00 PM

Friday: 10:00 AM - 1:00 PM

Saturday & Sunday: CLOSED
| | |
| --- | --- |
| Facilities & equipment | ★★★★☆ (4/5) |
| Areas of expertise | ★★★★☆ (4/5) |
| Rates | ★★★★★ (5/5) |
| Customer satisfaction | ★★★★★ (5/5) |
The Happy Spine is probably one of the most unique spine specialists we've come across. Unlike most chiropractic care providers, it does its best to take a neuro-structural approach to its practices.
The aim of neuro-structural chiropractic treatments is to find the source of any problem and address it. Here at the Happy Spine, it provides detailed complimentary consultations, thorough examinations, and a treatment plan tailored to your needs.
Past clients raved about its unique practices and how, despite being skeptical at first, all left with stellar results. While its treatments are no 'quick fix,' it's sustainable and can certainly be done by anyone willing to put an end to their spine issues.
Now that we're all more conscious of the side effects of synthetic drugs and invasive treatments, the Happy Spine provides the opposite. While it doesn't offer any specific service right off the bat, it's all guaranteed to be holistic and natural.
Everyone we interviewed who had the chance to work with the Happy Spine always pointed out how its team was nothing but caring and empathic to them. They emphasized this specialist's focus on teaching them self-healing practices as well.
All in all, this is the best choice for someone who prefers natural and holistic methods of spine care.
However, if you're the type who wants to know what exactly your choices of treatment are, then the previous mentions might be better for you.
Neuro-structural chiropractic care
Personalized treatment plans
Holistic & natural approach
Lack of information on specific treatments involved
Customer Reviews
Holistic sustainable solutions
"Happy Spine is an awesome place. In the best way possible…it is NOT your traditional chiropractic office. At first I was nervous about visiting a chiropractor. In the free consultation, Dr. Tony patiently reassured me and explained how Happy Spine's neuro-structural approach is different. Over my time with both Dr. Tony and Dr. Joe, I can confidently say their approach to wellness is more than a quick fix. They truly believe in helping the patient discover more about the root of the pain. As described on their site, I can say with confidence, Happy Spine is most definitely a "holistic sustainable" solution to my back pain. I would HIGHLY RECOMMEND this clinic to anyone." – Tanya TL
Relaxed and peaceful
"I have been visiting The Happy Spine for about 6 months. Dr. Tony really helps me to improve the quality of my life. I used to suffer a lot from neck pain and migraine and was taking pain killers to keep myself go through the days. Now I rarely wake up with migraines or having a hard time falling asleep because of neck pain. And Dr. Tony has such a calming vibes that makes you feel so relaxed and peaceful. I feel so lucky that my friend introduced me to The Happy Spine instead of me putting more pain killers into my body." – Shuyu Hong
FAQs about Spine Specialists in Ottawa
---
If you want a more specialized list, particularly about back problems, then you can check out our article on the top back pain clinics in Ottawa!