Top 5 Speech Therapists in Ottawa
Speech-language pathology (SLP), also known as speech therapy, has helped many people in overcoming their speech impediments and disorders. The treatment uses amazing interventional activities to cater to both young and adult patients.
Living in the capital city of Canada with one of the best healthcare in the world, you're always at ease with having great healthcare providers near you. Here are the best clinics where you'll find the best speech therapists in Ottawa!
How Much Does Speech Therapy Cost in Ottawa
Services from speech-language pathologists or speech therapists costs approximately $190 per hour as recommended by the Ontario Association of Speech-Language Pathologists and Audiologists.

Unfortunately, the Ontario Health Insurance Plan (OHIP) does not cover this and any related services.
It is undoubtedly expensive but there are different financing plans from private insurance and charitable organizations as well. Luckily, most speech therapists' costs in Ottawa in this list range only commonly range from $100 – $150 per hour as shown below:
| Service | Average Estimated Costs |
| --- | --- |
| Initial Consultation | $100 - $150 per hour |
| Assessment | $130 - $150 per hour |
| Intervention | $120 - $200 per hour |
| Consultation | $100 - $150 per hour |
| Audiological Screening | $67 - $93 |
| Office Visit | $129 - $170 |
| Home Visit | $170.00 - $200 (plus travel cost) |
Top Speech Therapists in Ottawa
Best in Ottawa looks for healthcare providers that can help best with speech disorders for children and adults. We used the following criteria as a standard for this list:
1. ABCommunication Speech-Language Pathology Clinic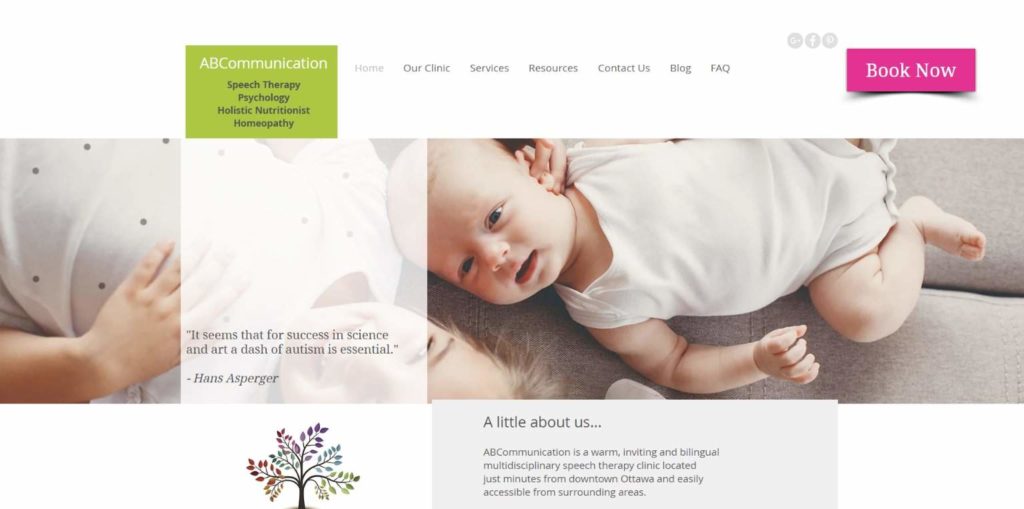 Test
Info
SERVICES
Speech Therapy, Psychology, Holistic Nutritionist, Homeopathy
WEBSITE
https://www.abcommunication.org/
ADDRESS
1939 St-Joseph Blvd, Orleans, ON, K1C 2E2
CONTACT DETAILS
Phone: 613-834-2229
OPERATING HOURS
Mondays to Fridays: 8:00 AM - 8:00 PM

Saturdays: 8:00 AM - 3:00 PM

Sundays: 9:00 AM - 3:00 PM
| | |
| --- | --- |
| Criteria | Ratings |
| Years of Experience and Accreditations | ★★★★★ (5/5) |
| Range of Services | ★★★★★ (5/5) |
| Availability and Patient Accommodations | ★★★★★(5/5) |
With speech therapists that have more than 15 years of experience, ABCommunication now offers other services too. We love how they are expanding into a multidisciplinary clinic that offers psychology, homeopathy, and holistic nutrition.
ABCommunication's bilingual multidisciplinary team is headed by two amazing speech therapists, Sharon Burgess and Anick Labrèche-Garby. Both directors have more than 15 years of experience in teaching and treating children and adults.
We're very impressed with Sharon Burgess' years of dedication and specialization in working with people on the autism spectrum. She also shared that two of her daughters were diagnosed with language-based learning difficulties that inspired her to deepen her knowledge in the field.
Currently, Sharon Burgess is now teaching Communication Disorders in Special Populations and Assistive Technologies to Support Reading in her alma mater, the University of Ottawa. On the other hand, Anick Labrèche-Garby focuses on providing SLP workshops for parents and communities.
The second director of ABCommunication is a seasoned expert in speech therapy for toddlers and children. We're very impressed with how experienced she is in treating speech delays from developmental delays or physical disabilities like down syndrome, cleft palate, and cerebral palsy.
Despite having to pay for travel time, ABCommunication offers daycare, school, and home visits. They base their rates on the recommendations of the Association of Audiologists and the Speech-Language Pathologists of Ontario.
ABCommunication does have a strict policy on cancellation. However, the clinic does not charge any fees for canceled appointments from illness, dangerous driving conditions, contagious infection, lice, or contagious infection.
Over 15 years of experience
Expertise in SLP for children
Travel time payment
Strict cancellation policy
Patient Reviews:
Works miracles

"Both my son have been seen by Sharon. She works miracles. My youngest sees her once a week. He loves it and he is 10 so that says a lot. He does not even realize he is working because of the variety in her activities. She is very professional and I highly recommend her." – DANIELLE Royle
Well-being and development at heart
"My autistic boy aged 5 years working with Sharon since the age of two years. Sharon developed a plan for my boy that allowed him to develop language skills. She always has her well-being and development at heart." – Kim Surprenant
2. Ottawa Speech Language Services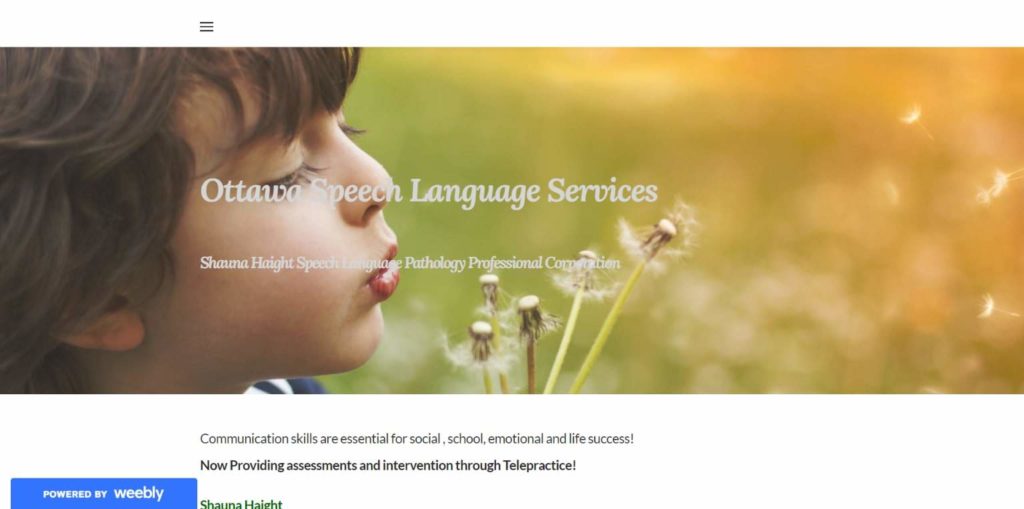 | Test | Info |
| --- | --- |
| SERVICES | Speech & Language Evaluation and Therapy |
| WEBSITE | https://www.ottawaspeechlanguageservices.com/ |
| ADDRESS | 98 Centrepointe Dr, Nepean, ON K2G 6B1, Canada |
| CONTACT DETAILS | 613-513-5764 |
| OPERATING HOURS | Mondays to Sundays: 8:00 AM - 6:00 PM |
| | |
| --- | --- |
| Criteria | Ratings |
| Years of Experience and Accreditations | ★★★★★ (5/5) |
| Range of Services | ★★★★★ (5/5) |
| Availability and Timeliness | ★★★★★(5/5) |
In terms of years of experience, Shauna Haight of Ottawa Speech Language Services holds the torch for starting in the profession since 1987. Her work setting experience includes children's rehabilitation centers, hospitals, and public school boards for speech and language therapy.
One of the things that impressed us with Shauna Haight is her work with a multi-disciplinary team of psychologists, social workers, and educators. Ottawa Speech Language Services often coordinates with them with treatments to get the best outcome as much as possible.
Ottawa Speech Language Services specializes in treating preschool and school-aged children. We really love Shauna Haight's wholesome approach to children that even the shyest of kids can easily warm up to her during their first session.
Despite only offering its services in English, Speech Language Ottawa goes above and beyond for its patients. For patients with autism and developmental disabilities, the clinic's services include the assistance of Angela Muis, a certified Communicative Disorders Assistant (CDA).
Unfortunately, Ottawa Speech Language Services does not provide an online booking feature. They compensate for this by providing telepractice where Shauna Haight can provide a therapy session using video call technology.
We are definitely a fan of how Ottawa Speech Language Services provides convenience through its telepractice. It also provides convenience to those who have problems traveling to still have their much-needed therapy session with the clinic.
Offers telepractice
Specializes in treating children
No online booking feature
Services only provided in English
Patient Reviews:
Incomparable effort and dedication
"My son has been visiting SLP Shauna Haight on a regular basis for speech development over the past 2 years. We began receiving help from Shauna when he was just over 2 years old for a pretty serious speech delay. We have taken part in other programs during this time, however, the amount of effort and dedication Shauna puts into every session with my son has been incomparable. She always provides a plan of action for his development along with homework for us to do at home to allow for continuous development of my son's speech. The improvement we have seen in him has been night and day over these two years. He is now in school and the average person (including school teachers) rarely realizes that he has any type of speech difficulty. I would absolutely recommend visiting Shauna if you have any concerns for your little ones!" – Samantha Piquette.
Highest caliber in knowledge, skill, compassion, and passion
"My son has been seeing Shauna for three years now. Her knowledge, skill, compassion, and passion for helping children to speak–and speak well are of the highest caliber. As a parent who has dealt with every kind of healthcare specialist, I base my assessment of her qualifications on firsthand experiences that are too many to count. She is second to none. My son has transformed from an almost silent, one-word boy into a voracious speaker; all thanks to Shauna's guidance and caring hand. My wife and I can, without any reservation, recommend her services as Speech Language Pathologist." – John and Valerie McEachern
3. ​Achieve Therapy Centre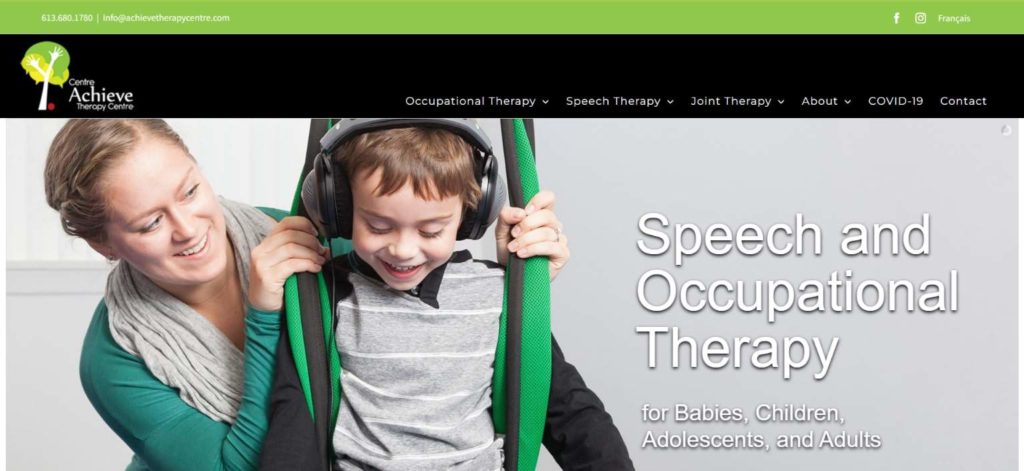 Test
Info
SERVICES
Occupational Therapy, The Handwriting Clinic, Sensory Processing Consultation, Speech-Language Pathology or Speech Therapy, Preschool Language Evaluation, Reading and Writing Therapy, Joint OT and SLP/ST Therapy
WEBSITE
https://www.achievetherapycentre.com/
ADDRESS
2948 Baseline Rd, Suite 203, Ottawa, Ontario, Canada
CONTACT DETAILS
613-680-1780
OPERATING HOURS
Mondays to Fridays: 8:00 AM- 6:00 PM

Saturdays: 9:00 AM - 12:00 PM

Sundays: CLOSED
| | |
| --- | --- |
| Criteria | Ratings |
| Years of Experience and Accreditations | ★★★★★ (5/5) |
| Range of Services | ★★★★★ (5/5) |
| Availability and Timeliness | ★★★★☆ (4/5) |
Nathalie Mabon and Krista Simon impressed us with their dedication and great service since their founding of Achieve Therapy Centre in 2009. Their joint specialization in speech-language and occupational therapy (OT) approaches is one of the best in the industry.
Achieve Therapy Centre's dedicated sensory gyms are one of the reasons why it's included in this list. We love how it is fully equipped to help children engage with speech and body through movement.
The best thing about the Achieve Therapy Centre is its emphasis on the role of the parents and their inclusion in the treatment. Rather than making them rely on the therapists for the treatment of the children, they train the guardians too to achieve the best outcome.
We personally love how warm, bright, and welcoming their clinic is for children. They have a special focus on treating children with their joint therapy of occupational and speech therapy but they still treat adults with speech impediments from illness, accident, or pre-existing conditions.
The clinic continues to impress us further by also having a special focus on helping adults with Parkinson's disease too. The staff is well-trained to assist patients that have difficulty speaking and swallowing from the illness.
Despite having expensive assessment fees, we appreciate how Achieve Therapy Centre is transparent with its pricing. They provide a complete guide for all of their treatments and services on their website.
The clinic is closed on Sundays but we love how they provide online therapy sessions. It provides convenience to families that don't have the luxury to travel.
Joint OT and SLP/ST therapy
Pricing guide available
Expensive assessment fee
Closed on Sundays
Patient Reviews
Wonderful, patient
"Our 2.5-year-old son has been going for a year now even though the pandemic, and we are so amazed with the progress he has made. We have been working with Michelle who is wonderful, patient, and always provides so many good exercises for us to use at home." – Kathleen Ager
Great experience
"Krista was phenomenal with our child. Warm, encouraging, and most of all the results were great. We have had such a great experience I can't recommend them highly enough." – Jeremy Irving (Irving Real Estate)
4. Speech Associates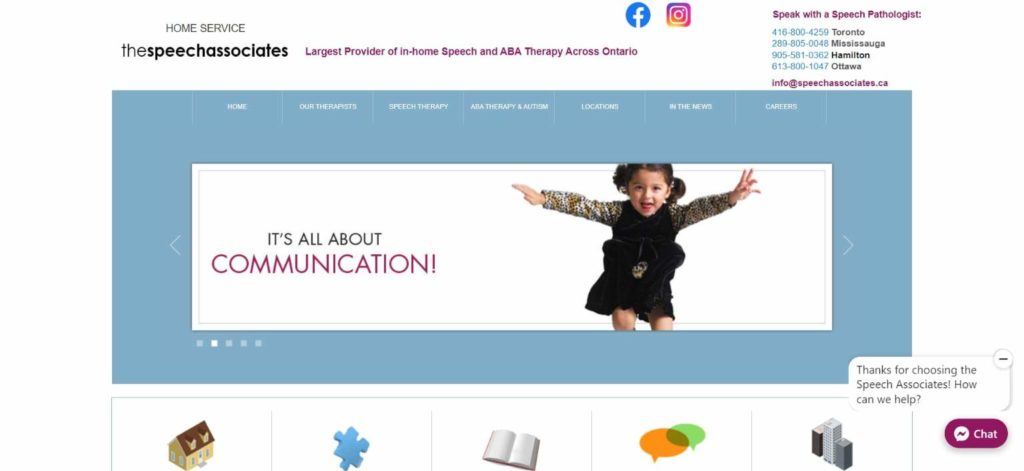 Test
Info
SERVICES
Speech Therapy, ABA Therapy & Autism, In-house Service Speech Therapy, Fluency, and Stuttering Management, Accent Reduction, Parent Coaching for Autism, Virtual Assessments
WEBSITE
https://www.speechassociates.ca/location.php?region=ottawa
ADDRESS
116 Albert St. Suite 300, Ottawa, ON, K1P 5G3
CONTACT DETAILS
613-800-1047
OPERATING HOURS
Mondays to Fridays: 9:00 AM - 8:00 AM

Saturdays: 10:00 AM - 6:00 PM

Sundays: 9:00 AM - 6:00 PM
| | |
| --- | --- |
| Criteria | Ratings |
| Years of Experience and Accreditations | ★★★★★ (5/5) |
| Range of Services | ★★★★★ (5/5) |
| Availability and Timeliness | ★★★★★(5/5) |
Speech Associates grabbed our attention with their more than 12 years of providing Speech and ABA services. Both the center's Speech-Language Pathologists and Behaviour Therapists are proud to serve almost 20,000 families.
One of the best things about Speech Associates is its no wait-list policy. With a team of over 80+ speech and behavior therapists, they can accommodate anyone and every day by being open all days of the week.
We really love how Speech Associates also provide individually tailored therapy for adults and children. They make sure that the treatment arrangement will suit their patient's needs.
Speech Associates impressed us more for going above and beyond for their patients of all ages. We enjoy having the option of having the therapy virtually or at home, at school, at daycare, or even at an office.
Despite not providing a pricing guide for their services, Speech Associates highlights that their services are mostly covered by private insurance plans, the Ontario Autism Funding Program, and charities.
Speech Associates is also approved and certified by the Ontario Autism Program (OAP). We like how they work hand in hand with families and other professionals for patients with speech impediments from autism to provide the best treatments that will fit their individual needs and goals.
Open all week
Virtual therapy option
No pricing guide
No online booking feature
Patient Reviews:
Huge progress after 10 sessions
"My 3-year-old son loved his speech therapy sessions with Alexa Livingstone. We saw huge progress after 10 sessions. When we started, my son just could say some words, after the sessions, he could say sentences and sings simple songs." – Rokhsareh S
Great improvement
"We are so happy and have seen a great improvement in our son's ability to talk fluently and comprehend reading passages. Teachers have noted that overall my son's language and literacy have improved. The therapist understands how to work with children of varying abilities.
Sessions are planned according to my son's needs and the conversations we have during the prior week. Very reflective, knowledgeable, and professional. So pleased with the improvements, definitely want to continue speech therapy with Mackenzie." – Matthew George
5. AAC and Literacy Ottawa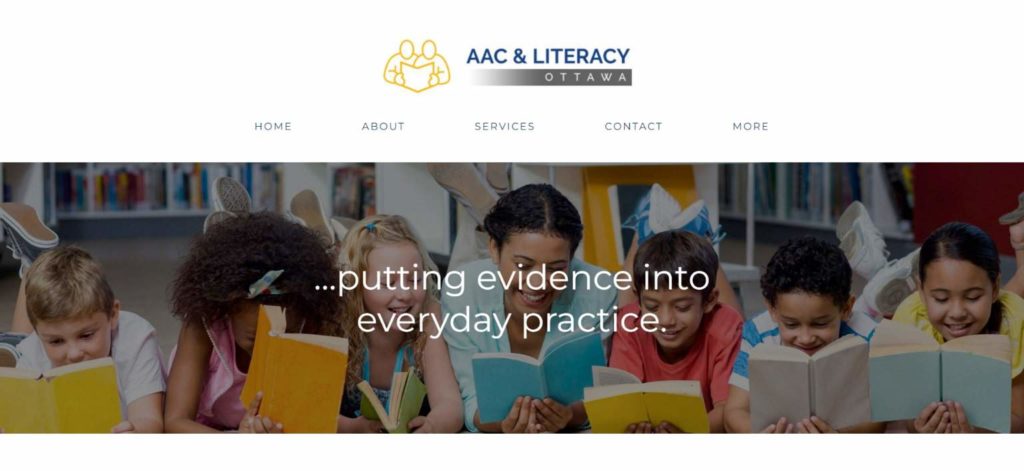 | | |
| --- | --- |
| Criteria | Ratings |
| Years of Experience and Accreditations | ★★★★★ (5/5) |
| Range of Services | ★★★★★ (5/5) |
| Availability and Timeliness | ★★★★☆ (4/5) |
Jocelyn Barden-Underhill, M.S. CCC of AAC and Literacy Ottawa really impressed us with her more than 30 years of clinical experience for people with complex communication needs.
She specializes in speech therapy for impediments caused by down syndrome, autism, etc.
What sets aside AAC and Literacy Ottawa from other centers is their focus on AAC or augmentative and alternative communication. We love how the approach has varied techniques and tools to treat people with difficulty in talking to be able to express their thoughts verbally.
AAC and Literacy Ottawa work extensively in the AAC field for years. Aside from down syndrome and autism, Jocelyn Barden-Underhill is also adept at treating speech impediments for children and adults with cerebral palsy, and other developmental disabilities.
We're a total fan of the creative use of speech-generating devices, picture communication boards, gestures, manual signs, and finger-spelling as other means of communication and not just through verbal means. It provides a way for other people who can't express themselves verbally.
Upon browsing through their website, AAC and Literacy Ottawa does not provide a pricing and opening hours guide. However, it is stated that the fees abide by the recommendations from the Ontario Association of Speech-Language Pathology and Audiology (OSLA).
We really appreciate how AAC and Literacy Ottawa can tailor the assessment and intervention plans according to the client's budget too. Schedules are also open for discussion as therapy is available through video calls, home visits, and office visits.
AAC approach
Specialization in treating speech impediments from developmental disabilities
No pricing guide
No opening hours guide
FAQs about Speech Therapists in Ottawa
---
We hope that helped you in your search. With the right therapists, any speech impediments can be solved and managed through their best treatments.
The capital city has more to offer for healthcare services. Check out our other blogs for more healthcare-related listings in Ottawa: