The 6 Best Relocation Companies in Ottawa
Moving is a big event, but it can be made easier with the help of professional relocation companies. Ottawa has a few of these that can help make your move go smoothly.
In this article, we will be assessing relocation companies and the advantages they are able to provide to their clients. We will discuss the services they provide and what sets them apart.
How much do relocation companies charge?
Relocation companies usually have bundled services. The price will depend on the time it will take to complete the move and also the number of items that need to be moved.
For a more specific look, check out the table below.
| Service | Average cost |
| --- | --- |
| No truck relocation (for those who have their own big vehicle) | $100 - $150 per hour |
| Relocation with truck | $100 - $200 per hour |
| Long distance relocation | $1,000 to $3,000 |
| Packing assistance | $100 - $150 per hour |
The Best Relocation Companies in Ottawa
To provide you with this list of the Ottawa's best relocation companies, we considered the following factors:
1. Lloyd Empires Moving & Delivery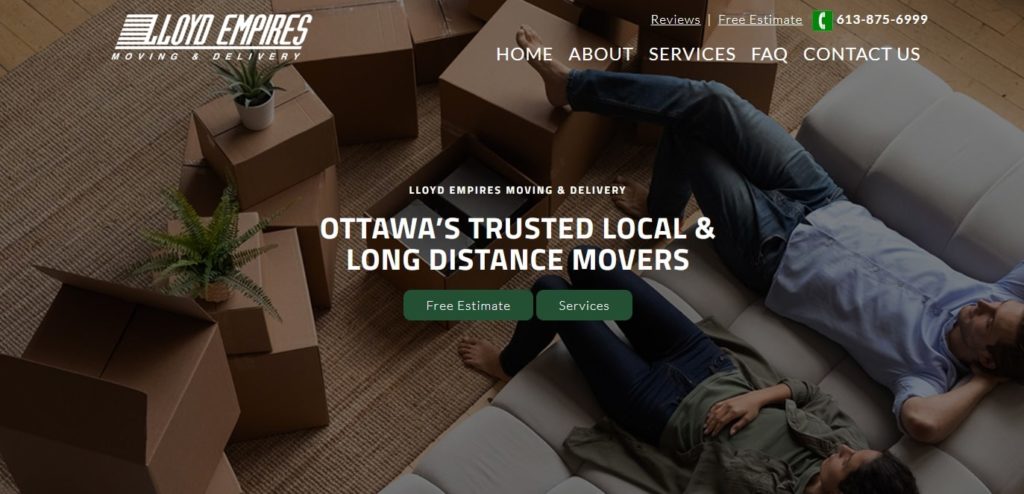 Test
Info
SERVICES
Local Moving, Long Distance, Packing Services, Commercial Delivery, Home Delivery
WEBSITE
https://lloydempires.com/
ADDRESS
2750 Sheffield Rd #110B, Ottawa, ON K1B 3V9, Canada
CONTACT DETAILS
613-875-6999
OPERATING HOURS
Monday 8AM–5PM

Tuesday 8AM–5PM

Wednesday 8AM–5PM

Thursday 8AM–5PM

Friday 8AM–5PM

Saturday 8AM–5PM

Sunday Closed
| | |
| --- | --- |
| Criteria | Ratings |
| Rates | ★★★★(4/5) |
| Availability | ★★★★(4/5) |
| Equipment | ★★★★★(5/5) |
| Feedback | ★★★★★(5/5) |
Lloyd Empires Moving & Delivery is a great option when it comes to relocating inside Ottawa and even outside of the city. It has a wide range of services and is one of the city's main relocating companies.
The company provides long-distance relocation, packing services, commercial delivery, and more. It has also received much positive feedback from previous clients.
For commercial clients, it provides commercial packing, commercial deliveries, and long-distance moving services designed to relocate large items, such as appliances or furniture.
We also love that Lloyd Empires provides 2 free wardrobe boxes to clients if they need them. This makes the moving process more convenient and less stressful.
If you have everything you need and just require assistance during the packing of your items, Lloyd also provides simple packing services. This is a good option for small relocations like students going to college and other similar situations.
The only real drawback of this company is the price. It's not the cheapest option in the market, but its services speak for themselves.
It's also closed on Sundays, so if you need an urgent move for the weekend, you'll have to look for another moving company that does provide weekend services.
Overall, because of its versatility when it comes to its services, we still recommend Lloyd Empires for all your moving needs.
Offers commercial services as well
Packing services available
Free estimate
Online booking
Customer Reviews
Excellent work
"Let me start by saying WOW! What a moving company, what a trio I was given on move day by Mike the owner. I had the best experience with Justin the driver🧠💪🏼, Rock💪🏼 and Nathaniel💪🏾then any move in the previous 40 years I've had. They were extremely fast, so efficient, professional like you wouldn't believe." – CM
Will use in the future
"I had to schedule a move from Kingston to Ottawa with only 3 weeks notice and Mike and his team took care of everything. They even accommodated my need for overnight storage since my new apartment wasn't going to be available immediately. These guys were great, competitively priced, and I'll definitely be calling them first for future moves." – Eric Lian
2. First Rate Movers Inc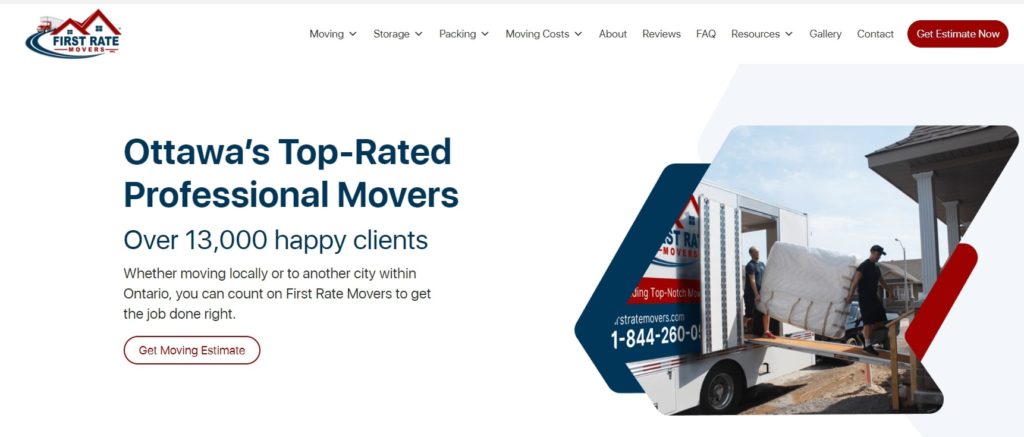 Test
Info
SERVICES
Local Moving, Long Distance Moving, Piano Moving, Furniture Hoisting, Truck Rental, Furniture Donation & Disposal
WEBSITE
https://www.firstratemovers.com/#
ADDRESS
995 Moodie Dr #6, Ottawa, ON K2R 1H4, Canada
CONTACT DETAILS
613-260-0505
OPERATING HOURS
Monday 8:30AM–5PM

Tuesday 8:30AM–5PM

Wednesday 8:30AM–5PM

Thursday 8:30AM–5PM

Friday 8:30AM–5PM

Saturday 9AM–4PM

Sunday Closed
| | |
| --- | --- |
| Criteria | Ratings |
| Rates | ★★★★(4/5) |
| Availability | ★★★★ (4/5) |
| Equipment | ★★★★★(5/5) |
| Feedback | ★★★★★(5/5) |
Another great option for relocation is First Rate Movers Inc. The corporation first started out as a small business but eventually grew into one of Ottawa's biggest companies.
Among the services that it offers are local relocation, long-distance relocation, piano moving, furniture hoisting, and truck rental. Customers can also avail of the company's packing and unpacking services, as well as storage unit rentals.
What we love about this establishment is the simplicity of its services. Hoisting a huge piece of furniture is such a huge help, even though it's a simple task that appears to be very easy.
The best part about the company is that it is very transparent about its rates so that customers know just how much they will need to pay in advance. For estimates, potential clients can check out its website and find out more.
It's also worth noting the positive feedback that First Rate Movers has received from its previous clients. This means it has a solid track record to back up its claims as one of the leading movers in Ottawa.
Overall, the only drawback of this company is the fact that it can be pricey. If you're under a strict budget, you may be better off with a different company that provides more affordable services.
However, if you can afford First Rate Movers' services, then, by all means, go for it because it's definitely one of the best in Ottawa.
Two decades of experience
Online quotes
Furniture hoisting and other short services
Great feedback
Post-relocation services
Customer Reviews
Moving became a pleasure
"Having helped my son move a number of times, I have had a few negative, as well as some mediocre encounters with moving companies. First Rate Movers, however, provided an entirely elevated moving experience and made what is normally a very stressful event, into a pleasure." – S. S.
Best movers
"We have only great things to say about First Rate Movers! They're the best movers we've ever worked with! The team is super fast, professional and organized. If you're looking to hire a moving company that will handle your belongings with care, the choice is easy, go with First Rate Movers." – Domenico Patulli
3. Ottawa Pro Movers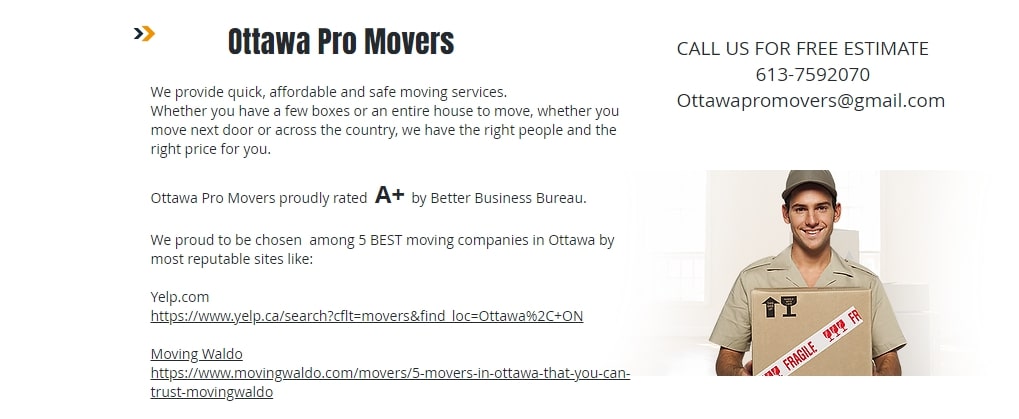 Test
Info
SERVICES
Truck Rental, Long Distance Relocation, Short Relocation, Packing Services
WEBSITE
https://www.ottawapromovers.ca/
ADDRESS
453 Preston St, Ottawa, ON K1S 4N5, Canada
CONTACT DETAILS
613-759-2070
OPERATING HOURS
Monday 9AM–7PM

Tuesday 9AM–7PM

Wednesday 9AM–7PM

Thursday 9AM–7PM

Friday 9AM–7PM

Saturday 9AM–7PM

Sunday 9AM–7PM
| | |
| --- | --- |
| Criteria | Ratings |
| Rates | ★★★★ (4/5) |
| Availability | ★★★★★ (5/5) |
| Equipment | ★★★★(4/5) |
| Feedback | ★★★★★(5/5) |
​Ottawa Pro Movers is a relocation company located in Preston Street. It's at the heart of one of Ottawa's busiest areas and is one of the most well-known companies in the city.
This business is family-owned and has always been based in Ottawa, so it has strong ties to the local community. The company is known for its great service and competitive prices.
Among the services it offers are residential, commercial, and corporate moving, storage, packing, furniture assembly, and short relocations.
It also offers truck rentals for those who only need a big vehicle for their move and don't have a huge budget.
Aside from getting great feedback from previous customers, Ottawa Pro Movers has also won multiple awards for its quick and efficient services, as well as its dedication to its customers.
We love that it accepts online bookings and that it's open every day. This means customers who are too busy during weekdays can avail of Ottawa Pro Movers' services on weekends.
Unfortunately, the service can be pricey, so if you don't have the budget, you may need to go with a different company.
Overall, Ottawa Pro Movers is a great choice when it comes to relocation because of its versatility and customer service.
A+ score from the BBB
Available for short-notice relocation
Discount services
Online booking
Open everyday
Customer Reviews
Quick and efficient
"After receiving several quotes, I decided to hire Ottawa Pro Movers because their prices were the most competitive in the area. They are extremely well-organized and communicate frequently and effectively. The movers arrived on time and informed me half an hour ahead of time so that we could prepare." – F. Manera
Friendly and informative
"Our experience with Ottawa Pro Movers was awesome! From inquiring about the services (very informative and friendly over the phone) to the actual move! Our movers were Daniel and Serge They showed up on time, were very professional and friendly and worked efficiently. " – Jaar Baha
4. Discount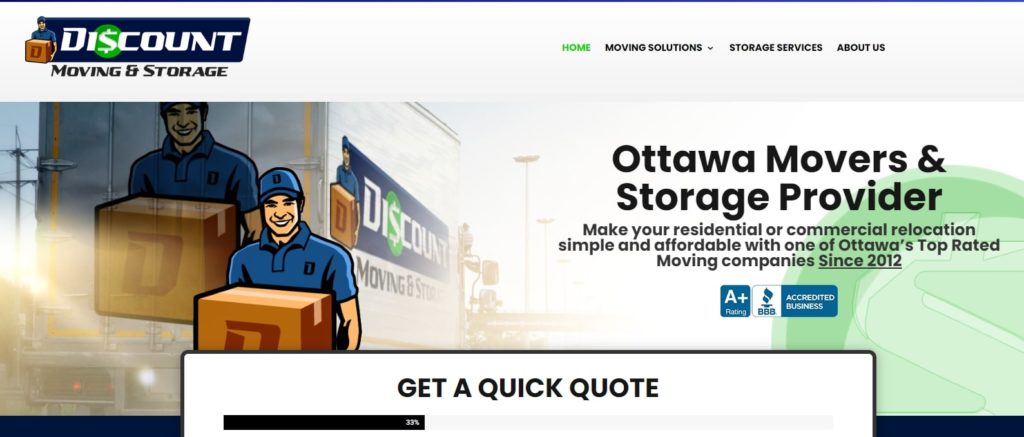 Test
Info
SERVICES
Residential Relocation, Commercial Relocation, Furniture Relocation, Long-distance Relocation, Local Relocation
WEBSITE
https://discountmovingottawa.com/
ADDRESS
2285 St. Laurent Blvd Unit A10, Ottawa, ON K1G 4Z7, Canada
CONTACT DETAILS
613-601-6683
OPERATING HOURS
Monday 7AM–11PM

Tuesday 7AM–11PM

Wednesday 7AM–11PM

Thursday 7AM–11PM

Friday 7AM–11PM

Saturday 7AM–11PM

Sunday 7AM–11PM
| | |
| --- | --- |
| Criteria | Ratings |
| Rates | ★★★★★ (5/5) |
| Availability | ★★★★ (4/5) |
| Equipment | ★★★★(4/5) |
| Feedback | ★★★★★(5/5) |
Discount Moving & Storage is another great option for relocation services. It offers competitive rates, a variety of packing and shipping services, and 24/7 customer support.
We also love that Discount offers free estimates, so customers know what their costs will be upfront. Plus, it offers a satisfaction guarantee on all of its services.
Online booking is also available, which makes it easier for customers to schedule service appointments at a time that is convenient for them.
Pricing varies by service location but customers can typically save up to 20% by using Discount over traditional movers.
The company has over 10 years of experience, so it knows how to meet the needs of its customers and get the job done right. It also offers a convenient, online quoting tool that makes finding the right solution for your needs quick and easy.
It has received positive reviews from customers who are happy with their moving experience and say they were able to save significant money using Discount over other movers.
Unfortunately, it doesn't accept short-notice moves and also doesn't have independent packing services. If you only need packing, you should go with a different company.
Overall, it's a great choice if you're looking for a low-cost moving company with flexible scheduling options and excellent customer service.
Free estimates
Less expensive options
Online booking
Storage services for future relocation
More than 10 years of experience
Open everyday
No short-notice options
No independent packing services
Customer Reviews
Professional team
"From the very first contact I had with Tony Nasrallah, I felt confident and at ease. Tony has been straightforward until now. He and his two employees were fast, efficient, and careful while moving my belongings. His employees, two young chaps, are courteous, professional, efficient, and customer-service-oriented." – Celine Beaudoin
Thank you
"During a very challenging time when I had to coordinate a lot of moving parts, Tony was exceptional in his responsiveness and with accommodating our needs. On time, professional, friendly and took good care of our things. I wouldn't hesitate to recommend Tony and his team to anyone looking for a seamless moving experience. Thanks, guys!" – Krista Farray
5. Prestige Moving Inc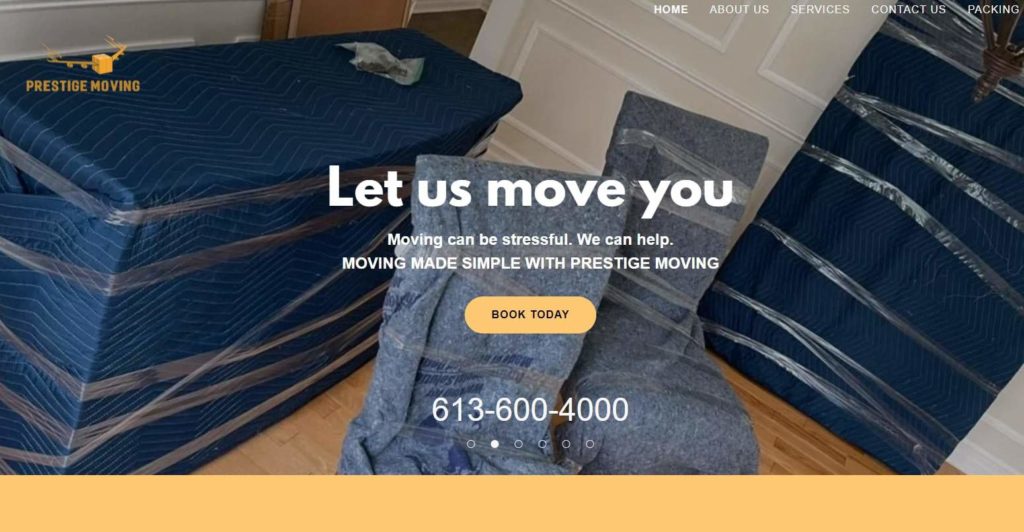 Test
Info
SERVICES
Student Relocation, Residential Relocation, Commercial Relocation, Long Distance Relocation
WEBSITE
https://prestigemoving.ca/
ADDRESS
316 Sweet Grass Circle, Ottawa, ON K2J 5W9, Canada
CONTACT DETAILS
613 -600-4000
OPERATING HOURS
Monday 9AM–10PM

Tuesday 9AM–10PM

Wednesday 9AM–10PM

Thursday 9AM–10PM

Friday 9AM–10PM

Saturday 12AM–8PM

Sunday 11AM–5PM
| | |
| --- | --- |
| Criteria | Ratings |
| Rates | ★★★★ (4/5) |
| Availability | ★★★★★(5/5) |
| Equipment | ★★★★★(5/5) |
| Feedback | ★★★★★(5/5) |
Prestive Moving Inc. is a reputable and professional moving company in Ottawa that offers a wide range of relocation services. It has been in operation for years and has a reputation for providing high-quality services.
Prestige Moving offers both local and long-distance moving services to a wide range of clients, including both residential and commercial customers.
It also provides packing and unpacking services to help its clients reduce the stress of moving and help them keep their items safe throughout the move.
What caught our attention is its student relocation services. These are aimed at helping students relocate their belongings safely and securely to and from university residences.
This option is also cheaper compared to other moving companies. Other than that, it offers commercial relocation for bigger businesses that are relocating their offices.
We also love the fact that Prestige is open every day, so customers can choose the day that fits them best for relocation.
The only downside of this company is its pricing for regular relocation. Unlike its student program, its other services aren't discounted.
Overall, because of the wide range of services available, we still highly recommend it for your relocation needs.
Student services
Commercial services
Great feedback from previous clients
Known for careful packing
Open everyday
Customer Reviews
Stress-free
"We used Prestige Moving Inc recently for our move from Ottawa to NB. Amazing experience. The guys were absolutely amazing, helped reassure us and made us feel comfortable and not rushed. They actually took a lot of stress off of our shoulders." – Shannon Gilbert
More than 5 stars
"If I could increase the rating above 5, I would. I had a fantastic experience with Prestige Moving today. They showed up on time, asked all the right questions, were polite, friendly, professional, fast, and best of all, careful with all of our belongings." – Maartin Bienasz
6. Men In Trucks Inc.
SERVICES
Ottawa Residential Moving
Ottawa long distance moving
Discount Student Moving
Commercial Moving Service
Ottawa Antique Moving
Ottawa Secure Storage
WEBSITE
mitmoving.ca
ADDRESS
2255 St. Laurent Blvd Unit104, Ottawa, ON K1G 4K3
CONTACT DETAILS
[email protected]
(613)-800-0917
OPERATING HOURS
Monday – Sunday, 24 hours
| | |
| --- | --- |
| Criteria | Ratings |
| Rates | ★★★★ (4/5) |
| Availability | ★★★★★(5/5) |
| Equipment | ★★★★★(5/5) |
| Feedback | ★★★★★(5/5) |
Men In Trucks is an Ottawa moving company based in Ottawa, Ontario that provides all-inclusive relocation services for families, students, and businesses, including packing, loading, unloading, unpacking, and arranging.
With their effective team in communication, productivity, and collaboration, Men In Trucks is one of the fastest growing moving businesses in Ontario. Thanks to this they have been set apart from their competition.
With over ten years in the company, they have the experience you need to relocate to your next adventure, whether you're coming as a student, a household, or a business. They especially shine when it comes to their long distance moving.
They will guarantee that your things will get to your destination safely. They are concerned about your stuff and will go out of their way to make the logistics as simple as possible.
When they arrive at your new house, they will even assist you with unloading, arranging, and reassembling your belongings. These specialists have your best interests at heart, and you can be confident that your relocation will go well.
Efficient, professional, and easy to talk to movers
Great attention to detail
Uses quality equipment and transportation
Available seven days a week
Customer Reviews
Highly recommend
"I want to preface this review by saying I NEVER leave reviews, but after the service I received from Men In Trucks, I had to. They moved me on Canada Day and they were professional and respectful. They made the moving experience fun and enjoyable. I would HIGHLY recommend them for all your moving needs. They are a first class company!" – NAME HERE
These guys are the real deal
"Highly recommend this company. Moved quickly and we're a great help. The sales person gave me an accurate quote and answered many questions.. At first I contacted all the big-name moving companies and that was a complete waste of time. These guys are the real deal."  – Kasm Nussair
7. Professional Movers Ottawa
SERVICES
Local Moving, Long-distance Moving, Residential Movers, Office Movers, Piano Movers, Furniture Movers, Senior Movers, Small Movers, Packing Services, Packing Supplies, and Climate Controlled Storage.
WEBSITE
professionalmoverottawa.com
ADDRESS
17 F Enterprise Ave Nepean, ON K2G 0A7
CONTACT DETAILS
+16139076628
[email protected]
OPERATING HOURS
Monday – Sunday, 8:30 AM – 7 PM
| | |
| --- | --- |
| Criteria | Ratings |
| Rates | ★★★★ (4/5) |
| Availability | ★★★★★(5/5) |
| Equipment | ★★★★★(5/5) |
| Feedback | ★★★★★(5/5) |
Professional Movers Ottawa is a locally owned and run moving company based in Ontario, Canada, with the primary purpose of exceeding client expectations. They are detail-oriented and have a "can-do" mentality, ensuring that customers have all they want for an effective, flawless, and timely local or long-distance moving procedure.
Meeting the needs of their clients is one of the most significant aspects of their business. That is why they have worked so hard to offer their specialists with the essential expertise, abilities, equipment, and accessories, as well as to provide moving services that can meet the demands of everyone.
They realize how stressful relocations may be, but they like being a part of the moving industry because it is all about assisting those in need. Every member of their team works toward the same goal: to give customers with the easiest and safest moving options while alleviating moving-related stress.
Whether you are moving locally or long distance, count on some of the most reputable Ottawa movers to assist you in properly relocating your household or company. Feel free to contact them and meet with their Professional Movers Ottawa advisers, and receive your free moving quote. They can assist you in having the stress-free relocation you deserve.
Detail-oriented moving methods
Available seven days a week
Experienced movers
Provides excellent piano moving
Rates can be a bit pricey
Customer Reviews
Expertly moved my heavy upright piano
"The team from Professional Movers Ottawa expertly moved my heavy upright piano. I have had that piano moved a few times over the years and it has always been very stressful because the other movers seemed inadequately prepared to handle it. This time was completely different in the best way, Professional Movers Ottawa had their own unique system of tools to move it safely and efficiently. The team had clearly done piano moves many times before. Highly recommend!" – Lee-Anne Bourke
Super Efficient
"Ottawa Professional Movers executed our packing and move July 2022 with super efficiency. We really appreciated the pleasant attitude of everyone all the while they were working so very hard for us. Great care and respect was shown towards all our belongings. Many thanks and we are happy to highly recommend Ottawa Professional Movers." -Ann Heide
FAQs about Relocation Companies
---
And that's it for Ottawa's top relocation companies. Hopefully, you find what you're looking for with the help of our list.
If you need to move something bigger than just a piece of heavy furniture, like your own shed, here are the top shed movers in Ottawa.