The 5 Best Pet Relocation Services in Ottawa
We love our pets like they're part of our family, so it's always difficult when we have to leave them when we go on vacation or move to other places.
Luckily, there are pet shipping or pet relocation services in Ottawa that fur parents can hire.
In this article, we will review the best pet relocation services in Ottawa.
How much does pet relocation cost?
The cost of pet relocation will depend on your pet's size and the distance traveled from its original location to a new one. The table below should shine a light on the matter.
| Size of Pet | Canada Price | USA Price | UK Price |
| --- | --- | --- | --- |
| Small Pet | $1,000 | $1,200 | $2,100 |
| Medium Pet | $1,500 | $1,700 | $2,500 |
| Large Pet | $2,300 | $2,700 | $3,800 |
| Exotic Pet (snakes, lizards, insects) | $1,500 | $1,700 | $2,000 |
The Best Pet Relocation Services in Ottawa
When we did our research on the best pet relocation services in Ottawa, we also checked the following factors:
1. Embark Pet Transport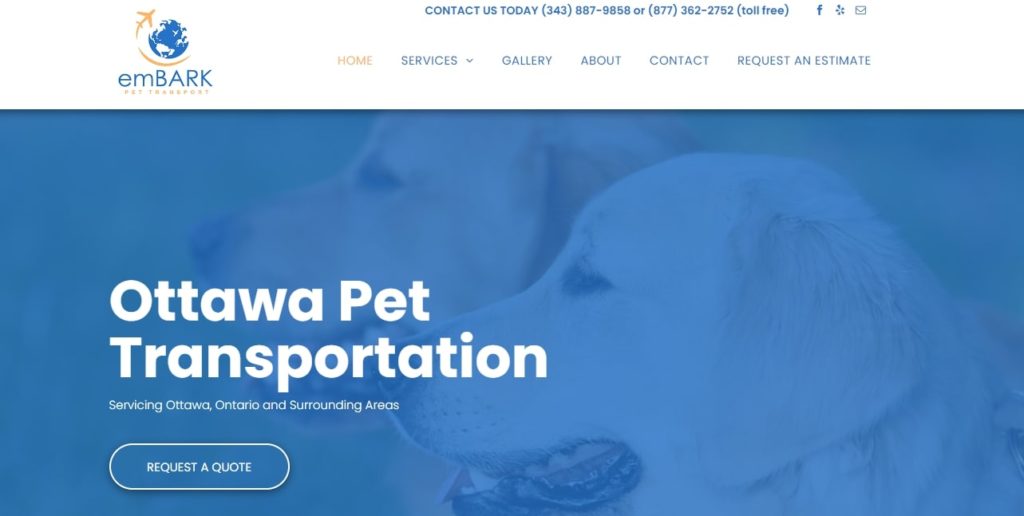 Test
Info
SERVICES
Pet Transport, Professional Pet Relocation, Pet Shipping
WEBSITE
https://www.embarkpettransport.com/
ADDRESS
Appointment only
CONTACT DETAILS
613-297-9633
OPERATING HOURS
Monday 9AM–5PM

Tuesday 9AM–5PM

Wednesday 9AM–5PM

Thursday 9AM–5PM

Friday 9AM–12PM

Saturday Closed

Sunday Closed
| | |
| --- | --- |
| Criteria | Ratings |
| Rates | ★★★★(4/5) |
| Inclusion | ★★★★(4/5) |
| Staff | ★★★★★(5/5) |
| Feedback | ★★★★★(5/5) |
Embark Pet Transport is a professional pet relocation company that offers pet shipping, dog and cat boarding, and care services throughout Ottawa. It is very well-known and even has multiple locations all throughout the country.
If legitimacy is a concern, potential customers will be glad to know that Embark is trusted by the government and was even given its own certification. It has helped thousands of pets make a smooth transition to their new homes.
Embark's team is also composed of medical experts and animal lovers that understand how to care for a pet while they are traveling.
It is committed to making sure that your pets are well taken care of during the journey so that they arrive safely at their destination.
It is also very convenient that Embark has online quotes and estimates.
If you're concerned about the financial implications of relocating your pet, you can easily look it up on the company's website before deciding whether to proceed with the service or not.
The only real downside of this company is its pricing. It's quite steep and may not be for everyone. But if you can afford it, it's a very reliable service to hire.
Overall, Embark is one of the best pet relocation services in Ottawa because of its safety measures for our furry friends.
Certified by the government
Experienced company
Team is skilled and knowledgeable
Online quotes and estimates
Customer Reviews
Highly recommended
"Bringing a pet into Australia is one of the most difficult import processes there are, let alone during COVID causing logistical nightmares, but Matt was truly a miracle worker in helping us to bring our corgi Potato into Aus! I called and emailed dozens of agents, and Matt was one of the few that were attentive, responsive, extremely helpful, and went above and beyond to help us." – Samantha Gibbs
Safely arrived
"Our dog has recently arrived safely after a long journey from Vancouver, Canada to Australia. This journey would not have been possible without Matthews help." – Alysha Morden
2. Ottawa Pet Cab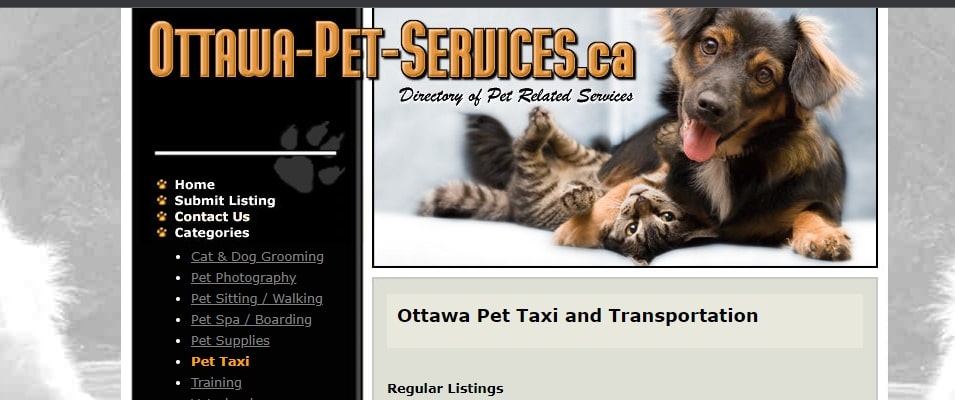 | Test | Info |
| --- | --- |
| SERVICES | Local Pet Relocation, Pet Transport, Pet Taxi, Grooming, Pet Spa, Training, Vet Services |
| WEBSITE | http://www.ottawa-pet-services.ca/pet-taxi.html |
| ADDRESS | 24 Springfield Rd Unit 101, Ottawa, ON K1M 1C9, Canada |
| CONTACT DETAILS | 613-858-8294 |
| OPERATING HOURS | Unspecified |
| | |
| --- | --- |
| Criteria | Ratings |
| Rates | ★★★★★(5/5) |
| Inclusion | ★★★★ (4/5) |
| Staff | ★★★★(4/5) |
| Feedback | ★★★★★(5/5) |
Ottawa Pet Cab is a great option for land relocation for pets. The company is reliable, efficient, and affordable compared to most relocation services in the city.
It's also a good choice if you just want to take a tour of the city with your pet and leave the transportation to someone else. The service is available for both dogs and cats.
For long land travels, you are required to give the driver the food and drinks that your pet may need. You are also supposed to teach the driver about the eating and drinking schedule of your pet.
Because traveling by land is statistically risker compared to air travel, the people behind the Ottawa Pet Cab have made sure to provide proper safety procedures for their drivers and for their customers' pets.
It's great that it provides grooming services and even spa treatments for pets. It also has a direct connection to numerous veterinarians so your pet's safety will never be in question.
Unfortunately, as we mentioned above, the Ottawa Pet Cab doesn't offer relocation outside of the country. Another thing is there is no mention of exotics pets being accommodated by the company.
Overall, because of the easy services that Ottawa Pet Cab can provide and its partnership with vets, we highly recommend this service.
Offers multiple services
Good safety procedures
Has its own veterinarians
Also helps remove waste
No international options
No mention of exotic pets
Customer Reviews
Recommended
"The driver arrived and he's a very nice man. Chatted a bit on the way there but also gave me space to be quiet. I arrived at my appointment on time, as well as back home with my pet. " – Cecilia Leong
Very nice
"The driver is very nice. He has a very calm and professional manner. His van is roomy enough to fit any sized pet. He's punctual for pick up which is very reassuring for me to know that I can depend on his reliable service to get my pet to the vet on time for his appointment." – Michelle Ryan
3. Worldwide Animal Travel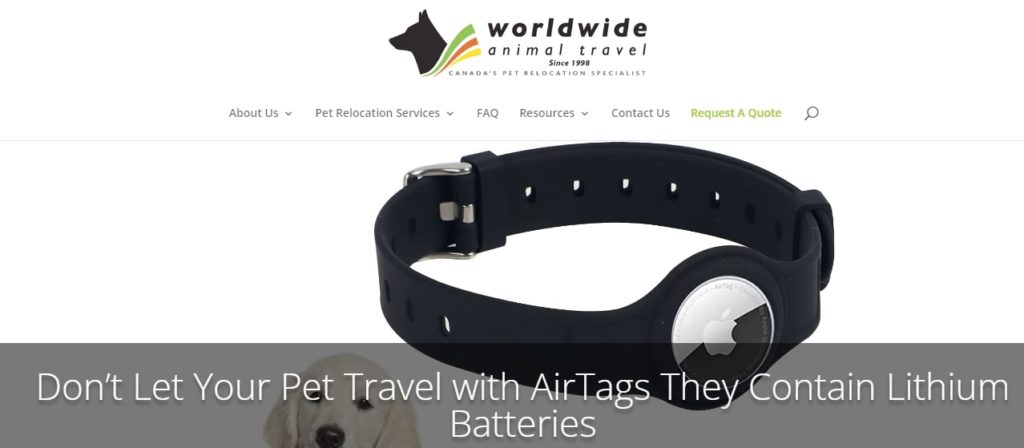 Test
Info
SERVICES
International Travel, Canadian Travel, Comfort Stops, Corporate Travel, Import, Brokerage
WEBSITE
https://animaltravel.com/
ADDRESS
Appointment only
CONTACT DETAILS
647-479-4989
OPERATING HOURS
Monday 8AM–5PM

Tuesday 8AM–5PM

Wednesday 8AM–5PM

Thursday 8AM–5PM

Friday 8AM–5PM

Saturday Closed

Sunday Closed
| | |
| --- | --- |
| Criteria | Ratings |
| Rates | ★★★★ (4/5) |
| Inclusion | ★★★★ (4/5) |
| Staff | ★★★★★(5/5) |
| Feedback | ★★★★(4/5) |
Worldwide Animal Travel is another great service that provides pet relocation. The company can provide both air and ground travel services for pets.
It also has a wide range of pet-related services, including pre-move consultations, cargo, and crate shipping options, as well as transportation to pet-friendly locations such as hotels or boarding facilities.
Although originally based in Canada, Worldwide Animal Travel provides services for other countries as well. If you're in a different country and you plan on coming back here to Ottawa, this is a great service to use to get your pet back home!
Worldwide Animal Travel likes to make sure that pet owners are educated properly so that they know what to expect from the process. This is especially important for those who are making an international move with their pets.
We love that it accepts short-notice relocations. Of course, the service will be much more expensive, but it's a good choice for those who are in a pinch.
It's also worth noting that it has partnered up with veterinarians to make sure that pets are healthy before and after their travel.
The only problem we have with this service is that sometimes, it can be fully booked and can only be availed through a scheduled appointment.
Overall, it's a great company that offers great options.
Vet partnerships
Multiple travel options
Educates pet owners
Has multiple locations all over Canada
Good for short notice moves
Can be fully booked at times
Appointment only
Customer Reviews
Extremely responsive
"At fairly short notice, I needed to move our family cat from Canada to the UK, and was recommended Worldwide Animal Travel by our travel brokers in the UK. From the first interaction with Jacqueline, I was confident that we would get Titus over to the UK. Jacqueline was extremely proactive, responsive, and offered great advise to overcome any expected/unexpected hurdles." – Manasi Goel
Great service
"I am so grateful to Christiana and the team at Worldwide Animal Travel for all their help and support. Everything went so smoothly with flying our dog." – Kelly G.
4. Paws En Route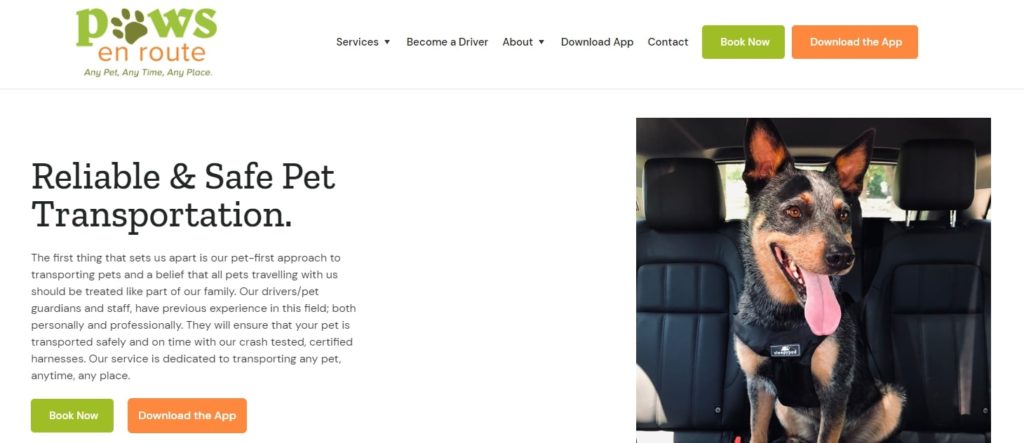 Test
Info
SERVICES
Ground Transport, Air Transport
WEBSITE
https://www.pawsenroute.com/
ADDRESS
Appointment only
CONTACT DETAILS
866-204-7331
OPERATING HOURS
Monday 9AM–9PM

Tuesday 9AM–9PM

Wednesday 9AM–9PM

Thursday 9AM–9PM

Friday 9AM–9PM

Saturday 10AM–6PM

Sunday 10AM–6PM
| | |
| --- | --- |
| Criteria | Ratings |
| Rates | ★★★★ (4/5) |
| Inclusion | ★★★★ (4/5) |
| Staff | ★★★★★(5/5) |
| Feedback | ★★★★(4/5) |
Paws En Route is another well-known pet relocation company that offers both ground and air transport. It is one of Ottawa's best simply because of its reliable services.
The services offered are quite straightforward; air travel and ground travel.
The process of having your pet relocate can be difficult. But luckily, this company will help you deal with all the paperwork and bureaucracy that you may have to go through.
While not a receiver of a BBB award, Paws En Route is still recognized as one of the best companies that provide this type of service. It's also worth noting that it has received multiple positive feedback from previous clients.
Another great thing we love about Paws En Route is its partnership with many veterinarians. In case something goes wrong, they are ready to help out with your furry friend.
It should be stated that Paws En Route's prices are quite steep and may not be for everyone.
Its services are also strictly booked online or through the phone so it may be difficult for senior citizens who may be unfamiliar with technology or have mobility issues.
However, because of the great feedback, it has been received well. And for its service, we're happily recommending Paws En Route to our readers.
Good pricing
Offers both air and ground travel
Multiple positive feedback
Has vet partners
Customer Reviews
Very kind
"I have used Paws en route services twice for special requests with my beagle and I can only say wonderful things about their service. Peter was our driver for the two times and he's been fantastic, communication is great, and he's such a gentleman, very kind. " – Ana Uribe
So accommodating
"When we imported our dogs, we used Paws En Route – recommended by Clear Customs Brokers Ltd – to transport them from the airport to a boarding facility (we were in an Airbnb and couldn't take them at that stage). Once we were in our house, we requested them to transport our pets from the boarding facility to us. Our border collie had a massive wooden crate, so they knew exactly what they were dealing with. We gave them short notice, and they changed their schedule to accommodate us. " – Anneline Du Preez
5. Your Dog Butler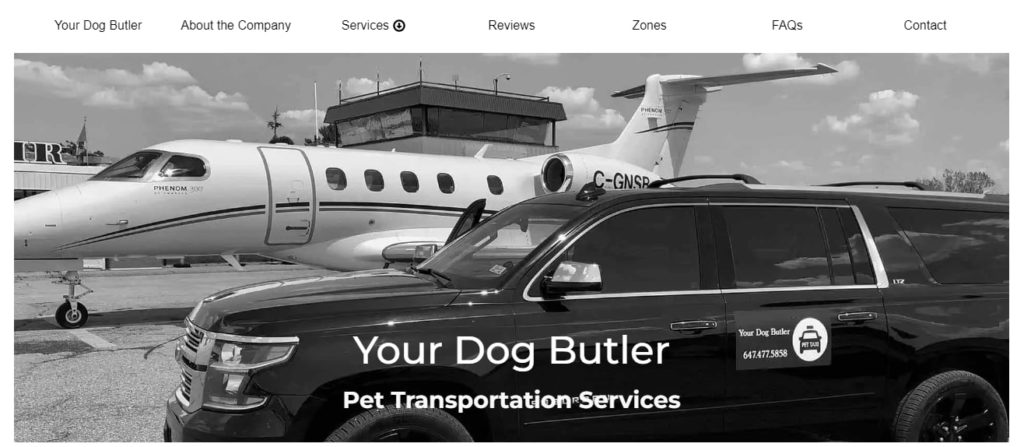 Test
Info
SERVICES
Pet Taxi, Ground Transport, Air Transport
WEBSITE
https://yourdogbutler.com/
ADDRESS
Appointment only
CONTACT DETAILS
647-477-5858
OPERATING HOURS
Monday 8AM–7PM

Tuesday 8AM–7PM

Wednesday 8AM–7PM

Thursday 8AM–7PM

Friday 8AM–7PM

Saturday 9AM–2PM

Sunday Closed
| | |
| --- | --- |
| Criteria | Ratings |
| Rates | ★★★★ (4/5) |
| Inclusion | ★★★★★(5/5) |
| Staff | ★★★★★(5/5) |
| Feedback | ★★★★★(5/5) |
Your Dog Butler is a pet taxi and relocation service that offers international options for anyone who wants to relocate their pet. With Your Dog Butler, you can choose from a variety of relocation options and packages.
This company is one of the most trusted options in the world. Even some people in countries in Asia are using its services to transport their beloved pets.
In 2021, it won the award for one of Canada's Best Businesses. It's also an awardee of the Best Concierge Pet Service Provider of the same year.
If legitimacy is something that concerns you, this is a reliable service that you can trust 100%. It has an impeccable reputation both at home and abroad.
We also love that Your Dog Butler has partnered with numerous vets and animal hospitals in case of emergencies. You can definitely trust that your pet will be fine during and after their trip to whatever location you desire.
For small-scale travels, Your Dog Butler has a pet taxi option, which is good especially if you want to join your pet during the travel.
For drawbacks, one of the issues we have with Your Dog Butler is the fact that it can only be booked online or through the phone. It's also pretty pricey, so make sure you get your wallets ready.
Overall, it's a great service that offers very convenient options, so we highly recommend it.
2021 Canadian Business Awardee
Best Concierge Pet Service Provider
Vet partnerships
Multiple travel options
Customer Reviews
It was a pleasure
"Was a pleasure working with the Jan's team. Professional workmanship and very happy with the final product. Screens are a great additional to our outdoor space." – Joe C.
Happy with the results
"Henry Jans came to our house for a contactless quote. We were happy with the price and chose a fabric. The installers were polite, professional, knowledgeable and efficient. We're very happy with the results." – John Rest
FAQs about Pet Relocation
---
And those are the best pet relocation services in the city! With this article, we hope you and your fur babies arrive safely at your next destination.
If you're looking for more pet-related info, you may want to check out our article on the best kennels in Ottawa.