Top 6 Shops for Office Chairs in Ottawa
Whether you work from home or at an office, you'll need something that adequately supports your spine, neck, and legs. Luckily, we're taking a closer look at the top office chair shops in Ottawa to make your 9 to 5 job cushier.
We also have some useful FAQs at the end of this listicle, so make sure you read all the way through!
How Much Does An Office Chair Cost in Ottawa?
Of course, the type of chairs and the materials used to make them contribute directly to how much their price tags are. If it's from a popular and branded furniture company, it's likely to be pricier than other manufacturers, as well.
There are stools, stackable visitors' chairs, leather-upholstered "boss" chairs, and more expensive hybrid ones with sophisticated lumbar support and adjustable back and armrests to choose from. Basically, the more features there are in an office chair, the higher the price tag will be.
The great news is that office chairs in Ottawa can be quite affordable. This is because some office furniture shops also sell gently-used and refurbished chairs aside from brand-new ones.
To guide you, here's a table showing estimated costs from some of the shops we're featuring today. Please note that we indicated whether the chair is brand-new or slightly used.
| | |
| --- | --- |
| OFFICE CHAIR TYPE | ESTIMATED COST |
| Gaming-office chair hybrid (brand-new) | $900 – $1,150 (tax not included) |
| Leather task/conference chair (brand-new) | $150 each or $125 each for two or more purchased at the same time (taxes not included) |
| Ergonomic high-backed chair (slightly used) | $450 up (tax not included) |
| Stackable visitors' sled chairs (slightly used) | $60 each (tax not included) |
The Top Office Chairs in Ottawa
Ready to shop for some comfy seating? We selected the stores for top office chairs in Ottawa using the following criteria:
1. Office Furniture Liquidators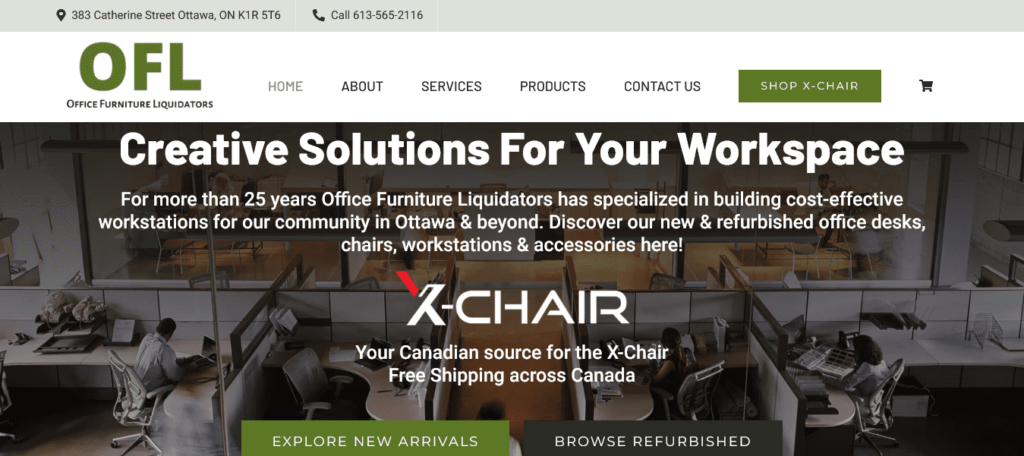 SERVICES
Shop for office chairs, work desks, workstations, used furniture recycling, refurbishing and cleaning, commercial moving, commercial storage
ADDRESS
383 Catherine Street Ottawa, ON K1R 5T6
CONTACT NUMBER
613-565-2116


[email protected]

WEBSITE
https://www.oflfurniture.com/
OPERATING HOURS
Monday to Friday 9 AM – 5.30 PM
Saturday 9AM – 4 PM
What makes Office Furniture Liquidators or OFL unique from other shops is how it offers both new and refurbished items for sale. In fact, it's been committed to this environmentally-conscious business plan for over 25 years.
Its prices focus on affordability for students and small business owners. The company aims to offer its customers wide selections from big-box stores mixed with the kind of customer service quality expected of a local business.
There's an impressive array of office chairs, workstations, desks, and office accessories for customers. For extra affordability, the store also stocks gently-used office furniture at affordable rates with further discounts if two or more products are bought at the same time.
Of course, refurbished and used furniture are low in stock and can get sold out quickly. But new selections are also stocked on a daily basis.
And those who prefer higher-end office chairs would be happy to know that Office Furniture Liquidators is an official distributor of X-Chair products.
What's a bit of a bummer is that OFL is closed on weekends (which is ironically the best time to shop for a new office chair).
Offers both new and refurbished office furniture
Extra discounts for two or more purchased items
New selections stocked daily
Gives free quotes
Refurbished items are low in stock
Closed on Sundays

No BBB accreditation
Customer Reviews
Knowledgeable and friendly salesman and owner
"Excellent selection, very knowledgeable and friendly salesman and owner, great prices. The service was excellent. I will definitely come back here next time I need office furniture." – Arseni Kritchever
Great selection and prices
"Did a lot of research before choosing to buy here to replace my home office furniture. Got a beautiful desk (new) and office chair (new), plus a small rolling 3-drawer file cabinet (refurbished). Great selection, prices and excellent service. Thanks, Will!" – Robert Chamberlin
2. Ugoboro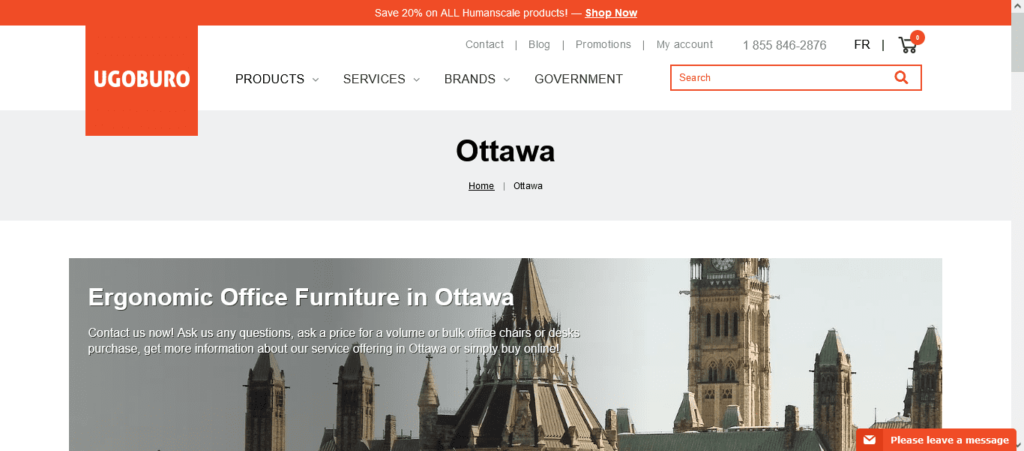 SERVICES
Space planning, bulk suppliers, shop for office chairs, desks, tables, office storage, ergonomic tools
ADDRESS
6955, Taschereau, Suite 201 Brossard, QC, J4Z 1A7(Serves Ottawa clients)
CONTACT NUMBER
+1 855-846-2876


[email protected]

WEBSITE
https://www.ugoburo.ca
OPERATING HOURS
Monday to Friday 9.30 AM – 6 PM
Closed on Saturdays and Sundays
Though it isn't really an Ottawa-based office furniture store, Ugoburo makes it this listicle for a good reason. Its focus is on ergonomic chairs and other pieces that are from Canadian-owned operations and businesses.
There are currently over 100,000 office furniture pieces and accessories offered at Ugoburo which can be delivered and installed nearly anywhere in Canada. It promises to deliver anything from a hundred workstations to a single office chair.
Bulk purchases come with significant discounts. Ugoburo also backs all of its products with a solid lifetime limited guarantee.
One of the brands the shop carries is Humanscale which offers free delivery for all its products. Plus, customers can get 20% off its collection of ergonomic chairs, adjustable tables and desks, and other accessories!
Unfortunately, its offices are only open on weekdays. But while Ugoburo is primarily an online store that's open 24 hours a day, it does have a physical showroom in Quebec and other locations.
20% off on all Humanscale products
Products backed by a lifetime limited guarantee
Open 24 hours a day
Available for discounted bulk purchases
The showroom is in Quebec
Primarily operates online
No BBB accreditation
Open only on weekdays
Customer Reviews
Effective tracking
"I bought an office chair in 2017. In 2021 the mechanism of "bascule" failed, minor but still uncomfortable. Ugoburo responded to my request, contacted the company and had the replacement part sent within 48hrs. I would never have expected such an effective tracking, especially for furniture bought 4 years ago. Highly recommended." – Marc-Antoine Bernier
Good services and good quality products
"Very good service and good quality products. A big thank you, especially to Chantal and Maude. Great customer service is always much appreciated!" – Mireille Laporte
3. Koncept Office Interiors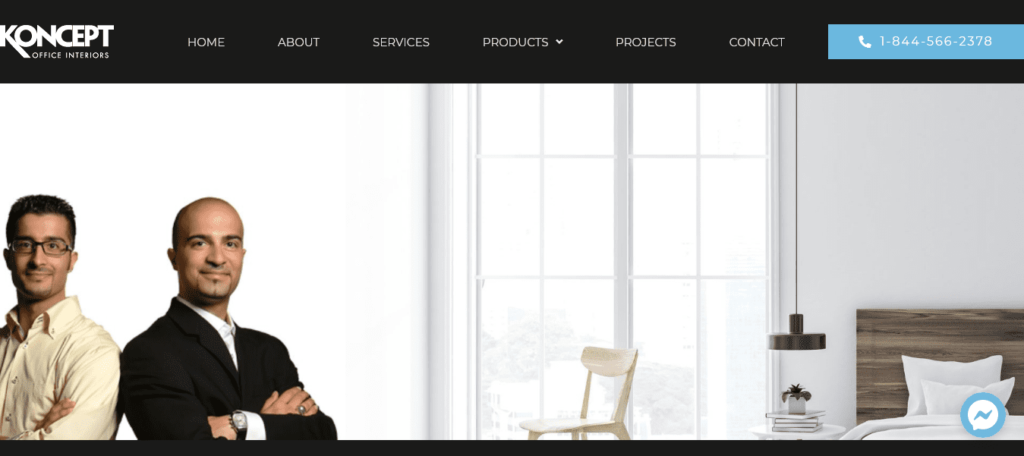 SERVICES
Shop for office furniture, seating, conference rooms, ergonomic chairs
ADDRESS
2196 Hillary Avenue, Ottawa, Ontario – K1H 7J1
CONTACT NUMBER
1-844-566-2378


[email protected]

WEBSITE
https://www.konceptoffice.com/
OPERATING HOURS
Monday to Thursday 10 AM – 6 PM
Fridays 10 AM – 3 PM
Closed on Saturdays and Sundays
For over two decades, Koncept Office Interiors has been conceptualizing, designing, assembling, and installing office furniture for a variety of businesses and homes.
The company offers a good range of seating options including brands like La-Z Boy, Logiflex, and Humanscale. Customers can also choose among collections of custom-made seats to complement their workspaces and business themes.
Aside from providing high-quality office furniture, Koncept also designs workspaces with an emphasis on functionality, ergonomics, and organization. It takes pride in its technical planning department that has helped clients visualize and reconfiguration a more efficient and comfortable workspace.
Even the smallest details can be had at Konept Office, thanks to its line of ergonomic office tools and accessories. There are monitor arms, cable organizers, footrests, laptop holders, and lighting products meant to make work more comfortable.
The company also offers financing options to make payments more manageable for clients. Still, it would be great if the products and services catalogues come with some pricing information for quick canvassing.
Gives free estimates
Designs functional workspaces for clients
Offers financing options.
Can do custom office furniture
Doesn't provide pricing information
No BBB accreditation
Open only on weekdays
Customer Reviews
The right decision
"We called Koncept to buy new office furniture, and I can say that was the right decision." – Jenn Russels
Able to custom design workstations exactly
"I would highly recommend Koncept Office Interiors for all your office furniture needs! Working with Moe was a great experience from start to finish! My employer was quite particular with what he wanted and Moe was able to custom design the workstations exactly the way we wanted and better! We were really impressed with the final product! Moe pays attention to detail and listens to his client's needs and was very thorough with site visits and follow-ups. Thank you Moe for all your hard work on this project! We are 100% satisfied!! – Waverley Chambers Inc." – Caroline Kay
4. Ottawa Business Interiors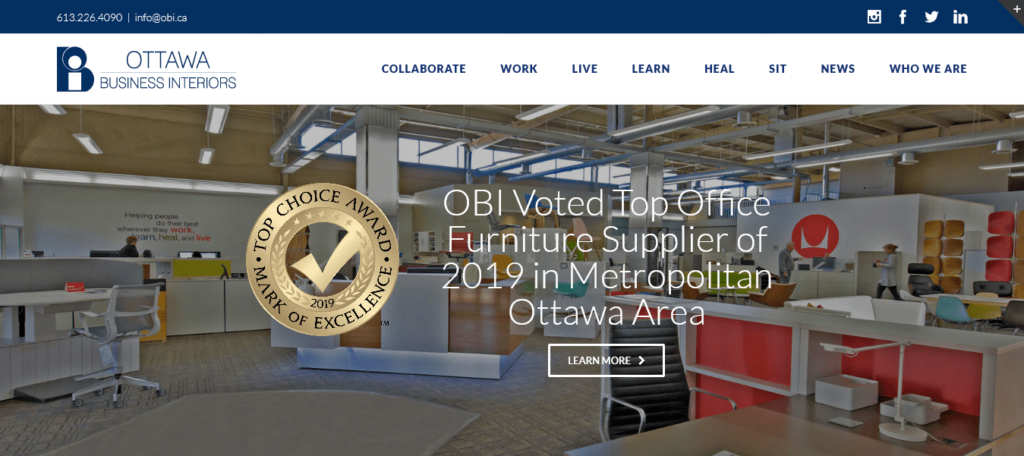 SERVICES
Ottawa's exclusive Herman Miller dealer specializing in home, corporate, government and healthcare environments, furniture for corporate & government, healthcare, small & medium business, space planning, service & installation, warehousing & storage, move management
ADDRESS
183 Colonnade Rd S Ottawa, ON, Canada K2E 7J4
CONTACT NUMBER
+1 613-226-4090


[email protected]

WEBSITE
http://obi.ca/
OPERATING HOURS
Mondays, Wednesdays, and Fridays 8 AM – 4 PM
Closed on Tuesdays, Thursdays, Saturdays and Sundays
Established in 1975, Ottawa Business Interiors has always had a good array of in-stock seating options including notable brands Herman Miller, Humanscale, Cape, Krug, and Dauphin. In fact, the store is proudly Ottawa's exclusive Herman Miller distributor.
This means that the company's office chair catalogue is decidedly pricier compared to other options from other furniture stores. Its Embody chair already costs over $2,000!
Its main clients include Ottawa's healthcare industry where it provides workspaces designed for hospital/clinic staff and caregivers. We think this is an uplifting contribution to an essential industry that takes care of the rest of the population.
It also offers delivery and installation along with warehouse and other storage options. Clients can opt for either short or long-term storage in the company's climate-controlled warehouses to make their reconfiguration process smoother and hassle-free.
It's too bad that Ottawa Business Interiors is open only on Mondays, Wednesdays, and Fridays.
Two-time Top Choice Award winner
Exclusive Ottawa distributor of Herman Miller products
Creates health care workstations
Good array of notable chair brands
Pricier products
Open for only three days a week
No BBB accreditation
Customer Reviews
Excellence in top customer satisfaction
"They won the 2019 Top Choice Award for their excellence in the pursuit of top customer satisfaction and that equals to hundreds of great customer reviews! Thank you for sharing your passion with your beautiful city!" – Dyvine Silvestre
Cares about customers
"They won the 2020 Top Choice Award and that shows a lot about their business and how much they care about their customers." – Nathan Neto
5. AtWork Office Furniture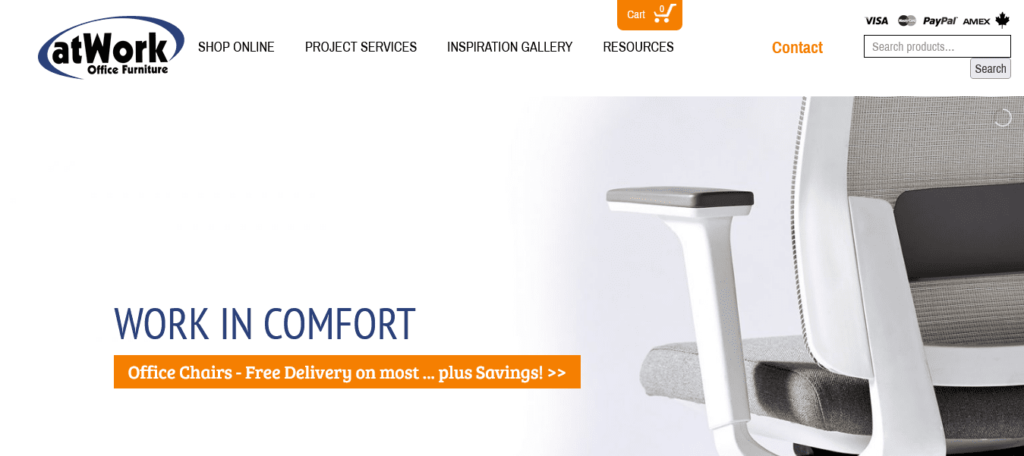 SERVICES
Office furniture online shop, office space planning, rentals, shipping and delivery, installation, showrooms
ADDRESS
200 Adelaide Street South London, ON N5Z 3L1
CONTACT NUMBER
1 866-698-4252
1-800-265-6699 (Ontario showroom)


[email protected]

WEBSITE
https://www.atwork.ca
OPERATING HOURS
Monday to Friday 9 AM – 4 PM
Closed on Saturdays and Sundays
AtWork Office Furniture was founded in 1983 with its owners already having extensive experience running a small chain of department stores in Southwestern Ontario. Today, it has expanded into four showroom locations with an Aᐩ rating Better Business Bureau accreditation to show for it.
It takes pride in what it calls "resimercial spaces" which combines residential comfort with the efficiency of a commercial workspace. This is to ensure an active and movement-based office to keep sedentary lifestyles at bay.
For extra affordability, customers can hop on over to the used deal section of the website. But these bargain pieces are pretty low in stock (with usually just one per model) so it's usually a matter of who gets it the quickest.
The company also caters to temporary workspaces by offering rental furniture. Short and long-term rentals are available for most of Southwestern Ontario, which is perfect for campaign headquarters, charity events, worksite trailers, and other temporary work scenarios.
Most office chairs come with free delivery all over Canada, too! Too bad its offices are closed on weekends, although AtWork does have online customer service and a 24/7 voicemail service.
Free delivery on most office chairs
Canada-wide shipping
Four showroom locations
BBB-accredited, Aᐩ rating
Low supplies on used and refurbished products
Open only on weekdays
A larger restocking fee for custom order returns
Customer Reviews
Top-notch from order to delivery
"Excellent service from start to finish. Questions posed over the phone to storefront staff, to my online search, from order to delivery – top-notch. The desk is solid and will provide many years of good-looking service. Look no further!" – K.V.
The purchase experience was easy
"Great service! I purchased an office chair 2 months ago and the purchase experience was very easy and the customer support was very good. I received the product in a good shape without any problems and the delivery was very fast. Keep the good service!" – Mohamed I.
6. Ergo Mania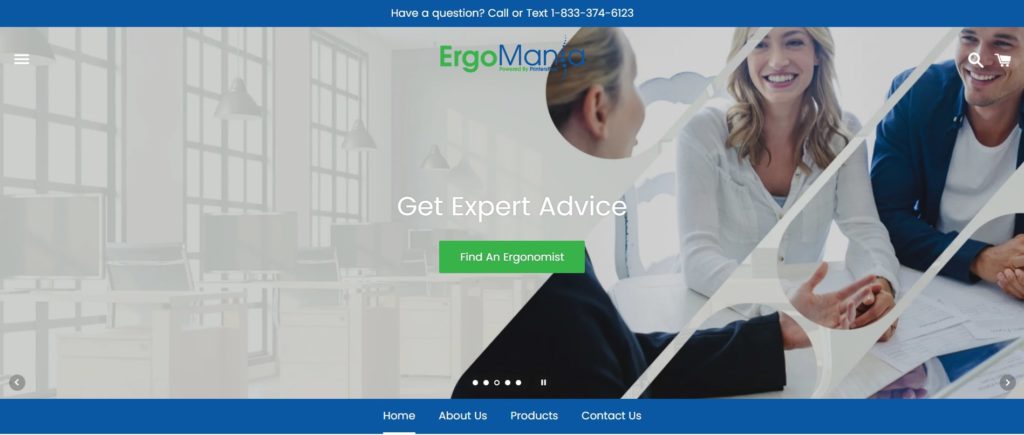 SERVICES
Chairs, Desks, Monitors, Foot Solutions, Keyboard, Mouse, Foot Solutions
ADDRESS
1181 Bélanger Ave, Ottawa, ON K1H 1B7, Canada
CONTACT NUMBER
Phone: 833-374-6123
Email:

[email protected]

WEBSITE
https://myergomania.com/
OPERATING HOURS
Monday – Friday: 09:00 AM – 05:00 PM
Camille Fraser, CEO of ErgoMania, founded the company because she believes that ergonomic office furniture can improve worker productivity.
We were immediately impressed with the wide variety of their office furniture products as we believe this allows them to cater to a large customer base.
In our opinion, their diverse inventory is ideal for all business sizes as they have office furniture that varies in size, quality, style, and purpose.
What we liked best about ErgoMania is their wide selection of standing desk converters that allows clients to have the option to stand while they work on their computer.
Although these items are a little pricey, we believe they are reasonable given that they have adjustable joints and an X-shaped lift that allows you to fold down your desk to adjust the height.
Aside from that, Ergomania has monitor risers and footrests, which we think are an excellent addition to make you feel more comfortable while working.
Moreover, many of the customers we've spoken with have commented on how exceptional their customer service is, from assessment, recommendations, purchasing, and delivery.
All in all, if you're looking for the top shops for office chairs in Ottawa, we highly recommend ErgoMania.
Wide variety of office furniture
Diverse inventory
Wide selection of standing desk converters
Offers monitor risers and footrests
Relatively higher prices
Additional fee for deliveries
Customer Reviews
Outstanding customer service
"Outstanding customer service and fast shipping. From the assessment, recommendations, to the purchasing and delivery, ErgoMania ensured a seamless process. Definitely recommend them for your office or business ergonomic needs!." -Marie F.
Helpful and responsive
"I couldn't decide which chair was best suited to my needs, so I reached out to ErgoMania and they responded quickly and were very helpful. Months later, I'm still so happy with my purchase – it has made a huge difference in my comfort level and I recommend it to everyone." -Madeleine H.
FAQs About Office Chairs in Ottawa
---
We hope we helped you find the best stores to shop for office chairs in Ottawa.
We also have other published listicles for your office-related concerns:
And if you can recommend other shops for office chairs, please send us a message so we can review them.