Top 8 Massage Services in Ottawa
Are your muscles sore or do you feel generally stressed because of work and other situations? We suggest getting the top massage services in Ottawa to address these as soon as you can.
To clarify, we're focusing on clinics and spas that employ registered massage therapists who have been trained in the proper manipulation of joints, tendons, muscles, and soft tissues.
We'll also discuss the cost of some popular massage therapist services in the next section.
How Much Does A Massage Service Cost in Ottawa?
Most clinics offer massage therapy sessions in accordance with the initial assessment of a registered massage therapist. This means you can get recommended treatments for a half-hour, for 45 minutes, a full hour, and so on.
There may also be special spa-like massages using hot stones, cups, tapes, and other tools on the menu. Different parts of the body could have focused massages for the head, hands, feet, and upper back, as well.
We made a table below showing some typical massage services at reputable clinics. The estimated prices beside them are taken from national averages and from the rates of the massage therapy clinics in this listicle.
MASSAGE THERAPY SERVICE
ESTIMATED PRICE
Massage therapy session
30 minutes $60 – $65
45 minutes $78 – $82
60 minutes $95 – $103
75 minutes $108 – $120
90 minutes $130 – $140
Hot stone massage
60 minutes $112
75 minutes $125
90 minutes $138
Cupping massage
30 minutes $75
45 minutes $97
60 minutes $118
Pregnancy massage
30 minutes $60
45 minutes $82
60 minutes $103
Please note that these are just estimated prices to serve as guides and may not have HST or other fees added to them yet. It's still a good idea to call up for a quote or assessment before booking a massage treatment.
The Top Massage Services in Ottawa
After getting an idea of how some treatments cost, we can now take a closer look at what the top massage services in Ottawa can do for your back, arms, legs, and overall well-being.
1. Relax Massage Group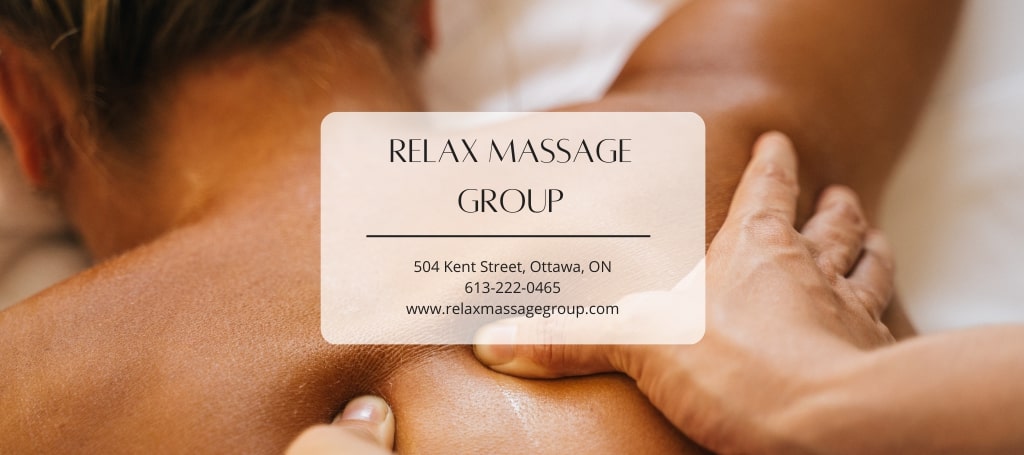 SERVICES
Swedish, deep tissue, pregnancy, sports, hot stone, Ashiatsu massages, TMJ, cupping, functional taping, craniosacral therapy, trigger point therapy, corporate massage
ADDRESS
504 Kent Street, Ottawa, ON
CONTACT NUMBER
613-222-0465


[email protected]

WEBSITE
https://relaxmassagegroup.com/
OPERATING HOURS
Monday to Friday 8 AM – 8 PM
Saturdays 9 AM – 5 PM
Sundays 11 AM – 4.30 PM
Formerly called "Absolute Massage", the Relax massage therapy clinic was established in 2001 and now has a total of five clinics in Ontario.
Its focus is on medical and rehabilitative therapies and massages while also offering spa-like services. The Relax team of massage therapists are sufficiently trained in deep tissue massages for sports injuries, craniosacral therapy, and even safe massages for pregnant clients.
The rates for massages and other treatments at Relax clinics are pretty fair and reasonable. A 30-minute massage therapy session costs just $60 with clients being allowed to book their favourite massage practitioner.
Even TMJ and craniosacral issues can be addressed here using gentle temporomandibular, head, spine, and sacrum therapies. But if you simply want to relax and get your stress massaged away, Relax offers Swedish, hot stone, and Ashiatsu massages using specialized techniques and tools.
Clients can book their favourite practitioners
Does direct billing to insurance companies
Good range of therapeutic and spa-like massages
Fair and reasonable rates
Winner of 2016 Top Massage Clinic in Ottawa (Top Choice Awards)
Only one practitioner is available for Ashiatsu and K-taping massages
Shorter operating hours on Sundays
Customer Reviews
The following clients have good things to say about Relax Massage Therapy:
"Best massage I have ever had. Professionalism is not spared here and the studio is very classy and allows for total relaxation. Andrew is truly great! Thanks!" – Eleonora Miccolis
"Great service from Genevieve today! I've been dealing with a leg/hip issue and she was very attentive to (and applied good pressure on) the problem area. I'm feeling hopeful that my leg/hip pain will heal soon enough!" – Diana Kaycee
2. Align Massage Therapy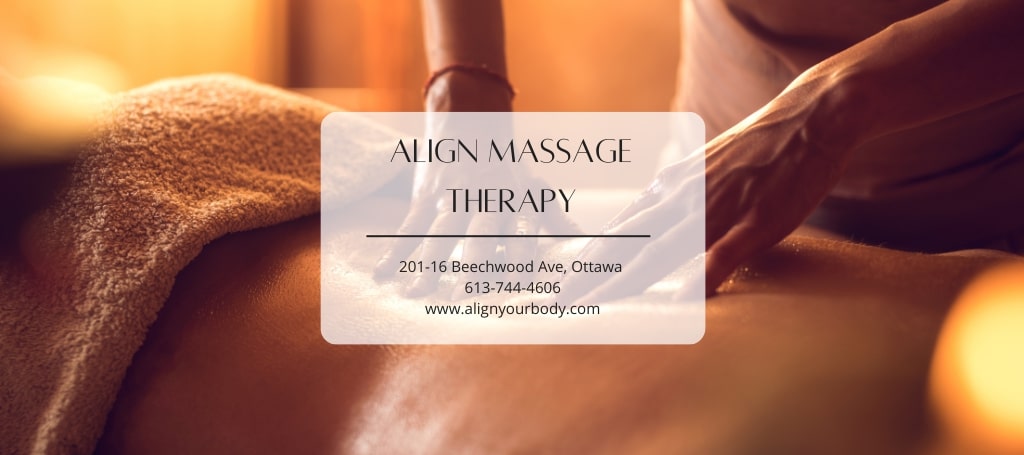 SERVICES
Therapeutic massage, cupping massage, Bowen therapy, craniosacral therapy, Somato-Emotional Release, Thai yoga massage, Indian head massage, osteopathy, lymphatic drainage massage, hot stone massage, prenatal massage, acupuncture, myofascial release therapy, reflexology, Reiki
ADDRESS
201-16 Beechwood Ave, Ottawa ON K1L 8L9
CONTACT NUMBER

[email protected]


+1 613-744-4606
WEBSITE
https://alignyourbody.com/
OPERATING HOURS
Monday to Friday 9 AM – 8 PM
Saturdays and Sundays 10 AM – 4 PM
Align Massage Therapy clinic has been around since 2000 and has treated thousands of clients ranging from kids to athletes. It does both as-needed and preventative therapies and massage treatments for patients.
We love that each registered massage therapist with Align has their own bio and feature on the website. There's a great range of age, expertise, experience, and specialization among them so clients can decide which therapist can address their concerns best.
In a nutshell, Align Massage Therapy clinic has the kind of comprehensive massage services for practically any concern from any patient of any age. As they succinctly put it: "If you've sprained it, strained it, bruised it or torn it, we can probably help fix it."
As for the rates, they're a bit on the steep side at this clinic. A thirty-minute therapeutic massage already costs $70 with an additional $10 for hot stone treatments.
The clinic staff does an initial assessment for every client before a treatment option is proposed. If treatments don't work after a prescribed period, Align Massage Therapy will gladly refer the client to another professional massage therapy clinic that can better address their issue.
An impressive roster of registered massage therapists
Unique therapies like Somato-Emotional Release and Bowen are available
Open 7 days a week
No direct billing services
Missed appointments are charged a full-service fee
Expensive massage rates
Customer Reviews
Read the following client feedback for Align Massage Therapy clinic:
"My back feels so much happier! I have found that this location, in particular, has awesome therapists for different kinds of body discomforts/pains/injuries/stresses, and once again I leave feeling relaxed and grateful." – Catherine Mageau-Walker
"I know that I will always find a skilled and knowledgeable registered massage therapist at Align. It's quiet and peaceful here at Align Beechwood." – Elizabeth Wissell
3. Metcalfe Massage Therapy Clinic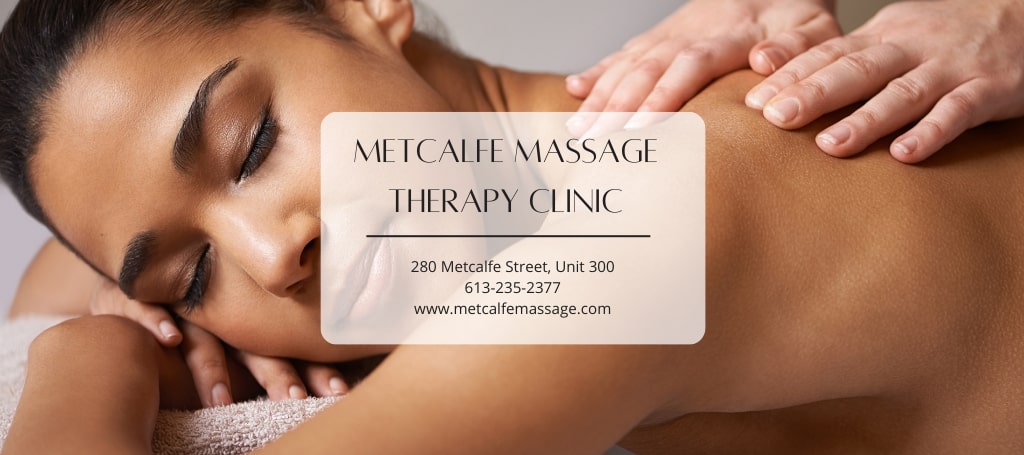 SERVICES
Treatment plan-based massage therapies, acupuncture, radial shockwave
ADDRESS
280 Metcalfe Street, Unit 300
CONTACT NUMBER

[email protected]


Tel: 613-235-2377
WEBSITE
https://www.metcalfemassage.com/
OPERATING HOURS
Monday to Friday 7.30 AM – 6 PM
Saturdays 9 AM – 3 PM
Closed on Sundays
Metcalfe Massage Therapy clinic focuses on preventative therapy and injury rehabilitation. They call their treatments "modalities" with each one being tailor-made for the client's specific needs.
All of its therapists are registered to practice in Ontario and have mastered various specialized techniques. Some of these modalities include acupuncture, cupping, DermoNeuro modulation, labour support for pregnant clients, Graston technique, shockwave therapy, and others.
Ever mindful of its clientele's potential allergies and sensitivities to particular smells and ingredients, Metcalfe Massage Therapy is a no-scent clinic in all aspects. So if you're looking for a typical scented spa experience, you won't find it at Metcalfe.
The clinic also generously shares a Home Care video series on its website for clients and non-clients alike (copyrighted and not to be shared or published without consent). The videos demonstrate some helpful exercises and stretching techniques that registered massage therapists recommend for home-based therapy and continued care treatments.
Tailor-made modalities for client's specific needs
Scent-free clinic
Home Care exercise videos are provided on the website
Customer Reviews
Find out what past clients think of Metcalfe Massage Therapy clinic:
"A great team of Registered Massage Therapists. I am proud to work with everyone one of them." – Sylvie Lamarre
"Take some time for yourself and go see Elise-Marie Walsh. She's intuitive, thoughtful, and will have you melting into the table! Prenatal massage with this girl is out of this world, not to mention her relaxation and chronic pain massages. Enjoy!" – Andrea Feesey
4. Maryse RMT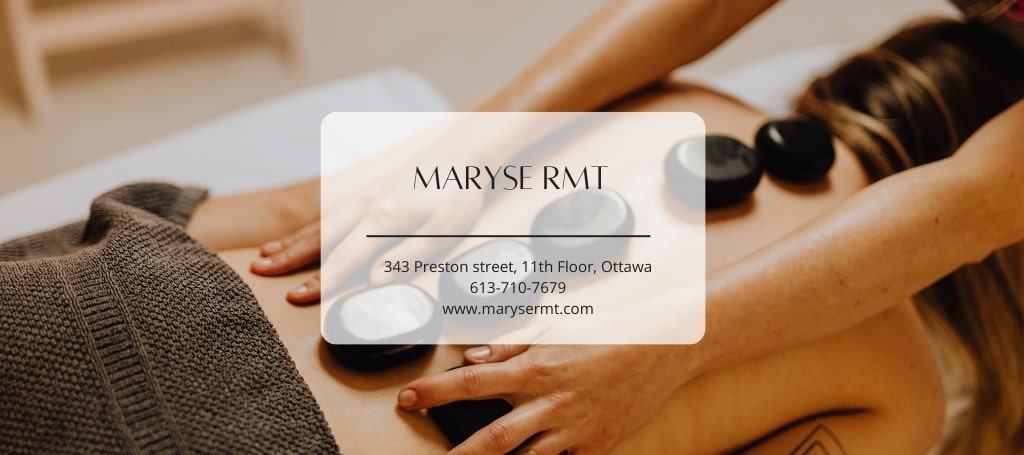 SERVICES
Personalised Massage Therapy Sessions
ADDRESS
343 Preston street, 11th Floor, Ottawa, K1S 1N4, Canada
CONTACT NUMBER
EMAIL


[email protected]


PHONE
(613) 710-7679
WEBSITE
https://www.marysermt.com
OPERATING HOURS
Monday 12:00pm to 7:00pm
Tuesday 11:00am to 6:00pm
Wednesday 11:00am to 7:00pm
Thursday 11:00am to 6:00pm
Friday 11:00am to 6:00pm
Maryse RMT is a premier massage therapy clinic in Ottawa that has been providing its clients with professional massage therapy services since 2013.
In order to provide clients with the most effective and therapeutic techniques, the therapist at Maryse RMT is trained in a wide range of modalities including Swedish Massage Therapy, Deep Tissue Massage Therapy, Sports Massage, and Cupping Therapy.
With a focus on pain management and health promotion, Maryse RMT strives to offer clients the best possible care.
Maryse RMT is accessible to most, with their location accommodating the needs of those in wheelchairs. Moreover, the clinic has long operating hours from Monday to Friday.
Clear pricing matrix
Personalised massage therapies
Location is wheelchair accessible
Multi-lingual massage therapist
5. Greenboro Physiotherapy and Massage Clinic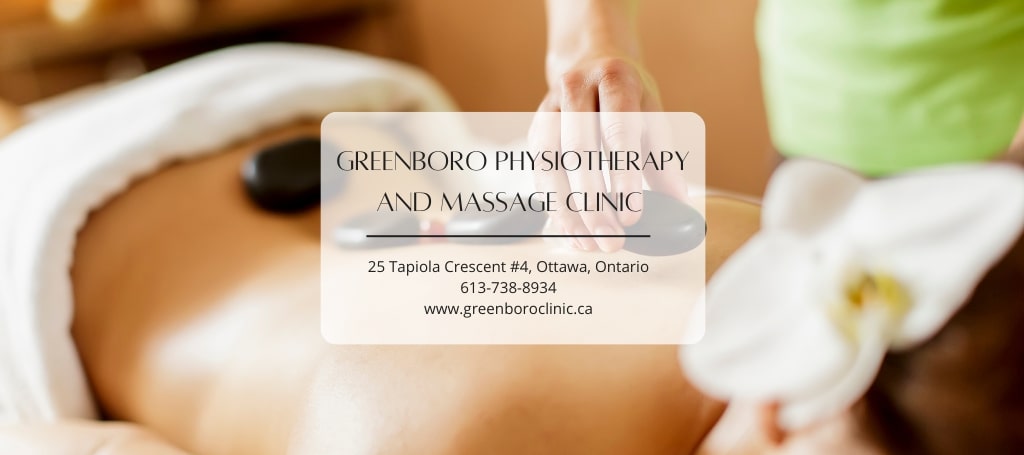 SERVICES
Massage therapy, physiotherapy, McKenzie method, acupuncture
ADDRESS
25 Tapiola Crescent #4, Ottawa, Ontario
CONTACT NUMBER
Tel: 613-738-8934
WEBSITE
https://greenboroclinic.ca/
OPERATING HOURS
Monday to Friday 7 AM – 7 PM
Saturdays 8.30 AM – 1 PM
Closed on Sundays
While people usually come to them for physiotherapy services, Greenboro is actually also known for excellent massage therapy. In fact, all of their therapists are registered with the College of Massage Therapists of Ontario.
We are pleased with their range of massage therapies, which include most of the essential therapeutic massages. We like that they offer specialised therapies such as pregnancy massages and craniosacral therapy, which tells us that they are indeed experts in this area.
It is also good that the clinic is able to cater to different types of clients, including young children and athletes needing specific rehabilitation.
At the same time, Greenboro therapists are able to adjust their treatments based on individual needs and preferences, which marries both the desired client experience and the resolution of the pain or discomfort being experienced.
What we really appreciate about this clinic is that therapists take the time to understand the problem or issue the client is experiencing before commencing any service.
Most massage therapists would simply go with the request, but Greenboro therapists show their thoughtfulness and expertise by assessing first before proceeding with a treatment plan.
All therapists registered with the College of Massage Therapists of Ontario
Treatment plans adjusted to fit specific needs
Accommodates all types of clients, including kids and athletes
Offers pregnancy massage and craniosacral therapy
Some reports of booking glitches
6. Infinity Chiropractic & Wellness Centre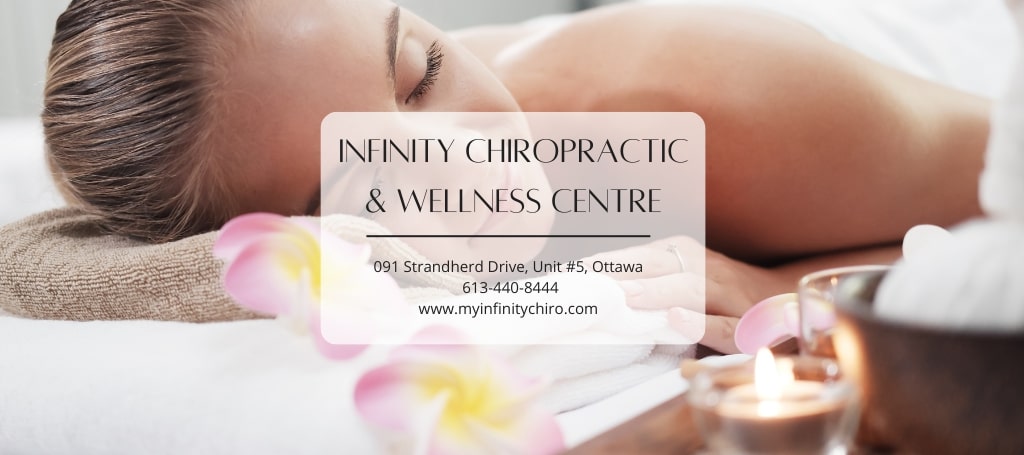 SERVICES
Chiropractic services, naturopathic medicine, massage therapy, pregnancy massage, movement therapy, reflexology, reiki, sound healing, angelic energy healing
ADDRESS
3091 Strandherd Drive, Unit #5, Ottawa
CONTACT NUMBER
Phone: 613-440-8444
Email:

[email protected]

WEBSITE
https://www.myinfinitychiro.com/infinity-registered-massage-therapy
OPERATING HOURS
MON 9 AM – 8 PM
TUES 8 – 11 AM & 2 – 7 PM
WED 8 AM – 8 PM
THUR 8 AM – 6 PM
FRI 8 AM – 6 PM
SAT 8 AM – 11 AM
We like how Infinity Chiropractic & Wellness Centre has been providing high quality care in a safe and supportive environment for individuals that would like to heal, grow and obtain optimal health for almost a decade now.
We think it's nice to find clinics that advocate for the beauty and power of natural healing practices to others.
Their initial visit takes 90 minutes, but that's because it includes the consultation and treatment.
What we like about them is that they provide self-care recommendations after the session because they believe this is also a vital part of healing.
We've heard so many positive feed back about their massage services, hence we included them to our list!
Advocates natural healing practices
Provides self care recommendations after sessions
Experienced massage therapists
Customer Reviews
"I go to Infinity for chiropractic care, acupuncture, and registered massage therapy. I love how inviting the atmosphere is, and how welcomed I feel in this environment. All the doctors and practitioners are beyond amazing. They take the time to understand your concerns and execute a proper plan of care based on what you need. The facility is always well kept, and clean. Lastly, I greatly appreciate the doctors taking time to discuss the treatment process. I was fairly uneasy about chiropractics prior to my first visit, but now I feel as though I can't live without having a chiro in my life!"
7. Kneaded Touch Massage Therapy Clinic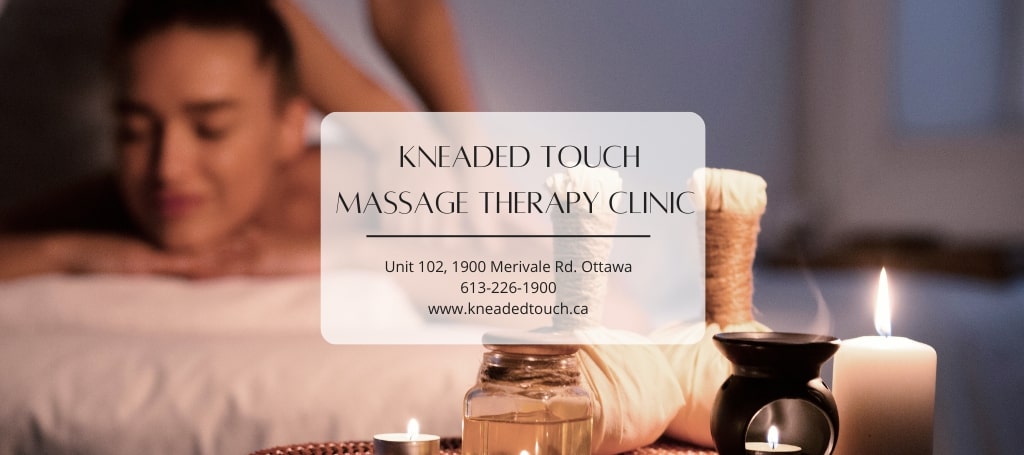 SERVICES
Therapeutic Massage Therapy, Swedish Massage, CranioSacral Therapy (CST), CranioSacral Therapy (CST) for Infants, SomatoEmotional Release (SER), Breast Massage, Myofascial Release Techniques, Manual Lymph Drainage (MLD), Tibetan Acupressure System (TAS), Pregnancy Massage, Trigger Point Therapy, Hydrotherapy, and Rhythmic Movement Training (RMTi)
WEBSITE
http://kneadedtouch.ca
ADDRESS
Unit 102, 1900 Merivale Rd. Ottawa, ON K2G 4N4 Canada
CONTACT DETAILS
613-226-1900


[email protected]

OPERATING HOURS
Monday 9:00 – 7:00
Tuesday 9:30 – 8:00
Wednesday – Thursday, 9:00 – 8:00
Friday 7:00 – 7:00
Saturday 9:00 – 4:00Sunday 10:00 – 4:00
Kneaded Touch Massage Therapy Clinic provides one of the most worthwhile massages in Ottawa. Their purpose is to assist you on your road to maximum health. They do this through therapy, education, the development of therapeutic connections, and referrals as necessary. They want you to be as comfortable as possible.
They focus on massage methods to assist you attain optimal health by promoting healing, flexibility, general muscular health, lowering tone (for tight muscles), postural awareness/alignment, and your capacity to breathe deeply.
They will teach you exercises where appropriate and will provide referrals and/or other ideas if they uncover any impediments that they believe may be handled by other practitioners.
Kneaded Touch massage therapists are constantly striving for excellence. Each therapist has finished their studies at a recognized institute after completing over 2200 hours of training. They also continue to attend classes to guarantee that they are always learning something new. Everyone has a unique treatment style and set of interests.
Experienced masseurs
Available 7 days a week
Affordable rates
Customer support can be a bit unresponsive during busy hours.
Customer Reviews
Great experience, excellent pain relief. The staff are very professional and skilled.
"Great experience, excellent pain relief. The staff are very professional and skilled. If you've had a hard week, a massage here will melt your troubles away." – Neal Kelly
I really recommend Olivia, she was very kind and gave me the best massage ever."
"I just had my first prenatal massage at Kneaded Touch, and I will absolutely be back soon! The clinic has a calm, welcoming atmosphere and the staff are very knowledgeable. I really recommend Olivia, she was very kind and gave me the best massage ever." – Silvia Lopez
8. Holtz Spa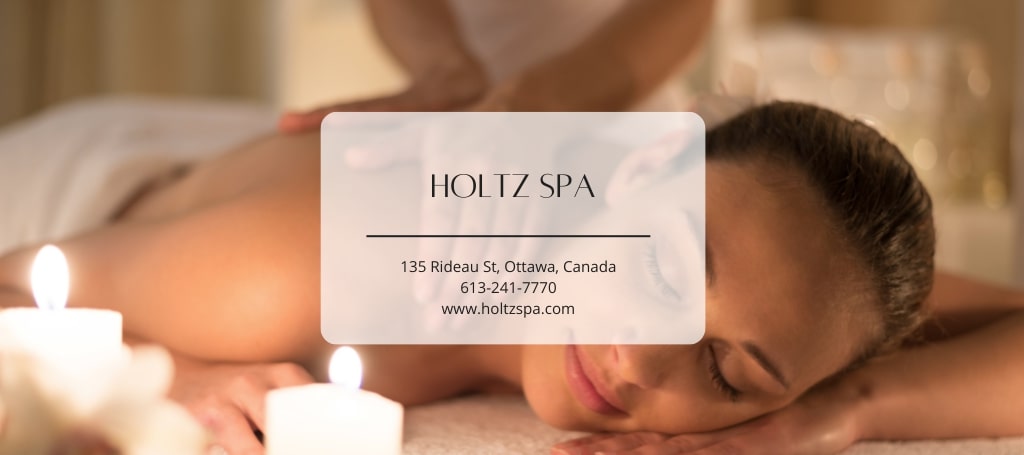 SERVICES
Spa Retreats, Skin Care, Massage and Bodywork, Body Treatments, Manicures and Pedicures, Men's Services, Esthetics, Hair Design Studio, and Programs.
WEBSITE
holtzspa.com
ADDRESS
135 Rideau St, Ottawa, ON K1N 5W8, Canada
CONTACT DETAILS
613-241-7770
holtzspa.com
OPERATING HOURS
Monday – Tuesday, 9:00 AM – 6 PM
Wednesday – Friday, 9:00 AM – 8 PM
Saturday, 9:00 AM – 6 PM
Sunday, 11:00 AM – 5 PM
Holtz Spa believes that stress and tension reduction is vital to the enhancement and maintenance of general well-being. Holtz seeks to improve people's quality of life by rejuvenating their bodies and minds.
The Oasis of Calm at Holtz Spa promotes self-esteem as well as a balance of health and wellness. Highly qualified professionals in the fields of massage therapy, esthetics, and skincare, as well as a wide variety of body therapies and hair design, give treatments aimed to fulfill the entire body.
Their ongoing mission is to provide hands-on professional service that exceeds the expectations of its individual, group, and corporate clients. One of their most requested massage packages is their Romance Package.
This package includes one room, two beds, and two body therapists to help you relax. A peaceful and romantic fireside Couples Massage with Reflexology will get the party started for a Signature Spa Pedicure for two. In our lounge, you may relax with a nice lemongrass tea and some light nibbles.
High-end facilities
Affordable rates
Experienced masseurs
Available 7 days a week
Customer Reviews
Brittany did a great job on my massage
"Brittany did a great job on my massage. We went in for a couples massage and came out relaxed. It was a bit busy when we first arrived but overall a nice place to get pampered. They had a great 'quiet' area where you could sit and relax. Some of the ladies provided good customer service while others not so much. I think this spa could definitely benefit with having all staff provide top notch service, especially if they want to be rated a 5 star spa experience. Overall experience was good." – Patty Cado
Definitely recommend this as a gift for someone you care about or for yourselves!
"It was my first time trying these and I find it difficult to have the same day off with my bf. I was not expecting they will have a vacant couple's massage therapy on the same day I have booked it. Although there were some misunderstandings with our booking, the staffs handled professionally. Very grateful for the amazing experience and hardwork of everyone. They keep it a relaxing and welcoming environment. Both me and my boyfriend enjoyed our experience with Holtz Spa. Definitely recommend this as a gift for someone you care about or for yourselves!" – Mauei Orog
FAQs About Massage Services in Ottawa
---
The top massage services in Ottawa can soothe your aching muscles, joints, and other body parts with expertise.
If we missed a good massage service in this listicle, do send us a message so we can consider it for review.
And if a former injury or accident has left you with a stiff neck or a painful back, we got you covered. Read our article on the best chiropractors in Ottawa to set you straight.