Top 5 Massage Services in Ottawa
Are your muscles sore or do you feel generally stressed because of work and other situations? We suggest getting the top massage services in Ottawa to address these as soon as you can.
To clarify, we're focusing on clinics and spas that employ registered massage therapists who have been trained in the proper manipulation of joints, tendons, muscles, and soft tissues.
We'll also discuss the cost of some popular massage therapist services in the next section.
How Much Does A Massage Service Cost in Ottawa?
Most clinics offer massage therapy sessions in accordance with the initial assessment of a registered massage therapist. This means you can get recommended treatments for a half-hour, for 45 minutes, a full hour, and so on.
There may also be special spa-like massages using hot stones, cups, tapes, and other tools on the menu. Different parts of the body could have focused massages for the head, hands, feet, and upper back, as well.
We made a table below showing some typical massage services at reputable clinics. The estimated prices beside them are taken from national averages and from the rates of the massage therapy clinics in this listicle.
MASSAGE THERAPY SERVICE
ESTIMATED PRICE
Massage therapy session
30 minutes $60 – $65
45 minutes $78 – $82
60 minutes $95 – $103
75 minutes $108 – $120
90 minutes $130 – $140
Hot stone massage
60 minutes $112
75 minutes $125
90 minutes $138
Cupping massage
30 minutes $75
45 minutes $97
60 minutes $118
Pregnancy massage
30 minutes $60
45 minutes $82
60 minutes $103
Please note that these are just estimated prices to serve as guides and may not have HST or other fees added to them yet. It's still a good idea to call up for a quote or assessment before booking a massage treatment.
The Top Massage Services in Ottawa
After getting an idea of how some treatments cost, we can now take a closer look at what the top massage services in Ottawa can do for your back, arms, legs, and overall well-being.
1.   Relax Massage Group
SERVICES
Swedish, deep tissue, pregnancy, sports, hot stone, Ashiatsu massages, TMJ, cupping, functional taping, craniosacral therapy, trigger point therapy, corporate massage
ADDRESS
504 Kent Street, Ottawa, ON
CONTACT NUMBER
613-222-0465


[email protected]

WEBSITE
https://relaxmassagegroup.com/
OPERATING HOURS
Monday to Friday 8 AM – 8 PM
Saturdays 9 AM – 5 PM
Sundays 11 AM – 4.30 PM
Formerly called "Absolute Massage", the Relax massage therapy clinic was established in 2001 and now has a total of five clinics in Ontario.
Its focus is on medical and rehabilitative therapies and massages while also offering spa-like services. The Relax team of massage therapists are sufficiently trained in deep tissue massages for sports injuries, craniosacral therapy, and even safe massages for pregnant clients.
The rates for massages and other treatments at Relax clinics are pretty fair and reasonable. A 30-minute massage therapy session costs just $60 with clients being allowed to book their favourite massage practitioner.
Even TMJ and craniosacral issues can be addressed here using gentle temporomandibular, head, spine, and sacrum therapies. But if you simply want to relax and get your stress massaged away, Relax offers Swedish, hot stone, and Ashiatsu massages using specialized techniques and tools.
Clients can book their favourite practitioners
Does direct billing to insurance companies
Good range of therapeutic and spa-like massages
Fair and reasonable rates
Winner of 2016 Top Massage Clinic in Ottawa (Top Choice Awards)
Only one practitioner is available for Ashiatsu and K-taping massages
Shorter operating hours on Sundays
Customer Reviews
The following clients have good things to say about Relax Massage Therapy:
"Best massage I have ever had. Professionalism is not spared here and the studio is very classy and allows for total relaxation. Andrew is truly great! Thanks!" – Eleonora Miccolis
"Great service from Genevieve today! I've been dealing with a leg/hip issue and she was very attentive to (and applied good pressure on) the problem area. I'm feeling hopeful that my leg/hip pain will heal soon enough!" – Diana Kaycee
2.   Vitality Massage Therapy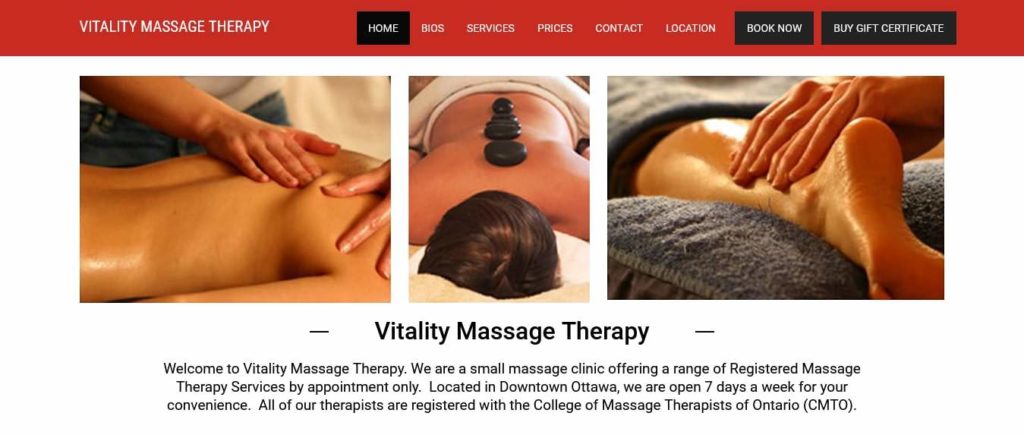 SERVICES
Swedish, lymphatic drainage, hot stone, indie head, MVA, deep tissue, pre-and post-natal massages, massage therapy with cupping, craniosacral therapy, thermal palms
ADDRESS
60 MacLaren St. Ottawa, Ontario, K2P 0K7
CONTACT NUMBER
613.421.7732


[email protected]

WEBSITE
https://vitalitymassage.ca/
OPERATING HOURS
Open 7 days a week
By appointment only
All Vitality Massage Therapy clinic's therapists are registered with the College of Massage Therapists of Ontario. Each one of them focuses on clients' relief and healing from a variety of physical conditions.
So if you have whiplash, lower back pain, arthritis, or even headaches and migraines, you can book an appointment at this clinic. Vitality also addresses sprains, strained muscles, muscle spasms, and even post-injury rehabilitation.
The clinic's rates fall within national averages with 30-minute massage therapies starting at $62. Massage therapies, cupping, and craniosacral therapies can be anywhere between 30 to 90 minutes.
If you prefer something more relaxing, Vitality also offers hot stone therapy sessions running for 30, 75, and 90 minutes. They're a bit pricier than massage therapies with the 30-minute session already pegged at $112.
The clinic is open seven days a week but with no fixed operating hours. Clients are required to book ahead for appointments and pay the fee before getting a secured slot at Vitality.
Registered with Blue Cross providers
Same-day appointments available
College of Massage Therapists of Ontario-registered
Payment is required to secure an appointment
Prices are subject to change without prior notice
No fixed operating hours
Customer Reviews
Read the following client feedback for Vitality Massage Therapy clinic:
"Had an amazing therapy session with one of the new RMT's. Jane listened and cared about my medical history and focused her attention on what was needed." – Jon Lavier
"Staff took the time to understand my injury and how best to treat it. Certainly going again." – Gill Bujold
3.   Myobalance Registered Massage Therapy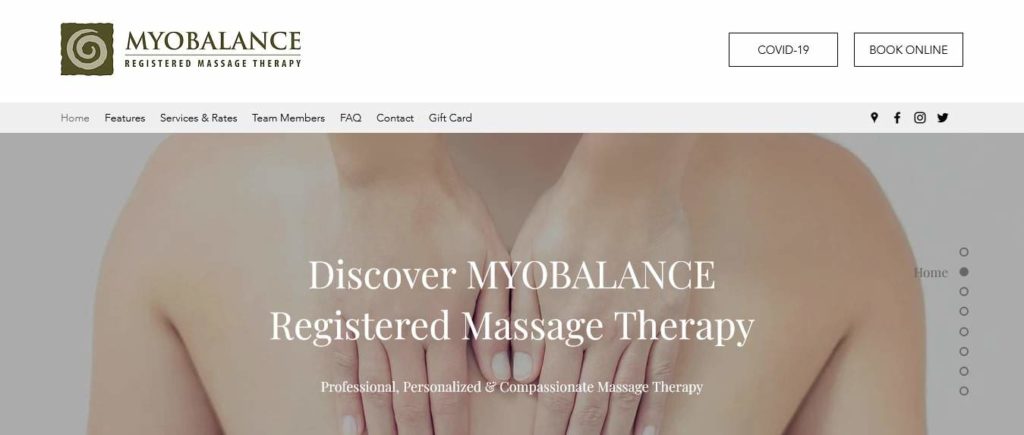 SERVICES
De-stress scalp massage, therapeutic, pregnancy, hot stone massages, reflexology
ADDRESS
457A Sussex Drive, Ottawa, ON, Canada, Ontario
CONTACT NUMBER

[email protected]


(613) 241-4434
WEBSITE
https://www.myobalance.ca/
OPERATING HOURS
Mondays        2 PM – 8 PM
Tuesdays       9.30 AM – 8 PM
Wednesdays 9.30 AM – 7 PM
Thursdays     9.30 AM – 8 PM
Fridays          10 AM – 3.30 PM
Saturdays      10 AM – 5.30 PM
Sundays        12 PM – 5.30 PM
Rejuvenation and unwinding are part and parcel of the Myobalance experience. Though it also offers therapeutic and healing massages, the Myobalance Registered Massage Therapy clinic also aims to provide a calming, spa-like atmosphere for its clients.
Both waiting and treatment rooms are flooded with natural light and aren't claustrophobic the way some spas tend to be. Even its massage oils are designed to soothe the body and senses minus the presence of harsh chemicals, fragrances, and preservatives.
The downside is that therapeutic massage services are definitely more expensive at Myobalance. Thirty-minute sessions already cost $65, though student rates are more affordable at just $52.
Reflexology services are available at the clinic, as well. It runs for a full hour and costs $105 but clients have the option to shorten the session or combine another therapeutic massage treatment to complete the full 60 minutes instead.
Good mix of therapeutic and spa-like massages
Uses fragrance and cruelty-free massage oils
Does direct billing to insurance companies
Friendlier student rates are available
Slightly higher rates compared to others
Confusing weekly operating hours
Paid street or parking garages only
Customer Reviews
See how past clients liked the services of Myobalance Registered Massage Therapy clinic:
"The space is beautiful and I felt very safe with their COVID precautions. Charity is an amazing RMT and I will definitely be returning soon. Fantastic!" – Laura Johnson
"I am so happy to have found an amazing RMT right in the middle of the Market. Jeannie is amazing! The space she has created is so beautiful and tranquil. After my first visit I was hooked." – Katie Hanson
4.   Align Massage Therapy
SERVICES
Therapeutic massage, cupping massage, Bowen therapy, craniosacral therapy, Somato-Emotional Release, Thai yoga massage, Indian head massage, osteopathy, lymphatic drainage massage, hot stone massage, prenatal massage, acupuncture, myofascial release therapy, reflexology, Reiki
ADDRESS
201-16 Beechwood Ave, Ottawa ON K1L 8L9
CONTACT NUMBER

[email protected]


+1 613-744-4606
WEBSITE
https://alignyourbody.com/
OPERATING HOURS
Monday to Friday 9 AM – 8 PM
Saturdays and Sundays 10 AM – 4 PM
Align Massage Therapy clinic has been around since 2000 and has treated thousands of clients ranging from kids to athletes. It does both as-needed and preventative therapies and massage treatments for patients.
We love that each registered massage therapist with Align has their own bio and feature on the website. There's a great range of age, expertise, experience, and specialization among them so clients can decide which therapist can address their concerns best.
In a nutshell, Align Massage Therapy clinic has the kind of comprehensive massage services for practically any concern from any patient of any age. As they succinctly put it: "If you've sprained it, strained it, bruised it or torn it, we can probably help fix it."
As for the rates, they're a bit on the steep side at this clinic. A thirty-minute therapeutic massage already costs $70 with an additional $10 for hot stone treatments.
The clinic staff does an initial assessment for every client before a treatment option is proposed. If treatments don't work after a prescribed period, Align Massage Therapy will gladly refer the client to another professional massage therapy clinic that can better address their issue.
An impressive roster of registered massage therapists
Unique therapies like Somato-Emotional Release and Bowen are available
Open 7 days a week
No direct billing services
Missed appointments are charged a full-service fee
Expensive massage rates
Customer Reviews
Read the following client feedback for Align Massage Therapy clinic:
"My back feels so much happier! I have found that this location, in particular, has awesome therapists for different kinds of body discomforts/pains/injuries/stresses, and once again I leave feeling relaxed and grateful." – Catherine Mageau-Walker
"I know that I will always find a skilled and knowledgeable registered massage therapist at Align. It's quiet and peaceful here at Align Beechwood." – Elizabeth Wissell
5.   Metcalfe Massage Therapy Clinic
SERVICES
Treatment plan-based massage therapies, acupuncture, radial shockwave
ADDRESS
702-331 Cooper Street Ottawa, Ontario
CONTACT NUMBER

[email protected]


Tel: 613-235-2377
WEBSITE
https://www.metcalfemassage.com/
OPERATING HOURS
Monday to Friday 7.30 AM – 6 PM
Saturdays 9 AM – 3 PM
Closed on Sundays
Metcalfe Massage Therapy clinic focuses on preventative therapy and injury rehabilitation. They call their treatments "modalities" with each one being tailor-made for the client's specific needs.
All of its therapists are registered to practice in Ontario and have mastered various specialized techniques. Some of these modalities include acupuncture, cupping, DermoNeuro modulation, labour support for pregnant clients, Graston technique, shockwave therapy, and others.
Ever mindful of its clientele's potential allergies and sensitivities to particular smells and ingredients, Metcalfe Massage Therapy is a no-scent clinic in all aspects. So if you're looking for a typical scented spa experience, you won't find it at Metcalfe.
The clinic also generously shares a Home Care video series on its website for clients and non-clients alike (copyrighted and not to be shared or published without consent). The videos demonstrate some helpful exercises and stretching techniques that registered massage therapists recommend for home-based therapy and continued care treatments.
Tailor-made modalities for client's specific needs
Scent-free clinic
Home Care exercise videos are provided on the website
$65 – $95 penalty fee for missed appointments
Doesn't show pricing information on the site
No clinic on Sundays
Customer Reviews
Find out what past clients think of Metcalfe Massage Therapy clinic:
"A great team of Registered Massage Therapists. I am proud to work with everyone one of them." – Sylvie Lamarre
"Take some time for yourself and go see Elise-Marie Walsh. She's intuitive, thoughtful, and will have you melting into the table! Prenatal massage with this girl is out of this world, not to mention her relaxation and chronic pain massages. Enjoy!" – Andrea Feesey
FAQs About Massage Services in Ottawa
---
The top massage services in Ottawa can soothe your aching muscles, joints, and other body parts with expertise.
If we missed a good massage service in this listicle, do send us a message so we can consider it for review.
And if a former injury or accident has left you with a stiff neck or a painful back, we got you covered. Read our article on the best chiropractors in Ottawa to set you straight.