Top 5 Life Coach Services in Ottawa
If you're going through a rough patch either in your career, family, or married life, you might be in need of some life coaching.
Luckily, we're taking a closer look at some of the top life coach services in Ottawa today.
Of course, you'll also need to know how much you're going to pay for this kind of service. Let's discuss that in the next section, shall we?
How Much Does a Life Coach Cost in Ottawa?
To get the best life coach in Ottawa, you'll have to consider their professional background, read verified client feedback, and see if they practice somewhere in your vicinity.
Of course, other life coaches also offer online sessions for faraway clients and those who prefer consultations in the privacy of their homes. On that note, online sessions typically cost less than in-person ones.
Life coaching is largely an unlicensed field so its services are usually not covered by mainstream life insurance companies.
Some life coaches charge by the hour or offer clients monthly packages for one rate. If you prefer that a life coach comes to where you live or work, you will typically get charged extra for that, as well.
| | |
| --- | --- |
| LIFE COACH SERVICE | ESTIMATED COST |
| Hourly session | $75 – $200 per hour |
| Online session | $60 – $250 |
| In-person session | $100 – $300 |
| Executive life coaching session | $1,000 – $10,000 a month |
The good news is that some life coaches offer a free initial consultation so the client can gauge if they're a good fit with what they need. It's best to ask about this before committing to a life coach.
The Top Life Coach Services in Ottawa
Ready to turn your life around and achieve your professional or personal goals? Let's see what the top life coaches in Ottawa can do to help you achieve them.
To ensure quality service, we rounded up some criteria for this listicle on life coaches:
Reasonable rates with options for a sliding scale payment scheme or installment plans
Availability for in-person and online coaching sessions to accommodate clients' schedules and circumstances
A free, no-obligation initial consultation to see if the approach is a good fit with the clients' needs.
There are also some FAQs at the end of his article so make sure to read through them!
1. Vital Health Life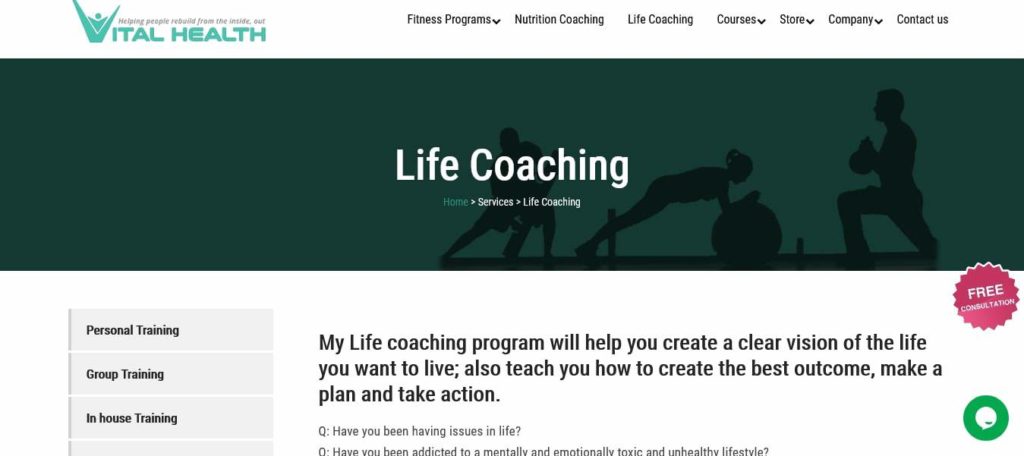 SERVICES
Life coaching, nutrition coaching, fitness programs, trainer courses, online store
ADDRESS
11 Huntersfield Drive Ottawa, ON, Canada, K1T 3E5
CONTACT NUMBER
613.612.4372


[email protected]

WEBSITE
https://www.vitalhealthlife.com
OPERATING HOURS
Monday to Saturday 9.30 AM – 7 PM
Closed on Sundays
With nearly three decades of life coaching experience, Vital Health Life is dedicated to helping clients excel in all areas of their lives. It deals primarily with nutrition and fitness coaching, but also has life coaching services under its umbrella.
David Lee is the force behind the company and is also a health and fitness coach. He is joined by other fitness trainers and nutritionists who offer both packaged and custom pricing sessions.
There are also packaged rates depending on commitment levels: "Kinda Serious" ($360/three months), "Serious" ($680/six months), and "Very Serious" ($960/12 months). These packages give clients the option to continue on a per-session basis at just $90 per session.
The initial life coaching consultation fee is $150 which falls within national averages. The downside is that while there's a "free consultation" button on the website, it's only for the company's fitness and nutrition programs.
Trainer/coach can go to client's location
Offers custom payment plans
Open six days a week
Reasonable packaged coaching rates
$90 per-session fee available only for packaged service
No free initial life coaching consultations
No BBB accreditation
Customer Reviews
Best of the best
"The best of the best. I have learned many things from David Lee great person." – A MMG
Encouraged to stay consistent and positive
"I have enjoyed my workouts and enjoy the group sessions offered. David has shown me new workout routines and encouraged me to stay consistent and positive." – Allie Militky
2. Coaching With Akon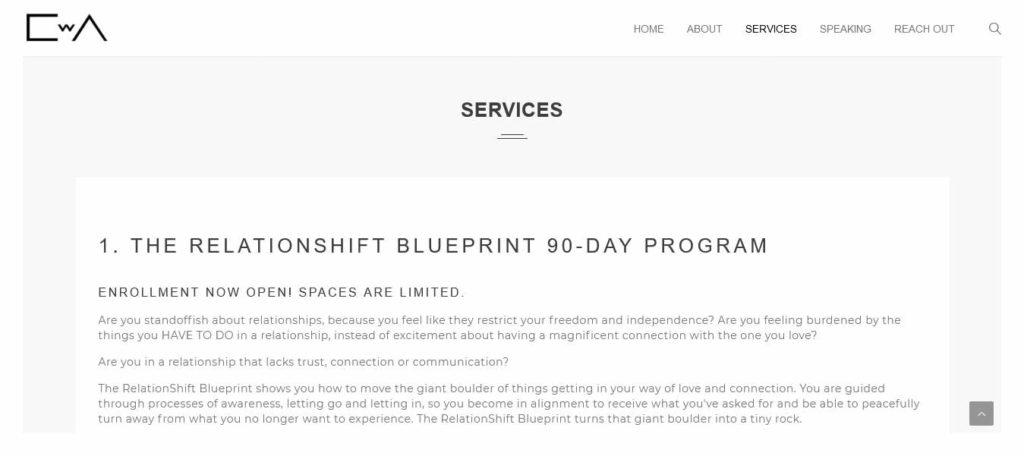 | | |
| --- | --- |
| SERVICES | Personal and relationship coach, coaching packages, speaking engagements |
| ADDRESS | Serves Ottawa clients and beyond |
| CONTACT NUMBER | [email protected] |
| WEBSITE | http://coachingwithakon.com/ |
| OPERATING HOURS | By appointment/enrollment only |
Though it appears as if Coaching With Akon is primarily focused on relationship coaching, there are sessions that dive deep into a person's psyche so they can get to know themselves, as well.
Akon Louiza Bwolo believes it's possible to create the life you want by surrounding yourself with people you care about. She offers several programs to explore these possibilities as well as a free thirty-minute consultation to determine core relationship concerns.
There's a 90-day program called The Relationship Blueprint which deals with recognizing and removing obstacles and restrictions in relationships.
For those who have relationship "emergencies", Akon also offers a coaching-on-demand program for people who just got engaged, are fighting with their partners, wish to ask someone out on a date, or are on the verge of breaking up.
But it's the 90-minute "deep dive" program that should resonate with clients who need guidance whether they are in or out of relationships. It helps discourage overthinking and stressing over things to arrive at major decisions peacefully and confidently.
We just wish Akon provided more pricing information on these packages for easier reference.
Free 30-minute consultation
Flexible coaching packages offered
Accommodates speaking engagements
Mostly relationship coaching-focused
No pricing info provided
No fixed operating hours
No BBB accreditation
Customer Reviews
Issues suddenly became lighter
"It was a real pleasure being coached by Akon. Heavier issues suddenly became lighter with the simple realization that actually used a calendar to help me organize and get things done. I felt so much lighter and less clutter-brained. I know it sounds so simple but when you are in a fog, it is harder to see." – Cathie P.
Mindful presence and clear action steps
"Akon's guidance through each of the sessions was with ease, motivating and trustful. Her mindful presence and clear action steps turned something that felt insurmountable into a fulfilling and fun experience for me.
If you are looking to take on something that's important to you – do not hesitate to contact Akon right away. Nothing to lose… and you can thank me later." – Dean T.
3. EcoSys Wellness Center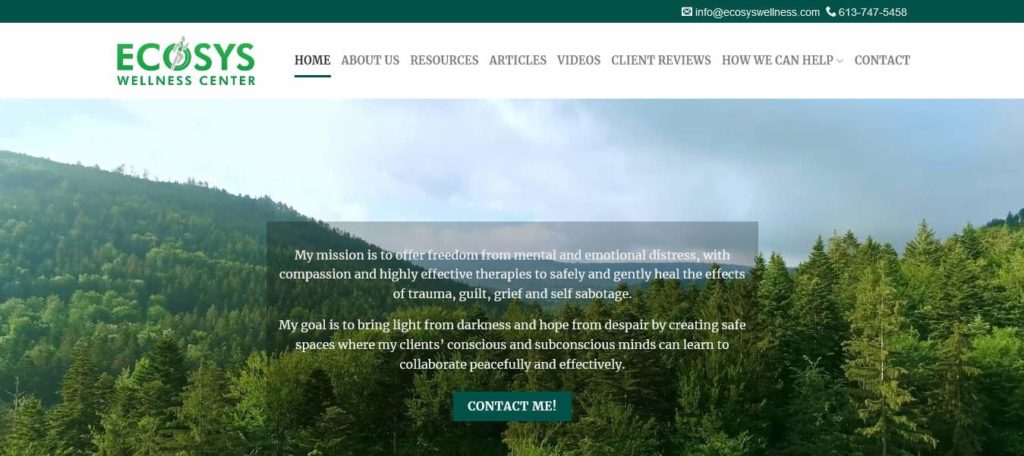 SERVICES
Therapy, anger management, alternative healing, mind and body wellness
ADDRESS
59 Westcliffe Rd, Nepean, ON, K2H 8A4
CONTACT NUMBER
1-800-361-1370
613-747-5458


[email protected]

WEBSITE
http://ecosyswellness.com
OPERATING HOURS
Monday to Friday 8.30 AM – 6 PM
Evenings and weekends upon request
Strictly by appointment only
The EcoSys Wellness Centre uses a holistic approach to address its clients' overall health: emotional, mental, and physical. It deals with issues like mental and emotional pain, phobias, stress and burnout, anxiety and depression, trauma, guilt, and grief.
With the belief that the root causes and not merely the symptoms should be treated, the centre also has a medical advisor on board. We think it's also good that to provide overall care and support, the therapists collaborate with the client's primary care physician.
Using a technique called Emotional Freedom Tapping, clients undergo acupressure integrated with thought awareness. The goal is to provide them with long-term relief from both emotional pain and corresponding physical manifestations of PTSD, phobias, traumatic memories, intense anger, and chronic body pains.
The centre is open only on weekdays and operates on a strictly by-appointment basis. Appointments for after-hours and weekends can be accommodated upon request, though.
Uses an integrated technique for mental and physical pain
Has a medical advisor on board
Available for in-person and online consultation
After-hours sessions can be requested
Doesn't accommodate walk-ins
Open only on weekdays
No BBB accreditation
Customer Reviews
Highly recommended to anyone wanting to live life to the fullest
"I can honestly say that working with David changed both my personal life and my business life. He is exceptional at what he does, if you are open and willing to go through the sessions it will cause shifts in your life you didn't think were possible. I am very grateful to have had this experience and highly recommend him to anyone wanting to grow and live their life to the fullest potential." – Heather G.
Kind-hearted, a great listener, and non-judgmental
"David is kind-hearted, a great listener and non-judgemental. I started to meet with him virtually in July 2020. At that point, I had so much anxiety and crying all the time. I felt like giving up. I had just been discharged from the psych ward in April 2020. I could barely walk, had no balance and could not express myself. It's been 10 months now and I almost feel like myself. I have PTSD and was emotionally abused by my mother. During these past 10 months, David helped me to rewire my brain and gain more confidence. It's been a long process and you need to be very patient. I would not be at this point in my life if it was not for David. I still have a lot of work to do but I know that David will be there for me." – Lynne F.
4. Carino Counselling and Services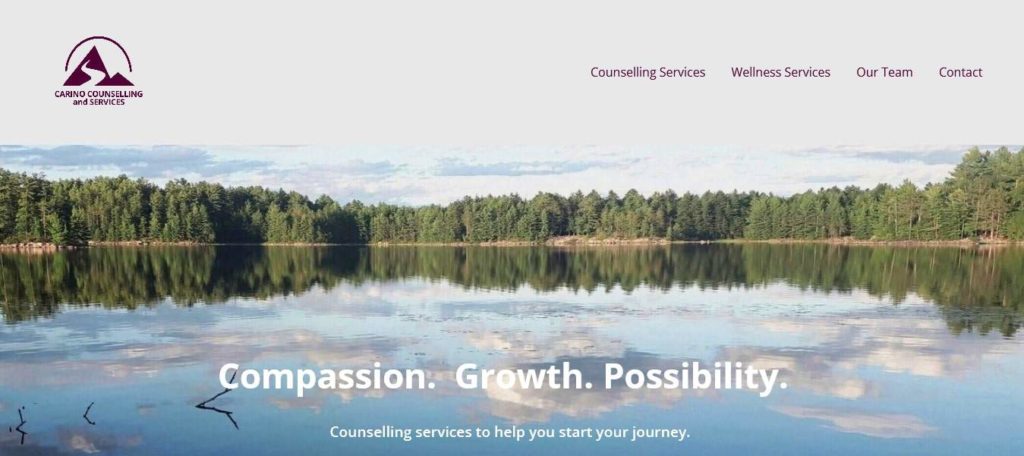 SERVICES
Individual and couples counselling, wellness counselling, speaking events and workshops
ADDRESS
301 Metcalfe Street 3rd Floor Unit Ottawa, ON K2P
CONTACT NUMBER
343 304 6154


[email protected]

WEBSITE
https://carinocounselling.ca/
OPERATING HOURS
By appointment only
Leandra Carino is a clinical social worker and a therapist who does in-person, video, and telephone counselling. Her in-person counselling sessions are available only on Wednesdays, though.
At the moment, most of her counselling services are done virtually or by phone. She is open to adapting styles and approaches to better support the client's needs, goals, and issues.
She counsels both individuals (adults and seniors) and couples using a variety of approaches that are best suited for the circumstances. She deals with issues of grief, depression, stress, anxiety, miscommunication in relationships, and more.
The hourly rates at Carino Counselling and Services are pretty reasonable ($135 for individual patients and $150 for couples). What's even greater is that Leandra can accommodate a sliding scale fee upon request of her clients.
To see if Leandra Carino's approach is a good fit for your needs, you can take advantage of the free 15-minute phone consultation she offers.
Sliding scale fee available
Free 15 minute phone consultation
Reasonable hourly rates
Counsels individuals and couples
In-person counselling is available only on Wednesdays
Practice is mostly focused on adult and senior clients
No BBB accreditation
5. Jessica Magnan Coaching and Wellness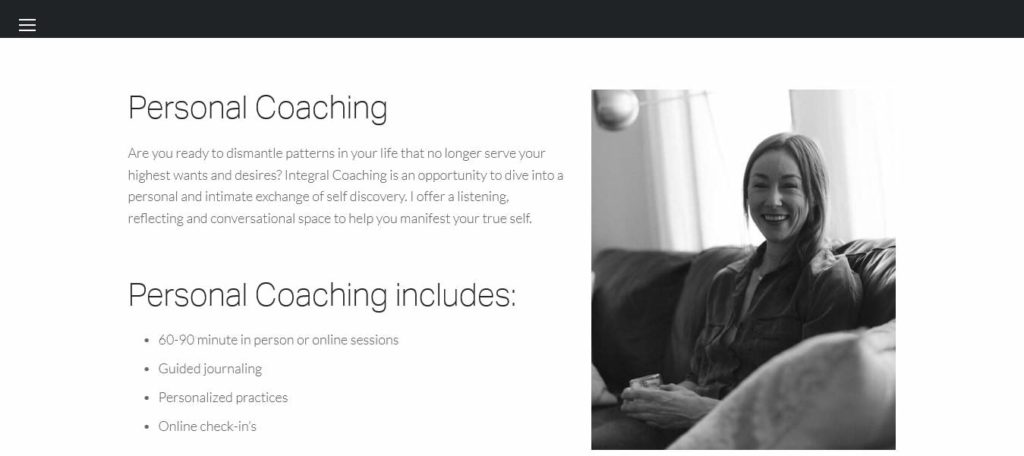 SERVICES
Life coaching, yoga, meditation
ADDRESS
377 Lyon St. N, Ottawa, ON K1R 5W9
CONTACT NUMBER

[email protected]


+1 613-859-5790
WEBSITE
https://www.jmag.life/
OPERATING HOURS
Mondays 10 AM – 2 PM
Tuesdays 9 AM – 8 PM
Wednesdays 2 PM – 5 PM
Thursdays 11 AM – 6 PM
Fridays 11 AM – 6 PM
Saturdays 9 AM – 3 PM
Closed on Sundays
Jessica Magnan Coaching and Wellness offers bundled coaching services for a variety of wellbeing goals.
Jessica is a yoga and meditation teacher as well as a personal coach who believes that a client's "best self" can be achieved with movement, meditation, and manifestation.
She offers packaged coaching series including a 5-day "boot camp" to redirect thoughts and energy, and personal coaching support called the Doubt Detox.
Though the goal is to make clients feel confident, it does seem like Jessica herself is the product being sold to achieve this. She has a YouTube channel, videos, meditation audios, and a gallery wall on the website called "Jesstures" which is really just a link to her Instagram page.
Still, she customizes programs for clients after a series of intake and "offer" conversations with her. There is also a cycle of development program aiming to give clients regular and deep reflection work.
Packaged meditation and coaching series
Online corporate yoga classes offered
Live meditation classes are available
Not a therapy-based practice
Confusing operating hours
No BBB accreditation
Customer Reviews
Perfect reset to the week
"I met Jessica years ago when she taught yoga at Upward Dog and loved how I always felt more positive and energized after leaving her class. I was thrilled when I found out that she started teaching meditation classes. Jessica is not only a talented teacher, but she is also an open, caring and friendly individual, who always make everyone feel welcome in her home. The room in which we meditate is always beautifully lit filled with great ambient music. (She also provides a variety of cushions and blankets.) Usually, the course begins with a breathing exercise followed by a thoughtful article that she reads to us to then practice a variety of meditation techniques. I would highly recommend you to attend any of Jess' courses, it's the perfect reset to your week!" – Sophia Jolin-Roch
Emphasis on manifesting
"Jess has created an awesome meditation space. The classes offer a relaxed but personal practice. Jess always makes sure to be available to chat before and after the sessions. There is an emphasis on manifesting the seeds you plant during the session. I attended the classes for the last 6 weeks now and my perception of life is already shifting. Jess is just a great human overall." – Olivier Chabot
FAQs About Life Coach Services in Ottawa
---
The best life coach services in Ottawa can help you get through obstacles in your life and get you on the path to healing and confidence.
If you have a life coach to recommend to our readers, we'd love to review them.
We also have resources for other professionals to help you become your best self: