5 Best Gardeners in Ottawa
I just love spending time in my garden, planting some fruits and veggies like tomatoes, lettuce, and strawberries. But with my schedule at work becoming more erratic these days, I couldn't find enough time to maintain it.
I knew that I needed help. So I began my search for the best gardeners in Ottawa and eventually came up with this list.
If you're the same, here are the best gardeners in the city who can help you as much as they've helped me.
Best Gardeners in Ottawa
To narrow down our choices, we used the following criteria in our selection process to get the best in the business:
1. Renaud Home & Garden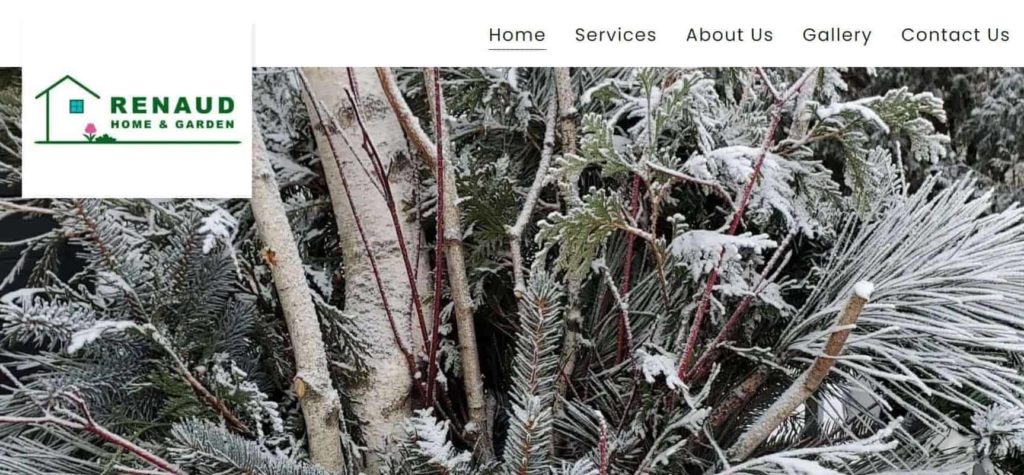 Test
Info
PRODUCTS & SERVICES
Garden/Property Rejuvenation, Garden Design & Installation, Decorative Planters, Spring/Fall Cleaning, Property Maintenance Services, Residential and Commercial Lighting, Holiday Planters and Wreaths, Seasonal Contract
WEBSITE
https://renaudhomeandgarden.com/
ADDRESS
Ottawa, Ontario, Canada
CONTACT DETAILS

[email protected]

Jocelyn: 613-869-7786

Ken: 613-869-0286

OPERATING HOURS
Monday to Friday 7 AM - 5 PM
| | |
| --- | --- |
| Criteria | Ratings |
| Services Offered | ★★★★★ (5/5) |
| Certifications and Affiliations | ★★★★✩ (4/5) |
| Affordability | ★★★★★ (5/5) |
| General Feedback | ★★★★★ (5/5) |
A family-run company, Renaud Home and Garden specializes in garden, landscaping, and property maintenance services. Among these include garden design and installation, decorative planters, and garden rejuvenation.
It also caters to customers with landscaping and overall property transformation needs. There are seasonal contracts, too, which are affordable and great for maintaining garden beds if you need some.
These specific services include pruning, weeding, maintaining an edge, and topsoil or mulch installation. Additional services range from weed barrier installation to planting or removal.
Founded in 2016, it continues to provide customers with quality service. To achieve this, it only employs highly trained people, with an experienced horticulturist on the side for a comprehensive maintenance guide.
We like that it uses 2D and 3D renderings for whatever needs improvements, helping you plan things better and set expectations in place. We also appreciate that it offers free quotes and has provided a gallery of sample works.
Overall, with awesome staff and quality tools, we believe that Renaud Home and Garden is one of the best options for garden needs. Many satisfied customers would attest to that.
You might want to consider scheduling your visit on a weekday, though, as it is closed on weekends.
Years of experience
Specializes in garden services
Employs experienced staff members
2D and 3D renderings
No price guides provided
Closed on weekends
Customer Reviews
We were blown away
"Jocelyn and Ken brought our front and back garden back to life! Renaud Renaud Home & Garden are easily the most knowledgeable landscapers I've had the pleasure to meet. They truly care about each customer and their needs and have terrific attention to detail. We were blown away that in just two days, both our front and backyard was completed to perfection. Jocelyn, really has some creative and effective suggestions to come up with our own low maintenance garden. I will be telling all of my friends and family about this awesome company! Wonderful work, Thanks so much Jocelyn and Ken! We can't wait to have you guys come back next year to start working on our next project!" — Carla Dagnolo, Google Reviews
Did a great job
"Jocelyn and Ken did a great job at our place in Centretown. They worked within our budget, did the work on time, cleaned up the site afterward, and were very good at communicating throughout the project. I would highly recommend Renaud Home & Garden." — Gina Decarie, Google Reviews
2. Angelina Singson Local Gardening Services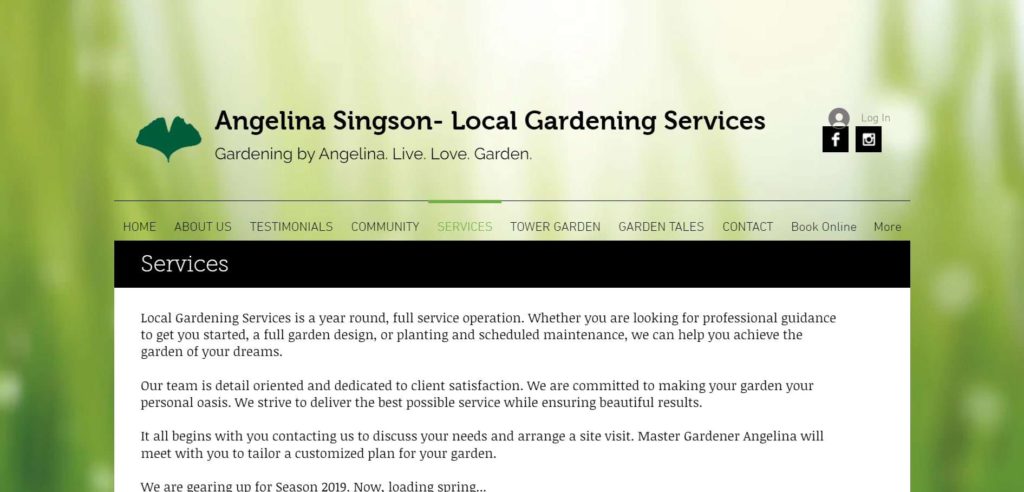 Test
Info
PRODUCTS & SERVICES
Garden Design and Installation, Therapeutic Gardens, Maintenance Plans, Planting Plans, Garden Rejuvenation, Edible Gardens, Small Business Gardens, Legacy Gardens, Mulch and Soil Supply and Installation
WEBSITE
https://www.gardeningservicesottawa.com/
ADDRESS
955 Merivale Rd, Ottawa, ON K1Z 6A3, Canada
CONTACT DETAILS
+1 613-415-5575
OPERATING HOURS
Monday to Friday 10 AM - 4 PM

Saturday 10 AM - 12 PM
| | |
| --- | --- |
| Criteria | Ratings |
| Services Offered | ★★★★★ (5/5) |
| Certifications and Affiliations | ★★★★✩ (4/5) |
| Affordability | ★★★★★ (5/5) |
| General Feedback | ★★★★✩ (4/5) |
Established in 2005, Angelina Singson Local Gardening Services is one of the options to consider for gardening needs. Led by a master gardener, it currently offers a range of services that extend from garden rejuvenation and maintenance plans.
There are pricing plans, too, which we think are very useful if you're intending to have monthly garden services. Apart from convenience, what's also nice about this is that you're guaranteed a spot no matter how busy the crew gets.
We like that the owner, Angelina, is an active member of the Master Gardener of Ottawa Carleton group. She is also a proud member of other organizations like the Ontario Hosta Society and the Ottawa Horticultural Society.
We also appreciate that things are done by a professional team, which is composed of people with different skills and expertise. To build trust and confidence, references and police record checks of employees are made available for patrons to see.
These, alongside great service and friendly staff members, help explain the countless satisfied customers over the years.
Unfortunately, as Angelina Singson Local Gardening Services is often fully booked, it might require a lead time of 4-6 weeks, which might not sit well with others. Despite this, we still think that it is a good choice for gardening and other related needs.
Range of services
Relevant affiliations
Experienced workers
Employees' references and police records
Pricing plans
A lead time of 4-6 weeks
Not BBB accredited
Customer Reviews
You won't be disappointed
"Angelina helped us clean up an overgrown backyard at our new home on a tight budget. We were absolutely blown away by the final result – she made our yard look fantastic! I highly recommend Angelina's work. She's friendly, knowledgeable and goes the extra mile. If you go with Angelina you won't be disappointed." — Kate Kaminska, Google Reviews
We are thrilled
"We are thrilled with Angelina and the team's work on our small gardens, they look fantastic! Great attention to detail and a very thorough job. The work was done quickly and on budget. Highly recommend their service!" —Hilary Little, Google Reviews
3. Hansen Lawn And Gardens Ltd.
| Test | Info |
| --- | --- |
| PRODUCTS & SERVICES | Landscape and Garden Maintenance, Landscape Design, Landscape Construction, Snow Removal |
| WEBSITE | https://www.greensideup.com/ |
| ADDRESS | 2729 Stevenage Dr, Ottawa, ON K1G 3N2, Canada |
| CONTACT DETAILS | +1 613-260-8175 |
| OPERATING HOURS | Monday to Friday 8 AM - 4 PM |
| | |
| --- | --- |
| Criteria | Ratings |
| Services Offered | ★★★★★ (5/5) |
| Certifications and Affiliations | ★★★★★ (5/5) |
| Affordability | ★★★★★ (5/5) |
| General Feedback | ★★★★✩ (4/5) |
In business since 1988, Hansen Lawn And Gardens Ltd. has been providing quality workmanship for over 30 years. With an A+ BBB rating, we trust that it can address all your gardening needs.
Looking at its credentials, we like that it is Landscape Industry Certified. It also has relevant affiliations with organizations like the Canadian Landscape Nursery Association.
Today, it offers full-service maintenance programs. Among these programs include seasonal gardening, in-depth lawn services, and hedge-related services, which it takes so much pride in.
Hansen Lawn And Gardens Ltd. can also do aeration, fertilizing, and weeding to help keep your garden in its best possible shape. There are customized packages, too, that might interest you.
With a skilled and experienced crew, we are confident that every project is done following high service standards. The best part is that all services rendered come with a warranty.
Although it might have had some communication issues in the past, we still believe in its capacity to deliver the type of service you deserve. So if you need some gardening assistance, you'll never go wrong with it.
With over 30 years of experience
A+ BBB rating
Wide range of services
Relevant affiliations
Service warranty
Communication issues
Unavailable on weekends
Customer Reviews
We are so very pleased
"Amanda and Sarah took an overgrown garden and made it into a beautiful place. In spite of nasty gnats and occasional rain, they worked skillfully and continuously for a whole day. We are so very pleased with the results! Can't wait to see what they will do with our even more overgrown backyard 🙂 Thank you so much Hansen L & G." — Marcia Falconer, Google Reviews
Surpassed my expectations
"Hansen was recommended to me by friends and I now know why! I had a positive experience with every person I dealt with. Mine was a relatively small job for them, but it was a big deal in my eyes. I was treated with respect and they incorporated my requests and thoughts into the design. Very professional, polite, down to earth, hardworking installers, their work and attention to detail surpassed my expectations. A level of customer service that is rare these days. Thank you for transforming my yard!" — Nancy Callahan, Google Reviews
4. Primo Landscaping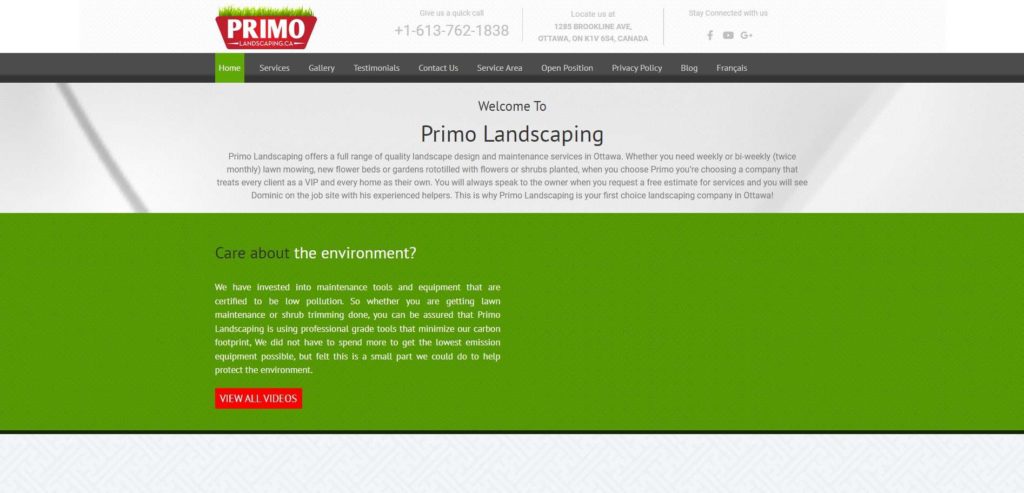 Test
Info
PRODUCTS & SERVICES
Ornamental Garden Maintenance, Xeriscaping and Low Maintenance Gardens, Lawn Repair and Rejuvenation, Lawn Care, Rental Property Maintenance, Watering and Fertilizing Services, Organic Insect and Disease Control, Interlock and Hardscaping, Hedge Removal, Spring and Fall Cleanup, Mulching, Riverstone and Soil Deliveries and Installation
WEBSITE
https://primolandscaping.ca/
ADDRESS
1285 Brookline Ave, Ottawa, ON K1V 6S4, Canada
CONTACT DETAILS
+1 613-762-1838
OPERATING HOURS
Monday to Friday 7:30 AM - 5 PM

Saturday 7:30 AM - 1 PM
| | |
| --- | --- |
| Criteria | Ratings |
| Services Offered | ★★★★★ (5/5) |
| Certifications and Affiliations | ★★★★★ (5/5) |
| Affordability | ★★★★★ (5/5) |
| General Feedback | ★★★★✩ (4/5) |
Primo Landscaping is BBB-accredited, which is one of the things we like. Currently, it offers various gardening and landscape services you can avail of.
Some of these services include ornamental garden maintenance, garden bed preparation, and hedge-shrub tree trimming. There are other services, too, such as lawn repair and rejuvenation and xeriscaping.
Offering various maintenance programs, its customers can choose to go for weekly or bi-weekly services. There are customized programs as well that are perfect for keeping your flower beds and lawn in great condition at all times.
Another thing we like about Primo Landscaping is the fact that Dominic, the owner, is very much involved in pretty much every work being rendered. We appreciate that he is always present to oversee things and address all concerns and inquiries.
On top of this, it's great to know that the company strives to minimize its carbon footprint through the use of equipment with the lowest possible carbon emissions. We just love the idea that it pursues its interests without compromising the environment.
Despite having issues because of some workers forgetting to bring their licenses, Primo Landscaping remains one of the top choices for gardening needs.
Offers a variety of services
With BBB accreditation
Eco-friendly tools and equipment
Offers free estimates
Some transparency issues
Closed on Sundays
Customer Reviews
Years of professional yard maintenance
"Thanks to the Primo Team we have had several years of professional yard maintenance in a timely, cost-effective manner. Just when I thought of calling for service, the Team would arrive and begin to do the needful. We were always pleased with the outcome and the little suggestions for improvement. We thank them for all their efforts and years of service. If you are looking for quality work, and pleasant working relationships give the Primo Team a call!" — JoAnn Crichlow, Google Reviews
Highly recommended
"Primo Landscaping has taken care of our lawns for the last couple of years. We are very happy with the services provided. Dominic is very knowledgeable about landscaping issues and he has helped us to resolve multiple yard concerns. He is always giving us the best cost effective solution. Their work is also worthy to talk about – always done with utmost care and precision. Highly recommended." — Aru Aggarwal, Google Reviews
5. Green Meadows Landscaping
| Test | Info |
| --- | --- |
| PRODUCTS & SERVICES | Planting and Horticulture, Residential Lawn Maintenance, Commercial Grounds Maintenance, Design and Construction, Interlock Installation, Pools and Water Features, Site Grading and Excavation, Carpentry and Woodwork, Landscape Lighting, Commercial Snow and Ice Control |
| WEBSITE | http://makingoutdoorlivingbeautiful.com/ |
| ADDRESS | 6145 Abbott St E, Stittsville, ON K2S 1V5, Canada |
| CONTACT DETAILS | +1 613-227-0637 |
| OPERATING HOURS | Monday to Friday 7 AM - 5 PM |
| | |
| --- | --- |
| Criteria | Ratings |
| Services Offered | ★★★★★ (5/5) |
| Certifications and Affiliations | ★★★★★ (5/5) |
| Affordability | ★★★★★ (5/5) |
| General Feedback | ★★★★✩ (4/5) |
Green Meadows Landscaping is one of our best options when it comes to gardening needs. Providing quality services since 1995, it has gained both BBB and ICPI certifications.
One of the things we like about it is that it stays committed to personalized and quality customer service. It's great that it always ensures that every job is done right and finished within the timeframe.
It does this by employing only gardeners that are fully licensed, insured, and bonded.
Further, apart from being affordable, it is also great that all of its services come with a 5-year service warranty. The transferable lifetime warranty from manufacturers of the products it uses is worth noting as well.
Today, its gardening services extend from planting and horticulture to residential lawn maintenance. Other related services include interlock installation, landscape lighting, and commercial grounds maintenance, to mention a few.
Aside from offering free consultations, we also like that it sends in quotes that allow patrons to prepare their finances. The photo gallery, on the other hand, is commendable as it gives insights into the team's capabilities.
It is just too bad, though, that it is unavailable on weekends. So if you're planning to visit, you might want to consider this.
Despite this, however, we still believe that Green Meadows Landscaping can help you address all sorts of garden concerns.
BBB and ICPI certifications
An array of services offered
Service and product warranties
Offers free consultations with quotes
Closed on weekends
Price guides are unavailable
Customer Reviews
We are very pleased
"We are very pleased with the work completed in our front yard in August 2017 by Green Meadows Landscaping. They constructed front and side walkways with steps, raised planting beds and a new driveway. Oliver, Chris and the team were professional, hard-working, polite and had a great attention to detail. It was an added bonus to have Marta, a Horticulturist, on the team." — Carolyn Brown, Google Reviews
Beyond what we ever imagined
"We couldn't be happier! Green Meadows created the backyard of our dreams. Oliver has such creative design ideas, he is professional and a pleasure to work with. Chris and the crew were amazing, very hardworking, knowledgeable, and professional. We highly recommend Green Meadows!" — Megan Scott, Google Reviews
FAQs about Gardeners
---
With this list of the best gardeners in the area, we hope that your gardens continue to bring happiness and great food.
Looking for some nice ideas for your garden? This list of the best gardens to visit in Ottawa might just work for you.