The 5 Best Fertility Clinics in Ottawa
If you're looking to conceive a child, it's important to find the best fertility clinic possible. Luckily, Ottawa has plenty of top-notch clinics to choose from.
In this article, we will review them and break down their services so you can find the perfect clinic for you.
How much do fertility clinics charge in Ottawa?
Fertility clinics offer multiple services. The table below should give you a clearer picture of the possible costs you may incur.
| Service | Average cost |
| --- | --- |
| Consultation | $200 - $250 |
| Fertility Guidance | $200 - $300 |
| Fertility Massage | $200 - $250 |
| Assisted Reproductive Technology (ART) | $10,000 - $15,000 |
| Virto Fertilization (IVF) | $10,000 - $15,000 |
| Gamete Inter-Fallopian Transfer (GIFT) | $15,000 - $20,000 |
| Sperm Retrieval | $3,800 - $5,000 |
| Intra-cytoplasmic Sperm Injection | $12,000 - $17,000 |
| Embryo Conservation | $3,800 - $5,000 |
The Best Fertility Clinics in Ottawa
When looking for the best fertility clinics in Ottawa, we considered the following criteria:
1. Ottawa Fertility Centre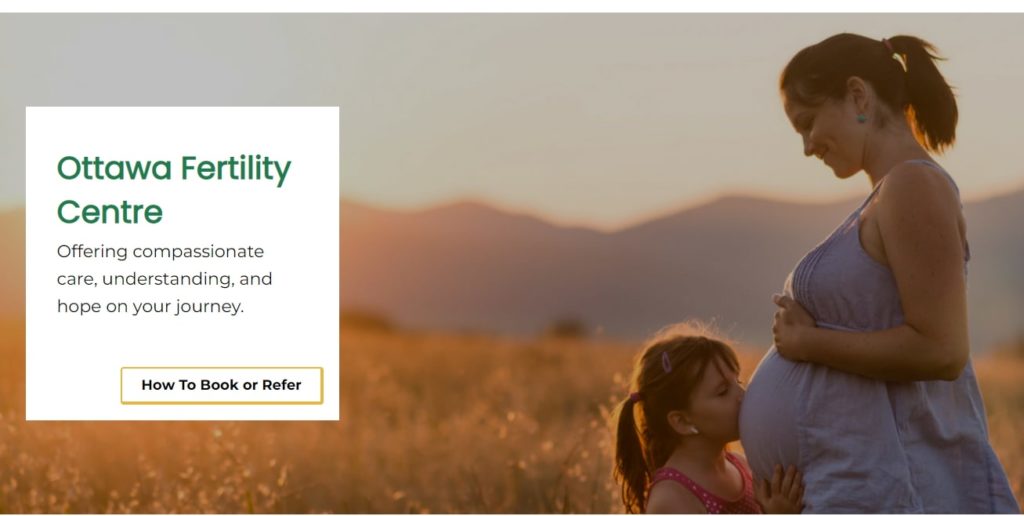 Test
Info
SERVICES
Natural Conception, Ovarian Stimulation & Insemination, IVF, Donor Insemination, Surrogacy, Fertility Preservation, PGT-A, PGT-M, Male Infertility, Egg Donation
WEBSITE
https://conceive.ca/
ADDRESS
100-955 Green Valley Crescent, Ottawa, ON K2C 3V4, Canada
CONTACT DETAILS
613-686-3378
OPERATING HOURS
Monday 7AM–5PM

Tuesday 7AM–5PM

Wednesday 7AM–5PM

Thursday 7AM–5PM

Friday 7AM–5PM

Saturday 7AM–4PM

Sunday 7AM–4PM
| | |
| --- | --- |
| Criteria | Ratings |
| Rates | ★★★★(4/5) |
| Availability | ★★★★(4/5) |
| Location | ★★★★★(5/5) |
| Feedback | ★★★★★(5/5) |
The Ottawa Fertility Centre is a well-established facility in Green Valley Crescent. It offers a range of assisted reproductive technologies, including in-vitro fertilization (IVF) and intracytoplasmic sperm injection (ICSI).
The staff is highly experienced and the IVF laboratory is one of the best in Canada. With multiple services available, the clinic provides patients with a one-stop fertility center.
For men, it also provides surgical services such as varicocelectomy and epididymal
obstruction surgery.
This is a great option for couples or individuals who are unsure about starting an IVF cycle, as it offers a variety of treatment options that are tailored to the individual patient's needs.
We love that the clinic accepts online payments and also has a great referral system. The convenience it offers is one of the reasons why the Ottawa Fertility Centre is such a popular clinic in the region.
Unfortunately, the services of the Ottawa Fertility Centre can be expensive. In addition to the cost of IVF treatment, patients also have to pay for blood tests that are used as part of the initial consultation process.
Long queues are also possible, especially during busy periods such as the beginning of the year or when patients are seeking IVF treatment with donor eggs.
Overall, however, this is an excellent option for couples and individuals who are having issues conceiving a child. It has multiple treatment options available, as well as state-of-the-art technology and equipment.
Multiple services available
Also has focused services for men
Great referral program
Accepts online payments
Pricey
Long queue and wait times
Customer Reviews
Well done
"So far, pretty good. I love the thorough testing. In an environment where everyone is on the edge hoping for their miracle, the staff is doing a relatively good job. Everyone is either friendly or at the very least polite which is so important to me in my journey. Well done OFC." – Nodumo Nyathi
Safe space
"My first experience here was great! I felt comfortable and like I was in a safe space. Every interaction I had with any staff member was great. I look forward to my journey at this clinic!" – Maddy Daly
2. Originelle Fertility Clinic & Women's Health Centre Ottawa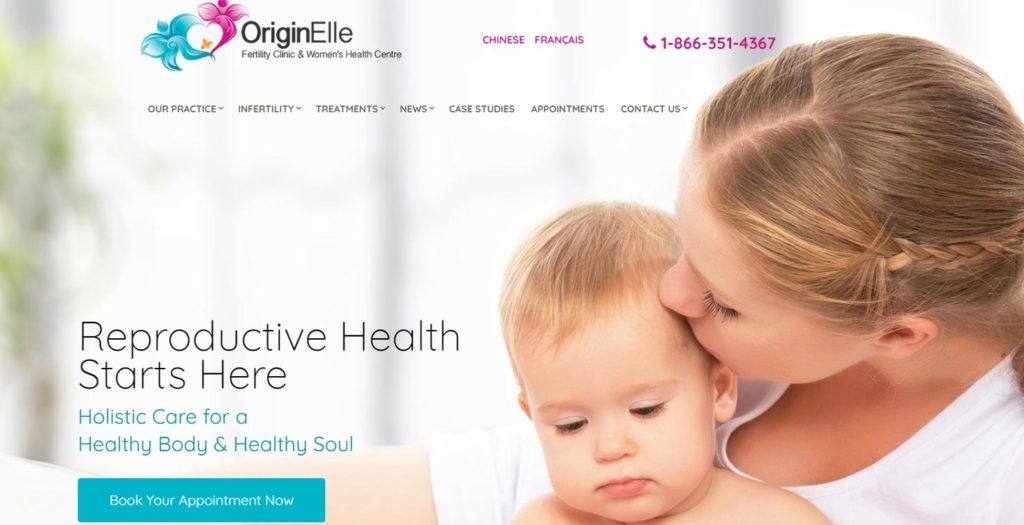 Test
Info
SERVICES
In Vitro Fertilization, Non-Invasive Treatments, Complementary Health, Treatments for Men, Fertility Preservation, Donation & Surrogacy
WEBSITE
https://originelle.com/
ADDRESS
1935 Bank St, Ottawa, ON K1V 8A3, Canada
CONTACT DETAILS
613-321-8022
OPERATING HOURS
Monday 8AM–4:30PM

Tuesday 8AM–4:30PM

Wednesday 8AM–4:30PM

Thursday 8AM–4:30PM

Friday 8AM–4:30PM

Saturday Closed

Sunday Closed
| | |
| --- | --- |
| Criteria | Ratings |
| Rates | ★★★★★(5/5) |
| Availability | ★★★★ (4/5) |
| Location | ★★★★(4/5) |
| Feedback | ★★★★(4/5) |
The Originelle Fertility Clinic & Women's Health Centre is another great option for fertility care in Ottawa. It offers a wide variety of services including In Vitro Fertilization, non-invasive treatments, fertility preservation, and more.
It has special services for men who have difficulty conceiving with their partners, such as diagnostic testing, as well as treatment for male infertility issues like low sperm count and motility.
The clinic itself is well-kept and decorated. It's bright, open, and full of natural light, which makes a big difference when you're undergoing difficult fertility treatments.
Originelle is open to treating even those who have already received consultation from other doctors.
Unfortunately, not everyone will be able to conceive a baby. But Originelle also offers surrogacy options so that couples can still be parents if they are unable to conceive on their own.
The only drawback is it can be fully booked at times and queues can be quite long, so make sure you book your appointment in advance if you need to be seen quickly.
Overall, it's a great clinic and we would highly recommend it if you're looking to start a family.
Multiple treatments available
Special services for men
Surrogacy options
Decent team of doctors and nurses
Customer Reviews
Like family
"After 8 years of trying and being with another clinic, we can to be more satisfied with Originelle Fertility Clinic since we got referred in march. We highly recommend this clinic at 100%. They are kind and make sure you are their priority, even though they have many patients. But this review is not only how amazing in general the staff is but the nurses. Deana is the nurse that was assigned to us and she is wonderful, on queue, sympathetic and patient. She makes sure you understand and okay through out the whole experience. She checks in regularly. She is 100% in the right field and you can see she does it out of passion. We are so blessed she is part of this journey with us and makes us feel like we are part of her family." – Sophie B.
Took good care of us
"We started with Originelle back in February 2022. They took really good care of us, helped us, moved their schedules around and way more. Deana is the nurse that was assigned to us and we couldn't be more satisfied with her. She is always there for us, always there if I have questions or anything. I would 100% recommend Originelle." – Katia Seguin
3. Be Happy Fertility Clinic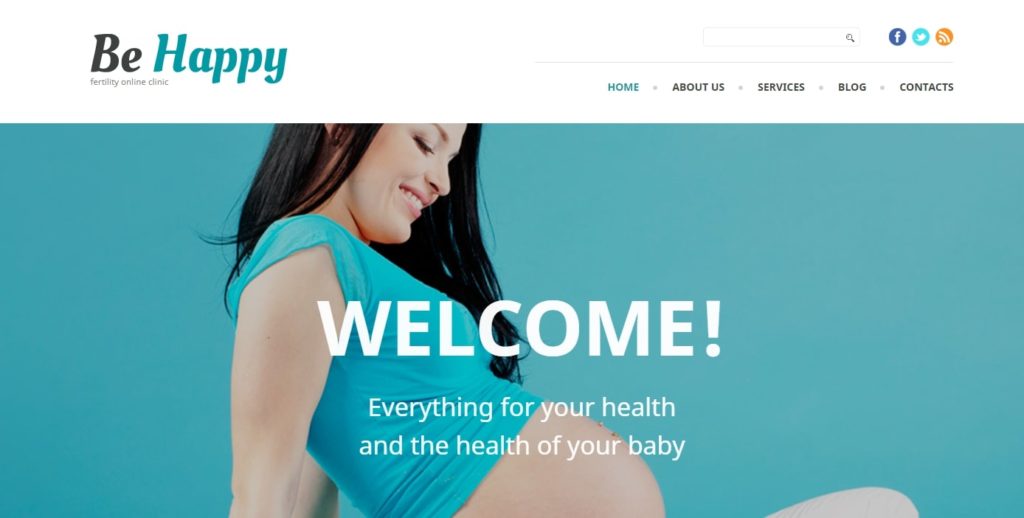 Test
Info
SERVICES
Consultation, Biotech Fertility Products
WEBSITE
https://fertilityonlineclinic.com/
ADDRESS
223 Bank St Unit 1, Ottawa, ON K2P 1W9, Canada
CONTACT DETAILS
888-844-9838
OPERATING HOURS
Monday 8:30AM–5:30PM

Tuesday 8:30AM–5:30PM

Wednesday 8:30AM–5:30PM

Thursday 8:30AM–5:30PM

Friday 8:30AM–5:30PM

Saturday Closed

Sunday Closed
| | |
| --- | --- |
| Criteria | Ratings |
| Rates | ★★★★ (4/5) |
| Availability | ★★★★ (4/5) |
| Location | ★★★★(4/5) |
| Feedback | ★★★★(4/5) |
Be Happy Fertility is another notable fertility clinic to check out. It is very experienced in providing fertility care and has helped countless couples achieve their dreams of becoming parents.
The clinic is staffed by a team of highly skilled and experienced specialists and aims to provide patients with personalized services and guidance as they embark on their journey to parenthood.
It specializes in providing biotech fertility products for both male and female infertility. It also has online consultations and diagnoses if clients are unable to attend the clinic in person.
We love that Be Happy is focused on family planning and is constantly doing research to improve treatment options for patients.
Their doctors are highly knowledgeable and passionate about their work, and they do everything they can to ensure that their patients feel supported every step of the way.
Unfortunately, this facility is quite expensive and is not covered by most insurance plans. It's also more focused on its products and doesn't offer complete treatment options for more complicated infertility issues.
However, it does have a referral system that is greatly appreciated.
Overall, if you're looking for a fertility clinic that can handle diagnosis and consultations and can offer rapid solutions, this is a great option for you.
Online focus
Rapid services
Research technology
Baby products
Online diagnosis
Pricey
More focused on products rather than procedures
4. Infertility & Reproductive Care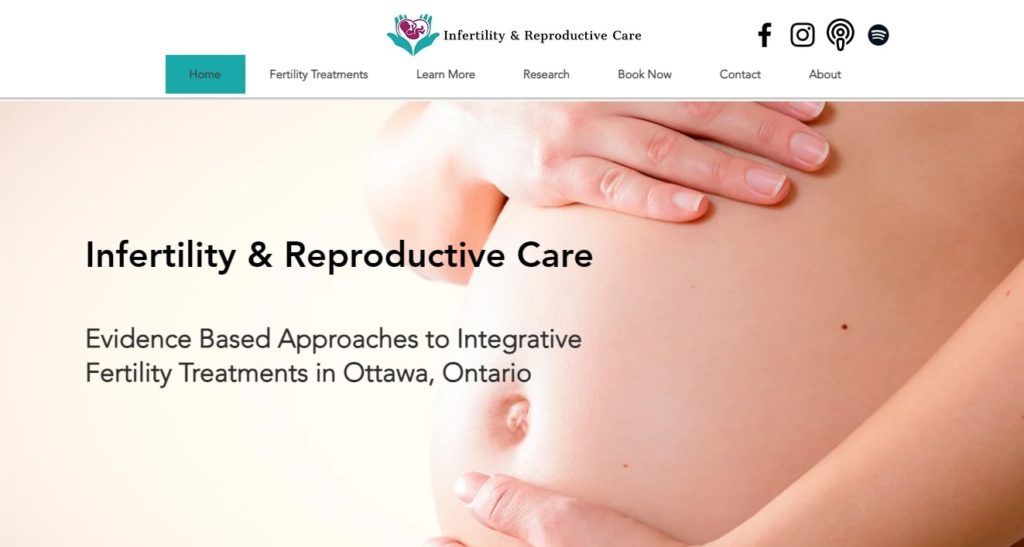 Test
Info
SERVICES
Herbal Fertility Medicine, Acupuncture, Hormone Therapy, Traditional Chinese Fertility, Clinical Nutrition for Fertility, Diet and Lifestyle, Desiccated Thyroid Hormone
WEBSITE
https://www.infertilitynaturopath.com/
ADDRESS
2599 Carling Ave, Ottawa, ON K2B 7H7, Canada
CONTACT DETAILS
343-988-5801
OPERATING HOURS
Monday 7AM–8PM

Tuesday 7AM–8PM

Wednesday 7AM–8PM

Thursday 7AM–8PM

Friday 7AM–8PM

Saturday 7AM–8PM

Sunday Closed
| | |
| --- | --- |
| Criteria | Ratings |
| Rates | ★★★★ (4/5) |
| Availability | ★★★★ (4/5) |
| Location | ★★★★★(5/5) |
| Feedback | ★★★★(4/5) |
Another great choice for infertility issues and treatment is the Infertility & Reproductive Care clinic on Carling Avenue.
It offers a wide variety of services such as herbal fertility medicine, acupuncture, hormone therapy, and more.
What's great about this clinic is that it focuses on natural solutions to infertility. This means it's less expensive and less invasive to the patient's body.
It also combines traditional and contemporary methods when it comes to fixing infertility. Some examples are acupuncture, herbal medicines, and also hormone therapy.
The clinic's main doctor, Dr. Singh, is an expert in human anatomy and human physiology. He understands the biological physics of your body and how it relates to your reproductive health.
Another great thing about this clinic is that it also addresses reproductive issues.
If you and your partner are having trouble conceiving a child due to hormonal imbalances or other problems, this clinic can treat those and help restore normal reproductive function.
Of course, this clinic is more focused on natural healing and doesn't use more popular methods like IVF or IUI for conception. If those are the type of treatments you're looking for, you may be better off with a different clinic.
Overall, Infertility & Reproductive Care is a great option for couples who are dealing with infertility issues and want to try solving these with non-invasive methods.
Non-invasive methods
Combines traditional and contemporary methods
Good option for infertility
Also treats other reproductive issues
Experienced doctors and nurses
Customer Reviews
Great results
"When my husband and I met Dr. Singh, we felt comfortable right away. We felt he listened to us, and patiently answered all our questions. He was thorough and really explored mine and my husband's overall health to see how he could best assist us in our infertility journey. He was the first who didn't solely examine the female's fertility but also asked questions and tested the male as well. He supported all his recommendations with evidence based research which made us feel confident in his approach. Under his care, we were able to have our first successful IVF cycle and are impatiently waiting for our first child. I would recommend him to anyone looking for exceptional care during their infertility journey." – Sarah Ducasse
Passionate doctor
"I'm so thankful that a friend recommended Dr Singh after I'd had a pregnancy loss and trouble conceiving. From the intake appointment on, it was an experience entirely different from the fertility centre – Dr Singh treated me with engagement and compassion, ignoring no details, as a whole person rather than a set of aging reproductive parts. He maintained the importance of treating my partner as well. Obviously passionate about his work, he answered all my questions from his experience and relevant research." – KAren Aliidina
5. LunAria Fertility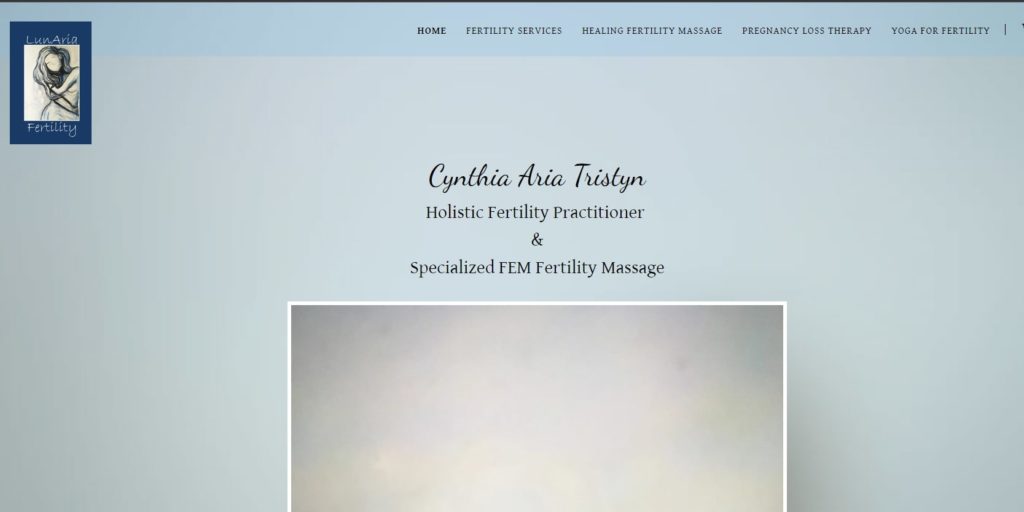 Test
Info
SERVICES
Fertility Massage, Fertility Yoga, Pregnancy Loss Therapy, Healing Fertility Massage
WEBSITE
https://lunariafertility.ca/
ADDRESS
355 Waverley St, Ottawa, ON K2P 0W4, Canada
CONTACT DETAILS
613-223-8002
OPERATING HOURS
Monday Closed

Tuesday 12–7PM

Wednesday 12–7PM

Thursday 12–7PM

Friday 12–7PM

Saturday 10AM–6PM

Sunday Closed
| | |
| --- | --- |
| Criteria | Ratings |
| Rates | ★★★★ (4/5) |
| Availability | ★★★★★(5/5) |
| Location | ★★★★(4/5) |
| Feedback | ★★★★★(5/5) |
Another good option for fertility issues is LunAria Fertility. It offers noninvasive fertility methods such as massages, yoga, and healing sessions.
What makes this facility unique is its pregnancy loss therapy. Losing a baby is devastating and can be physically and emotionally painful.
To help clients deal with their grief, Lunaria offers therapy sessions and support groups.
The fertility massages, on the other hand, are great ways to boost fertility in women. These are gentle and can help release tension in the muscles and increase blood flow to reproductive organs.
These methods are scientifically proven to be effective and they're great alternatives to invasive fertility treatments such as IVF or IUI.
Instead of getting surgery, women can get these treatments in the comfort of their own homes without the need for expensive medical appointments and lengthy hospital stays.
Of course, these don't guarantee 100% fertility but they're proven methods and don't require patients to go under the knife for hours.
Overall, if you and your partner are having infertility issues but don't want to opt for invasive procedures, then you might want to consider this option. It's science-based and has worked for a huge percentage of couples as well.
Great option for those already pregnant
Therapy for pregnancy loss
Know-Your-Baby Program
Diet and lifestyle guide for fertility
FAQs about Fertility Clinics
---
And that concludes our list of the best fertility clinics in Ottawa. We hope you find this list helpful.
For other medical needs, check out these articles: