Top 5 Camping Trailer Rental Companies in Ottawa
Living life on the go with your home in tow gives you the freedom to hit the open road and embrace nature or chase warmer weather in cold months. However, not everyone is ready to commit to the trailer van life by purchasing one.
The good thing is that you can always rent, and the city has a ton of dealerships that offer rentals for trailers. Here are the top 5 camping trailer rentals in Ottawa:
How Much Does Camping Trailer Rental Cost in Ottawa
When renting a trailer, the cost will depend on the type, the size, and sleeping accommodations. Luckily, Ottawa is rich with trailers of different shapes and sizes.
The trailer's special living features and modern accommodations will also affect the price. The table below shows the typical average costs of camping trailers and common fees.
| Camping Trailer Types | Average Cost |
| --- | --- |
| Pop-up Camper Trailer | $81 per night |
| Tent Trailer | $75 - $100 per night |
| Camping fees | $25 - $60 per day |
| Gas | $20 – 200 per day |
| Fifth Wheels | $129 per night |
| Travel Trailer | $120 - $150 per night |
Top Camping Trailer Rentals in Ottawa
We consider many factors when choosing our temporary home on the road. It is also essential to search for dealers that provide more than what we're looking for:
1. Outdoorsy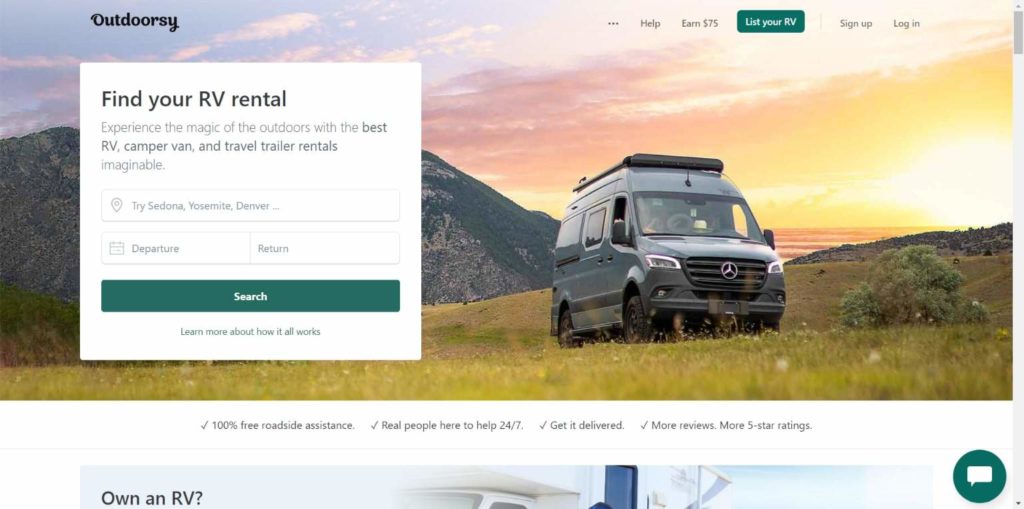 | | |
| --- | --- |
| Criteria | Ratings |
| Customer Service | ★★★★★ (5/5) |
| Reasonable Pricing | ★★★★★ (5/5) |
| Availability | ★★★★★ (5/5) |
Starting 2014, Outdoorsy has been connecting renters and dealers. We love how it's owned by an RV enthusiast that knows the needs and wants of an interested outdoorsy bunch.
Outdoorsy does not have a physical address in Ottawa. However, they provide a user-friendly platform for trailer rentals not just for the city but also for North America.
We are a fan of how we can filter out the vehicle type and length on the online rental platform of Outdoorsy. They equipped it with a date filter where customers can select the date range they need the trailer.
As shown by their name, Outdoorsy is all about the outdoors. We're a fan of how the name embodies their wealth of selection of vehicles built for camping with all shapes, features, and sizes.
Despite not having the option to filter the trailers nearer your location, we love how Outdoorsy included a map of your selected vehicle. We appreciate how they provide the owner's name and the option to chat with them and arrange the pick-up for the chosen vehicle.
Just a friendly heads up, Outdoorsy is strict with their bookings to protect the owners further. We personally enjoy how they're specific in their cancellation policies inputted per vehicle listing as a gentle but active reminder.
Vehicle type and length filter
Location map per listing
Strict cancellation policy
No fixed rental price
Customer Reviews
Simply the best
"Simply the best. Took my family on our first camping trip together and Topher was perfect. No limits to where you can go with complete off-grid capability. Elaine is an awesome host as well!" – Yusuf
Absolutely perfect
"We had the best time! The camper was absolutely perfect and we'd do it again in a heartbeat. Thanks to Kelvin for the hospitality and nice little extras to make it even better." – Brandon
2. RVezy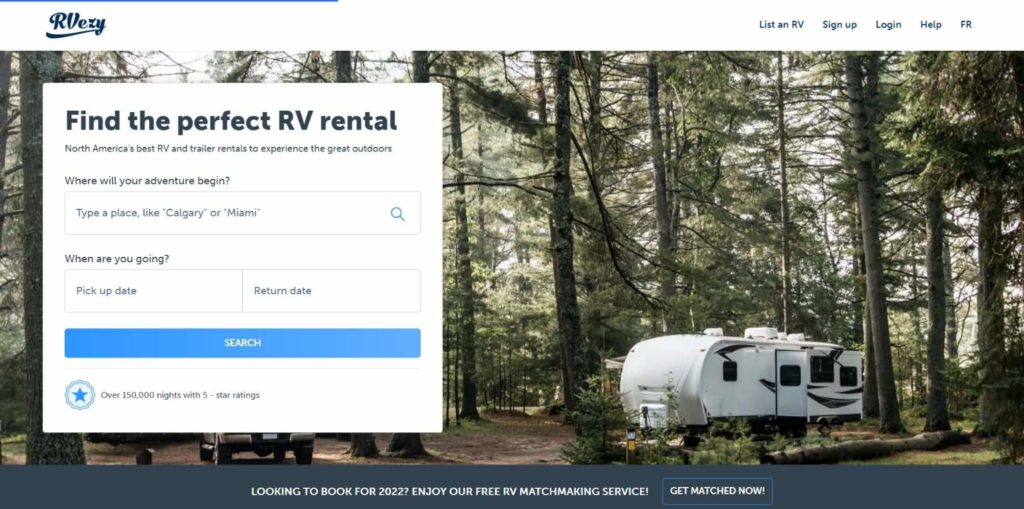 Test
Info
PRODUCTS / SERVICES
RV and Trailer Rentals
WEBSITE
www.rvezy.com
CONTACT DETAILS
1-855-697-8399
OPERATING HOURS
Mondays to Fridays: 9:00 AM to 9:00 PM EST

Saturdays to Sundays: 11:00 AM to 7:00 PM EST
| | |
| --- | --- |
| Criteria | Ratings |
| Customer Service | ★★★★★ (5/5) |
| Reasonable Pricing | ★★★★★ (5/5) |
| Availability | ★★★★★ (5/5) |
With their successful appearance on CBC's Dragons Den and founding in 2016, RVezy has grown tremendously. We love how they provided their online peer-to-peer marketplace for travelers and RV and trailer owners in Ottawa and all over the world.
Ottawa is one of RVezy's top cities for trailer and RV rental, which makes sense since their headquarters are located where their service started. Judging by their large selection, we see how owners love and trust the company in handling their recreational vehicles.
One of our favorite things about RVezy is its vehicle-finding tool. We love how travelers can filter it for the price, feature, length, and amenities they want to have.
Another favorite thing of ours is RVezy's top-rated support that helps you with any concerns or inquiries in real-time, both online and on the road. The company provides roadside assistance coverage for all listed trailers and motorized recreational vehicles.
We greatly appreciate how they provide full insurance coverage for owners and travelers. The insurance fee is mandatory for renters if the owner opts-in, making the rental cost pricier than without insurance, but it's definitely worth the peace of mind.
RVezy insurance coverage
Roadside assistance coverage
Mandatory insurance fee (if the owner has RVezy's insurance)
No fixed pricing
Customer Reviews:
Great service
"Great service. It's so easy to find and book an RV. I love the security of doing the transaction through a third party like RVezy. It keeps both the RV owners and renters protected." – Steve W.,
Simple and easy process
"It was a simple and easy process to book. For RV rookies like us, we appreciated that everything was taken care of through the application, and even when I had questions, their staff was super helpful and quickly solved any issues. If you're looking for peace of mind, you will not be disappointed." – Charles H.,
3. Open Roads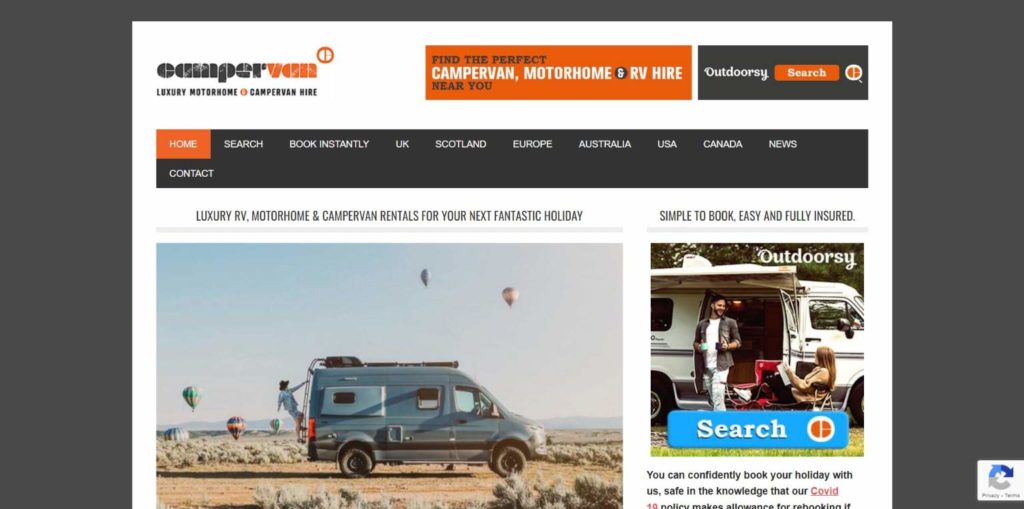 Test
Info
PRODUCTS / SERVICES
RV Sales, RV and Trailer Rental, RV Financing, RV Parts & Service
WEBSITE
https://www.campervanhire.com/
ADDRESS
Sales: 1174 Carp Road, Stittsville, ON K2S 1B9

Service: 132 Willowlea Rd, Carp, ON K0A 1L0

CONTACT DETAILS
(613) 836-6662

(613) 836-6662

OPERATING HOURS
Mondays to Fridays: 9:00 AM - 7:00 PM

Saturdays: 9:00 AM - 6:00 PM

Sundays: 10:00 AM - 10:00 PM
| | |
| --- | --- |
| Criteria | Ratings |
| Customer Service | ★★★★★ (5/5) |
| Reasonable Pricing | ★★★★★ (5/5) |
| Availability | ★★★★★ (5/5) |
Open Roads is best known for their RV sales. However, they definitely grabbed our attention with their RV and trailer rentals too.
We appreciate how Open Roads offer to rent out their trailers before buyers can fully commit to their purchase. Customers love to highlight how pressure-free the sales process is and how the dealership gave them enough time to let the trailer grow on them.
The customer service of Open Roads is one of the best in the industry. We love how welcoming and friendly they are, from call inquiries to walk-in visitors.
Another thing that grabbed our attention from Open Roads aside from their rentals is their in-house financing services. We like having the option to either try out a trailer by renting first or opt for a more expensive unit with their financial help.
Open Roads impressed us with their emphasis on the importance of customer relationships. Even after purchasing or renting a trailer or RV, we love how they still care for their customers by providing all types of RV maintenance and services.
Despite not having a trailer selection and finder, we love how they input the available rental day's range and fixed pricing no matter what trailer you ought to avail of. They do have fixed rental days, but you can always extend it or buy it – for a price, of course.
Friendly customer service
No-pressure sales
No trailer selection and finder
Fixed rental days
Customer Reviews:
Professional customer service
"Me and My Fiance have wanted to rent a trailer for a while now. Ron From OpenRoads RV has been fantastic! Very informative and professional customer service! They explained to us everything that we need to know about how to use the trailer and even gave us recommendations on where we should go since we didn't really have any ideas yet. They did all this for us and even gave us coffee and donuts for free! Would absolutely come again!" – Andre Teemweed
Great and friendly staff
"It's great that we can rent a trailer and try it before we buy it. Open Roads has great and friendly staff. They didn't not push us too buy. Provided us with plenty of information. Things have definitely changed over there since a couple of years!" – Brenda McHallen
4. RV Canada Ottawa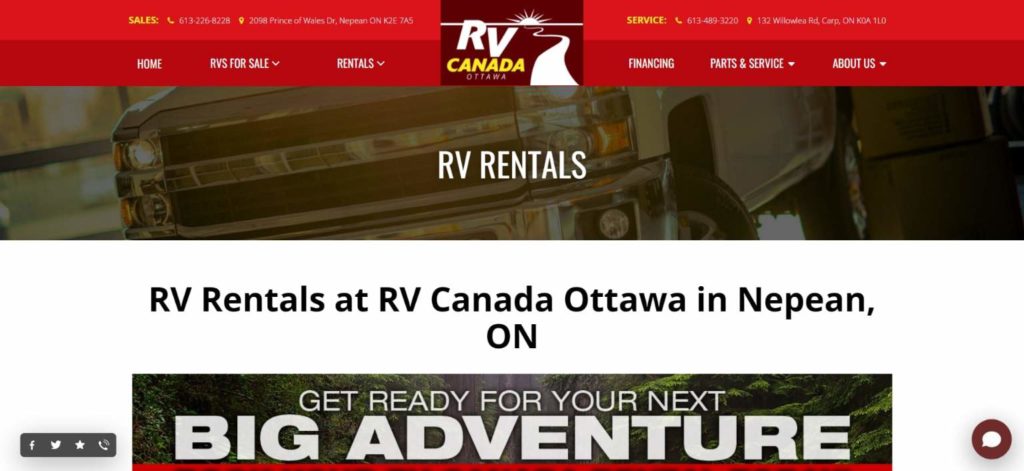 Test
Info
PRODUCTS / SERVICES
RV and Trailer Rentals, RV and Trailer Sales, RV Financing, RV parts and Services, RV and Trailer Trade-Ins
WEBSITE
https://www.rvcanadaottawa.ca/rv-rentals
ADDRESS
2098 Prince of Wales Dr, Nepean ON K2E 7A5
CONTACT DETAILS
613-226-8228
OPERATING HOURS
Mondays to Fridays: 9:00 AM – 5:00 PM

Saturdays to Sundays: 9:00 AM – 6:00 PM
| | |
| --- | --- |
| Criteria | Ratings |
| Customer Service | ★★★★★ (5/5) |
| Reasonable Pricing | ★★★★★ (5/5) |
| Availability | ★★★★★ (5/5) |
RV Canada Ottawa's inventory did not fail to amaze us with their wide selection of motorhomes, travel trailers, and other recreational vehicles. They're even open 7-days a week for convenience for all their traveling customers.
The rental trailers in RV Canada Ottawa are very impressive since they have Class B and C RVs and trailers that can house up to 8 people. They also offer a lot of discounts and promos for their rentals, so we highly suggest calling them first for inquiry before booking on their website.
With RV Canada Ottawa, we really enjoy looking through their wide selection of trailers of different models and floor plans. In terms of pricing, they do provide competitive pricing for both rental and sales, and can even cater to last-minute bookings.
Unfortunately, the dealership does not provide an RV or trailer finder on their website or information about amenities for their trailer rentals too. We do love their warm welcome and accommodation when visiting the shop – it's better to see the available trailers in person too.
We also appreciate their services for all RV and trailer owners. You can find almost everything there aside from rentals like maintenance, repair, upgrades, trade-ins, and even quick and easy RV financing services.
Affordable rental price
Caters to last-minute booking
No vehicle finder on the website
No amenities information
Customer Reviews
Whole rental experience was a breeze
"Best Vacation ever. RV Canada provided us with an awesome 29 ft RV that was clean and ready to go. We comfortably sleep 6 people in the RV without any issues. At all sites, we were able to connect to power, water, and sewer making it like our own little cottage. Tons of storage and fridge space too. The whole rental experience was a breeze. When we arrived the RV was ready to go. The drop was even easier and took less than 5 minutes. We highly recommend RV Canada and will definitely rent from them again. Also Shout-outs to PM who was friendly and knowledgeable." – Jeff Schubert
Flawless last-minute booking
"A big thank you to Pankaj and Michel for a flawless last-minute booking. We loved our sun-seeker and can't wait for more RV adventures. Loved that the price included awning and insurance, unlike other local rental places. The vehicle was new and easy to work thanks to a thorough walk-through with Michel. The 24 footer was actually pretty good on gas. A hit with the kids and I'm pretty sure the man felt pretty good driving it too! Highly recommend!" – Amy Ballard
5. Adventure Touring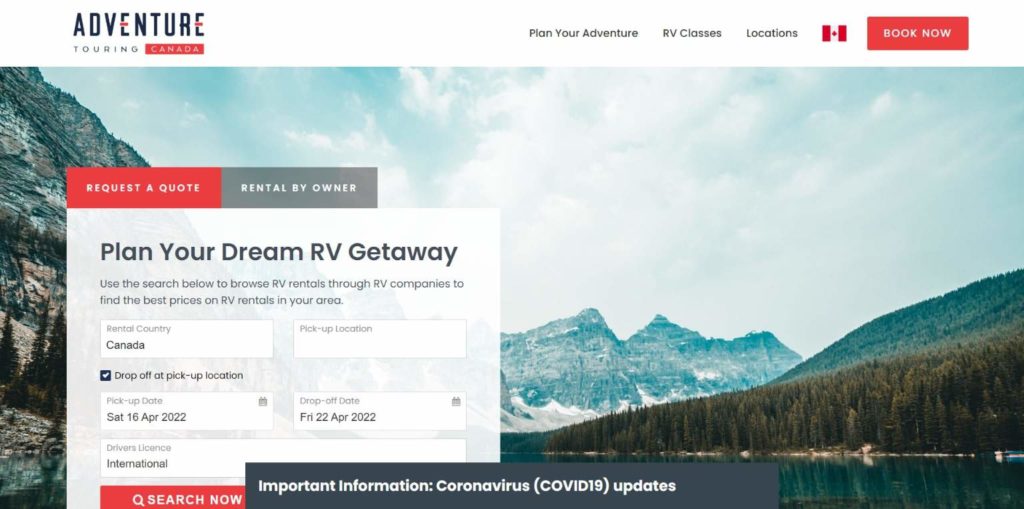 | Test | Info |
| --- | --- |
| PRODUCTS / SERVICES | RV Rentals |
| WEBSITE | https://adventuretouring.ca/ |
| ADDRESS | 2098 Prince of Wales Dr, Nepean ON K2E 7A5 |
| CONTACT DETAILS | 1 (877) 778-9569 |
| OPERATING HOURS | Open 24/7 |
| | |
| --- | --- |
| Criteria | Ratings |
| Customer Service | ★★★★★ (5/5) |
| Reasonable Pricing | ★★★★☆ (4/5) |
| Availability | ★★★★★ (5/5) |
Adventure Touring impressed us for their years of service for travelers that started way back 1999. We're even more impressed with their growth and success, ensuring reliability, quality, and affordability to their customers.
The company impressed us with its growing expansion in Canada and all the way to the USA. We were amazed with large Adventure Touring's selection of RV and trailer rentals, convenient depot locations, and most especially, their competitive prices.
One of the things that grabbed our attention about Adventure Touring is their one-way rental options. It enables travelers to pick up a trailer or RV in Montreal, drop it off in Vancouver without the need to go back just to return the vehicle.
Unfortunately, Adventure Touring's one-way rental fee is a bit pricey, ranging from $300 – $1000. However, we got to save our expenses for a trip back, with the convenience of dropping it off in the next location and flying home after a well-spent and memorable road trip.
For people that are not interested in their one-way rentals, they still do provide a basic renting set-up but with a minimum of 7 days. They do compensate for it with their amazing customer service and affordable prices.
Renting directly from an RV or trailer owner can be more accommodating compared to renting from large rental companies like Adventure Touring. What sets them apart is how Adventure Touring, despite being a large rental company, still goes above and beyond to cater to your unique needs.
Large selection
One-way rental service
7-days minimum rental
Expensive one-way rental cost
FAQs about Trailer Rental in Ottawa
---
Hope that helps you with your trip! Canada is definitely one of the best places for road trips because of the rich sceneries, camping grounds, and trailer parks.
However, if you're looking for a place to stay in Ottawa, you have come to the right place. Check out the best rental places to stay in Ottawa: