4 Best Bowling Alleys in Ottawa
A nice activity for families and friends, bowling is an inexpensive game that is ideal for everyone, no matter what the age or group size is.
So if you're looking for the right options, this list of the best bowling alleys in Ottawa will be of great help.
But how much will a visit to a bowling alley cost you these days? Let's find out in the next section.
How much do bowling alleys charge?
On average, bowling would cost around $2 to $5 per game for each participating player. League bowling, on the other hand, can run anywhere from $1 to $17 per week for 3 games each week.
This, however, does not include other related expenses such as acquiring necessary equipment for the games. If you're renting shoes, you'll have to prepare an additional $3 to $6 for them.
Remember that bowling prices are also affected by other factors. These include the day and time of the week, as well as extra amenities like "free wi-fi" that some bowling alleys provide.
Best Bowling Alleys in Ottawa
In rounding up the best bowling alleys for our list, we used the following criteria in our selection process:
1. Orleans Bowling Centre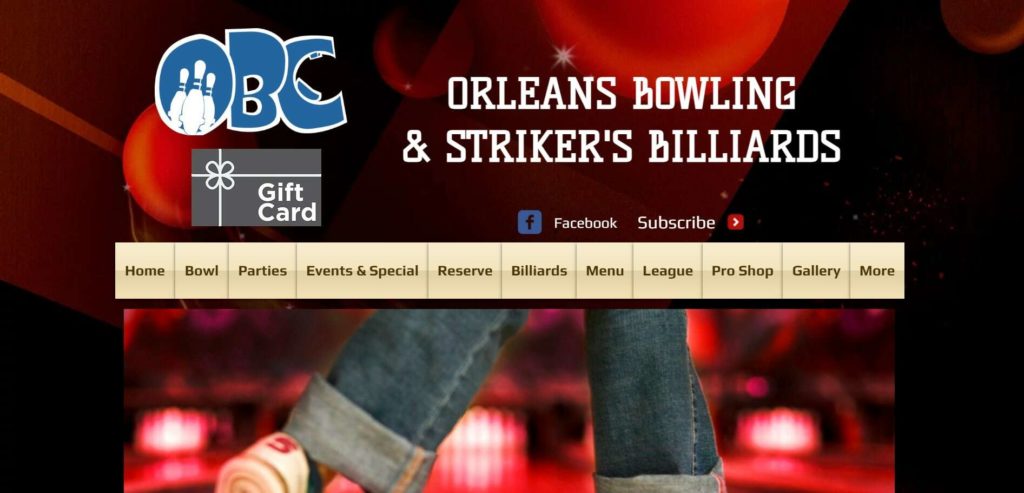 Test
Info
SERVICES
Bowling, Billiards, Kids Parties, Team Packs, Leagues
WEBSITE
https://www.orleansbowling.com/
ADDRESS
885 Taylor Creek Dr, Ottawa, ON K4A 0Z9, Canada
CONTACT DETAILS
+1 613-837-7000
OPERATING HOURS
Monday to Wednesday 9 AM - 10 PM

Thursday 9 AM - 11 PM

Friday to Saturday 9 AM - 1 AM

Sunday 10:30 AM - 10 PM
| | |
| --- | --- |
| Criteria | Ratings |
| Competitive Rates | ★★★★✩ (4/5) |
| Bowling Facilities | ★★★★★ (5/5) |
| Other Related Services | ★★★★★ (5/5) |
| Customer Feedback | ★★★★✩ (4/5) |
Established in 1989, Orleans Bowling Centre is one of the best bowling alleys you will find in Ottawa. It has 32 lanes of 5-pin bowling and more than 175 bowling balls that are great for simultaneous games of larger groups.
Unlike traditional ones, the balls are smaller and come in similar sizes, making them ideal even for younger players.
It also offers shoe rentals, with sizes ranging from kids' size 8 to adult 16. With over 300 pairs to choose from, you'll never have to worry about not finding ones that fit.
While the hourly rate per person of $6.75 might seem a little pricier, shoe rental rates cling to the cheaper end at $3.75. You may also opt to pay per lane, which would cost you $48 per hour, inclusive of shoe rental.
We like that it has dedicated lanes for walk-in bowlers and for those who have placed reservations through online booking, which is convenient.
The Rock n' Bowl experience is also something you wouldn't want to miss. With countless multicolored LED lights that are matched with the best mix of tunes, the bowling experience is taken a step higher.
But Orleans Bowling Centre is more than just a bowling alley as it is also a perfect place for occasions like parties.
Some allies are specially designed for corporate events as well, which are perfect for team-building activities.
Should you need some food and refreshments, its restaurant offers great food at affordable rates.
Offering wholesome entertainment and recreation for families, there are also 7 billiard tables, 12 dart boards, and 4 coin-operated arcade-type machines. This makes an ideal place for all ages to relax and have fun.
Although the bowling alley might seem old and with some staff members being labeled as rude, we still think that Orleans Bowling Centre is great for a fun-filled bowling experience.
Great for 5-pin bowling
Various services and activities
32 lanes with 175 bowling balls
Dedicated lanes for reservations
Rock n' Bowl bowling
Reasonable pricing
Open daily
Some issues with staff behavior
Relatively old facilities
Customer Reviews
Fun for everyone
"Super fun for everyone. The little kids and adults both loved the experience. Friendly staff, clean, fantastic food, and great prices all around. A great way to spend some time as a family. The automatic bumpers were great for the kids." — Kimberly Warren, Google Reviews
Impeccable dedication and quality customer service
"Went out for a date night on Friday night and needed to compliment the impeccable dedication and quality customer service that was offered to me. The staff there was so helpful and communicative, especially Raymond and manager Mauve. They are phenomenal! Helping accommodate all of our requests and exceeding my expectations with their caring, professional service. I would highly recommend going out to the Orleans Bowling Centre for a fun, safe night with friends or family. Thank you again." — Ashley Foad, Google Reviews
2. West Park Bowling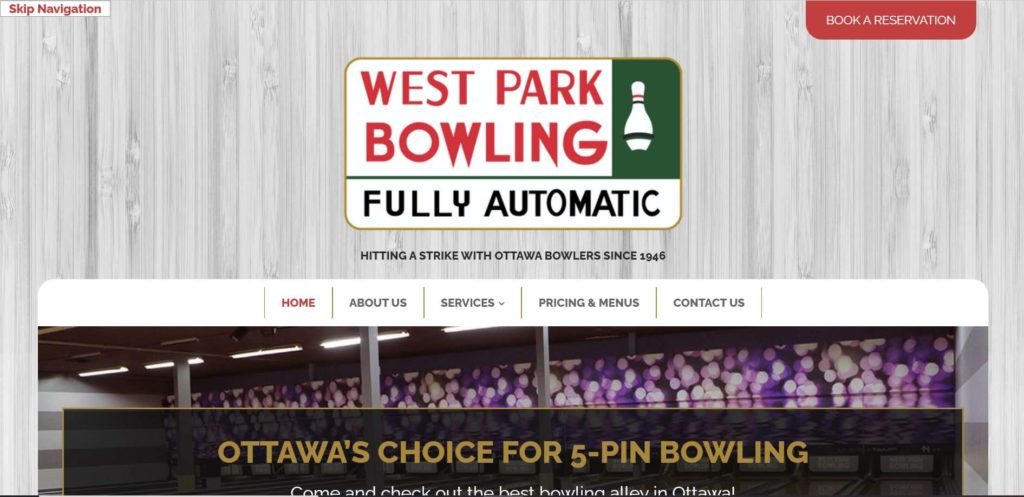 Test
Info
SERVICES
Bowling, Event Coordination
WEBSITE
https://www.westparkbowling.com/
ADDRESS
1205 Wellington St. W, Ottawa, ON K1Y 2Z8, Canada
CONTACT DETAILS
+1 613-728-0933
OPERATING HOURS
Sunday to Thursday 12 PM - 8 PM

Friday to Saturday 12 PM - 2 AM
| | |
| --- | --- |
| Criteria | Ratings |
| Competitive Rates | ★★★★★ (5/5) |
| Bowling Facilities | ★★★★★ (5/5) |
| Other Related Services | ★★★★★ (5/5) |
| Customer Feedback | ★★★★✩ (4/5) |
Because of its years of experience in the business, West Park Bowling is one of our top options for bowling alleys.
Proudly operating since 1946, it was once voted as the "Best Bowling Alley in Ottawa" back in 2008 by CTV News (formerly known as The A Channel).
Some of the services it offers cover 5-pin bowling, league bowling, and birthday parties.
One of the things we like about its bowling services is that it is equipped with computerized scoring, along with modern equipment. This makes every game more convenient and fun for its players.
There are several affordable bowling options too, which are great in marrying your game needs and your budget.
If you're looking for a nice place for your child's next birthday party, West Park Bowling is also perfect for that.
Affiliated with restaurants like Fil's Diner and Daniel O'Connell's Irish Pub, you're sure to have great food that everyone can enjoy.
The best part is that for only $20 per child, you already get to enjoy an hour of bowling, shoe rentals, and a nice lunch from Fil's Diner's kids' menu.
If you need help organizing the party, its staff will be there to help with the event coordination.
We appreciate that booking a party here is incredibly fast and the staff takes the time to explain everything beforehand.
Apart from its popular Rock N Bowl, there are bowling leagues as well, which are great for making new friends while having fun.
Above all, we like that everyone in West Park Bowling is patient, friendly, and polite. Also commendable are its bowling shoes that are kept in good shape for customers to have something comfortable to use.
Although the rolling balls are relatively smaller and some of the lanes could use some repairs, this convenient, one-stop bowling and dining facility is worth a visit.
An array of services
Computerized scoring
Affordable bowling options
Event coordination
Open daily
Relatively smaller balls
Some lanes could use some repairs
Customer Reviews
Nice and cozy place
"Great 5 pin game, nice and cozy place. Beer on top with food. Tons of free parking around. Came with some work colleagues, and we all had a great time! Will come again :)" — Dragan Nevjestic, Google Reviews
Great place to go
"Great 5 pin bowling alley! Super friendly staff, great food selection and very affordable. Great place to go with your family, friends or even for work events." — Steven Luzzi, Google Review
3. Merivale Bowling Centre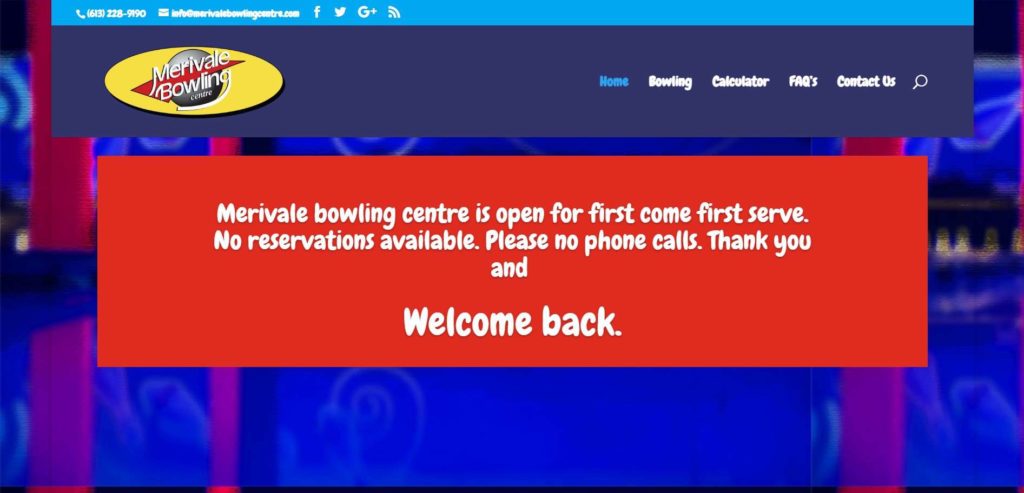 | Test | Info |
| --- | --- |
| SERVICES | Bowling, Parties and Events |
| WEBSITE | https://merivalebowlingcentre.com/ |
| ADDRESS | 1916 Merivale Rd, Nepean, ON K2G 1E8, Canada |
| CONTACT DETAILS | +1 613-228-9190 |
| OPERATING HOURS | Monday to Sunday 10 AM - 10 PM |
| | |
| --- | --- |
| Criteria | Ratings |
| Competitive Rates | ★★★★★ (5/5) |
| Bowling Facilities | ★★★★★ (5/5) |
| Other Related Services | ★★★★★ (5/5) |
| Customer Feedback | ★★★★★ (5/5) |
A classic 5-pin bowling alley, Merivale Bowling Centre is a great place for families and friends to have fun and relax.
Open 7 days a week, it is always ready to accommodate your needs even on holidays like Thanksgiving Day and Easter Sunday.
But since it doesn't accept reservations for bowling, services are provided on a first-come-first-serve basis.
It takes pride in its 48 lanes with computerized scoring, arcade, and fully licensed restaurant. It offers bowling for $7 per person for each game with a shoe rental rate of $3 per person, which are both reasonable.
Aside from providing great Rock n' Bowl nights on Fridays and Saturdays, it also has a range of offers that are ideal for people coming in as groups. There are packages that are great for kids' birthday parties too.
All birthday parties are set up in the Rock n' Bowl area where children can experience glow-in-the-dark or cosmic bowling. So if you want to have a fun atmosphere for everyone to enjoy, this is the right place.
However, while there might be automatic bumpers, there are no ramps made available for kids.
Further, some of the bowling balls were also observed to have dents, chips, and chunks, which the management should do something about.
On a different note, we like that Merivale Bowling Centre has a large facility. With 2 levels of bowling, a large game room, and a vast eating area, your stay is made extra comfortable.

Also commendable is the handy calculator on its website, which we think is very helpful in knowing how much to prepare for your next visit.
In general, we believe that Merivale Bowling Centre is a fun way to enjoy bowling, birthday parties, and the company of family and friends.
With clean facilities and nice, friendly crew members, it remains a good option for everyone.
Offers other related services
48 lanes with computerized scoring
Rock n' Bowl nights
Smaller balls that are ideal for kids
Large facilities
Reasonable rates
Open on special holidays
Does not accept reservations
Relatively old bowling balls
Customer Reviews
Great place for a fun night
"Great place for a fun night. Two floors of bowling lanes very busy place. Has laser lights, music food and drink. Even a bar for alcoholic beverages. Great for kids or birthday parties. Also has an arcade to play games while you wait for a lane. Very clean and staff were great :)" — Katelyn Finley, Google Reviews
Beyond my expectations
"I organized my kid party birthday there. For a first visit, it was way beyond my expectations. The place is very well set up with the arcade in the entrance and blue light in the bowling alley. They got a specific waitress for us and some other table. Ciara was a good staff who cared about the kids and made sure everything is prepared for the birthday. The price is acceptable. Food was good too! On 8 kids no one complained 😃. I'd highly recommend this place" — Kristina Simard, Google Reviews
4. Anik Bowling Hall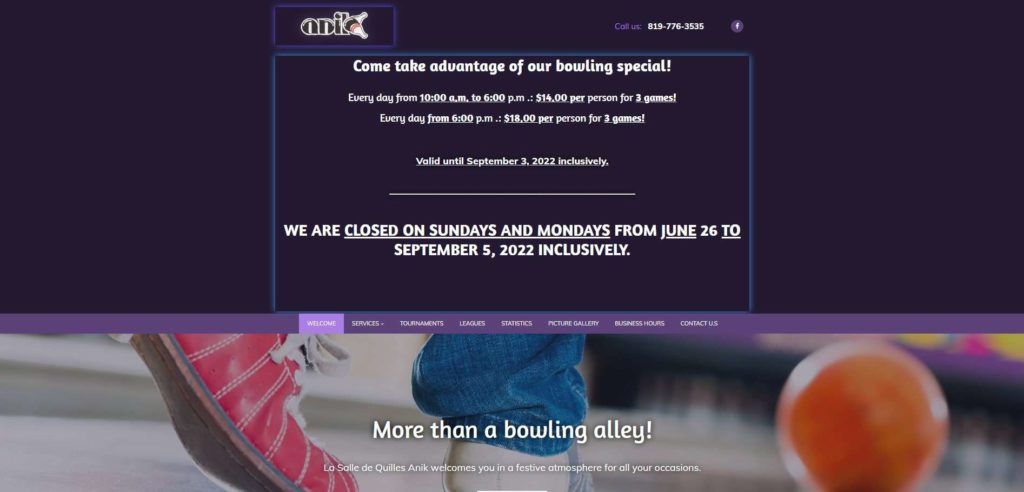 Test
Info
SERVICES
Bowling, Billiards, Snack, Bar, Reception Room, Children's Party Room, Tournaments and Leagues
WEBSITE
https://www.salleanik.com/
ADDRESS
975 Boulevard Saint-Joseph, Gatineau, Quebec J8Z 1W8, Canada
CONTACT DETAILS
+1 819-776-3535
OPERATING HOURS
Tuesday to Wednesday 10 AM - 11 PM

Thursday to Saturday 10 AM - 12 AM
| | |
| --- | --- |
| Criteria | Ratings |
| Competitive Rates | ★★★★★ (5/5) |
| Bowling Facilities | ★★★★★ (5/5) |
| Other Related Services | ★★★★★ (5/5) |
| Customer Feedback | ★★★★✩ (4/5) |
More than just a bowling alley, Anik Bowling Hall is one of the best options to consider for bowling needs.
Among the services it offers include bowling, billiards, snacks, and children's party rooms, which are great for birthdays.
If you're into some friendly competition, you may opt to join some of its tournaments and leagues. There are more than 10 different leagues available that you can choose from.
Unlike other bowling alleys, we like that it has 48 lanes with various bowling options.
Depending on your preference, you may go for a 5-pin bowling lane, a duck lane, or a 10-pin bowling lane, which comes with big balls for adult players.
A complete entertainment center, Anik Bowling Hall also boasts pool tables and reception rooms that are perfect for events with expected guests of about 50 to 70 people.
There's a children's party room, too, which can hold up to 30 people. The best part is that its snack bar is fully equipped to provide nice treats like small slushes and juice boxes that kids can enjoy.
We appreciate that it continues to upgrade its facilities, with the 5-pin bowling systems now having animation and sound to make the bowling experience more fun and memorable.
Providing newer bowling balls, however, will go a long way.
Today, bowling at Anik Bowling Hall would cost $5 per game per person, which we think is a fair price. The rate slightly increases from 6 pm onwards because of some surge in demand.
Renting a pair of bowling shoes, on the other hand, is relatively cheaper at $2.50.
Although the bowling alley becomes unstaffed at times, it remains one of our best choices for bowling needs. With great staff, food, and rates, every visit becomes worthwhile.
Offers a variety of services
48 lanes for 3 types of games
Accommodates parties and events
Affordable rates
Some relatively old facilities and balls
Closed on Sundays and Mondays
Customer Reviews
Great place to play
"Great place to play bowling got 10 pins big and small balls and also 5 pins for a total of 48 lanes staff was helpfull and lanes worked pretty good a big recomend to have fun with friends" — Stephane Plante, Google Reviews
Amazing
"Been there twice in the last couple weeks and it's just so awesome. Rock n Bowl, cheap drinks, pool tables, small ball 5-pin, small ball 10-pin, big ball 10-pin. it has it all! also, there's poutine, popcorn, chips, SLUSH PUPPIES and more. Sometimes they are understaffed and you have to wait a while while they run around like mad but overall: AMAZING.." — Ryan O'Connor, Google Reviews
FAQs about Bowling Alleys
---
There you have it! We hope that this list of the best bowling alleys has helped you decide where to hold your next get-together with family and friends!