6 Best Bookstores in Ottawa
Bookstores are some of the most popular hangout places for avid readers and for those who like quiet time alone.
While some go to bookstores to enjoy the same comfort libraries provide, most, of course, visit to find books to buy. For this, we listed the best bookstores in Ottawa and reviewed each of them.
But how much do books cost these days? Let's find out in the next section.
How much do books cost in Ottawa?
With e-books becoming more popular these days, the average cost of traditional books has continued to creep down over the years. Today, the overall average is $12.84.
To give you a better idea of the prices, below is a table showing the average costs of books based on formats:
| Book Formats | Average Costs |
| --- | --- |
| Paperbacks | $16.34 |
| Hardcovers | $22.98 |
| E-Books | $11.62 |
| Audiobooks | $14.38 |
Best Bookstores in Ottawa
To get the best bookstores in the business, we used the following criteria in our selection process:
1. Perfect Books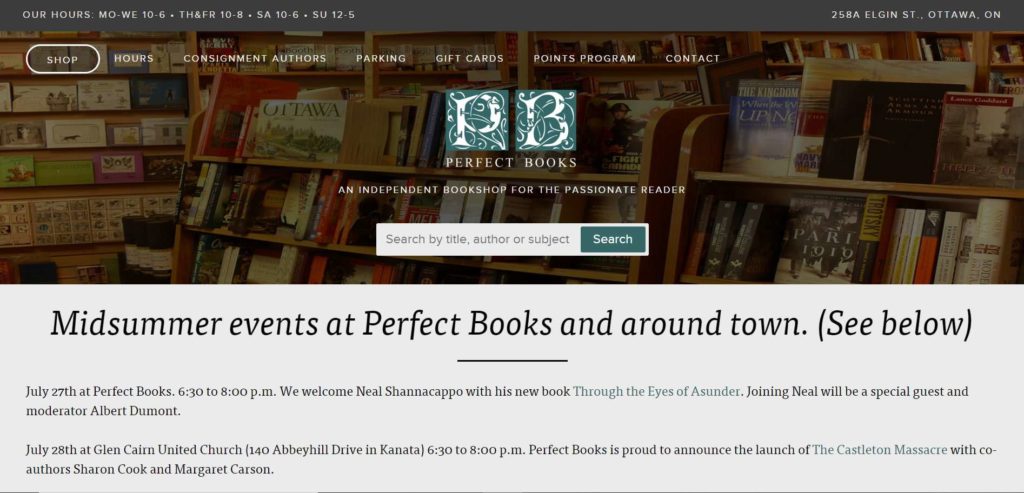 Test
Info
PRODUCTS
Books, Gift Cards
WEBSITE
http://perfectbooks.ca/wp/
ADDRESS
258 Elgin St, Ottawa, ON K2P 1L9, Canada
CONTACT DETAILS
+1 613-231-6468
OPERATING HOURS
Monday to Wednesday 10 AM - 6 PM

Thursday to Friday 10 PM - 8 PM

Saturday 10 AM - 6 PM

Sunday 12 PM - 5 PM
| | |
| --- | --- |
| Criteria | Ratings |
| Variety of Selections | ★★★★★ (5/5) |
| Price | ★★★★★ (5/5) |
| Ambiance | ★★★★★ (5/5) |
| Staff | ★★★★★ (5/5) |
We like Perfect Books because it has a vast collection of titles you can choose from. Its affordable book selections range from fiction and novels to self-help and poetry.
It's great that it carries a large number of books by Canadian and indigenous authors, along with some that are rarely found in local stores.
The clean ambiance makes the visit to the store more pleasing and worthwhile.
We appreciate that its sales associates provide reviews on most of the books it sells. The insights are useful as they help guide customers in selecting the next one to purchase.
Buying things online is also easy through the shop's website. It allows one to easily check titles and see their availability.
Should you find yourself looking for a book that's not in stock, Perfect Books will help you get the one you need.
The best part is that orders come quickly and loyal patrons earn a $10-credit for every $100 spent on buying books.
You may choose to use the credit on your next purchase or donate your points to local schools to help them grow their libraries.
The only downside here, though, is that the points program only applies to regular books.
Although some staff members have been deemed rude and aloof at times, we still think that its customer service is outstanding and that Perfect Books is a great bookstore.
A wide selection of books
Highlights local and indigenous authors
Book reviews of sales associates
Clean ambiance
Easy online shopping
Points program restrictions
Some behavioral issues with the staff
Customer Reviews
Wonderful bookstore
"I am grateful for discovering this wonderful bookstore in the heart of Ottawa! An amazing and vast selection of books and a welcoming, helpful and joyful staff. I am definitely recommending this bookstore and will be pleased to visit it again when I will be done with the books I bought!" — Matthew Trottier, Google Reviews
Something for everyone
"Please, please, please take a moment to check out this wonderfully locally owned bookstore. It's filled with a variety of titles spanning from new releases to older classics. There's truly something for everyone within these walls." — Jackie Cambell, Google Reviews
2. Singing Pebble Books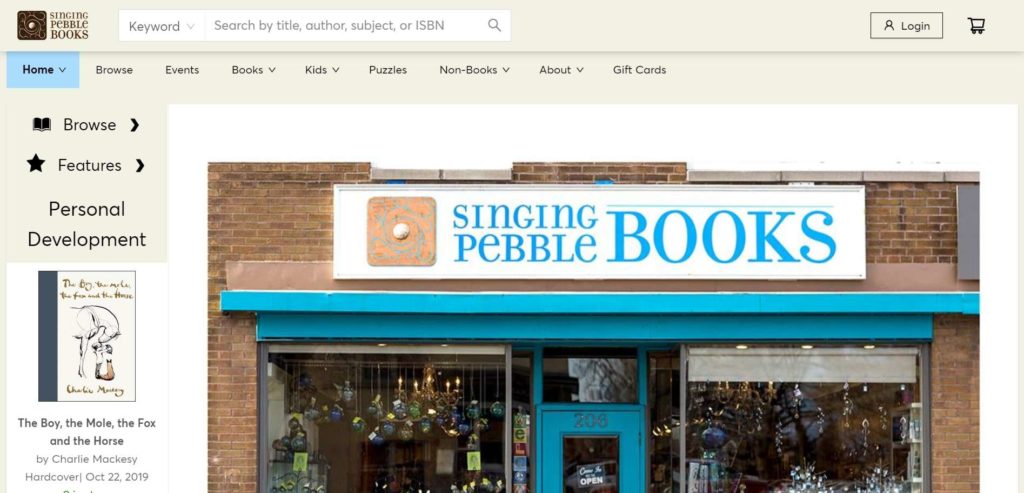 Test
Info
PRODUCTS
Books, Puzzles, Energy Clearing, Games, Tarot and Oracle, Notebooks, Gift Cards
WEBSITE
https://singingpebblebooks.ca/
ADDRESS
206 Main St, Ottawa, ON K1S 1C6, Canada
CONTACT DETAILS
+1 613-230-9165
OPERATING HOURS
Monday 10 AM - 5 PM

Tuesday to Wednesday 10 AM - 6 PM

Thursday to Friday 10 AM - 8 PM

Saturday 10 AM - 6 PM

Sunday 10 AM - 4 PM
| | |
| --- | --- |
| Criteria | Ratings |
| Variety of Selections | ★★★★★ (5/5) |
| Price | ★★★★★ (5/5) |
| Ambiance | ★★★★★ (5/5) |
| Staff | ★★★★★ (5/5) |
Singing Pebble Books is an independent bookstore with a cozy atmosphere that was established back in 1988.
With its years of experience in the business, we trust the quality of products and services it provides.
It offers a wide selection of fairly priced books with genres extending from fiction to personal development. It also specializes in Eastern and Western spirituality, Wicca, metaphysics, and psychology.
It is a good place for non-books as well, such as tarot cards, puzzles, and notebooks.
We appreciate that a fraction of its available titles are relatively cheaper used books and are from local Canadian authors. There are used, new, and rare Abebooks that you can avail of.
To help you decide on what to purchase, you might want to check out the featured books, which highlight some of the best-selling titles.
If the item you want is unavailable, its friendly and knowledgeable team will help you get what you need.
The best part is that orders get delivered fast with free shipping via Canada Post.
The only downside is that the service has had some issues in the past and that free delivery comes with a purchase requirement of over $100.
Located along Ottawa Main Street, customers can opt to relax with their new books at some of the best coffee shops nearby.
It is also nice to know that the store is pet-friendly, allowing your fur buddies as visitors on-site.
Operational since 1988
A vast selection of books
A good place for puzzles and tarot decks
Located near coffee shops
Allows pets
Free delivery has a minimum purchase requirement
Some issues with delivery
Customer Reviews
Lovely store for books
"Lovely store for books, cards, unique gifts, etc. I frequently stop by to check out what's new and the staff are always so kind." — Gabrielle Tayag, Google Reviews
A true gem
"This is a true gem of a bookstore with great and unique selections of books, puzzles, tarot/oracle decks, etc along with friendly and knowledgeable staff!" — David Tiberi, Google Review
3. Black Squirrel Books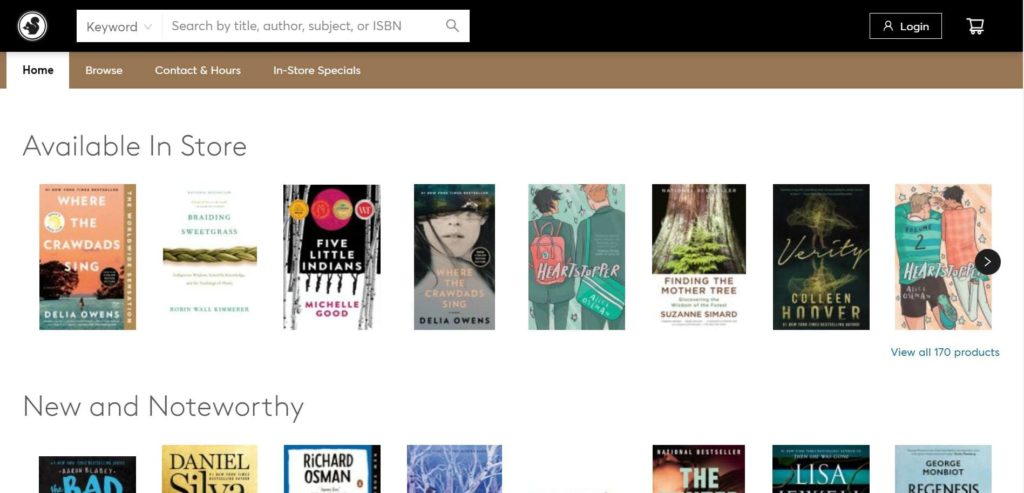 | Test | Info |
| --- | --- |
| PRODUCTS | Books |
| WEBSITE | https://blacksquirrelbooks.ca/ |
| ADDRESS | 1073 Bank St, Ottawa, ON K1S 3W9, Canada |
| CONTACT DETAILS | +1 613-422-9050 |
| OPERATING HOURS | Monday to Sunday 9 AM - 5 PM |
| | |
| --- | --- |
| Criteria | Ratings |
| Variety of Selections | ★★★★★ (5/5) |
| Price | ★★★★★ (5/5) |
| Ambiance | ★★★★★ (5/5) |
| Staff | ★★★★✩ (4/5) |
With its enormous selection of new and old books, Black Squirrel Books has made it to this list. It currently offers tons of used books that come in various genres, themes, and languages that everyone can enjoy.
Browsing through its vast collection, you'll find that many of the books are from Canadian authors, which is a great way of supporting locals.
There are also those that focus on all sorts of topics like cooking, religion, and self-help.
We like that it houses all of its books in a cozy atmosphere with great music in the background. It's also nice to see well-organized shelves and corners stacked with great pieces.
A bookworm paradise, Black Squirrel Books has a cafe where you can get some nice coffee while reading or studying.
The only issue here is that prices in the coffee shop can be expensive and that seats are rather limited, too.
If you have some old books, you may opt to sell them here. You'll get cash or store credits in return.
Unfortunately, it does not accept all books that are brought in for sale. With this, the management should improve more on its communication so people don't end up wasting time.
Overall, we think that Black Squirrel Books is a great place for affordable books, with a sweet and friendly staff that makes everything worthwhile.
An enormous selection of books
A cozy atmosphere
Well-organized
In-house cafe
Buys used books
Relatively expensive cafe drinks
Limited seats
Customer Reviews
A massive collection of used books
"Black Squirrel boasts a massive collection of used books in a neatly organized and comfortable setting. The staff on the bookstore-side of the business are friendly and knowledgeable. The bookstore includes academic publications and various prints of classic books with varying prices. While some books are a bit expensive for a used bookstore, cheaper publications can be found with a careful eye. The cafe is also comfortable and provides a variety of drink and food options. One of my favourite elements of the place was the ability to sell old books for store credit, which can be redeemed to buy drinks at the cafe or more books from the store!" — Natan, Google Reviews
One of my favorite bookstores
"This is one of my favourite bookstores! Their selection is excellent and their prices are reasonable. On top of all that they serve great coffee and espresso! I can't think of a better combination. The parking lot for customers is also great!" — Stuart Germain, Google Reviews
4. Books on Beechwood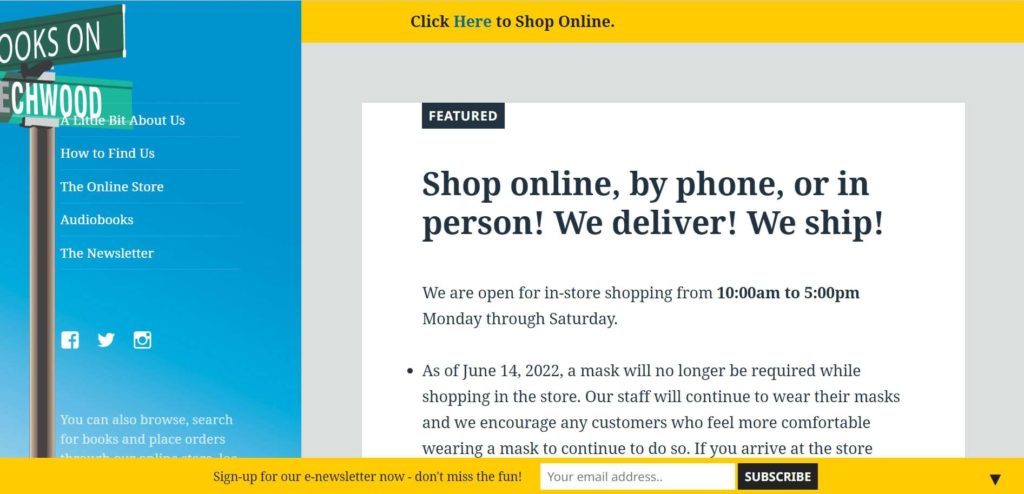 | Test | Info |
| --- | --- |
| PRODUCTS | Books, Puzzles, Games, Gift Cards |
| WEBSITE | https://booksonbeechwood.ca/ |
| ADDRESS | 35 Beechwood Ave., Ottawa, ON K1M 1M1, Canada |
| CONTACT DETAILS | +1 613-742-5030 |
| OPERATING HOURS | Monday to Saturday 10 AM - 5 PM |
| | |
| --- | --- |
| Criteria | Ratings |
| Variety of Selections | ★★★★★ (5/5) |
| Price | ★★★★★ (5/5) |
| Ambiance | ★★★★★ (5/5) |
| Staff | ★★★★✩ (4/5) |
When looking for some good books in the neighborhood, Books on Beechwood is one of the best stores to visit.
This is because it is packed with great selections, with most books focusing on literary fiction, biography, and history.
There's also an interesting selection of non-book items such as jigsaw puzzles and games, which are great for gifts.
We like how the curated selections are well-organized in a small, cozy space with a lovely atmosphere.
It's also great to see that most of the books come with hand-written tags that contain recommendations from the staff.
If you're too preoccupied and can't find the time to visit, you may choose to shop online and get things delivered right to your doorstep.
The best part is that shut-ins within the local neighborhood can get things delivered for free.
If the store doesn't have the book you want, that won't be a problem as it'll happily order it for you.
Also worth noting is its website's book review section, which contains some reviews that you might find useful in deciding on what book to buy next.
Overall, with fairly priced books and friendly staff members who are always ready to help, Books on Beechwood deserves to be a part of this list.
A huge selection of books
Offers non-book items
A cozy, well-organized store
Book reviews and recommendations available
Free delivery service for shut-ins
A relatively small store
Closed on Sundays
Customer Reviews
An incredible, curated selection
"I've been shopping here for four years and love it. They have an incredible, curated selection of new titles that you won't find in other stores. It's a great place for gifts, too—lots of charming knick knacks, puzzles, totes, coffee mugs, cards, and other fun and quirky items. Their online store is also handy for requesting hard to find independent titles at an affordable price." — Matthew Ritchie, Google Reviews
You will not be disappointed
"There's nothing quite like a nice cozy bookstore. As someone who misses local bookstores, Books on Beechwood is a hidden gem. If you're every in the area and love to read, please bring yourself to check out this wonderful store. I promise you will not be disappointed." — Jackie Cambell, Google Reviews
5. Barely Bruised Books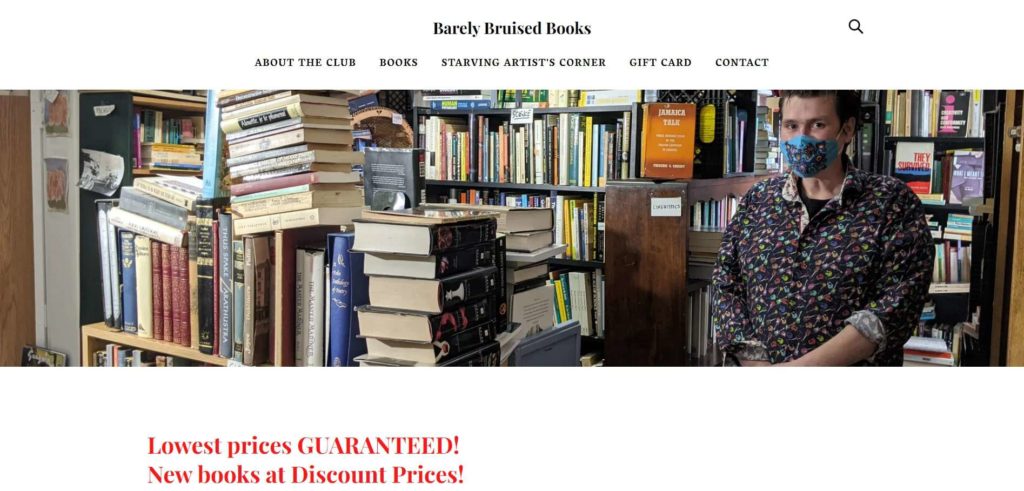 Test
Info
PRODUCTS
Books, Gift Cards
WEBSITE
https://www.ottawabookstore.ca/
ADDRESS
315 Wilbrod St, Ottawa, Ontario K1N 6M3
CONTACT DETAILS
+1 613-981-7718
OPERATING HOURS
Monday to Saturday 11 AM - 7 PM

Sunday 11 AM - 6 PM
| | |
| --- | --- |
| Criteria | Ratings |
| Variety of Selections | ★★★★★ (5/5) |
| Price | ★★★★★ (5/5) |
| Ambiance | ★★★★★ (5/5) |
| Staff | ★★★★✩ (4/5) |
With an ever-growing online catalog of over 80,000 books, Barely Bruised Books deserves a spot on this list.
It offers a vast variety of books which include old and new indigenous books, novels, short stories, and poetry, among many others.
In case you can't find what you need, the super friendly and helpful staff can help track it down for you.
Staying true to its commitment to providing the lowest prices, Barely Bruised Books does price matching.
If you find a book at a different bookstore for a lower price in the same edition and condition, it will match the price with an additional 10% discount.
It's interesting to know that even new books are sold at discounted prices. On top of this, the store now accepts crypto as a form of payment, which provides extra convenience while allowing you to save more.
We also appreciate that it runs the largest free little library in Ontario, which we think is very useful for students and bookworms alike.
The only issue we found here is that, with all the books it houses, the place can get overwhelming and crowded sometimes.
And since the owner owns a cat that freely roams around the store, this might not be ideal for those with allergies.
A massive selection of books
Price matching
Generous discounts
Accepts crypto for payments
Free little library
Can get crowded sometimes
Not ideal for those with cat allergies
Customer Reviews
Such a gem in Sandy Hill
"The guys here are super helpful and cool. So many books of all genres, you could spend the whole day there! The guys know their store well, and are really knowledgeable about what's in stock. I love this place – such a gem in Sandy Hill. Also, don't even get me started on the cat who lives there. He's such a cutie, a perfect addition to the place. Don't forget to check out his section of books curated by the man himself!!" — Em, Google Reviews
The best bookstore
"Definitely the best bookstore I've been to in Ottawa, great selection (they even had some books I need for school) and fantastic prices, not to mention really nice staff and a really good overall vibe :)" — Hayley Apted, Google Reviews
6. Myths, Legends & Heroes
SERVICES
Books, comic books, and subscription services
WEBSITE
http://mythslegendsandheroes.com
ADDRESS
240 Bank St Suite #103, Ottawa, ON K2P 1X4, Canada
CONTACT DETAILS
(613) 746-5772
[email protected]
OPERATING HOURS
Monday, 11:00 AM – 6 PM
Tuesday – Wednesday, 10:00 AM – 6 PM
Thursday – Friday, 11:00 AM – 6 PM
Saturday, 11:00 AM – 5 PM
Sunday, 12:00 PM – 5 PM
Myths, Legends & Heroes provides you with the largest selection of comic books, merchandise and many more. Established in 1990, they have adopted through countless changes and have improved their skills in providing you with all your comic book needs.
They are glad to accommodate their client's in-store however, they can only let a maximum of 8 people at one time. Their comics arrive weekly and If you need a back issue or trade paperback, their excellent staff will dig through their back stock to fulfill your needs.
They also provide subscription based services wherein subscribers get a hefty discount and it increases depending on how many months you are subscribed (at 16 months or more you can get a 20% discount).
With everything they have to offer, we genuinely believe that they are one of the best bookstores to provide comic books, merchandise, bags, boards, and many more in Ottawa.
Open seven days a week
Over 30 years of experience
Convenient location
Customer Reviews
Has all the single issues you might be looking for.
"Super tiny store. very cute. Has all the single issues you might be looking for. The staff were friendly. You might get overwhelmed by the sheer volume of single issues, but take your time, and you'll most likely find what you're looking for. Fun to visit if you're Traveling from another City." – Tina Kwan
Friendly and Highly Professional
"First comic book store I've ever been to that made me feel welcome and not bad for asking newbie questions about comics. I would recommend this place 10/10 times"
FAQs about Bookstores
---
There you have it! We hope that our list has helped you decide where to go next in your search for some good reads!