Top 6 Beauty Schools in Ottawa
If you want to make a career as a beautician or aesthetician, today might be your lucky day.
We're reviewing the top beauty schools in Ottawa that can offer you part-time courses and diploma programs to get you on the road to beautifying clients.
We also have an FAQ section at the bottom of this listicle that addresses common beauty school concerns.
How Much Does Beauty School Cost in Ottawa?
Beauty schools in Ottawa can offer students either part-time certificate courses or full-time diploma courses. To give you an idea of the tuition fees, we made a table of Ottawa averages for part-time courses.
| | |
| --- | --- |
| BEAUTY SCHOOL COURSE (PART-TIME) | ESTIMATED TUITION FEE |
| Makeup artistry (around 40 hours) | $2,100 up |
| Advanced special effects makeup (15 hours) | $1,095 |
| Facial massage and treatments (around 40 hours) | $2,900 |
| Medical facial/skincare therapy (around 40 hours) | $3,100 up |
| Hairstyling refresher course (15 hours) | $1,095 per program |
| IPL techniques (25 hours) | $2,200 |
| Back and body massage (15 hours) | $1,095 |
| Manicure (15 hours) | $1,095 |
Generally, you can expect to pay around $6,500 to $10,000 for several programs that can get you on the path to a lucrative career in being a professional aesthetician or even a salon owner.
But of course, there are other factors to consider when paying for fees like the school's location, reputation, and if materials/supplies and hands-on techniques are part of the package.
The Top Beauty Schools in Ottawa
Ready to take the first step toward a career as a beautician or aesthetician? We put together this beauty school Ottawa listicle with the following criteria:
1. BBM Ottawa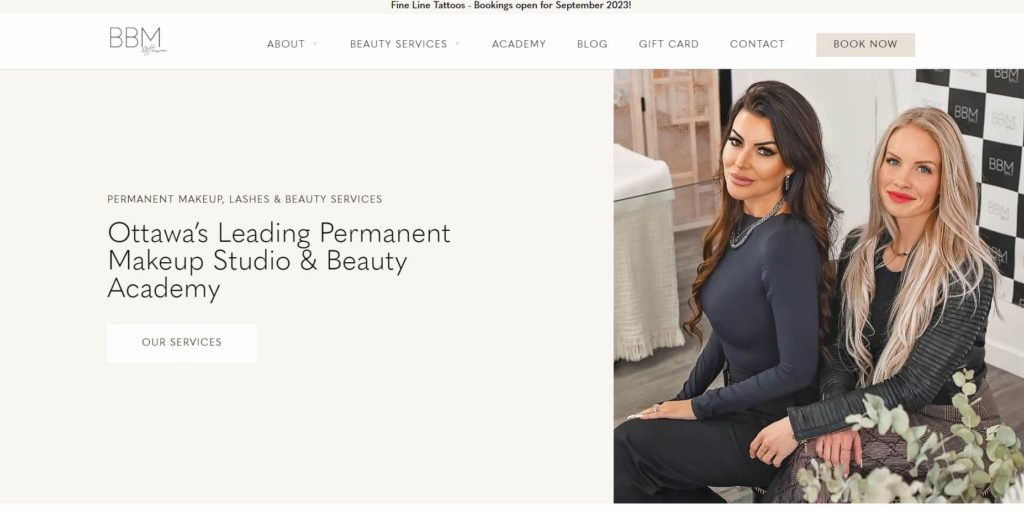 BBM Ottawa is a clinic that specializes in offering professional and thorough permanent makeup and beauty education courses to its clients, including lash extensions, manicures, and facials.
Clients who have used their services in the past have praised them for their high-quality services and professionalism in the area, which helped them to improve their natural traits and transform them into confidence.
Aside from that, their facilities and employees are well-suited to all types of treatments since they use high-quality items and technology to assure the overall quality of their services.
It should be noted, however, that packages or service combinations are not easily available on their website, so prospective consumers may need to reserve a service ahead of time.
Nonetheless, with their extensive range of permanent makeup services, personalized treatments, and competent employees, we strongly advise interested consumers to see them.
Professionals are trained in various techniques
Convenient online booking procedures
A comprehensive array of permanent makeup services
Packages of services aren't readily available online
Customer Reviews:
Here are some reviews from their clients:
"I don't normally write reviews but I felt it was absolutely necessary to tell others how wonderful my experience was having my eyeliner permanently done by Marcella. Every step of the way was fantastic I had a small fear of pain and of course the fact that it was permanent makeup being done. Marcella made me feel so comfortable from start to finish with no pain what so ever during the application. Thank you for your professionalism and care. I will see you soon for my future needs."
"Very happy with my experience at BBM. I had a lash lift and tint for my upcoming wedding. This was my first time trying a lift and tint and Iryna was excellent. So gentle and talked me through each step. I couldn't be happier with the result. I will definitely be back."
2. Natural Medical Aesthetics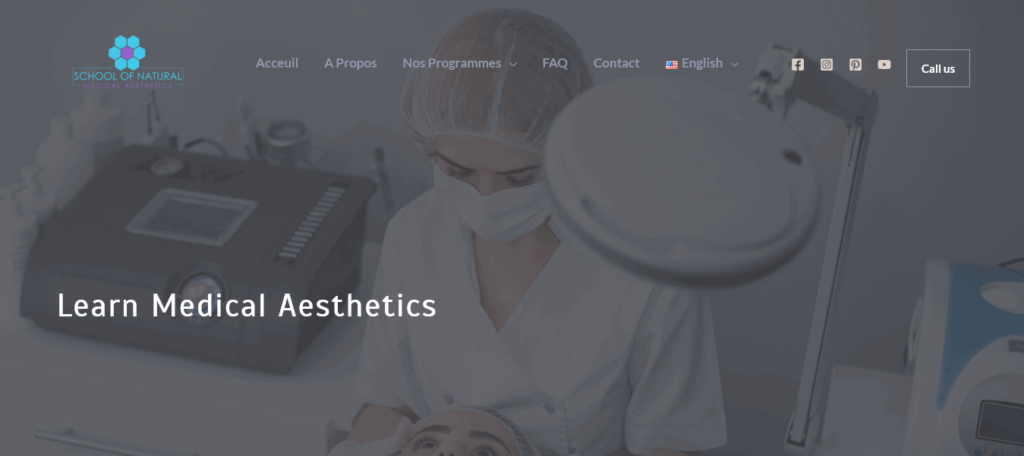 SERVICES
Medical aesthetics training to students across Canada
ADDRESS
394 University Park Dr, Regina
CONTACT NUMBER
+1 888-300-6079
WEBSITE
https://naturalmedicalaesthetics.ca/
OPERATING HOURS
Mondays, Wednesdays, and Fridays 9.30 AM – 5.30 PM
Tuesdays and Thursdays 9.30 AM – 6 PM
Closed on Saturdays and Sundays
Though not a beauty school in Ottawa per se, the School of Natural Medical Aesthetics makes it to this listicle for several valid reasons.
For starters, it caters to students who are on various paths of their lives. The courses are designed so they can address concerns on job readiness, be on board with new technology, and generally be confident around clients.
It's a good school for those already practicing medical aesthetics but wish to improve their knowledge. It also accommodates those who simply want to change or enhance their careers as doctors, nurses, or aestheticians.
The School of Natural Medical Aesthetics offers both in-person training and online courses. But an in-clinic practicum with real patients is part of the curriculum so students can have real hands-on experience in the process.
It promises different payment options for a number of courses, though no price guide is indicated. However, students can opt for flexible financing options with Pay Bright, which is great.
Online courses are available
In-clinic practicum with real clients
Flexible financing options
Job readiness guarantee
Business hours are a bit confusing
Doesn't provide a tuition fee guide
No BBB accreditation
Customer Reviews
Best online learning experience
"I cannot even express in words how amazing this school is! I had just finished the Medical Aesthetics program and it was the best online learning experience I have ever had." – Mimi Hamed
The theory portion was easy to follow and understand
"My experience during this program was amazing. The theory portion was set up in a way that was easy to follow and understand. The instructor and coordinator were always very responsive when I had any questions.
The practicum was very hands-on and the small class size allowed for more experience performing each treatment. The instructor was very knowledgeable and helpful. I overall feel extremely comfortable going into this career field.
Thank you to all the staff for making me feel welcome and at ease during this whole process." – Rebecca Martineau
3. Gina's College of Advanced Aesthetics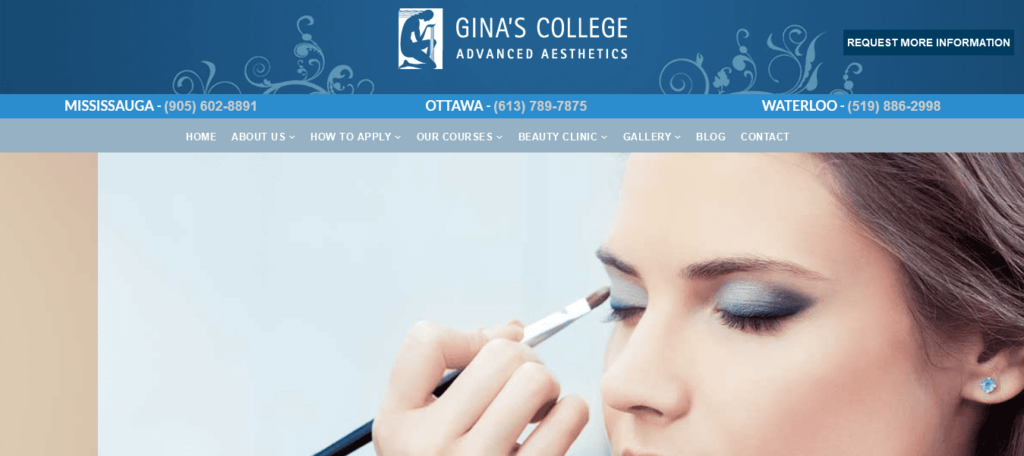 SERVICES
Diploma programs in medical aesthetics, hairstyling, advanced aesthetics, electrolysis and light technology, certificate programs, Cidesco International program
ADDRESS
215 Dalhousie St. Ottawa, ON K1N 7C9
CONTACT NUMBER
(613) 789-7875


[email protected]

WEBSITE
https://www.ginascollege.com/
OPERATING HOURS
Monday to Tuesday 9 AM – 5 PM
Wednesday 9 AM – 6.30 PM
Thursdays 9 AM – 8 PM
Fridays 9 AM – 6 PM
Closed on Saturdays and Sundays
Gina Decicco is the person and inspiration behind Gina's College of Advanced Aesthetics. As an Italian immigrant, she learned to slowly build up a spa business with persistence and exceptional customer service until she founded the school in 1979.
The school has the approval of the Comité International d'Esthétique et de Cosmétologie (CIDESCO). It strives to continuously provide a beauty school curriculum that has higher-than-industry standards.
Gina's College uses a traditional European method based on its founder's teachings and combines them with modern advances in cosmetic technologies. At least 50% of the curriculum is dedicated to practical applications without neglecting comprehensive theories.
Flexible course schedules are offered so students with work, busy family lives, and other occupations can opt for day or evening classes. Financial assistance is available for students enrolled in full-time programs.
New classes start every three months, though more streamlined operating hours would be appreciated (they're currently quite confusing!).
Financial assistance and installment plans are available
CIDESCO approved school
Offers full-time and part-time courses
Day and evening classes are available
Confusing operating hours
No tuition fee guide provided
No BBB accreditation
Customer Reviews
A good program to get hands-on experience with clients
"I have had my hair cut in the student salon many times and the stylists seem to like it there. Seems like a good program as you get the hands-on experience with clients, and the teacher would always come to check on their work and give feedback. Maybe go check it out yourself as a customer and you can see what it's like and ask questions." – amp8
The teachers are the best
"As a graduate of this school, I would like to say that the teachers are the best!! When you had difficulties understanding something they would take a step back and re-explain, no judgment!! I loved everything from this school, I would definitely refer this school for anybody that would love to be an aesthetician!" – marjo13
4. Pure Beauty Studio and Academy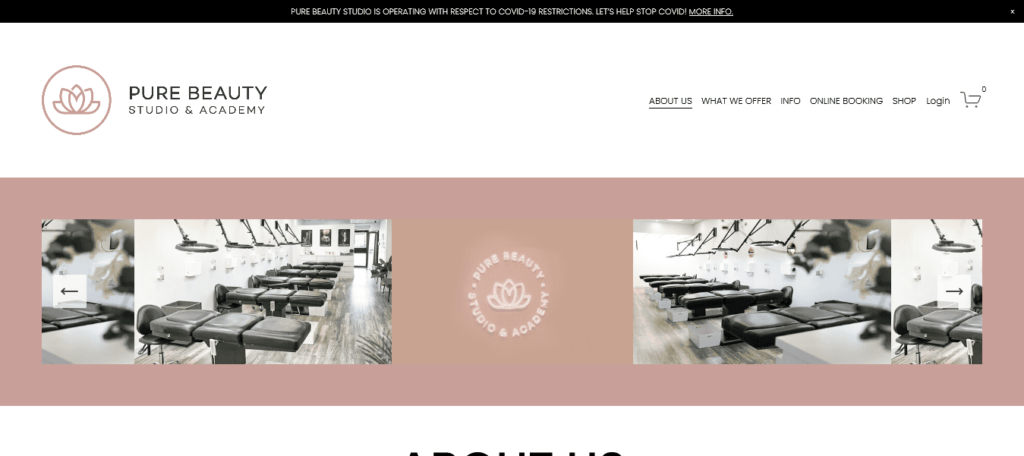 SERVICES
Cosmetology school and beauty salon services, online shop
ADDRESS
258 Dalhousie Street Ottawa, Ontario K1N 7E4
CONTACT NUMBER

[email protected]


(613) 695-5088
WEBSITE
https://www.purebeautystudio.ca/
OPERATING HOURS
Closed on Sundays and Mondays
Tuesday to Friday 10 AM – 6 PM
Saturdays 10 AM – 5 PM
Established just in 2018, Pure Beauty Studio and Academy aims to be a training ground for those who want to learn the skills its master artists and aestheticians are known for. In fact, most client feedback sing praises about the team's microblading and lash tinting prowess.
Its team of trainers vows to provide quality training for its students so clients can feel their best when they leave the studio for any of Pure Beauty's services.
There's an all-woman training team made up of microblading specialists, master makeup artists, master brow artists, aestheticians, and medical aestheticians.
The downside is that there isn't a lot of information available on the programs except to provide contact information and its range of beauty studio services, so you may have to call them up to ask for more information on the matter.
There's also a gallery filled with clear images of Pure Beauty's interiors and vignettes of the services it offers with a clean, uncluttered backdrop. However, given that it's also a beauty academy, we would love a virtual tour of its training programs, students, and setup, as well.
Doubles as an aesthetic salon
All-woman team of master artists and aestheticians
Consistently good feedback on microblading quality
Clean-looking studio interiors
Closed on Sundays and Mondays
Not a lot of information on programs
No BBB accreditation
Customer Reviews
The whole Pure Beauty team is great
"I've come to Shay for a few years now, and she does amazing work! I recently got my lashes lifted & tinted and they're still looking like they did when I left the studio 🙂 Shay is super friendly and talented and the whole Pure Beauty team is great!" – Jordan D.
A master in the art of microblading
"A master in the art of microblading (and more I'm sure)! Tessa is professional, witty and extremely competent! My brows (which were circa '80s…ladies you know what I mean) are amazing! Very natural and alluring at the same time! The studio is taintless and pure. Recommended!" – Gayle Pearce Mellon
5. The Beauty Academy Ottawa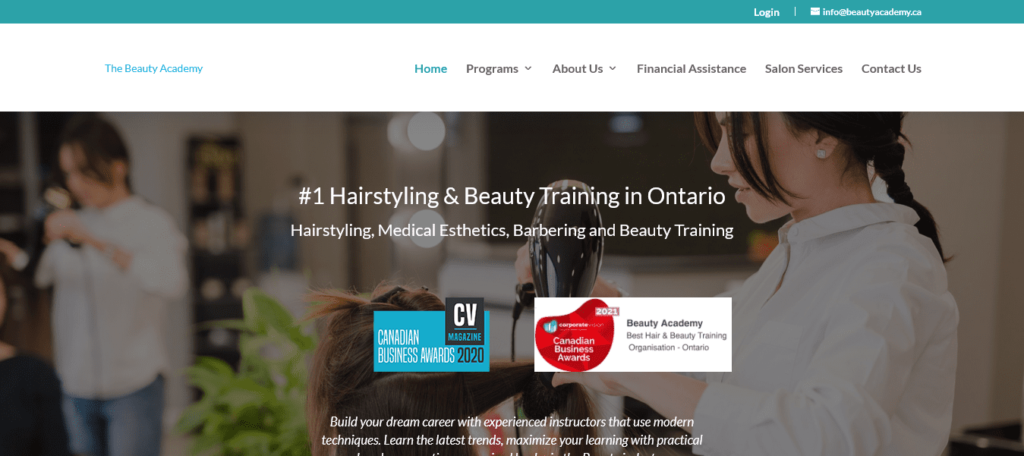 SERVICES
Programs for professional hairstyling, professional barbering, medical esthetician, medical spa specialist, spa esthetician, continued education certificate courses, salon services
ADDRESS
1980 Ogilvie Road Gloucester Centre Ottawa, Ontario, K1J9L3
CONTACT NUMBER
613-745-7171


[email protected]

WEBSITE
https://beautyacademy.ca/
OPERATING HOURS
Monday to Saturday 9 AM – 5 PM
Closed on Sundays
This school won the 2021 Best Hair and Beauty Training Organization award from Corporate Vision's Canadian Business Awards. That makes it a shoo-in for this listicle, but there are other reasons it made the cut.
For one, it has a low teacher-student ratio so that lessons can be concentrated and tailor-made for the student's learning curve and needs.
Students can also expect to have hands-on experience with real clients so they can gain confidence and real feedback. Enrolling with The Beauty Academy means being able to utilize industry-approved tools, multimedia instructions, equipment, and financial assistance options.
Aside from full haircut and aesthetician programs, there are also certificate programs that run from seven to 80 hours. These can serve as refreshers that go with diploma courses or for established aestheticians or stylists who want to upgrade their skills.
And after completing the programs, the student is assured of immediate employment as The Beauty Academy enjoys an excellent beauty industry employment rate all over North America.
Beauty Academy Winner, 2021 Corporate Vision's Canadian Business Awards
Low student-teacher ratio
Financial assistance available
Diploma and certificate courses offered
No tuition fee info provided
Doesn't have a gallery on the programs offered
No BBB accreditation
Customer Reviews
A very professional environment
"This is a great school, with phenomenal teachers who are DEDICATED to helping their students succeed. The staff are friendly and the students are as well. It is a very professional environment." – Ashly Lyn Barrie
Made it through with the help of good teachers and staff
"Oh yes will indeed recommend to anyone who's interesting in becoming a hairstylist, started my journey last year September 2019 and graduate this September 2020, proud of myself to make it through with the help of good teachers, staff and a new owner who didn't give up on us as students during the covid-19 thank you very much for all the efforts and to all my classmates was a pleasure to meet you all and good luck." – Princess Migue
6. Versailles Academy of Make-Up Arts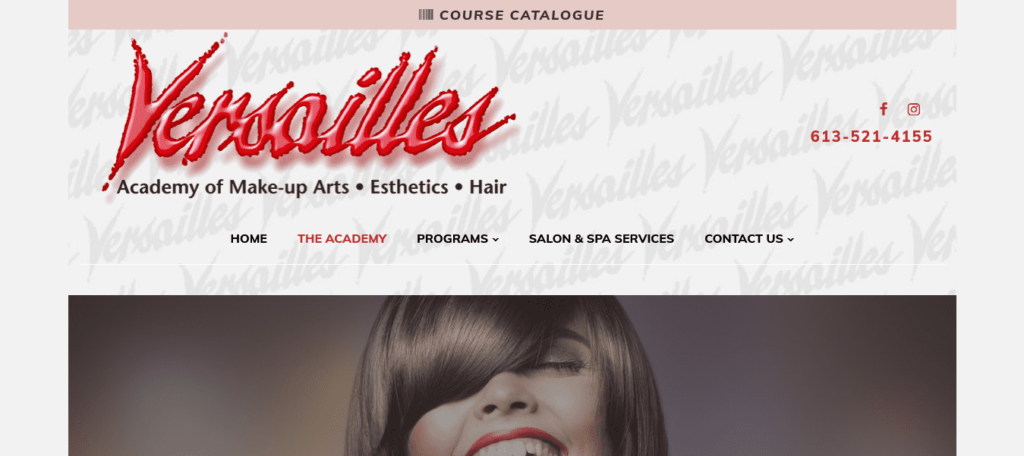 SERVICES
Programs for professional estheticians, professional hairstylists, professional medical estheticians, part-time programs
ADDRESS
Unit 1 – 1930 Bank Street Ottawa, ON K1V 7Z8
CONTACT NUMBER
613-521-4155


[email protected]

WEBSITE
https://www.versaillesacademy.com
OPERATING HOURS
Monday to Friday 9 AM – 5 PM
Closed on Saturdays and Sundays
Versailles Academy of Make-up Arts has been around since 1981 and has become quite popular among those seeking to upgrade their skills in hairstyling, aesthetics, and cosmetology.
It offers full-time programs covering professional hairstyling, professional aesthetics, professional medical aesthetics, and professional hair styling and make-up artistry. There are also part-time programs for hair, make-up, and aesthetics.
It takes pride in being locally owned and operated and not being a franchise. This means Versailles Academy has long-standing relationships with reputable spas and salons, as well as community partners who can help its students with both hands-on experience and employment opportunities.
It has reaped awards for its work, too. It won the Top Choice Award for the Best Esthetic and Cosmetic School and the Consumer's Choice Award for the Best Hairstyling and Esthetic School.
There are helpful resources on the website for student loan and payment assistance options. We just wish its course catalogue indicated the tuition fees for its programs, as well.
Consumer Choice Awardee for Ottawa Best Hairstyling and Esthetic School
Student loans and payment assistance are available
Locally owned and operated
Offers both full-time and part-time programs
Course catalogue doesn't indicate tuition fees
Open only on weekdays
No BBB accreditation
Customer Reviews
The work is outstanding and very professional
"For many years, we have collaborated with the talented Make-Up Artist and Hairstyling students from Versailles Academy in photoshoots and our Fashion Shows. Their work is outstanding and very professional." – Louise Robinson,
The teachers and staff are fantastic
"I was a student during 2020. The teachers and staff are fantastic and so friendly and made such an extra effort during the pandemic. Their dedication to our education means we learn a ton, and I very much enjoyed my time there." – Bethany Vowles-Hartree
FAQs About Beauty School in Ottawa
---
We hope this resource can help you pick the top beauty school in Ottawa to get you on the path to a successful career.
If you have a beauty school to recommend, send us a message so we can review it.
And if you want to know more about beauty school-related specializations, here are some published listicles for you: