The 7 Back Pain Clinics in Ottawa
Back pain is a common problem for many people. If left untreated, it can even lead to further health complications.
This is why it's important to find a back pain clinic that can provide you with the relief you need. This article takes a look at some of the best back pain clinics in Ottawa so you can determine which is the best for your needs.
How much do back pain clinics charge in Ottawa?
Back pain clinics usually charge around $30 – $50 per visit. Subsequent visits are usually less expensive but additional treatments can increase the price.
Check out the table below for a better idea of the pricing:
| Type of Treatment | Average Cost |
| --- | --- |
| Spinal Reading | $30 - $50 |
| MRI Study | $50 |
| Full Spine Series | $40 |
| CT Study | $50 |
| Back Acupuncture Initial Assessment | $95 - $100 |
| IMS/Dry needling | $65 - $80 |
The Best Back Pain Clinics in Ottawa
We wanted to put you in touch with the best local back pain clinics. Our list of companies has been assessed using the following criteria:
1. NeuPath Centre for Pain & Spine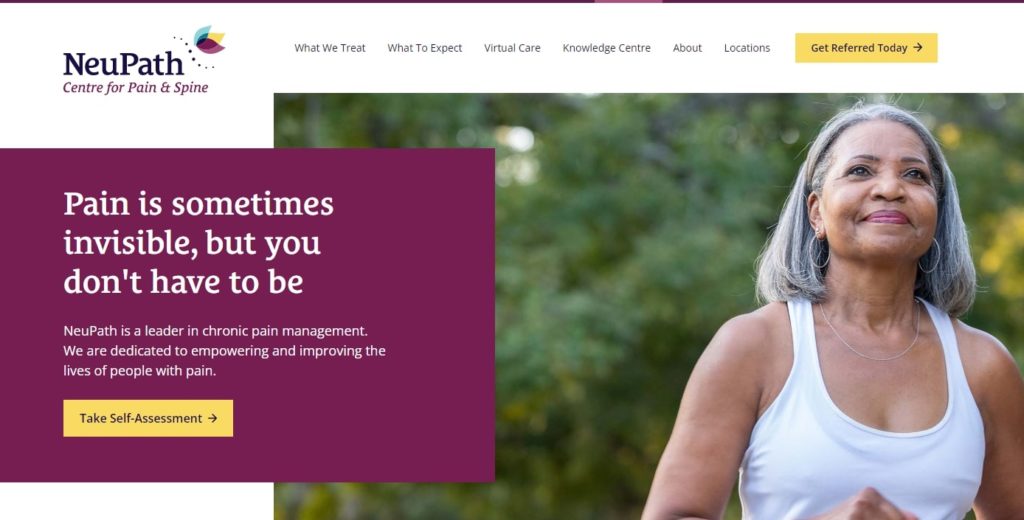 Test
Info
SERVICES
Back Pain, Headaches, Diabetic Neuropathic Pain, Fibromyalgia, Neck Pain, Motor Vehicle and Work-Related Injuries, Myofascial Pain, Sports Injuries
WEBSITE
http://www.neupath.com/
ADDRESS
1770 Woodward Dr, Ottawa, ON K2C 3J2, Canada
CONTACT DETAILS
613-755-2095
OPERATING HOURS
Monday 8:30AM–4PM

Tuesday 8:30AM–4PM

Wednesday 7AM–4PM

Thursday 8:30AM–4PM

Friday 8:30AM–4PM

Saturday Closed

Sunday Closed
| | |
| --- | --- |
| Criteria | Ratings |
| Rates | ★★★★(4/5) |
| Location | ★★★★ (4/5) |
| Experience | ★★★★★(5/5) |
| Patient Feedback | ★★★★★(5/5) |
If you're looking for a top-quality pain and spine center in Ottawa, look no further than the
NeuPath. This facility is staffed by highly experienced experts who are dedicated to providing you with the best possible care.
For back pain problems, it offers a wide range of services including physiotherapy, chiropractic therapy, massage therapy, and acupuncture.
It also offers a wide range of treatment programs designed to help you effectively manage your pain so you can get back to doing the things you love.
The folks at NeuPath take a comprehensive approach to your health and well-being. They take the time to get to know you and understand your condition so you can be sure that you're getting the treatment you need.
They're committed to providing the highest quality patient care in a friendly, comfortable environment so you can feel completely at ease while you heal.
We also appreciate that Neupath has its own Knowledge Centre dedicated to research on different methods of dealing with all kinds of bodily pains.
The clinic also has its own virtual care services for those who can't go to the clinic physically.
The only shortcomings it has are its pricey services and the fact that it's closed on weekends. Other than that, it's a great option overall.
Virtual Care services
Has a Knowledge Centre for body pain research
Multiple services for back pain issues
Highly experienced experts
Friendly staff
Pricey services
Closed on weekends
Customer Reviews
Second to none
"Everyone and I mean everyone from the front desk to the nurses to the doctors are all very kind. Any anxiety you may have they will put you at ease. Doctors give the patients the time they need and are very skilled in there field. The nurses are very caring and compassionate. The front desk staff are always smiling and greet you when you come in and they are always accommodating when it comes to finding you an appointment time that works for you. The treatment I have received here has been second to none. Would highly recommend" – Jason Mousseau
Blessed
"Dr Francois Constant is one of the best doctors I have ever come into contact with during my extensive adventures with countless medical professionals. He is intelligent, caring, compassionate, insightful, kind and shows that he truly cares about his patients well being. The reception staff and nurses are just as awesome. I am so lucky that I have been blessed with the wonderful people at Neupath. Definitely 10 out of 10!!" – Nat P.
2. The Ottawa Hospital Pain Clinic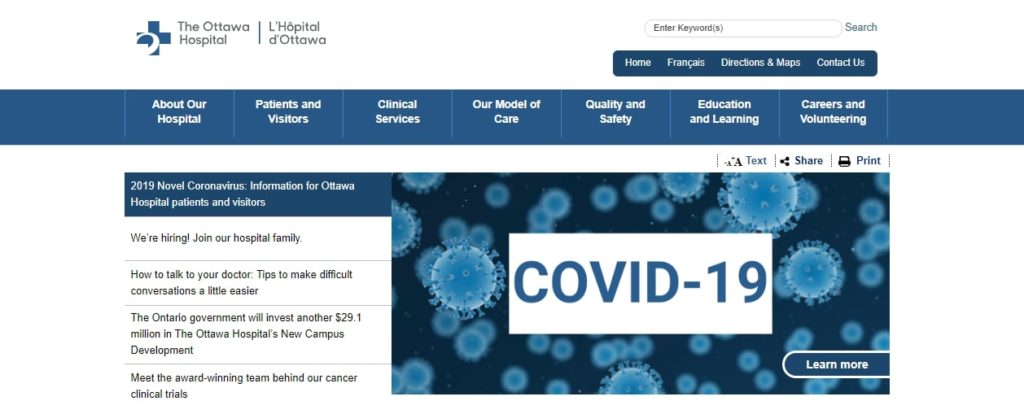 Test
Info
SERVICES
Back Pain, Physical Therapy, Chronic Pain Management, Group Pain Management Sessions
WEBSITE
https://www.ottawahospital.on.ca/en
ADDRESS
501 Smyth Rd, Ottawa, ON K1H 8L6, Canada
CONTACT DETAILS
613-737-8949
OPERATING HOURS
Monday 8AM–10PM

Tuesday 8AM–10PM

Wednesday 8AM–10PM

Thursday 8AM–10PM

Friday 8AM–10PM

Saturday 8AM–10PM

Sunday 8AM–10PM
| | |
| --- | --- |
| Criteria | Ratings |
| Rates | ★★★★(4/5) |
| Location | ★★★★ (4/5) |
| Experience | ★★★★★(5/5) |
| Patient Feedback | ★★★★★(5/5) |
If you've been dealing with back pain for a long time and haven't experienced any relief,
then you may be a good candidate for one of the services offered by the Ottawa Hospital
Pain Clinic.
The clinic's services are more focused on dealing with long-term back pain. These include massage therapy, physiotherapy, chiropractic care, acupuncture, and more.
As many know, massage and acupuncture are considered traditional methods, but even hospitals think of them as real solutions to back pain. It all just depends on what kind of pain you're experiencing.
Another good thing about the Ottawa Hospital's pain clinic is its Chronic Pain Management Program. This is a group-based physiotherapy session that is scheduled every day for a month.
It's a bit like an exercise or Zumba group where patients encourage each other to feel better. It's a unique but useful way of handling minor to mid-tier back pains.
The clinic also has posture and fitness improvement programs that help maintain healthy back muscles for its patients.
The only problem we have with the provider is the fact that it's located in a hospital, which can be a source of other infections.
It also has pricey services, but it's only because the clinic has versatile options.
Overall, as long as you can afford its services, the Ottawa Hospital Pain Clinic is easily one of the best choices for your back pain needs.
Group sessions
Posture improvement
Fitness improvement
Focused on long-term backpain recovery
Chronic Pain Management program
Can be pricey
Located in a hospital, which risks contracting other illnesses
Customer Reviews
Care and compassion
"I have never received the care and compassion like I have at this clinic anywhere else. Dr Evans & the entire team are nothing short of amazing. I am so grateful for this amazing clinic and all of its employees" – Nicole Elder
A new hope
"TOH Pain Clinic has given my wife and I some hope again. Doctor Yvette Goddard has really made a difference in our lives." – Narvin Debidin
3. Ken Chiro-Med Wellness Clinic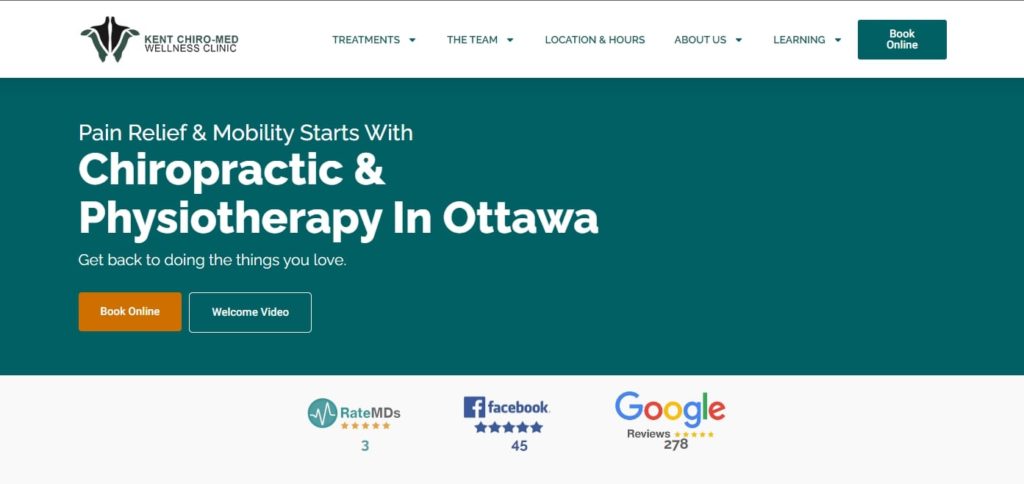 Test
Info
SERVICES
Back Pain, Neck and Head Pain Relief, Arm & Leg Pain Relief, Sports Pain Relief
WEBSITE
https://www.kentchiromed.com/
ADDRESS
563 Gladstone Ave, Ottawa, ON K1R 5P2, Canada
CONTACT DETAILS
613-508-0113
OPERATING HOURS
Monday 9AM–6PM

Tuesday 9AM–6PM

Wednesday 9AM–6PM

Thursday 9AM–6PM

Friday 9AM–6PM

Saturday 9AM–3PM

Sunday Closed
| | |
| --- | --- |
| Criteria | Ratings |
| Rates | ★★★★ (4/5) |
| Location | ★★★★ (4/5) |
| Experience | ★★★★★(5/5) |
| Patient Feedback | ★★★★(4/5) |
Kent Chiro-Med Wellness Clinic offers a wide range of chiropractic treatments for chronic back pain. This includes trigger point therapy, spinal decompression, physiotherapy, and massage therapy.
This clinic is a great option if you're looking for a chiropractor that offers both modern and traditional methods of back pain treatment.
It also has a number of wellness programs that can help its patients achieve optimal back health naturally through nutrition and exercise.
The clinic offers body composition analysis to assess your body fat percentage to help you reach a healthy weight and improve your overall health and fitness.
There are also available registered dieticians to provide advice on healthy eating and weight management that is best to keep your back healthy.
We like that patients can book regularly scheduled pain management sessions so their backs can be fixed slowly but surely. This is a good choice for elderly patients who need more sessions to fully fix their spine.
Unfortunately, this clinic has quite expensive prices for its procedures. The processes it offers also yield slower results compared to other clinics because of their long-term nature.
Overall, because of its treatments that cater first and foremost to seniors, we believe it's still one of the best clinics for back pain in the city.
Offers both modern solutions and traditional solutions
Regular sessions available
Also has body composition analysis
Several wellness programs
Focused on back pain treatments for seniors
Has registered dieticians for holistic health improvement
Expensive
Clinical process takes time
Customer Reviews
Many thanks
"Dr Raphael is definitely one of the best chiropractors out there. He has been friendly and welcoming and tells jokes, while staying professional. He considers how his clients would feel during exercises and lets them stop for a few seconds to have a breather. The receptionists have also been really nice. I truly feel that my TMJ discomfort has lessened and am so glad I picked this clinic and doctor! Many thanks." – Catherine S.
Explained the whole process
"I cannot recommend Dr. Raphael enough. I came in for my first visit after after I injured my neck from swimming. I dove off the block into a race and something in my neck shifted the wrong way. Immediately I needed to stop swimming because I could not move the entire upper half of my back without a lot of pain. I ended up laying on the floor for a long time that day waiting to come in for an emergency appointment. Dr. Raphael was really attentive when I was explaining my situation. He understood what had happened and was able to explain to me exactly what the bones in my neck had done to cause the issue. He then used models in the room to show what he was going to do to fix it." – Derek Woodard
4. Inovo Medical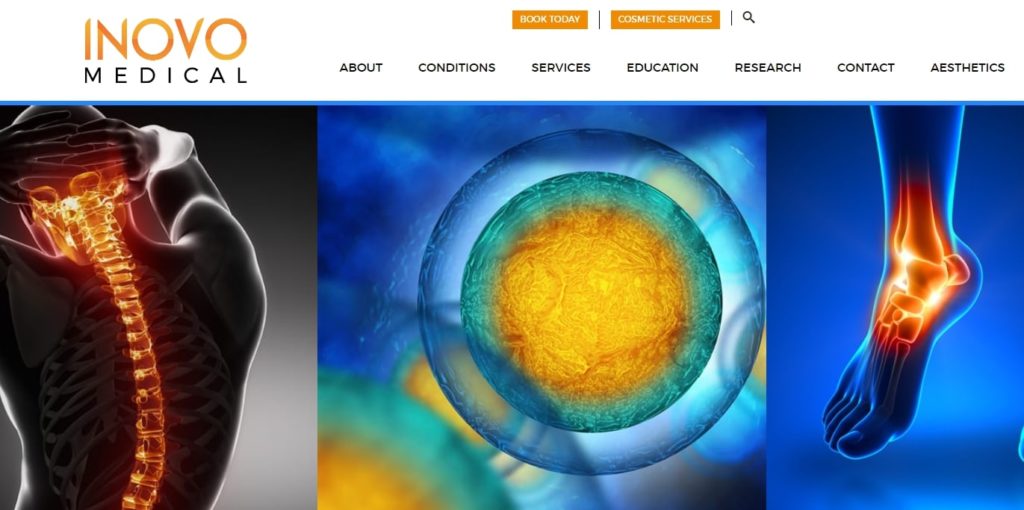 Test
Info
SERVICES
Back Pain Treatment, Botox Injections, Ultrasound Diagnostic Injections
WEBSITE
https://inovomedical.ca/?utm_campaign=gmb
ADDRESS
1328 Labrie Ave, Gloucester, Ottawa, ON K1B 3M1, Canada
CONTACT DETAILS
613-604-0480
OPERATING HOURS
Monday 9AM–9PM

Tuesday 9AM–9PM

Wednesday 9AM–9PM

Thursday 9AM–9PM

Friday 9AM–5PM

Saturday Closed

Sunday Closed
| | |
| --- | --- |
| Criteria | Ratings |
| Rates | ★★★★ (4/5) |
| Location | ★★★★ (4/5) |
| Experience | ★★★★★(5/5) |
| Patient Feedback | ★★★★★(5/5) |
Ottawa's Inovo Medical clinic has a team of specialists who can help you find the best solution for your back pain.
The doctors here specialize more in physiotherapy, so they can treat a variety of conditions — but not all of them.
Patients can make an appointment at the clinic and speak to a health professional about the best treatments for their condition. They can also schedule an appointment online by visiting the clinic's website.
Another good thing about Inovo is that it has its own parking area. This makes it convenient for patients who need to visit for a session regularly.
There are many things that can cause back pain, including muscle strain, poor posture,
overuse of the body, and old age. It's good that the clinic is able to diagnose the causes accurately and treat them with trigger point therapy and physiotherapy.
However, it's unfortunate that it doesn't offer the most common back pain treatment: chiropractic services. The clinic's prices are also quite steep, so if you have a limited income, this may be an issue.
Overall, it's still a good option considering its comprehensive diagnosis. As long as your back issues don't need chiropractic treatment, you'll find a solution to your back pain at Inovo.
Trigger points therapy and physiotherapy services
Focuses on chronic pain
Comprehensive diagnosis process
Online appointment setting
Offers consultations with a health professional
Has its own parking area
Pricey services
No chiro options
Customer Reviews
Amazing job
"Just had an amazing experience here !!! Lisanne was great at answering all my questions & making sure I was comfortable , and Dr. Belanger did an amazing job." – Marieve L.
Great staff
"Great clinic! It has its own private parking. The reception staff is friendly and welcoming. I was offered a hot beverage while waiting for my appointment." – Marie
5. The Seekers Centre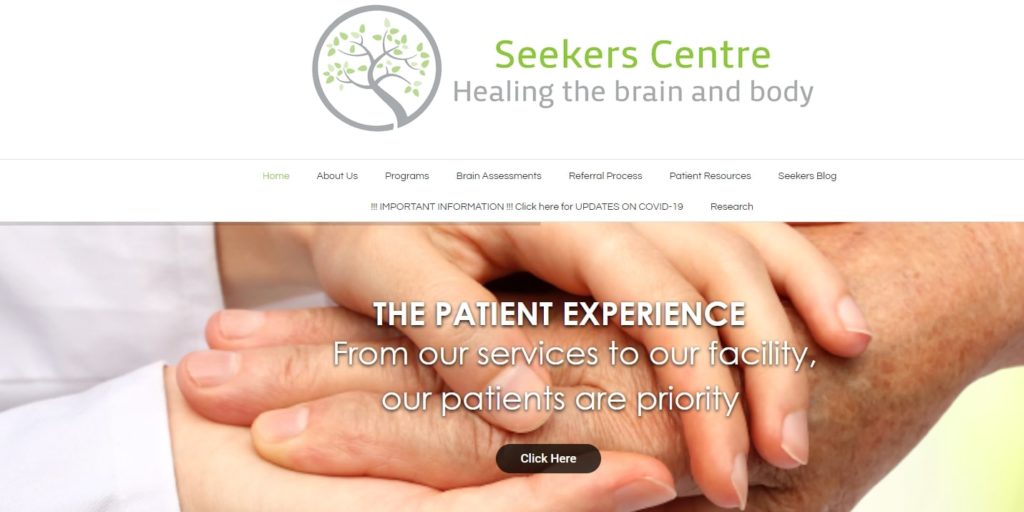 Test
Info
SERVICES
Back Pain Treatment, Chronic Pain Management, Acupuncture, Brain Assessment, High-Risk Pain Clinic
WEBSITE
https://www.seekerscentre.com/
ADDRESS
942 Merivale Rd, Ottawa, ON K1Z 5Z9, Canada
CONTACT DETAILS
613-727-7246
OPERATING HOURS
Monday 8:30AM–5PM

Tuesday 8:30AM–5PM

Wednesday 8:30AM–5PM

Thursday 8:30AM–5PM

Friday 8:30AM–4:30PM

Saturday Closed

Sunday Close
| | |
| --- | --- |
| Criteria | Ratings |
| Rates | ★★★★ (4/5) |
| Location | ★★★★★(5/5) |
| Experience | ★★★★(4/5) |
| Patient Feedback | ★★★★★(5/5) |
Another good option for your back pain issues is the Seekers Centre. Located in Merivale, the clinic is focused on finding the root cause of your pain issues and then treating it.

It uses a multidisciplinary approach by combining acupuncture, massage therapy,
chiropractics, and counseling to help treat its patients.
The clinic is also known for using both Western and Eastern methods when it comes to treating pain. For example, acupuncture is sometimes done before physiotherapy to help a patient relax his or her muscles.
Seekers also has the Seeker Program where it offers regularly scheduled yoga and meditation sessions as well as a specific nutrition plan for its patients.
The program helps patients keep their weight down enough to minimize pressure on their backs. It also encourages less use of chemical medicine and helps patients take advantage of their natural strength and immunity.
Of course, these methods aren't for everyone and may be a problem for some patients. If you seek faster and more technology-guided methods, this may not be the best clinic for you.
Another thing to mention is that some of its procedures are quite expensive and will take a lot out of your budget.
However, because of the unique methods the clinic offers and the mostly positive feedback it's received, we opted to add it to our list.
Combines Eastern and Western techniques
Specializes in chronic pain
Seekers Program offers holistic solutions to back pain
Has a multi-disciplinary approach to pain management and healing
Pricey services
Some techniques may not be for everyone
Customer Reviews
Fantastic methods
"I have been seeing DR. Nahas for about three years and his care and treatment has been great. The entire staff really seem to care about all patients and I would highly recommend this clinic for chronic pain." – Howie D.
Educates while treating patients
"Extremely greatful to my retired family doctor, who after years of not being able to help me with my chronic pain, referred me to Dr. Nahas. I have been under his care for little then less than a year, and I am so greatful for his medical expertise. He has began to really assist me in improving my quality of life. A very knowledgeable doctor who explains and educates his patients as he treats them."
6. Balanced Life Osteopathy
SERVICES
Osteopathy and Concussion Treatments
WEBSITE
http://ottawamanualosteopath.com
ADDRESS
238 Argyle AvenueOttawa
CONTACT DETAILS
Tel: 613 – 853 – 6753
[email protected]
OPERATING HOURS
Monday – Thursday, 9 AM–8 PM
Friday, 9 AM–6:30 PM
Saturday, 9 AM–4 PM
| | |
| --- | --- |
| Criteria | Ratings |
| Rates | ★★★★ (4/5) |
| Location | ★★★★★(5/5) |
| Experience | ★★★★(4/5) |
| Patient Feedback | ★★★★★(5/5) |
Balanced Life Osteopathy, founded by Marinus van Aarle, provides a holistic approach that focuses on the treatment of the body's structure, in order to optimize functions. Manual Osteopathy is best known for pain relief from back pain, neck pain, shoulder pain, headaches, sciatica, postural problems and sports or workplace injuries.
They proceed with treatments that have an evidence-based approach and use gentle stretching techniques to alleviate restrictions in the muscles and joints of the body. This in turn, increases the range of motion and increases the blood flow to the treated area.
Aside from their quality osteopathy treatments, they also provide concussion, whiplash, and personalized treatments. We like how they aim to provide long-term relief and healing for concussion and whiplash treatments instead of opting for short-term intermediate relief that often produces consequences later on.
Experienced osteotherapist
Provides free parking
Affordable rates
Customer Reviews
Without a doubt the best!
"Relaxing, super clean environment, it has definitely made a difference on my body alignment, and my muscles from the first appointment. My husband has frozen shoulder and in the 3rd visit the mobility has come back, I highly recommend Marinus, he is professional, personable and makes you feel very comfortable. Without a doubt the best!" – Melissa Woods
I definitely would recommend it.
"I have been suffering a long time with back and pelvic problems. I went to see Marinus for my first time a couple of weeks ago. He took the time to understand my situation and his treatment was helpful. His method is hands-on and he seems to really understand the mechanics of the human body. Following the treatment he explained very well what to expect and did not put pressure to book subsequent appointments. I definitely would recommend."  – Michael Bernier
7. Apollo Physical Therapy Centres
SERVICES
Physiotherapy, Mobile Physio, Whiplash, Burnout, Chiropractic, Massage Therapy, Acupuncture, Custom Orthotics, Concussion Circuit Program, and PoNS Therapy™.
WEBSITE
https://www.ottawaphysio.clinic/
ADDRESS
2310 St Laurent Blvd.UNIT 106
Ottawa, ONK1G 5H9 Canada
CONTACT DETAILS
613-248-0800 
[email protected]
OPERATING HOURS
Monday – Thursday, 8:00 AM – 8 PM
Friday, 8:00 AM – 6 PM
| | |
| --- | --- |
| Criteria | Ratings |
| Rates | ★★★★ (4/5) |
| Location | ★★★★★(5/5) |
| Experience | ★★★★(4/5) |
| Patient Feedback | ★★★★★(5/5) |
Apollo Chiropractic was established on July 21, 2003 by Dr. Vik Dhawan. From college through graduate school, he dreamt of starting his own practice to advocate for his principles and ideals in health care.
Over the next few years, Dr. Vik expanded the clinic to include massage treatment in addition to chiropractic services, and the name was changed to Apollo Chiropractic and Wellness. They stayed at their initial site for five and a half years until being forced to relocate owing to continuing expansion. Physiotherapy was introduced to the practice at the time, allowing Apollo to provide all three complementary therapies under one roof.
The demand for their services surged, and they outgrew the new premises in less than two years. In May of 2011, they relocated to their new facility on St. Laurent Blvd. and changed their name to Apollo Physical Therapy Centres (ApolloPTC) to incorporate all of the services that they provide. To further serve the Ottawa region, they have recently launched their second, third, and fourth sites.
Heading to their services, they are one of the best clinics to provide back pain relief thanks to their excellent physiotherapy, chiropractic treatments, and massage therapy. These services are also known for preventing illness and conditions before they develop cannot be overlooked.
Experienced staff
Affordable rates
Convenient locations
Excellent customer support
Customer Reviews
I greatly appreciated the hospitality at APTC and their acceptance
"I was a student intern at Apollo Physical Therapy Centres and I have to say I learned and applied so my of my education here, was a great learning and growing opportunity. I greatly appreciated the hospitality at APTC and their acceptance. Apollo helped me grow as a student and a person. I recommend Apollo as they take the time getting to know each client and help them back to health. There wasn't a day I didn't see a client arrive and leave with a smile. If a student does read this review, I do recommend applying to Apollo as they have an interest in teaching the up and coming and give you the chances to learn and grow. They have no problem answering questions, but they will make you critically think if you don't know the answer " – Michael Nobert
This clinic has one of the best staff and services I've seen in a while.
"This clinic has one of the best staff and services I've seen in a while. Registering and getting connected with the right practitioner is a breeze. Easy to schedule and maintain appointments (with a calendar and reminders setup for you).The care I've recieved from Dr. Sobhani has been great and my experience with him reassuring. Also not to forget it's easily accessible with no parking problems and they accept insurance!! Safe to say, it's healthcare optimised for you!" – Kunal Asarsa
FAQs about Back Pain Clinics
---
And that ends our list of the best back pain clinics in Ottawa. Hopefully, you found it helpful in leading you to pain relief and holistic wellness.
One of the many ways to maintain a healthy back is to have regular massages. Check out our article on the best therapeutic massage services in Ottawa!