Where to Find Trailers for Sale in Ottawa
There are many kinds of trailers that are meant for different purposes. Some trailers are ideal for moving homes, while there are also travel trailers that allow you to travel around with the comforts of home.
For those who frequently move around, getting a trailer of your own is an investment you can make instead of having to frequently rent it out.
If you are looking for a good place to buy one for whatever reason you'll use it, we've gathered some of the most noteworthy dealers that have trailers for sale in Ottawa.
From park trailers for camping trips or roaming to cargo trailers for moving houses, we hope this list can help you not just to find what you're looking for but also find the best deals out there.
How much do trailers cost?
Purchasing any kind of trailer can be quite an investment, and you really need to do some research before spending, just as you would when buying a car or a house.
Average trailers can range from $10,280 to $23,130 depending on size and what you'll be using them for. The more utility it has, the higher prices can go.
For example, an average brand new travel trailer that you can use for country-wide road trips can cost from $14,135 to as much as $44,975 depending on the brand, size, capacity, design, and so on.
To give you an idea about trailer costs, we gathered different kinds of trailers and estimates of how much new ones can cost.
| Trailer Type | Price Range |
| --- | --- |
| Camping trailer | $19,275 - $128,500 |
| Trailer home | $12,850 - $321,251 |
| Tent trailer | $3,855 - $12,850 |
| Utility trailer | $1,524 - $3,855 |
| Reefer trailer | $12,850 - $15,420 |
| Car trailer | $7,710 - $25,700 |
| Single-axle trailer | $771 - $1,927 |
| Commercial open trailer | $2,570 - $5,140 |
| Boat trailer | $4,825 - $10,280 |
| Motorhomes | $45,097 - $386,550 |
The good thing is that there are also alternatives like used trailers that can go at really lower rates. Or, if your budget can really not afford to purchase one, most retailers also offer trailers for rent.
There's really a wide range in costs for a lot of trailers because there are so many kinds that cater to different needs. It helps to know where you can find a really good dealer that can offer you the right rates for the trailer that you need.
Buying the Perfect Trailer
There are so many factors to consider when buying the right kind of trailer. From price, built, capacity, and utility, you need to be able to know enough to make the best decision.
It helps too if you can find a dealer that doesn't just hard sell whatever options they have to you but actually has enough expertise and know-how to help you find the trailers that match your wants and needs.
And that's exactly what we're here for! We looked into the best dealers in and around town and rated the best ones according to the following criteria:
We hope that with these points in mind, we are able to give you a little push in the right direction to buy just the perfect trailer to get you going!
1. Ottawa Camping Trailers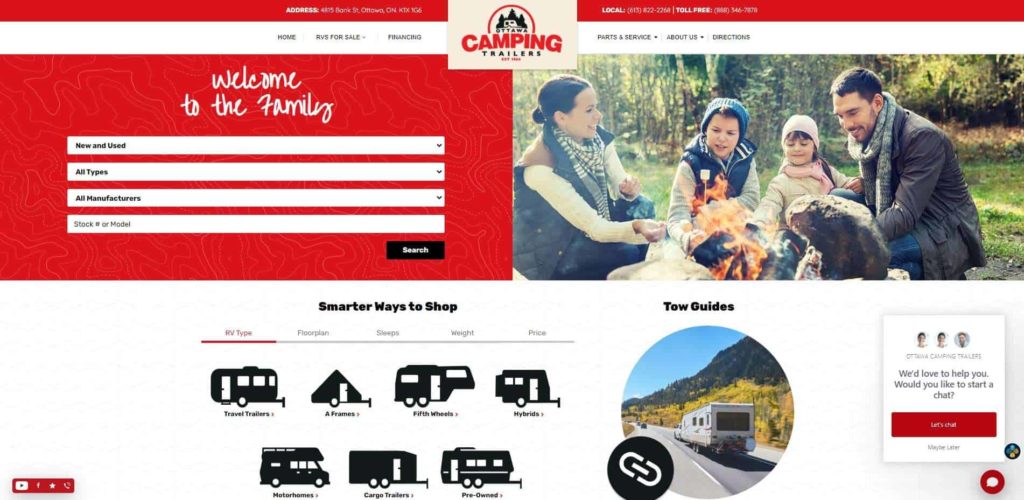 Test
Info
AVAILABLE TRAILERS
Travel trailers, camping trailers, and motorhomes
WEBSITE
https://www.ottawacamping.ca/
ADDRESS
4815 Bank St, Ottawa
CONTACT DETAILS
(613) 822-2268

1-888-346-7878

OPERATING HOURS
Monday to Saturday: 9 am to 6 pm

Sunday: 10 am to 5 pm
| | |
| --- | --- |
| Quality of offered trailers | ★★★★★ (5/5) |
| Variety of trailer options | ★★★★★ (5/5) |
| Competitive pricing | ★★★★★ (5/5) |
| Customer service | ★★★★☆ (4/5) |
| • Responsiveness to inquiries | ★★★★☆ (4/5) |
| • Staff knowledge and expertise | ★★★★★ (5/5) |
| • Customer assistance | ★★★★☆ (4/5) |
| • Purchasing convenience | ★★★★☆ (4/5) |
Basically, Ottawa Camping Trailers is the run-to dealer for recreational vehicles (RVs), camping trailers, and trailer tents not just in Ottawa but also its surrounding areas.
If you have been thinking of buying a trailer to satisfy your wanderlust, this place is definitely something that you need to check out.
They have been providing some of the best travel trailers for more than 50 years now. From brand new to used trailers, they have so many kinds of them in their catalogue: RVs, cargo trailers, couple coaches, and park models.
Among the brands they carry, for which they are also the official dealer, is the Forest River Cherokee—one of the premier brands when it comes to travel trailers.
They don't just offer trailer vehicles but also provide parts, tools, and equipment like levelling jack, braking systems, and more.
We love that their website not only shows a complete inventory of the trailers they have available but also their prices. This way, you can consider the specifications and your budget in the comfort of your home before making the purchase.
Buying a trailer is also very attainable, even for those who have limited funds, because they also offer financing options. You don't really need to save up so much before you can finally make your travel dreams come true.
But if you are really trying to get one that's affordable, like their used trailers, these less expensive options go really fast, so there are not many cheap options available most of the time.
Nevertheless, the prices for their brand new ones are competitive and seem fair. So, if you can go for brand new ones, then the deal won't be so bad at all.
However, their customer lines can be quite tough to reach sometimes, and after-sales inquiries may take some time to be addressed. We do see the effort though to address complaints; that's commendable enough.
If this is the first time you are buying a travel trailer, we recommend this place for the great variety of options you can choose from and the ease of learning about the ones you are eyeing to buy.
The in-house staff is very knowledgeable too, so they can provide you with well-rounded assistance as you pick out a trailer to buy.
Great variety of available travel trailers and RVs
Official Golden Dealer for Forest River Cherokee
Competitive and fairly decent pricing
Prices are available on their website
Knowledgeable staff
Open all seven days of the week
Customer lines may be hard to reach sometimes
Limited only to travel trailer types and RVs
Customer Reviews
Highly recommended before anyone else
We are seasoned campers in our 60's, so we know the difference between good and bad service. I dealt with the big box dealers in Ottawa on several occasions over the years. Had travel trailers, hybrids, tent trailers. Now ready for a motor home. We got "best deal possible" prices from big box guys. No one offered a decent trade in value on our new camper. They asked a fortune for used motor homes in rough condition.
Then, went Ottawa Camping for the first time ever. Wow. Treated so much better. We looked at a new motor home comparable to those used ones with no warranty. Blaine saw my trade and offered an excellent price on a brand new motor home, cheaper than the used one!
Blaine and Devon were awesome to deal with and gave us an incredible price! I highly recommend Ottawa Camping before anyone else in the Ottawa valley! – Mike Duhaime
Love the family atmosphere
Highly Recommended! Love the family atmosphere of this business, and the decor inside is neat! We were also told they are the oldest RV store in all of Ottawa! We bought a pre-owned 26′ Aruba trailer and dealt with Karen. She was kind, caring and took care of us, a real joy to deal with. She showed us many trailers and was enthusiastic about our interest! We also were able to get all the extras we needed right at the time we bought the trailer as they have a huge parts and accessories dept. We highly recommend Ottawa Camping Trailers. – Rob Fenwick
2. Stittsville Trailers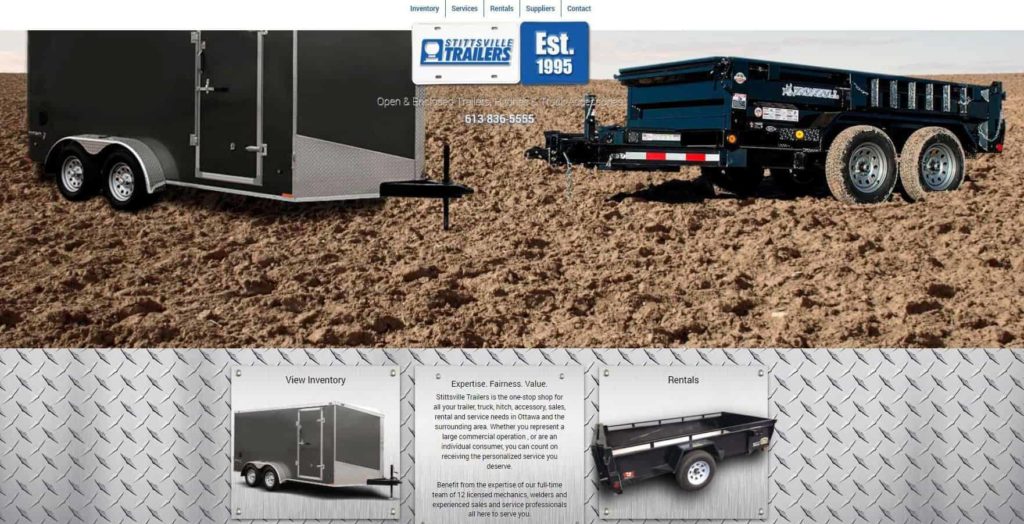 Test
Info
AVAILABLE TRAILERS
Utility and cargo trailers
WEBSITE
https://www.stittsvilletrailer.com/
ADDRESS
1634 Stittsville Main St., Stittsville
CONTACT DETAILS
(613) 836-5555
OPERATING HOURS
Monday to Friday: 8 am to 5 pm

Closed on Weekends
| | |
| --- | --- |
| Quality of offered trailers | ★★★★★ (5/5) |
| Variety of trailer options | ★★★★☆ (4/5) |
| Competitive pricing | ★★★★★ (5/5) |
| Customer service | ★★★★☆ (4/5) |
| • Responsiveness to inquiries | ★★★★★ (5/5) |
| • Staff knowledge and expertise | ★★★★☆ (4/5) |
| • Customer assistance | ★★★★★ (5/5) |
| • Purchasing convenience | ★★★★☆ (4/5) |
If you are looking for utility trailers, Stittsville Trailer & Auto Sales Inc. is the first place you should look into.
A 20-minute drive away from the busy capital, you will find Stittsville Trailer & Auto Sales Inc, sitting in quaint suburbs.
They're on top of mind when it comes to trailers because of the great service they provide, aside from the great selection of utility trailers in their inventory. Whether you are looking for stealth trailers, truck beds, car haulers, etc., they most likely have it here.
These utility types of trailers that they offer are best when you need to move things around. Their cargo trailers are perfect for moving houses, while their dump trailers and open trailers are ideal for hauling heavier loads, like construction supplies.
They carry really great trailer brands like Stealth, Millroad, Haulmark, and Ironbull, to name a few—and at competitive prices too. These brands are known for quality, plus they have warranties that give you the assurance that the trailer you'll buy is good to go for the long run.
These kinds of trailers are ideal for business owners that need to transport heavy goods or those that provide various related kinds of services such as moving services, food transportation, or even landsacping.
Aside from selling trailers, they also have an inventory of ones that are available for rent, just in case you just need to transfer some load occasionally.
Unfortunately, they still do not sell camping trailers that you can use for travel, but they do offer RV rentals, so that's something to consider too.
They also provide trailer hitch installation services, so if you're set on buying a trailer, you can also have the hitch installed here as well.
Their service is fantastic, and the people there are very friendly folks too. They'll give you all the information you need and explain all the nitty and gritty details you need to know so that you can make the best decisions, whether buying or availing of their other services.
People return to them for the cozy, family vibe they give to their customers, being a family-owned business themselves.
Offers a great selection of high-quality trailer brands
Competitive trailer prices
Also offers rental services for utility trailers and RVs
Trailer hitches and installations are available as well
Expert technicians are available for installations and repair services
Great staff that provides excellent assistance and information
Does not offer travel-type trailers
No price matrix available on their website
Closed on weekends
Customer Reviews
A family-kind of energy
I'm not sure if this is a family run business but it was great service and a family energy kind of experience. Tracy was so helpful and I truly felt like she was my sister, she even gave me a discount. Outside in the parking lot is full of people working and you can tell they had pride in what they are doing. Another customer was leaving with his brand new trailer and he was gleaming on his new purchase. It was an overall wonderful experience and I would recommend that anyone looking to purchase a trailer to visit Stitsville trailers. Thanks again For the great service. – Alex Abellan
Competitive and fair price
Called for a quote on a new trailer w/ brake controller. Brake controller was quoted competitively, and work was performed quickly and effectively, we were very happy. The price of the trailer was fair, the staff friendly, and it was ready at the agreed upon time! Staff took time to help us hook up the trailer, and explain to us the new brake controller. Very happy overall. – Brandi MacAulay
3. VOS Trailers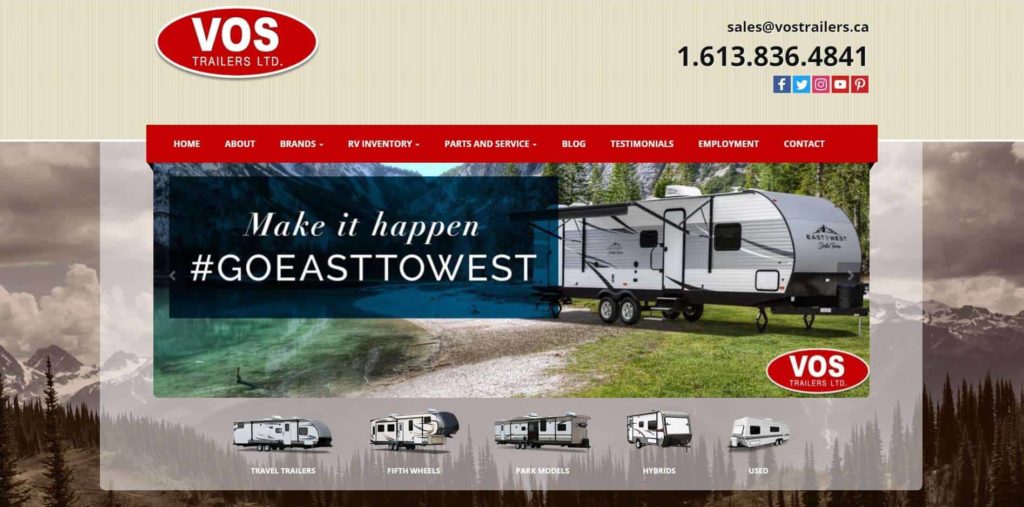 Test
Info
AVAILABLE TRAILERS
Travel trailers, motorhomes, and used RVs
WEBSITE
https://www.vostrailers.ca/
ADDRESS
1560 Stittsville Main Street, Ottawa
CONTACT DETAILS
(613) 836-4841
OPERATING HOURS
Monday to Friday: 9 am to 5 pm

Saturday: 9 am to 4 pm

Closed on Sundays
| | |
| --- | --- |
| Quality of offered trailers | ★★★★★ (5/5) |
| Variety of trailer options | ★★★★☆ (4/5) |
| Competitive pricing | ★★★★★ (5/5) |
| Customer service | ★★★★☆ (4/5) |
| • Responsiveness to inquiries | ★★★★★ (5/5) |
| • Staff knowledge and expertise | ★★★★☆ (4/5) |
| • Customer assistance | ★★★★★ (5/5) |
| • Purchasing convenience | ★★★★☆ (4/5) |
Another great trailer dealer option in Stittsville, VOS Trailers offer a great selection of travel type trailers and RVs.
They've been around since 1969 and are providing the local community in Eastern Ontario with the best trailers and mechanical services you may need.
When you visit them, you'll be welcomed with a warm and relaxed atmosphere where you will be entertained, regardless if you are buying or not. This makes it easy especially for first-time buyers to make sound decisions in buying the right trailer or RV.
You can also check out their massive inventory online, including their prices. Their trailer costs are pretty reasonable, but the best part is that you can also negotiate and make an offer to get the best deal that you can.
They offer four great trailer and RV brands, which are the Winnebago, Venture RV, Helio RV, and East to West. So, if you are interested in these names, they have the best inventory and range of trailers under these names.
They also have trailer and RV parts and accessories available, backed by really good technicians to help you with installations and repairs should you need them. Their technicians are licensed and registered Technical Standards and Safety Authority (TSSA) contractors.
They also offer used units when available, but they have limited options for this. Given that they come at lower prices, you can expect that these deals are fast-moving.
Nevertheless, buying a unit for them is pretty smooth and the after-sales experience is amazing too. They even provide a training session and assistance to educate you about the utilities available in your trailer or RV and some driving tips so you can ride safely and optimize how you use it.
Because of this, they have gained loyal customers that return to them, either to get another unit or to avail of their other services when needed.
If you are a first-time buyer, you can learn everything you need when it comes to owning your very own travel trailers.
Fair and competitive rates
Good range of travel trailers
Standard retail prices are available on their website
Prices are open to negotiations
Also offers parts and services
With licensed and TSSA-registered technicians
Offers a training session for customers who have made a purchase
Limited brands of trailers available
Do not offer utility trailers
Closed on Sundays
Customer Reviews
Top notch all the way
From the point when we visited the showroom to purchase the camper trailer we bought, right to the training session and assistance to drive away with the unit, Vos was top notch and all class. Steve was friendly, welcoming and informative during the sales process. He was also always responsive to calls and inquiries. On the morning we collected the camper trailer, Chuck spent a tremendous amount of time to instruct us on the camper features, the maintenance requirements and to very patiently answer any and all questions we had. He was friendly and extremely helpful. Want a camper trailer? Go to Vos. – Ken McConnell
High-comfort level deal
Steve Fortier was extremely helpful in our purchase of our new trailer. No pressure sales, friendly, knowledgeable, and extremely wonderful to work with. Their staff was also amazing in answering any questions and helping out with our new purchase. Delivery and setup went perfectly and my wife and I were beyond satisfied. High comfort level dealing with VOS, and I would recommend and refer VOS to anyone looking to buy a trailer!! – Brent Post
4. Primo RV Centre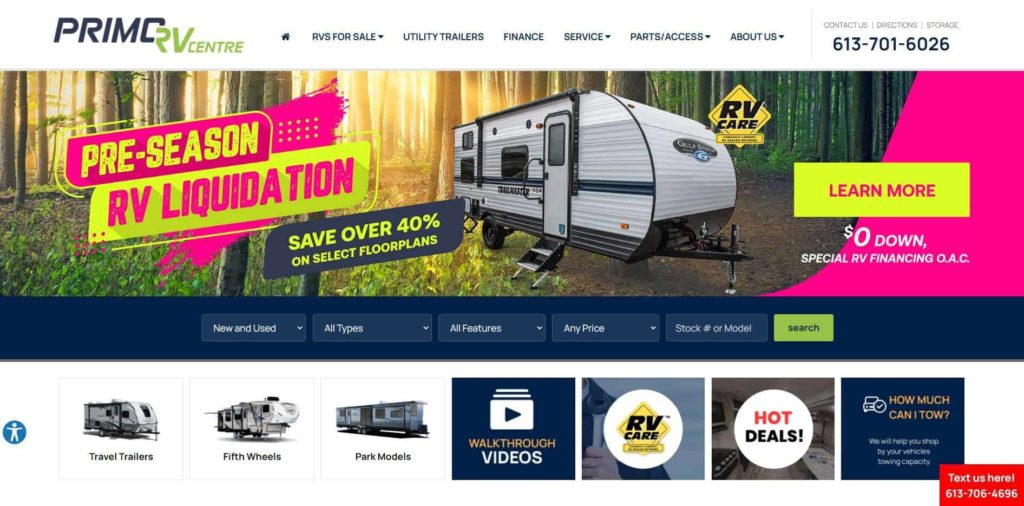 Test
Info
AVAILABLE TRAILERS
Travel trailers, motorhomes, utility trailers, and used RVs
WEBSITE
https://www.primorvcentre.ca/
ADDRESS
995 Moodie Dr. South Ottawa
CONTACT DETAILS
Sales: (613) 701-6026

Service: (613) 701-6026

OPERATING HOURS

Sales:

Monday to Friday: 9 am to 5 pm

Saturday: 9 am to 4 pm

Closed on Sundays




Service:

Monday to Friday: 8 am to 5 pm

Closed on weekends
| | |
| --- | --- |
| Quality of offered trailers | ★★★★★ (5/5) |
| Variety of trailer options | ★★★★☆ (4/5) |
| Competitive pricing | ★★★★★ (5/5) |
| Customer service | ★★★★☆ (4/5) |
| • Responsiveness to inquiries | ★★★★★ (5/5) |
| • Staff knowledge and expertise | ★★★★☆ (4/5) |
| • Customer assistance | ★★★★★ (5/5) |
| • Purchasing convenience | ★★★★☆ (4/5) |
Focused on providing quality trailers and RVs for leisure, Primo RV Centre is one of the best ones out there. They have an A+ rating with the Better Business Bureau (BBB), which shows how proactive they are when it comes to addressing customer issues and overall customer satisfaction.
They have been a trusted dealership of travel trailers and RVs in Ottawa since 1992.
Their catalogue of trailers and RVs is curated with only great brands. However, this also means the brands they offer can be quite limited.
Nevertheless, each brand comes with a wide range of trailer and RV varieties to choose from. Plus, this may also mean that you are guaranteed to pick only the best that is out there in the market.
They also offer used vehicles when possible, but this can be a rare instance. We think they really are geared more toward providing up-to-date models based on their catalogue.
They also offer convenient means to pay like applying for credit or offering good discounts, especially for large-volume dealers.
What's great about Primo RV Centre is that they don't only offer just travel trailers or just utility trailers but actually have both in their inventory.
They offer various trailers, but if something interests you that is not available right away, they'll assist and request it for you directly from the manufacturer. Your trailers will most likely be delivered in a punctual manner, just as agreed upon.
Plus, they also offer other kinds of trailer-related services—not just parts and service repairs but also storage.
You can actually have them keep your RV or trailer in their indoor garage facilities when your units are not in use. That's pretty much very convenient if you do not have the right space to park them at your home and even a greater idea during winter.
As for their customer service, you'll see for yourself how knowledgeable and well-trained their staff is. They make sure to provide training to keep their skills and know-how up to date with the changing technologies in the RV industry.
How they assist their customers is also spot-on from your first phone call, and they give you detailed instructions on how to use your unit so you can enjoy all the features it has. However, service repairs are only available on weekdays, so if you need technical help, it's best to make an appointment first.
These offerings and services make them a true one-stop shop when it comes to trailers and everything else in between.
Has an A+ rating with the BBB
Well-curated catalogue of trailers and RVs
Offers both travel and utility trailers
Travel trailers and RV rates are available on their website
Informative and well-trained staff
Also offers parts, repairs, and installation services
Also offers trailer and RV storage services
No price matrix for utility trailers
Only offers select brands of trailers and RVs
Closed on Sundays
Customer Reviews
Extremely happy with everything
Awesome experience buying our first travel trailer. Our salesman, Michel, a seasoned RVer, gave us an excellent briefing on everything about our trailer. Lots of 'how to' information. When we came to pick up the trailer, we got a second in depth briefing by James, one of the mechanics about everything the trailer had and how to use, maintain, winterize and de-winterize the systems. We were extremely happy with the entire process and left the dealership with confidence in our ability to RV. Thank you both for the attention you gave us. – Paul O'Connor
Best buying experience
My husband and I bought our Northern Spirit couples RV in April 2021. I can honestly say the buying experience at Primo is second to none. From our initial contact with Michel, his service was impeccable. He was very professional and friendly and provided us with a no-pressure sales experience. His coworker Dave (I hope we have his name right) also provided exceptional service when Michel was not available to answer our questions – and we had many. When it came time to pick up our Northern Spirit, which Michel worked extra hard to have it ready for our first camping trip that we had already planned, we were greeted by a gentleman from the service department, whose name escapes me. He spent almost two hours in the extreme heat showing us every function, giving advice, explaining the mechanics. There were a few items that required service at the end of the season which were promptly repaired prior to storage. We literally took almost three years to find and purchase the perfect RV for our lifestyle. Although we decided the Northern Spirit would be our first and only RV, we are already thinking of upgrading as we approach retirement. If and when we do, Primo will definitely be our go-to. We are lifetime customers for sure. Thank you!! – Paddle Partners
5. Open Roads RV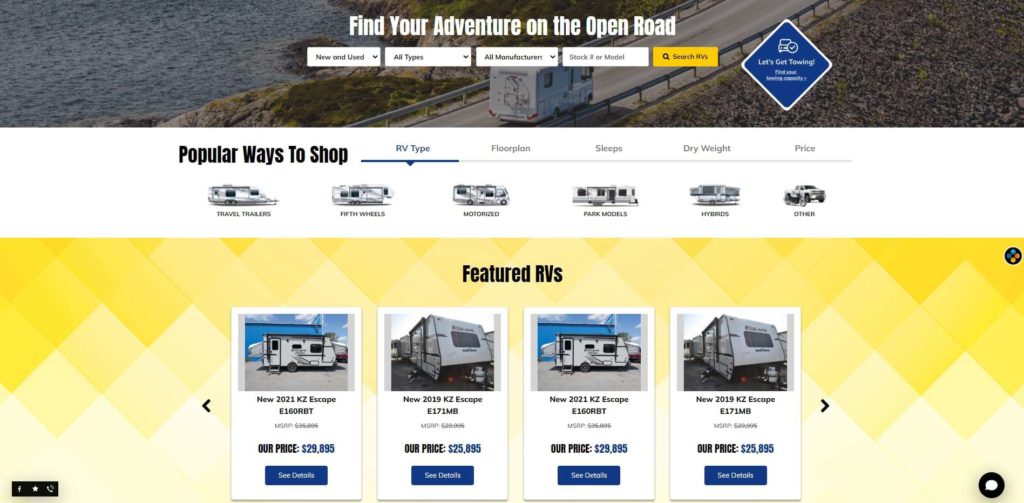 Test
Info
AVAILABLE TRAILERS
Travel trailers, motorhomes, and used trailers
WEBSITE
https://www.openroadsrv.ca/
ADDRESS
1174 Carp Rd, Stittsville
CONTACT DETAILS
(613) 836-6662
OPERATING HOURS
Monday to Friday: 8 am to 4:30 pm

Closed on weekends
| | |
| --- | --- |
| Quality of offered trailers | ★★★★★ (5/5) |
| Variety of trailer options | ★★★★★ (5/5) |
| Competitive pricing | ★★★★☆ (4/5) |
| Customer service | ★★★★☆ (4/5) |
| • Responsiveness to inquiries | ★★★★★ (5/5) |
| • Staff knowledge and expertise | ★★★★☆ (4/5) |
| • Customer assistance | ★★★★★ (5/5) |
| • Purchasing convenience | ★★★★☆ (4/5) |
Carrying a great selection of the biggest brands in trailers, RVs and parts, Open Roads is another great local dealer to buy a trailer from in Stittsville.
They have a really extensive selection of premium trailers and probably one of the biggest inventories we've seen in Ottawa. However, given that they carry several premium brands, you can expect to find some quite expensive units as well.
The good news is that they usually offer below the manufacturer's suggested retail price so you can save a little more. You can see their trailer rates in their online catalogue for reference.
Plus, they also offer flexible terms of payment, so it's something you can consider if you want a high-end type of trailer but have a limited budget for it.
They also offer pre-owned trailers, but they only have very limited ones available most of the time.
You may also consider their travel trailer rentals if you just need something for a one-time trip. They also give discount rates that you can use on the Happy Green Acres Campground in Mallorytown.
Aside from that, they also have RV and trailer parts available plus installation and repair services for any trailer-related technical and mechanical issues you may have.
The customer service is great, but we suggest really asking questions for anything you think you need to know, especially when it comes to operating the functions that come along with your trailer. We're sure they'd be very much willing to help you out.
Nevertheless, responsiveness is actually great if you have inquiries via phone and emails, so that's a plus.
If you are looking for good-quality trailers that have reputable brand manufacturers, Open Roads RV is definitely one dealer that you should check out.
Carry reputable manufacturer brands
Practical financing options
Also offer travel trailer rentals and camping ground
Parts, repairs, and installation services are also available
Responsive customer service
Some units may be quite expensive
No option for utility trailers
Customer Reviews
Invaluable service
All too often, when a sale is inked, personalized service ends. That's not the case with OpenRoads RV. Jason not only helped guide us through the purchase of our first RV, but was incredibly patient and helped us learn how to operate it (including far too many questions and post-sale calls when we encountered challenges due to our inexperience). When the time came to trade our large RV for a more portable one, Jason once again was invaluable in helping us make the right selection … and took the extra time to help us get it set up and learn the ins and outs of the new rig. Can't recommend Jason highly enough. – Jennifer Lavoie
Impressive inventory
Open Roads RV has fantastic, friendly and transparent customer service. After having visited a few other local RV centres, we decided that we preferred to give these lovely people our business. Their inventory was very impressive and we found a great fit for our family at a reasonable price. I would buy from them again any day. – Sarah
FAQs about Trailers for Sale in Ottawa
---
Owning your very own trailer can be a fun and worthwhile investment, whatever you may need and want it for. It gives you the freedom to move things around, whenever and wherever you need to.
We hope you were able to check out the dealers we recommended on this list so that you can finally get the trailer you want and need.
However, owning a trailer is not for everyone. If you need to move homes or other cargo for one-time or occasional purposes only, you may also check out our list of the best movers in Ottawa for your reference!