Top 6 Team-Building Activities in Ottawa
If you're reading this, you're probably at a loss about what activity your work teammates will enjoy. You want it to be engaging and outside the office but also feasible and affordable, right?
We've rounded up the top team-building activities in Ottawa that will satisfy such requirements. And yes, we've also picked the companies that will facilitate them for you.
How much do team-building activities cost in Ottawa?
The cost of team-building activities in Ottawa varies widely depending on the type and number of people participating. Rates can go as low as $15 and shoot up to $65 per person.
If you add the cost of food, drinks, and transportation, $100 should be about the maximum estimated budget for each person.
Here is a list of fees for team-building activities in Ottawa to give you a rough idea:
Service Provider/Facilitator
Booking/Admission Fee (Per Person)
BATL
Premium tournament style: $40 - $44
Archery Games
Open game: $25

Private game: $25 - $27

Escape Manor
Escape room: $29
Commando
Paintball: $39.99 - $63.99

Low impact paintball: $34.99 - $61.99

Mini Golf Gardens
Group rate for adults: $15

Group rate for kids: $12
Top Team-Building Activities in Ottawa
The city is home to many companies offering fun and games for teams. We've picked those that garnered impressive ratings using the following criteria:
1. Unlocked Ottawa
SERVICES
Team building Activities
WEBSITE
https://unlockedottawa.com/
ADDRESS
329 March Rd Unit 202, Kanata, ON K2K 2E1, Canada
CONTACT DETAILS
613-509-1322
[email protected]
OPERATING HOURS
Monday – Wednesday, By appointment only
Thursday – Friday, 4:00 PM – 9 PM
Saturday – Sunday, 10:00 AM – 6 PM
| | |
| --- | --- |
| Criteria | Ratings |
| Engagement level | ★★★★★ (5/5) |
| Affordability | ★★★★☆ (4/5) |
| Quality of location | ★★★★☆ (4/5) |
| Accessibility | ★★★★★ (5/5) |
| Capacity | ★★★★★ (5/5) |
| Privacy | ★★★★☆ (4/5) |
| Customer service | ★★★★★ (5/5) |
| Staff helpfulness | ★★★★★ (5/5) |
| Efficiency | ★★★★★ (5/5) |
| Bonus comforts | ★★★★★ (5/5) |
Unlocked Ottawa presents us with an exciting team building activity that fuels teamwork, logical thinking, and all your smarts to solve. With 5 rooms available each having 3 levels of difficulty, you and your team will have the experience of exploring the room, opening locks, solving a mystery, and escaping before your time is up!
The escape rooms are created with families in mind but are perfectly tailored for corporate events as well. The levels of difficulty are also customizable from kid's mode to expert mode. They are perfect for birthday parties, youth groups, and corporate events.
Room type and availability depend on the time. You can check on their website which room type and its availability. Furthermore, you can seamlessly book an appointment on the same page. All the bookings are private thus, the group you book with will be the only group in the room.
With everything they have to offer, we truly think that Unlocked Ottawa is one of the most exciting escape rooms in Ottawa. They have challenging puzzles that can spark the mind of youngsters while also encouraging teamwork and creative thinking.
Ages 7 and under are free
Varying levels of difficulty
Non-threatening escape rooms (No jumpscares)
Competitive rates
Party room can be loud in the lobby
Escape rooms can be too difficult for kids under 7
Customer Reviews
Will definitely be coming back
"The staff were friendly and the escape room was a ton of fun. The shipwrecked room had very creative and interactive puzzles. The family difficulty was perfect for the two of us. Will definitely be coming back to try out the other rooms" – Warren Johnson
Well organized
"Our escape room was well organized and our group of five adults had a great time. The expert level puzzles were very, very hard and we didn't complete any of them. We'll definitely go back to Unlocked again." – Jodi Wyman
2. Axe Throwing at Backyard Axe Throwing League (BATL)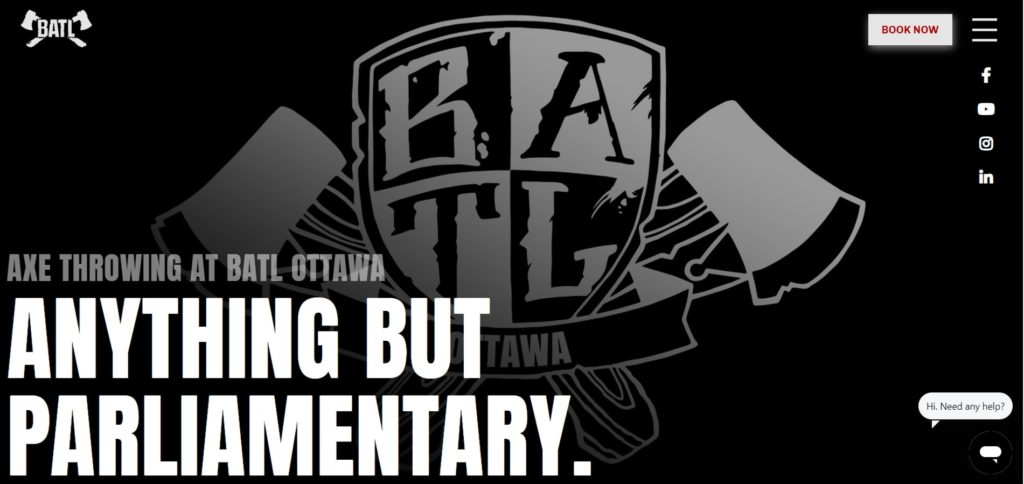 Test
Info
ACTIVITIES / SERVICES
- Axe throwing for groups

- Axe throwing leagues

- Food and drinks

WEBSITE
https://batlgrounds.com/axe-throwing-ottawa/
ADDRESS
2615 Lancaster Rd., Unit 29, Ottawa, ON K1B 5N2
CONTACT DETAILS
(613) 686-6642
OPERATING HOURS

Same day and walk-ins

Monday to Friday: 5:00 PM - 10:00 PM

Saturday: 12:00 PM - 11:00 PM

Sunday: 12:00 PM - 8:00 PM




Booked events

Monday to Saturday: 12:00 PM - 10:00 PM

Sunday: 12:00 PM - 8:00 PM
| | |
| --- | --- |
| Criteria | Ratings |
| Engagement level | ★★★★★ (5/5) |
| Affordability | ★★★☆☆ (3.5/5) |
| Quality of location | ★★★★☆ (4.7/5) |
| Accessibility | ★★★★★ (5/5) |
| Capacity | ★★★★★ (5/5) |
| Privacy | ★★★★☆ (4/5) |
| Customer service | ★★★★★ (5/5) |
| Staff helpfulness | ★★★★★ (5/5) |
| Efficiency | ★★★★★ (5/5) |
| Bonus comforts | ★★★★★ (5/5) |
If your team is not on board with the usual in-office group games, how about you try something unexpected, like throwing axes in the air? Not towards you, of course, but to wood targets.
Tell your members who their teammates are, set a prize for the highest scorers, and witness your workmates throw axes like it's medieval times.
The activity is a must-try, as it will encourage them to work together while also allowing stress relief. Seriously, throwing axes is a great way to blow off steam!
Aside from relieving stress, this game will allow your members to know each other more. Better yet, established bonds will help boost camaraderie.
Fortunately, facilities for the unique recreational game have sprouted like mushrooms in Ottawa. That said, we recommend giving Backyard Axe Throwing League (BATL) a try.
After all, BATL is the first company to popularize the activity in 2006. We see them as experts in the field and the most qualified to run you through the experience.
For teams, we recommend booking the premium tournament-style package. You get 1.5 hours of throwing time, a private space for your group, and a coach to teach you the basics.
Your activity will also have a clear direction thanks to the round-robin tournament structure.
We also love that BATL has a licensed bar in their facility. Your team can choose from a decent list of beer and wine plus pizza slices.
Better yet, you can opt to order food from local restaurants or bring your own.
Though, having this much fun comes at a high cost. The booking fee is quite expensive, not to mention that the payment for food and drinks is separate.
The throwing time might also be too short. If a team member ends up getting addicted to it, they might ask for a second round.
The good thing is that there are options for casual (and more affordable) throwing. Your team members can opt for those packages instead, at no expense to you.
We say all these minor downsides, but we still encourage you to bring your team to BATL. We believe the experience they offer can help rejuvenate your team.
Discounts for veterans and first responders
Beginner-friendly
Helpful and highly-skilled coaches
Clear code of conduct promoting diversity and inclusion
Allows walk-ins and same day booking
On the expensive side
Booking large groups can be a challenge due to the popularity of the place
Walk-in sessions can become too crowded
Customer Reviews
Reliable axe throwing coaches
"We did a group event last week and had an amazing time. Piers and Kristen were awesome! They were great coaching so that everyone was successful while throwing, and they were fun to have around. Great hosts! We will for sure do another night!" —Angie White, Google Reviews
Learned something new while having fun
"Our team spent an evening at BatlAxe and had a fantastic time. So much fun, a great time had by all and I actually learned how to throw an axe !! Our coach Jeremy was absolutely awesome. He was a lot of fun and gave me the confidence to put my all into the fun of the game. You guys rock " —Tracey McCullough, Google Reviews
3. Combat Archery at Archery Games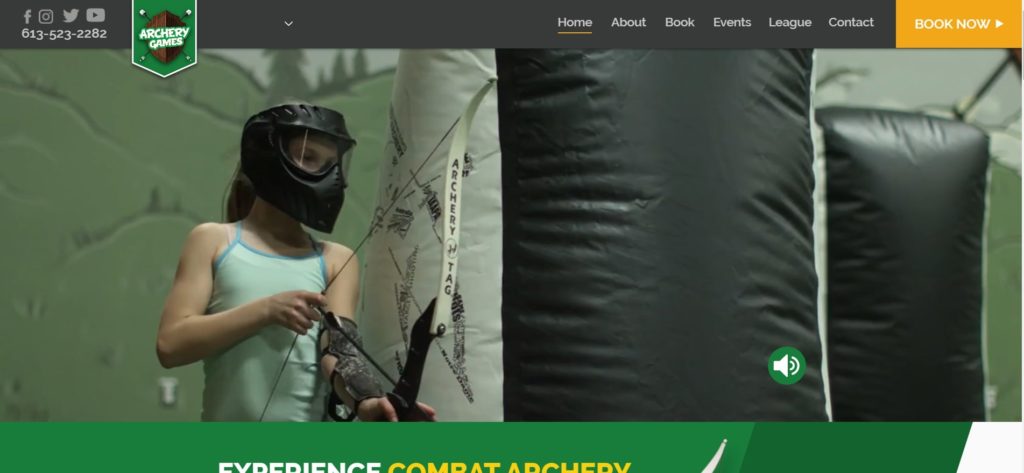 Test
Info
ACTIVITIES / SERVICES
- Corporate archery games

- Open games and leagues

- Private events (appointment required)

WEBSITE
https://www.archerygames.ca/
ADDRESS
1860 Bank Street, #3B, Ottawa, ON K17 7Z8
CONTACT DETAILS
(613) 523-2282
OPERATING HOURS
Monday to Tuesday: League only

Wednesday to Friday: 5:00 PM - 10:00 PM

Saturday to Sunday: 11:00 AM - 10:00 PM
| | |
| --- | --- |
| Criteria | Ratings |
| Engagement level | ★★★★★ (5/5) |
| Affordability | ★★★★☆ (4.5/5) |
| Quality of location | ★★★★★ (4.7/5) |
| Accessibility | ★★★★☆ (4/5) |
| Capacity | ★★★★★ (5/5) |
| Privacy | ★★★★★ (5/5) |
| Customer service | ★★★★★ (4.7/5) |
| Staff helpfulness | ★★★★★ (5/5) |
| Efficiency | ★★★★★ (5/5) |
| Bonus comforts | ★★★★☆ (4/5) |
If you think your team will have a blast hitting moving targets, combat archery is a must-try. This activity is similar to dodgeball but with bows and arrows.
No, you're not going to pierce other people as the "arrows" have harmless foam tips. But while its design is altered, the arrow will still shoot the way you like it.
Don't worry if you and your teammates have zero experience in archery. Archery Games will train you before the actual game, allowing you to acquire a new skill.
The game also screams team building. Trying to win means your members need to display adaptability, quick thinking, communication skills, and teamwork.
We recommend booking the arena for a private session. Archery Games have facilitators who will handle the games for you so your team can make the most out of the activity.
But know that private games will cost you more per person. Some of your team members might even find the payment for the 50-minute gameplay a bit expensive.
If you have qualms about the fee, know that you can get up to a $4 discount per person if you book a game for 13 to 20 players.
The masks and armguards might also be a miss for some players. You will find signs of wearing out or damage, natural for equipment that is used by different people.
Archery Games don't offer food and drinks directly, but you can order from their partner restaurant located in the same building. Just make sure that the restaurant is open on your scheduled game, or you'll have to eat somewhere else.
Nevertheless, we believe the experience Archery Games offers easily outweighs the high cost and minor equipment issues.
Unique team-building activity
No payment required upon booking
Beginner-friendly
Offer discount for large groups
Free parking
Equipment may not fit well with some players
Expensive for small groups
Customer Reviews
Fun activity that caters to all skill levels
"When we signed up to do this for our work party I thought we'd be shooting at targets. No, it's dodgeball with arrows. It was so much fun (quirky fun, mind you), that I signed up over the Christmas break to bring my family and friends. We had enough attending to book a set of 'games' to ourselves and had a blast. Exercise is best when you're having fun. This is a fun exercise and something 'different'. Our group had ages from 17 to 55, men, and women of all abilities. It was a lot of fun. " —bienenbub, Trip Advisor
Flawless customer service
"So much fun! Very organized and friendly staff. We had a kid with a small disability and they accommodated us and didn't even charge us for the kid!" —Susana Castellanos, Google Reviews
4. Solving Puzzles and Riddles at Escape Manor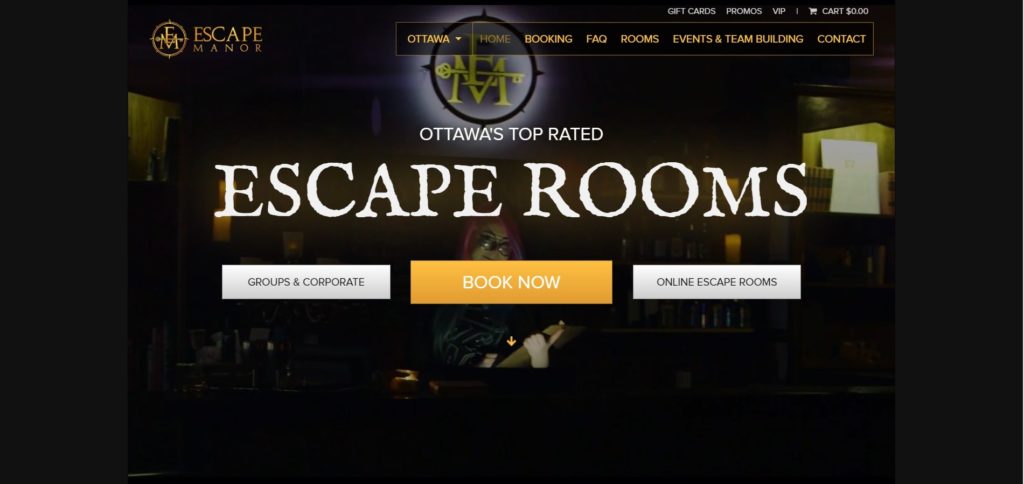 Test
Info
ACTIVITIES / SERVICES
- Escape rooms

- Team building packages

- Food and drinks

WEBSITE
https://www.escapemanor.com/ottawa
ADDRESS
201 Queen St., 4th Floor, Ottawa, ON K1P 5C9
CONTACT DETAILS
(613) 695-1655
OPERATING HOURS

Friday: 3:00 PM - 9:30 PM

Saturday: 2:00 PM - 9:45 PM

Sunday: 2:00 PM - 8:15 PM




*Days open and hours vary. Consider checking their booking page to know the exact schedules.
| | |
| --- | --- |
| Criteria | Ratings |
| Engagement level | ★★★★★ (5/5) |
| Affordability | ★★★★☆ (4/5) |
| Quality of location | ★★★★☆ (4.3/5) |
| Accessibility | ★★★★☆ (4/5) |
| Capacity | ★★★★☆ (4/5) |
| Privacy | ★★★★★ (5/5) |
| Customer service | ★★★★★ (4.7/5) |
| Staff helpfulness | ★★★★★ (5/5) |
| Efficiency | ★★★★★ (5/5) |
| Bonus comforts | ★★★★☆ (4/5) |
Is your team not keen on participating in physical activities? You can lock them up in an escape room instead.
Similar to more active games, attempting to break out of a locked room will boost camaraderie. After all, your team won't be able to escape unless they cooperate and communicate with one another.
Escape rooms also offer many opportunities for team assessment. Observing how each member did their role while inside the room will provide valuable insights into their group dynamics.
Among the many escape rooms in Ottawa, we had our eyes on Escape Manor for its interesting rooms and team-building packages.
The facility has four escape rooms: Cabin 13, The Asylum, The Darkness, and Beau's Brewery. All themes are intriguing for being dark and mysterious, bordering creepy (not that we're complaining).
Moreover, you can choose to book a team-bonding session as a treat for your members. Or schedule a special session where a coach will assess your team's escape room performance.
Escape Manor's downtown branch is also a convenient location for many businesses. If you're located in Ottawa, your team will most likely reach the facility without difficulties.
Each room is limited to six people per session. If you have a large team, you can simply book separate games.
You can also fill out a request form for bigger groups and special arrangements.
Know that each person will have to pay $29 for a 45-minute challenge. That's a bit expensive considering the allotted time.
Escape Manor is also strict with its schedules and will start the challenge on the dot. If you have members who are chronic latecomers, it might spoil the fun for the rest of the group.
Nevertheless, solving the puzzles and escaping the room will be a rewarding and enlightening experience for you and your team. But only if you can look past the few negatives.
With a licensed bar serving snacks and drinks
Accommodating and friendly staff
Located in the city and accessible by public transport
Efficient booking system
Might be too challenging for some team members
Not open daily
Customer Reviews
Fun activity for a small team
"I brought my 5 member team for a team-building outing this week. Our room was the asylum… wow, a lot of fun playing detective, and the hostess that explained the rules and set us up was awesome! Personally, it was my first time doing the escape room thing.. what a blast! loved it – highly recommend this as a fun activity with friends and colleagues." —Lucci Firlotte, Google Reviews
Worth trying multiple times
"We had 16 people go through three of their escape rooms. They had a professional and friendly staff directing the games. Most of us were newbies. It was an excellent challenge, though we failed to achieve our objectives. Afterward, everyone had rave reviews. I'm now looking forward to taking my family and trying our hand at another scenario." —Rock Beaulieu, Trip Advisor
5. Paintball Games at Commando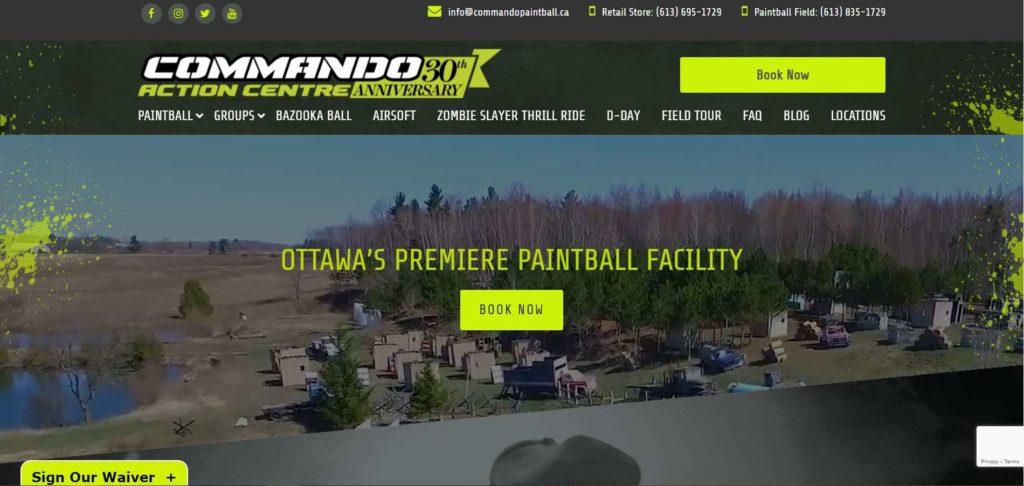 Test
Info
ACTIVITIES / SERVICES
- Paintball, low-impact paintball

- Private group paintball

- Bazooka ball

- Airsoft

WEBSITE
https://commandopaintball.ca/
ADDRESS
Playing field: 4565 Dunning Road, Navan, ON K4B 1J1
CONTACT DETAILS
(613) 835-1729
OPERATING HOURS
Open daily by reservation
| | |
| --- | --- |
| Criteria | Ratings |
| Engagement level | ★★★★★ (5/5) |
| Affordability | ★★★☆☆ (3/5) |
| Quality of location | ★★★★☆ (4.6/5) |
| Accessibility | ★★★★☆ (5/5) |
| Capacity | ★★★★★ (4/5) |
| Privacy | ★★★★☆ (4/5) |
| Customer service | ★★★★★ (5/5) |
| Staff helpfulness | ★★★★★ (5/5) |
| Efficiency | ★★★★☆ (5/5) |
| Bonus comforts | ★★★★☆ (5/5) |
If you're considering a "real" outdoor team-building activity, you can't go wrong with paintball. This activity is close to nature, enjoyable, and will help your members release pent-up aggression in a safe and acceptable way.
The game offers plenty of opportunities for bonding with team members. Moreover, it encourages strategic planning and cooperation.
The best thing is that it is ten times more fun than usual team-building activities.
For the best experience, we recommend bringing your team to Commando's paintball facility. Located in a town close to the capital, the center can be a great place to escape the city bustle.
Commando boasts of an expansive paintball park divided into ten zones. Depending on your team's preferences (and budget), gameplay can take place on a steep hill or among old trucks and barrels.
It's also advisable to book a private game rather than mingling with outside players. That said, you need a minimum of 20 players to secure a slot.
Know that Commando's packages are way pricier than our other picks. We only encourage you to carry on if you and your team are all on board with the expenses.
We are also warning you that paintball is a strenuous and rugged activity. Your team might sustain minor bruises or body sores the next day.
Comfort is not a priority of the facility, too. Prepare to be exposed to bug bites and sunburns.
While highly engaging, paintball is not for everybody. If a team member is not physically fit, you'll need to leave them behind or rethink your booking.
Then again, this facility is worth trying under favorable conditions. We encourage you to give it a go at least once in your lifetime!
Easy-to-use booking system
Friendly and accommodating staff
Multiple fields to try paintball skills on
Allows kids and dogs
Ample parking space
Pricey package fees
Can be too noisy due to overlapping events
Closed during winter season
Customer Reviews
Five stars for customer service
"We scheduled a private game for a group. It was so well organized and managed. It's a great facility with a lot of different fields. Matt was a fabulous referee!! Everyone in our group had so much fun." —Christine Callaghan, Google Reviews
Team-building activity that wows
"I went as part of a work event a couple of months ago and had a great time. The process of gearing up was simple and quick and the games were very fun. There are a few different areas with different themes set up and they're all well done. I'd recommend Commando for any type of group celebration or team building activity for sure." —Blair MacCallum, Google Reviews
6. Casual Golfing at Mini Golf Gardens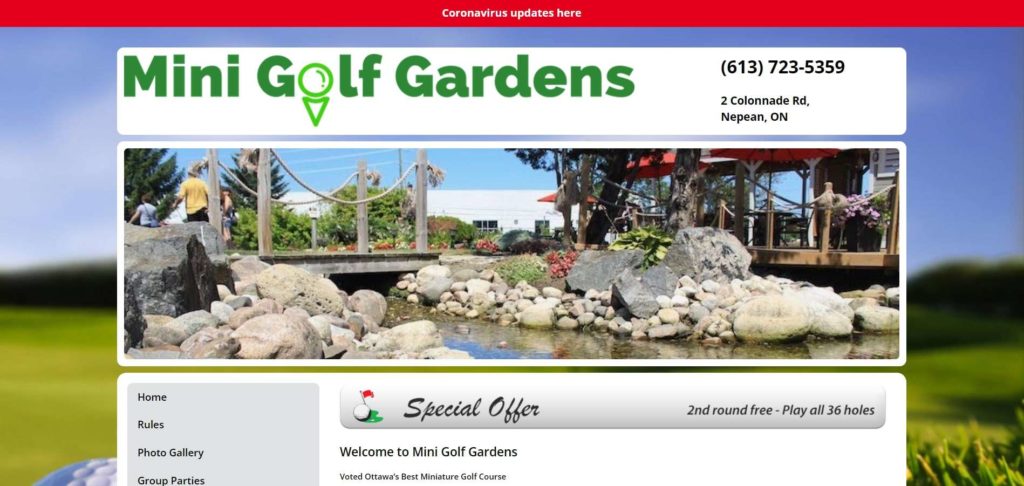 Test
Info
ACTIVITIES / SERVICES
- 18-hole mini-putt games

- Food and drinks

WEBSITE
https://www.minigolfgardens.com/
ADDRESS
2 Colonnade Rd., Nepean, ON K2E 7M6
CONTACT DETAILS
(613) 723-5359
OPERATING HOURS

Daily: 10:00 AM to midnight (usual hours)




*Hours vary depending on the season.
| | |
| --- | --- |
| Criteria | Ratings |
| Engagement level | ★★★★★ (5/5) |
| Affordability | ★★★★★ (5/5) |
| Quality of location | ★★★★☆ (4.3/5) |
| Accessibility | ★★★★★ (5/5) |
| Capacity | ★★★★★ (5/5) |
| Privacy | ★★★☆☆ (3/5) |
| Customer service | ★★★★★ (5/5) |
| Staff helpfulness | ★★★★★ (5/5) |
| Efficiency | ★★★★★ (5/5) |
| Bonus comforts | ★★★★★ (5/5) |
Team-building need not always be strenuous or mind-boggling. Sometimes, two rounds of mini-golf are enough to get your group rolling again.
Golfing as a team allows your members to have some quiet, fun time to recharge. The time spent is also perfect for them to know each other more.
Of course, an actual golf course is expensive. And that's why we love Mini Golf Gardens.
The facility is located not too far from the capital but remote enough so your team can escape the usual busyness of the city.
They have two 18-hole golf courses for your group to play with. Unfortunately, you can't have the course all for yourselves, as the center imposes a "first come, first play" rule.
And as the course is shared, you might cross paths with other players from other groups. Not so fun if you have territorial team members.
Fortunately, your team is allowed to play whenever you deem convenient (within the center's hours). And you get to play two rounds!
Moreover, you can enjoy reserved seating in the middle of manicured landscapes where you can eat and socialize.
We also love that the center is family-friendly, as it means that some team members can bring their kids along. Plus, the children are allowed to play (for a fee).
If your team can tolerate mingling with fellow mini-putt players from different groups, the experience in Mini Golf Gardens is sure to be worthwhile.
Offers on-site food, drinks, and ice cream
Beautiful, breathtaking views
Budget-friendly rates
Easy to access for people with special needs
Warm and accommodating staff
No private games
Beginners sharing the course can slow down more skilled players
Customer Reviews
Fun and affordable place
"I went here today for the first time for a team-building event and had a blast. I forgot how fun mini putt was! It's especially enjoyable with nice weather. There are 36 holes to play and I thought it was well laid out with interesting obstacles. The course appeared to be well maintained. I would recommend this as a fun and inexpensive activity for any occasion and for adults and children" —Rylan Hempell, Google Reviews
Staff will serve you well
"Awesome all the way! Kind, helping, and smiling staff! We came last year, this year again and this is just a perfect place to come with kids! 6 stars!" —Antoine Ouellon, Google Reviews
FAQs about Team-Building Activities in Ottawa
---
We believe that bonding through enjoyable and competitive games is a great way to strengthen your team. Fortunately, the city offers many opportunities for you to do that.
Volunteering is also another rewarding team-building activity. If you're considering trying it, here is a list of the best volunteer groups in Ottawa that you and your team can join.