The Best Places to Find Restaurant Equipment in Ottawa
Starting a new restaurant can be exciting. But the preparations you need to make can be daunting.
Planning is very crucial. Many new business owners struggle with knowing where to start.
Among the many things you need to plan for is getting the right equipment you need.
We're here to help! We listed the best shops where you can find the best deals for restaurant equipment in Ottawa.
How much does restaurant equipment cost in Ottawa?
To open your own restaurant, you might just need about $300,000 in all to cover commercial space rentals, renovations, furniture, equipment, food inventory, and staff.
Among these, your kitchen equipment will most likely be one of the biggest expenses you will have to make in owning a restaurant.

Depending on your restaurant's concept, size, and needs, you may need just about $40,000 to $200,000 just for equipment and kitchenware.
Below is a price estimate of the basic required kinds of equipment that you may need to keep your restaurant up and running.
| Type of Equipment | Price Range |
| --- | --- |
| Refrigerators and Freezers | $500 - $10,000 |
| Food Processors and Mixers | $20 - $1,000 |
| Ovens and Ranges | $1,500 - $2,000 |
| Dishwashers | $250 - $3,500 |
How to Find the Best Restaurant Equipment in Ottawa
There are many things you need to consider in finding the best equipment suited for your restaurant. Here's what we assessed while coming up with our list:
We hope knowing about these factors will help you decide which retailers and equipment can give you the best value for your money. After all, a good return on investment is not about how much you saved on initial purchases but how cost-efficient your equipment turns out in the long run.
1. Chef's Paradise (Paradis du Chef)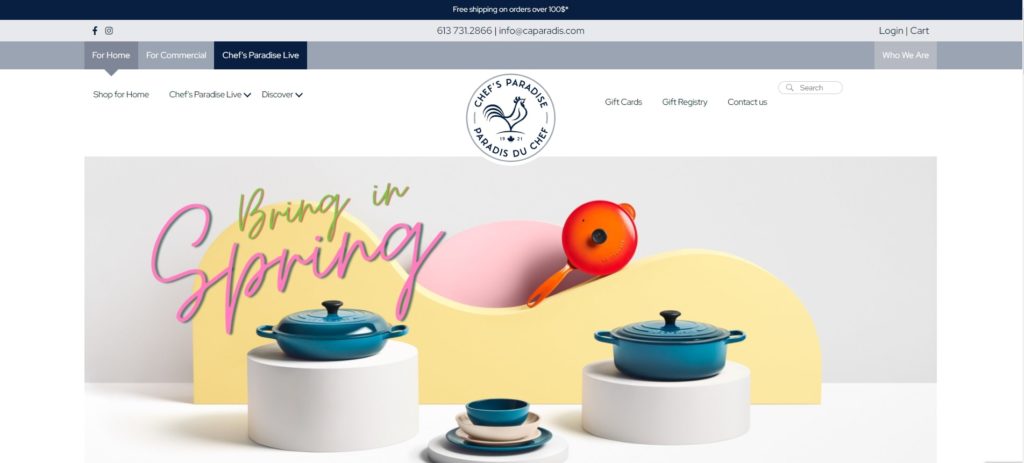 Test
Info
PRODUCTS
Recording, Mixing & Mastering of Vocals, Live Instruments, Sound Effects, Jingles, Ads, Home and commercial kitchen tools, appliances, tableware, restaurant equipment
OTHER SERVICES
Design services, project management, test kitchen, equipment demo
WEBSITE
https://chefsparadise.ca/
ADDRESS
1314 Bank St. Ottawa
CONTACT DETAILS
(613) 731-2866
OPERATING HOURS
Monday to Friday: 10 am to 6 pm

Saturday to Sunday: 10 am to 5 pm
| | |
| --- | --- |
| Price range | ★★★☆☆ (3/5) |
| Range of equipment | ★★★★★ (5/5) |
| Quality and warranty of items offered | ★★★★☆ (4/5) |
| Customer service | ★★★☆☆ (3/5) |
| Other services | ★★★★★ (5/5) |
True to its name, Chef's Paradise (Paradis du Chef) is a haven for chefs, cooks, restaurateurs and has been in the industry for over 100 years.
If you want to open a restaurant business but have no idea where to start, this place might just be your saving grace. With a range of services other than selling kitchenware and restaurant equipment, you might just find everything you need here.
Their physical location is separated into two divisions; one is for home items and the other for commercial offerings. You can shop and check out items depending on your immediate needs.
If you are in search of restaurant equipment, they have a showroom and can provide demos and tutorials. You can see for yourself what they offer and how their equipment works.
They also offer consultations, financing, and loans, so they can literally help you start your restaurant from scratch. They can also get involved in project management for your renovations and installations.
They really offer a wide range of services for restaurateurs, even including knife sharpening. Their hand-sharpening for Japanese knives is perfect for sushi chefs and restaurants.
Their in-house chefs also offer tutorials on techniques and recipes and even pantry recommendations on their website. You can really start everything from here.
However, some exceptional features always come with a price. Their items and equipment might be a little expensive.
It's good to know though that you can opt to lease or rent them out, or at least pay in installments to accommodate your budget.
They have tons of selections when it comes to product brands and services. However, they seem to have limited quantities of each unit available.
Several products tend to be out of stock in the store even when their website catalog shows they are available.
You might want to check it in the store yourself if you need the item immediately. Otherwise, they can probably have it delivered to you once they get it from their suppliers.
Their product warranties are not from the store but are based on the warranties offered by their corresponding brands. Always check your equipment's warranty before purchase.
Though their website and online services are often seamless, your experience with their in-store customer staff may not always be as pleasant. We recommend always being particular with your requests so they can help you out.
Overall, Chef's Paradise is a one-stop-shop that can provide you with everything you need for your restaurant if you are willing to make the investment.
Wide selection of brands and items
Flexible modes of payment
Equipment rental and leasing options
Offers project management services
Offers consultations and restaurant design services
Online catalog has accurate pricing
Separate divisions for home and commercial purchases
Free shipping of items over $100
Next-day delivery to areas in Ottawa
Some items can be overpriced/expensive
Website catalog may not always be updated in terms of stock availability
Limited stocks of items in-store
Deliveries outside Ottawa may take a few days
Items and services can be pricey
Customer Reviews
An institution in its own right
"This name of the store really says it all. This Ottawa store is basically an institution in its own right, carrying just about every piece of equipment, tool, or gadget you could need to host anything from a backyard summer grill party, to a 4 course white glove affair. Even with the COVID-19 restrictions, this store continues to serve everyone in a safe and efficient manner. Foodies and budding chefs be warned – you may never want to leave…." – Todd White
Service that goes out of their way
"We have dealt with C A Paradis for many years, from buying wine glasses to purchasing other kitchen equipment, some that have a motor! After the staff there very kindly 'lent' us a demo model of a Vitamix blender to see if we wanted to make the grand purchase, we ended up making the decision to 'go all out' and buy the top of the line! Not a small decision, but a great one. Within a week or so, we ended up with a 'dead' Vitamix, nothing to do with the quality of the machine – it just happened, and we will leave it there…! C A Paradis shipped it out for repair immediately, and supplied us with a loaner so that we didn't miss out on our daily concoctions. Long story short – they promptly provided us with a brand NEW Vitamix within a few days, no questions asked. That sort of service goes such a LONG way. We thank them every day as we blend, puree, chop and grind our way to health!" – Dale Dalgleish
2. Daily&Daily Food Equipment Sale – Service – Parts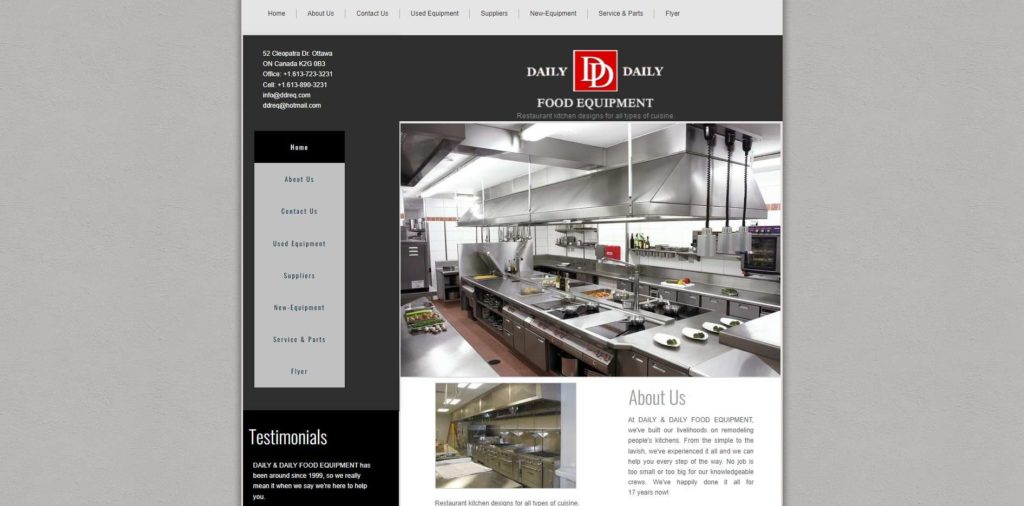 Test
Info
PRODUCTS
Recording, Mixing & Mastering of Vocals, Live Instruments, Sound Effects, Jingles, Ads, Brand new and used restaurant equipment, Chinaware, glassware, kitchen utensils
OTHER SERVICES
Equipment installation, kitchen remodeling, planned maintenance programs, equipment repairs
WEBSITE
http://www.ddreq.com/
ADDRESS
52 Cleopatra Dr. Ottawa
CONTACT DETAILS
Office: (613) 723-3231

Cell: (613) 890-3231

OPERATING HOURS
Monday to Friday: 9 am to 5 pm

Saturday: 10 am to 3 pm

Closed on Sundays
| | |
| --- | --- |
| Price range | ★★★★☆ (4/5) |
| Range of equipment | ★★★★☆ (4/5) |
| Quality and warranty of items offered | ★★★★☆ (4/5) |
| Customer service | ★★★★★ (5/5) |
| Other services | ★★★★★ (5/5) |
If you're starting a new restaurant with a tight budget, you might want to consider Daily & Daily Food Equipment Sales – Service – Parts.
Aside from brand new restaurant equipment, they also offer used and refurbished ones.
In a span of 17 years, they have built a loyal following and are continuously collecting new ones. This is because they show sincerity in their customer interactions, which makes them trustworthy suppliers.
They have all types of equipment for any type of food service you want to provide—restaurant, coffee bar, bakery, hotel and catering, and even kitchen equipment for nursing homes.
They are affiliated with several reputable brands. Not only do you get brand new equipment, but they can also help test and check refurbished ones with the help of their original manufacturers.
They have an experienced team of Technical Standards and Safety Authority (TSSA) Certified Technicians available round the clock for maintenance and repairs—even when you did not purchase the equipment from them.
They also offer a maintenance program that includes everything you need from pre-purchase until after-sales. This program entails equipment installation, emergency repairs, and parts replacements.
It's this kind of service that goes beyond just selling equipment that makes them well-loved. Even their lowest reviews are rated with four stars.
Their strengths lie in supplying restaurant equipment though. If you are only looking into buying smaller kitchen tools and appliances, you might find quite a limited number of selections for this.
If you're only in your initial stage of researching for a good place to buy equipment, we suggest personally visiting their store during business days. You might find their website a little lacking in details on the products they offer.
You will however be met with very helpful staff and owners, so the trip will be worth it.
Supplies both brand new and used equipment
Wide selection of every kitchen and restaurant equipment
Provides equipment installations
Does service repairs and parts
Offers planned maintenance programs
Offers other services like kitchen remodeling services and restaurant design services
More affordable prices compared to competitors
On-call TSSA-certified technicians 24/7 for emergency repairs
Also offers selections of Chinaware and glassware and kitchen utensils
Limited website details
Limited flatware and small kitchenware selections
Physical store is closed on Sundays
Customer Reviews
Daily & Daily came through for us
"We are a small business that is very dated and all of our equipment isn't doing well during this heat! We have called countless places to help us out to replace the old and dying appliances and Daily & Daily came through for us when no one else could or would during this lockdown.
We have found our new supplier for sure! Very competitively priced, both new and refurbished equipment, something for any of your restaurant needs! We will be back!" – Laila D
Honesty and respect go a long way
"I called them for service on my dough machine, they asked all the questions that needed to be asked, said give us a few minutes and we will call you right back. What they did was call the manufacture where the machine was made to verify if the unit is still under warranty and called me back and said Mike we got great news for, your machine is still under manufacture warranty and the service call and repair will be done at no cost to you. I didn't buy the machine from Daily & Daily but from another company that, told me the warranty was up. I will not mention the name of the company out of respect cause the owner of Daily & Daily, said that everyone makes mistakes and doesn't want me to put the name of the company if I was going to do a google review on his page. Honesty and respect go's along way. I highly recommend them for anything you need for restaurant equipment & repair, small place but they have everything you need.
Thanks again guys, keep up the great work." – Mike Laddy
3. M C L Hospitality Ltd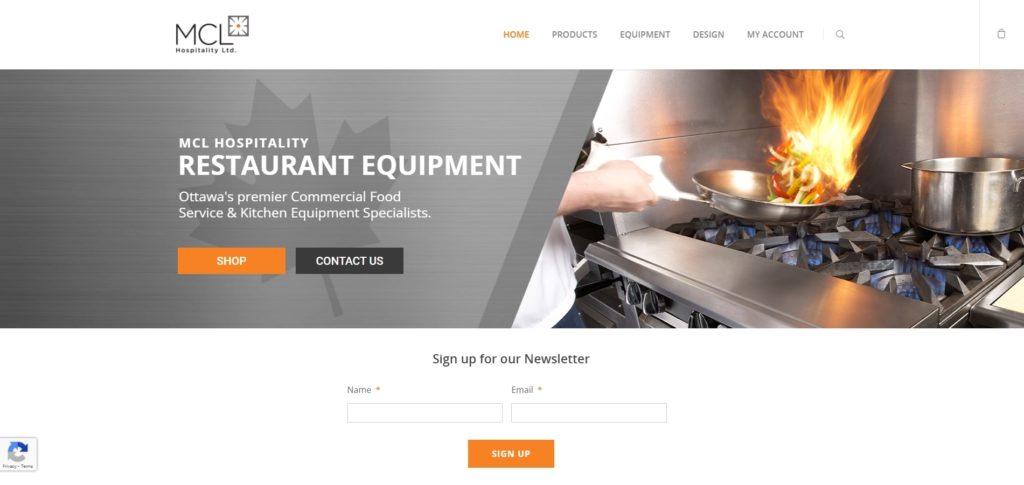 Test
Info
PRODUCTS
Brand new restaurant and hotel equipment, reconditioned kitchen equipment, smallware supplies, furniture and millwork, service apparel, cleaning supplies
OTHER SERVICES
Commercial restaurant design, dishwasher rental program
WEBSITE
https://www.mclhospitality.com/
ADDRESS
1120 Morrison Dr, Ottawa
CONTACT DETAILS
Phone: (613) 820-0139

Toll-Free: 1-888-598-8862

Fax: 613-820-7543

OPERATING HOURS
Monday to Friday: 8 am to 5 pm

Closed on weekends
| | |
| --- | --- |
| Price range | ★★★★☆ (4/5) |
| Range of equipment | ★★★★★ (5/5) |
| Quality and warranty of items offered | ★★★★☆ (4/5) |
| Customer service | ★★★☆☆ (3/5) |
| Other services | ★★★★☆ (4/5) |
If you are starting up or need affordable means to upgrade your equipment, M C L Hospitality limited is another option with decent rates.
They're also a good one-stop-shop for everything your restaurant may need. From huge equipment like refrigerators to patio decors, down to the smallest tablewares, they have it.
They even manufacture their own cleaning products.
However, not all items may be stocked in their warehouse. Instead, they can have the manufacturer deliver it to you directly.
Otherwise, they will only be able to ship the items or equipment out to you when they get their next batch of stock. If you are in a rush, make sure to always ask if what you need is in stock to avoid delays.
Most of their product inventory online consists of brand new items. But they do also offer reconditioned equipment.
However, this comes only on a "first come, first served" basis. You can view their limited selection of refurbished equipment at their showroom.
Take note too that their selection of reconditioned equipment sells very fast. So if you want to consider buying old equipment, you need to come prepared to buy on the spot.
They do offer amicable payment options such as a net/27 accounts wherein the full amount of payment will be due in 27 days for customers on approved credit. They even accept business checks.
Interestingly, they also offer dishwasher rentals. This could be an ideal option if you are still not set on investing in dishwasher equipment.
They seem to have good management, and their systems and protocols are set in place. Unfortunately, every now and then, you might spot a grumpy or unattentive staff in-store.
Take heart though because you can find affordable deals here and a little tolerance won't hurt.
Overall, if you are someone who knows what you want and need for your restaurant and just how much you can spend, M C L Hospitality Ltd is worth considering as your supplier.
Affordable rates and payment options
Offers a wide range of items and equipment for any restaurant and hotel needs
Offers net/27 accounts for On-Approved-Credit (OAC) customers
Offers dishwasher rentals
Limited warehouse stock for select items
Limited reconditioned equipment
Inflexible customer assistance from some in-house staff
Closed on weekends
Customer Reviews
Affordable prices
"MCL is here to make customers find what they need, at the prices they can afford. Work hard to meet all the time frames and please all customers that walk through the doors. Strive to make everyone feel welcome and help them find what they are looking for, take the time every customer needs to do just that." – Drea
Helpful beyond measure
"BRAND NEW sterilizing Stero under the counter dishwasher for our small Peace-Garden operation in the Byward market.
Helpful, beyond measure.
The safety for our dear customers of this reliable machine is spectacular.
Impressively fast.
Impressively clean.
Impressively thorough.
Meticulous.
We have been in business since 1992. Received this Friday, March 13. Installed Sunday, March 15. Closed our doors Monday, March 16.
Having been closed since then for several months, in preparation of reopening, we just witnessed how confident we are, this in place, with all the measures it offers.
What would have taken hours by hand, and, not as reliable, took only moments." – Devakripa Cohen
4. Jordash Co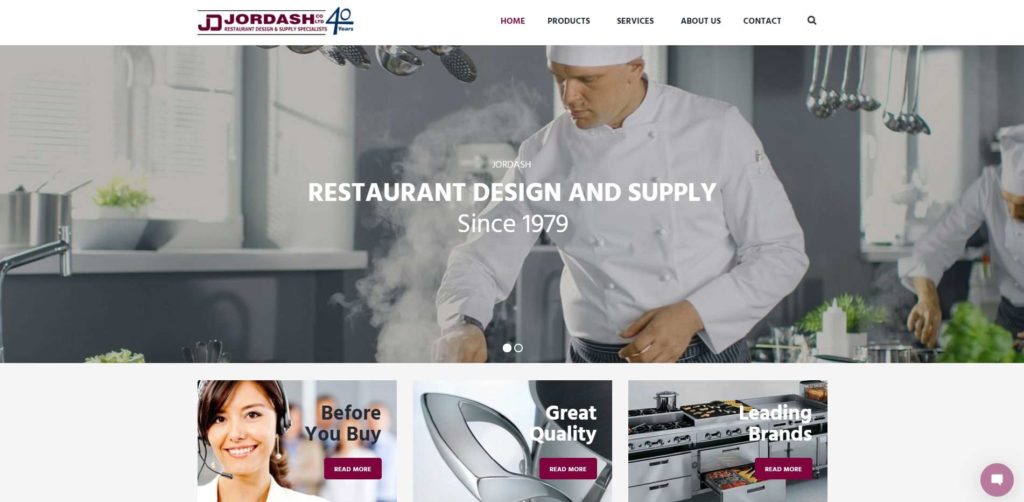 Test
Info
PRODUCTS
Restaurant equipment, furniture, kitchen appliances, smallware, sinks, worktables, tabletops
OTHER SERVICES
Restaurant and kitchen design, construction/renovation project management
WEBSITE
https://jordash.com/
ADDRESS
1220 Old Innes Rd, Ottawa
CONTACT DETAILS
(613) 733-0555
OPERATING HOURS
Monday to Friday: 8 am to 5 pm

Saturday: 9 am to 1 pm

Closed on Sundays
| | |
| --- | --- |
| Price range | ★★★★☆ (4/5) |
| Range of equipment | ★★★★☆ (4/5) |
| Quality and warranty of items offered | ★★★★☆ (4/5) |
| Customer service | ★★★★☆ (4/5) |
| Other services | ★★★★☆ (4/5) |
Providing restaurant design and supplies since 1979, Jordash Co isn't just a supplier for most of their regulars. A lot of them have experienced assistance beyond what a regular supplier would provide.
If you want a supplier who's got your back, you might just want to check them out.
With the owners having extensive backgrounds in restaurant equipment and construction, they have helped several restaurateurs establish and run restaurants in and around Ottawa.
One of their unique features that sets them apart from competitors is their active promotion of ENERGY STAR® rated equipment by providing rebates when you purchase these items.
ENERGY STAR® is a program of the U.S. Environmental Protection Energy that promotes energy efficiency. This means you get energy-saving natural gas fryers, steam cookers, broilers, and dishwashers.
Moreover, their specialty mainly lies in kitchen and restaurant design. They will help provide you with a reasonable construction fit-out cost too.
When you acquire their design service, they will help you plan out your space to reinforce maximum workflow, equipment energy efficiency, health and sanitation protocols, and waste reduction.
They can help build your restaurant from its biggest requirements like walk-in freezers and coolers to the smallest tabletop details.
They also provide financial-friendly terms of payment, but you'll have to discuss that personally with them. They can customize a quotation according to what you need.
Their equipment items may seem pricey at first glance. But when you discuss with them an overall plan that you need for your restaurant, they can come up with a quote that can cut your costs in the long run.
The way their management and planning team goes out of their way to help you out will definitely make up for a couple of indifferent in-house sales staff, in case you encounter them!
You can visit their showroom where you can check out their new offerings. However, some of their items may have limited quantities.
Any item they offer can be delivered to you within the next two days if you are in Ottawa or nearby regions and they have it in stock.
Offers restaurant and kitchen design services
Promotes energy-efficient equipment
Reasonable construction costs
Negotiable terms of payment options
Hardworking and helpful management
Two-day delivery period within Ottawa and nearby areas
Limited quantity of some items in stock
Pricey for some brand new items
A few indifferent in-house staff
Closed on Sundays
Customer Reviews
Helped us through a bind
"Went to Jordash in a bind and Melissa came through in unimaginable ways. This girls took charge and got stuff done so fast km not sure if she slept at all for a week helping us out. Thanks to these guys we were able to get our restaurant open in a timely fashion after running in to problems with one of there competitors. Thank you guys for being so helpful." – Glen K.
Competent people
"Best experience ever. Opening a rehab in 1000 Islands working with competent people like Donna was a very good experience. I recommend this business to anyone starting a business that needs restaurant equipment. Thanks Donna for everything you do." – Chris Fagan Owner of Canadian Addiction rehab Toronto Ontario and 1000 Islands Addiction rehab Rockport Ontario
5. Canada CRS (Commercial Restaurant Solutions)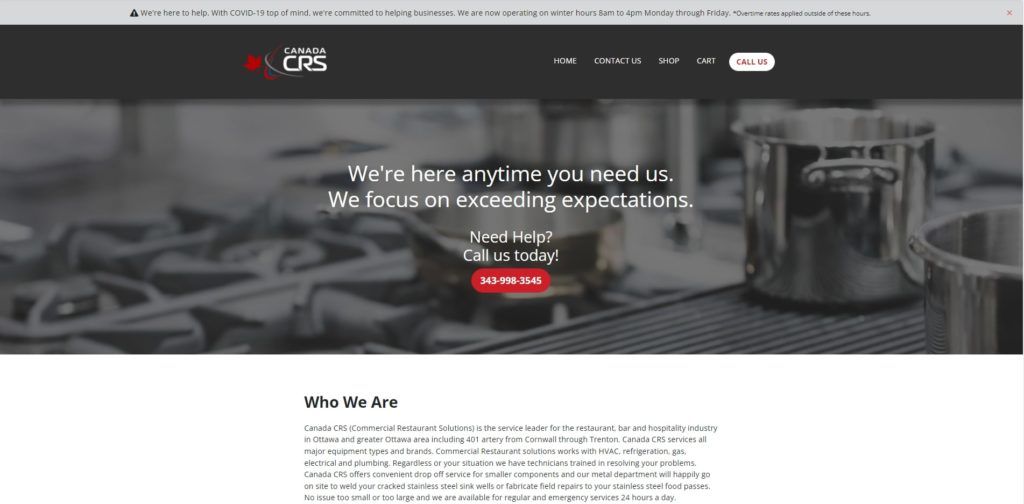 Test
Info
PRODUCTS
Restaurant equipment
OTHER SERVICES
Equipment and mechanical repairs, installations, electrical services
WEBSITE
https://www.canadacrs.com/
ADDRESS
1409 Triole St Unit A, Ottawa /

1516 Crimson Cres, Kingston

CONTACT DETAILS
(343) 998-3545
OPERATING HOURS
Monday to Friday: 8 am to 4 pm

Closed on weekends
| | |
| --- | --- |
| Price range | ★★★★☆ (4/5) |
| Range of equipment | ★★★☆☆ (3/5) |
| Quality and warranty of items offered | ★★★★☆ (4/5) |
| Customer service | ★★★★☆ (4/5) |
| Other services | ★★★★☆ (4/5) |
If you are looking for a shop of restaurant equipment that will have long-term benefits, you may consider Canada CRS.
Acquiring the service of their technicians for maintenance and repairs is a relief for a lot of restaurateurs.
Their strongest point compared to other equipment suppliers in Ottawa would be their flexibility and availability for maintenance and repairs.
You can get their services anytime on any day because they have technicians on call 24 hours a day. They can serve you on weekends or even in the wee hours of the day.
Their technicians are licensed and are reputed to provide the best service in Ottawa.
This kind of flexibility, accommodation, and quality of service have helped businesses, small and big, to push through their toughest challenges when it comes to equipment and technical issues. Thus, they have formed a steady relationship with their loyal customer base.
If you already have your equipment installed but need to keep them maintained, you might want to try out their equipment services.
However, if you are just starting up, you might find their selections of equipment limiting. Still, their inventory is worth checking out.
You can check the equipment they have available on their website or in their physical locations.
They have two branches, one in Ottawa and one in Kingston, so you can check out which one is nearest to your area.
Specializes in equipment maintenance and repair
24-hour emergency services
Has their own in-house team of technicians
Provides equipment installation services
Also offers electrical services
Has two store branches, one in Ottawa and one in Kingston
Limited equipment selections in-store
Limited payment options
Physical location closed on weekends
Customer Reviews
Stellar care for my business
"CRS is by far one of the most knowledgeable, hardworking and dedicated customer service companies in Ottawa. This company puts all the rest of you to shame. I hope this review will help many customers find this amazing group and for once feel confident that they will take care of all your commercial needs instead of all these other shady contractors and hustlers. So glad I got to know Lloyd and his solid group he has taken stellar care of my business for 6 years now. Bravo CRS keep up the amazing service for Ottawa! I hope the word of mouth with only lead more clientele to your amazing and committed company." – R. Chaar
Such a positive experience
"Lloyd and his team are so great! I've had such a positive experience when going to them for all our kitchen and maintenance needs! They are super accommodating schedule wise and also which I think is one of their greatest selling points is they've been able to help us with a couple of emergencies on the weekend which in my experience is hard to find! All in all I think you would be hard pressed to find a better maintenance service provider in the Ottawa area!" – Ray Gauthier
FAQs about Restaurant Equipment in Ottawa
---
Planning to open your own restaurant business? Make sure you're placing your investments in the right place! Secure your business with the top business insurance firms in Ottawa!