Best Reiki Services in Ottawa
Stress is a normal physical and psychological response to situations in life. However, too much stress can hurt one's health.
That's why many look for ways to help them manage things better. While some get by with quick spa visits, others seek help from reiki masters to release stress and relax.
To help you get your much-deserved relaxation, we have amassed the best reiki services in Ottawa in this list. But before we move on, let's first check how much a visit to a reiki master would cost.
How much do Reiki services cost in Ottawa?
On average, a reiki session for 1 hour would cost between $80-$100. But in major areas, rates can vary and you might need to pay as much as $150.
Regardless of the type of Reiki used, practitioners often charge based on 2 categories: in-person or remote. To give you an idea of how much they charge, a table is provided below.
Please take note that the prices can still vary depending on the location, time, and experience of the practitioner.
| Modes of Healing | Average Costs |
| --- | --- |
| In-person | $100 |
| Remote | $110 |
The Best Reiki Services in Ottawa
To get the best reiki services for this list, we used the following criteria in our selection process:
1. Reiki Wanderlust
| Test | Info |
| --- | --- |
| SERVICES | Holy Fire Reiki, Online Reiki with Theta Healing, In-Person Reiki With Crystal Healing, Reiki Training |
| WEBSITE | https://reikiwanderlust.com/ |
| ADDRESS | 55 Metropole Private, Ottawa, ON K1Z 1E7, Canada |
| CONTACT DETAILS | +1 613-697-3105 |
| OPERATING HOURS | Monday 9 AM - 5 PMThursday to Sunday 10 AM - 5 PM |
| | |
| --- | --- |
| Criteria | Ratings |
| Qualifications | ★★★★★ (5/5) |
| Experience | ★★★★★ (5/5) |
| Rates | ★★★★✩ (4/5) |
| General Feedback | ★★★★★ (5/5) |
Reiki Wanderlust is founded by Germaine De Peralta, who is both a Usui/Holy Fire® III Reiki Master Teacher and a Holy Fire® III Karuna Reiki® Master Teacher.
Germain specializes in Holy Fire® Reiki, which is an advanced and more powerful form of Reiki. She trained with the International Center for Reiki Training (ICRT) in the US and is a member of the Reiki Member Association and the Canadian Reiki Association.
Today, Reiki Wanderlust offers in-person sessions for $160 and distance healing for $140. One thing we like is that its 1.5-hour online sessions come with Theta Healing, which is a special process of meditation.
We also like its Crystal Healing session, which is believed to help promote the flow of good energy in your body. The only issue we see here is that interested clients must book 3 days ahead to avail of this service.
For those who might want to learn Reiki, Reiki Wanderlust also offers training. You may choose to take Levels 1 and 2 of Usui Holy Fire® III Reiki, where both levels are taught as one unit to produce more competent Reiki practitioners.
You may also opt for the Usui Holy Fire ® III Reiki Master Class or the Holy Fire® III Karuna Reiki® Master Teacher Certification Class. The best part is that schedules are flexible and payment plans are available.
Multiple offers
Specialises in Holy Fire® Reiki
With relevant certifications

Offers Reiki training
Limited operating days
3-day advanced booking required
Customer Reviews
Warm, compassionate, and effective
"Germaine is an amazing Reiki healer and intuitive counsellor. She helped me manage burnout and overwhelm over some time and I am so happy to have found her. I would highly recommend Germaine as a healer. She is warm, compassionate and effective." — Michelle Thomas, Google Reviews
A beautiful experience
"I did Reiki Level I & II training with Germaine. It was a beautiful experience. A perfect balance between content and practice. Germaine is encouraging and supportive with her students, and has a lovely soul which kept the training sessions fun, at ease and in-tune. I look forward to practicing and working with Germaine again." — Tara Mazurk, Google Reviews
2. Wolf Healing Ottawa
Test
Info
SERVICES
Reiki, Chakra Balancing, Energy Healing, Allergy Therapy
WEBSITE
https://wolfhealingottawa.ca/
ADDRESS
355 Waverley St, Ottawa, ON K2P 0W4, Canada
CONTACT DETAILS
+1 613-230-0998
OPERATING HOURS
Monday 12 PM - 7 PM

Tuesday 1 PM - 7 PM

Wednesday 12 PM - 7 PM

Friday 10 AM - 5 PM

Saturday 9 AM - 2 PM
| | |
| --- | --- |
| Criteria | Ratings |
| Qualifications | ★★★★✩ (4/5) |
| Experience | ★★★★★ (5/5) |
| Rates | ★★★★★ (5/5) |
| General Feedback | ★★★★★ (5/5) |
In Wolf Healing Ottawa, you will find Sue Taylor. She has finished Holistic Massage and a NAET Allergy Therapy course back in 2004.
Sue Taylor's energy healing began in 2010 through a Shamanic healer and an Eastern Tantra teacher. She also had training with Adele Stratton of the Phoenix Rising Healing Centre and Kathy Glover Scott from Reiki Ottawa.
Wolf Healing Ottawa offers Reiki sessions that use a holistic healing technique with light touch and energy. Each session lasts for 60 minutes for $131, which already includes HST.
Unfortunately, there are currently no available online options for Reiki sessions.
We like that Wolf Healing Ottawa provides a free discovery session, which can be done either by phone or in person. We think that this helps both you and Sue explore options that would work best for your needs.
We must also commend Wolf Healing Ottawa for its cancellation policy. Although full charges apply for cancelled appointments beyond the 48-hour notice, Sue waives cancellation fees for unexpected events like when one gets sick.
Wolf Healing Ottawa also offers Chakra Balancing, which can help rebalance the energy in your body. Its Energy Healing service, which promotes the flow of energy, is another you might want to try.
If you have certain allergies, the Natural Allergy Testing and Treatment might just work for you.
Multiple services offered
Competitive rate
Free discovery session

Natural allergy testing and treatment
No online sessions available
Limited operating days
Customer Reviews
Energy is lovely
"Sue Taylor is a beautiful and gifted healer. She helped me work through a food intolerance, and also cleared and healed what wasn't serving me. I felt fully supported throughout our sessions. Thank you so much Sue! Your energy is lovely." — Nicole Latendresse, Google Reviews
Excellent experience
"Always feel so upbeat and relaxed after seeing Sue for Reike, and I need that! Excellent experience, and something I will continue to pursue. Thank you, Sue." — Christine Gardner, Google Reviews
3. Healing Source Reiki
Test
Info
SERVICES
Reiki Treatment
WEBSITE
http://healingsourcereiki.com/
ADDRESS
285 Nepean St, Ottawa, ON K1R 1B4, Canada
CONTACT DETAILS
+1 613-292-6708
OPERATING HOURS
Tuesdays and Thursdays

By Appointment Only
| | |
| --- | --- |
| Criteria | Ratings |
| Qualifications | ★★★★✩ (4/5) |
| Experience | ★★★★✩ (4/5) |
| Rates | ★★★★★ (5/5) |
| General Feedback | ★★★★★ (5/5) |
Healing Source Reiki has Tania as its Reiki practitioner. She finished her teacher's degree in Komyo Reiki Kai with a Buddhist monk from Japan.
It is also worth mentioning that Tania has a certification from the Canadian Reiki Association. She then practised in various wellness centres and once volunteered at a women's shelter for several years.
Healing Source Reiki offers 1-hour Reiki sessions for $100. We like that the rate is relatively cheaper, but the services are limited to Reiki treatment alone.
It would have been better if there were more related services offered. Nonetheless, we still think that Healing Source Reiki is a nice place to visit for Reiki treatment.
Another thing that caught our attention is Healing Source Reiki's extended health care forms. This allows one to use health care benefits to avail of Tania's services, if covered, for free.
Perhaps one thing that the company should consider improving is its operating days. Since appointments are only scheduled on Tuesdays and Thursdays, booking an appointment might not be easy for many.
As a compromise, however, the clinic has multiple payment methods you can choose from. Its cancellation policy, which requires a minimum of 24-hour notice, is also worth commending.
Competitive rate
Extended health care forms
Multiple payment methods

24-hour cancellation notice
One type of service available
Limited operating days
Customer Reviews
Felt better in many ways
"Yesterday I had my first Reiki session with you and did not know what to expect. I came in with an open mind and somewhat scared, anxious and in a small way a bit skeptical how this could work. This morning when I woke up, I felt better in many ways. Thank you Tania." — Jr Letram, Nicelocal
Pleasant and relaxing experience
"Always a very pleasant and relaxing experience. Highly recommend to anyone looking to benefit from reiki." — Chris Coveny, Google Reviews
4. Wellness Centre
Test
Info
SERVICES
Hypnosis Services, Reiki Treatment and Training, Shamanism,

EFT (Emotional Freedom Techniques), Muscle Testing,

Integrated Energy Therapy

WEBSITE
https://wellness-centre.com/
ADDRESS
260 Stoneway Dr, Nepean, ON K2G 6A8, Canada
CONTACT DETAILS
+1 613-823-3316
OPERATING HOURS
Tuesday to Friday 9:30 AM - 6:00 PM
| | |
| --- | --- |
| Criteria | Ratings |
| Qualifications | ★★★★★ (5/5) |
| Experience | ★★★★★ (5/5) |
| Rates | ★★★★✩ (4/5) |
| General Feedback | ★★★★★ (5/5) |
Wendy Armstrong of Wellness Centre is a Certified Reiki Master and Reiki Practitioner. She started providing Reiki treatment in 1996 and received her Karuna Reiki Master/Teacher certification from the International Center for Reiki Training in 2000.
It is worth noting that Wendy Armstrong is also a Certified Master Consulting Hypnotist and a Certified Clinical Iridologist. She also has trained in Shamanism and uses Emotional Freedom Techniques and Integrated Energy Therapy.
The Wellness Centre provides private Reiki treatment that usually lasts for about an hour. It uses Usui and Karuna methods of natural healing for this treatment.
If you need some help to stop smoking or lose weight, you might find her hypnosis services useful. If you're into Shamanistic healing, she offers a class for that, too.
There are, however, no price guides provided, so you might want to inquire about its rates before booking an appointment.
Wendy also offers certified Reiki training for those who are interested in learning the art. In this session, 4 different levels are offered — from Reiki Level 1 to Reiki Master/Teacher.
There is also Advanced Reiki Training you can sign up for. But then again, there are no price guides for all these on the website.
Offers various services
Competitive credentials
Hypnosis and Shamanism

Emotional Freedom Techniques
No price guides
Closed on Mondays and weekends
Customer Reviews
Skilled and inspirational
"Wendy Armstrong has been a colleague and friend for almost 20 years. Her character and professionalism are at the highest level. Not only have I been privileged to work with her, I am grateful to have been on the receiving end of some of the most healing and rejuvenating sessions. In this energy-work industry, trust is key – and I trust Wendy completely. You are skilled – and inspirational, Wendy." — Sheila Gallagher, Google Reviews
Exudes love and knowledge
"Wendy exudes love and knowledge to help empower and shift her clients so that they can break through their fears. In a safe place, she guides you through your own transformation and discovery of self." — Trish Harris, Google Reviews
5. Reiki Spiritual Awakening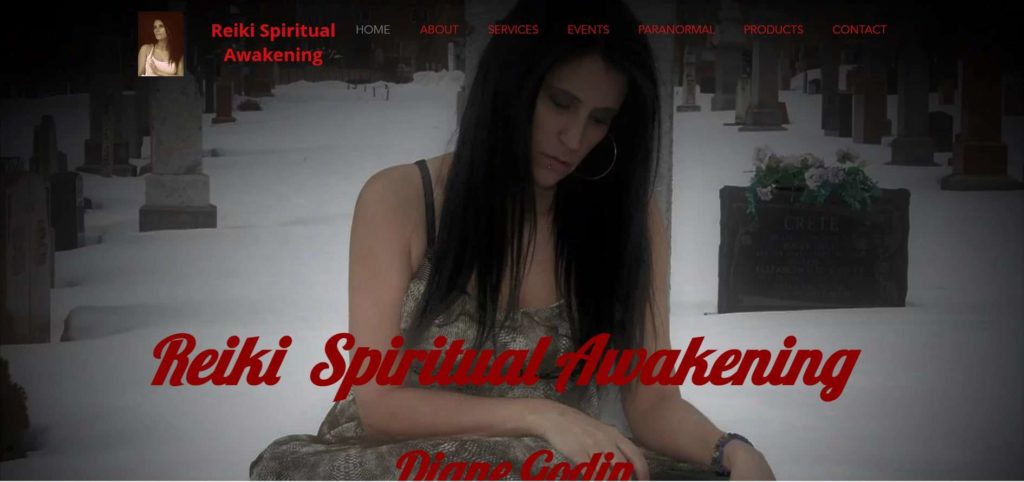 Test
Info
SERVICES
Qi Gong Massage, Reiki, Animal/Plant Healing, Remote

Healing, Cleansing/Smudging, Meditation,

Counseling/Mentoring, Psychic Readings, Card Readings, Spirit

Card Readings, Dowsing, Seance, Shamanism, Witchcraft,

Products For Purchase, Group Events, Retreats

WEBSITE
https://www.reikispiritualawakening.com/
ADDRESS
Ottawa, ON, Canada
CONTACT DETAILS
+1 819-665-3187
OPERATING HOURS
Monday to Friday 10:00 AM - 8:30 PM
| | |
| --- | --- |
| Criteria | Ratings |
| Qualifications | ★★★★★ (5/5) |
| Experience | ★★★★★ (5/5) |
| Rates | ★★★★★ (5/5) |
| General Feedback | ★★★★★ (5/5) |
In Reiki Spiritual Awakening, you will find Diane Godin, a certified Reiki practitioner, a psychic medium, and a witch. She has a certification as a Reiki Master, which is the highest achievable level.
One thing we like about Diane is that she combines various techniques for her Reiki therapy. She uses visualization techniques with psychic abilities to remove energy blockages in your body and restore balance.
As an Advanced Energy Healer, she combines her Shamanic methods with Reiki therapy to provide a stronger healing and relaxation experience. The best part here is that you can avail of the ½-hour sessions for $60 and 1-hour sessions for $90.
If you want longer sessions, you may opt for the 1 ½ and 2-hour options. But if you're away or can't find the time to visit, her Remote Healing for $120 might work for you.
Diane offers healing services not only for humans but also for plants and animals. So, if you have a pet or some nice plants that need healing, you might want to consider dropping her a message.
We like that Diane offers other services that range from Smudging to Qi Gong Healing Massage, which is the newest service on her list.
The only downside we found is that some of these services do not have price guides for customers to see. We think these are important nowadays to help customers make informed decisions about whether or not to avail of the services she has to offer.
A wide array of services and products
Competitive rates
Varying hours of sessions

Distance healing 

Energy healing for plants and animals
No price guides for some services
Closed on weekends
Customer Reviews
I am feeling good
"Hello, I had a remote Reiki session with Diane this past May 2021. Although I was skeptical about not only Reiki itself, let alone Remote healing but I decided to try it anyway. I do not know what happened but half way through the session, I started crying profusely and felt like a big weight left my body. The next day, I woke up feeling light and happy. I still feel that way. I know Spirit healed something in me, I do not know and dont care. The fact is I am feeling good. Thank you Diane." — Lelia Sylla, Google Reviews
A magnificent experience
"I had a magnificent experience! I went for a cleanse to get rid of the negativity in my life and it was wonderful. Also, I did Reiki for the first time and it was so uplifting. I left with the biggest smile on my face, and for once I just felt free and relieved. My grandfather came through as well to tell me a powerful message 🙂 The details she told me about my grandfather gave me goosebumps. I cannot wait to go back and finally rid anything negative or dark in my life." — Tiffany Ambar, Google Reviews
6. Massage At Home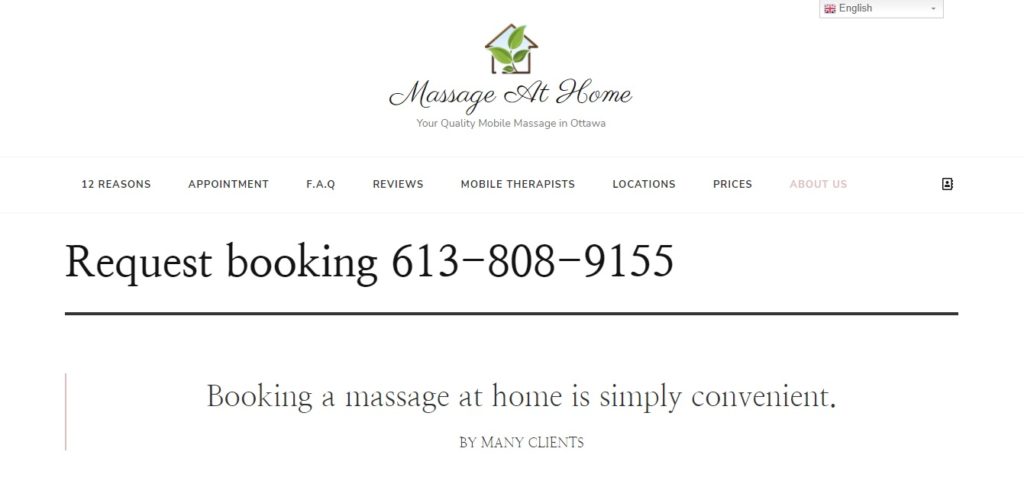 | | |
| --- | --- |
| Criteria | Ratings |
| Qualifications | ★★★★★ (5/5) |
| Experience | ★★★★★ (5/5) |
| Rates | ★★★★★ (5/5) |
| General Feedback | ★★★★★ (5/5) |
Massage At Home is a company that offers mobile massage services wherein clients can book a session right at their homes for maximum convenience and relaxation. They were founded back in 2012 and have since then been providing consistent comfort to clients in the area.
Sporting a re-book rate of as high as 99% with their clients, they are praised for their professionalism in terms of work ethics and the massage therapy as well which ensures that clients get benefits in the long run.
They also accommodate insurance receipts which can be used to cover up to 85% per massage so that clients can make the most out of their massage therapy with peace of mind as well.
They asl o make sure to bring their massage table at all times whenever they travel to the homes of their clients to ensure that clients have the best posture and place wherein, they can receive their treatments best.
Overall, with their affordable rates and convenient booking procedures, we highly recommend them to clients in Ottawa who are looking for home massage services to give them a try.
Affordable rates
Wide scope of areas served
Experienced staff
Operating hours unavailable
Customer Reviews
Here are some reviews from their clients:
"I have back issues due to a car accident a few years back and have had more therapists than I can count. I was blown away by the level of service I received, the professionalism and not to mention the massage itself. She even let my dog stay out! 100% best massage!" – Angie Marie
"It was so convenient to have a much needed massage in the comfort of my own home. Judith was excellent and was able to relieve the pain in my neck with a 45 min massage session. I am very impressed and I will use her services again in the future." – Katie Whately
7. Love by Dove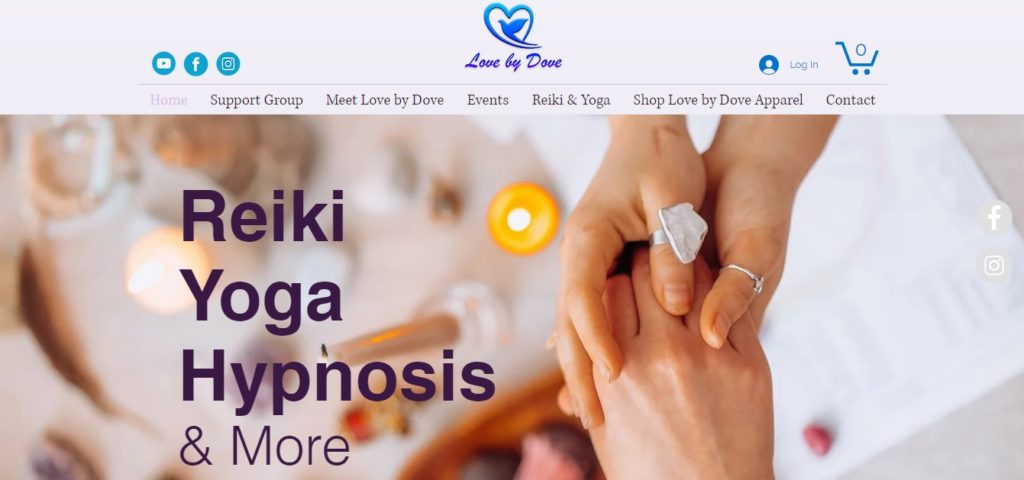 | | |
| --- | --- |
| Criteria | Ratings |
| Qualifications | ★★★★★ (5/5) |
| Experience | ★★★★★ (5/5) |
| Rates | ★★★★★ (5/5) |
| General Feedback | ★★★★★ (5/5) |
Love by Dove is a facility and community that offers a wide range of healing classes and treatments to help clients attain mental wellness and spiritual healing among many other benefits as well. Headed and operated by Reiki Master and Hypnotist Samantha Dove, she has since then been guiding her clients through various healing modalities to help them get holistic healing and wellness in the long run.
We like that she is highly knowledgeable and certified in various healing and non-invasive methodologies such as Regression Hypnosis, Meditation Guidance, and Reiki among many others wherein she also makes sure to guide clients through each one in levels.
Clients can easily book their services and session readily on their website and even be informed and sign up should they hold any free classes along with adequate details as well.
Aside from this they also feature an informative blog wherein clients get to have access to various articles that will help them make the most out of their sessions and further incorporate its benefits in their everyday lifestyles.
Overall, her past students have commended her for her encouraging work ethic and fully-equipped facilities, we recommend her to clients looking to learn healing techniques and further extend its benefits in their everyday living.
Offers free classes
Effective treatments
Fully equipped facilities employed
Operating hours unavailable
Customer Reviews
Here are some reviews from their clients:
"I was lucky enough to be attending a free yoga class at Pushman Park when I met Samantha for the first time. From that first class I was hooked! I began going to the ZenDen for private yoga class and have been loving how I feel. I have noticed more ease in my mind, as well as more flexibility, and strength in my body."  – Catherine from Quebec
"After my healing session with Samantha, I experienced a beautiful release and felt more grounded and at peace. I encourage others to experience this feeling for themselves. Samatha is a kind and compassionate healer." – Kat from Ottawa
FAQs about Reiki in Ottawa
---
We hope that the list we provided helps you find the balance your body needs. Stay healthy and keep those positive energies flowing!
If you're into health-related articles, you might find the following interesting: