The Best Propane Suppliers in Ottawa
Mostly used for cooking or home and water heating, propane's main uses also include powering several kinds of industrial and farm equipment, and even automotive.
From your water heater, dryer, stoves, furnaces, and more, you can use propane to save up on energy bills without worrying about leaving a massive carbon footprint.
Using propane comes with many benefits, cost-wise and eco-wise. This is because compared to other forms of fuel, it is a natural gas that is clean-burning and tends to produce fewer emissions.
With so many practical uses, propane is definitely essential to every household in Ottawa. In this article, we discuss where you can find the best propane suppliers in Ottawa for whatever purpose you need them.
How much does propane cost in Ottawa?
Ontario is naturally abundant with propane, and it's used by many households and industries across the region because of its energy-efficient benefits.
First, it's actually one of the cleanest fuels there is and even burns more efficiently compared to other types of fuels.
It's best for keeping your homes warm when you use it for furnaces, producing as much as 90% heat compared to oil furnaces that only have 60% efficiency.
But, all that said, how much does propane cost in Ottawa?
Propane tank installations cost an average of $2,270. Buying a tank alone costs $515 for a 100 to 120-gallon unit.
Meanwhile, a refill can cost somewhere around $3.86 to $6.43 per gallon. Since the usual propane tank has about 100 gallons, that would be as much as $643 for a full tank.
There are different tank sizes available depending on what you need them for. A gallon of bottled propane is ideal for camping cooking, while an outdoor grill may need 5 gallons.
For household appliances, you may need 500 gallons for all your heating systems or as much as 1,000 gallons for very heavy consumption.
Below is a table of estimated prices of different gallon propane tanks. Do keep in mind that prices may vary too if you are getting new and used tanks.
| Gallons | Price Range |
| --- | --- |
| 5 | $39 - $77 |
| 50 | $450 - $900 |
| 100 | $514 - $1,029 |
| 120 | $514 - $1,029 |
| 250 | $643 - $1,286 |
| 500 | $643 - $3,859 |
| 1,000 | $1,930 - $4,502 |
The numbers can be a little intimidating at first glance, but it really is a worthy investment if it means keeping your home all warm and cozy. A 100-gallon propane tank can last for up to 42 days for a 1,000-square-feet household.
That's just about $12 to $25 a day, again, depending on how much and what you'll be using it for.
Through this list, we hope we can help you find the best propane supplier around the area for your home heating needs.
Choosing the Right Propane Suppliers
Getting a reliable propane supplier is a very important decision for any home because you actually have to account for it in your household budget. When it comes to choosing the right supplier, it's not just about getting the lowest price but also about the safety and quality of service that they can give you.
So, to choose the best ones for this list, we considered the following points as criteria.
Now, let's get the fire started with our recommended propane suppliers in Ottawa!
1. W.O. Stinson & Son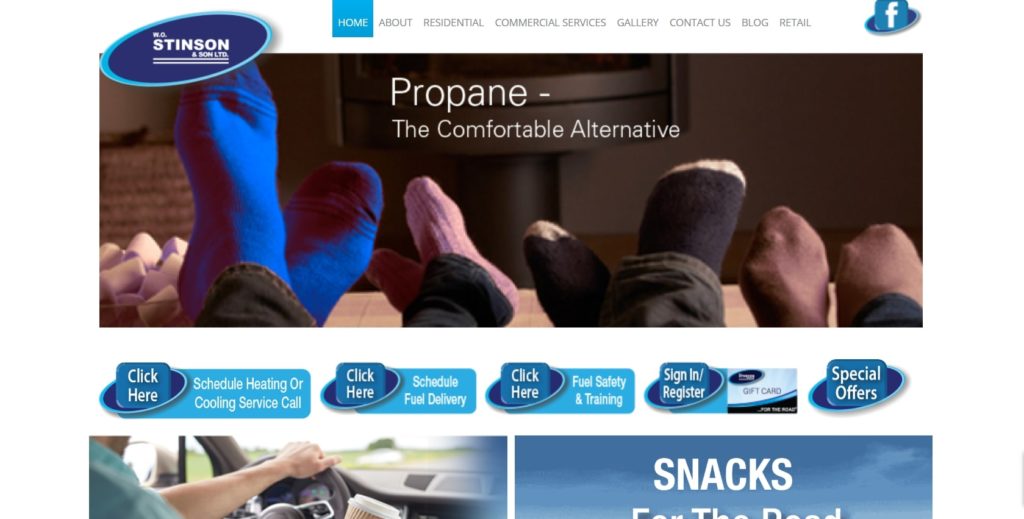 Test
Info
SERVICES
Propane tanks retail and installations, refills, re-valving, tank re-evaluation, tank disposal, fuel delivery, retail of high-performance auto products
WEBSITE
https://wostinson.com/
ADDRESS
4726 Bank Street Ottawa
CONTACT DETAILS
1-800-267-9714
OPERATING HOURS
Monday to Friday: 6 am to 9 pm

Saturday to Sunday: 7 am to 9 pm
| | |
| --- | --- |
| Quality of services | ★★★★☆ (4/5) |
| • Delivery | ★★★★☆ (4/5) |
| • Convenience and efficiency | ★★★★★ (5/5) |
| • Safety | ★★★★★ (5/5) |
| Product Quality | ★★★★★ (5/5) |
| Cost-efficiency | ★★★★★ (5/5) |
| Customer service | ★★★☆☆ (3/5) |
| • Responsiveness | ★★★☆☆ (3/5) |
| • Reliability | ★★★★☆ (4/5) |
A family-owned business that has been running for three generations since 1937, W.O. Stinson has been a trusted name in the region.
Their propane distribution started only in 2006 but has been providing locals with a cleaner and more eco-friendly alternative choice to make their homes warm and comfortable.
Their propane services include the sale and installation of new propane tanks, refills, tank re-valving, tank re-qualification, and proper disposal of expired tanks.
Moreover, they specialize as well in other services like propane furnace installations, annual furnace cleaning, maintenance, and even propane furnace protection plans.
We find their wide range of propane installation services very convenient, but we love their next-day-delivery service more.
They have retail and re-filling stations all over Ontario and Quebec, so you can easily find one that's near you
Plus, they also have a team of emergency service technicians on call around the clock for any repairs or inspections needed for anything propane-related.
Likewise, they also offer commercial services like fuel delivery and retail of high-performance fuel products.
Their prices are fairly competitive considering the expertise of service they provide for all things propane.
However, there are times when it's hard to get through their customer hotline.
Other than that, they are one of the best options on our list given the quality of their propane service and their proximity.
Next-day delivery
Good range of propane-related services
Also retails other fuel-related products
Decent pricing
Open all seven days of the week
There's a branch conveniently located in Bank Street
Hard to reach customer service lines
Customer Reviews
Excellent service and unbeatable price
For 20 lb refills, service is excellent and the price can't be beat. Very pleased with their overall retail operations, including their full service pumps on Bank st. They are a good service organization as far as my experiences have been. – Al
Installation Of New Furnace (Oil To Propane)
Heating & Air Conditioning review in Ottawa over 5 years ago
Switched from a supplier who was giving me poor service when my furnace died. Stinson took the time to explain the process and the cost (living on a budget) They also took the time to ensure I understood how to care for my new furnace and my propane tanks. I was so happy with the experience that I now get all my gas at their stations on the way home from work. (they are usually cheapest, so that helps too!) – MarshC
2. Superior Propane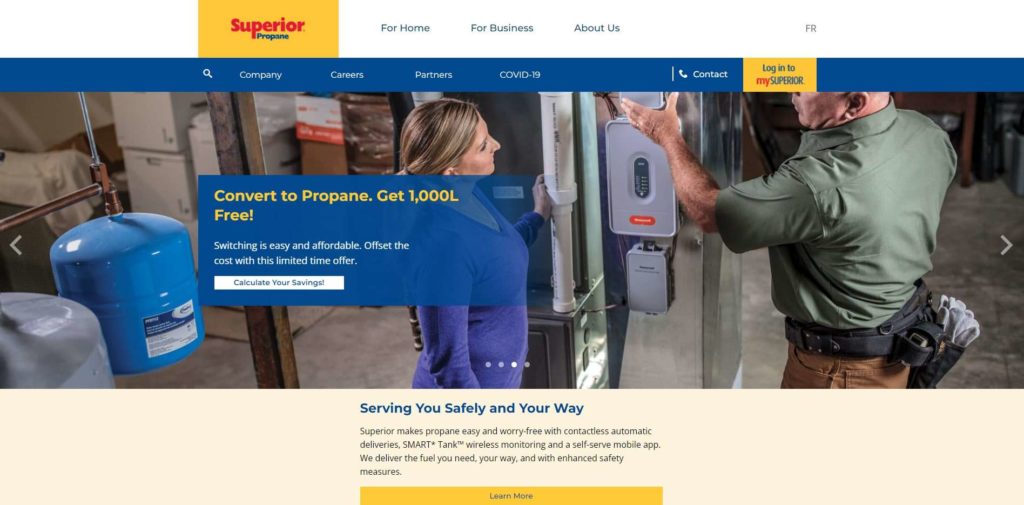 Test
Info
SERVICES
Propane tank installations, monitoring, and refills, propane delivery, commercial heating solutions
WEBSITE
https://www.superiorpropane.com/
ADDRESS
63 Roydon Pl, Nepean
CONTACT DETAILS
1-877-873-7467
OPERATING HOURS
Monday to Friday: 8 am to 4 pm

Saturday to Sunday: Open 24 hours
| | |
| --- | --- |
| Quality of services | ★★★★☆ (4/5) |
| • Delivery | ★★★★☆ (4/5) |
| • Convenience and efficiency | ★★★★★ (5/5) |
| • Safety | ★★★★★ (5/5) |
| Product Quality | ★★★★★ (5/5) |
| Cost-efficiency | ★★★★★ (5/5) |
| Customer service | ★★★☆☆ (3/5) |
| • Responsiveness | ★★★☆☆ (3/5) |
| • Reliability | ★★★★☆ (4/5) |
Superior Propane has been providing Canada with local quality propane for 70 years and has been a very well-known name in the country.
They have very convenient services related to propane and will guide you if you are switching to propane.
What we like the most about their products is how you can tell the condition of your tank through their SMART* Tank™ wireless monitoring. This system helps you identify when your tank is on the red so you can manage your usage and call for a refill before it completely runs out.
It's very convenient because they will notify you of regular tank level readings and when it's about time to call them for a refill through email.
They also have the mySUPERIOR™ Customer Portal where you can schedule a delivery and make online payments. This is also available as a mobile app, making it super accessible.
We like that they are also accountable and committed to providing safety measures and are available to respond immediately to customers that suspect possible leaks.
Plus, we love their Home Heat Bundles that provide free perks like 600 litres on your first tank, SMART* Tank™ wireless monitoring, and automatic deliveries so you don't really need to call them when it's time for a refill.
They have very knowledgeable customer service people, but the downside here is that their customer service lines seem quite busy. You can expect a long wait on the phone if you have inquiries.
But for the convenience of their bundles, they are a must-try and practical solution for busy folks.
Has SMART* Tank™ wireless monitoring notifications
Convenient mySUPERIOR™ Customer Portal
Automatic deliveries for Home and Commercial Bundle subscribers
Free perks for first-time subscribers
Knowledgable customer service staff
Frequently busy customer service hotlines
Customer Reviews
Proud to be their client
Professional and knowledgeable staff. From the receptionist to the technician on site, everyone is very respectful and friendly. Ultra fast service within more than reasonable timeframes. The same is true for follow-ups.
We are proud to be part of their clientele – andree sousi
On time and well-trained staff
Very pleased with Superior. All deliveries were done on time so far and the people behind the call centers are very well trained and knowledgeable. – Marius Vranceanu
3. Francis Fuels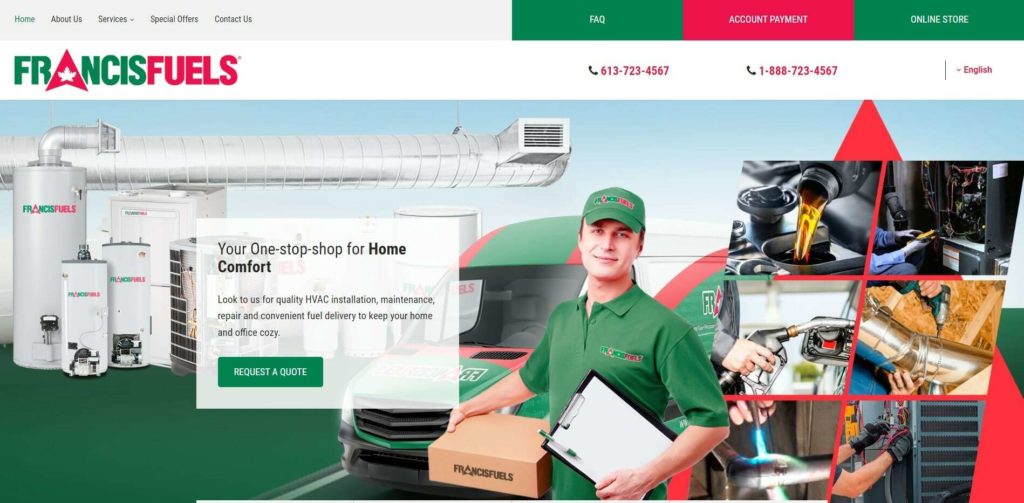 Test
Info
SERVICES
Heating and cooling systems installation and repair, furnace rental and maintenance, propane and fuel oil delivery
WEBSITE
https://www.francisfuels.com/
ADDRESS
190 Colonnade Rd Unit 205, Nepean
CONTACT DETAILS
(613) 723-4567

1-888-723-4567

OPERATING HOURS
Monday to Friday: 8 am to 4:30 pm

Closed on weekends
| | |
| --- | --- |
| Quality of services | ★★★★☆ (4/5) |
| • Delivery | ★★★★☆ (4/5) |
| • Convenience and efficiency | ★★★★☆ (4/5) |
| • Safety | ★★★★★ (5/5) |
| Product Quality | ★★★★★ (5/5) |
| Cost-efficiency | ★★★★☆ (4/5) |
| Customer service | ★★★★☆ (4/5) |
| • Responsiveness | ★★★★☆ (4/5) |
| • Reliability | ★★★★☆ (4/5) |
Francis Fuels has been in business in 1933 and has initially provided cooling and heating services in the Ottawa-Gatineau area. Later on, they added fuel oil supply and eventually, natural gas in the '80s.
They have an expansive list of services and offer different kinds of fuel for home heating systems, including propane.
Getting propane for your heating needs at home qualifies you for a budget plan that provides you with a steady and regular supply of propane. Their budget plan allows you to pay for your fuel deliveries in 10 or 12 monthly payments, which can be convenient for those who cannot afford to pay in full.
You can also opt for their automatic delivery service if you get their budget plan. Through this
arrangement, your next fuel delivery schedule is calculated based on an algorithm that will prompt their system to send requests to their delivery drivers.
Nevertheless, you can also opt for the "WILL CALL" delivery service, and you yourself can determine your next delivery.
It's important though that you call at least three days in advance before your preferred date of delivery so they can accommodate you on time. You may also need to consider weather conditions because this can also factor in the time for them to complete their delivery.
One thing to consider though is that they require a minimum of 500 litres of propane for each delivery, which actually is ideal for a month and a half's worth of consumption for a regular household.
Their deliveries are conveniently spread all throughout the National Capital Region so they can reach you and provide quality propane if you are anywhere within this area.
Since they have always been an HVAC (heating, ventilation, and air conditioning) service provider, they are also very well known for their oil or propane furnace installation and maintenance services. They are also open for emergency repairs 24/7.
Practical budget plans
Easy and flexible modes of payment
Option for automatic delivery or WILL CALL delivery service
24/7 emergency services
Requires a minimum of 500 litres (132 gallons) for delivery
Closed on weekends
Customer Reviews
Excellent Company & Great Service!
From the days when we had oil delivered to our home to upgrading our furnace to convert to natural gas, Francis Fuels has been our provider of choice. The company's reliability, trustworthiness and experience of its staff is of the highest quality.
Francis Fuels stands behind its work and makes customer satisfaction its prime concern. Boilers, furnaces, air conditioners and hot water heaters — the heart of a home's heating and cooling system — are complicated and tricky beasts to deal with. Francis Fuels knows its stuff and for a homeowner it is reassuring that these systems work efficiently and that when a repair or maintenance is required, Francis Fuels is there when needed. – Keith & Jocelyne Woolhouse
Gas Delivery And Furnace Maintenance
Francis Fuels has consistently provided prompt, professional service. They are thorough in responding to questions and deliver on time. A bonus is that they can deliver even when you are not home. – Denise
4. Propane Outaouais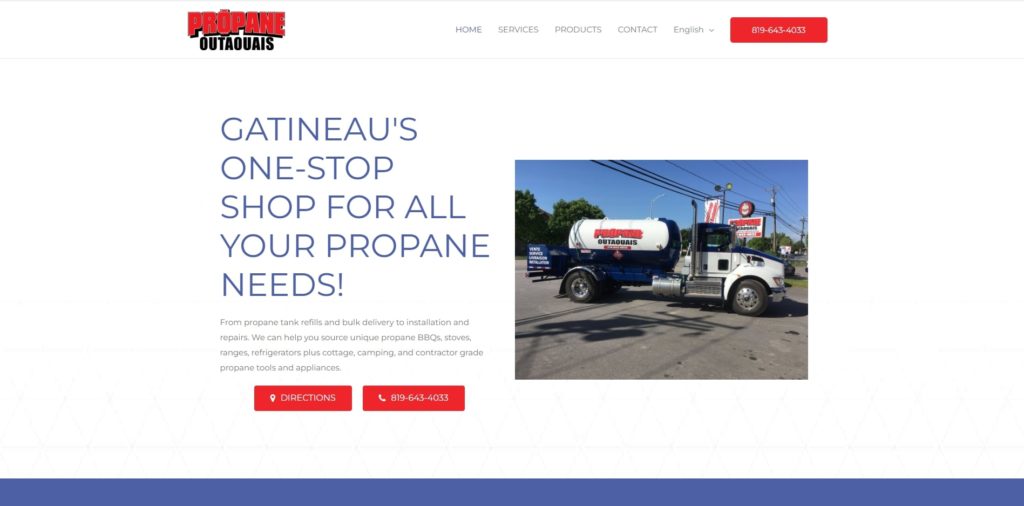 Test
Info
SERVICES
Propane tank refills, tank recertification, propane appliances installations, repairs and maintenance
WEBSITE
https://propaneoutaouais.com/en/propane/
ADDRESS
1069 Boulevard Maloney E, Gatineau
CONTACT DETAILS
(819) 643-4033
OPERATING HOURS
Monday to Friday: 8 am to 5 pm

Saturday to Sunday: 8 am to 1 pm
| | |
| --- | --- |
| Quality of services | ★★★★☆ (4/5) |
| • Delivery | ★★★★☆ (4/5) |
| • Convenience and efficiency | ★★★★★ (5/5) |
| • Safety | ★★★★★ (5/5) |
| Product Quality | ★★★★★ (5/5) |
| Cost-efficiency | ★★★★☆ (4/5) |
| Customer service | ★★★★★ (5/5) |
| • Responsiveness | ★★★★★ (5/5) |
| • Reliability | ★★★★★ (5/5) |
Propane Outaouais may be about 22 kilometres away from the heart of Ottawa, but we included them in this list because of their excellent service that reaches even up to this area.
Located in Gatineau, this propane one-stop-shop has provided competitive and amazing services for its customers, from propane refills to the installation of heavy-grade propane appliances such as propane generators.
Aside from propane tank retail and refills, they also provide tank recertifications to make sure your old tanks are still safe to use and in good condition. Not all propane suppliers have this service, which you may have to consider if you'll be using propane tanks for your home heating needs for years to come.
They do just about any kind of propane-related installations, from barbecue grills to RVs and commercial establishments. Plus, you are guaranteed that these are done by qualified propane experts.
They also retail different kinds of appliances that run on propane like refrigerators, generators, stoves, heaters, and even replacement parts for the brands that they offer. If you are looking for more environmentally friendly alternatives for energy consumption, consult them to find the most suitable products and services for your purpose.
As for their services, they are prompt and efficient as needed. Their knowledgeable, helpful, and friendly staff is not just a plus but actually makes the business loved by their customers.
Their staff is willing to go out of their way to help out and go the extra mile, even staying open on holidays if a customer urgently needs help. This actually makes up for the slightly more expensive prices they have.
Despite being located outside of Ottawa, we recommend them simply because of their good and efficient services and easy-to-reach lines.
Easy to reach hotlines
Fast and efficient propane refilling services
Offers other propane-related services like installations and equipment repairs
Does propane tank recertifications
Retails different kinds of equipment that run on propane
Very helpful and good customer service
Open seven days a week
Located in Gatineau
Slightly more expensive prices
Customer Reviews
Wonderful business
This business is wonderful. They have always been friendly and helpful (and very kind of my lousy french). They also stayed open on Christmas Eve day so I could get a tank fixed urgently — they saved my Christmas dinner! – Kim Fera
Less troublesome
$ 14 to fill the 20 lbs bottle (May 2016), a price certainly a little higher than Costco. Except that we obviously do not need a membership card and the service is faster than Costco where we often have to wait up to 25-30 minutes. My refills never take more than 5 minutes of arrival until I leave. Not to mention that we must first pay in the Costco and come out for the filling. In short, more expensive but less trouble at Propane Outaouais. – Simon Forgues
5. Budget Propane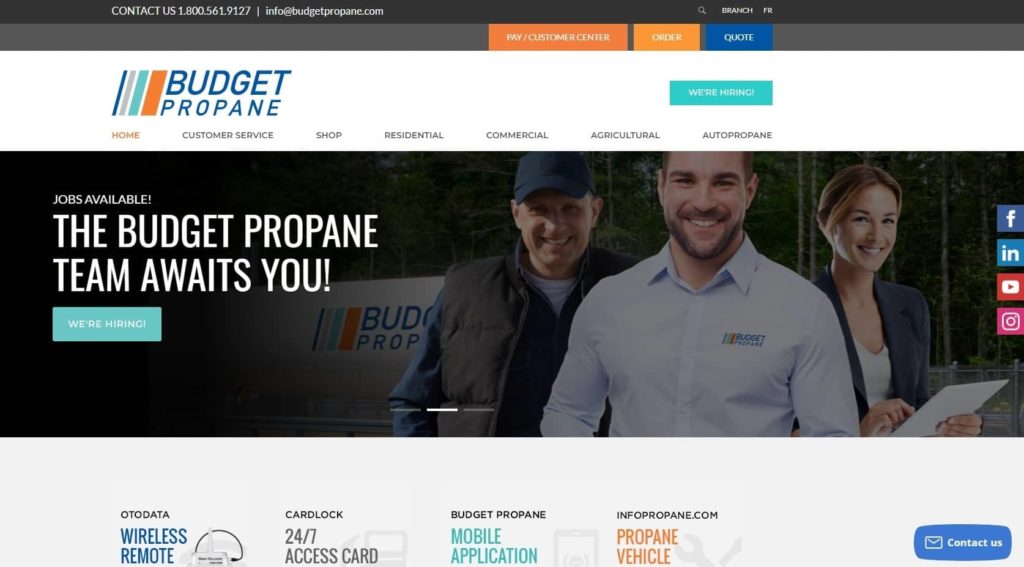 Test
Info
SERVICES
Propane tank retail, refilling and delivery, retail and installation of propane appliances and equipment, propane vehicle conversion
WEBSITE
https://budgetpropane.com/
ADDRESS
1211 Rue Odile-Daoust, Gatineau
CONTACT DETAILS
1-800-205-2776
OPERATING HOURS
Monday to Friday: 8 am to 5 pm

Saturday: 8 am to 3 pm

Closed on Sundays
| | |
| --- | --- |
| Quality of services | ★★★★★ (5/5) |
| • Delivery | ★★★★★ (5/5) |
| • Convenience and efficiency | ★★★★★ (5/5) |
| • Safety | ★★★★★ (5/5) |
| Product Quality | ★★★★★ (5/5) |
| Cost-efficiency | ★★★★★ (5/5) |
| Customer service | ★★★★☆ (4/5) |
| • Responsiveness | ★★★★★ (5/5) |
| • Reliability | ★★★★☆ (4/5) |
Another propane supplier that may be a little far but definitely worth the drive for their service and price is Budget Propane.
They have a very wide range of propane-related services, but they offer them at more affordable rates. This makes a lot of customers favour them over nearby propane suppliers.
Conveniently, they also offer wireless remote tank level monitoring called the OTODATA where you can check your propane levels. This system is tested to have high accuracy rates with 0.5% dial reading precision.
They also have maintenance services not only for residential and commercial propane uses but even for agricultural equipment that runs on propane like irrigation systems.
Aside from this, an interesting service they have that you might want to consider is their propane vehicle conversion. Here, you can have your car checked and changed from using fuel to propane.
If you are someone who's interested in reducing your carbon footprint not just with your home heating systems, this is a good way to really minimize your emissions. Plus, propane is so much cheaper compared to gasoline and diesel.
If your car is already running on propane and you're near one of their stations, do grab the chance since they usually offer cheaper rates there.
You can also shop for propane appliances and equipment like water heaters, dryers, boilers, furnaces, and pool heaters and also have them delivered and installed as well.
They also have very prompt and efficient services, especially when it comes to refilling. Whereas others may take a day or so before getting a refill, they can do it on the same day.
This flexibility to accommodate urgent needs is a really good gauge of their customer service that's arguably worthy of five stars.
Wide range of propane-related services
Fast and efficient service
Possible on-the-day propane delivery
Does propane vehicle conversion
Offers wireless remote tank level monitoring
Affordable rates compared to competitors
Located in Gatineau
Closed on Sundays
Customer Reviews
Efficient and fast service
We were running out of propane. I called them, we realized that, with confinement, our consumption as abnormally up and scheduled delivery would not do. They told me that a delivery will be done before end of day. In fact a truck was there within the hour! Thumbs up! – Basile van Havre
Very cheap automobile propane
The automobile propane is sold here very cheap, at approximately 50c/L. The pumps are on site in working condition. However, they close early, open only during daytime.it takes some time to find the access road to the place, albeit you can see it when traveling on Quebec Autoroute 50 in either directions, but should get out at the exit towards Buckingham, Rte.315 – Nicolas P.
FAQs about Propane in Ottawa
---
That concludes our list of the best propane suppliers in Ottawa! Hopefully, this article has given you an idea of the costs and your ideal choices in finding the right company to supply your home or commercial propane needs.
Aside from the heating benefits that propane can provide to make your home all warm and cozy on colder days, you might also be looking for help for your good air conditioning system on warmer days. Just in case you need it, here's our list of the best air conditioning repairs in Ottawa.