The 5 Best Promotional Products Suppliers in Ottawa
If you have your own business, you know how difficult it is to expand your brand. Promotional materials are important, and that means you need a supplier that is able to give you the best options and value for your money.
In this article, we discuss the best promotional products suppliers in Ottawa so you can find what's optimal for your brand.
How much do promotional products cost in Ottawa?
In Canada, the average cost of promotional products is around $1 to $2. However, this price can go up to more than $1000 if you buy them in bulk or in bigger sizes.
In the table below, we identified the most common promotional branding products used by different companies. We also included their usual cost so you can see for yourself and compare them to each other.
| SERVICE | ESTIMATED PRICE |
| --- | --- |
| Embroidery | $9 for 6,000 stitches |
| Digital Printing | $20 - $30 per clothing |
| Graphic Design | $100 - $1000 |
| Logo Creation | $500 - $1500 |
| Laser Etching | Starts at $25 |
| Mug Printing | Starts at $3 for 1 mug |
| Branding of plastic cups and keychains | $0.60 - $1 each |
| Tumbler Branding | $1 - $2 each |
The Best Promotional Products in Ottawa
Promoting your brand is no easy task but it is more convenient with the right promotional products. With the suppliers on our list, you should be able to get your promotional products at better prices with better quality.
The following criteria were used to select the top promotional products suppliers in Ottawa:
1. Springboard Promotions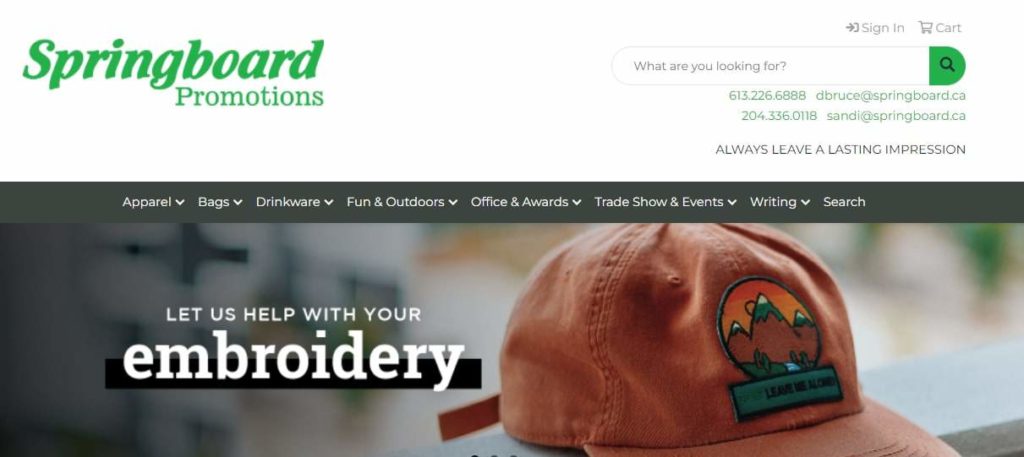 | Test | Info |
| --- | --- |
| SERVICES | Apparel Branding, Embroidery, Bag Branding, Drinkware Branding, Writing Materials Branding, Gift Branding |
| WEBSITE | https://www.springboard.ca/ |
| ADDRESS | 2435 Holly Ln #100, Ottawa, ON K1V 7P2, Canada |
| CONTACT DETAILS | 613-226-6888 |
| | |
| --- | --- |
| Criteria | Ratings |
| Rates | ★★★★★ (5/5) |
| Services | ★★★★☆ (4/5) |
| Location | ★★★★★ (5/5) |
| Portfolio | ★★★★★ (5/5) |

Springboard Promotions is a promotional products and branding company located in 2435 Holly Ln #100, Ottawa, ON K1V 7P2, Canada.
Springboard Promotions is a branding company that services the Ottawa area.
What we like most about it is its great options for anyone who needs promotional products. It offers embroidery for those who want to brand cloth materials such as bags and apparel.
It also offers branding for materials such as drinkware and even awards. These items are a good option if your company has its own event and needs trophies with your logos on them.
What we like about Springboard is its selection. It has around a thousand selections of different items that it can brand.
It's also very convenient to hire Springboard for rushed work like campaigns and even team building in your office because it delivers the products and is open to bulk orders.
It's good that it also offers budget-based packages. If you're on a specific budget, this company will be able to help you pick out the best promotional items that suit you.
Its products can be expensive, but because of its budget-based services, you should be able to decide properly whether or not you want to avail of its services.
The company makes it clear how much of its products your money will be able to acquire so you can make the right decisions.
Multiple promotional services available
Good location
No operating hours specified
Pricey
Customer Reviews
Great quality, price, and service

"The quality, price and service you receive with Dave and his team are phenomenal. We've ordered products from them many times and they never disappoint. We've heard nothing but good things from our clients who have ordered Springboard products. Whether you're looking for innovative products or just some quality pens or mugs, they'll have you well covered!" – M. M.
Efficient communication
"I called the team with a specific budget and tight deadline before a big event. Communications with the Springboard team was honest and efficient. We received our items just in-time and they looked great! Thanks again." – Michelle Paradis
2. Prologo Canada

Test
Info
SERVICES
Apparel Branding, Bag Branding, Drinkware Branding, Writing Materials Branding, Gift Branding
WEBSITE
https://www.prologo.ca/
ADDRESS
1830 Walkley Rd Unit 119, Ottawa, ON K1H 8K3, Canada
CONTACT DETAILS
613-416-9554
OPERATING HOURS
Mondays to Fridays: 10:00 AM - 6:00 PM

Saturday: 10:00 AM - 3:00 PM

Closed on Sundays
| | |
| --- | --- |
| Criteria | Ratings |
| Rates | ★★★★★ (5/5) |
| Services | ★★★★☆ (4/5) |
| Location | ★★★★★ (5/5) |
| Portfolio | ★★★★★ (5/5) |
Promoting your company or your brand is not just about slapping your name on a random item. It's also about being unique — and Prologo Canada can definitely help you with that.
It specializes in logo creation and branding clothes. It also offers other promotional products such as bags, drinkware, pens, and more.
Prologo started in 2016 so it's still a little new. However, its employees are professionals who have experience from other companies.
The company is a good choice not just because of the services it provides, but also owing to its relationship with distributors and manufacturers. If you have a specific item you require, chances are, it knows how to get it and can put your brand on it.
Prologo has experienced logo designers that can help you make your brand unique so you won't have to deal with copyright issues. We like that it also has its own art team that will help you make a design that's unlike any other.
All you have to do is imagine the design and discuss it with the art team. They will bring it to fruition as long as you have the budget.
Prologo's prices are a bit high. But with the services it offers, it's a pretty fair deal. As long as you have the right budget, Prolgo is definitely one of the best choices for your branding and promotional product supply needs.
Multiple services available
Logo specialty
Customer Reviews
Dedicated team

"Working with Prologo has been such a positive experience for the entire Klipfolio team. We work with quick timelines for our conferences and the team at Prologo was able to deliver incredible products before all deadlines. Their dedication shines through and they truly cares about each order that goes out." – Valerie H
Fast turnaround time and great customer service
"We've ordered from many companies but this was our first time dealing with Prologo Canada. Their pricing for our 1200 USBs beat all other quotes and they confirmed delivery when other couldn't confirm an exact date. The USBs showed up 2 weeks ahead of time….wow! Great company, very professional and awesome customer service! I recommend Prologo for all your marketing needs! Thanks for the great service!!!!!" – Sandra T.
3. Brymark Promotions

Test
Info
SERVICES
Apparel Branding, PPE Branding, Bag Branding, Drinkware Branding, Writing Materials Branding, Gift Branding
WEBSITE
https://www.brymark.com/
ADDRESS
12150 Thurston Dr Suite #102, Ottawa, ON K1G 5T9, Canada
CONTACT DETAILS
877-521-1102
OPERATING HOURS
Open 8:30 AM - 5:00 PM

Closed on Weekends
| | |
| --- | --- |
| Criteria | Ratings |
| Rates | ★★★★☆ (4/5) |
| Services | ★★★★☆ (4/5) |
| Location | ★★★★★ (5/5) |
| Portfolio | ★★★★★ (5/5) |
Anyone who's thinking of growing their business' reach should definitely check out Brymark. The company has been in the marketing industry since 1978 and its experience speaks for itself.
Brymark is willing to work with both small and big companies to find the best way it can promote their products.
It offers a decent range of promotional services and supplies numerous promotional items such as apparel, bags, and writing materials.
The company uses recyclable materials like bamboo for some of its items. It also utilizes environmentally-friendly ink for printing on shirts and other clothing.
Brymark understands that sometimes, business owners will have a hard time picking which promotional items to buy. With that said, it is ready to guide its clients so they can choose the right promotional items for their company.
Brymark also boasts good critical reception and has even achieved numerous awards. One of these awards is the Spirit Award from ASI or the Advertising Specialty Institute.
Overall, we think that Brymark is definitely a good choice for your promotion and branding needs. The only downside we see is that it may be hard to contact the company because they don't have an Ottawa landline.
Other than that, we consider Brymark an excellent choice for promotional products.
Award-winning service
Serves other areas besides Ottawa
Does not have an Ottawa landline
Closed on Weekends
Customer Reviews
Meets deadlines

"Ordered 525 custom face masks for my employer. Adam went above and beyond to ensure our deadline would be met, and even sent some samples to make sure the final product would matched our brand's colour. – Vanessa M.
Professional staff

"Had a phenomenal experience dealing with the Brymark team. They were very professional and helped me get my promo items done for a last minute event we planned. I would highly recommend them to anyone!". – A.G.M.D.
4. Globe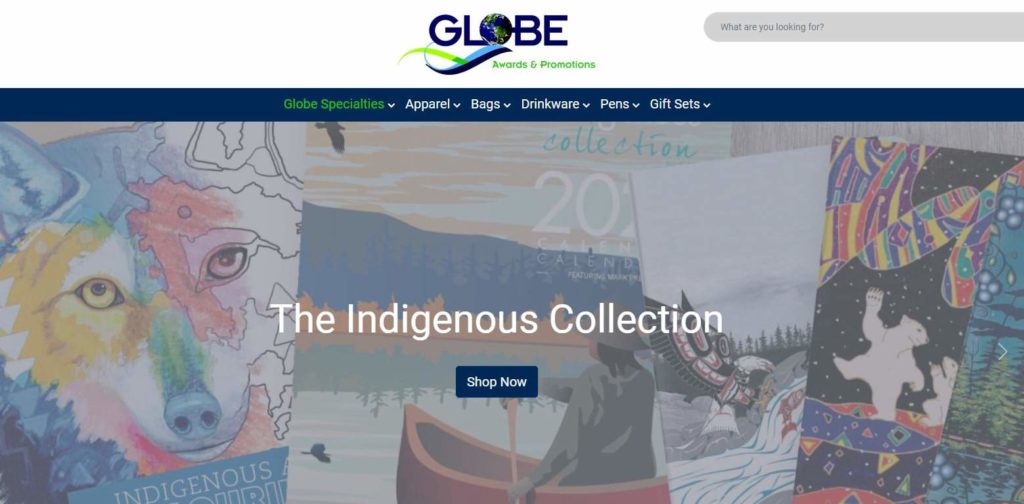 Test
Info
SERVICES
Apparel Branding, Bag Branding, Drinkware Branding, Writing Materials Branding, Gift Branding
WEBSITE
https://www.globecanada.com/
ADDRESS
409 Bronson Ave, Ottawa, ON K1R 6J5, Canada
CONTACT DETAILS
613-234-4440
OPERATING HOURS
Open 9:00 AM - 5:00 PM

Closed on Weekends
| | |
| --- | --- |
| Criteria | Ratings |
| Rates | ★★★★☆ (4/5) |
| Services | ★★★★★ (5/5) |
| Location | ★★★★☆ (4/5) |
| Portfolio | ★★★★☆ (4/5) |
Another good option for your promotional needs is Globe Promotions. Its packages are perfect for anyone thinking of ordering in bulk.
This is a great choice for events and award ceremonies where you have to reward participants with giveaways like writing materials, tote bags, and even shirts.
We think Globe Promotions is unique because of its indigenous and eco-minded packages. These consist of products that are made from different materials and have unique aesthetics.
The indigenous variant, for example, contains promotional items that have a more tribal and traditional look. Mugs, pens, and bags with designs that depict indigenous aesthetics are sold and can be branded with your own name or logo.
The eco-minded package, on the other hand, is made of environmentally friendly materials. It's always refreshing to see a company that cares not just about its profit but also about the environment.
Globe Promotions also offers laser etching for glass-based materials. This is perfect for awards and plaques that you want to be marked with your own company's logo.
It also has digital printing for branding clothing. This is a good choice if your logo is complicated and hard to embroider.
Other products the company is able to brand are pins, coins, and even medallions.
Overall, we think that Globe Promotions is a great choice for your branding and promotional needs. So you should definitely check them out!
Packaged deals
Also has laser-branding and digital printing
Huge clientele
Pricey
Closed on Weekends
Customer Reviews
Friendly and helpful staff
"I have had the most wonderful experience dealing with Globe Awards. The staff are very friendly, extremely helpful and customer oriented. I had a small memorial made for my beloved cat when she died and Globe advised me on the brass plaque for this memorial. I then need brass plaques for a buffalo head that was being presented to a friend. The advice I was given on the metal for the plaques, the script, the style of plaque and placement was excellent." – Janie Randolph
Hands-on, professional, and kind service
"The Globe Team has been awesome! I went in at the last minute and they have done everything possible to ensure that we are able to have our Trophy for our event. Micheline, the General Manager was so hands-on, went out of her way to help me meet my budget and timeline. She is a real professional, patient and kind. EXCELLENT customer service…does not get better this! Thanks Micheline and the entire Globe Team, we are going to have a great event! Many thanks!" – Villeta D.
5. Daquin Sales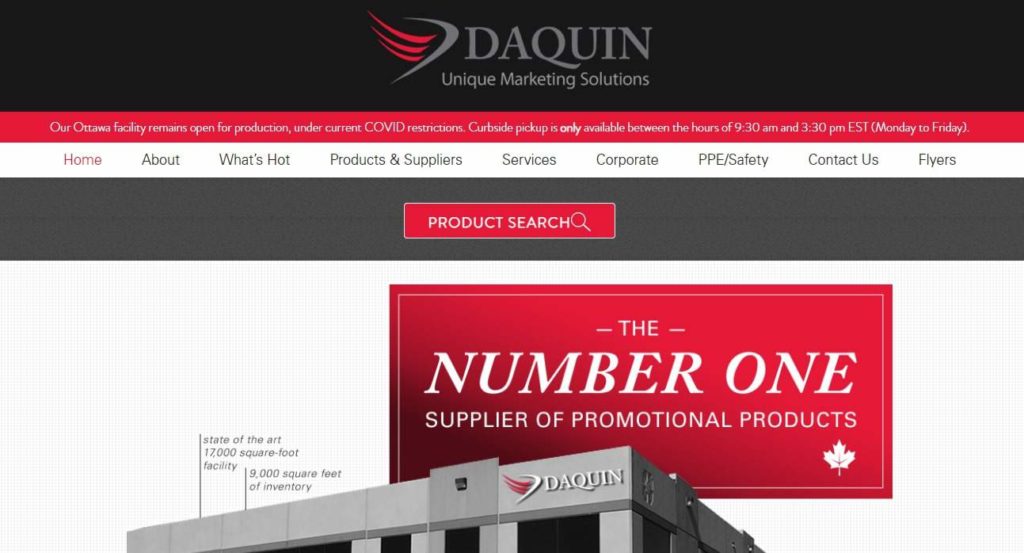 Test
Info
SERVICES
Apparel Branding, Embroidery, Bag Branding, Drinkware Branding, Writing Materials Branding, Gift Branding, Silk Screening, Graphic Design
WEBSITE
https://www.daquinsales.com/
ADDRESS
60 Colonnade Rd Unit A, Nepean, ON K2E 7J6, Canada
CONTACT DETAILS
613-226-8680
OPERATING HOURS
Open 8:30 AM - 5:00 PM

Closed on Weekends
| | |
| --- | --- |
| Criteria | Ratings |
| Rates | ★★★★★ (5/5) |
| Services | ★★★★★ (5/5) |
| Location | ★★★★☆ (4/5) |
| Portfolio | ★★★★★ (5/5) |
Daquin Sales has been supplying promotional products to businesses in Ottawa for almost 40 years. Its experience can definitely be seen in the previous work it's done.
It is a huge company with an impressively large facility and warehouse in the metro. This is where it works on tasks such as embroidery, screen printing, and even graphic design.
It also offers branding services for items such as drinkware, headwear, and other apparel items. We think its digital and graphic design is especially impressive because these allow the company to work on your custom logo in a quick manner.
What we like about Daquin Sales is its versatility when it comes to its client base. It has worked with both start-up companies and huge corporations, so it knows what each type of company may need.
The two most notable companies Daquin Sales has worked with are Hard Rock Cafe and Jellystone Campgrounds. Both of these are companies that are well-known not only in Canada but also around the world.
Despite all of that, the company is still willing to work with smaller businesses and that is something we can truly appreciate.
Its prices are versatile and adjust based on your budget. So if you're looking for a good promotional product supplier, definitely check Daquin Sales out.
Serves other places besides Ottawa
Offers multiple types of branding
Huge clientele
Pricey
Closed on Weekends
Customer Reviews
Easy to work with

"I've been ordering from Daquin for years – the service and products are always top-notch! Andrew Jackson ("AJ") is the best and super easy to work with; I would absolutely recommend Daquin for all of your swag orders, conference needs and branding materials!" – Farrel Clancy

Amazing experience

"I had an amazing experience at Daquin. It's so hard to find a reliable printing company that makes shirts/sweaters/etc for the right price at an awesome quality – I'm so happy to have found Daquin! I made a last minute order and they made it happen on a whim for me – thanks again Randy. The shirts turned out exactly how I wanted them and communication was spot on. Pricing was more than fair as well." – Lexine Menard
FAQs about Promotional Products in Ottawa
---
Finding the right promotional products supplier is very important. We've selected the best options in the city so you can compare them and the services they offer.
Are you looking for other advertising options besides promotional products? Check out the best advertising agencies in Ottawa.