Top 5 Professional Organizers in Ottawa
Looking for someone who can help you declutter and optimize your home? If yes, then this list of the top professional organizers in Ottawa might just be what you need.
But before we move on to that, let's first take a good look at how much hiring one might cost you. Since professional organizers come with varying expertise, we will only focus on those that specialize in home organization services.
How much do professional organizers charge in Ottawa?
The cost of hiring professional organizers is dependent on factors like the complexity of the project and the level of expertise. While most professional organizers charge per hour, others are getting paid per project.
To give you a better idea of how much you'll pay, below is a table showing the average costs.
| Charging Scheme | Price Range |
| --- | --- |
| Per hour | $50 - $60 |
| Per project | $50 - $1,500 |
Top Professional Organizers in Ottawa
In our selection process, we used the following criteria to get the best in the business:
1. Transformed Spaces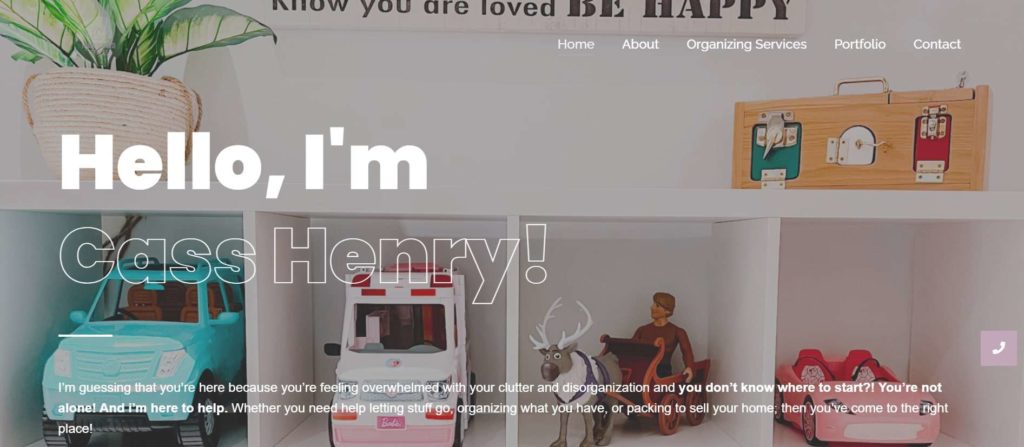 Test
Info
SERVICES
Decluttering and Organizing Services, Donating, Selling
WEBSITE
https://transformedspaces.ca/
ADDRESS
Ottawa, On K4C 1C5
CONTACT DETAILS
+1 613-601-0272
OPERATING HOURS
Monday to Thursday 7 AM - 11 PM

Friday 7 AM - 9 PM

Saturday 7 AM - 6 PM
| | |
| --- | --- |
| Criteria | Ratings |
| Competitive Rates | ★★★★★ (5/5) |
| Related Services | ★★★★★ (5/5) |
| Ease of Process | ★★★★★ (5/5) |
| Customer Feedback | ★★★★★ (5/5) |
With a vision to help busy families have more life with less clutter, Transformed Spaces is one of the providers to consider when looking for assistance decluttering and organizing your home.
We like that Cass Henry, the owner, helps people organize their homes through a stress-free process, which begins with a booking session. It's great, too, that the assessment of your space only requires sending photos via text messaging or email.
An estimate of how much time it would take to finish the job will be given from there. For additional supplies needed, Cass can either give you a shopping list or do the shopping for you for extra convenience.
If you're busy, it's nice that you don't have to be physically present at home as she does the organizing. You are, however, required during the decluttering to help her decide which ones to keep or get rid of.
As for those that need to be disposed of, Cass can haul the items for donations for free. For the things you can still sell, it's great that she can give you recommendations as to where you can have them sold.
We also appreciate that the website has provided a comprehensive portfolio of the previous work she's done. This provides potential customers with an idea of what the team is capable of.
Also commendable are the price guides provided as these help patrons better prepare for the costs. The only downside we found here is that Cass works alone, which might take bigger projects longer to finish.
Offers various related services
Easy process
Free hauling of items for donations
Comprehensive portfolio
Price guides provided
One-man team
Closed on Sundays
Customer Reviews
Did an amazing job
"I was thrilled with the amazing transformation to my bedroom closets and drawers. Cassandra did an amazing job that I just couldn't manage on my own. She was wonderful to work with and so non-judgemental. Highly recommend her services!" — Ellie Kardish-Kamil, Google Reviews
A miracle worker
"My house was overrun with clutter and I had no idea how to start. The house was so cluttered that it wasn't a restful space anymore. Cassandra is a miracle worker. Tons of stuff removed and donated to charity or thrown out. My house has been transformed slowly one room at a time. We still have work to do but I am confident we will get it done and I couldn't have done it without her. So gratefull for her services to make my house more relaxing and comfortable to live in." — Neko the cat, Google Reviews
2. Declutter4Good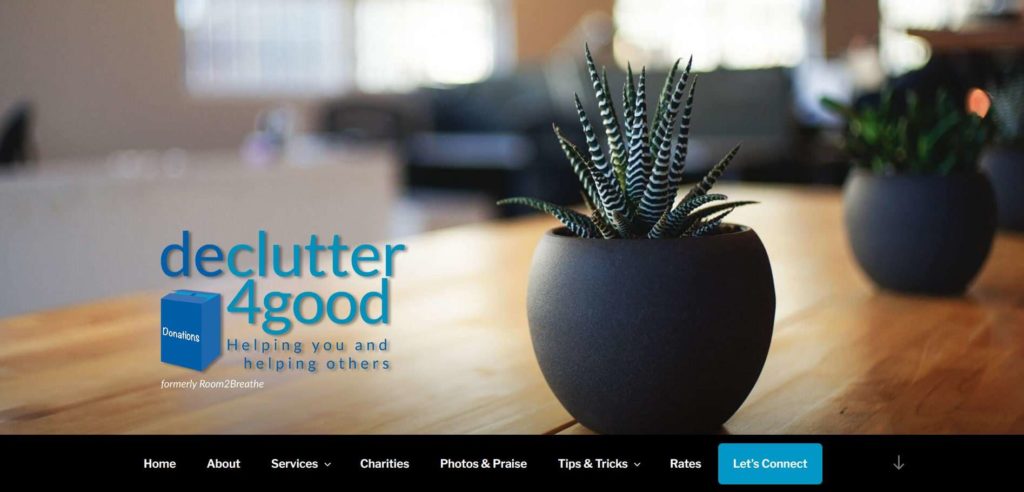 Test
Info
SERVICES
Decluttering and Organizing Services, Moving, Downsizing, Packing, Unpacking, Shopping for Items, Shredding, Providing Resources, Virtual/Live Speaking Presentations, Donation Program
WEBSITE
https://www.declutter4good.ca/
ADDRESS
53 Findlay Ave, Ottawa, ON K1S 2V1, Canada
CONTACT DETAILS
+1 613-868-5197
OPERATING HOURS
Monday to Thursday 8 AM - 9 PM

Friday 8 AM - 6 PM

Saturday to Sunday 9 AM - 6 PM
| | |
| --- | --- |
| Criteria | Ratings |
| Competitive Rates | ★★★★★ (5/5) |
| Related Services | ★★★★★ (5/5) |
| Ease of Process | ★★★★★ (5/5) |
| Customer Feedback | ★★★★★ (5/5) |
For organizing and decluttering needs, Declutter4Good might just be one of the best options you could have. Among its value-add services include moving, downsizing, packing, and unpacking.
One of the things we like is that its services come with a free consultation, which includes reviewing and providing a plan of action. The comprehensive price guides are great, too, as they help customers anticipate costs better.
It also has the 'Donations That Do Good' program, which helps distribute the things you're willing to let go of to find new homes among people in the community. Should you decide to sell some, its team can help you find the right places.
Another thing we like about Declutter4Good is that you don't have to be present during the organizing phase, which is great for busy people. You will have to be there during the decluttering phase, though, to help them know what to keep, discard, or donate.
We also appreciate that its team does not require you to purchase additional organization items like bins. Its people help you save costs by working with the things you already have.
Also worth noting are the free use of a shredder for each session and the portfolio provided on its website. Although the number of images available is relatively fewer, we still commend it as they provide an idea of the quality of work this company provides.
Multiple related services
Free consultation
Comprehensive portfolio
Service rates provided
Free use of a shredder
Open daily
Portfolio has limited images
Hourly rate on the pricier end
Customer Reviews
Couldn't be happier with the result
"Martha and the team took the time in advance to help us prepare and outline their process. On the days of the project, they made the whole thing as painless as possible for us. Martha and the crew also take care of handling any donations for local organizations, which is absolutely wonderful. The whole experience was fantastic and we couldn't be happier with the result." — Connie Costigan, Google Reviews
Great customer service
"I was very happy with the results of my sessions with Martha. My "overwhelm" is now gone and my living area and kitchen are now organized and I have more space. She is quick, efficient and never makes you feel bad about your situation. Plus, she was able to donate much of the excess and things that were in good shape to other charities and organizations. Thank you Martha for giving me a boost towards conquering my clutter!" — Deborah, Google Review
3. Second Set of Hands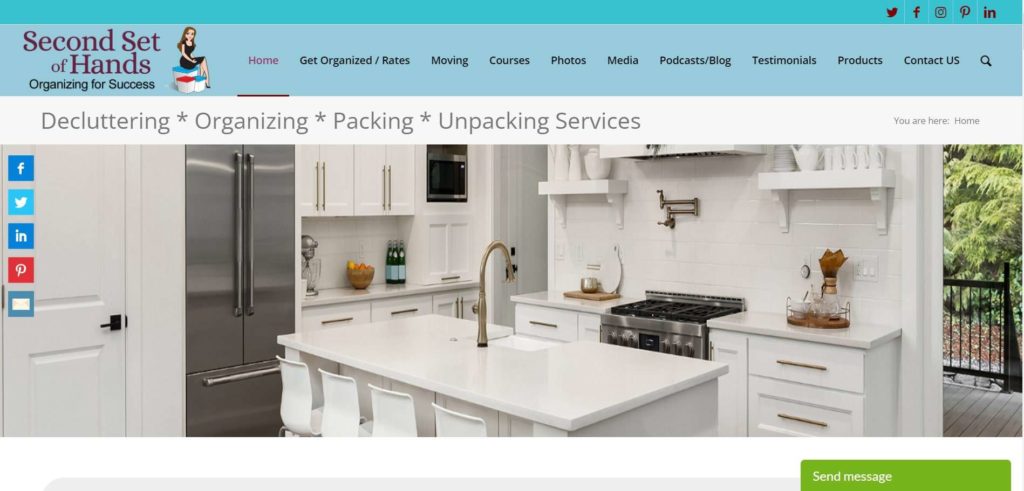 Test
Info
SERVICES
Decluttering, Organizing, Packing, Unpacking, Organizing Courses
WEBSITE
https://www.secondsetofhands.ca/
ADDRESS
1071 Ambleside Dr PH 7, Ottawa, ON K2B 6V4, Canada
CONTACT DETAILS
+1 613-899-4590
OPERATING HOURS
Monday to Friday 9 AM - 6 PM

Saturday 9 AM - 5 PM

Sunday 10 AM - 5 PM
| | |
| --- | --- |
| Criteria | Ratings |
| Competitive Rates | ★★★★✩ (4/5) |
| Related Services | ★★★★★ (5/5) |
| Ease of Process | ★★★★★ (5/5) |
| Customer Feedback | ★★★★★ (5/5) |
Owned by Kathy McEwan, an organizing and productivity expert, we trust that Second Set of Hands can help you with your decluttering and organizing needs. Fully insured and bonded, you can be confident with the services it offers.
The company handles decluttering, home organizing, and creating systems to help you stay organized. The best part is that Kathy will even provide you with some tips on how you could stay organized after the session.
We like its convenient 3-step process, which includes identifying your needs, setting plans, and implementing actions. It's great that organizing solutions are provided by compassionate and highly trained professional organizers.
Apart from this, they will also help you go through your items and decide what to keep and let go of. For extra convenience, those that you no longer like will be packed and donated for you.
Should you have garbage that needs to be disposed of, the staff can pack it up and bring it to your garbage area. If required, the team will recommend home organizing products, although this might entail additional costs.
We appreciate that it offers complimentary telephone consultations and in-home consultations for bigger projects.
The only downside we found is that its packages, which include 2 organizers, are relatively more expensive. Although these types of packages allow work to be finished faster, the rates cling to the pricier end.
There are also no one-man organizing options, which could be ideal for smaller projects that can be accomplished within a few hours.
Offers different related services
Fully insured and bonded
Convenient 3-step process
A team of professional organizers
Complimentary consultations
Open daily
Relatively more expensive package rates
No one-man organizing service option
Customer Reviews
Results are amazing
"Kathy and the crew at Second Set of Hands are incredible! I was feeling so overwhelmed about all the clutter in my house and they came in and got me organized in no time. They work extremely fast and the results are amazing! I highly recommend them." — Bobbie McGowan, Google Reviews
So worth it
"I hired Second Set of Hands to help me get my basement decluttered and organized. I am so glad that I did. The two organizers did a wonderful job. They were very hard working and we got so much accomplished in just a few hours. What a great feeling to move forward on a job that I had been avoiding for a long time. I highly recommend Second Set of Hands if you need help with decluttering and organizing. So worth it!" — Delyla, Google Reviews
4. The Organized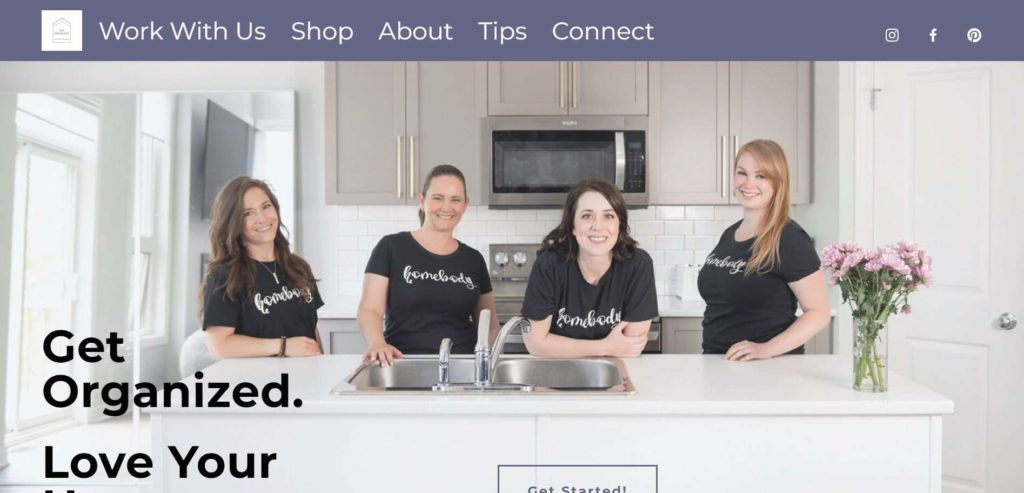 | Test | Info |
| --- | --- |
| SERVICES | Organizing, Interior Design, Move Coordination, Organizational Coaching Services, Home Organizing Products |
| WEBSITE | https://www.theorganized.ca/ |
| ADDRESS | 1250 Stittsville Main St, Stittsville, ON K2S 1X6, Canada |
| CONTACT DETAILS | +1 613-699-0664 |
| OPERATING HOURS | Open 24 hours |
| | |
| --- | --- |
| Criteria | Ratings |
| Competitive Rates | ★★★★✩ (4/5) |
| Related Services | ★★★★★ (5/5) |
| Ease of Process | ★★★★★ (5/5) |
| Customer Feedback | ★★★★★ (5/5) |
One of the reasons we like The Organized is that it was founded by Laura Le Blanc. She is a member of the Professional Organizers in Canada (POC) and the National Association of Productivity and Organizing Professionals (NAPO).
With such affiliations, we trust the quality of services she provides to her clients.
Currently, she and her team provide services that range from professional organizing solutions to full-service, end-to-end move services. There are home staging services too, which are ideal when planning to sell your home.
Should you need professional help, the team provides a free consultation that can be done either in-home or virtually. You may choose between its organizing on-demand service or signature service, which is an all-inclusive pricing option.
While comprehensive and complete with a 1-month follow-up, the signature service might not sit well with others because of its relatively expensive rate. We also noticed a very limited portfolio, which is another downside.
On a different note, we appreciate that Laura has provided tips and tricks, which can help you declutter and organize your space. You might be interested in its organizational coaching, which can be done virtually.
What's interesting about this virtual coaching option is how she combines The Mind Rebel™ Method with her unique organizing skills. This special method, by the way, is a self-development framework that helps unlock the mind's power.
Various related services
Relevant certifications
Free consultation
Provides tips and tricks
Organizational coaching
Some services are on the pricier end
Limited portfolio
Customer Reviews
Incredible experience
"We had an incredible experience working with The Organized Inc. Laura and her team were professional, efficient, and friendly. They helped organize our mud room to make it the perfect space for our family to keep organized with not only our belongings, but also our daily schedule. Laura had so many great ideas to keep our family on task by creative a command centre that displays our calendar, special reminders, children's artwork and special events for each month. She had great ideas on how to organize the space so that each member of our family could be organized with their belongings, and the tasks they had each day. We have recommended The Organized Inc to all of our friends. Thanks Laura!" — Steph Nyentap, Google Reviews
Wonderful work
"Laura and her team are truly talented people. They took my condo with 0 storage from really messy to organized like magic. Friends who came over said it looked like a brand new place! I will definitely be hiring them again. Thank you the Organized, for your wonderful work!" — Chyna Wall, Google Reviews
5. Altered Spaces – Altered Lives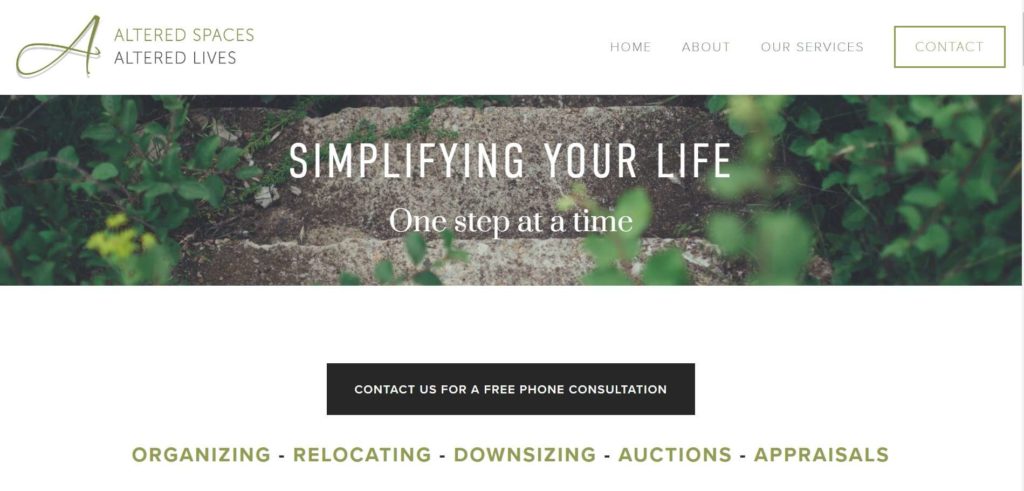 | Test | Info |
| --- | --- |
| SERVICES | Home Sale Preparation & Relocation, Downsizing & Senior Transitions, Home & Estate Clear Out, Appraisals & Auctions, Organizing, Chronic Disorganization & Hoarding |
| WEBSITE | https://www.asal.ca/ |
| ADDRESS | 212 Willow Creek Circle, Ottawa, ON K2G 7B1 |
| CONTACT DETAILS | +1 613-294-6611 |
| OPERATING HOURS | Monday to Friday 8 AM - 6 PM |
| | |
| --- | --- |
| Criteria | Ratings |
| Competitive Rates | ★★★★✩ (4/5) |
| Related Services | ★★★★★ (5/5) |
| Ease of Process | ★★★★★ (5/5) |
| Customer Feedback | ★★★★✩ (4/5) |
With over 20 years of experience, we believe that Altered Spaces – Altered Lives can help you with your organizing needs. Led by a trained professional organizer, Gisele Miller, we trust the quality of service it provides.
Its services include organizing, downsizing, and home and estate clearing out, to mention a few. It's nice that each service comes with a free phone consultation, which is a great start for you.
We like that customers are given the option to go for full-project management packages or a-la-carte services, which are ideal for smaller needs. You may choose a 1-on-1 coaching session or hire its team for larger projects.
Aside from having flexible offers, we appreciate that its team has the initiative to distribute unwanted items to charities. They can even assist you with selling items should you decide to do so after decluttering.
While there might be price guides provided, the rates tend to be relatively pricier than others even with discounts. It's also sad that there was no portfolio of previous work made available for potential customers to see.
Since the company is closed on weekends, you might as well take that into account should you decide to avail of its services. Nevertheless, we still think that this service provider is one to consider when looking for professional organizers in the area.
Various related services
Led by a trained professional organizer
Free phone consultation
A-la-carte packages
Price guides
Rates are relatively pricier
Closed on weekends
Customer Reviews
Professional, hard-working, and dedicated
"The ladies are nothing short of professional, hard working and dedicated to the job they do. They are easy to work with, have great work ethic and are compassionate and kind. Thank you for all you do to help people in sometimes difficult and sad situations." — Cathy Lawrence, Google Reviews
Highly recommended
"Staff are friendly and always there when we needed them .. highly recommend them" — Jenifer Lee, Google Reviews
FAQs about Professional Organizers
---
We understand that organizing and decluttering can be a challenge sometimes. But we hope that with our list above, life is made easier for you!
Need to get rid of the garbage from the entire decluttering process? You might find this article on the best garbage disposal services in Ottawa interesting.