The Best Schools for Music Lessons in Ottawa
Studying music is a rewarding activity that goes beyond learning how to strike a note or play a chord. Engaging in music lessons can also be a mental exercise, help you forge meaningful connections with people, and uplift your mood.
But to make the most out of your musical journey, you need reliable teachers and a lesson plan built for you. Thankfully, the best schools for music lessons in Ottawa offer just that.
Check out our review so you can decide where to enroll. Then read our information about costs and music lessons FAQs so you'll know what to expect.
How much do music lessons cost in Ottawa?
Music lessons in Ottawa can cost $15 to $75. Specifically, beginners will pay between $15 and $30 for a 30-minute lesson, while intermediate and advanced-level learners usually spend $30 to $75 per lesson.
The exact cost will depend on your school and your mentor. Elite academies and teachers will be more expensive.
Here is a comparison of prices from a few music schools in Ottawa to give you an idea of the possible costs.
School
Prices
Allegro Music School
Trial lesson (30 minutes): $36

30-minute lessons: $32 per lesson

60-minute lessons: $64 per lesson

West End Music School
Trial lesson: $25

Monthly flat rate: $117

Victor Avila Piano Studio
30-minute weekly lesson: $120 per month

60-minute weekly lesson: $200 per month

Nepean School of Music
Varies
Kanata Music Centre
Varies
Top Schools For Music Lessons in Ottawa
What makes a music school great? Here are the criteria we'll use to evaluate our selection.
1. Nepean School of Music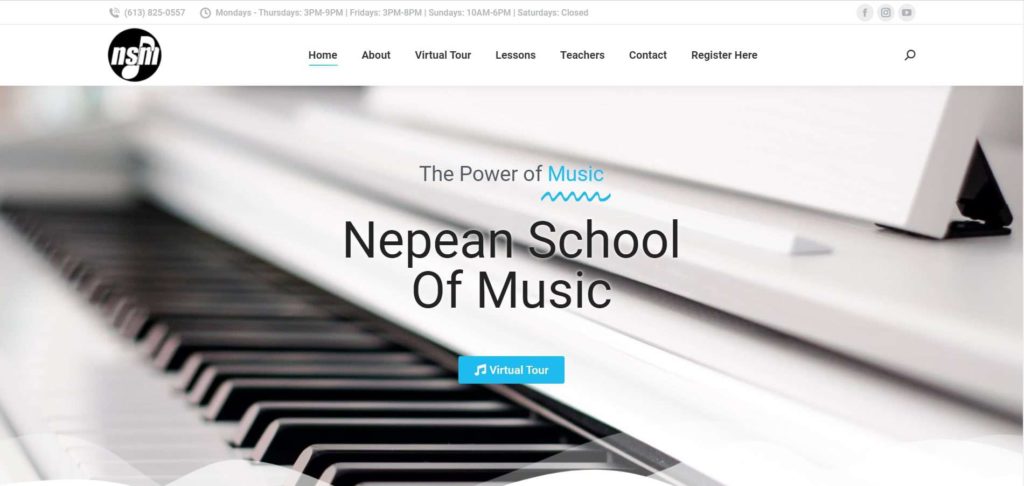 Test
Info
PROGRAMS
- Piano lessons

- Voice and choir lessons

- Violins and string lessons

- Guitar and bass lessons

- Woodwinds and brass lessons

- Drum lessons

WEBSITE
https://nepeanschoolofmusic.com/
ADDRESS
900 Greenbank Rd., Nepean, ON K2J 1S8
CONTACT DETAILS
(613) 825-0557
OPERATING HOURS
Monday to Thursday: 3:00 PM - 9:00 PM

Friday: 3:00 PM - 8:00 PM

Sunday: 10:00 AM - 6:00 PM
| | |
| --- | --- |
| Criteria | Rating |
| Range of lessons | ★★★★★ (5/5) |
| Expertise | ★★★★☆ (4.5/5) |
| Credentials | ★★★★★ (5/5) |
| Lesson efficiency | ★★★★☆ (4/5) |
| Service desk | ★★★★★ (5/5) |
| Responsiveness | ★★★★★ (5/5) |
| Helpfulness and friendliness | ★★★★★ (5/5) |
We love the Nepean School of Music, as it welcomes students of all ages and skills. Whether you're a young musician or an adult hobbyist, you can enroll in the school's many lessons, ranging from piano to guitar and drums.
And it gets better. Unlike other schools that focus on a genre (say, classical music), Nepean School of Music offers more flexibility, as you can learn various styles, including jazz and pop.
The school's private music lessons also come in 30, 45, and 60-minute durations, letting learners choose a duration that's suitable for them. After all, some students can sustain an hour of learning, while others will feel more comfortable with shorter sessions.
We also like that the school has managed to build a community through its highly capable teachers, personable staff, and students.
It's also fascinating that adults who learned from the school in their childhood tend to bring their kids long after, helping forge a strong sense of kinship that span generations.
Like most music schools, the Nepean School of Music tends to be pricey, especially if you're to take the four-year structured learning approach. It also doesn't help that lesson rates are not available online.
Thankfully, you can always contact the school to inquire about details. Don't worry. They're easy to reach.
Provides a summary of what to expect from each lesson
Passionate, highly skilled music teachers
Neat and modern lesson rooms
Has a recording studio
No at-a-glance lesson rates online
A bit far from downtown
Customer Reviews
Passion that is infectious
"Amazing school, amazing teachers! As a professional musician, it was really inspiring to work in a creative space that is clearly driven by passionate artists that love doing what they do" —Cindy Doire, Google Reviews
A consistently friendly space
"Picked up the guitar after a few decades off and realized it is not like riding a bike. Went back to these guys and it's just like I remember. Great staff and great atmosphere for learning." —Mike Delaney, Google Reviews
2. Kanata Music Centre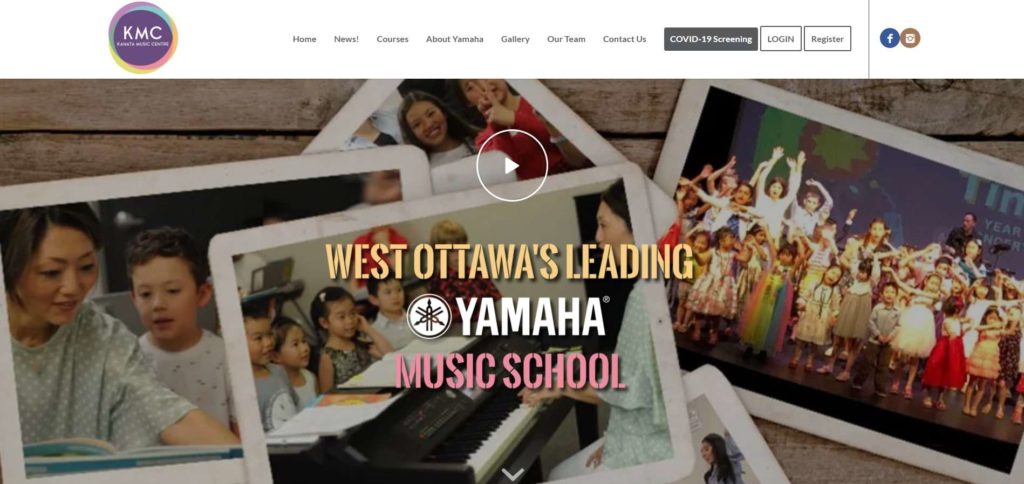 Test
Info
PROGRAMS
- Music Wonderland (for 3 to 4-year-olds)

- Junior Music Course (for 4 to 5-year-olds)

- Young Musicians Course (for 6 to 7-year-olds)

- Private lessons

WEBSITE
http://kanatamusiccentre.com/
ADDRESS
105 Schneider Rd. #121, Kanata, ON K2K 2C1
CONTACT DETAILS
(613) 519-2552
OPERATING HOURS
Monday: 2:00 PM - 6:00 PM

Tuesday: 3:30 PM - 8:15 PM

Thursday: 3:30 PM - 8:30 PM

Saturday: 10:00 AM - 3:15 PM
| | |
| --- | --- |
| Criteria | Rating |
| Range of lessons | ★★★★☆ (4/5) |
| Expertise | ★★★★★ (5/5) |
| Credentials | ★★★★★ (5/5) |
| Lesson efficiency | ★★★★★ (5/5) |
| Service desk | ★★★★☆ (4.5/5) |
| Responsiveness | ★★★★☆ (4/5) |
| Helpfulness and friendliness | ★★★★★ (5/5) |
Many parents with musically inclined children would love to start them young, so they enroll the kids in music schools as early as possible. But conventional approaches tend to take away the fun in learning music, affecting student interest and progress.
We picked Kanata Music Centre, as its program aims to combat these music school pitfalls. The academy employs the Yamaha Music Education System, structured so the students have full exposure to all musical aspects.
We wholeheartedly get behind the said approach, as we believe that music is as complex as other professional programs. The school's teaching style helps equip students with a complete set of tools so they can both play and create music.
It's unfortunate that the comprehensive program works only for young children, though. You'll need to look for other schools or online courses if you're an adult who wants to learn about music from the roots up.
Makes music learning enjoyable and inspiring
Highly capable music teachers
Comprehensive and effective programs
Employs a well-rounded group lessons approach
Yamaha programs applicable for children and teens only
Appointment required for in-office visits
Customer Reviews
Certified kid-friendly
"Honestly can't say enough good things about KMC! Both of our kids take group piano lessons and they have progressed so quickly and absolutely love the classes. Fun and play are built into the Yamaha system, so the kids never get bored or feel like they're being overworked. They learn music theory and singing as well so it's a very well-rounded musical education, not *just* piano lessons. The KMC staff are amazing and SO good at engaging with kids of all ages. They tackled COVID head-on and somehow managed to transition all of the KMC magic to a virtual program while still keeping my kids engaged." —Alison Danson Google Reviews
Helps children see the beauty of music
"Our son has been with KMC for 5 years taking piano lessons. As parents, we appreciate the patience, passion, and creativity our son's teacher, Atsuko, possesses. It's taken some time, but our son has grown to appreciate the art and creates his own pieces at home. We highly recommend KMC to anyone but especially to those wanting to introduce their kids to music!" —Randolf Elias, Google Reviews
3. Allegro Music School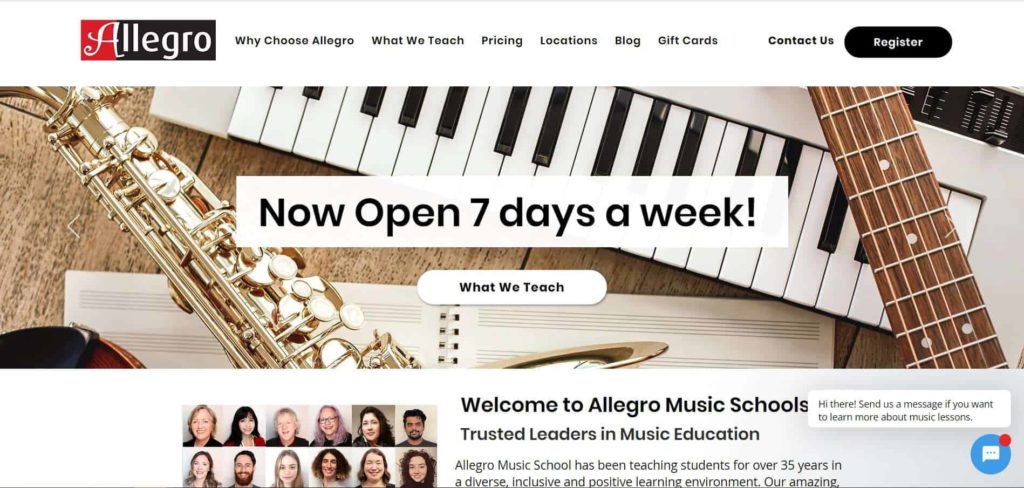 Test
Info
PROGRAMS
- Piano lessons

- Singing lessons

- Guitar lessons

- Violin lessons

- Online music lessons

WEBSITE
https://www.allegromusicschools.com/
ADDRESS
1439 Youville Dr., Orleans, ON K1C 4M8
CONTACT DETAILS
(613) 837-6040
OPERATING HOURS
Monday to Sunday: 9:00 AM - 9:00 PM
| | |
| --- | --- |
| Criteria | Rating |
| Range of lessons | ★★★★★ (5/5) |
| Expertise | ★★★★☆ (4.5/5) |
| Credentials | ★★★★☆ (4/5) |
| Lesson efficiency | ★★★★★ (5/5) |
| Service desk | ★★★★☆ (4.5/5) |
| Responsiveness | ★★★★☆ (4/5) |
| Helpfulness and friendliness | ★★★★★ (5/5) |
Allegro Music School is an ideal option if you plan to learn multiple musical instruments. Aside from the usual piano and guitar, the learning center also offers violin, cello, saxophone, flute, clarinet, and trumpet lessons.
Moreover, you can improve your understanding of music with their theory and history lessons. You can also tap into your inner songwriter with their songwriting course.
The best part is that the programs are open to all learners regardless of age, experience, and skills. The instructors will do their best to personalize your lessons, allowing you to learn music at your pace.
We also love that the school offers music therapy, which you can take in a group or one-on-one setting. Allegro also has one of the best prices in town for this additional program, so we suggest giving it a try if you need some tuning up on your well-being.
We like that the school made its price list available online. That said, the lesson rates are higher than average, so you better prepare your wallet if you still want to go.
Offers lessons for orchestra instruments
Unique and helpful music therapy program
Customizes lessons to suit your needs
Open on weekends
Lesson rates a bit expensive
No bulleted list of what you can expect per program
Customer Reviews
Adult-approved lessons
"I've been an adult student at Allegro for the past 18 years and I absolutely love the classes (singing and piano) I have had there! The teachers are amazing, the community is kind and welcoming! I highly recommend Allegro Music School!" —Virginie Mesana, Google Reviews
Boosts kids' confidence in their talents
"Allegro is a wonderful place filled with talented, compassionate, and caring instructors and students. My daughter has been with Allegro for nearly 6 years and has gained confidence in herself and her musical abilities. We love all of the staff and the school itself has been updated and is a great place for classes, workshops, and performances." —Candice Woods, Google Reviews
4. West End Music School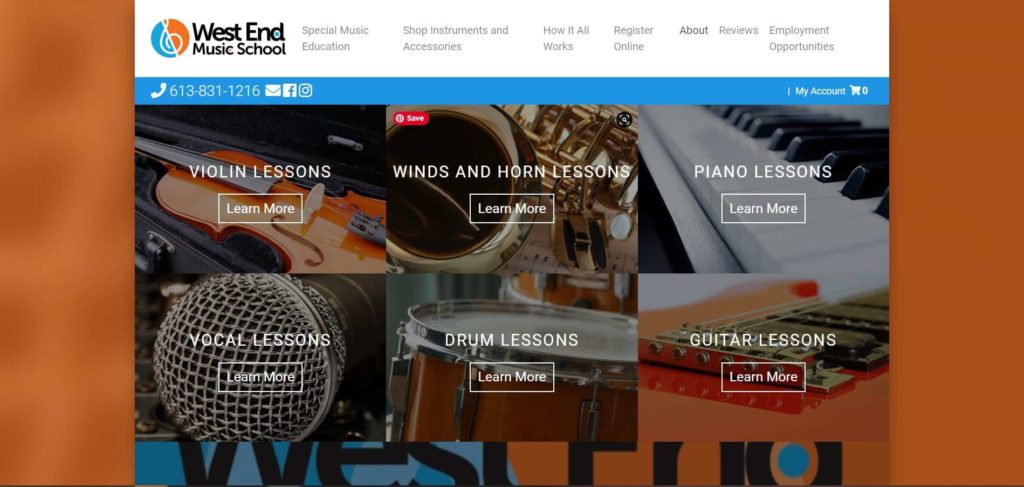 Test
Info
PROGRAMS
- Violin lessons

- Winds and horn lessons

- Piano lessons

- Vocal lessons

- Drum lessons

- Guitar lessons

WEBSITE
https://westendmusicschool.com/
ADDRESS
83 Iber Rd., Stittsville, ON K2S 1E7
CONTACT DETAILS
(613) 831-1216
OPERATING HOURS
Monday to Friday: 3:00 PM - 8:00 PM

Saturday: 9:00 AM - 3:00 PM
| | |
| --- | --- |
| Criteria | Rating |
| Range of lessons | ★★★★☆ (4/5) |
| Expertise | ★★★★☆ (4.5/5) |
| Credentials | ★★★★☆ (4/5) |
| Lesson efficiency | ★★★★★ (5/5) |
| Service desk | ★★★★☆ (4.5/5) |
| Responsiveness | ★★★★☆ (4/5) |
| Helpfulness and friendliness | ★★★★★ (5/5) |
Affordable music lessons are few, almost rare. Thankfully, we found a school near Ottawa that fits the bill.
West End Music School offers lessons for singing and playing several musical instruments at a monthly flat rate that is relatively affordable. That's impressive, given that the school's teachers are not cutting corners, especially when teaching kids.
The school also encourages a flexible study set-up wherein you can choose to meet in person or do virtual classes. Either way, the instruction quality won't change.
The only drawback we found for the school is their lack of an official program for music theory.
To be fair, they do offer workshops to teach the fundamental concepts. But we think learners who want to fully understand the technicalities may be better off looking for other programs.
Know also that West End's classes are reduced to two to three days a week during the summer. If you're only available in the said season, consider looking for other schools that operate all year round.
Highly rated teaching skills
Affordable rates
Open on Saturdays
Offers lessons for boosting stage performance
Operating hours shorter in summer
Music theory lessons not as comprehensive as other schools'
Customer Reviews
Effective and wonderful instructors
"My daughter's violin instructor is wonderful. Patient with kids and very talented. Management is very understanding and flexible. Highly recommend! Victoria is a gem!" —Natalia Delorme, Google Reviews
Goes above and beyond
"Even when stuck home during a pandemic, West End Music went through extra lengths to ensure we could continue lessons at home. Very satisfied and recommend it to anyone!" —Morgan Hayes, Google Reviews
5. Victor Avila Studio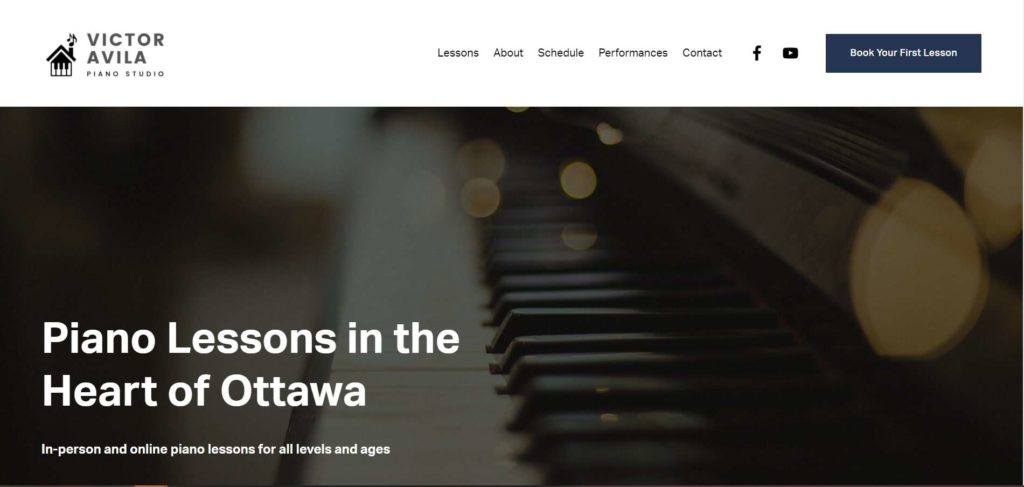 Test
Info
PROGRAMS
- Beginner and advanced piano lessons

- Composition and theory lessons

- Classical piano for adults

WEBSITE
https://www.victoravilapianostudio.com/
ADDRESS
59b Stewart St., Ottawa, ON K1N 6H9
CONTACT DETAILS
(873) 353-596
OPERATING HOURS
Open 24/7
| | |
| --- | --- |
| Criteria | Rating |
| Range of lessons | ★★★☆☆ (3/5) |
| Expertise | ★★★★★ (5/5) |
| Credentials | ★★★★★ (5/5) |
| Lesson efficiency | ★★★★★ (5/5) |
| Service desk | ★★★★★ (5/5) |
| Responsiveness | ★★★★★ (5/5) |
| Helpfulness and friendliness | ★★★★★ (5/5) |
Students of all ages should try learning from the Victor Avila Studio if they want to venture into classical piano playing.
The instructor, Victor Avila, has a Master's Degree in Music and is an active pianist. He also has his share of competition experience, adding up to his knowledge of classical piano.
We love that the piano lessons apply to any age and skill level. The teacher will also personalize your training so you can learn the proper techniques and theory and play within your capacity.
Victor also has a certification for composition from the Suzuki Association of the Americas. So if your aim is writing for the piano, you can certainly learn a lot from him.
It's refreshing that Victor offers classical piano lessons for adults. Contrary to popular belief, it's never too late to start your musical journey. Older people can play difficult pieces too, provided they put their minds to it.
We also like that the lessons for adults are private, as it allows the students to learn at their own pace.
The only downside we see with this school is the limitation of the instruments taught. And even that is understandable, as studying classical piano is complex.
Lessons come at reasonable prices
Ideal for classical piano lovers
Open daily
Also offers lessons to prepare you for exams and competitions
No other lessons aside from piano
Classical pieces may become difficult to master
Customer Reviews
Accommodates adult learners graciously
"Victor is an excellent piano teacher. I joined Victor's studio about one year ago. Since that time, I have been taking lessons on a weekly basis and have made a lot of progress. As an adult beginner, I was looking for a teacher who could work with my skill level and would be understanding that I had fairly limited time to dedicate to practicing throughout the week. Victor was amazing at identifying my level and finding interesting and enjoyable pieces. He is very patient and great at communicating theory and technique. He keeps the lessons fun. I would highly recommend Victor to anyone looking for a piano teacher." —Gabriel Lessard, Google Reviews
Inspiring learners to keep on
"It's been a long-cherished dream of mine to resume piano lessons. For this, I couldn't have asked for a better teacher than Victor: kind, encouraging, and always motivating you to do your best. You realize very quickly that Victor loves teaching and he has a gift for it. Whenever I feel stuck with a piece, he always has great advice on how to move forward. Also, as an adult learner, I appreciate his attention to posture. My back is really thankful! I've learned so much and I am very excited about sitting for an RCM exam for the first time in my life. Thank you, Victor!" —G Romero, Google Reviews
FAQs about Music Lessons in Ottawa
---
Playing and creating music may be a dream for many people, but you can always break out of the mold by going out there and exposing yourself to music lessons. We hope you find the right school on our list.
Since you're studying music, it's essential to own an instrument. If you're looking to buy one, head to our list of the best music stores in Ottawa.