The Best Mold Inspection and Testing Services in Ottawa
Nowadays, sneezing, a runny nose, and coughing can make you a little anxious. You might think it can be a bad case of allergic rhinitis or worst, COVID.
But it can also be due to molds. Yes, you read that right—molds.
These seemingly harmless growths on your walls can actually be harmful, especially to your respiratory health or if you have allergies to mold spores.
Likewise, molds can also damage property and important home structures.
If you suspect that molds are causing you these inconveniences, it might be about time to have your home checked.
To help you out, we listed the best mold inspection and testing services in Ottawa, in case you think your home needs them.
When do I need to get mold inspection services?
Molds are fungi that grow and thrive due to moisture. Their spores spread easily, as they can attach themselves to pets, your clothes, or simply travel by air.
There are many ways in which molds can be harmful to you, your family, and your home. The question is "Do you really need to get professional services to inspect your home for molds?"
There are a number of health complications that may arise when you are exposed to molds.
You can get symptoms like runny nose, eye irritation, headaches, or flu-like symptoms. Or worse, you can experience serious health issues like bad allergic reactions (hives and/or asphyxiation) and asthma attacks.
Not only that, but molds can also cause damage to property, as they eat away materials like drywall, ceiling tiles, floorboards, carpets, etc.
If you see molds visible enough on your walls or on any surface in your household, then you may consider skipping this part and go straight to getting mold remediation services.
However, there are instances where getting mold inspection services is necessary. If you're not sure if you should, here are some reasons why you should consider doing so:
You have experienced leakages, plumbing issues, or flooding. This is because molds usually grow in damp, moist places. Areas with leakages that are in concealed locations are most likely to grow molds without you knowing it.
You are having persistent health concerns like sneezing, coughs, or asthma attacks. This is because mold spores spread out easily and can cause allergies or trigger asthma.
You can smell an unpleasant odor even without seeing any visible growth in your area. A good mold inspector can identify if you do have molds and detect where the growth is occurring.
You also need mold inspection services if you have initially acquired mold remediation services to check if the issue has been completely resolved.
You may also need to have your home or property cleared of molds for real estate transactions if you are planning to sell, lease, or rent it.
You also need an inspection if the molds are contaminating and causing damage to your home's physical structure, water system, furniture, and other items like your clothes, children's toys, etc.
Inspections also help to identify how much mold has contaminated your place and get the proper recommendations on how to treat it.
If you are thinking of just getting over-the-counter home mold test kits, you better think twice. These test kits are usually inaccurate and misleading.
These kits also can't tell you how bad the problem is. They also can't help you find where the molds are growing if they are not visible.
Testing results are always best interpreted by professionals. Plus they can also recommend you the best solutions to eliminate this problem properly.
How much do mold inspection services cost in Ottawa?
What mold inspectors do is make an assessment of your place for any area susceptible to molds. Once successful in locating problem areas, they will recommend a course of action, and this will most likely include mold testing.
Mold inspection for an average household can cost around $810.
Costs for small to medium-sized homes can be around $374 to $499. Meanwhile, an area with 4,000 square feet and up can go for as much as $800 or more, depending on the size of the area covered, the time spent for inspection, and the equipment used.
Keep in mind though that inspection costs may be separate from testing costs.
There are two ways to test molds: air tests or surface tests. Below are some of the standard types of tests done for mold inspections and a range of their price estimates for an average-sized home.
The types of tests done will depend on the recommendation of your technician.
| Testing Type | Price Range |
| --- | --- |
| Air tests | $87 to $187 |
| Surface tests: | |
|   • Swabbing | • $249 to $374 |
|   • Tape lifting | • $62 to $94 |
|   • Culture surface and bulk samples | • $80 to $144 |
Other companies, however, can offer inspection and testing services as a package included in their mold remediation services. Getting a good quote on services will really depend on your contractor and the services they can offer.
What to Look For in Mold Inspection and Testing Services
To get the most reliable results, we listed the best mold inspection and testing services according to the following criteria:
With these points in mind, we hope we can help you spot an inspection and testing service that's suitable for your needs.
1. Mold Busters Ottawa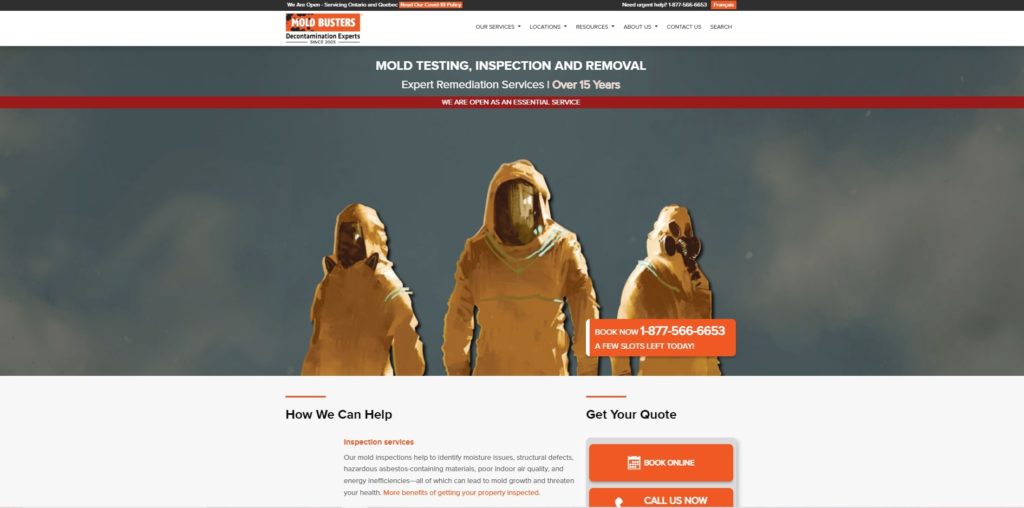 | Test | Info |
| --- | --- |
| SERVICES | Mold inspection, testing, remediation, ventilation, and demolition services |
| WEBSITE | https://www.bustmold.com/ |
| ADDRESS | 655 Richmond Road, Ottawa |
| CONTACT DETAILS | 1-877-566-6653 |
| OPERATING HOURS | Monday to Friday: 8 am to 5 pm |
| | |
| --- | --- |
| Experience & expertise | ★★★★★ (5/5) |
| Efficiency of service | ★★★★☆ (4/5) |
| Price range | ★★★★☆ (4/5) |
| Customer service | ★★★★☆ (4/5) |
The Mold Busters in Ottawa are fully certified, decontamination experts. They have multiple branches across Canada and have provided inspection services for more than 17,000 clients since 2005.
They guarantee that their inspectors and experts are all fully certified by the National Association of Mold Professionals (NAMP) and strictly adhere to the Institute of Inspection Cleaning and Restoration Certification (IICRC) guidelines for safe and effective remediation and water restoration.
Over the years, they have acquired a huge customer base and are certified by the Better Business Bureau (BBB). This means they adhere to the organization's standard of customer service and commitment to resolving complaints.
Their customer assistance hotline is available 24/7. When you call, you get to speak to a certified technician and not just regular staff at the reception desk.
From their name itself, they really take dealing with mold seriously. They offer a range of services from inspection, testing, remediation, disinfection, and cleaning—even providing ventilation technology if needed.
They understand that every environment requires its own unique inspection process and thus offer various inspection and testing services aside from just mold-related ones.
They also do odor, insulation, and water damage inspection services. They even offer specialized inspection services for facilities that grow cannabis since it has been legalized in Canada.
On top of that, they also offer various testing services aside from mold testing, such as air quality testing, asbestos testing, and recently, COVID-19 surface testing.
Unfortunately, all their inspection, testing, and remediation services are only available on weekdays, and you will have to follow this schedule.
One thing to remember if you will utilize their services is to check your quote properly. They are very particular with the services they provide and what you see there is all that you will get.
If by any chance a portion of your walls needs to be removed for remediation, take note that they do not include wall repairs in their services. You might want to have another contractor ready for that after.
They also do not offer packaged services and will quote you per service provided if you need multiple services done.
They are, however, are fast and efficient. You can even track your inspector's estimated time of arrival (ETA) through a unique en-route system.
This way, you get to receive a notification when your designated inspector is on the way to you.
If it's value for money that you're after, you may find their price match guarantee in your favor. They are willing to match and even beat competitors' provided quotations if you choose them instead.
Plus, should the services you need turn out to be costly, they also offer financing help so you won't have to cash out in full at once.
Complete mold-related services from inspection, testing, and remediation
Offers other inspection and testing services
Offers price-match guarantee
Certified by NAMP and IICRC
BBB accredited
24/7 customer hotline
Fast and efficient service
Unique en-route system to notify you of your inspector's ETA
They are not liable for repairs needed on structures affected by remediation
Services are available only on weekdays
No packages available for multiple services
Inflexible price quotations
Customer Reviews
High level of confidence in their service
I first contacted this company in the summer of 2020, they promptly came and inspected my attic. I was more than pleased with their service and report, not because there was no mold but more for the recommendations and advice they provided. The inspector provided me with a high level of confidence in his inspection and took the time to answer all my questions and address any concerns I had. Later that year I was concerned and contacted them again regarding an area in my basement. They inspected and performed the necessary work to my full satisfaction, I was more than pleased. They came back a year later to test and do a re-inspection to make sure the issue was resolved. I highly recommend this company in terms of their quality of work, technical knowledge, honesty and reasonable pricing. – Dale
Professional that went above and beyond
I liked the prefessionalism of this company. They visited my home and after inspection of a mold issue gave me a reasonable price quotation and schedule to do the work in about 2 weeks. They arrived on time, unusual for a contractor these days, and completed the work on schedule. Went above and beyond in my opinion. Problem solved! Great experience. I hope to never need them again, but I am confident that they will be there when and if needed. – Gary Carter
2. Enviropure Home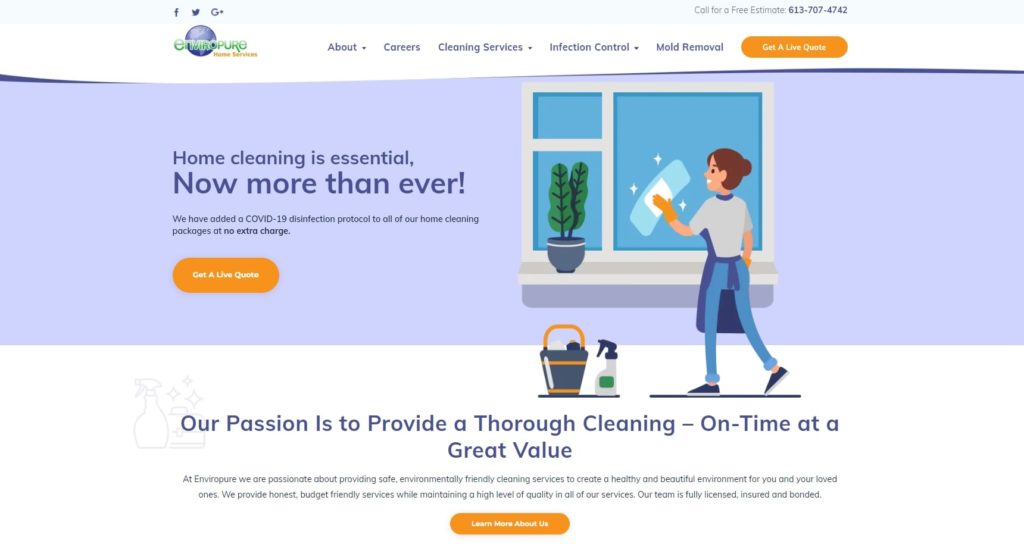 Test
Info
SERVICES
Cleaning services, infection control, mold inspection, air testing, and mold-removal
WEBSITE
https://www.enviropurehome.com/
ADDRESS
103-2710 Lancaster Rd Ottawa
CONTACT DETAILS
(613) 707-4742
OPERATING HOURS
Monday to Friday: 7 am to 7 pm

Saturday and Sunday: 8 am to 6 pm
| | |
| --- | --- |
| Experience & expertise | ★★★★★ (5/5) |
| Efficiency of service | ★★★★☆ (4/5) |
| Price range | ★★★☆☆ (3/5) |
| Customer service | ★★★★☆ (4/5) |
Started as a home cleaning service back in 2007, Enviropure has expanded its services and now also specializes in mold-related services.
They pride themselves as a natural cleaning company that does not use any harmful chemicals in all their services.
With multiple certifications from the IICRC and the Indoor Air Quality Assurance (IAQA), they hold the reputation of being one of the most certified teams for various home services.
They have Amdecon-certified Biohazard Specialists and ABRA-certified Bio-Recovery technicians so you can be assured that the professionals dealing with your mold issues are very much qualified for the job.
When it comes to molds, their services range from inspection, testing, remediation, and infection control.
Although their testing options are only limited to air quality tests, they do it for various contaminants such as molds, asbestos, lead, and radon. Unfortunately, they do not offer surface tests if you think this is the type of service you will need.
One plus point for them would be because they primarily offer cleaning services, they can also clean up for you post mold-removal services if needed. Plus their services are available every day of the week.
Since they do cleaning in general, some of their customers that dealt with mold issues actually had no idea that they had mold in their homes. It was Enviropure who spotted the problem for them.
This very much speaks of the attention to detail and the extra mile their staff does for customers.
Their services may seem to be a little more expensive than their competitors. However, the all-rounder type of services they provide can be worth it if you want a one-stop deal.
Overall, if you want certified professionals who'd be willing to go beyond what is expected, Enviropure is definitely worth a shot.
Offers mold inspection, air testing, and removal services
Has various certifications for home services
Offers various cleaning and disinfection services
Services are available on all days of the week
Testing services are limited only to air quality tests
Expertise lies more in cleaning and disinfection services
Can be expensive compared to competitors
Customer Reviews
Worth it
We contacted Enviropure Cleaners to look at some water damage in my Aunts house two weeks ago. Richard showed up at 9pm, the only time we could all be there. He assessed the situation and explained so clearly what the problem was. MOLD. His team not only cleaned up what can only be described as "a gross mess" they found the problem with the foundation, fixed it and left her home like new. The wretched smell was gone, and so was the Mold. His clear and simple explanation put my Aunt at ease. It was expensive, but very worth it. We got a second quote, and that company only wanted to scare my Aunt, and made her very uncomfortable. I would gladly recommend this company to anyone in a situation like ours. – Cameron Stradwick
Extremely professional
We called to see about having a mold inspection done in our condo as we wanted to know the extent of the problem and if the mold was dangerous so we could pass this information onto our condo board/property manager for correction. Ryan arrived at our home the same day. He was extremely professional, polite and knowledgeable. He explained each step of the process of what he was doing and followed up after the testing was complete. We are very happy with the wealth of information we now have on our mold issue. – Private User
3. OIES (Ottawa Indoor Environmental Services)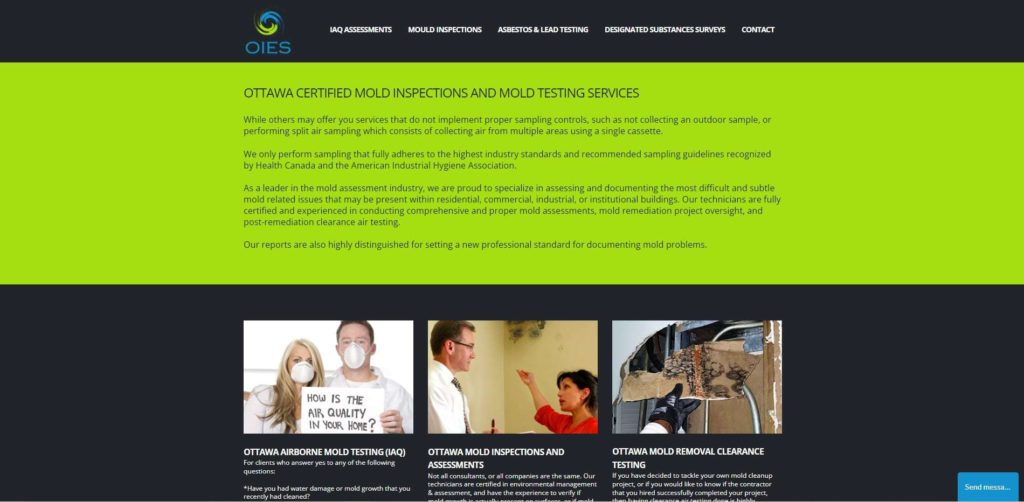 Test
Info
SERVICES
Mold air testing, IAQ assessments, asbestos testing and surveys, designated substances surveys and reports, VOC testing, mold inspections, mold assessments, remedial action plan drafting, scope of work drafting, and lead testing
WEBSITE
https://oies.ca/
ADDRESS
200-100 Metcalfe Street, Unit 422, Ottawa
CONTACT DETAILS
Ottawa: (613) 366-5226

International: (888) 762-2550

Fax: (888) 762-2550

OPERATING HOURS
Monday to Friday: 9 am to 5 pm

Saturday: 9 am to 2 pm

Closed on Sundays
| | |
| --- | --- |
| Experience & expertise | ★★★★★ (5/5) |
| Efficiency of service | ★★★★★ (5/5) |
| Price range | ★★★★☆ (4/5) |
| Customer service | ★★★★☆ (4/5) |
If you want the science behind it all when it comes to mold inspections and testing, the Ottawa Indoor Environmental Services or OIES is the company you need.
Unlike their competitors, they only offer inspection and testing services. This somehow can be a form of assurance that the results they provide do not have underlying intentions to sell you other mold removal services.
They have been leading when it comes to building inspections and can determine various indoor air quality issues and mold contamination. They also do asbestos testing and designated substance surveys that contractors need when building any type of structure.
When it comes to mold testing, they strictly follow guidelines set by Health Canada and the American Industrial Hygiene Association.
All their technicians come with multiple certifications from the IICRC, The Clean Trust, and the Indoor Environmentalist Board to name a few. Impressively, all their technicians have post-graduate certifications in Environmental Management and Assessments.
If it's the expertise you want, it's a team of experts that you get.
Among the kinds of testing they offer are air sampling, surface sampling, and rapid microbial swab testing.
They can also do post-remediation assessments that are unbiased since they won't be doing the mold removal process. This way you get to know if the remediation process was done properly.
They can definitely provide you with a very detailed report about their assessment of your area. You can use this information not just for remediation purposes but also if you have plans for renovating your home.
Their reports can also be beneficial for the construction of new structures and buildings.
Even if they do not offer a package solution for your mold problems, the integrity of the results they can provide you can be worth it in the long run.
Unbiased mold inspection and testing results
Certified post-graduate technicians in Environmental Management and Assessments
Certifications include IICRC CMR (Certified Mold Removal Specialist), The Clean Trust, CCMI (Certified Commercial Mold Inspectors), CMR (Certified Mold Remediators), CIE (Council-certified Indoor Environmentalist) by the American Council for Accredited Certification
Various in-depth testing services
Provides detailed final results of testing
Competitive pricing
Solely focused on inspection and testing only
Customer Reviews
Very detailed report
I requested the services of OIES and the owner himself helped me through the process of getting my apartment rental tested for mold and air quality. The owner was prompt, professional and very detailed in explaining to me all of the testing carried out as well as the results. After the verbal exchange of the results, I was even given a very detailed final report of his findings and the lab results. All of this for a very fair fee. I would highly recommend OIES to anyone in a similar situation. – J Digitty
12 stars!
If I could leave a 12 star review I would
Our landlord came to the reading when we were trying to get our mold problem diagnosed. There is a whole story behind this but they approach these gentlemen demanding paperwork, business cards and over all being aggressive. Through out the entire process they were being difficult and making these men's jobs harder.
They put them right back into their place. He stood his ground and refused to let them bully him from doing his job.
Thank you, Thank you, Thank you for helping us through a very tricky situation
Julio and nick your rock stars – Kayla Hannaford
4. MoldXperts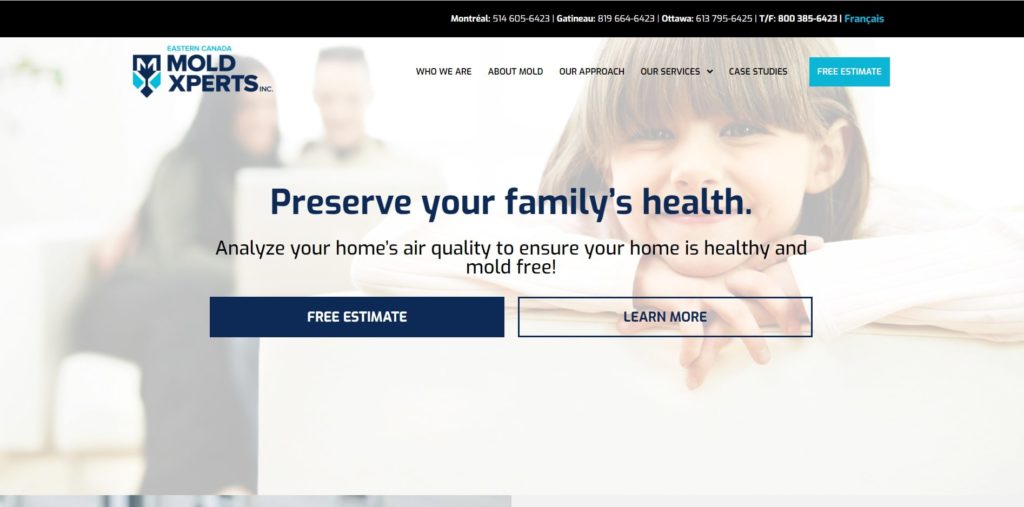 | Test | Info |
| --- | --- |
| SERVICES | Mold inspections, mold testing, mold remediation, and decontamination |
| WEBSITE | https://moldxperts.ca/ |
| ADDRESS | 1225 Adirondack Drive Ottawa, ON |
| CONTACT DETAILS | (613) 795-6425 |
| OPERATING HOURS | Monday to Sunday: 8 am to 7 pm |
| | |
| --- | --- |
| Experience & expertise | ★★★★★ (5/5) |
| Efficiency of service | ★★★★☆ (4/5) |
| Price range | ★★★★☆ (4/5) |
| Customer service | ★★★★☆ (4/5) |
Another company with complete mold-related services is MoldXperts. Led by Yves Levis, they provide their expertise in analysis and decontamination processes.
They also come with good credentials with their accreditations from the American Industrial Hygiene Association (AIHA) and EMSL Analytical Inc. and are likewise certified by the IICRC and NAMP.
For complete mold removal, they follow a standard five-step process. This involves an in-depth discussion with occupants to identify the symptoms of possible mold infestation.
If they think there is a valid cause during the consultation, only then will they proceed with the visual inspections and testing. We think this helps in a way to save time and costs.
On the other hand, there might be missed opportunities in case some points are missed during the initial discussions unless they are already on your premises to check.
The good thing about this though is that they will not charge you for the consultation and inspection if they believe there are no additional testing, treatments, or interventions needed to be done.
The best workaround for this would be to have the consultations done in the location instead of visiting their office or discussing via phone.
If both you and MoldXperts agree to proceed with the testing, they will provide you with an extensive laboratory test report that is accepted by government authorities and are best served for legal purposes.
In fact, a lot of their customers have been grateful for the detailed analysis that has helped them in real estate legal proceedings.
You can find case studies of mold situations that they have handled on their website. This can help you better assess for yourself how knowledgeable they are when it comes to their field of expertise.
Another good thing to point out is their professionalism. Despite offering decontamination purposes, they will not push you to acquire theirs.
It will be solely under your discretion to hire them for remediation—no hard selling involved on their side.
However, repairs or renovations after the mold removal process will be shouldered by the client. Their service ends only with the mold-removal aspects.
At the end of the day, MoldXperts are true to their name, and they stick by it. Feel free to consider their services if you are looking for reliable inspection and testing results with no fuss.
Kudos to their staff and management too for finding ways to make their services all seven days of the week. After all, most people can only make time for major home errands on weekends.
Provides overall mold-related services from inspection, testing, and removal
Certified by the IICRC and NAMP
Accredited by the AIHA and the ESML Analytical Inc.
Provides extensive test reports for any legal purpose they may serve
No hard-selling of service
They have case studies on their website available for review
Services are available all seven days of the week
Consultations are free if there are no remediation or testing services needed.
Chances of incorrect assessments if initial consultations are not done on-site
Will not be responsible for repairs and renovations after mold removal
Customer Reviews
Very professional and honest
I have a mould problem on my 2nd floor below the attic, but didn't know how big it was. I am handy, but I don't like attics. Yves came by to assess my situation as part of the free estimate. He declared the attic free of mould and said he could do the job, but that it was also well within my amateur skill set to take care of it. There was no fuss. Yves was very professional and I appreciate his honesty. – E Samuel
Reassuring expertise
Many thanks for the services rendered when you inspected our property. When we find ourselves in a difficult situation with a potentially contaminated house, it is reassuring to have someone with your expertise to turn to. You comforted us and helped us cope with the situation. We will be more than happy to recommend your services to family and friends. – Vito Garofalo
5. Green Property Restorations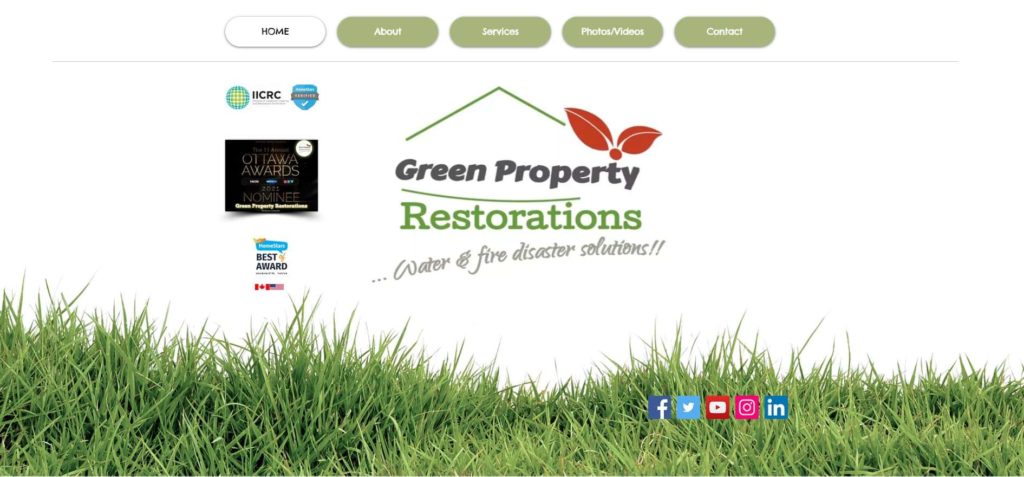 | Test | Info |
| --- | --- |
| SERVICES | Mold inspection, air testing, and remediation; water damage or fire-related restoration and repairs; disinfection; cleaning; and heat/air leak detection |
| WEBSITE | https://www.greenpropertyrestorations.com/ |
| ADDRESS | Ottawa ON K2S 1B6 |
| CONTACT DETAILS | (613) 501-4653 |
| OPERATING HOURS | Open 24 hours |
| | |
| --- | --- |
| Experience & expertise | ★★★★☆ (4/5) |
| Efficiency of service | ★★★★★ (5/5) |
| Price range | ★★★★☆ (4/5) |
| Customer service | ★★★★☆ (4/5) |
If you are seeking for a total one-stop shop for your mold issues, then theirs can be the kind of service that you are looking for.
Though companies that only provide inspection and testing services come with their own merit, having one contractor do everything that needs to be done to the finish is still a very convenient option.
Other companies, though they would offer remediation services, will only stop at mold-related instances, and repairing affected walls and fixtures will be up to you.
This is what makes Green Property Restorations different and a convenient alternative. You won't need to find another contractor to do the repairs for you.
Aside from their mold inspection, testing, and remediation services, they also offer air purification and tons of other restoration services.
In fact, their specialty actually lies in restoration and repairs like water or fire damage restorations. They also offer carpet and upholstery cleaning, detailed disinfection, deodorizing and sanitizing, and even heat/air leak inspections.
The best part here is that they can provide you with their services 24/7.
They have been in the business of property restorations for 16 years and are staffed by IICRC-certified professionals for all the types of services they offer.
However, the intricacy of services provided by specialized companies that only focus on mold-related issues vs. a company that offers a wide array of services may differ.
It helps to manage your expectations in this case, especially when it comes to mold testing. Nevertheless, they do a really good job in terms of mold removal.
Plus, their repairs and restoration services will give you one less thing to worry about, so that's definitely a plus point worth considering.
24/7 services
Does repair and restorations
Mold-related services include inspection, testing, and remediation
Offers a wide array of other restoration and disinfection services
IICRC-certified professionals
Expertise lies more on restorations and renovations
Less in-depth mold testing services compared to other competitors
Customer Reviews
Professional and outstanding job
We had some mold in our basement, Green Property removed all the mold, and completed all the repairs. We are so happy with their service they were very professional and did an outstanding job. Left our home looking better then before.
Definitely recommend!! – Treasure Keeper
Good value
I had some water damage which created mold and water damage to ceiling and walls and washroom. I looked and researched many companies and decided upon GPR. Best move I ever made. It was a pleasure having Gus and his crew working on fixing the problems in my house as everything was explained to me clearly, good value and they were here when they said they would be. I look forward to future work with them and I would highly recommend them to anybody who needs this kind of water damage remediation, mold removal and follow-up repairs. Actually, I am already referring people I know to Gus. Feel free to contact me if you need additional reasons to work with this great customer oriented organization. I have no hesitation in saying that I was very impressed and very satisfied with the work done in my house. – bill lee
FAQs about Mold Inspection and Testing Services in Ottawa
---
Home maintenance can be tedious for any homeowner. Allow us to help you keep your place all tidy! Check this list of the best cleaning services in Ottawa!