The 6 Best Lodging Options in Ottawa
If you're unfamiliar with Ottawa, you might be looking for a place to stay. You're in luck because we listed down the best lodging options in Ottawa so you can appreciate our great city with no worries about finding a place to stay.
How much does lodging cost in Ottawa?
The average cost of lodging in Ottawa is around $100. A more specific price table can be found below:
| Name of Lodging Provider | Room Type | Average Price |
| --- | --- | --- |
| Comfort Inn | 2 Queen Beds | $161 |
| Holiday Inn Express | 2 Queen Standard View | $240 |
| Delta Hotels | 1 King Bed | $310 |
| Ottawa Backpakers Inn | 2 Queen Beds | $170 |
| Econo Lodge | 2 Queen Beds | $155 |
The Best Lodging Options in Ottawa
We used the following criteria in our selection process to find the best lodging options in the city:
1. Comfort Inn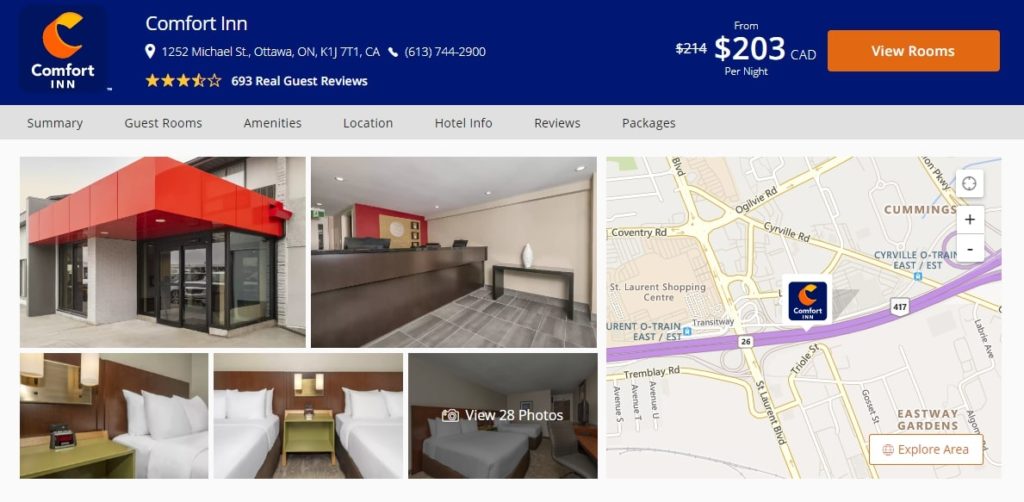 | | |
| --- | --- |
| Criteria | Ratings |
| Price | ★★★★★ (5/5) |
| Distance | ★★★★★ (5/5) |
| Sizing | ★★★★★ (5/5) |
| Amenities | ★★★★✩ (4/5) |
Comfort Inn is a good choice for anyone who wants to check out the best of Ottawa. It is good for both tourists and locals who are on the search for a budget-friendly lodging provider.
We particularly like that the inn is close to notable Ottawa landmarks such as Parliament Hill and the National Art Gallery. If you're just visiting to check out the sights, this is a good place to stay.
In the summer, the inn provides a great view of the surrounding waters of Ottawa. With the Rideau and Ottawa rivers, Mooney's Bay beach offers a picturesque area where you can relax and take in the fresh air.
We are also glad to say that the inn has newly renovated rooms so it's a really good time to visit it now. We should also note that it provides free hot breakfast, coffee, and weekday newspapers.
If you're still unsure, the inn's website offers a virtual tour that can give you a clearer idea of what its amenities look like and if they match your standards.
Pet owners are also going to love Comfort Inn because it allows guests to bring their pets and even encourages them to. This could be a downside to people with allergies, but we believe most will consider this a pro.
Overall, Comfort Inn is definitely designed for comfort, both for your wallet and yourself. It's affordable and near some of the sights that matter most in Ottawa.
Pet friendly
Free breakfast
Good pricing
Strictly for lodging only, no other special amenities
Pet-friendly policy may be bad for people with allergies
Customer Reviews
Professional
"Decent place, great for the price. Convenient rooms on the ground floor, with sliding door access directly to car parking. Continental breakfast included featuring self-serve waffle iron. Overall satisfied." – Zahid Esmail
Super nice
"Clean very comfortable beds and linen.Stayed 2 nights 2 different rooms first room air did not work. Rooms were clean. Convenient sliding doors on lower level. Would recommend." – Terri Lepine
2. Holiday Inn Express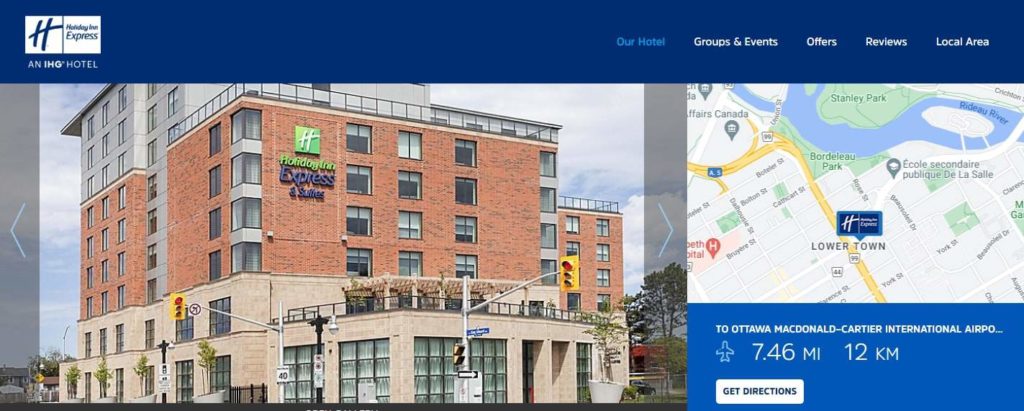 | | |
| --- | --- |
| Criteria | Ratings |
| Price | ★★★★★ (5/5) |
| Distance | ★★★★★ (5/5) |
| Sizing | ★★★★★ (5/5) |
| Amenities | ★★★★✩ (4/5) |
The Holiday Inn Express & Suites in Downtown East of Ottawa is a relatively new establishment. Despite that, it's been getting numerous positive feedback from many tourists and Ottawans alike.
The hotel is strategically located at the center of the metro and makes traveling more convenient, especially for newcomers who are unfamiliar with the city and its nooks and crannies.
For those traveling by plane, this hotel is also a good choice because it's only a 15km drive from the Ottawa International Airport.
The hotel also holds weddings, bachelor's and bachelorette parties, and more. It has its own indoor pool and fitness center, making it a good pick for guests who want to relax at a nice hotel.
We also like its green initiative where the staff makes sure that everything they do is under a sustainable system. They are required to separate trash and also turn off electrical appliances when not in use.
For food, the hotel offers free breakfast and coffee for its guests. It's not much, but it's good enough for a lot of travelers who won't be staying in the hotel for lunch and dinner.
The only downside we found is the fact that pets aren't allowed in the hotel, except for service animals. Some of the pillows are also said to cause allergies, so keep this in mind.
Overall, Holiday Inn is a great choice for both travelers and Ottawans who just want to go on a staycation.
Has a swimming pool
Accepts service animals
Easy reservation online
Has other locations
Some customers have complained about allergenic pillows
No ordinary pets allowed
Customer Reviews
Proud member here
"My wife and I booked our weekend gate-away to Montreal and Ottawa last minute. It was so easy to pick your hotel because you had so many options in terms of location. I've stayed at a holiday inn hotel in 5 differently cities now. I'm a very proud member." – Docalino
Clean hotel
"Good breakfast, comfortable room, good service and staff. The room and bathroom were very clean" – Daniela C.
3. Delta Hotels by Marriott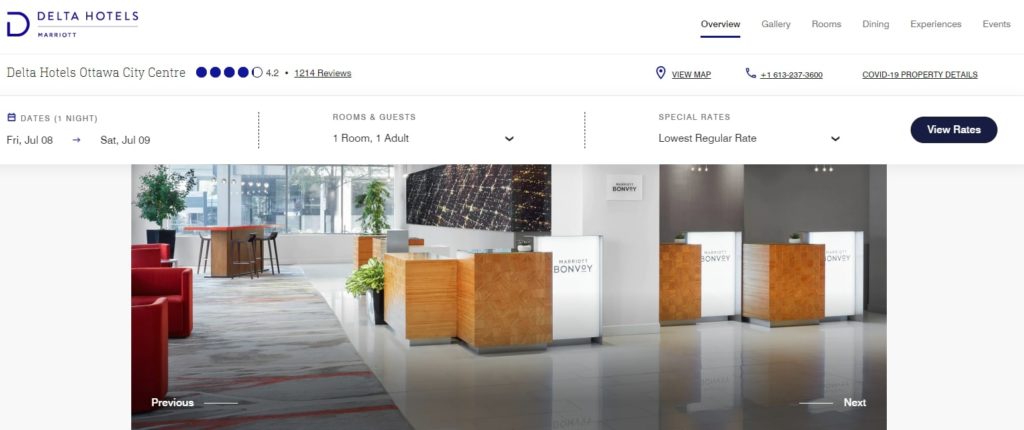 | | |
| --- | --- |
| Criteria | Ratings |
| Price | ★★★★★ (5/5) |
| Distance | ★★★★★ (5/5) |
| Sizing | ★★★★★ (5/5) |
| Amenities | ★★★★✩ (4/5) |
Delta Hotels by Marriott is one of the more expensive choices in our list. One of its more well-known locations is at Lyon Street in North Ottawa, which is near Parliament Hill and the Byward Market.
For food options, the hotel provides free breakfast, depending on the type of room you booked. It's also surrounded by notable restaurants such as Prova Bar & Kitchen that's famous for its Italian cuisine.
The hotel is also a good choice for work-related visits as it has a high-speed wifi connection for all of its guests. Its lobby is also quiet and has a bar close to it so you can order some food or drinks while working.
The fitness center is a luxury for those who are trying to maintain a certain weight while traveling. It's got a decent set of exercise equipment, but most of them are for arms and chest exercises.
It is overall a great hotel for both travelers and those who just want to relax and leave home for a bit. The rooms are clean and well-maintained and customers can request the hotel management to send someone to clean the room regularly every time they are out.
The only downside is this hotel is pricey, so it's a better choice if you have the budget for it.
Has an indoor pool
Has its own fitness center
Great location, close to good views
Customer Reviews
Clean and well kept
"Front desk agents have been very helpful and friendly providing all of the services. The suite was also very cleaned, organized and with an amazing city view." – Patrick K.
Extremely friendly
"The staff was extremely friendly and helpful. I usually work past mid night and often have a snack at night. Knowing the hotel may provide a microwave, I asked for a microwave when I checked in. 10 minutes after I settled in my room, a microwave was sent at the door. The room was big, clean and renovated up to date. I found the large desk and the various digital ports above the desk, rarely seen in upscale hotels, with wired network cable, USB cable, digital display ports, etc. extremely convenient for people who need to work on the go." – B.G.E.
4. Ottawa Backpackers Inn

| Test | Info |
| --- | --- |
| SERVICES & AMENITIES | Lodging, Camping Amenities, House Aesthetic, Artistic Rooms, Kitchenette |
| WEBSITE | https://ottawahostel.com/ |
| ADDRESS | 203 York St, Ottawa, ON K1N 5T7, Canada |
| CONTACT DETAILS | 613-241-3402 |
| OPERATING HOURS | Open 24/7 |
| | |
| --- | --- |
| Criteria | Ratings |
| Price | ★★★★★ (5/5) |
| Distance | ★★★★★ (5/5) |
| Sizing | ★★★★★ (5/5) |
| Amenities | ★★★★✩ (4/5) |
Ottawa Backpackers Inn is one of the most unique choices in our list. If you or your family are looking for a camping type of experience, this is definitely the place to go.
On the plus side, it's also very affordable compared to fancier places.
Backpackers Inn is not exactly what you'd describe as posh, but if you're into nature, it's a great choice. It's also known for its kitchenette where guests can prepare their own meal and also order from a great selection of food.
Even though its design is for camping and being one with nature, the inn itself is still relatively close to downtown Ottawa. It's also within a short distance of a lot of convenience stores, restaurants, and bars, so you don't have to worry about living in the wilderness.
The inn is near the Ottawa Art Gallery and Major's Hill Park. Art and nature are really the elements that the people behind Backpackers Inn want to highlight, so its location is close to both.
Overall, the only real downside with this place is the fact that guests who are camping can be loud. The wifi signal also comes and goes, so if you plan on working here, you might have some trouble connecting online.
Unique and homey aesthetic
Kitchenettes are great
Walking distance to Ottawa Art Gallery
Walking distance to Major's Hill Park
Can be loud because of young guests who are camping
WiFi signal comes and goes
Customer Reviews
Affordable
"I just spent one night there and the service was great. Courteous staff, tidy room ready for me and the bathroom was clean.Everything I needed for that night and morning was there, and for a very affordable price. Will recommend 100%" – Esteban G.
Amazing staff
"Amazing experience at this hostel! Staff is super friendly and it's a house that gives you this homey feeling, with a living room & kitchen. Met some wonderful ppl, would definitely recommend!" – H. P.
5. Econo Lodge Downtown

| | |
| --- | --- |
| Criteria | Ratings |
| Price | ★★★★★ (5/5) |
| Distance | ★★★★★ (5/5) |
| Sizing | ★★★★★ (5/5) |
| Feedback | ★★★★✩ (4/5) |
Downtown Ottawa's Econo Lodge is also a great option for your lodging needs. It offers basic amenities for travelers and is located near notable landmarks such as Rideau Centre, the Ottawa Convention Centre, and Sparks Street.
Those who are thinking of visiting Parliament Hill are also in luck because the hotel's location is just a few kilometers from the Econo Lodge. It's also close to King Edward Avenue, making travel easier and more convenient.
The hotel's aesthetics are pretty good as well. Despite its affordability, it doesn't look cheap and the rooms are clean and well-maintained.
What makes Econo Lodge very unique is the fact that it is located in the center of pretty much everything worth visiting in Ottawa. It's a traveler's dream lodging not just because of the location placement but also because of its affordable pricing.
The hotel also offers free continental breakfasts to its guests. But for lunch and dinner, customers will have to pay for room service or buy from the many restaurants near the hotel.
If you're already from Ottawa and want a unique place to stay, we recommend going to a different hotel. But if you're a traveler, this place is perfect for you thanks to its affordability and amenities which are all you need in a traveler's inn.
Located at the heart of downtown Ottawa
Free continental breakfast
Walking distance to Laurier House
Walking distance to Ottawa Art Gallery
Not many offerings outside lodging
Customer Reviews
Best breakfast
"Stayed here for a night very friendly staff just in a area filed with poverty but the people on the street are pretty respectful too loved staying here best breakfast for me had everything I loved even plain yogurt lol" – Jeremy Vany
Amazing day
"We had an amazing stay on Family Day weekend. The rooms were clean & comfortable, the staff was so friendly. True Canadian hospitality!" – Jennifer K.
6. The Old Mill Manor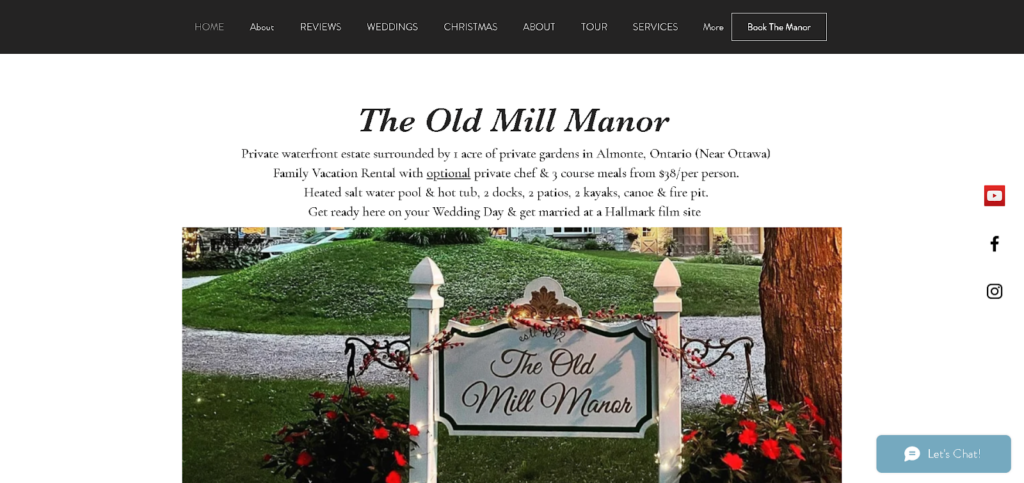 SERVICES
Event servicesLodging services
WEBSITE
theoldmillmanor.com
ADDRESS
104 Old Mill Ln, Almonte, ON K0A 1A0, Canada
CONTACT DETAILS
613-257-9477
[email protected]
OPERATING HOURS
Monday – Sunday, 9:00 AM – 8 PM
| | |
| --- | --- |
| Criteria | Ratings |
| Price | ★★★★★ (5/5) |
| Distance | ★★★★✩ (4/5) |
| Sizing | ★★★★★ (5/5) |
| Feedback | ★★★★✩ (4/5) |
The Old Mill Manor is a beautiful private waterfront estate in Almonte, Ontario, surrounded by one acre of private gardens and stunning views of the Mississippi River. This family vacation rental offers 5 bedrooms and a playroom, accommodating up to 12 overnight guests from $700/night plus cleaning fees. The Manor has received 5-star reviews on Airbnb, Cottages in Canada, and Google.
Guests can enjoy a variety of activities, such as relaxing by the heated salt water pool, hot tub, and fire pit, fishing, kayaking, canoeing, biking, hiking, and playing golf. For those looking to indulge in delicious cuisine, the Old Mill Manor offers an optional private chef service with 3-course meals from $38 per person. The menu options range from festive turkey, prime rib, stuffed chicken, vegetarian stuffed squash, charcuterie to high tea, all of which can be enjoyed in the privacy of your own dining room.
The Manor is also an ideal location for small weddings. Guests can get ready at the Manor and then get married at nearby Hallmark Film Site or have their ceremony in the gardens of Patti Koeslag. The Old Mill Manor has a 5-star concierge on site who can help you plan your catered meals and activities. The town of Almonte is rated a top 10 tourism town on TripAdvisor and offers weekend farmers markets, fantastic breweries, and restaurants, as well as the beautiful Riverwalk Walking Tours.
Private waterfront estate in Almonte, Ontario
Variety of activities including pool, hot tub, and fire pit
Ideal for small weddings with a 5-star concierge
Available seven days a week
Customer Reviews
Went above and beyond to make sure we had everything we needed, and more!
"We had an afternoon event here and the hosts were so wonderful. Went above and beyond to make sure we had everything we needed, and more! The house is beautiful, clean and cozy and a perfect spot to spend the day (or longer!)" – Keely Argent
Absolutely beautiful place. Julie and Gary are exceptional hosts.
"Absolutely beautiful place. Julie and Gary are exceptional hosts. Beds are comfortable, home was very clean, internet and cable available for rainy days. Highly recommended!" – Colina Edwards
FAQs about Lodging in Ottawa
---
Lodging can be hard to find, especially in an unfamiliar place. If you're a tourist and new to Ottawa, we've got you covered with this article.
As a tourist, you may need help traveling around the city. Check out the best taxi services in Ottawa to help make your journey more convenient!