The 5 Best Kennels Ottawa
Pets, endearingly called fur babies by some, are part of the family. This means our favorite companions deserve the best.
In this list, we discuss the best kennels in Ottawa. We'll also discuss the estimated costs of their services, the products they have, and other inclusions they have.
How Much Do Kennels Cost in Ottawa
Many kennels in Ottawa offer more than just daycare services. We wanted to cover everything each kennel has to offer.
In the table below, you'll see the difference in price for each kennel in both cat and dog boarding.
Kennel
Services Available
Estimated Price
Bekkers Pet Care
Dog Boarding

Cat Boarding

Daycare

$40 - $60 per night

$25 - $35 per night

$25 - $30 for a full day

Keshet Rescue Kennels
Dog Boarding

Fitness Training

Adoption

$45 per night

$6 - $12 additional

$500 + HST

Red Dog Canine Center
Dog Boarding

Play Care

Adoption

$40 per night

$25 per day

Oak Meadows Pet Resort
Dog Boarding

Cat Boarding

Dog Grooming

Walks

$37 per night

$20 per night

$35 per hour

$10 per 30 minutes

Dragonluck Kennels
Daycare

Dog Boarding

$28 a day + tax

$32 per day + tax
The Best Kennels in Ottawa
We love our pets but not everyone understands that love. That's why some places don't allow pets.
Kennels are the perfect place to leave our pets whenever we're not available to take care of them. It's a place where we know they're well taken care of and they can socialize with other pets as well.
It's also important that we can trust the people working there so we know our fur babies are happy and safe. The kennels we chose for this list are based on the following criteria:
1. Bekkers Pet Center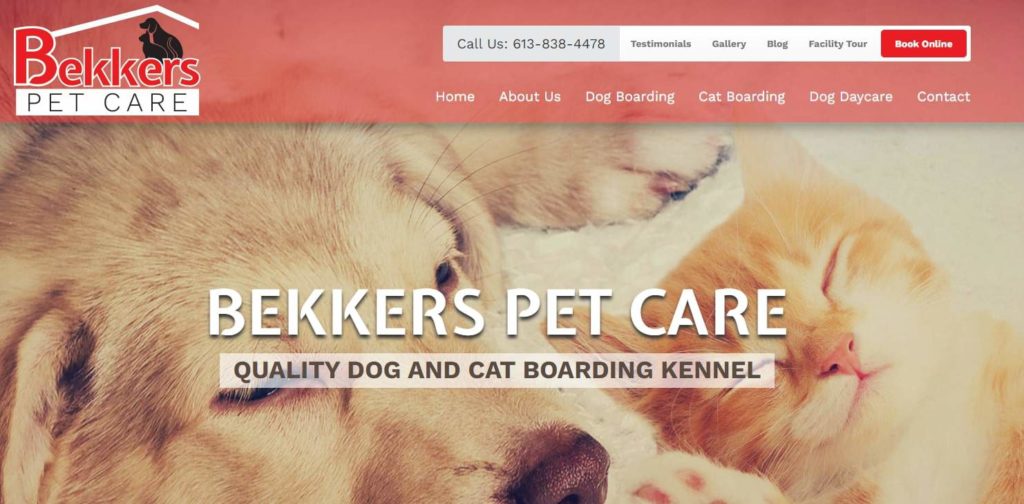 | | |
| --- | --- |
| Criteria | Ratings |
| Rates | ★★★★★ (5/5) |
| Facilities | ★★★★☆ (4/5) |
| Area | ★★★★★ (5/5) |
| Staff | ★★★★★ (5/5) |
Bekkers has been around for almost 20 years. In the time that they've been open, they've managed to build up a good reputation.
Their employees are known to be honest and friendly. You can be sure that they know what they're doing after years of working with beloved pets from all over the city.
Bekkers is also a good choice if you have both cats and dogs. They are willing to board either of these two most common pets.
Bekker's facilities are great. We particularly like how they're well-maintained and spacious, perfect for dogs and cats of all sizes.
Safety and cleanliness is their top priority and you can see that when you look at their kennels.
The best thing about Bekkers is their specific rates. Their kennel services have packages so it's easier to know what deal you're getting.
The only downside though is that they don't offer any training sessions.
However, even without formal training sessions, your pets can still enjoy themselves and have a go at Bekkes' daycare. In the daycare, your pets can interact with other pets while being supervised by Bekkers' caring staff.
You can trust that they can take care of your beloved fur babies. Their staff is friendly and easy to talk to.
We like that they are easy to contact and they have night shifts so you can reach them at night in case you miss your pet or just want to know how they're doing.
Bekkers is perfect for anyone going on vacation and is leaving their pets for a few nights. They are easy to contact and their website is simple and easy enough to navigate through.
Accepts both cats and dogs
Excellent daycare
Friendly staff
Decent rate
No training sessions
Their reputation precedes them so there are times they're fully booked
Customer Reviews
Friendly staff

"I left my pups here for the first time this weekend. Roomy facility and friendly staff = happy dogs. They offer several different packages, so you can customize your pets' experience. I would definitely use again." – Nikki Germain
The best kennel around

"The staff actually like/love animals, and really get to know your pet! I have never, ever had an issue boarding my pup here." – Steve Fossy
2. Keshet Rescue Kennels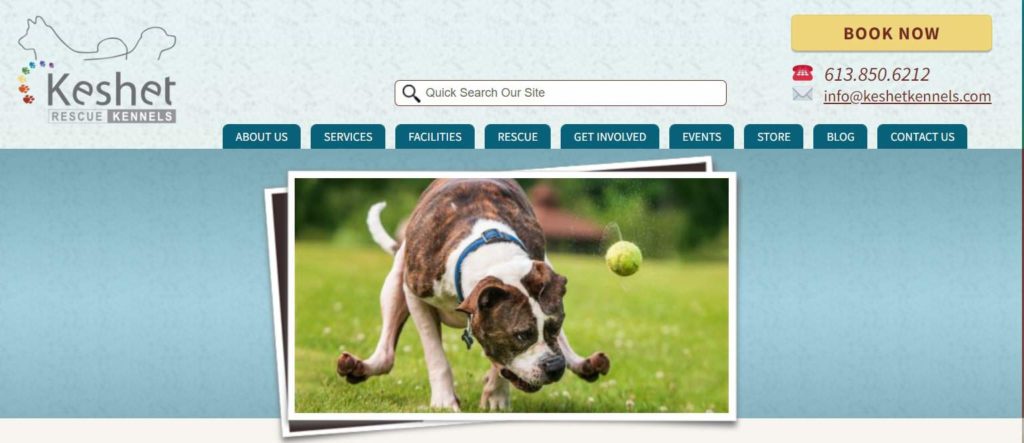 Test
Info
SERVICES
Dog Boarding, Daycare, Adoption, Training, Seminars
WEBSITE
https://www.keshetkennels.com/
ADDRESS
6157 Russell Road Carlsbad Springs, ON K0A 1K0
CONTACT DETAILS
613-850-6212

Email: [email protected]

OPERATING HOURS
Open everyday 7:00 AM - 8:00 PM
| | |
| --- | --- |
| Criteria | Ratings |
| Rates | ★★★★☆ (4/5) |
| Facilities | ★★★★★ (5/5) |
| Area | ★★★★★ (5/5) |
| Staff | ★★★★★ (5/5) |
Keshet Rescue Kennels' reputation precedes it. They are known for their passion for taking care of animals and even rescuing them.
It's worth nothing that we particularly like the way their website is designed. Everything is where it's supposed to be and the design is cute, featured with dogs they've rescued or worked on.
Unfortunately, they only work with dogs. Kennels are usually more associated with dogs anyway, so it's not surprising to us.
They even provide a list of their employees with a full description of what they do for the kennel. .* It's this kind of transparency that makes them one of the most trustworthy businesses around.
Their rates are a bit more expensive but that's because their facilities are topnotch. Their pet areas are akin to a small camp for dogs to explore and run around in.
Their kennels are spacious and the play area is fenced so you won't have to worry about your dog escaping.
They offer numerous services as well so your pet is sure to be well taken care of.
Their website also offers a blog section where you can read different articles about dogs. Some customers would probably just peruse their website for the fun of it.
Their price is a bit more expensive but you can see from the testimonies of other customers and from their facilities that it's worth it.
They also have a virtual memorial for all the dogs they interacted with. You can see from their website that the people behind this business really love their animals.
This kind of love is very important and we like that they are able to give it to the dogs they interact with. You can surely trust to leave your dog with them with no worries.
Excellent daycare
Friendly staff
Rescue and adoption services
More expensive
No cat boarding indicated
Customer Reviews
Great experience

"Wanted to send a quick note to thank the team at Keshet for a great first experience for our dog, Lou, at daycare. Everyone we interacted with was incredibly thoughtful and kind, and we were so touched to receive a photo of Lou when we picked him up!Huge thanks again, and we will definitely be bringing Lou back again soon." – Michala Jansa
Perfect for my dog

"We rented the Habitat outdoor space for our reactive dog, so she could run around and play with a doggie friend. It was perfect for what we needed and it was very secure. I wouldn't hesitate to rent outdoor spaces again at Keshet, and will probably try Timberland next time! Absolutely perfect for reactive dogs, dogs who like their own space, or dogs that have no recall/high prey drive." – Jen Collard
3. Red Dog Canine Center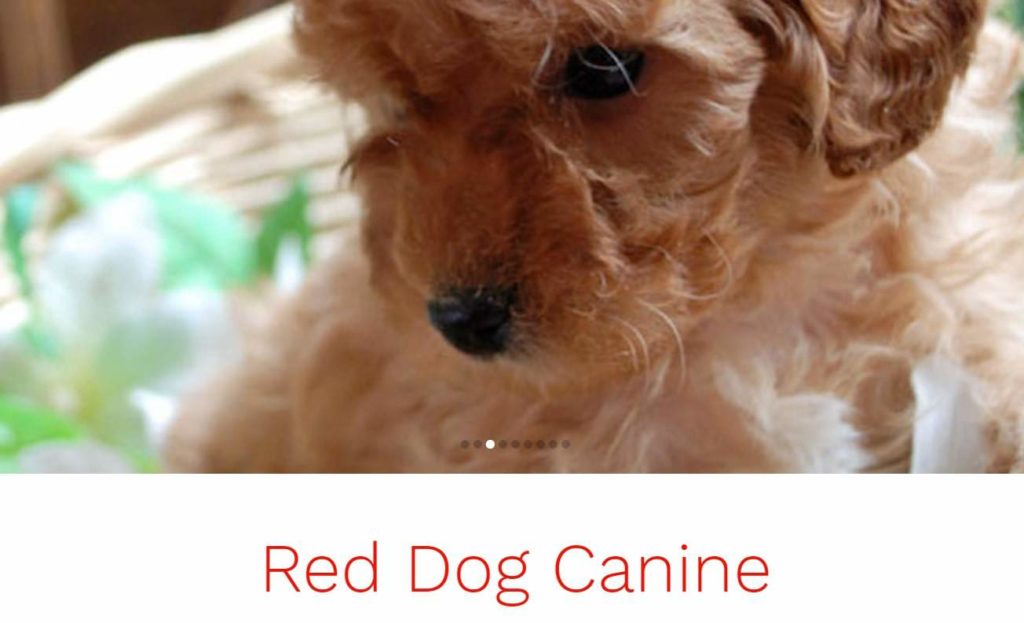 | | |
| --- | --- |
| Criteria | Ratings |
| Rates | ★★★★☆ (4/5) |
| Facilities | ★★★★★ (5/5) |
| Area | ★★★★☆ (4/5) |
| Staff | ★★★★★ (5/5) |
Red Dog Canine Center is a good choice if you're looking for more than just a kennel. They offer other services as well like adoption and play care.
They have numerous options for boarding, their kennels are spacious so you can be sure that any breed is welcome. Unfortunately, they only offer boarding for dogs.
Their rates are a bit steep but seem to be worth it.
Sophie, the business owner, is actually a dog breeder and knows a lot about dogs. Before becoming a dog breeder, she grew up on a farm full of cows and horses.
Sophie became a dog breeder after seeing other kennels that weren't being taken care of properly. She and her coworkers are animal lovers and you can surely trust them to take care of your furbabies.
Their 2 acre private park is perfect for your dogs to run around and play around with. The canine center has 9 employed workers that help around the kennel.
This may seem like a small number compared to Keshet but sometimes, a smaller number is what you need for more intimate interactions. All of these 9 employees are animal lovers and will surely take care of your furbaby properly.
Red Dog also has a great adoption service. They specialize in breeding hypoallergenic Goldendoodle, Irishdoodle, and Sheepadoodle which are mixed breed designer dogs.
Unfortunately, there's no clear price on their adoption services but they have a waitlist process that is easily understandable. Everything is noted in their website and they also have a booking section that makes it convenient to do online transactions.
Excellent daycare
Friendly staff
Adoption services
More expensive
Website is too plain
No cat boarding
Customer Reviews
Amazing experience

"We had an amazing experience with Red Dog. We were not on the list for long before we were able to choose a puppy. Bailey is two now and has been such a great addition to our family. I can not recommend Red Dog enough and we have already had friends buy a puppy and they had the same great experience that we did." – Jeremy Wilson
So happy

"We purchased a Sheepadoodle from Red Dog almost three years ago, and we are beyond happy with our pup! Our dog is goofy, loving,  smart and incredibly healthy. I would recommend considering Red Dog for their excellent breeding program (as well as their kennel services, which we have used on many occasions). We have been so happy with our experience that we are considering getting another dog from Red Dog in the future." – Ashleigh Kelly
4. Oak Meadows Pet Resort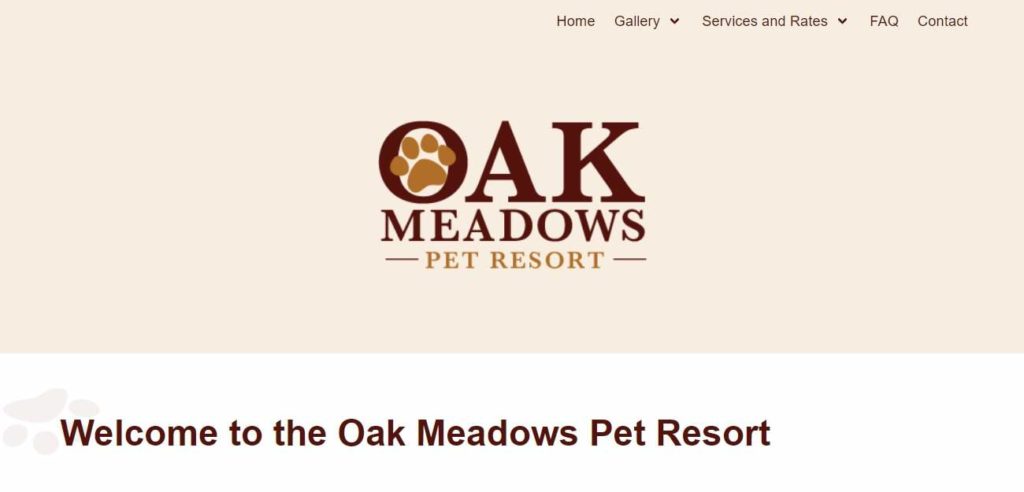 | Test | Info |
| --- | --- |
| SERVICES | Dog Boarding, Cat Boarding, Daycare |
| WEBSITE | https://theoakmeadowspetresort.ca/ |
| ADDRESS | 1848 Upper Dwyer Hill Rd, Carp, ON K0A 1L0, Canada |
| CONTACT DETAILS | 613-256-0500 |
| OPERATING HOURS | Closes at 6:00 PM |
| | |
| --- | --- |
| Criteria | Ratings |
| Rates | ★★★★☆ (4/5) |
| Facilities | ★★★★★ (5/5) |
| Area | ★★★★☆ (4/5) |
| Staff | ★★★★★ (5/5) |
Oak Meadows is very similar to Red Dog. The owners were also inspired to work with dogs after seeing how a lot of other kennels weren't treating their animals right.
We like how their website has a gallery connected to their social media pages like Instagram and Facebook. This way, you can directly talk to whoever's in charge of their social media and ask about the services they offer.
Their rates are pretty decent, only slightly lower than Red Dog. They're more expensive than some on this list but they offer boarding for both cats and dogs which is always welcome.
Most kennels only take care of dogs, so it's always nice to see a kennel open to boarding cats as well. Cats are also a popular choice for pet owners and they also have their own specific needs.
One of the best things about Oak Meadows is they have walking and grooming services which are always welcome for a kennel. You can be sure that your pet will be taken care of properly.
Oak Meadows also highlighted in their website that they are happy to take care of any dog or cat of any age. This is important because many pet owners are extra scared when leaving their older pets alone.
Seniors get extra special treatment from Oak Meadows' team of animal lovers.
It's worth mentioning that Oak Meadows is actually a nominee of the Faces Magazine's Ottawa Awards 2022. This alone should be enough for you to know that your furbaby, cat or dog, is in good hands with Oak Meadows.
Plenty of services
Friendly staff
Special care for senior dogs/cats
Website needs more info
Area around the kennel can sometimes be noisy
Customer Reviews
Amazing experience

"Roger runs a very smooth operation. He is always super friendly and helpful while booking, and he takes such good care of our dog that he gets excited every time we drop him off – then runs back into the kennel happily when we are trying to pick him up! We never have any guilt or worry dropping a dog off to Oak Meadows." – Greg Ritonja
So happy

"I have brought my pets to Oak Meadows several times now, and although it is a bit of a drive to get there, it is well worth the trip. John and Heather are wonderful with animals, and their care and concern for them is immediately apparent. My dog and all of my cats have had a great time there, been well looked after and had lots of exercise, as well as interactions with other animals and humans! John also sends terrific photos of the pets to you while you are away, which is just that extra lovely touch, showing that they know how we love our animals and want to know they are having a good time too! Highly recommended." – Sandra Nicholls
5. Dragonluck Kennels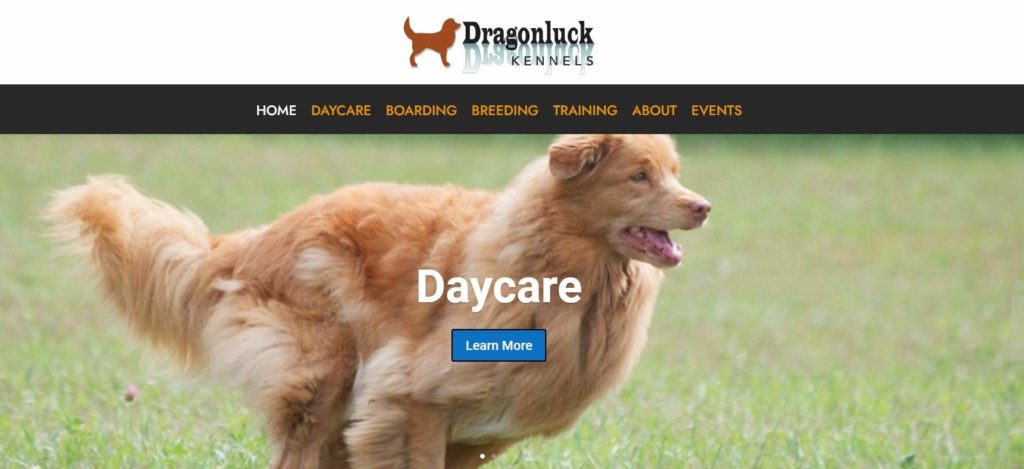 Test
Info
SERVICES
Dog Boarding, Daycare
WEBSITE
https://dragonluck.ca/
ADDRESS
6830 Fernbank Rd, Stittsville, ON K2S 1B6, Canada
CONTACT DETAILS
613-831-3236
OPERATING HOURS
Open weekdays 7:00 AM - 6:00 PM

Closed on weekends
| | |
| --- | --- |
| Criteria | Ratings |
| Rates | ★★★★★ (5/5) |
| Facilities | ★★★★★ (5/5) |
| Area | ★★★★★ (4/5) |
| Staff | ★★★★★ (5/5) |
Don't be fooled by Dragonluck's tough name. Dragonluck's staff are very caring and passionate when it comes to animals.
They're also nice to people so don't worry about that as well.
After 14 years in business, Dragonluck definitely knows what to do with your furbabies. Because of this, their kennel services are popular in Ottawa
Dragonluck's website is a good start if you want to see how good they take care of the animals left in their care. There are many photos of beautiful dogs running around their kennel and having fun with their employees.
They are also especially proud of how many puppies they've raised. They have a cool counter of how many puppies they've raised each year and how many tails wagged because of them.
Dragon Luck offers strict but fair training for dogs that misbehave while also offering caring boarding and daycare if your furbaby needs a place to stay.
They emphasize enrichment. According to them, a dog alone at home saving up energy will eventually misbehave, so a good place like their kennel can help your dog release pent up energy.
They also have first-aid training for those fur parents who want their dogs to learn more than just cutesy tricks.
Their facilities are big and secure so you won't need to worry about your dog. They're even willing to walk your dog off leash because their kennels are fenced.
Your dog is guaranteed to have fun and stay healthy in this huge kennel.
Huge area
Friendly staff
Special training
Customer Reviews
Weekly fun

"My dog goes weekly for daycare and gets excited as soon as I pull into the driveway! She comes home happy and tuckered out! They are very caring and accommodating! Highly recommend boarding your dog and doggy daycare with them!" – Melanie Hernen
So happy

"Very good overnight stay for our rescue. The more honest info you can provide about your pet, the more they will be able to suit it's needs. Staff seemed very knowledgeable and are obviously dog lovers. Sent us multiple picture of our dog playing mid way through her stay as a status update. Prices are flat rate which I believe is much more fair. – Ryan Haynes
FAQs about Kennels in Ottawa
---
Our pets are part of the family. We need to make sure they're well taken care of before leaving them somewhere.
These top kennels in Ottawa are a great option if you have to go somewhere you can't take your pet.
Do you think we selected the best options in the city? If you have any suggestions, let us know!
Want to learn more about taking care of your furbabies? Check out this guide for taking care of your dogs!