The 5 Best Horse Riding Lessons in Ottawa
Horse riding is not just fun, it's also an athletic activity. There are even studies that say it boosts the rider's self-esteem.
Learning how to ride a horse can be difficult, but it's possible with a good teacher. In this article, we listed the best horse riding lessons available in Ottawa.
How much do horse riding lessons cost?
Typically, teachers will charge hourly for horse riding lessons. But there are packages for multiple lessons per month.
In the table below, you'll find a more specific pricing guide.
| Lesson Type | Average Starting Price Per Lesson |
| --- | --- |
| Skill Assessment | $90 - 100 |
| Group Lesson | $200 per month (4 lessons) |
| Semi-Private | $300 per month (4 lessons) |
| Private 30 minutes | $350 per month (4 lessons) |
| Private 1 hour | $450 per month (4 lessons) |
| Competitive Lessons | $320 per month (4 lessons) |
The Best Horse Riding Lessons in Ottawa
We wanted to provide you with the best horse riding schools in the city. Our list is based on the following criteria:
1. Royale Equestrian Centre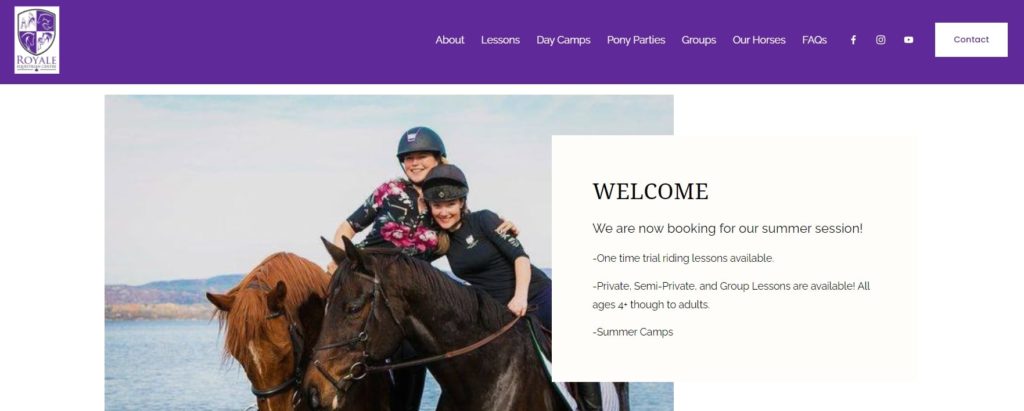 Test
Info
SERVICES
Horse Riding Lessons, Day Camps, Pony Parties, Group Lessons, Coach Mentoring Program
WEBSITE
https://www.royaleequestriancentre.com/
ADDRESS
2191 Woodroffe Ave, Ottawa, ON K2C 3H1, Canada
CONTACT DETAILS
613-608-1176
OPERATING HOURS
Monday 9AM–7PM

Tuesday 9AM–7PM

Wednesday 9AM–7PM

Thursday 9AM–7PM

Friday 9AM–7PM

Saturday 9AM–7PM

Sunday 9AM–7PM
| | |
| --- | --- |
| Criteria | Ratings |
| Rates | ★★★★(4/5) |
| Location | ★★★★ (4/5) |
| Experience | ★★★★★(5/5) |
| Portfolio | ★★★★★(5/5) |
The Royale Equestrian Centre is a farm run by Dawn Patterson and her daughter Emily Bertrand. It was founded in 2007 and is very well known among the residents of Woodroffe Ave.
What makes this equestrian school special is its horseback riding programs for different levels of learning. It follows the semestrial system, which is a good way to keep students focused.
For children, the school offers the Tots Program, which is designed to teach kids, not just about riding horses but also about empathy and athletic capability. There is also the Adult Introduction Program that is for adults who know nothing about riding horses.
Another thing we like about the Royale Equestrian Centre is its mentoring program that is meant to teach kids and adults 14 years and above how to be a coach. This is a perfect option for those who already have horseback riding experience and just want to learn more.
The only downside with the Royale Equestrian Centre is its semestral system. While overall, it's a good approach, it can still be a hassle when students are not allowed to enroll in the middle of a semester.
Despite that, we believe that the Royale Equestrian Centre is definitely one of the best horseback riding schools in the city.
Has a mentorship program
Offers group lessons
Offers lessons for kids
Has a competitive branch
Services can be pricey
Semestrial programs don't make it possible to enroll mid-semester
Customer Reviews
My second home
"REC is a second home for me. A great family friendly and community centred environment with lots of development and growth opportunities for everyone on the team and all the riders. A bright light for many through these tough few years, this farm is nothing short of amazing." – Jenn Hall
Loved it
"I had a Trial Lesson a few weeks ago and loved it. Will start my lessons soon but until then I am volunteering one evening a week. The staff is very friendly, the horses are beautiful and I am having an amazing time! I love the huge indoor arena where the lessons are given. I love seeing the smiles on the students' faces as they learn!" – Michele Bishop
2. Maplewood Equestrian Centre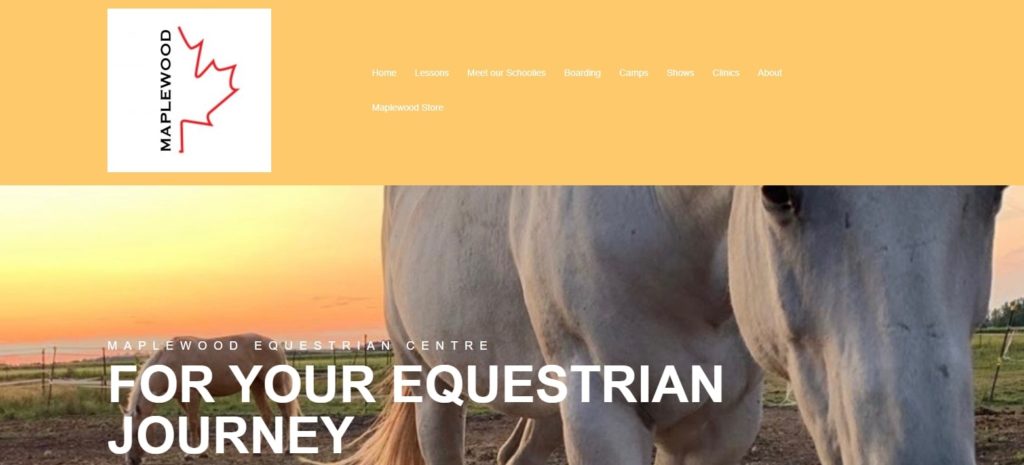 Test
Info
SERVICES
Equestrian Lessons, Camps, Clinics and Events, Boarding, ShowTeam, Maplewood Store
WEBSITE
http://maplewoodec.ca/
ADDRESS
3178 Dunning Rd, Ottawa, ON K0A 3E0, Canada
CONTACT DETAILS
613-510-1200
OPERATING HOURS
Monday 10AM–8PM

Tuesday 10AM–8PM

Wednesday 10AM–8PM

Thursday 10AM–8PM

Friday 10AM–8PM

Saturday 10AM–8PM

Sunday 10AM–8PM
| | |
| --- | --- |
| Criteria | Ratings |
| Rates | ★★★★ (4/5) |
| Location | ★★★★ (4/5) |
| Experience | ★★★★★(5/5) |
| Portfolio | ★★★★★(5/5) |
Maplewood is an equestrian school that was established in 2009 by couple René and Rhonda. The two came from an equine background and wanted to share their knowledge and experience with other people.
Maplewood teaches its students the basics of horseback riding, including the equipment and attire they would need during rides. Another focus of its education is bonding with the horse and treating it with compassion and respect.
These lessons are very good, especially for children who are struggling to make friends. It's also a solid option for adults who just want a new hobby to learn.
Of course, these lessons are separated by age group. There is also the option to get private lessons for a higher fee.
Maplewood has separate lesson packages for those who already know how to ride. Students are given the option to learn for pleasure, competition, or just recreation.
We think this is a good way to separate the types of students it gets every year.
We also like that lessons are noted in an online calendar so everyone can keep track of how long they have been learning.
The only downside we noticed with Maplewood is its many students, which can mean less attention for each one.
Overall, it's still a great choice of an equestrian school and should definitely be on your list as well.
Competitive lessons
Has an online store for merch
Also offers boarding
Participates in horse shows
Pricey
Lots of students, can be hard to focus without private lessons
Customer Reviews
Incredible
"I cannot express my appreciation for Maplewood Equestrian Center and it's family owners enough. Learning to ride after 35 when you were afraid of horses isn't a small ask for any location. To be invited to learn with such amazing trainers who take things at your speed is incredible. – Rebecca Nalley
Superbly run
"Fantastic equestrian centre! It's a family-run biz that deeply care for the wellbeing of their horses and their riders. Their motto is: "we build good horse people, not just good riders" and this shines in their stables and coaching philosophy. My daughter loves her lessons at Maplewood and has attended their summer camps which are hands down superbly run!" – Jen K.
3. Fiddler's Green Stables

Test
Info
SERVICES
Leisure Riding Lessons, Competitive Lessons, Boarding
WEBSITE
https://www.fiddlersgreenstables.com/
ADDRESS
6575 Flewellyn Rd, Ottawa, ON K2S 1B6, Canada
CONTACT DETAILS
613-858-9366
OPERATING HOURS
Monday 7:45AM–8PM

Tuesday 7:45AM–8PM

Wednesday 7:45AM–8PM

Thursday 7:45AM–8PM

Friday 7:45AM–8PM

Saturday 7:45AM–8PM

Sunday 7:45AM–8PM
| | |
| --- | --- |
| Criteria | Ratings |
| Rates | ★★★★★(5/5) |
| Location | ★★★★ (4/5) |
| Experience | ★★★★★(5/5) |
| Portfolio | ★★★★ (4/5) |
Fiddler's Green Stables is one of the oldest stables and equestrian schools in the city. It was established in 1973 by the couple Joe and Pam Nuth.
They have been teaching adults and kids horseback riding ever since.
Fiddler's also has its own team for competitions. Students who excel at the sport are given the opportunity to join the team.
Equestrian is a serious sport and should not be taken lightly. That is why the school takes its lessons very seriously
Despite being a formal school, Fiddler's is still a family business. The couple who owns it understands familial love not just for their students but also for their horses.
We appreciate how the horses are well taken care of even though they are serious athletes.
The school is actually more focused on competing and doesn't have many programs for beginners. But that doesn't mean it doesn't accept new students.
There are still basic programs offered, but the slots for these are limited.
With that said, despite the focus on competitions, Fiddler's Green is still one of the best choices when it comes to learning horseback riding. It's got a good curriculum with experienced and dedicated teachers, which is why it's on our list.
More affordable
Competitive lessons
Participates in horse shows
More focused on competition
Not a good option for beginners
4. Partridge Acres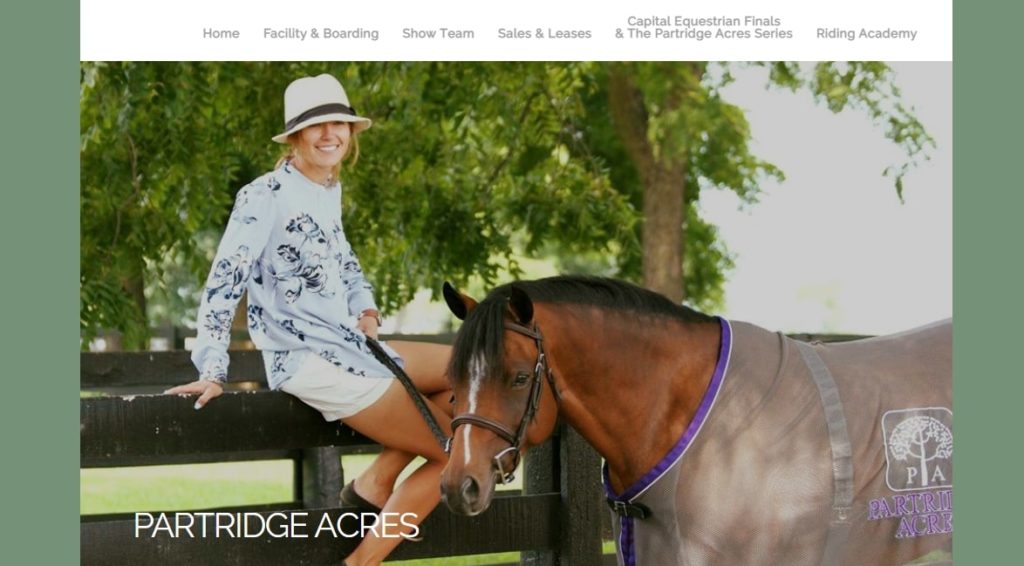 Test
Info
SERVICES
Riding Academy, Facility & Boarding, Show Team
WEBSITE
http://www.partridgeacres.com/
ADDRESS
RR4, 758 John Kennedy Way, Ottawa, Canada
CONTACT DETAILS
613-864-4168
OPERATING HOURS
Monday 9:30AM–3:30PM

Tuesday 9:30AM–3:30PM

Wednesday 9:30AM–3:30PM

Thursday 9:30AM–3:30PM

Friday 9:30AM–3:30PM

Saturday 9:30AM–3:30PM

Sunday 9:30AM–3:30PM
| | |
| --- | --- |
| Criteria | Ratings |
| Rates | ★★★★ (4/5) |
| Location | ★★★★ (4/5) |
| Experience | ★★★★★(5/5) |
| Portfolio | ★★★★★(5/5) |
The Partridge Acres riding academy is another great option for those who plan on learning how to ride a horse. The academy offers weekend lessons from 9AM to 3PM all year round, so it's not semester-based, unlike other horseback riding schools.
The stables of Patridge Acres are quite well-maintained and all the horses are well-fed and healthy. We are really happy to say that the location is a great place to learn how to ride because of its size and relaxing view.
For adults, Patridge Acres offers lessons for both beginners and intermediate students. The system can be difficult for newbies, but it's also a great way for them to learn through baptism by fire.
If a student is struggling to learn, there are private lessons available for an additional fee. These lessons are better for students who can't concentrate when they're learning with a group.
However, this option isn't available every day, so if you're interested in availing it, the school's admin must be notified first.
Overall, this equestrian school is definitely a good choice for all kinds of students. It's a bit pricey, but the service it offers and the fact that its curriculum includes teaching students to compete makes it all worth it.
Competitive lessons
Has a boarding area for students' horses
Has own team for horse shows
Great location
Well-maintained
Pricey
Slots for private lessons aren't available every day
System can be difficult for newbies
Customer Reviews
Fantastic
"I love this barn. I started riding as an adult and I almost gave up until I met Veronica and the lovely folks at Partridge Acres. Veronica and Samantha are so supportive and encouraging, even when my old muscles just don't cooperate! I now lease one of their ponies and have done some jumping and some shows. Its great to live your childhood dreams in your 50's. Thank you Partridge Acres!!!!" – Carolyn B.
Loved it!
"I ride there and let me tell you Veronica is one of the best coaches you will ever meet. I had a very tough few years riding and Veronica and my mom helped me through it. I love team PA!!!" – Gia Forte
5. Westar Farms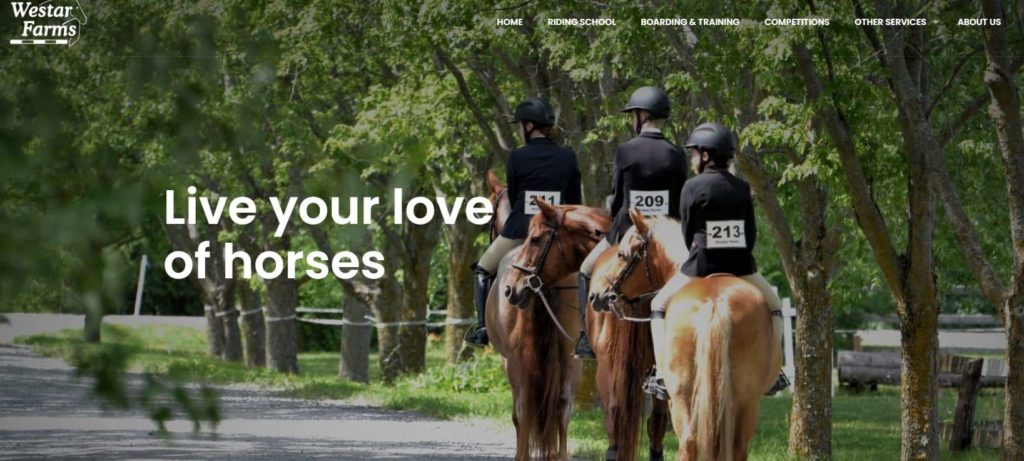 Test
Info
SERVICES
Riding School, Boarding & Training, Competitions, Schooling, Leasing
WEBSITE
https://westarfarms.ca/
ADDRESS
8132 Fernbank Rd, Ashton, ON K0A 1B0, Ottawa, Canada
CONTACT DETAILS
613-253-0078
OPERATING HOURS
Monday 8AM–8:30PM

Tuesday 8AM–8:30PM

Wednesday 8AM–8:30PM

Thursday 8AM–8:30PM

Friday 8AM–8:30PM

Saturday 8AM–5PM

Sunday 9AM–5PM
| | |
| --- | --- |
| Criteria | Ratings |
| Rates | ★★★★ (4/5) |
| Location | ★★★★★(5/5) |
| Experience | ★★★★ (4/5) |
| Portfolio | ★★★★★(5/5) |
Westar Farms has many options when it comes to learning how to ride a horse. For children and adults who have never ridden one before, the best options are the Beginner Program and the Novice Group Lessons.
For those who already know a bit about horseback riding, there are intermediate and advanced programs. The school also offers private lessons for students who want to learn much faster.
The people behind Westar have a lot of horses in their stables. These horses' sizes range from big ones to pony-sized foals for kids.
With many horses come many instructors. Westar offers multiple experts in equestrianism and all of them are taught how to deal with different types of students.
We are also happy to say that Westar has its own team for competitions. These people compete in races, jumping events, and even horse shows where equestrians' grooming skills are tested.
We are impressed with the different types of lessons that Westar can provide. But it is worth noting that its lessons are quite expensive, especially the private ones.
If you have the budget and you are very passionate about learning how to ride a horse, this school is a great pick for you.
Professional riding school
Teaches young kids
Has its own team for competitions
Customer Reviews
Beautiful
"Beautiful horse farm. Came to watch a friend's dressage competition. Good signage was out and directions for parking" – Jessica H.
Great place
"The staff here are great and they really focus on skill building and confidence. Also, safety is key for the inexperienced riders. They have barn helpers there at all times. Very well run place. They also run developmental and higher level shows that people of all ability can get involved in. Great place!" – Steve Little
FAQs about Horse Riding
---
That brings us to the end of our article on the best horseback riding lessons in the city. Are you interested in other sports? Check out our list of the best swimming lessons in Ottawa!