The 6 Best Furnished Apartment Rentals in Ottawa
If moving in quickly without the need to shop for furniture is ideal for your lifestyle, it might be worth spending a few more dollars for an already furnished apartment.
In this article, we compiled the best fully-furnished apartments in Ottawa in terms of services, location, and customer reviews.
But before we dive into our list, let's first discuss how much renting these apartments would typically cost.
How Much Do Furnished Apartments in Ottawa Cost?
Looking for and buying furniture can be expensive and renting a furnished apartment will save you a lot of money upfront. However, because of this, most rental furnished apartments may have a slightly higher monthly rent than empty apartments.
We put a summary of the estimated range of apartments that are fully furnished in the table below, just to give you an idea of what you can get for your budget.
| | |
| --- | --- |
| SERVICE | AVERAGE COST |
| 1 Bedroom | $1,200-$2,500 per month |
| 2 Bedrooms | $2,000-$3,500 per month |
| 4 Bedrooms | $3,500-$5,500 per month |
| Bachelor Apartment | $900-$1,500 per month |
The Best Furnished Apartments in Ottawa
Now that you're informed about the rental rates of fully-furnished apartments, it's time to take a look at our top picks in Ottawa. The list is in no particular order.
1. McKellar Park Suites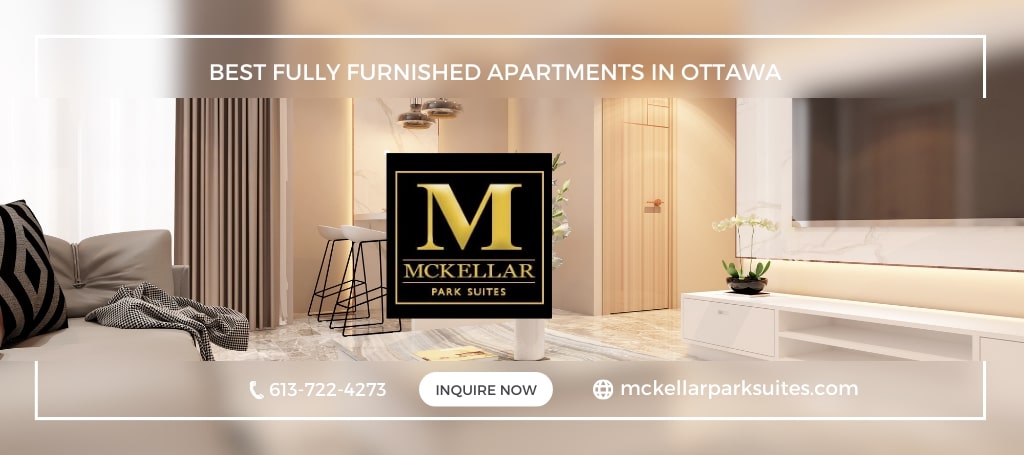 | | |
| --- | --- |
| SERVICES | Short-term Apartment Rentals, Insurance Relocation Claims, Corporate Housing, Relocation for Private Organizations |
| WEBSITE | https://www.mckellarparksuites.com/ |
| ADDRESS | 1983 Carling Ave, Ottawa, ON K2A 1E9, Canada |
| CONTACT DETAILS | Phone: +1 613-722-4273 |
McKellar Park Suites is one of the go-to rentals in Ottawa for guests looking for full-sized apartments and fully furnished suites. They are particularly great for short business stays, as well as family gatherings and relocation or temporary duty of private or public workers.
Since they mostly target business people staying for work, their fully furnished apartments include services and amenities like wireless internet, HD TV with cable, phones with free local calls, and mail service.
They also have weekly maid service where linens are provided. Guests can also use their coin-operated laundry facility conveniently on-site.
Another reason McKellar Park Suites made it to the list is their easy booking process and responsiveness. Guests only have to send in a request through email and their customer service will get back to them within 48 hours.
All their rates are also posted directly on this site for convenience, and they accept all major credit cards, debit cards, cheques and cash for rentals. There are also no taxes charged on their monthly rates.
All are fully furnished apartments
Features WiFi and other work-related services
All booking rates are available online
Features weekly housekeeping services
Does not supply toilet paper and dish soap due to allergies
Penalties for leaving early after booking has been made
No refunds
Customer Reviews
Check out the reviews from renters of McKellar Park Suites below:
"Really nice place and location for families, it is a place you can call home while away from your home. The staff always does their best to help in time of any need."
"Nice fully furnished apartments for short term or long term stay. Many newly renovated apartments. Staff is nice and welcoming."
"I needed a place quickly and it had to be furnished. This place ticked all the right boxes and was invaluable to me. The owners were extremely friendly and accommodating. It made for a relaxed and stress free transition."
2. Corporate Stay
Founded in 2008, Corporate Stays offers high-end apartments to corporate clients, which means they're a great alternative for clients who are used to staying at hotels. Currently, they manage over 20 rental properties across Canada.
Because they cater to corporate clients, they make sure to choose the buildings with the best locations for their clients' convenience. Their guests can enjoy being close to public transit, restaurants, supermarkets, golf courses, parks, shopping markets, and schools.
They also have an expert team of corporate housing specialists and property partners who manage and maintain their furnished apartments. This means that all locations feature amenities and well-maintained furniture.
Their properties also include concierge and international guest support, as well as fitness centers and a terrace or balcony, all to make sure their clients won't think twice about considering them as a good alternative to hotels.
They also have WiFi, a cable flat-screen TV, a dining area, and a kitchen with a dishwasher and a microwave. They also provide private parking available on site.
Great location and proximity to business centers
Features fitness centers and parking for their customers
Available in over 20 locations across the country
Offers international guest support
More suitable for business stays
Higher rates
Housekeeping services not guaranteed
Customer Reviews
Renters who stayed at Corporate Stays left these reviews detailing their experience:
"We had 3 experiences with CS Halifax, and all three were very good! Quality of service, excellent customer service, quality VS price…
I would recommend them for any newcomer arriving to Canada and wondering where to live for the first weeks. They were also able to accommodate us with a good deal for a long-term stay.
My husband also needed a place for self-isolation, and they were able to provide us a great deal as well. I'd tick all 5 stars for the whole team, so friendly and responsive! Highly recommended!!!"
"Finally we could fulfill our dream of staying at a high rise apartment without being broke, lol. High praises for your reasonable and tastefully decorated apartments. Thank you Corporate Stays."
"I used Corporate Stays for the first time last week and I was very impressed. The team was extremely professional and every detail was taken care off. The apartment was modern and very spacious. I'm glad I chose to try them and look forward to using them in cities all over the world. Try them out, you won't regret it."
3. Premiere Suites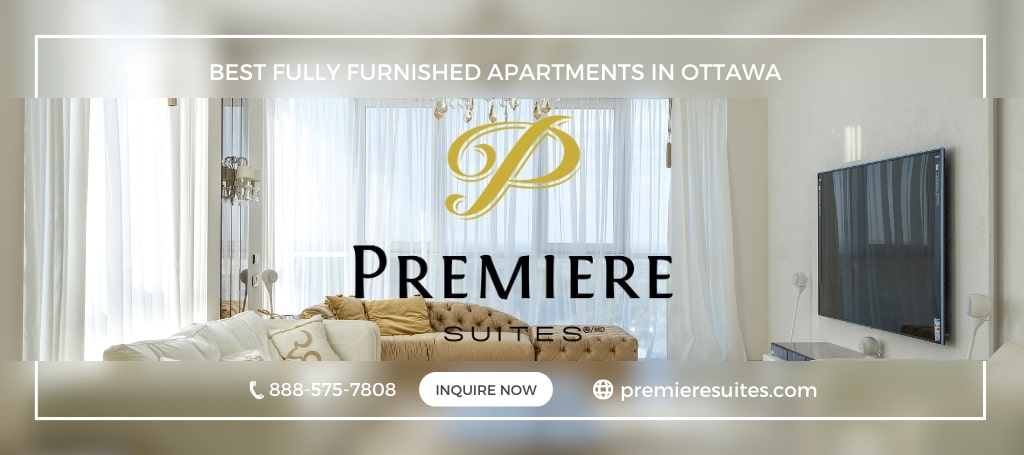 Premiere Suites is one of the largest providers of short-term furnished apartments and executive house rentals in Canada. Currently, they have over 1,300 available furnished rooms for rent across the country.
Future renters looking for a place to stay can choose from 1 bedroom, 2 bedrooms, and 3 bedrooms apartments or condominiums.
They're also positioned as an alternative to a hotel for people looking for a short-term stay. Their spacious accommodations are at least 200 square feet, which is a lot larger than an average hotel room.
The benefits of using them as an alternative to a hotel are plenty. First, they feature in-suite or on-premise laundry facilities.
Second, all their furnished apartments for rent include free bi-weekly housekeeping. This means that guests will find clean linens on the beds and fresh towels in the bathrooms regularly.
Third, Premiere Suites also provides security. All their properties are not only highly regulated but are also professionally managed, accredited, and insured.
Fourth, they allow their guests access to well-maintained fitness centres, swimming pools, and saunas. Their other amenities include complimentary WiFi, basic cable, and free local calls.
Finally, all their suites have a fully equipped five-piece kitchen.
Features amenities like housekeeping and swimming pools
Offers disabled-friendly accommodations
Offers security
Offers pet-friendly rentals
Accepts advanced bookings
All rentals include parking
Require monthly rentals of 30 days or longer
More expensive than other rentals
Customer Reviews
Guests who stayed at Premiere Suites left these reviews below:
"Caring service and premium standard accommodations at better than expected prices. If you need an extended stay in Ottawa I would highly recommend."
"Stayed in a 2-bedroom suite here last week – it was an excellent experience. The suite was larger than expected (2 bed/2 bath), with lots of windows on 2 sides, and great views. The beds were super-comfortable, the swimming pool/gym facilities were excellent, and the 24-hour concierge people were very friendly and helpful. It was a real treat to have ensuite laundry, too. Definitely recommended – I don't know why anyone would stay at a hotel in Ottawa when you could stay at this place for less money."
4. Minto Apartments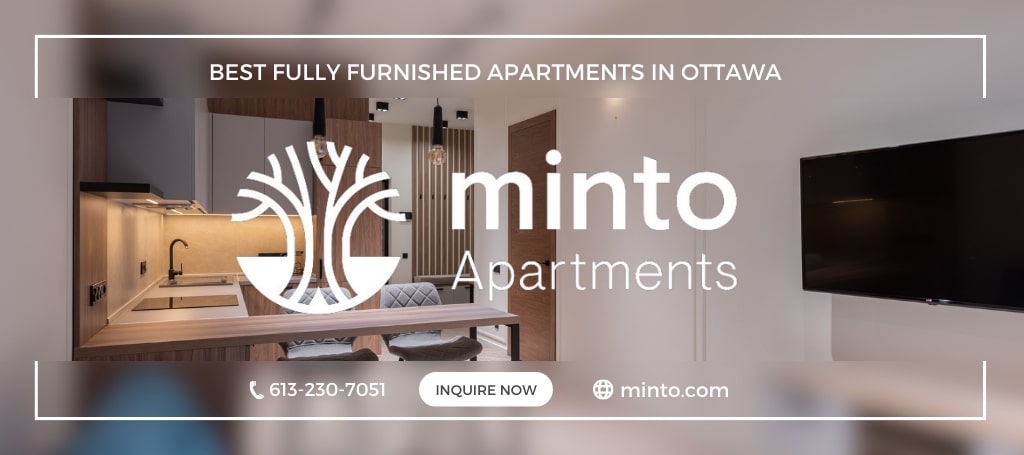 Minto Apartments provides furnished suites for renters who plan on doing extended stays, family vacations, or business travels. Minto One80five has great furnished suites that are typically larger than standard hotel rooms.
Guests can choose between one or two-bedroom suites. The suites are elegantly furnished, have an open-concept kitchen and floor-to-ceiling windows, among other highlights.
Minto One80five is located at Lyon and Laurier Street in downtown Ottawa, which is within walking distance from Parliament Hill, Byward Market, and Rideau Canal. They're also conveniently located close to public transit, shopping, restaurants, and business districts.
In addition to their great location, Minto One80five features complimentary housekeeping, free local calls, cable, and Wi-Fi.
To add to the experience, they also offer pet-friendly, 100% smoke-free residence, and excellent services and amenities such as a saltwater pool, a sauna, and a 24/7 concierge.
Minto Apartments also features in-suite laundry, iron and ironing board, indoor parking, security controlled access, outdoor BBQ area, and bike storage among many others.
Although a bit pricier than other fully furnished options and requires a minimum of 30 days to stay, Minto Apartments provide their guests with more space than a hotel and with much more essential amenities.
Features semi- and fully-furnished rentals
Provides amenities like saltwater pool and sauna
24/7 concierge service
Offers pet-friendly rentals
Offers security
Require monthly rentals of 30 days or longer
More expensive than other rentals
Customer Reviews
Check out these reviews from the renters of Minto:
"I enjoyed my stay at 1339 Meadowlands. The apartment was clean, no pests or even insects ever seen during my 5 months there. The apartment suite wasn't the newest but it was spacey and everything worked fine. The balconies are nice and the views are beautiful. I watched dozens of sunsets from my balcony. There's plenty of shopping and 2 or 3 grocery stores within walking distance. It's a very safe neighbourhood, there's a school across the street. Plenty of parking and a little playground for kids, even a mini dog park. The building itself is pretty new and clean. Laundry facility isn't bad. One of my only few complaints is that tenants leave their old furniture in the common spaces often and that elevators are super slow."
"Overall we think the location of the building is great and so are the amenities."
5. THEO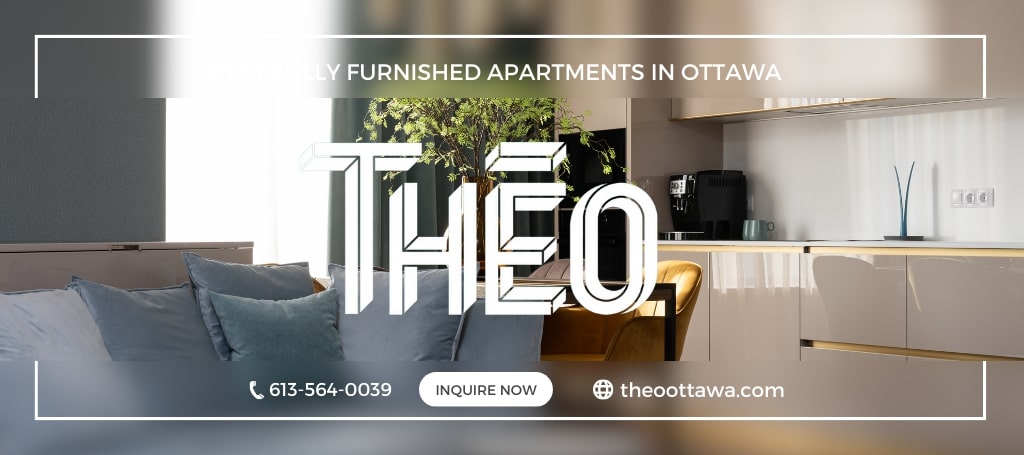 SERVICES
Apartment & Condo Building
WEBSITE
www.theoottawa.com
ADDRESS
305 Rideau Street, Ottawa, ON, K1N 5Y6
CONTACT DETAILS
Phone: +1 613-564-0039
OPERATING HOURS
Mondays to Fridays: 10:00 AM – 5:00 PM
Saturdays: 11:00 AM – 4:00 PM
Theo Residence is another furnished apartment that has plenty of great amenities. The residential space is exclusive to university students, located beside the University of Ottawa.
Theo Residence offers 3 types of accommodation: a unit all to yourself, your own room in a shared apartment, and a shared room in a shared apartment.
Each room is equipped with a double bed, ample closet space, nightstand, study desk and chair, and a washroom. Each unit is also equipped with a washer, dryer, sofa, flat-screen tv, dining set, and essential appliances.
WiFi and utilities such as hydro, water, and gas are also included in the rental. There are also cleaning services available every month in the common areas.
Parents looking for a safe apartment for your kid can be assured that Theo Residences have built their spaces to be conducive to learning.
There's also an underground parking lot for residents, but at a cost of $200/month. There are only limited parking spots, so it's best to express your interest in one early in the application period.
For uni students looking for a great community of students and friends from different universities and schools, Theo Residence is a fantastic place worth considering.
Affordable rates
Online 3D and in-person tours available
Equipped with desks for studying
Ideal location for students
Exclusive to university students
Expensive parking rental fee
Customer Reviews
Check some of the reviews left by people about Theo Residence below:
"So far my experience with THEO has been great. I was able to lease a room in less than a week with the help of Tina their leasing agent! She helped me find what I wanted, did a virtual tour and guided me through the process like it was nothing! Theo also answers all my questions and concerns quickly through email or phone calls. The place looks really nice as well so I'm excited to move in!!"
"The process of leasing an apartment with Théo at Ottawa was very smooth. They gave me an awesome virtual tour, communication with the landlords was easy, and they responded quickly to emails. Everyone was very helpful, overall a great experience."
6. 201 Maclaren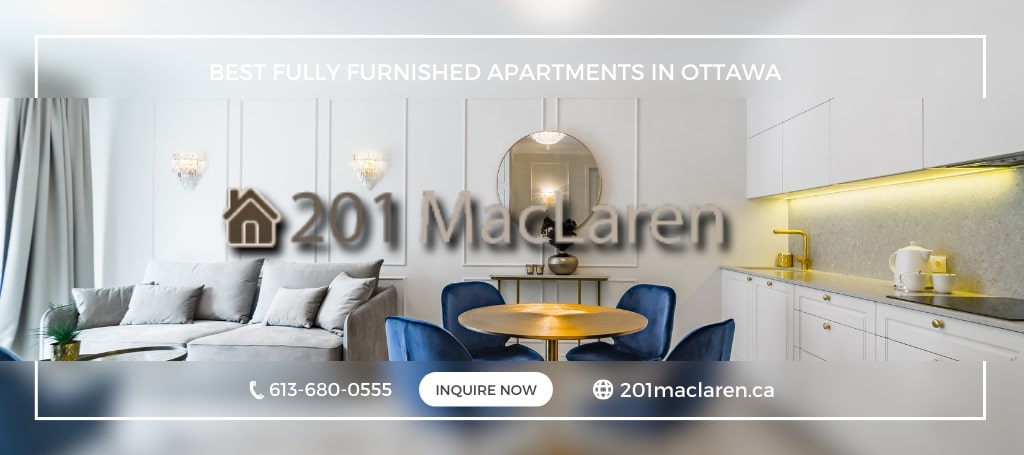 SERVICES
1-Bedroom, 2-Bedroom, 3-Bedroom, Penthouse
WEBSITE
http://www.201maclaren.ca/
ADDRESS
201 Maclaren Street, Ottawa ON K2P 0L4
CONTACT DETAILS
Phone: 613 680 0555
Email:

[email protected]

OPERATING HOURS
Mondays to Fridays: 9:00 AM – 5:00 PM
201 Maclaren offers stylish modern apartments right in the heart of downtown Ottawa. These centrally located flats are stylish and contemporary, providing tenants a taste of urban living in the middle of the city.
These units feature lavish amenities, fully equipped kitchens, laundry facilities, and air conditioning. To make it even better, the building has a rooftop terrace with a patio and BBQ area.

We like this location because it's only a stone's throw away from restaurants, shops, groceries and other modern conveniences. A short walk will lead you to numerous pubs and you can even take a stroll along the Ottawa River and Historic Rideau Canal.
A furnished single bedroom will run you around $1950 a month with a luxurious Penthouse suite costing up to $3995. While the price might seem quite high, it's quite reasonable considering its location.
Centrally located in downtown Ottawa
Offers unfurnished options

Various suite sizes available

Has rooftop patio
Spectacular rooftop terrace
Minimum 1 year leases
No gym facilities
FAQs on Furnished Apartments
---
And that concludes our list of the best furnished apartments in Ottawa. We hope this list has provided you with useful insight for when you're looking for a place to call home while in the city.
Know any other amazing places in Ottawa that should be on this list? Let us know so we can check them out!
If you're looking for a convenient and affordable place to crash for a night or so, check out our list of the best motels in Ottawa.