5 Best Flooring Services in Ottawa
If your home or office's floors are looking extra scuffed and sad lately, perhaps it's time to get them refinished or replaced altogether. You're in luck because we're going to talk about the best flooring services in Ottawa today so you'll have an idea where to look.
Whether it's for laminate flooring or hardwood flooring, Ottawa has some top-notch options for you by way of products and services. We'll discuss the pros and cons of these options and how much their estimated costs are.
How Much Do Flooring Services in Ottawa Cost?
A lot of factors will dictate how much you're expected to pay for flooring services beginning with the kind of service your floor requires. You'll also need to consider the floor covering type and material because not all of them are in the same price range.
For instance, hardwood flooring in Ottawa could average anywhere between $7 to $15 per square foot. But things will still depend on the hardwood material to be used (for example, walnut usually costs more than oak) and if it doesn't include labour and finishing costs yet.
On the other hand, laminate flooring installation is relatively more affordable at around $3 to $8 per square foot. Factor in the labour costs, equipment, the size of your floor area and you'll get an idea of the final tally.
If it's a simpler project like epoxy flooring for your garage, you'll still have to select the materials to use. Whether it's clear, solid, or metallic epoxy, this flooring type is definitely more inexpensive than hardwood at an average of $8 per square foot (excluding professional labour fees).
Here's a table showing different flooring types and their corresponding estimate costs for comparison. We also included other kinds of installations for reclaimed wood, laminate flooring, and vinyl flooring with Ottawa average prices.
FLOORING TYPE
ESTIMATED COST
Hardwood flooring installation
$7 to $14 for oak or ash materials,
$10 to $18 for maple, walnut, or cherry materials
Epoxy flooring installation
$3 to $10 per square foot
Vinyl flooring installation
$1.50 to $2.75 per square foot
Laminate flooring installation
$2 per square foot for mid-grade laminate,
$3 per square foot for upper mid-grade laminate,
$4.25 per square foot for high-end laminate,
$6 per square foot for top-of-the-line laminate
Reclaimed wood flooring installation
$17 to $25 per square foot
The numbers indicated above represent the general average of each type plus installation fees. To get a clearer idea for your own project, you can utilize the many flooring calculators available online for all kinds of flooring specifications.
Best Flooring Services in Ottawa
Once you've decided on the flooring type you want for your home or office, it's time to take a closer look at the best flooring services in Ottawa and what each one has to offer.
1.   Advantage Flooring, Inc.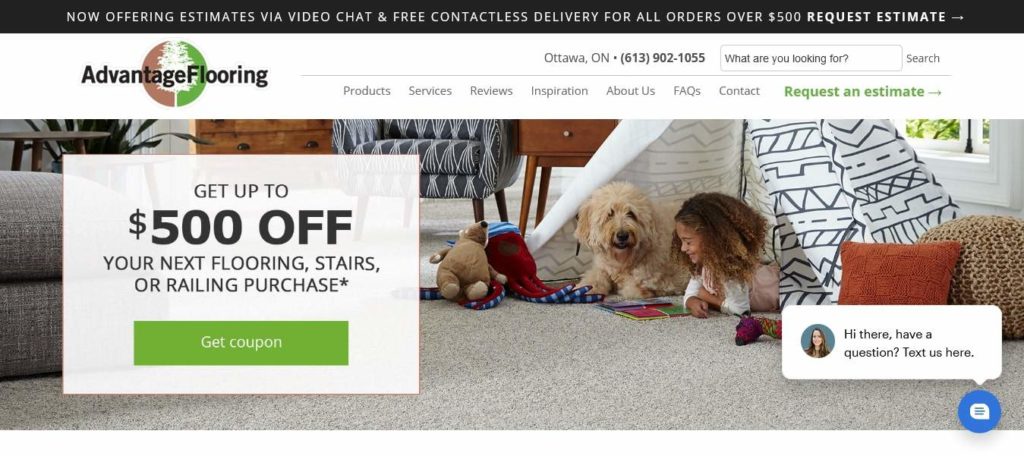 SERVICES
Hardwood flooring supply, hardwood refinishing, hardwood installation, staircases & railings, trim work, carpet supply & installation, liquidation offers, residential painting, design consultation, kitchen & bathroom remodelling, shop at home, mobile showroom, commercial flooring installation, free in-home measurement, flooring repairs, furniture removal, subfloor repair, carpet disposal, custom showers & tub surrounds
ADDRESS
416 Fireweed Trail Ottawa ON K1V 2K4
CONTACT NUMBER
(613) 902-1055
WEBSITE
https://www.advantagefloor.com/
OPERATING HOURS
Monday to Friday 7 AM – 7 PM
Saturdays and Sundays 9 AM – 5 PM (by appointment only)
Advantage Flooring has a staggering menu of services not strictly confined to flooring matters. It aims to be a one-stop shop for all residential or commercial flooring and general contractor projects.
Advantage Flooring has BBB accreditation with a consistently A+ rating in its decade-long operation. Aside from supplying hardwood and other flooring materials, the Advantage crew can also move furniture and dispose of old carpets for its clients' convenience.
The flooring products and services here are more than what other companies typically offer. You can get a free flooring estimate on anything from waterproof flooring to carpets, too.
The company also offers free in-home estimates for accurate square footage calculation. Advantage Flooring's finished hardwood materials start at just $3.25 per square foot, but it promises a price match guarantee for any of their products should you find a lower price tag elsewhere.
Wide array of products and services
Utilizes eco-friendly materials and equipment
Price match guarantee for flooring products
Free in-home estimates
Weekend hours by appointment only
Shortened weekend operations
Customer Reviews
Read what some Advantage Flooring customers have to say about its services:
"Vivian, Mike, and the rest of the team did an amazing job in refinishing our floors! Vivian was incredibly accommodating in booking us last minute, and the job was done extremely well. We couldn't be happier with the quality of the work and the whole experience! Thank you!" – Hermina Beica
"Very happy with Advantage Flooring. Very professional with scrupulous attention to detail. Everything was explained beforehand. A detailed quote was prepared and posted online so there are no hidden costs or add-ons. Refinishing old existing wood flooring, replacing tile with new hardwood, new staircase to match the flooring – everything was done very well meeting all our requirements. Great work ethic. Recommend!" – Evgueni Koldachenko
2.   Rome Flooring Ltd.
SERVICES
Installation of prefinished hardwood flooring, laminate flooring, site finished hardwood, luxury vinyl, and tiles, staircases and railing repairs, floor repairs and maintenance, free quote
ADDRESS
Unit 4, 58 Antares Dr., Nepean, ON K2E 7W6
CONTACT NUMBER
613-225-2262


[email protected]

WEBSITE
https://www.romeflooring.com/
OPERATING HOURS
 Monday to Friday 8 AM – 6 PM
Saturdays 8 AM – 12 noon
Closed on Sundays
Rome Flooring Ltd. specializes in hardwood floor installation from small homes to large living complexes. You can find laminate, vinyl, finished hardwood, tiles, and other kinds of flooring materials here, as well.
The site has a helpful guide on which flooring type goes best with particular rooms or functions of your home or office. Each flooring features different selections so clients can pick out which suits their interior decorating tastes.
But it isn't just a total flooring replacement that Rome Flooring serves up. Its team actually encourages revitalization by way of maintenance buffing and recoating to keep your old floor looking new and free from scuffs or stains.
For other flooring concerns, you can get expert advice from Rome Flooring by calling their number or sending an email. The company offers free quotes and estimates using a standard form on its website.
Offers floor care and maintenance services
Offers free quotes
Shortened operating hours on Saturdays
No pricing matrix on the website
Customer Reviews
Find out how past customers like Rome Flooring LTD.'s products and services:
"Thank you for the wonderful service your company has provided for us. Our new hardwood floors are beautiful. The workmanship is excellent. Your young men were courteous, obliging and so very respectful." – Joanne and Graham P.
"My family and I would like to thank you for the great job that was done on the installation of our new oak hardwood kitchen floor. It was a great pleasure dealing with a company that provides such excellent customer service. Your employees were friendly, punctual and professional." – Christine L.
3.   Logs End, Inc.
SERVICES
Hardwood installation, care & maintenance, shipping & delivery, warranty, request quote, request a brochure
ADDRESS
66 Iber Rd, Ottawa, ON K2S 1E8, Canada
CONTACT NUMBER
+1 613-831-9333


[email protected]

WEBSITE
https://www.logsend.com/
OPERATING HOURS
Strictly by appointment only
Though it has other services on its menu like floor maintenance and care, Logs End truly specializes in hardwood flooring. There's a good variety of wood species in its catalogue to choose from, including European or white oak, hard maple, birch, pine, and hickory.
The company takes special care to be as environmentally caring as possible in its operations. It uses underwater logging practices and works with environmental experts to ensure no ecological damage is done in the process.
The team also uses new-growth hardwood logs for certain projects. In keeping with its Canadian Green Building Council membership, these logs are grown and harvested only in certified forests.
Logs End Hardwood Flooring sends out hardwood flooring samples across Canada to those who order them via its website, email, or phone. It boasts of having its own mill which potential clients can access by appointment only.
Environmentally-aware operations
Offers Canada-wide convenient shipping and delivery options
Free, no-obligation quote
No fixed operating hours
Limited warranty coverage
Customer Reviews
If you want to try out Logs End's products and services, see what past clients think about the company:
"When I was looking for a unique high-end wide plank floor, the only choice for me was Logs End. They provided me with a wide selection of species, colours and grades and took the time with me to help find the perfect fit. We are thrilled with the end result and would certainly look to Logs End in the future!" – Garry Galley
"It's rare to find the combination of extraordinary and soulful products with rock star service that I have experienced on two jobs now done with Logs End.' – Stephen Beckta
4.   Floor Coverings International
SERVICES
Installation of carpets, laminate, vinyl, hardwood, tile, stone, and eco-friendly flooring, free quotes and consultations, mobile showroom, installation aftercare
ADDRESS
203-888 Belfast Road Ottawa, ON K1G 0Z6
CONTACT NUMBER
(613) 830-3300


[email protected]

WEBSITE
https://ottawaeast.floorcoveringsinternational.com/
OPERATING HOURS
Strictly by appointment only
Floor Coverings International wants its clients to experience as much convenience as it could possibly provide. For starters, it provides a great range of floor covering options that could be browsed by colour, lifestyle, installation process, or wood species.
The company also offers a helpful mobile flooring showroom so the team could go to its client's location instead of having them come over. Complimentary in-home consultations are also available at the client's most convenient schedule.
Floor Coverings wants to do away with guesswork entirely so that measurements and flooring selections accurately fit client specifications. Initial consultations and free quotes aim to take a client's budget, lifestyle, visions, and preferences into consideration.
It also places special emphasis on sustainable flooring practices without compromising aesthetics. Aside from using recycled materials, Floor Coverings International offers eco-friendly materials like stone, cork, rubber, bamboo, and glass or ceramic tiles, as well.
Offers free consultations and quotes
Has eco-friendly materials and practices
A+ BBB rating
Offers a mobile flooring showroom for convenience
No fixed operating hours
No floor maintenance services offered
Customer Reviews
Want to try Floor Coverings International products and services? First, read the opinions of its other clients:
"Great experience with Josh and his company. I had my entire main floor and upstairs bathroom done. The floors look amazing. Josh was super helpful and patient. He made numerous trips to my house to help me decide on the flooring. He was never rushed and always went out of his way to take the time to talk over options. The installers were all friendly and respectful. They tidied up at the end of every day. Josh made sure I was happy with the installation and the end result. I will definitely use this company again!" – Chelsea Stark
"Was planning on doing a small renovation. Decided to consult Josh for the product instead of going to a big box store. What a difference!! The product was of much better quality than what I had used in the past. Josh also made some great suggestions to provide the project with a WOW factor. Definitively will be calling on him again for future projects." – Richard Lemelin
5.   DM Flooring Pro
SERVICES
Installation of prefinished and unfinished wood flooring, sanding, staining, and finishing of wood floors, customized colour staining, stairs recapping, complete flooring job, removal of existing flooring, reinstalling of appliances, placing of furniture, free home estimation, virtual tour, gallery
ADDRESS
964 klondike Road, Kanata, Ontario K2K 0C5
CONTACT NUMBER
(613) 255-8220  



[email protected]

WEBSITE
http://www.dmflooringpro.ca/
OPERATING HOURS
Strictly by appointment only
DM Flooring Pro openly admits that hardwood flooring prices in Ottawa are nothing to sneeze at. That's why its proprietor places special emphasis on the quality of its installation work regardless of the project scope.
The goal is to make each flooring contract outstanding instead of just merely "okay". To achieve this, DM Flooring Pro promises only honest assessments and a careful, clean work area once the actual work is underway.
If you want to see how the company handled past projects, there's a picture gallery on the site. They showcase various types of hardwood material for different flooring spaces of clients' homes.
The site also has a virtual tour for clients to carefully assess which materials suit their flooring requirements and specifications. And once they've made up their mind about which type, they can request free quotes and in-home estimates.
Virtual tours are available on the website
Offers other flooring services
Free home estimates
No fixed operating hours
No pricing matrix on the website
Customer Reviews
Like what DM Flooring Pro has to offer? Consider the following client feedback:
"Didiel ("Didi") has done numerous hardwood jobs for us, and we've been extremely satisfied with Didi on each occasion. I would definitely recommend Didi for any hardwood installation type job." – Chad Wilson
"Didiel is a skilled, competent, personable and trustworthy flooring professional. He and his team worked quickly and completed the job on schedule. The cost was significantly lower than all competing estimates. We are very happy with the beautiful hardwood floor they installed. We have recommended him to colleagues and friends and would hire him again." – Bill Hipwell
FAQs About Flooring Services in Ottawa
---
After reading about the best flooring services in Ottawa, we hope you can have the floor of your dreams at your home or office soon.
If you have other flooring companies you want us to review, we'd be happy to hear about them so drop us a message.
And if you need other home-related renovation services, this article on the best general contractor firms in Ottawa might be of help.