7 Best Family Photography Services in Ottawa
Family portraits are more than just photographs. They help us connect to our past, remind us of stories, and know who we are.
Since family photos hold so much importance, we want to get the best in every shot. That is why we have gathered the best family photography services in Ottawa in one great list.
Before we move on to that, let's first discuss the costs.
How much does family photography cost in Ottawa?
The rates of family photography services are affected by several factors. These include the location, length of the session, photographer's experience, number of people and prints, studio and travel fees, and post-production costs.
On average, however, family photography would cost between $100 and $400 per hour. While a 30-minute family package deal could start around $145, it can go higher and range from about $400 to $1100.
So before booking an appointment, make sure that prices and inclusions, such as the number of prints, are clear. Below is a table showing the common types of family photography with their typical rates.
| Types | Price |
| --- | --- |
| Family photoshoot | $145 - $500 |
| Portrait photography | $150 - $370 |
| Maternity photography | $350 - $1,500 |
| Lifestyle photography | $150 - $370 |
| Family documentary photography | $150 - $525 |
Best Family Photography Services in Ottawa
To narrow down our choices, we used the following criteria to get the best in the business:
1. Gillian McColl Photography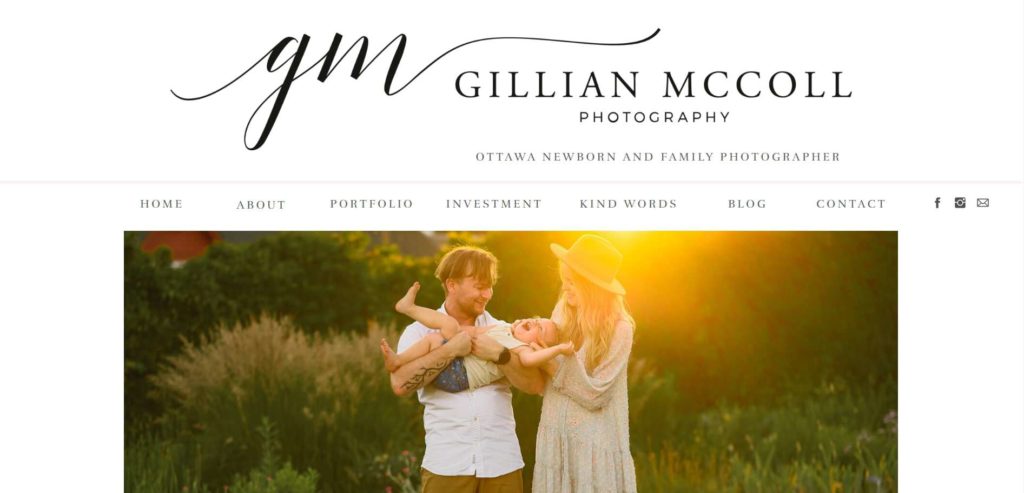 Test
Info
SERVICES
Family, Documentary, Newborn, Maternity
WEBSITE
https://gillianmccollphotos.com/
ADDRESS
1234 Saddlesmith Cir, Ottawa, ON K2M 2Y7, Canada
CONTACT DETAILS
+1 613-262-2669
OPERATING HOURS
Monday to Friday 9 AM - 4 PM

Saturday 9 AM - 7 PM

Sunday 9 AM - 4 PM
| | |
| --- | --- |
| Criteria | Ratings |
| Experience | ★★★★★ (5/5) |
| Rate | ★★★★★ (5/5) |
| Full Service | ★★★★★ (5/5) |
| Flexibility | ★★★★✩ (4/5) |
Gillian McColl Photography began in 2013, specializing in family, maternity, and newborn photography.
Starting at $495, her 60-minute family session lets you enjoy both family portraits and candid moments. The best part is that she takes extra time to document things and edits 15 images for the best look possible.
Her documentary family session, on the other hand, gets you a 1-2 hour story-telling session in the comfort of your home. There aren't other preparations needed, so things are made more convenient for everyone.
The only issue we found here is that family sessions can only be held in one, outdoor location. Documentaries, too, are only available at home, so there's not a lot of versatility.
We like that Gillian McColl Photography also has packages for pregnant women and newborns. We also appreciate that there is a beautiful client closet that mothers and babies can use for the shoots.
Its maternity bundled discount offer, which you can avail of when you also book a newborn session, is commendable. This is because it lets you get another session for your little one at fewer costs.
The newborn session, however, is only available from Monday to Friday, from 10:30 AM to 12:30 PM. So, you might need to book ahead of time to ensure a slot for this.
Specializes in families and newborns
Style guide
Available client closet
Bundled discount
Open daily
Limited location for most offers
Tight schedule for newborn sessions
Customer Reviews
Impressed by her attention to detail
"I hired Gillian for a newborn session at my home. She was incredibly creative at finding the right lighting, spot and props in and around my house for beautiful photos. I was impressed by her attention to detail and her ability to soothe the baby. The photos turned out really lovely and the entire session was really fun. Also she took great care with covid protocols and masking." — Tara S, Google Reviews
We love every single photo
"This was our second photo shoot with Gillian and just like the last time we were blown away with the quality of the experience. Gillian is such a warm person and sets you at ease immediately. She is efficient (which is a must when there is a baby involved!) but doesn't ever make you feel rushed. She gives great direction but also lets you and your family just "be" for those amazing candid shots. We love every single photo and will be back for more :)" — Julia Anstee, Google Reviews
2. Melissa Gauthier Photography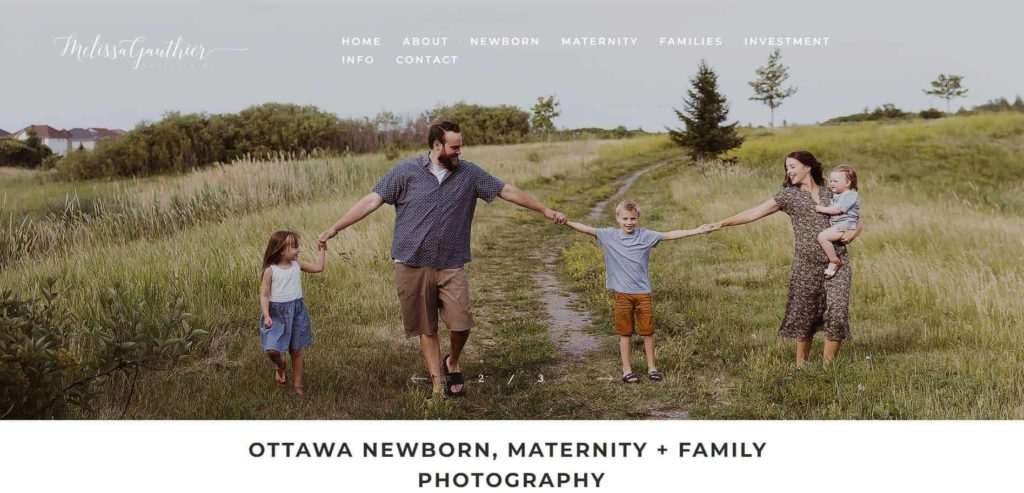 | | |
| --- | --- |
| Criteria | Ratings |
| Experience | ★★★★★ (5/5) |
| Rate | ★★★★★ (5/5) |
| Full Service | ★★★★✩ (4/5) |
| Flexibility | ★★★★★ (5/5) |
Melissa Gauthier Photography has been in business since 2011. Today, it specializes in family, maternity, and newborn photography.
We like this provider because all its packages include the best, professionally retouched images in an online gallery. Although it does not print photos, it has partnered with a professional local printer, which lets you get printing jobs at 10% less.
At $525, your family can have a 60-min session with her. It is great that you can choose to have it done in the studio or at your preferred location.
If you have an extended family, she also has a special package for you. You'll just have to book her for the quote.
You can opt for her mini studio sessions for $325, and upgrading it by adding $50 lets you enjoy an outdoor experience with a choice of 2 parks in Orleans. There are newborns and maternity packages, too.
We like that there are multiple packages for newborns that you can choose from. We also appreciate that Melissa offers combo packages for babies and mothers.
It is good that she shares all the best photos in each session. The only problem here is that there isn't any specific number of photos.
Her turnaround time usually lasts 4-6 weeks, which might be relatively long for some. We, however, like that the FAQ sections help customers come better prepared and save time.
Specializes in families, maternity, and newborns
Onsite or in-studio options
Combo packages
Retouched images
No specific number of photos shared
Does not offer full-service
Customer Reviews
Talented and experienced
"Melissa is highly talented and experienced in her field. She is truly a baby whisperer and made us feel right comfortable from the get go. She has many props to choose from in her studio and many tricks up her sleeve to get babies to sleep for that perfect shot. She understood the vision we were going for and would recommend her to anyone for a baby shoot or family shoot. She does not disappoint. thank you so much melissa!" — HD Guy, Google Reviews
The best at what she does
"Our go-to family photographer! Melissa has the eye. You could be having a chaotic session because the kids refuse to cooperate but magically, every time, we end up with AMAZING photos. Thank you Melissa for capturing our family year after year. You are absolutely the best at what you do!" — Samar Juteau, Google Reviews
3. Sara McConnell Photography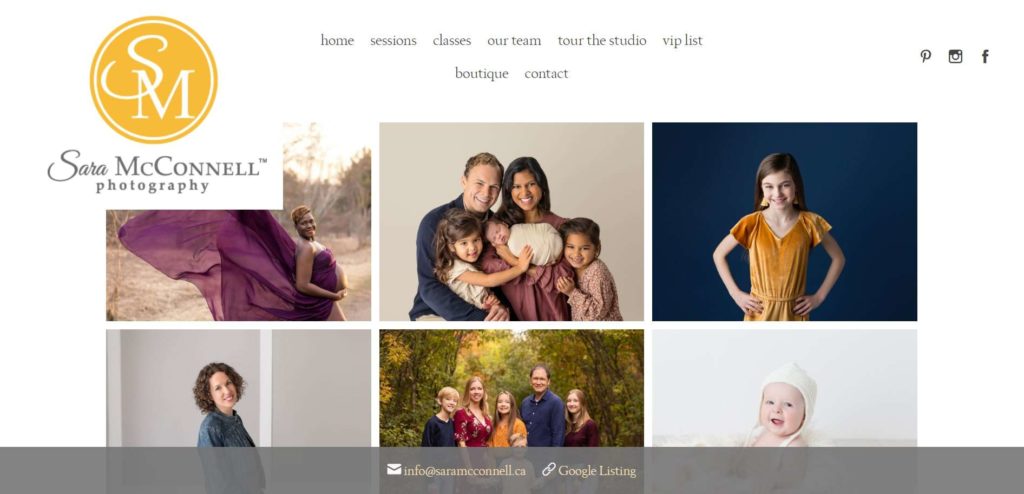 Test
Info
SERVICES
Family, Maternity, Newborn, Baby & Toddler, Children & Youth, Headshots, Branding, Photography Courses & Workshops
WEBSITE
https://www.saramcconnell.ca/
ADDRESS
3417 Trim Rd, Navan, ON K4B 1M8, Canada
CONTACT DETAILS
Contact Form
OPERATING HOURS
Monday to Friday 9 AM - 7 PM

Saturday 9 AM - 1 PM
| | |
| --- | --- |
| Criteria | Ratings |
| Experience | ★★★★★ (5/5) |
| Rate | ★★★★★ (5/5) |
| Full Service | ★★★★★ (5/5) |
| Flexibility | ★★★★★ (5/5) |
Sara McConnell is a professional photographer practicing for more than a decade now. We like her because she is accredited by organizations like the National Association of Professional Child Photographers (NAPCP).
Currently, Sara McConnell Photography specializes in many kinds of photography, from family and maternity to headshots and branding. We like that the studio offers different packages for each type, so you'll have many options to choose from.
Its family photography sessions alone already have 4 options. The best part here is that the session fee includes everything — from taking photos and editing.
It also prints photos. The nicest thing is that Sara McConnell provides complimentary prints, which are delivered directly to your doorstep.
One of the things we appreciate is its Front of the Lens Packages, which are great ways to secure a slot and celebrate holidays and milestones for the entire year. These, however, can only be booked from January to July and expire at the end of the year.
It is nice that it has services for corporate needs. It offers headshots and branding to help companies, too.
There are even photography courses and workshops offered. So if you're dreaming of becoming a professional shutterbug yourself, you might want to check this studio out.
Specializes in many fields
Accredited photographer
Onsite or in-studio options
Bilingual
Complimentary prints
Front of the Lens packages
All-inclusive pricing
Photography courses and workshops
Limited booking schedule for some services
Closed on Sundays
Customer Reviews
Great to work with
"I have had branding photos and multiple family portraits done with Sara in the past and the quality of Sara's photos are incredible. The experience during the sessions, and leading up to it, have been incredibly pleasant, well organized, and efficient, and Sara is great to work with. Her assistant Brenda, was also amazingly helpful for my most recent branding shoot, leading up to it, helping to choose the best outfits, jewellery, background colours, etc. It was an unexpected surprise (so many details to think about) and absolutely key to a smooth and successful photo shoot! Highly recommend Sara McConnell Photography!" — Michelle Filliol, Google Reviews
Captured the moments for us
"Our family highly recommend Sara McConnell! She's absolutely wonderful and such a talented professional! We had a family photo shoot last weekend with her at the studio. I have three kids all under 7 and they really enjoyed as well! She truly captured The Moments for us! and Honestly it was so hard to select images as all of them were so good! We are definitely going back for sure!" — Yunhyuk Yim, Google Reviews
4. Diamondview Photography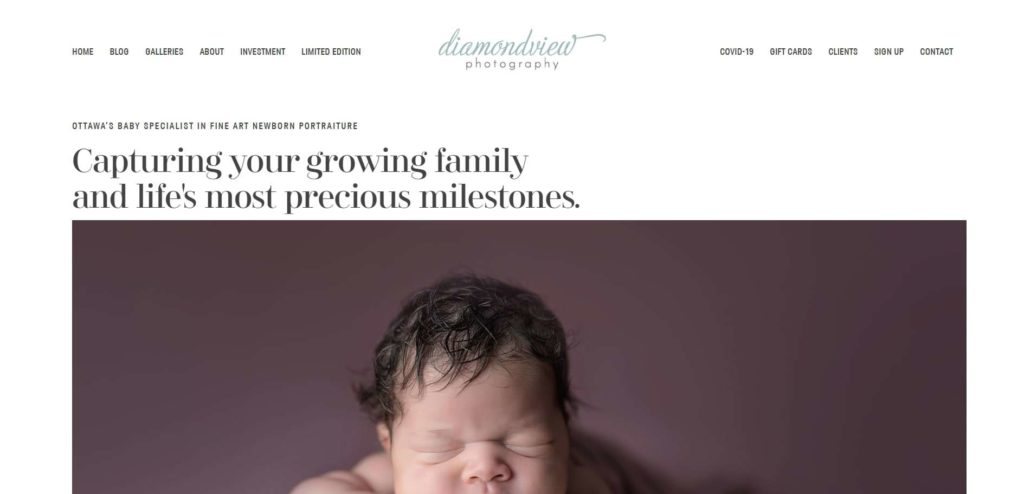 | Test | Info |
| --- | --- |
| SERVICES | Maternity, Signature Wrapped Newborn, Custom Newborn, Signature Baby, Child or Family, Extended Family, Printed Artwork, Gift Cards |
| WEBSITE | https://diamondviewphotography.com/ |
| ADDRESS | Kanata, ON K2S 0H8 |
| CONTACT DETAILS | +1 613-853-2166 |
| OPERATING HOURS | Monday to Friday 10 AM - 3 PM |
| | |
| --- | --- |
| Criteria | Ratings |
| Experience | ★★★★★ (5/5) |
| Rate | ★★★★★ (5/5) |
| Full Service | ★★★★★ (5/5) |
| Flexibility | ★★★★✩ (4/5) |
Emily Brown of Diamondview Photography is an accredited member of the Professional Photographers of Canada (PPOC). We like that she received accreditations in Newborn Portraiture and Child and Infant Portraiture in the years 2015 and 2017, respectively.
Diamondview Photography offers a full-service experience for family, maternity, and newborn customers. It offers various packages for each type of photography that you can choose from.
There are sessions for families, both simple and extended. Extended family sessions, however, can only be done outdoors.
We appreciate that it has a studio that is equipped with everything you need. It has props and apparel, which are great for moms and babies.
The best part is that the studio is kept warm for newborn sessions with white noise to help soothe the baby into a sleepy state.
Prices are also provided, so you're better guided by expected costs. But booking fees are non-refundable and do not include digital images and other collections.
One of the things we like is its limited edition sessions, which are short, themed sessions that are done at specific dates and locations each year. The downside is that these cannot be rescheduled.
If you're into prints, you may choose to avail of its printed artwork, which come in different sizes.
Customer Reviews
A fabulous photographer
"Emily is a fabulous photographer. She'a a pleasure to work with and has an amazing ability to capture precious moments in her photos. She has a great eye for backgrounds and lighting when taking photographs outdoors. When working with babies, she has a way of getting the best out of them with her props and ideas for positions and angles to try. We've hired Emily for several photo shoots over the years and couldn't be happier with the beautiful family photographs we have as keepsakes as a result." — Jeannette Benson, Google Reviews
Creates beautiful family photos
"We met Emily years ago during an extended family photo session. Recently we signed up for an outdoor session at tree farm to get updated photos. Then and now, her professionalism and quality of photos remain the same – top notch! Emily creates beautiful family photos. We look forward to working with her again in the future." — Alison Summers, Google Reviews
5. Tammy Bouchard Photography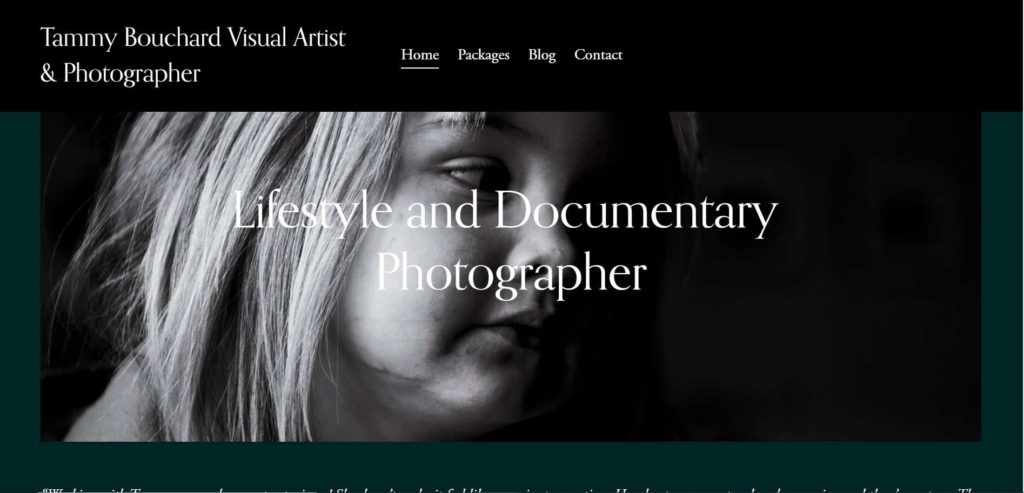 | Test | Info |
| --- | --- |
| SERVICES | Family, Lifestyle Portraiture, Cottage Days, Newborn Photography, Children's Birthday, Individual Photography, Intimate Weddings & Events |
| WEBSITE | https://www.tammybouchardphotography.com/ |
| ADDRESS | Ottawa, ON |
| CONTACT DETAILS | +1 613-614-2414 |
| OPERATING HOURS | Monday to Sunday 6 AM - 8 PM |
| | |
| --- | --- |
| Criteria | Ratings |
| Experience | ★★★★★ (5/5) |
| Rate | ★★★★★ (5/5) |
| Full Service | ★★★★★ (5/5) |
| Flexibility | ★★★★✩ (4/5) |
We like Tammy Bouchard Photography because it offers various packages that are nice for different needs. Its services cover families, newborns, birthday parties, and intimate events like weddings.
Family photography can be done at home through its Home Sweet Home package. If your family is into the outdoors, its Lifestyle Portraiture option is for you.
This flexibility is great, especially when family preferences are to be considered.
The nicest thing here is that it offers special discounts for parents and guardians to cut some costs. While those aged up to 24 years old are discounted, clients that are under 18, on the other hand, enjoy free services.
If you want to get professional family photos while doing some fun activities, then its Cottage Days package is for you. This service, however, is limited to a 120-kilometer radius.
Another thing we like about Tammy Bouchard Photography is that it can also cover special events like children's birthdays and wedding events. Unfortunately, wedding packages are limited to a maximum of 30 guests.
We appreciate that its packages come with price guides, which can help potential customers anticipate costs. It is great as well that both colored and black and white images are provided in each package offered.
Specializes in different fields
Provides various packages
Offers black and white photos
Special discounts
Price guides
Open daily
Relatively expensive package rates
Restrictive conditions of some services
Customer Reviews
A true professional
"Our family had an outdoor session with Tammy Bouchard in autumn and the result was a series of photos that we will treasure for life! When we arrived she immediately let us know her vision and approach and made everyone feel at ease with being photographed while we strolled, played, hiked and interacted. Without us even noticing, she captured so many beautiful moments and the true character of each of our kids. The only problem is deciding which of the photos to frame (or framing them all!). Tammy is a true professional, highly skilled and talented while also being very down to earth. We couldn't offer a higher recommendation if you're looking for a photographer." — Christine Kenney, Google Reviews
Can't thank you enough
"Creative. Visionary. Fun. Specific. From the moment I reached out to Tammy with the concept of "fit family" she ran with it. It was a chilly day for photos but somehow she kept all our kids smiling, posing, moving, and laughing. It felt like we were taking photos with a friend. And as though the experience was good enough, omigosh the photos!!! We will treasure these photos for years and years to come, as will our children. I can't thank you enough, Tammy. We'll be seeing you again, absolutely." — Tess Franklin, Google Reviews
6. Elizabeth Fulton Photography
| | |
| --- | --- |
| Criteria | Ratings |
| Experience | ★★★★★ (5/5) |
| Rate | ★★★★★ (5/5) |
| Full Service | ★★★★★ (5/5) |
| Flexibility | ★★★★✩ (4/5) |
If you're looking for one of the most reliable hotography studios that provides quality professphotography agencies that provide excellent professional family photography sessions in Ottawa, then look no further away from Elizabeth Fulton Photography.
Elizabeth, their founder and owner is an eccentric individual that is known for being a people person who enjoys spending time with young children. Through her years of experience, she is grateful to have worked with families of all shapes and sizes, helping them capture life's little moments and big milestones.
Checking her gallery, we noticed that she excels in family photography, especially her children sessions. We like how she explores everything from minimalistic backgrounds to outdoor backgrounds and her color choices are superb.
She has competitive rates and we can clearly see how she dedicates her time and energy to her passion. We highly recommend Elizabeth Fulton Photography for people who want to commemorate some important events of their lives.
Experienced photographer
Excellent facilities
Competitive rates
Customer Reviews
We highly recommend the investment for your family.
"Our family has been photographed by Elizabeth for many years, and I would never trust anyone else to capture our growing family and our special memories. Elizabeth captures the truest smiles, the tenderest moments and the dearest memories in a way that leaves us feeling more united as a family when we leave our sessions with her. Her attention to detail is astounding, her care for safety of my children is paramount, and her work is absolutely stunning. We highly recommend the investment for your family." – Amanda Smith
Elizabeth has been taking pictures of our family since 2011 and we love her!
"Elizabeth has been taking pictures of our family since 2011 and we love her! From newborns to extended family sessions, she has captured precious memories that we treasure and display in our home. Even when we were sure that the session was a disaster thanks to less than cooperative babies or children, she finds the magic and delivers beautiful pictures!"  – Stacey Arthur
7. Photography by Emma
SERVICES
Family Photography
WEBSITE
https://photographybyemma.ca
AREAS SERVED
Ottawa and nearby areas
CONTACT DETAILS
[email protected]
OPERATING HOURS
Monday, 9:00 AM – 5 PM
Tuesday, 9:00 AM – 5 PM
Wednesday, 9:00 AM – 5 PM
Friday, 9:00 AM – 5 PM
Capturing moments and people can be hard and it takes some skill in order to make worthwhile shots. Good thing Emma is here to help us in making memorable moments matter with her excellent skills.
Emma is a Georgia-born, Toronto-raised, Ottawa-dwelling, creative business owner who is known for her slow and steady approach. Upon working with her, she will efficiently strategize 4 W's.
What kind of shots do you need, when do you need it, and where do you want to take it, and what do you plan to do during the shoot. This approach does not only give her a rough idea on how to provide you with the best service she can provide but to also have a connection with you and your family.
We highly recommend Emma for her excellent professional family photography. With over 15 years of expertise, multiple seminars, and highlights in bridal publications, she captures the real you and one-of-a-kind moments in the most delicate, intimate, and beautiful way.
Over 15 years of experience
Experienced photographer
Affordable rates
Only open four days a week
Customer Reviews
Emma made us feel at ease right from the beginning
"I came across Emma's work on Instagram and her light, bright, airy feel really spoke to me. I feel awkward in front of a camera, and when we met for our engagement pictures I made sure to tell her that – but I really didn't have to! Emma made us feel at ease right from the beginning. Her personality meshed so well with ours, and we genuinely had fun at both our engagement shoot, and our wedding. The pictures we received are absolutely stunning. We love them!! Emma captured not only the moments, but also the essence of the day, and has given us such beautiful memories to look back on. We have nothing but wonderful things to say about Emma, her work, and our photos. I wouldn't hesitate to recommend her to everyone I know!!" – Ayesha Dawood
I can't recommend Emma highly enough!
"Do yourself a favor and book Emma. Not only is she a total sweetheart, but she was very professional and put us at ease immediately. Her photos of our wedding were just gorgeous (I cried when I saw the one of my mom doing up the back of my dress) and she patiently walked us through poses that turned out great and took some lovely candids. I can't recommend Emma highly enough! Thank you Emma!" – Kaitlin Normandin
FAQs about Family Photography in Ottawa
---
Photographs are important pieces that capture fond memories, so we hope that our list has helped you find the best service for remembering special family moments.
For more photography-related topics, check out the following articles below: