The 5 Best Eyelash Extension Services in Ottawa
Eyelash extension is one of the most popular beauty services today. It is a safe, reliable, and affordable way to add length, thickness, and volume to your natural eyelashes.
In this article, we will be reviewing the best eyelash extension services in Ottawa.
How much do eyelash extensions cost in Ottawa?
Eyelash extension usually costs around $100 – $400 per session. The pricing depends on several factors including the type of lashes used and the length and thickness of the lashes applied.
The table below gives a summary comparison of the prices you may encounter for eyelash extensions in Ottawa.
| Service | Average cost |
| --- | --- |
| Regular Extension | $110 - $150 |
| Mega Volume | $150 - $180 |
| Partial Volume | $115 - $130 |
| Refill | $39 - $105 |
| Removal | $35 - $40 |
| Lash Lift | $75 - $80 |
The Best Eyelash Extension Services in Ottawa
To find the best eyelash extension services in Ottawa, we considered the following factors:
1. Perfect You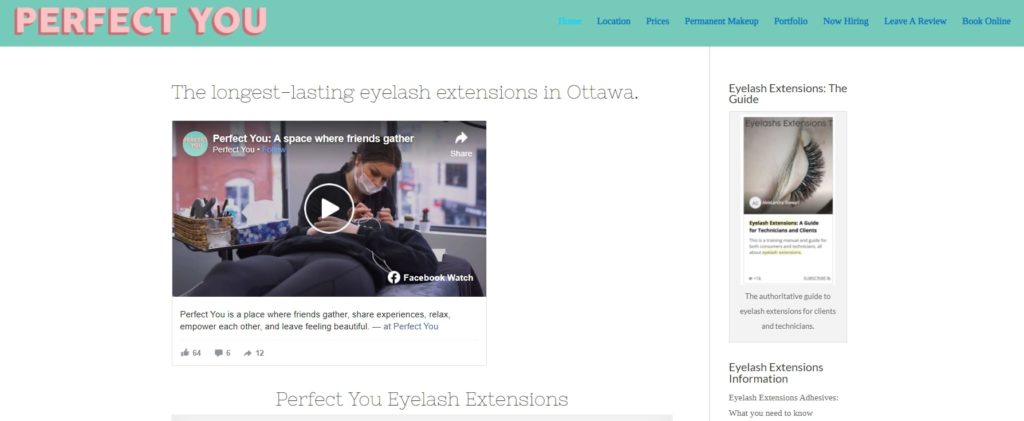 Test
Info
SERVICES

Eyelash Extensions

Adhesives

Permanent Makeup

Lash Removal

Lash Lift

Lash Tint

WEBSITE
https://perfectyou.ca/
ADDRESS
441 MacLaren St Unit #310, Ottawa, ON K2P 2H3, Canada
CONTACT DETAILS

Phone: 613-606-3122

EMAIL: [email protected]

OPERATING HOURS

Monday & Tuesday, Thursday & Friday : 8AM–9PM

Wednesday : 8AM–11PM

Saturday & Sunday : 9AM–9PM
| | |
| --- | --- |
| Criteria | Ratings |
| Rates | ★★★★★(5/5) |
| Availability | ★★★★(4/5) |
| Interior | ★★★★★(5/5) |
| Selection | ★★★★★(5/5) |
Perfect You is a salon located on Maclaren Street. It is staffed with master technicians who can provide luxurious eyelash extensions.
Each technician is highly skilled and experienced in providing the highest quality service.
When it comes to lash extensions, the team here has years of experience and is well-versed in the latest techniques to ensure that each client receives the best possible treatment.
The technicians can provide big volume sets for clients who require a dramatic look or a more natural look for those who prefer a subtle approach.
Different types of curls can also be used to create different looks. Clients can discuss various options with the technicians in order to achieve the results they are looking for.
The salon's interior is beautifully designed, with a waiting area equipped with complimentary refreshments. There are private rooms for consultations and treatments and each room is sunlit and clean.
The design of the place is modern and minimalist, and the atmosphere is welcoming and friendly.
Sometimes, the queue can be long, so we suggest setting an appointment
beforehand to avoid having to wait.
With that said, Perfect You is an excellent place for getting quality eyelash extensions at affordable prices.
Great location
Multiple services available
Trained technicians
Good equipment
Long lashes
Customer Reviews
Very professional
"Very professional, detailed and knowledgeable about the services her business provides. She takes time and makes sure you're happy with the results. What a convenience to have permanent makeup, it saves me so much time while getting ready and it always looks good! Definitely worth the money." – Bea C.
Truly a master
"I went to Aline for my eyelash extensions. I've been going to her for the last few sessions, and I have to say, she is truly a master. I cannot say enough about how great she is at her job." — Sam Kiani
2. Catchy Beauty Eyelash Extensions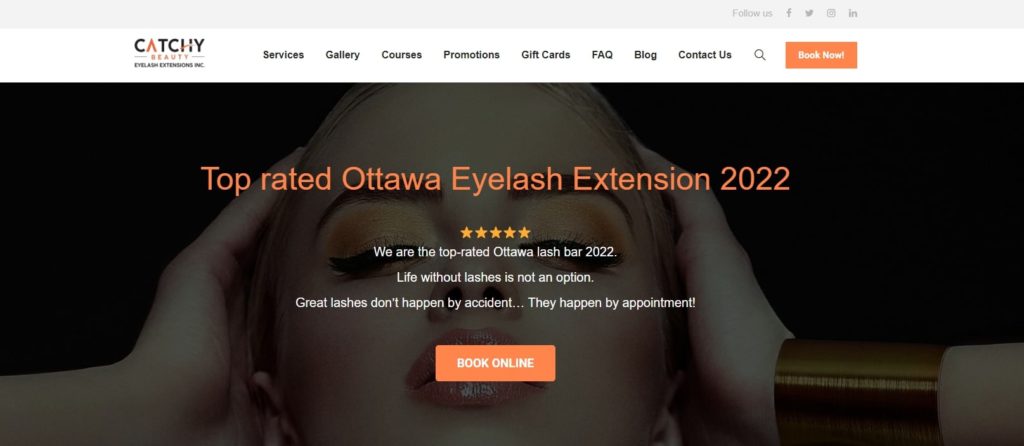 Test
Info
SERVICES

Eyelash Extensions

Microblading

Nanoshading

Nanoshading

WEBSITE
https://www.catchybeauty.com/
ADDRESS
117 Centrepointe Dr Unit 121, Ottawa, ON K2G 5X3, Canada
CONTACT DETAILS

Phone: 613-699-0888

OPERATING HOURS

Monday to Wednesday, Saturday : 9AM–6PM

Thursday & Friday : 9AM–7PM

Sunday : 10AM–3PM
| | |
| --- | --- |
| Criteria | Ratings |
| Rates | ★★★★★(5/5) |
| Availability | ★★★★ (4/5) |
| Interior | ★★★★(4/5) |
| Selection | ★★★★★(5/5) |
Catchy Beauty is an excellent eyelash extension service provider with multiple branches in Ottawa. Its main branch is on Centrepointe Drive.
What makes this salon great is the fact that it provides a lot of services for its clients, including eyebrow shaping, threading, facials, makeup services, and more. In addition, the services offered at the salon are high quality and done by expert technicians.
In fact, in 2018, one of Catchy Beauty's technicians came in 2nd place in the Lash Global Championships. This means that the technicians here can be trusted with the quality of their work.
For lash customization, the technicians offer three different sets: signature, volume, and hybrid. The sets differ in the number of lashes used as well as the type of lash extensions used.
Depending on the client, it is recommended that they try out a hybrid set first before deciding to get a full set done at an additional cost.
The only drawback of this salon is its strict scheduling. If you don't make it to your scheduled appointment on time or don't cancel within 24 hours, you will have to wait before you can reschedule.
Provides multiple services
Beautiful designs
Comfortable beds
Russian volume
Customer Reviews
Amazing
"I love catchy beauty! I've gotten my lashes done and filled with them a few times now and the lash techs here are just amazing! They are so helpful and polite and I always walk away in love with my lashes! Refills are quite a bit pricier compared to other places in Ottawa but definitely worth it for the amazing quality!" – Adrienne C.
Relaxing and clean
"I dropped in today without an appointment, as I was walking by and needed my eyebrows tinted and waxed. They took me in right away. They were friendly And did a great job. My eyebrows look amazing and I will definitely be back. The atmosphere is clean and relaxing. Overall it was a very nice experience. Highly recommended. I should also note that they take every form of payment unlike other salons that only take cash. I really like this." – Angela Keith
3. The Lash Bar Ottawa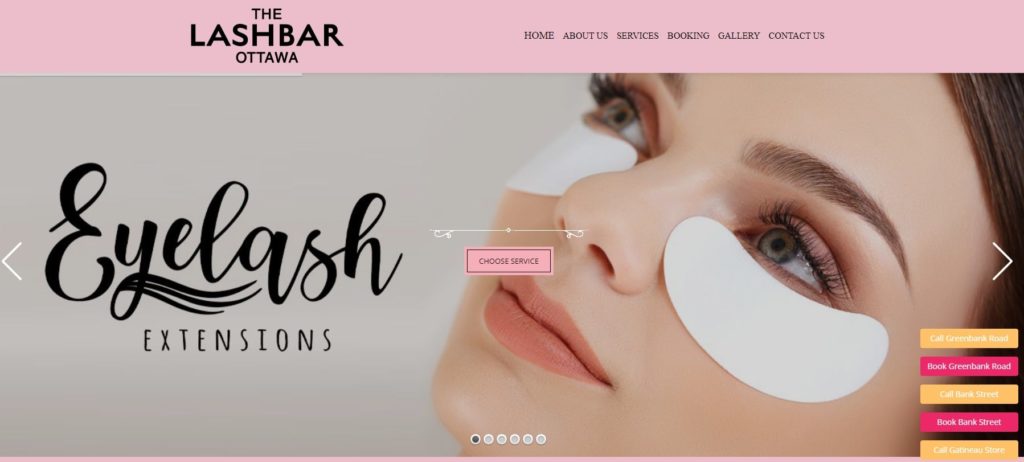 Test
Info
SERVICES

Eyelash Extensions

Refill

Mega Volume

Lash Extension Removal

Waxing

Nails

Hand & Feet

Eyebrows

WEBSITE
https://thelashbarottawa.com/
ADDRESS
98 Bank St, Ottawa, ON K1P 5N4, Canada
CONTACT DETAILS

Phone: 613-421-4647

OPERATING HOURS

Monday to Saturday : 10AM–7PM

Sunday : Closed
| | |
| --- | --- |
| Criteria | Ratings |
| Rates | ★★★★★ (5/5) |
| Availability | ★★★★ (4/5) |
| Interior | ★★★★(4/5) |
| Selection | ★★★★(4/5) |
The Lash Bar is an impressive salon that provides a bunch of services such as eyelash extensions, refilling, tinting, and more. It's also a good choice if you need spa services or a pedicure or manicure.
Located on Bank Street, the Lash Bar is open 6 days a week and offers a wide range of beauty services to help you look and feel your best.
Despite the location being a busy area, the Lash Bar has a private space for you to have your appointment.
These private rooms offer a relaxing atmosphere that puts you at ease while you have your treatment done.
Plus, all the technicians are highly trained and knowledgeable about the services they provide, so you can be sure that you are in good hands.
We like to think of the Lash Bar as a one-stop shop for a lot of beautification services. It also offers packaged services so you can save money if you book multiple treatments at the same time.
However, the individual services can be expensive compared to other salons in the area. These are still great value for your money because you will be paying for the convenience of having access to all these services in one place.
One-stop shop
Gallery
Packaged services
Clean and relaxing area
Multiple locations
Customer Reviews
Love this place
"LOVE LOVE LOVE this place! This has been my go-to spot since moving to Ottawa. Mimi always does a great job with my lashes. I always get what I ask for and they last for weeks on end. If you're looking for fabulous great quality lashes, this is the spot." – Emmanuelle Lily Savard
New go-to!
"The absolute best place for eyelash extensions!! My wispy lashes still look fantastic five weeks later! I've gotten my lashes done more times than I can count, and there isn't a single salon that comes close to matching this kind of retention. Hands down my new go-to!" – Lexi L.
4. MSA Beauty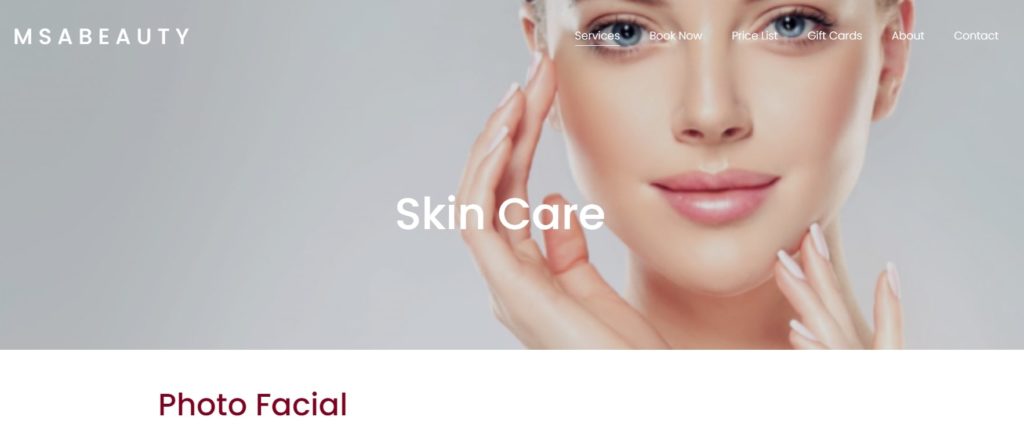 Test
Info
SERVICES

Eyelash Extension

Eyelash Extension Removal

Microneedling

Photo Facial

Skin Rejuvenation

Cosmetic Tattoo

Teeth Whitening

WEBSITE
https://www.msabeauty.com
ADDRESS
1209 Evans Blvd, Ottawa, ON K1H 7T6, Canada
CONTACT DETAILS

Phone: 613-407-6452

OPERATING HOURS

Monday & Tuesday, Thursday & Friday : 9AM–6PM

Wednesday : 9AM–7PM

Saturday & Sunday : Closed
| | |
| --- | --- |
| Criteria | Ratings |
| Rates | ★★★ (3/5) |
| Availability | ★★★★(4/5) |
| Interior | ★★★★★(5/5) |
| Selection | ★★★★★(5/5) |
MSA Beauty is a salon in Evans Boulevard that's known for its state-of-the-art equipment and non-invasive aesthetic procedures.
The multiple services are what make it stand out from other salons in the area. These include facials, waxing, manicures, pedicures, eyelash extensions, and more.
For eyelash extensions, it provides a variety of different lengths, curls, and styles to give you the dramatic lashes that you've been looking for.
The technicians of MSA Beauty are highly trained and use high-quality, sterilized products to ensure customer satisfaction.
They'll work hard with you to create the perfect look — and this means that customizing your lashes is much easier with their help.
If you're interested in the services it offers, you can book an early appointment online and avoid the crowds or show up within the walk-in hours to get the treatment right away.
One of MSA's only flaws is its pricey services. It also doesn't offer packaged deals, so there are no promos or discounts for its services even if you avail of them in bulk.
With that said, the salon offers high-quality services and it's a great choice if you're looking to get a more luxurious treatment for your eyelashes.
If you have the right budget, this is definitely a great salon where you can treat yourself right.
Multiple services available
Also offers spa services
Great location
Advanced appointments
Customer Reviews
Recommended!
"I have done several things with her including eyelash extensions, facial, laser hair removal and I will not be going anywhere else! I don't write reviews often but I felt this was necessary so that I can recommend her to everyone!" – Manda
Professional!
"She is a professional and her new location is beautiful. Could not say enough good things about her and the quality of her work!!" – Katie C.
5. Gorgeous Brows and Lashes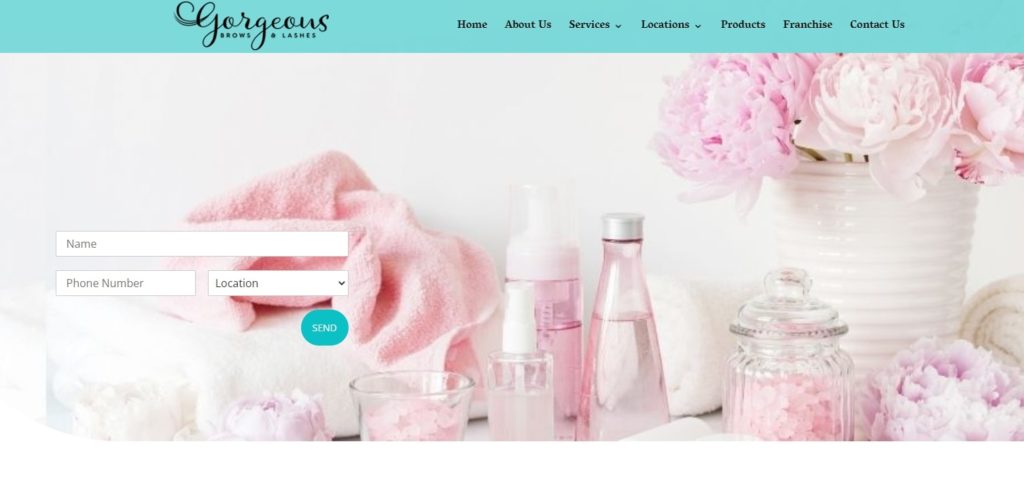 Test
Info
SERVICES

Eyelash Extension

Eyebrow & Threading

Tinting & Lash Lift

Waxing

Henna Tattoo

Facial

Nails

Microblading

Massage

WEBSITE
http://joinusgorgeous.com/
ADDRESS
2210 Bank St, Ottawa, ON K1V 1J5, Canada
CONTACT DETAILS

Phone: 613-241-2434

OPERATING HOURS

Monday & Saturday : 10AM–7PM

Tuesday to Friday : 10AM–8PM

Sunday : 11AM–6PM
| | |
| --- | --- |
| Criteria | Ratings |
| Rates | ★★★★ (4/5) |
| Availability | ★★★★★(5/5) |
| Interior | ★★★★(4/5) |
| Selection | ★★★★★(5/5) |
Gorgeous Brows and Lashes is an excellent choice for eyelash extensions and other beauty services in Ottawa. It also provides waxing services, pedicures and manicures, microblading, and even massage services.
Opened in July 2017, the establishment is relatively young yet it has quickly grown to become one of the best eyelash extension service providers in the area.
The interior is clean and modern, and it features a spacious waiting area complete with comfortable seating and refreshments.
If you're looking to have long luscious lashes that highlight your eyes perfectly, it has eyelash extensions that can be worn day-to-day.
These extensions are semi-permanent and can last up to a month. Although expensive, you could save money in the long run because you won't need to buy mascara on a regular basis.
The salon is also a one-stop shop for beautification products that can help your lashes look their best. There is a range of curlers, serums, conditioners, lash combs, and more available in the shop.
Despite the expensive services, Gorgeous Brows and Lashes offers several promotions for customers who are on a budget.
Some of these are packaged with other services and are perfect if you want to treat yourself or get a gift for someone special.
Online booking
Multiple locations
Offers multiple services
One-stop salon
Relaxing interiors
Customer Reviews
Gorgeous
"I had a full volume set done at Gorgeous Lashes and Brows. I am very pleased with my lashes. They did an excellent job and my lashes were finished in less than an hour. I highly recommend this location inside the Walmart at South Keys Station." – Ashley Pitcher
Turned out great
"Got my eyelashes done for the first time and they turned out great! They took their time to advise me on the lashes to get and applied them based on my eye and face. Very relaxing and professional. Will definitely come back for my refills!" – Ahlam D.
FAQs about Eyelash Extensions
---
And that's it for the best eyelash extension services in Ottawa. You may also be interested in the following articles: