Best Event Planners in Ottawa
Organizing an event can mean stress for many, especially when there are so many times to tick off on a long party planning checklist.
For moments like this, a good event planner can come in handy. And that is the exact reason why this list of the best event planners in Ottawa was made for you.
Before we move on to the list, though, let's first find out how much event planners usually charge these days.
How much do event planners charge in Ottawa?
Rates can vary depending on factors like the event planner's years of experience and educational level. But to give you an idea of how much they charge, below is a table of their average hourly rate:
| Level | Average Hourly Rate |
| --- | --- |
| Entry-level | $18 |
| Mid-level | $24 |
| Experienced | $31 |
The Best Event Planners in Ottawa
To get the best firms that provide event planning services, we used the following metrics:
1. RSVP
Test
Info
SERVICES
Corporate Event Planning, Photo Booth Rentals, Wedding Planning and Decor, Live Streaming, Wedding Consultation
WEBSITE
https://www.rsvp-events.ca/
ADDRESS
239 Craig Henry Dr, Ottawa, ON, Canada
CONTACT DETAILS
+1 613-219-3552
OPERATING HOURS
Tuesday to Friday 9:00 AM – 7:30 PM

Saturday 9:00 AM – 5:00 PM
| | |
| --- | --- |
| Criteria | Ratings |
| Years in Business | ★★★★★ (5/5) |
| Services Offered | ★★★★★ (5/5) |
| Responsiveness | ★★★★★ (5/5) |
| Customer Satisfaction | ★★★★✩ (4/5) |
For event planning needs, RSVP is one of the go-to places. It has a decent array of services for various occasions — from corporate events and photo booth rentals to weddings and decors.
We like that RSVP specializes in corporate and business events. It has handled countless occasions such as product launches, conferences, and award ceremonies over the years.
We also like that its services extend to theme party management. The best part is that it can customize your party to match your preferences.
RSVP also takes pride in its professional staffing for all sorts of events. It carefully selects a team based on clients' unique requirements.
If you're tying the knot soon, RSVP also offers wedding planning services, which include packages, coordination, and decors. We also found it interesting that it has special services that are designed for South Asian weddings and other multicultural events.
To add some fun to your event, you might also want to try its photo booth rental services.
We like that the company offers free consultations so you can discuss your vision with an event planner and be hands-on in its execution.
The only downside is that the complimentary consultations are limited to about 20-30 minutes. Despite this, we still think that RSVP is a good place to visit if you need some help for an upcoming event.
Specialises in corporate/business events
Customised theme parties
Professional staffing
Special wedding services

Complimentary consultations
Limited time for free consultations
Closed on Sundays and Mondays
Customer Reviews
Truly wonderful
"Ella and Alison went above and beyond to make our wedding perfect. They were truly wonderful to work with and I would recommend them to anyone." — Roxane J V, Google Reviews
Personable, professional, and punctual
"We have been working with Ella and RSVP Events for many years and we always receive excellent service. Our clients range from weddings to corporate and all of them say the representatives from RSVP Events are always personable, professional and punctual. You can trust this company for the very best friendly service for any occasion. Brian Henry – President Quality Entertainment" — Brian Henry, Google Reviews
2. It's a Bree's Weddings & Events
| Test | Info |
| --- | --- |
| SERVICES | Weddings, Rentals, Corporate & Special Events, Life Celebrations |
| WEBSITE | https://breesevents.com/ |
| ADDRESS | Ottawa, ON K2C 2Y6 Canada |
| CONTACT DETAILS | +1 613-355-6042 |
| OPERATING HOURS | Monday to Friday 10:00 AM - 6:00 PM |
| | |
| --- | --- |
| Criteria | Ratings |
| Years in Business | ★★★★✩ (4/5) |
| Services Offered | ★★★★★ (5/5) |
| Responsiveness | ★★★★★ (5/5) |
| Customer Satisfaction | ★★★★★ (5/5) |
It's a Bree's Weddings & Events is a good place to visit if you need some help with an upcoming event. Its services range from weddings and rentals to life celebrations and corporate events.
It is also a member of the Ontario Wedding Association (OWA) and Small Business Event Services Association (sbESA) in Canada.
Today, It's a Bree's Weddings & Events provides services for various kinds of events. Whether that's a kid's party, a baby shower, or a fundraiser, the company has got you covered.
We like this event planner because it offers a 1-hour consultation and ensures complete communication during the entire planning process.
For its wedding services, customers can choose from various packages that would match both their needs and budget. We like that its packages are customisable, so you get the event that you've been dreaming of.
One thing that caught our attention is its Life Celebration service that plans events after a loved one's death. We think that this is a good way for people to grieve with less stress.
If you're into decorating your event, you may opt for its rental services. Among the decorations you can rent include a blush antique settee and cylinder glass vases.
Unfortunately, no price guides were provided on the website. So be sure to first discuss the rates before signing the contract.
Various services offered
A member of OWA and sbESA
Customises event packages
Life celebration services

Rental services
No price guides
Closed on weekends
Customer Reviews
Always had a great experience
"Hiring Bree as our day-of-planner was the best Wedding decision we made!!! Bree went above and beyond her duties, and without her expertise we couldn't have gotten through the day! Bree made herself available 24/7 to us, and anything that we needed she was there to help! Thank-you for helping our day go off without a hitch, it was an absolute dream!!!" — Tracy Lynn, Facebook
Hearing aids and support are top-notch
"We hired Bree pre-pandemic to help plan a large wedding. With constantly changing restrictions, we decided to have a backyard wedding instead. Bree was so helpful during the whole planning process. On our wedding day, she and her team took care of everything so that we'd have the perfect day." — Kimmy Nguyen, Google Reviews
3. All in One Events
| Test | Info |
| --- | --- |
| SERVICES | Event Planning and Services, Decors, Entertainment, Event Coordination |
| WEBSITE | https://allinoneevents.ca/ |
| ADDRESS | 12 Laxford Dr, Kanata, ON K2K 3E2, Canada |
| CONTACT DETAILS | +1 613-864-5435 |
| OPERATING HOURS | Monday to Friday 9:00 AM - 5:00 PM |
| | |
| --- | --- |
| Criteria | Ratings |
| Years in Business | ★★★★✩ (4/5) |
| Services Offered | ★★★★★ (5/5) |
| Responsiveness | ★★★★★ (5/5) |
| Customer Satisfaction | ★★★★★ (5/5) |
With various services offered, All in One Events might just be what you need for your next special occasion. It has accreditations from the Special Events Certification Council and Algonquin College, which is known for its school of hospitality and tourism.
The company offers services for different types of occasions like weddings, birthdays, anniversaries, and corporate events. It can also provide complimentary event services such as on-the-day event coordination, photography, menu tailoring, and location rentals.
It also has decorations like backdrops and centrepieces you can choose from. To cover all event needs, it has entertainment services that extend from DJs and live bands to musicians and dance performers.
One of the things we like the most about All in One Events is that you can book a consultation with it for free.
Rula Sharida, the founder, specializes in artistic silk floral backdrops and handcrafted centrepieces. She has expertise in making customised favours for any type of event.
We, however, think the company should consider including more details about its services on its website. We also think that price guides should be provided.
Nonetheless, we think that All in One Events is a good option for event planning and deserves a visit.
A wide array of offered services
With relevant accreditations
Free consultation
Specialises in backdrops and centrepieces

Customised event favours
No price guides provided
Limited details on services
Closed on weekends
Customer Reviews
They will never disappoint
"Rula and her team are incredible! She is blessed with an unparalleled talent I've ever seen. She planned my first AND second son's baby showers, baptism, birthday parties & my friend's wedding and I can never explain how meticulous, professional and passionate she is ! She's been so helpful and fun to work with since day one. She needs Zero supervision – telling her what your vision is, surely is enough for it to come to life. Rest assured that you will be beyond impressed !!! The decor in every party was simply phenomenal, elegant and breathtaking – I still don't know how she did it. I recommend Rula & All in One Events because they will never disappoint!." — Wissam Sharida, Google Reviews
Such a creative mind
"Rula is absolutely amazing. She has such a creative mind and is able to envision every little detail of your event to make it the most magical night ever. It was such a pleasure to work with her and I look forward to working with her again for all my future events !!" — Tala Khoury, Facebook
4. Balance InStyle
| Test | Info |
| --- | --- |
| SERVICES | Relocation Concierge Services, Corporate Concierge Services, Personal Concierge Services, Wedding And Events |
| WEBSITE | https://www.balanceinstyle.com/ |
| ADDRESS | Nepean, ON K2E 8B7, Canada |
| CONTACT DETAILS | +1 613-440-4446 |
| OPERATING HOURS | Monday to Friday 9:00 AM - 5:00 PM |
| | |
| --- | --- |
| Criteria | Ratings |
| Years in Business | ★★★★★ (5/5) |
| Services Offered | ★★★★✩ (4/5) |
| Responsiveness | ★★★★★ (5/5) |
| Customer Satisfaction | ★★★★★ (5/5) |
Being in the business for 15 years, Balance InStyle has become one of the nicest places to visit when in need of some event planning. Apart from specialising in concierge services for both personal and corporate needs, it also offers wedding and event services.
One of the things we like about Balance InStyle is its proposal concierge services. It helps with everything needed for a successful proposal, including the location, decorations, and even the ring and diamond selection, which we think is really great.
It can also arrange a surprise engagement party complete with photography and videography.
Balance InStyle specialises in wedding events, handling every aspect of it from flower decorations to DJ services. The best part about this service is that it limits its clients annually so it can provide undivided time and attention to your wedding needs.
While we think limiting its annual clients is good, this might not sit well with other potential customers as it makes it harder to book the company.
Communication-wise, we like that Balance InStyle understands the need for unlimited calls, emails, and in-person meetings to get things done.
Its high level of customer service has bagged the company some relevant awards like the Couple's Choice Award in 2014 and the Bride's Choice Award from 2011 to 2014.
Another thing that caught our attention is its Events InStyle service. Through this, it can provide solutions for all your event needs, including food and beverages.
With relevant awards
Offers various services
Free consultation
Proposal concierge service

Events InStyle
No A limited number of wedding clients
Closed on weekends
Customer Reviews
Highest quality results
"Balance InStyle is a concierge service that seems capable of taking on any task, solving any problem, and meeting any challenge. Amanda and Jill, the dynamic, talented and resourceful, and exceptionally charming duo who run this service promise, and deliver, results that are guaranteed to please their clients. When small issues arise, they are quickly resolved. It is a first-class operation that offers the highest quality results at the lowest cost. One word of caution: we suspect this service is addictive and are already thinking of our next project. Highly recommend this firm." — Joseph Stern, Google Reviews
Eight years of great collaboration
"Working with Balance in Style was efficient, plaisant and satisfactory. When you don't have time to organize things (such as your massive 50th birthday party), they will do everything for you. My concierge, Jill, was available, always happy to help, knowledgeable and just simply adorable! She made my special day a day to cherish for ever! I would recommend Balance in Style for all you needs – they have also helped me with house sitting, finding a nanny, a handy man, a decorator and more. Eight years of great collaboration. Thank you!" — K G, Google Reviews
5. Sizzle with Decor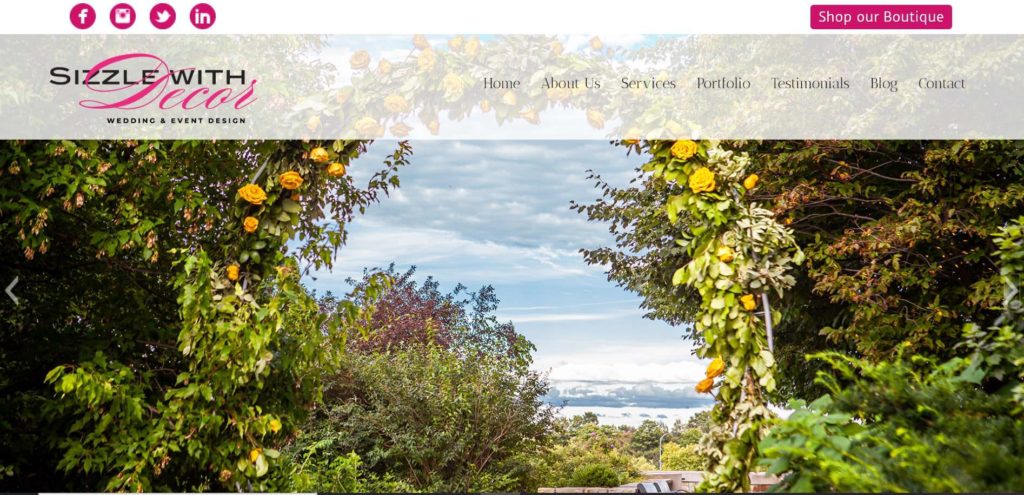 Test
Info
SERVICES
Full-Service Designer Décor, Wedding Planning, Corporate Event Planning, New Balloon Architecture, Special Events,

Luxury Gifts

WEBSITE
http://sizzlewithdecor.com/
ADDRESS
4338 Innes Rd, Orléans, ON K4A 3W3, Canada
CONTACT DETAILS
+1 613-882-8016
OPERATING HOURS
Monday to Sunday 10:00 AM - 10:00 PM
| | |
| --- | --- |
| Criteria | Ratings |
| Years in Business | ★★★★★ (5/5) |
| Services Offered | ★★★★✩ (4/5) |
| Responsiveness | ★★★★★ (5/5) |
| Customer Satisfaction | ★★★★★ (5/5) |
Sizzle with Decor is a full-service event planning company. It specializes in customized planning and coordination services, as well as designs and décor for various occasions.
Over the years, it has earned some relevant awards such as the Top Choice Awards – Ottawa's Best Décor Company and the Ottawa Wedding Awards – Ottawa's Best Décor Company.
We like that Sizzle with Decor provides a wide array of wedding and event planning services. Its wedding planning usually begins with a personalised consultation where details and expectations are set.
Another thing we like is that it offers complimentary consultations to help discuss your vision. If you're planning to throw a birthday party or any special event, the company will deploy event planning managers to help you.
We love that the company offers a full-service designer décor, which complements its other event planning services, which include day-of-coordination, event logistics, and professional referrals.
Its balloon architecture, the newest service on its list, is also worth mentioning.
Looking at its website, it would have been better if price guides were provided for each service offered. Since it is also busier on Fridays and weekends, responses to requests might experience some delays.
Nevertheless, Sizzle with Decor remains a good choice for event planning needs.
With multiple service offers
Has won relevant awards
Specialises in customised events
Offers additional related services
Relatively fewer services
Less responsive on weekends
Customer Reviews
Blessed to have found them
"Probably the nicest and most accommodating people I've ever worked with in the wedding industry. Estrelita and Elias even drove out to our home to make sure everything was OK for our big day. They took the time to make sure we didn't miss anything and were very comforting when we were nervous that our reception wasn't going to go well. I feel so blessed to have found them! Thanks guys!" — Daniel Badre, Google Reviews
Support was immeasurable
"Estrelita and Elias are both INCREDIBLE. I was planning a large scale dinner, which had a lot of last minute changes, and they were both so accommodating, patient and helpful. The morning of the event I had requested for a larger table and additional linens to be brought over to the venue and they went above and beyond to source the table and linens and bring them over without a worry. To have both Estrelita and Elias's support was immeasurable and I highly recommend using their services if you are looking for stunning decor pieces and an even more amazing (if possible) team behind it. Thank you both again!! — Laura van Zutphen, Google Reviews
6. NP Events
| | |
| --- | --- |
| Criteria | Ratings |
| Years in Business | ★★★★★ (5/5) |
| Services Offered | ★★★★★ (5/5) |
| Responsiveness | ★★★★★ (5/5) |
| Customer Satisfaction | ★★★★★ (5/5) |
NP Events is an event management company wherein they offer holistic and all-around expertise when it comes to organizing events such as the venue, music, stage, décor, and social media concerns among many others.
Fully geared and networked to make just any event memorable to their clients, they make it to a point to consult with clients and get their ideas and preferences in crafting the live event of their dreams.
New clients can also easily view their past outputs on their events gallery readily accessible on their website to get a better glimpse of what approaches they can do and what is suited for the event that they intend to hold.
Aside from this, they employ a team of multidisciplinary staff who have years of combined management experience so clients can be assured that their event is in reliable hands and that they will also be adequately updated at all stages of the said event.
Overall, equipped with the right connections and diverse range of expertise regarding live event management, we highly recommend them to clients residing in Ottawa to check them out and inquire about their services.
Wide range of services available
Adequately equipped with equipment and software for better social events
Large network of partnerships
Operating hours unavailable
7. eSAX Virtual Events
| | |
| --- | --- |
| Criteria | Ratings |
| Years in Business | ★★★★✩ (4/5) |
| Services Offered | ★★★★★ (5/5) |
| Responsiveness | ★★★★★ (5/5) |
| Customer Satisfaction | ★★★★★ (5/5) |
eSAX Virtual Events is a community that hosts entrepreneur networking events to help small businesses grow and make a valuable impact on both society and the online world as well. With core values such as knowledge, cooperation, and networking, they can provide an excellent balance of personality and engagement in all the events they host.
We like that they are able to provide a virtual event platform wherein they are able to accommodate a variety of events such as conferences, workshops, and presentations which can range from two participants to more than a thousand.
This makes their services highly flexible and adaptable, especially during today's pandemic situation and as the need for contactless meetings increases.
Clients get to work with a multidisciplinary team of experts that are diversely experienced in every aspect of event planning from the hosting, technicalities, and the implementation itself and ensure clients that they will have a stress-free experience with them.
Overall, with their past clients commending them for their opportunistic interactions, good organization skills, and a large network of helpful connections, we highly recommend them to clients looking to host a full-scale event on any online platform they prefer.
Flexible services
Comprehensive virtual platform
Experienced staff
Specializes more on virtual events
Customer Reviews
Here are some reviews from their clients:
"Excellent opportunity to learn, network and meet entrepreneurs. Jarrod and the organizing team did a great job. Great networking atmosphere and space."
"Great leadership from the panel and the sponsors. Jarrod, I know many appreciated your leadership and these combined efforts for entrepreneurs."
FAQs about Event Planners in Ottawa
---
With all the countless options in the market, finding the best event planners can be a challenge for most. But with this list, we hope that we have helped make things a lot easier for you.
For other event-related needs, check out the following articles: