The 5 Best Culinary Schools in Ottawa
Studying culinary is no easy task. In order to learn the right way, you have to be taught by the best teachers in the best schools.
In this article, we will be discussing the best culinary schools in Ottawa.
How much do culinary schools charge in Ottawa?
Culinary schools in the country typically cost over $30,000 per year. The table below gives a more specific breakdown of these costs:
| Type of Culinary Class | Average Estimated Costs |
| --- | --- |
| Full Culinary Program | $25,000 - $30,000 per year |
| Baking Course | $7,000 - $9,000 per year |
| Mixology Course | $500 - $650 per year |
| Japanese Cuisine | $100 - $200 per class |
| Sushi Making | $150 - $200 per class |
The Best Culinary Schools in Ottawa
We wanted to find the right culinary school for you. There are many choices in the city but we narrowed down our top picks based on these criteria:
1. Le Cordon Bleu Ottawa Culinary Arts Institute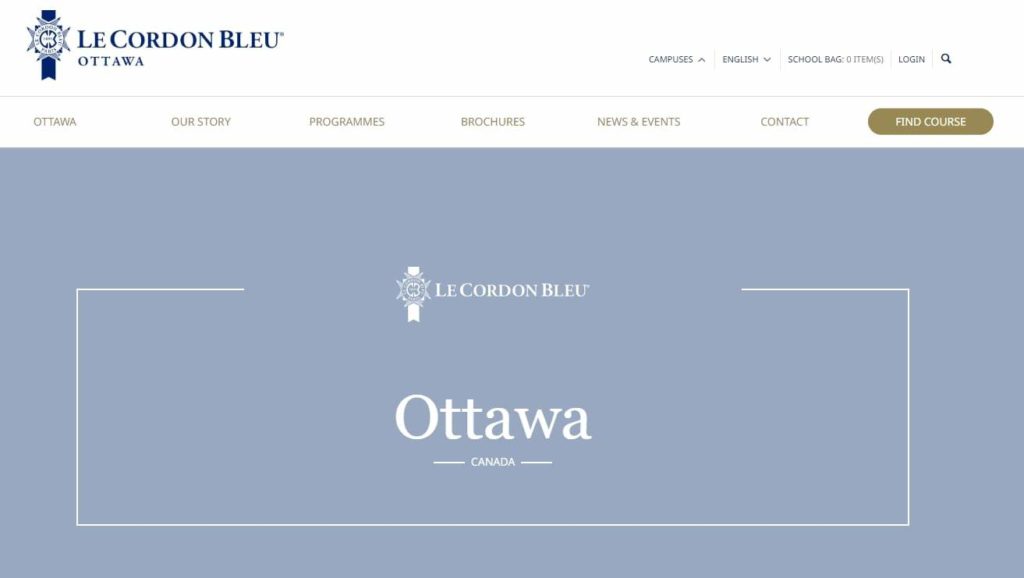 Test
Info
SERVICES
Cuisine, Pastry & Confectionery, Artisan Baking, Gastronomy & Nutrition, Culinary Arts & Business, Gourmet & Short Courses, Online Classes
WEBSITE
https://www.cordonbleu.edu
ADDRESS
453 Laurier Ave. E, Ottawa, ON K1N 6R4, Canada
CONTACT DETAILS
613-236-2433
OPERATING HOURS
Mondays to Fridays: 8:00 AM – 6:00 PM

Closed on Weekends
| | |
| --- | --- |
| Criteria | Ratings |
| Curriculum | ★★★★★(5/5) |
| Rates | ★★★★ (4/5) |
| Location & Facilities | ★★★★★(5/5) |
| Portfolio | ★★★★★(5/5) |
With over 120 years of experience under its belt, the Le Cordon Bleu Ottawa Culinary Arts Institute is definitely one of the top culinary schools in the capital.
Other than its location in Ottawa, it has 34 more branches around the world and has overall been training more than 20,000 students. Its curriculum on culinary is almost unmatched.
The school's reputation is very positive, earning numerous praise from students and critics alike. The instructors and alumni are also highly skilled professionals and experts in the field, earning numerous awards including Michelin stars for their restaurants.
We're big fans of the school's short courses and online classes. Not everyone has the time to complete a whole course, so this option is a good choice for those who only want to take specific subjects.
We also appreciate the curriculum it offers, especially in international cuisine and pastry. Dishes from other parts of the world offer a new twist for our taste buds and teaching people how to make them not only makes students more skilled but also more respectful of other cultures.
Overall, the only downside with this school is its price. It is an international school with multiple courses available, so it's only natural that the admin charges a bit more than your ordinary culinary class.
Solid curriculum
Linked to many famous restaurants
Customer Reviews
Great experience
"Really enjoyed my short course. Parking on site is great! Health and safety protocols are in place and contactless temperature check." – Quyen N.
Excellent

"If you're looking for culinary excellence, look no further. Bon appétit" – Avy Ko
2. Canadian School of Natural Nutrition Ottawa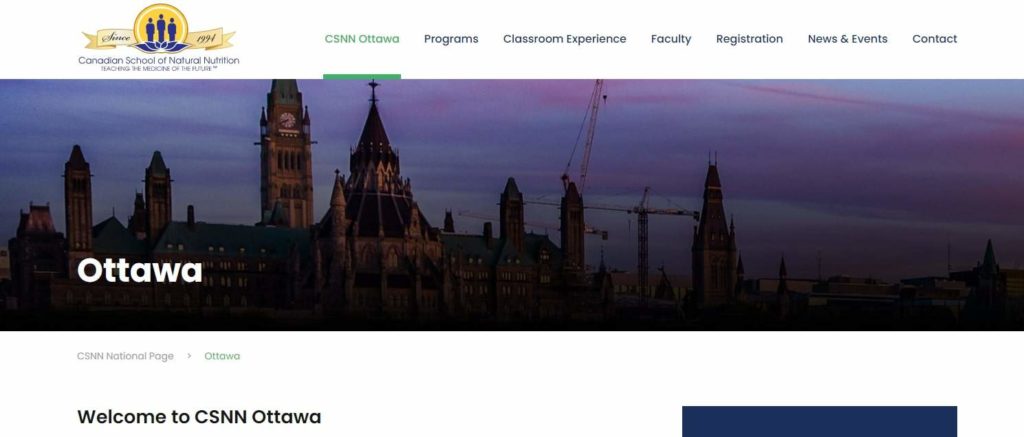 Test
Info
SERVICES
Holistic Culinary Classes, Healthy Cooking, Natural Nutrition Program, Single Nutrition Courses, Advanced Holistic Nutrition
WEBSITE
https://csnn.ca/ottawa/
ADDRESS
250 City Centre Ave Suite 603, Ottawa, ON K1R 6K7, Canada
CONTACT DETAILS
613-314-6991
OPERATING HOURS
Mondays to Fridays: 9:00 AM – 3:00 PM

Closed on Weekends
| | |
| --- | --- |
| Criteria | Ratings |
| Curriculum | ★★★★(4/5) |
| Rates | ★★★★★ (5/5) |
| Location & Facilities | ★★★★(4/5) |
| Portfolio | ★★★★(4/5) |
The Ottawa branch of the Canadian School of Natural Nutrition is also a very good choice for anyone who wants to study culinary. It holds culinary classes and programs but focuses more on health and nutrition.
One of the school's most well-known courses is called Holistic Culinary Basics, which focuses on improving kitchen skills and also teaching students how to be confident in their cooking.
In this course, students are introduced to an array of cooking tools not usually present in non-professional kitchens.
The school also has classes that focus more on nutrition, which are taught by instructors with a nutritionist license. These classes teach students how to create healthy dishes that can be given to people with specific health conditions.
Overall, the Canadian School of Natural Nutrition is definitely a solid candidate for the best culinary schools in Ottawa. It teaches not only the fundamentals of cooking but also sheds light on how food can help a person's health and diet.
The only downside is the school doesn't really tackle much of the fancy gourmet dishes that are usually present in other culinary schools, which we're quite disappointed with.
Some students may prefer to enroll themselves in a more cuisine-focused school. But if you are looking to learn the fundamentals of food and the nutrients that come with it, this school is definitely a good pick.
Healthy cooking
Good price
Not gourmet-focused
Closes early
Customer Reviews
Enjoyable courses, interesting classes

"I attended CSNN Sept 2020-August 2021 when the school was going through some major shifts to online learning. The entire year program, I felt supported by the teachers and administration staff, enjoyed the courses and bonded well with my classmates. The lack of commute helped me with the work/life balance. The classes were very interesting and the teachers brought lots of knowledge from all different walks of life to really get a holistic approach to nutrition. If anyone is considering being a Holistic Nutritionist, there is only one place to look: CSNN." – Danielle Needham
I would do it again
"The CSNN program I completed this spring was exactly what I was searching for and needed. As a full time yoga instructor for many years, I was already working in a professional capacity within the holistic wellness field. Now, after completing the program, right from the comfort of my own home, I have acquired the Registered Holistic Nutrition (RHN) designation and have started a new business offering wellness + nutrition coaching to clients here in Ottawa and beyond. I already have clients and I am so excited to grow my business. The program was accessible, affordable and so incredibly informative. I would do it all over again in a heartbeat!" — Natasha Moine
3. C'est Bon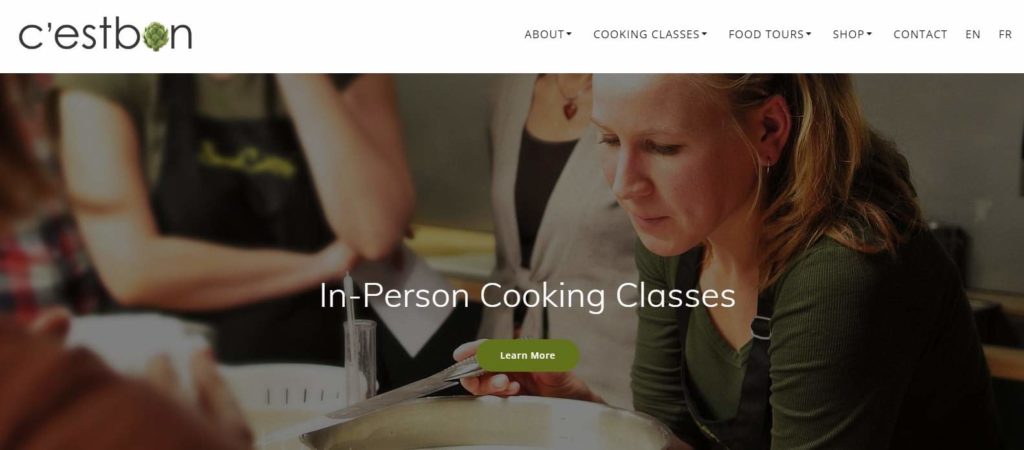 Test
Info
SERVICES
Basic Cuisine, Cuisines Du Monde, Sushi Basics, Knife Skills, Poultry, Vegetables, Bread Basics, Pastry Basics, Keto Cuisine, Chocolate, International Desserts, Pies & Tarts
WEBSITE
https://cestboncooking.ca/
ADDRESS
200 Dalhousie St, Ottawa, ON K1N 7C8, Canada
CONTACT DETAILS
613-722-8687
OPERATING HOURS
Closed on Mondays

Tuesdays to Fridays 10:00 AM - 4:00 PM

Saturdays 10:00 AM - 2:00 PM

Closed on Sundays
| | |
| --- | --- |
| Criteria | Ratings |
| Curriculum | ★★★★★ (5/5) |
| Rates | ★★★★(4/5) |
| Location & Facilities | ★★★★★ (5/5) |
| Portfolio | ★★★★(4/5) |

C'est Bon is another solid candidate for the best culinary school in Ottawa. Not only does it teach multiple courses, but it also offers skills outside of just learning recipes like knife skills and plating.
The co-owners, Stefanie Siska and Georges Laurier, are both experts in their field. Georges is a chef while Stefanie is a manager & tour curator — they combined both their skills to establish C'est Bon.
What we really like about this school is its classes on sushi and international desserts. Many culinary schools are too focused on French dishes and while that may not be a problem, it's better to have skills outside of the common food choice.
Another unique class the school teaches is the Keto Cuisine course, which is very popular among the younger generation who like to focus on their diet as well.
Aside from being a culinary school, C'est Bon is also a food tour company that has been encouraging food exploration since 2009. Food enthusiasts and even professional chefs alike have been working with them throughout the years.
While C'est Bon is definitely a good choice for a culinary school thanks to its variety of long-term and short courses, it charges pretty high, which can be a dealbreaker for students on a budget.
Open on Saturdays
20% discount on some classes
Customer Reviews
Fun and educational

"I had so much fun learning the basics of bon bon manufacturing- thanks to the team at C'est Bon and specially to our lovely Venezuelan instructor Maria – will definitely recommend and take other courses." – Leonor Alvarado

Unique experience

"What an amazing experience.  We had Chef Laurier as our head chef, his teaching, his knowledge of food, understanding of flavors and meal preparation is spectacular.  From the moment we arrived, he welcomes you to his world with a great smile and positive attitude.  His funny remarks, his passion and demeanor add to this unique experience.    I want to thank Chef Laurier and his staff, we will be sure to sign up again for another . – N. P. S.
4. Rebels in the Kitchen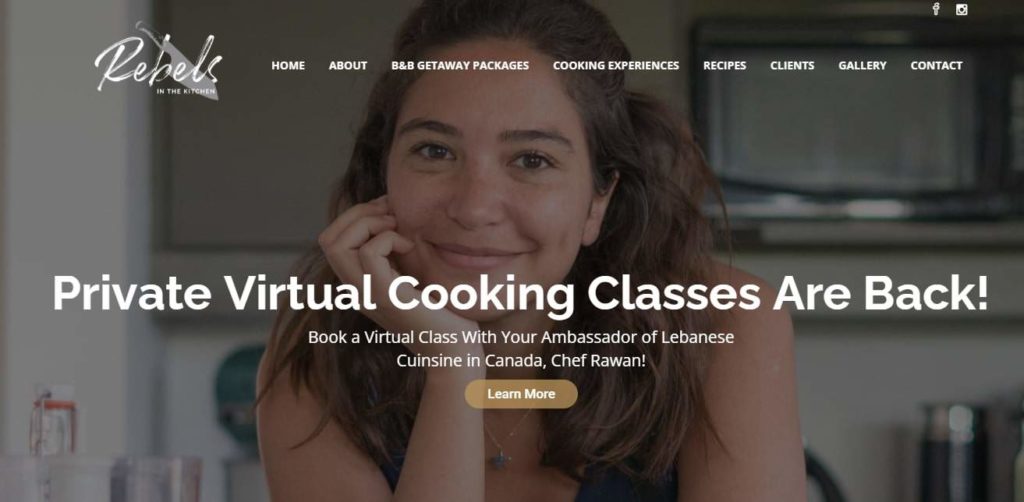 Test
Info
SERVICES
Appointment Cooking Classes, Private Virtual Cooking Classes, B&B Getaway, Recipe Books
WEBSITE
https://www.pellabranch.com/
ADDRESS
By appointment only
CONTACT DETAILS
613-618-0555
OPERATING HOURS
Mondays to Fridays: 9:00 AM – 5:00 PM

Closed on Weekends
| | |
| --- | --- |
| Criteria | Ratings |
| Curriculum | ★★★★★ (5/5) |
| Rates | ★★★★(4/5) |
| Location & Facilities | ★★★★★ (5/5) |
| Portfolio | ★★★★★(5/5) |
Rebels in the Kitchen is a very unique entry on our list. This culinary school is also a bed and breakfast where customers can avail of cooking classes for couples.
It's also worth noting that Rebels in the Kitchen offers virtual classes for those who want to learn cooking remotely. Of course, this is done through the Internet and the students are given a list of ingredients they need before the instructor gives the lesson.
This school is a pretty small enterprise with just one main instructor, Chef Rawan Al Wadaa. Because of this, her services aren't easy to avail of.
Each class is by appointment only. However, if you schedule an appointment at an early time, she will be glad to be of service whether online or face to face.
Chef Rawan's food expertise is very apparent, especially when it comes to Lebanese dishes (as she herself is Lebanese).
Her curriculum is not that specific as it depends on the clients what kind of dishes they want to learn. But the choices are immense, which to us, is a good thing.
While being an appointment-based service means there are booking limitations, we also think it's beneficial as the instructor is able to follow the schedule you chose.
All in all, Rebels in the Kitchen is another solid choice for your culinary school needs, especially if you're busy and can't attend school multiple days a week.
It can be hard to set an appointment, but if you are patient and eager to learn, you should have no problem waiting for a schedule to become available.
We will say, however, that the courses are a bit expensive. But with the personalized teaching methods, what you pay may well be worth it.
Great recipes
Follows your schedule
Customer Reviews:
Loved it!

"My partner and I had an amazing foodie weekend! Rawan was happy to answer our many questions about how to prepare/modify the recipes she was showing us as well as discussing their cultural/historical significance. Conversation was super easy and interesting with her, seriously only rivalled by how delicious the food was. The food was so delicious we forgot to take pictures of most of it. We have some new recipes in our back pocket that'll become staples for sure!" – Chelsey Stuart-Duval
Exciting experience

"The whole experience was so much fun and we would highly recommend this as a gift for friends, family, company or significant others. The recipes designed by Rawan and Don are delicious and creative, the experience of cooking together was very hands on and exciting! We got to enjoy some delicious vine leaves paired with Gewuerztraminer and a super cool Arabian music playlist. Absolutely recommend!!!! We love you Rawan and Don. Come back anytime!" – Marianne Rothbauer 
5. Chef Ric's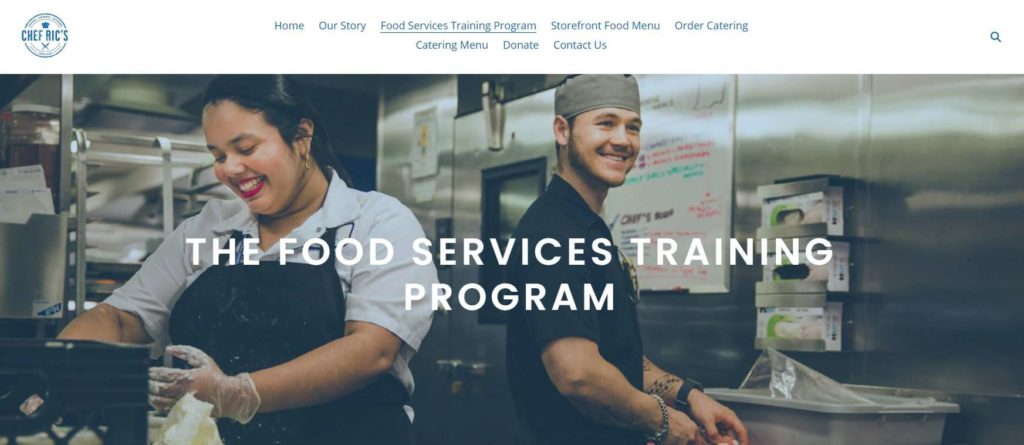 Test
Info
SERVICES
Food Services Training Program
WEBSITE
https://chefrics.com/
ADDRESS
384 Rideau St, Ottawa, ON K1N 5Y8, Canada
CONTACT DETAILS
613-518-1415
OPERATING HOURS
Mondays to Fridays: 7:30 AM – 2:00 PM

Saturdays to Sundays: 8:00 AM - 2:00 PM
| | |
| --- | --- |
| Criteria | Ratings |
| Curriculum | ★★★★ (4/5) |
| Rates | ★★★★★ (5/5) |
| Location & Facilities | ★★★★(4/5) |
| Portfolio | ★★★★★(5/5) |
Chef Ric's culinary school is special because it is built for a good cause, helping those who want to learn to cook without the expensive tuition fees. Its students are considered scholars and are not required to pay fees to take its classes.
The downside of course is the difficulty of passing the school's application. But if you're confident and skillful, it should be of no issue.
Its programs are also not as extensive as big culinary schools but offer interesting topics, such as catering.
The school's Food Services Training Program does a good job of balancing cooking with other kitchen-related skills that are very important, especially for those aspiring chefs who want to have their own restaurants someday.
Chef Ric's has been around since 2004 as a catering service for numerous charities. It has even partnered with St Lawrence College to hire instructors to teach interview training, resume building, and communication skills.
Over 90% of Chef Ric's students end up working in restaurants, so we know that its teachers are doing their jobs well. It also invites guest teachers from famous culinary universities all over the country.
Chef Ric's is definitely a solid choice for anyone who wants to learn how to cook. However, we're disappointed it doesn't focus too much on gourmet dishes, which is usually what other culinary schools teach.
If you're more into fancy and expensive food, this may not be the right school for you. But if you want to start from the basics and learn the business side of food, this is a good choice.
Open everyday
Great portfolio
Difficult application process
FAQs about Culinary Schools in Ottawa
---
We hope you found this information useful. There are many culinary schools in the city, and finding the best ones can be difficult.
But with our list, you can find the top choices and select which ones suit your needs and priorities.
Looking for healthy ways to cook? Check out the best dietitian clinics in Ottawa!