Top 5 Corporate Lawyers in Ottawa
If you have a startup or are part of an existing corporation, it would help to retain the services of a good corporate lawyer in Ottawa.
A corporate lawyer can help you navigate through complex contracts, due diligence, mergers and acquisition matters, and other corporation-related concerns and responsibilities.
We'll be taking a look at the top corporate firms today and providing bite-sized information via FAQs at the end of this listicle, as well.
But first, let's see what kind of expenses are involved with hiring a corporate lawyer in Ottawa.
How Much Does a Corporate Lawyer Charge in Ottawa?
Most corporate lawyers won't advertise their rates right off the bat (the most common reason involves varying fee structures). But since corporate lawyers have straightforward tasks, they usually charge a flat fee to their clients.
A good ballpark figure for having a corporate lawyer prepare things for first-time incorporators would be $1,950 up. This rate typically includes taxes, disbursements, and fees from the appropriate offices.
Some of the service fees will depend on the location where you wish to operate. Fee structures of in-house counsel could also be different from independent firms.
Discussions on fees can be requested at initial meetings, which, luckily, some law firms offer free of charge.
The Top Corporate Lawyers in Ottawa
We're taking a closer look at the top corporate lawyers in Ottawa in today's post. We selected the ones that made it to this listicle based on the following factors:
1. Nelligan Law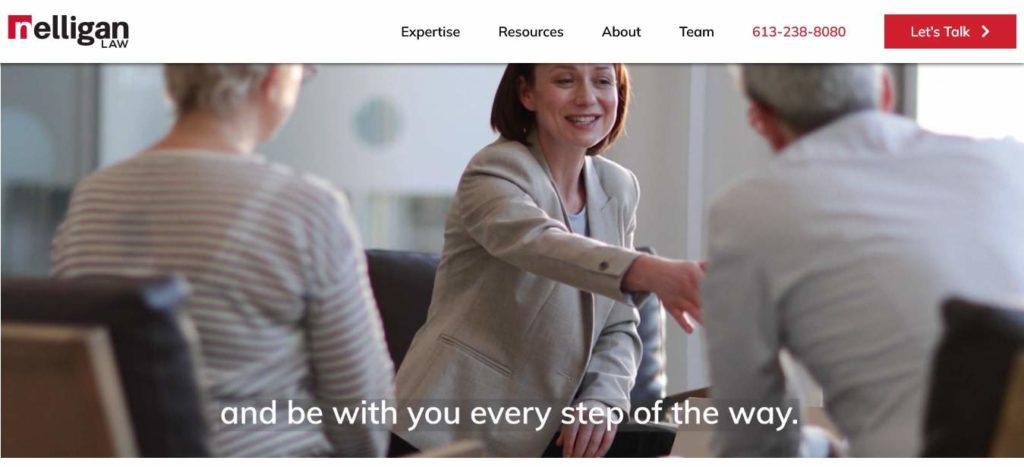 Test
Info
SERVICES
Business law, construction, elder law, employment law for employees, estates law, family law, indigenous law, insurance law, Intellectual Property law, labour law, litigation and dispute resolution, mediation, personal injury, real estate and development
ADDRESS
50 O'Connor Street, Suite 300 Ottawa, ON K1P 6L2
CONTACT DETAILS
613-238-8080
WEBSITE
OPERATING HOURS
Monday to Friday 8:30 AM - 5:30 PM

Closed on Saturdays and Sundays
| | |
| --- | --- |
| Fee options | ★★★★☆ (4/5) |
| Diverse representation | ★★★★★ (5/5) |
| Areas of practice | ★★★★☆ (4/5) |
Nelligan Law has been around for more than half a century and enjoys an A+ rating and accreditation from the Better Business Bureau.
It's a multi-practice firm that specializes in a wide range of areas including business law, intellectual property, elder law, and even indigenous law. There are currently over 50 lawyers in the team and around 80 support staff that speaks multiple languages (English, French, Cantonese, Mandarin, Japanese) to accommodate a diverse clientele.
Diversity and inclusion are integral to Nelligan Law as its staff and lawyers include people with disabilities, the BIPOC community, and people who are 2SLGBTQ+. To underline its support, Nelligan Law put up its own Diversity & Inclusion committee to promote and safeguard the rights of its staff and clients from vulnerable groups.
We applaud this move from a prominent law firm that has platforms to promote these values to Canadian communities and beyond.
However, given its size and reach, we're not sure if it's the best firm for startups and smaller businesses.
Free initial contact with legal assistants
Offers different fee arrangements
BBB-accredited, A+ rating
2017 Top Listed Award from The Best Lawyers in Canada
Might not be the best firm for startups
No legal advice provided on first contact
Open on weekdays only
Customer Reviews
Great professional experience, staff were responsive
"I had a great professional experience with Wing T Yan, a lawyer at Nelligan Law. After filing a trademark on my behalf, she and members of her staff were responsive as they generously provided all related info to register my screenplay copyrights with Industry Canada and the Library of Congress. Should I require additional assistance, I feel that I shall obtain great support. I recommend this legal group to anyone who wants great service and good value for their money." – Maurice Berthiaume
The claim was settled in a reasonable time frame
"The firm was extremely responsive and helpful from the very first call I placed to them regarding an employment law inquiry. The staff are all very knowledgeable and helpful. I felt that I was heard and Malini took the time to listen to my concerns and was very supportive. Our claim was settled in a reasonable time frame and I was very pleased with the manner in which my claim was handled. So much so, that I immediately referred two other individuals. I would highly recommend Malini Vijaykumar and the firm." – Kelly Cloutier
2. Gowling WLG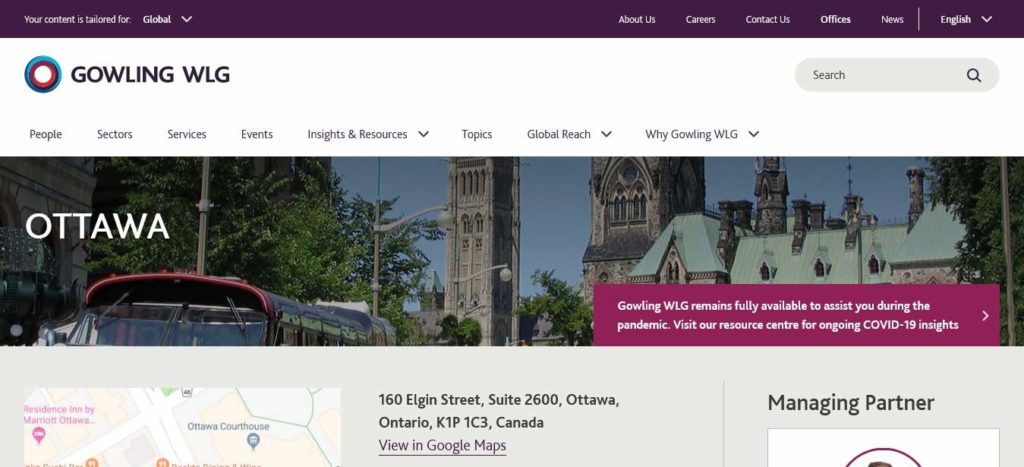 Test
Info
SERVICES
Advertising & Product Regulatory, Artificial Intelligence (AI) Law, Banking & Finance, Brand Protection, Capital Markets, Climate Change and Environmental Law, Commercial, Commercial Litigation, Competition Law & Antitrust, Corporate, Corporate, M&A and Capital Markets, Cyber Security & Data Protection Law, Employment, Labour & Equalities, Environmental, Social and Governance (ESG), Financial Services Regulation, Governance, Risk and Compliance (GRC), Insurance & Professional Liability, Intellectual Property Law, International Arbitration, International Trade and Customs, IP Litigation & Strategy, Litigation & Dispute Resolution, Medical Defence & Health Law, Mergers & Acquisitions, Patents, Pensions, Private Client Services, Project Finance, Projects, Real Estate, Restructuring & Insolvency, Tax, Trademarks, Brands & Designs
ADDRESS
160 Elgin Street, Suite 2600, Ottawa, Ontario, K1P 1C3
CONTACT DETAILS
+1 613-233-1781
WEBSITE
OPERATING HOURS
Monday to Friday 8:00 AM - 6:00 PM

Closed on Saturdays and Sundays
| | |
| --- | --- |
| Fee options | ★★★☆☆ (3/5) |
| Diverse representation | ★★★★☆ (4/5) |
| Areas of practice | ★★★★★ (5/5) |
Gowling WLG can trace its roots back to 1887 but has since diversified to include practices in litigation, business law, and intellectual property for Canada's key industries. The firm is committed to being an innovative and inclusive employer that practices diversity in all areas.
It represents industry sectors including food and beverage, technology, life sciences, mining, nuclear, and even the cannabis businesses. Each sector has a key contact and a full team for easier communication and coordination.
The firm tailors its selection of services according to its client's jurisdiction and location. As a result, its menu of services shows an impressive array of specialized services for Artificial Intelligence law, IP litigation and strategy, trademark brands and designs, and cyber security and data protection law.
Its corporate law arm can accommodate clients who are private business owners to global financial institutions. Clients can seek legal advice on private equity, partnerships, mergers, funds, and general counsel services.
The downside is that there's no information provided on Gowling WLG's service fee guide, though there's a variety of ways to get in touch with its offices directly.
Represents diverse sectors and industries
"Law Firm of the Year" awardee for four consecutive years
An impressive array of specialized services
Doesn't provide service fee information
Closed on weekends
No BBB accreditation
Customer Reviews
The best legal defence money can buy
"Great staff, awesome lawyers, and the best legal defence money can buy! Worth every dollar and I'm thankful to my friend who recommended Gowling WLG to me." – "Justa Bee"
Prompt, professional
"Prompt and professional response." – Hammed Ok
3. Norton Rose Fulbright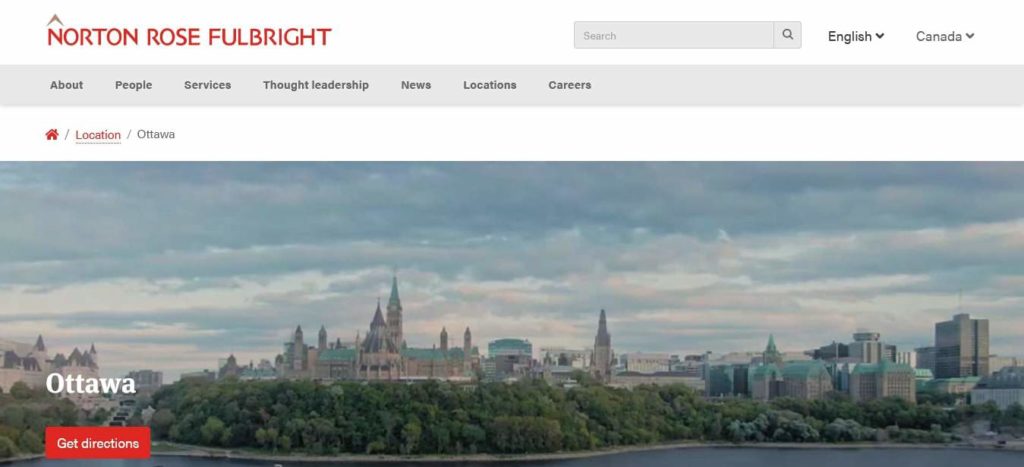 Test
Info
SERVICES
Antitrust and competition, bankruptcy, financial restructuring and insolvency, corporate, M&A and securities, energy, financial services and regulation, intellectual property, projects, regulation and investigations, tax, banking and finance, climate change and sustainability, employment and labour, environmental, social and governance (ESG), information governance, privacy and cybersecurity, litigation and disputes, real estate, risk advisory
ADDRESS
45 O'Connor Street, Suite 1500 Ottawa Ontario K1P 1A4
CONTACT DETAILS
+1 613-780-8661
WEBSITE
OPERATING HOURS
Monday to Friday 8:00 AM - 5:00 PM

Closed on Saturdays and Sundays
| | |
| --- | --- |
| Fee options | ★★★☆☆ (3/5) |
| Diverse representation | ★★★★★ (5/5) |
| Areas of practice | ★★★★☆ (4/5) |
The global corporate, M&A and securities team of Norton Rose Fulbright makes up just a percentage of the firm's wide range of practices and the key industries it serves. However, in the last three years alone, it already advised nearly 500 M&A deals all over the world with a value of over US$221 billion!
The firm's key industries include consumer markets, energy, infrastructure and resources, financial institutions, life sciences and healthcare, technology, and transport. Its lawyers specialize in everything from bankruptcy and insolvency to risk advisory.
Perhaps the only thing missing in this wide range of legal practices is some sort of fee structure guide.
Its diversity and inclusion approach is pretty laudable. Aside from creating an inclusive environment for LGBTQIᐩ and gender-balanced programs, it's committed to partnering with racially, ethnically, and culturally diverse people across different life stages.
Norton Rose Fulbright walks the talk with recognitions such as the Top 100 Employer for LGBT workplace equality in Stonewall for 2014 – 2019 and the Best 100 employers for race
Business in the Community for 2017 – 2018!
In addition, the firm has sustainable initiatives and strives to comply with environmental regulations in all areas of its practice.
Wide range of legal services
Practices sustainable initiatives
An accomplished team of corporate lawyers
Multiple recognitions for diversity and inclusion practices
Doesn't provide a fee structure
Open on weekdays only
No BBB accreditation
4. Borden Ladner Gervais LLP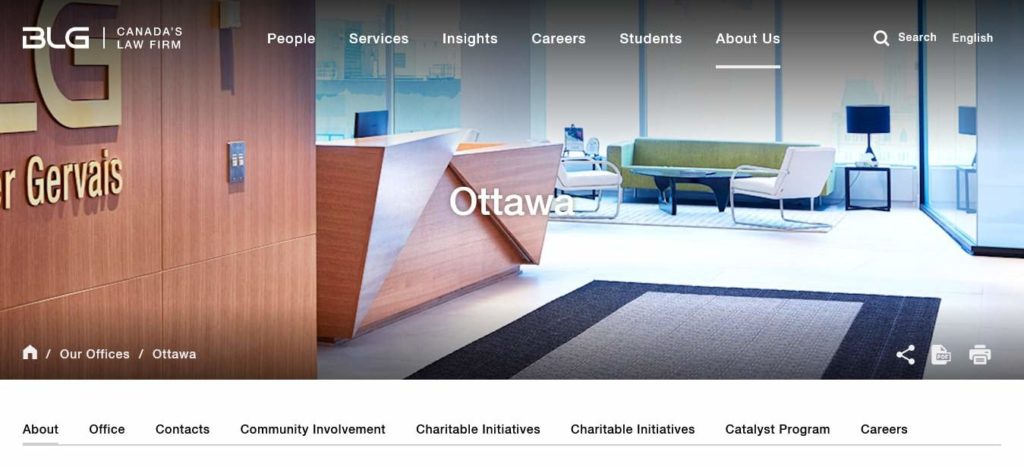 Test
Info
SERVICES
Business, commodity, and international tax expertise, tax disputes and litigation, tax advice and consultation for private clients
ADDRESS
100 Queen Street Suite 1100, World Exchange Plaza Ottawa, Ontario K1P 1J9
CONTACT DETAILS
+1 416-367-6000

613.237.5160

WEBSITE
OPERATING HOURS
By appointment
| | |
| --- | --- |
| Fee options | ★★★★☆ (4/5) |
| Diverse representation | ★★★★☆ (4/5) |
| Areas of practice | ★★★★☆ (4/5) |
With over 750 lawyers across Canada, Borden Ladner Gervais LLP strives to anticipate its clients' business challenges by adapting to available technology and innovation. It has a collaborative and multi-disciplinary team of lawyers under its corporate commercial service.
It caters to key industries including construction, financial services, mining, energy, oil & gas, transportation, energy power, and private companies. Given its impressive scale and reach, BLG surprisingly accommodates even charities and not-for-profits as corporate clients.
It's also good to see that its core values cover diversity and inclusion with its robust Transgender Accommodation and Inclusivity Policy. The firm also has mandatory training to address racism and continues to examine existing policies to promote inclusion.
With a fully bilingual practice and a pro bono program, Borden Ladner Gervais appears to be an ideal firm to represent any business entity. However, some information on payment options and pricing schemes would be quite welcome, too.
Robust inclusion and diversity programs
Offers pro bono program
Accommodates charities and not-for-profits
Fully bilingual practice
No fixed operating hours provided
Doesn't give info on pricing
No BBB accreditation
5. Perley-Robertson, Hill & McDougall LLP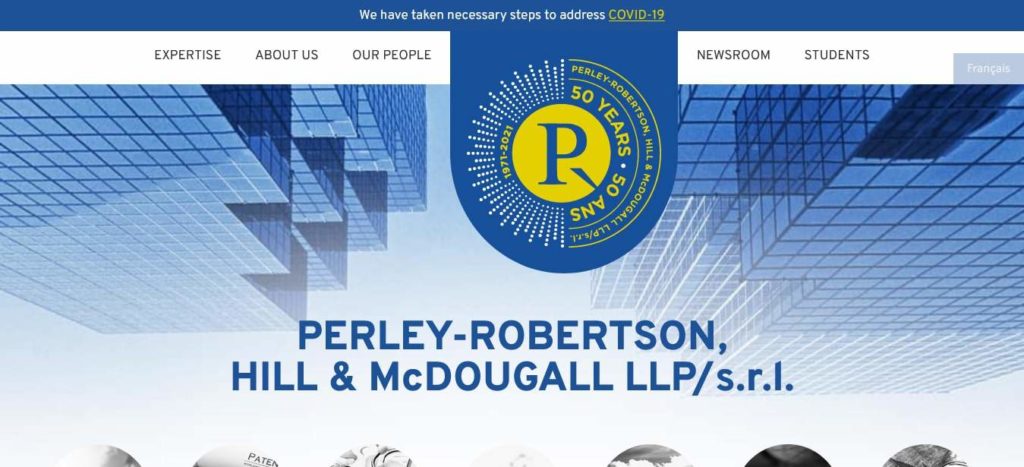 | Test | Info |
| --- | --- |
| SERVICES | Business law, intellectual property, personal legal needs, real estate, litigation, international arbitration, personal injury, cannabis law |
| ADDRESS | 340 Albert St #1400, Ottawa, ON K1R 7Y6 |
| CONTACT DETAILS | 613.238.2022 |
| WEBSITE | |
| OPERATING HOURS | By appointment |
| | |
| --- | --- |
| Fee options | ★★★☆☆ (3/5) |
| Diverse representation | ★★★★☆ (4/5) |
| Areas of practice | ★★★★☆ (4/5) |
Perley-Robertson, Hill & McDougall LLP was founded in 1971 and has since been catering to both Canadian and international clients for over five decades. Its areas of specialization include business law, international arbitration, intellectual property, litigation, real estate, tax, immigration, and personal legal needs.
The firm's expertise in business law covers a wide range of industries spanning franchising and licensing, corporate finance and securities, taxation, technology, and others. As a pleasant surprise, its team also accommodates clients from charities and not-for-profits, as well as those with immigration and cross-border transaction concerns.
Again, the absence of a service fee guide is understandable given the full spectrum of its legal services. Still, we'd appreciate the availability of any form of information on payment or fee options.
Its diversity and inclusion policies have resulted in a diversity committee that oversees daily advocacy and regular training on what it calls its Unconscious Bias and Bias-free Recruitment Practices.
Its staff and team also actively participate in events like the Capital Pride March, the Canadian Black Lawyers Association Conference & Gala, and the Ottawa Eid Festival as a solid show of support for employees and clients of all backgrounds.
Actively participates in diverse organizations and events
Caters to non-profits and charities
Wide range of legal services
Strictly by appointment only
No information on service fees
No BBB accreditation
Customer Reviews
Satisfied with the level of professionalism and all-around outstanding work
"Eric D'Aoust And Joël are an amazing team. We are very satisfied with the level of professionalism and all-around outstanding work from both of them. 100% I will never go to another law firm. We are a young family and they did their absolute best to put our needs first. Best law firm out there!" – "Polka Dot Chick"
Set a new benchmark of expectations
"I worked with Solomon Gold who is a partner in this well-established and respected firm. The advice and intellectual property related services I received set a new benchmark of expectations and were invaluable to me." – M. Guadel
FAQs About Corporate Lawyers in Ottawa
---
Hopefully, this listicle proves to be a reliable resource for the top corporate lawyers in Ottawa.
We also have published posts that could provide helpful insights on other legal matters:
Please send us a message if you have a corporate lawyer or firm to recommend for review.