Top 5 Christian Funeral Services in Ottawa
Funerals are important as they reinforce the reality that a loved one has passed away. They also provide an appropriate place for mourners to talk about the deceased and share their feelings with others.
Since a funeral often sets the foundations for healthy grieving, it is important to get the best services available. To help you with that, we have gathered the top Christian funeral services on this list.
But before we move on to that, let's first discuss the costs related to such services.
How much do funeral services cost in Ottawa?
While the cost of funeral services is often affected by factors like personal preferences, location, and culture, they often go anywhere from $5,000 to $10,000 on average.
To give you a better picture, below is a table showing the breakdown of funeral costs. Please take note that the figures can still vary from one funeral service provider to another.
| Types of Funeral Services | Average Costs |
| --- | --- |
| Funeral home | $7,500 |
| Flowers | $400 |
| Church | $450 |
| Cemetery | $1,145 |
| Reception | $1,600 |
Top Christian Funeral Services in Ottawa
To get the best in the business, we used the following criteria in our selection process:
1. First Memorial Funeral Services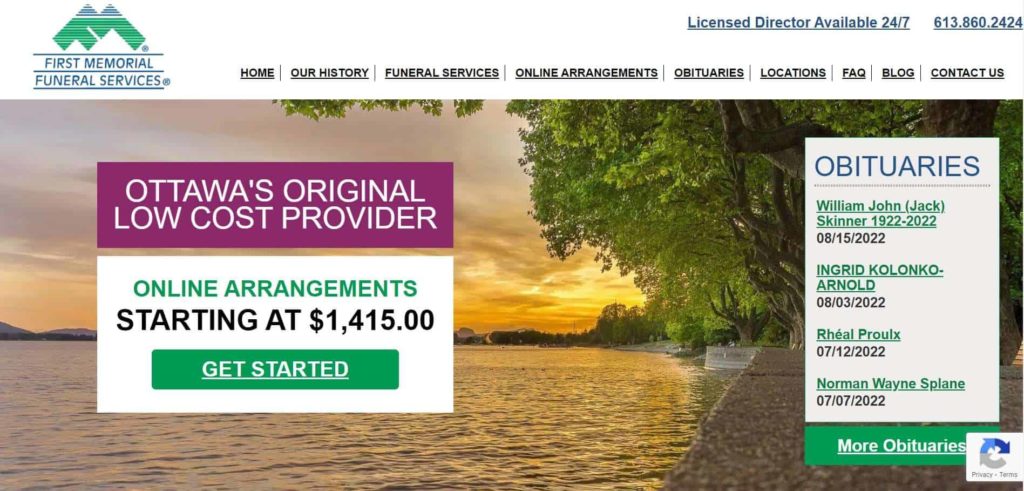 | Test | Info |
| --- | --- |
| SERVICES | Direct Cremation, Burial Services, Funeral Planning, Pre-Planning, Online Arrangements, Obituaries |
| WEBSITE | https://firstmemorialfairview.com/ |
| ADDRESS | 259 St. Patrick St, Ottawa, ON K1N 5K4, Canada |
| CONTACT DETAILS | +1 613-860-2424 |
| OPERATING HOURS | Open 24 hours |
| | |
| --- | --- |
| Criteria | Ratings |
| Services | ★★★★★ (5/5) |
| Availability | ★★★★★ (5/5) |
| Price | ★★★★★ (5/5) |
| Customer feedback | ★★★★★ (5/5) |
A proud member of the International Cemetery, Cremation and Funeral Association (ICCFA), First Memorial Funeral Services is one of our top choices for Christian funeral services.
Its 24/7 services include direct cremation, burial, and funeral planning. You may also choose to arrange your preferred funeral services ahead of time through its pre-planning option.
The best part here is that you can do this online through an easy 3-step process.
As a low-cost funeral service provider, it offers affordable packages that start from $1,415. There are reception services too, which can be held at the funeral home's reception facilities or the preferred location.
Apart from providing flexible options, we like that everything is managed by a licensed director, who is available 24/7 to answer all queries and concerns.
It's also nice that the professional team is great at preparing things based on personal requests.
Although limited to customers getting service packages, we appreciate that it offers a complimentary 13-month subscription to its Compassion Helpline.
This hotline is a 24-hour service that aims to help people get through their grief.
Also worth mentioning are the obituary services and its partnership with the Medical Air Services Association, Inc., which can help bring your loved ones home from miles away.
A variety of services offered
Relevant affiliations
Offers affordable packages
Professional team
Compassion Helpline
Limited details about personnel
Restrictions of some services
Customer Reviews
Caring, professional, and efficient
"When my father passed away, we were out of town. I contacted First Memorial and spoke with Patrice Lambert who was excellent. He immediately put my mind at ease and explained the process and options for my Dad's arrangements. Patrice said not to worry and that everything would be taken care of. From start to finish, my experience with First Memorial was fantastic. They are a caring, professional and efficient business and I would highly recommend their services." — Sally Tibbits, Google Reviews
Can't thank you enough
"I can't say enough how amazing the people are who work for First Memorial Funeral Service. We had my mother in laws memorial today, and they went above and beyond my expectations. To all the staff at the St.Patrick location, I can't thank you enough! You're amazing!" — Emily Halpin, Google Reviews
2. Pinecrest Remembrance Services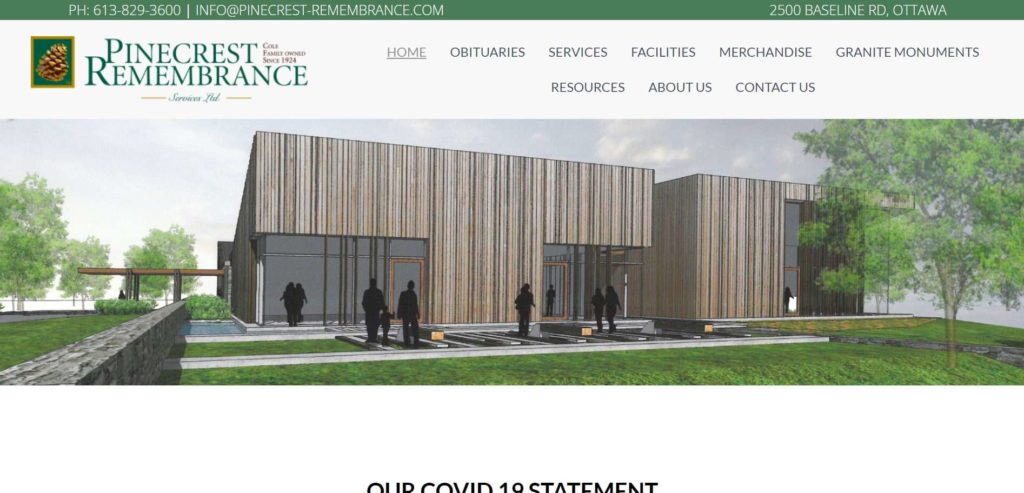 Test
Info
SERVICES
Burial Services, Pre-Planning Cemetery Arrangements, Disposition Choices, Flowerbed Program, Winter Wreath Program, Cremation Services, Funeral Merchandise, Granite Monument, Obituaries
WEBSITE
https://pinecrest-remembrance.com/
ADDRESS
2500 Baseline Rd, Ottawa, ON K2C 3H9, Canada
CONTACT DETAILS
1 613-829-3600
OPERATING HOURS

Monday to Friday 9 AM - 5 PM

Saturday 9 AM - 12 PM

Sunday 11 AM - 3 PM




Access: 24 hours
| | |
| --- | --- |
| Criteria | Ratings |
| Services | ★★★★★ (5/5) |
| Availability | ★★★★★ (5/5) |
| Price | ★★★★★ (5/5) |
| Customer feedback | ★★★★✩ (4/5) |
Founded in 1924, Pinecrest Remembrance Services has been in the business for decades.
Over the years, the Cole family has established a good reputation for providing excellent service in Ottawa and neighboring areas.
We like that it is affiliated with some professional organizations like the Ontario Association of Cemetery and Funeral Professionals and the International Cemetery, Cremation & Funeral Association.
With its goal to provide everything in one place, it offers a full range of services, which we appreciate. These 24/7 services extend from burial and pre-planning funeral arrangements to flowerbed programs and cremation.
One of the things we love is its visitation center, which welcomes families and friends into a warm and inviting space. With spacious rooms, the center can accommodate both small and large groups of people with ease.
Should you need some refreshments, it's great that there are catering services, too. On-site parking is also free and all facilities are made accessible to physically challenged individuals.
Another thing we like are its granite monuments, along with options like urns, jewelry, and burial vaults. Although details are scarce, we appreciate that their monuments are backed by The Rock of Ages warranty.
Although it might have had some issues with timelines in the past, we still believe in its services. Together with a professional, courteous staff, Pinecrest Remembrance Services can help make things easier for you.
Years of experience
Affiliations with relevant organizations
A full range of services
Specializes in granite monuments
Great funeral facilities
Some issues with timelines
Limited information about some services
Customer Reviews
Professional and empathetic
"Very professional and empathetic staff. Pleased with their service during a difficult time" — Justina Wolfe, Google Reviews
Intuitive and sincere
"Professional, intuitive, sincere, empathetic, clean & peaceful." — Caroll, Google Review
3. Tubman Funeral Homes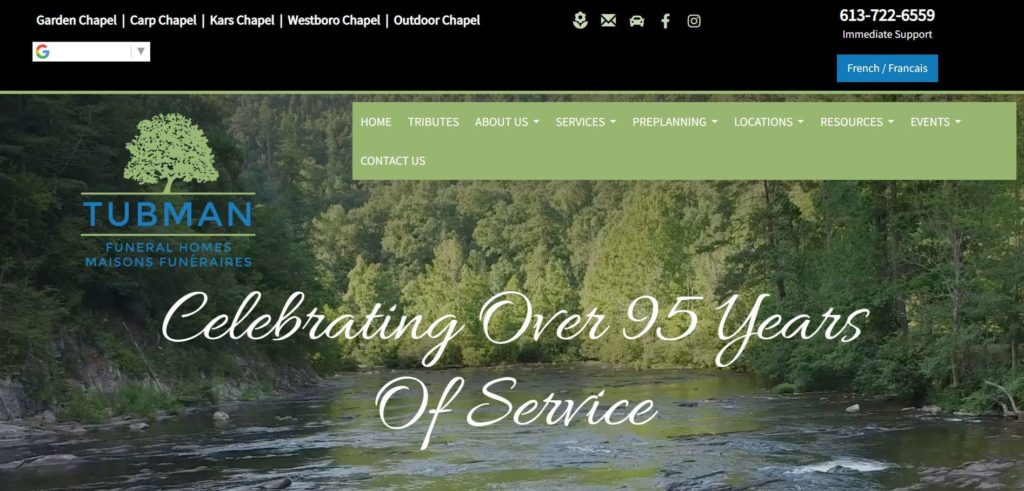 | Test | Info |
| --- | --- |
| SERVICES | Personalized Funerals, Cremation Services, Drive-Thru Funerals, Funeral Webcasting, Therapy Dog Service |
| WEBSITE | https://www.tubmanfuneralhomes.com/ |
| ADDRESS | 403 Richmond Rd, Ottawa, ON K2A 0E9, Canada |
| CONTACT DETAILS | +1 613-722-6559 |
| OPERATING HOURS | Open 24 hours |
| | |
| --- | --- |
| Criteria | Ratings |
| Services | ★★★★★ (5/5) |
| Availability | ★★★★★ (5/5) |
| Price | ★★★★★ (5/5) |
| Customer feedback | ★★★★✩ (4/5) |
One of our top choices for Christian funeral services is Tubman Funeral Homes, which is licensed by the Bereavement Authority of Ontario (BAO). It has been providing various funeral services for almost 100 years now.
We like that it takes pride in caring for its clients and that its people tirelessly provide customers with a beautiful, lasting tribute to their loved ones.
Its services include personalized funerals, cremation services, and therapy dog services. There are pre-planning options, too, should you want to have things prepared in advance.
What's best about these is that Tubman Funeral Homes has professional funeral planners that will offer professional guidance to help you customize things ahead.
They'll also offer grief seminars and support personnel, which we appreciate.
Another thing we like is its online memorials, which can serve as a place where people can post condolences, share memories, upload photos, and light candles in honor of your loved one.
It's also interesting to know that it has Beau, a certified therapy dog from the Therapeutic Paws of Canada. Providing a calm and comfortable presence, Beau can help ease the emotions of grieving families and friends.
The daily grief support emails to the families they serve are also well appreciated.
Despite having issues with overpriced services and some funeral directors, Tubman Funeral Homes, with its exceptional team, remains a great option for funeral services.
Almost 100 years in service
Licensed by BAO
An array of services
Professional funeral planners and grief experts
Online memorials
Certified therapy dog
Some services can be pricey
Competency issues of some funeral directors
Customer Reviews
Happy with all of the support
"Every contact we had with the people here was a good and positive one. Teri Boda, our funeral director, was very professional . She was also able to put us at ease and really tuned in to what our style of memorial service could be. I'm very happy with all of the support we received. I highly appreciate and recommend the services of this company." — Tchelaone, Google Reviews
Extremely professional
"My mother recently passed away and had prepaid for her funeral at Tubman. All of the staff was extremely professional and we really appreciated the fact that they made a difficult time as easy as possible." — PR, Google Reviews
4. Capital Funeral Home & Cemetery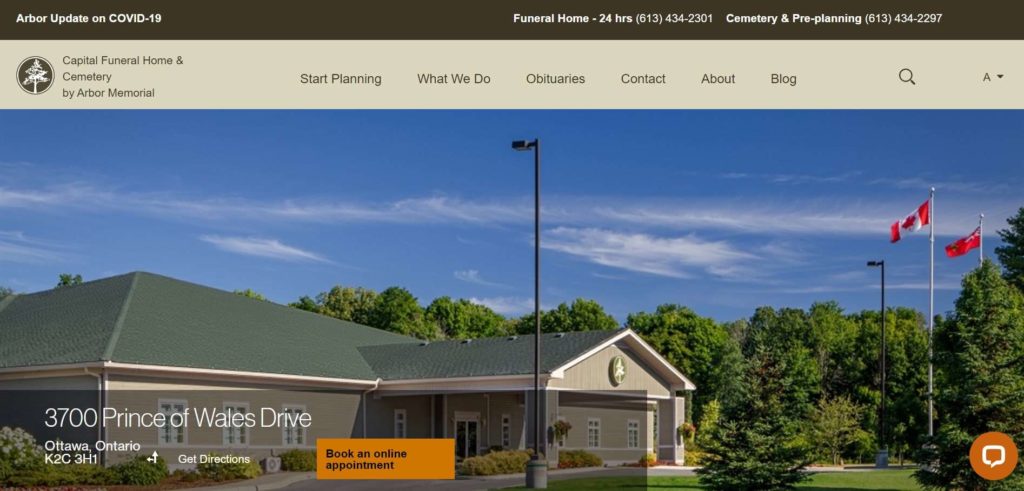 | Test | Info |
| --- | --- |
| SERVICES | Funeral, Cemetery, Cremation, Insurance, Obituaries, Send-off, Pre-Planning |
| WEBSITE | https://www.arbormemorial.ca/en/capital |
| ADDRESS | 3700 Prince of Wales Dr, Nepean, ON K2C 3H2, Canada |
| CONTACT DETAILS | +1 613-692-1211 |
| OPERATING HOURS | Open 24 hours |
| | |
| --- | --- |
| Criteria | Ratings |
| Services | ★★★★★ (5/5) |
| Availability | ★★★★★ (5/5) |
| Price | ★★★★★ (5/5) |
| Customer feedback | ★★★★✩ (4/5) |
One of the reasons we included Capital Funeral Home & Cemetery on this list is that it is licensed by the Bereavement Authority of Ontario (BAO). Having both a funeral home and cemetery in one location is another.
With everything you'll need in one place, the planning process becomes a lot easier with this company. It also allows families and guests to have more quality time to connect during difficult times.
A member of the Arbor Memorial family, it offers customized ceremonies and receptions with the help of specialists.
These knowledgeable members will provide available options and information to help you make more concrete decisions.
Among the services it offers today include funeral and cremation services. Alongside these services are a chapel with seating for 225 guests and a reception space, which can accommodate 300 people.
Above all, we appreciate its compassionate professionals, who are always ready to help you plan or arrange things when the need arises.
We appreciate that the people of Capital Funeral Home & Cemetery make difficult times lighter.
Although some things might get disorganized at times and services could cling to the pricier end, we still trust in its capacity to make things a lot easier for everyone.
Various services offered
Licensed by BAO
Funeral home and cemetery in one location
Personalized services
Spacious facilities
Things can get disorganized at times
Some services can be expensive
Customer Reviews
Second to none
"My husband passed away in July of 2021 and the service and all arrangements were looked after by Capital Funeral Home & Cemetery. I have to say the funeral arrangements were second to none. The funeral director was compassionate and extremely caring and patient throughout the entire time. All staff worked hard to make guests feel comfortable and see that the little things were taken care of. The reception was the best I have ever experienced. It was a sit down meal in the garden and beautifully done. All that attended had positive comments. I would highly recommend her on the cemetery side of the business." — Linda Willson, Google Reviews
A very pleasant experience
"While making arrangements for my wife's funeral I found the staff at Capital Funeral Home to be very respectful, understanding and helpful. Kudos to Mike Campeau for all his help without overselling other options. He made a difficult time more manageable and comfortable. When it came time for the internment he was there to make sure everything went well. A very pleasant experience under the circumstances.." — Ray Tyson, Google Reviews
5. McEvoy-Shields Funeral Home & Chapel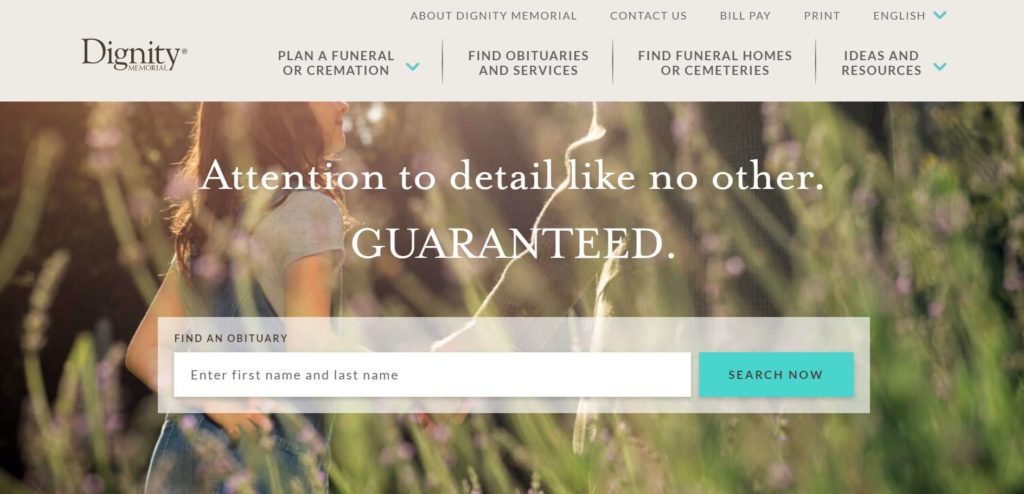 | Test | Info |
| --- | --- |
| SERVICES | Funeral, Cremation, Pre-Planning, Obituaries, Merchandise, Funeral and Cremation Packages |
| WEBSITE | https://www.dignitymemorial.com/ |
| ADDRESS | 1411 Hunt Club Rd, Ottawa, ON K1V 1A6, Canada |
| CONTACT DETAILS | +1 613-737-7900 |
| OPERATING HOURS | Open 24 hours |
| | |
| --- | --- |
| Criteria | Ratings |
| Services | ★★★★★ (5/5) |
| Availability | ★★★★★ (5/5) |
| Price | ★★★★✩ (4/5) |
| Customer feedback | ★★★★✩ (4/5) |
Established in 1925, McEvoy-Shields Funeral Home & Chapel has grown to be one of the best options for funeral service needs.
Licensed by the Bereavement Authority of Ontario, it has become an important part of the community for over 90 years.
It provides a full range of funeral, memorial, and cremation services, and caters to all people with varying faiths.
There are funeral and cremation packages too, although they cling to the pricier end.
We like that its experienced and dedicated staff strives to create meaningful tributes to individuals who meant so much to families and friends.
We also appreciate its unwavering promise to make every request and wish happen.
With great attention to detail, it can deliver things the way they should be, along with a 100% service guarantee you can depend on.
Because of its strong commitment to respect, integrity, service excellence, and enduring relationships, it has been awarded the J.D. Power President's Award in 2016.
J.D. Power, by the way, is known for its benchmark studies and designates awards for the highest-performing companies.
Overall, we like McEvoy-Shields Funeral Home & Chapel because of its caring staff and competitive services.
Some staff members, however, might need to be more careful with pre-planned services to avoid misunderstandings that sometimes occur.
A decent array of services
Years of experience
Licensed by BAO
Experienced and dedicated staff
J.D. Power President's Award
Some issues with pre-planned services
Services can be pricier
Customer Reviews
Truly heartwarming
"The Celebration of Life service with McEvoy-Shields was truly heartwarming. Taylor Alexander, our funeral director showed compassion during this difficult time and did everything to ensure we were comfortable and happy with the arrangements. We received many compliments from family and friends of how beautiful the service was. I highly recommend McEvoy-Shields." — Michelle Lester, Google Reviews
Very kind and patient
"The staff at McEvoy-Shields were very kind and patient, especially our funeral director, Chelan. She worked hard to ensure our experience was comforting and personal. The tribute video and personalized guest book are exceptional. Thank you for taking care of our needs during this difficult moment." — Anne-Marie Revie, Google Reviews
FAQs about Funerals
---
We hope that this list of funeral services has served its purpose.
Thinking of preparing better for future funeral expenses? This article on the best life insurance companies in Ottawa might just work for you!