The 5 Best Places to Get Ceramic Braces in Ottawa
It must be overwhelming to find out that you need to wear braces for a long time just to straighten your teeth.
Luckily there are ceramic braces available that are less visible compared to metal braces.
In this article, we'll be talking about the best places in Ottawa to get ceramic braces.
How much do ceramic braces cost in Ottawa?
Ceramic braces are an investment because you'll be using them for a long time. For that reason, they are quite expensive. The usual cost is around $4,000 to $8,000.
The table below should give you a better idea of how much you'll have to spend on ceramic braces.
| Service | Average Cost |
| --- | --- |
| Clear Ceramic Braces | $4000 |
| Colored Ceramic BracesColored Ceramic Braces | $4500 - $8000 |
| Ceramic Braces Cleaning | $100 - $200 |
| Ceramic Braces Repair | $500 |
The Best Places to Get Ceramic Braces in Ottawa
Wearing braces is difficult and most people take time to get used to it. To make things easier for you, we looked for the best of the best clinics to have them installed and maintained.

We based our list on the following criteria:
1. Invisible Braces in Ottawa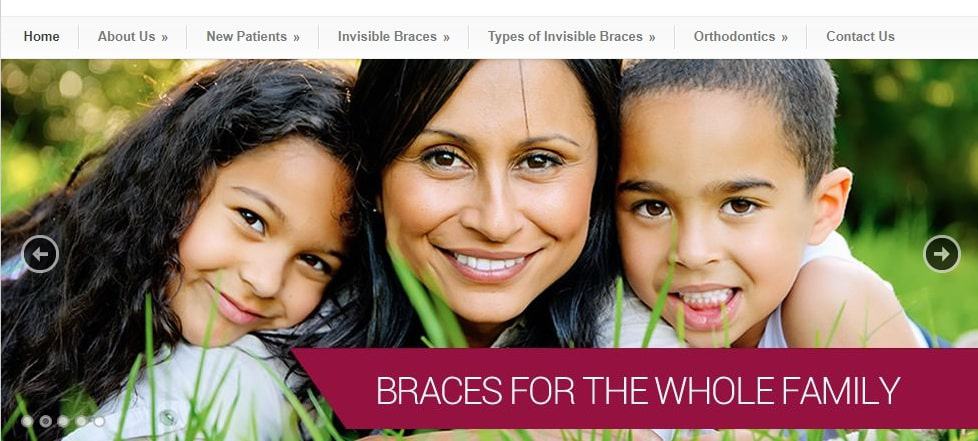 Test
Info
SERVICES
Ceramic Braces, Invisible Braces, Inside Braces, Clear Aligners
WEBSITE
https://invisiblebracesinottawa.com/
ADDRESS
175 Holland Ave, Ottawa, ON K1Y 0Y2, Canada
CONTACT DETAILS
613-722-0640
OPERATING HOURS
Monday 7AM–3:30PM

Tuesday 8AM–4:30PM

Wednesday 8AM–4:30PM

Thursday 8AM–4:30PM

Friday Closed

Saturday Closed

Sunday Closed
| | |
| --- | --- |
| Criteria | Ratings |
| Rates | ★★★★(4/5) |
| Variety | ★★★★ (4/5) |
| Accreditation | ★★★★★(5/5) |
| Location | ★★★★★(5/5) |
Invisible Braces in Ottawa is a great place to get your ceramic braces. The clinic has a wide selection and can help you find the right one for your needs.
The clinic's staff uses 3D technology to get a better measurement of your teeth, which is great because it helps them find the brace that will best suit your needs.
The clinic has also partnered up with a well-known braces company, Invisalign, to provide selections of clear and ceramic braces to its clients.
Invisalign specializes in making ceramic braces that are sturdy yet clear enough not to be noticed too much.
Invisible Braces in Ottawa also offers financing options with no interest. You can pay for your treatment in easy installments over a period of six months to three years depending on your needs.
You can also book a free consultation with one of the clinic's experts to help you decide which type of braces is right for you.
The only issue is that if you do decide to pay, there's a strict pre-procedure payment system. You have to make a downpayment before the brace measurement is done.
The services are also pricey and may be a problem for those under a strict budget.
Overall, with the great options for ceramic braces and the 3D technology for measuring the teeth, we still think this clinic is one of the best picks in Ottawa.
Good variety of braces available
Has braces for young children
3D scanning technology
Offers financing options
Strict pre-payment system
Pricey
Customer Reviews
No pain
"There was no pain when I got my braces on, the staff was really nice and You get free gifts if you keep your braces clean." – Oli Lyons
Very comfortable
"I am a patient here, I've had braces for nearly a year and they have done an amazing job! My teeth have drastically changed for the better! In this short time my Teeth have become pretty straight, canines have been put into the proper place as well! They try their best to make it as comfortable as possible. : – Mimi O
2. Braces Ottawa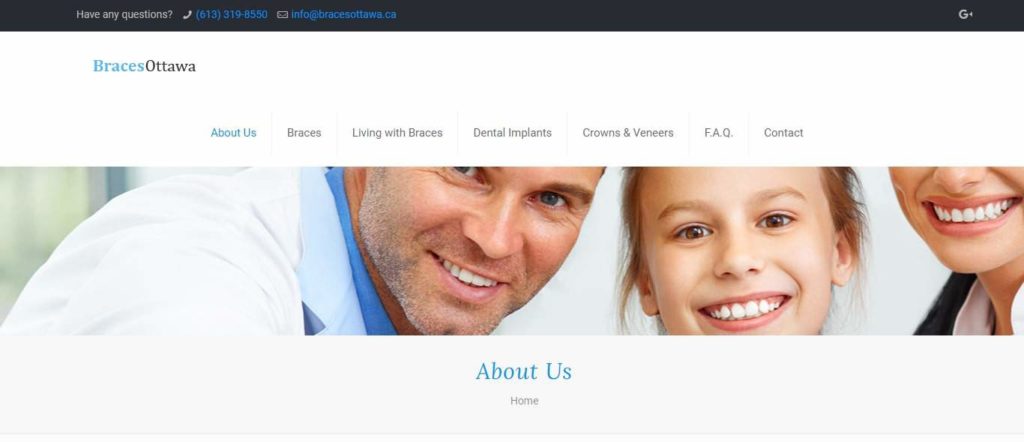 Test
Info
SERVICES
Ceramic Braces, Clear Braces, Metal Braces, Dental Services
WEBSITE
https://bracesottawa.ca/
ADDRESS
381 Kent St #508b, Ottawa, ON K2P 2A8, Canada
CONTACT DETAILS
613-319-8550
OPERATING HOURS
Monday 7AM–4PM

Tuesday 7AM–4PM

Wednesday 7AM–4PM

Thursday 7AM–4PM

Friday 7AM–4PM

Saturday Closed

Sunday Closed
| | |
| --- | --- |
| Criteria | Ratings |
| Rates | ★★★★(4/5) |
| Variety | ★★★★ (4/5) |
| Accreditation | ★★★★★(5/5) |
| Location | ★★★★★(5/5) |
Braces Ottawa offers a variety of braces, from the classic metal ones to the more high-end Clarity Advanced braces.
Metal braces are heavier and can easily be seen, which results in many children not wanting them. They are also more uncomfortable to wear due to their movement being very rigid.
Hence, ceramic options are often more ideal. For ceramic braces, Braces Ottawa offers two kinds: ordinary ceramic and Clarity Advanced.
Clarity Advanced braces are 3 times more invisible than ordinary ceramic braces. They are also lighter and help with movement because of the "spring clip" technology they offer.
This unique type of braces is what makes Braces Ottawa a special place. It also offers dental services but focuses more on providing the right braces to its patients.
Overall the only issues that clients may find with this clinic are the steep pricing on its products and the fact that it doesn't offer financing options.
To have ceramic braces installed from this clinic, you would need a moderate to high budget, so keep that in mind.
Overall, it's a great clinic for different dental needs. With its cutting-edge solutions, you're sure to find the right options for aligning and improving your teeth.
Has options for adults, teens, and younger children
Also offers dental implants and veneers
Multiple doctors available
Unique Clarity Advanced braces
Can be pricey
No financing options
Customer Reviews
New smile
"Love my new smile. Joanne and her team were amazing from start to finish. I couldn't have imagine such a transformation. I'm very happy." – John Lawson
Great team
"Wonderful team! Friendly and very helpful. I would totally recommend their services." – Ahmed Habbachi
3. Braces Haven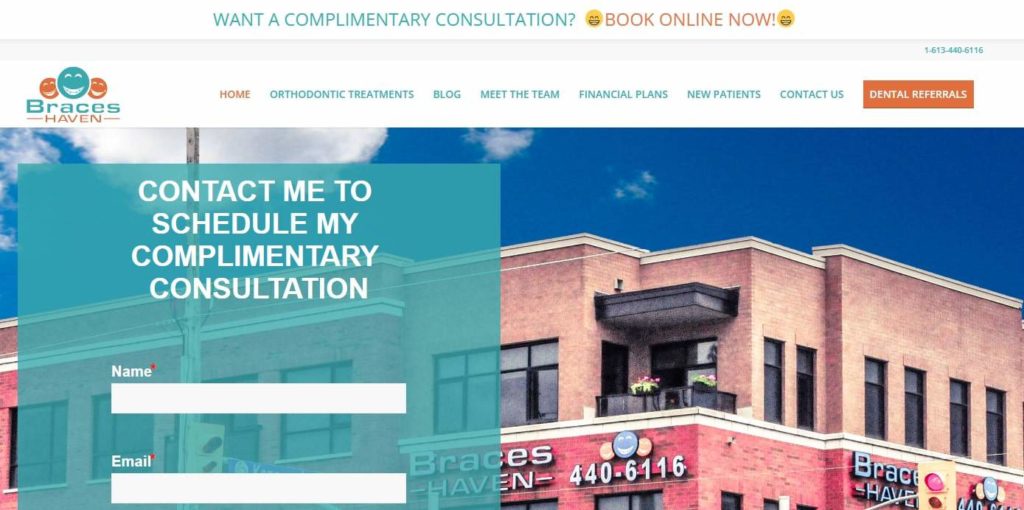 Test
Info
SERVICES
Ceramic Braces, Lingual Braces, Orthodontic Treatments
WEBSITE
https://braceshaven.com/
ADDRESS
240 Kennevale Dr Suite 204, Ottawa, ON K2J 6B6, Canada
CONTACT DETAILS
613-440-6116
OPERATING HOURS
Monday 8AM–5PM

Tuesday 8AM–4PM

Wednesday 9AM–6PM

Thursday 8AM–1PM

Friday 8AM–4PM

Saturday Closed

Sunday Closed
| | |
| --- | --- |
| Criteria | Ratings |
| Rates | ★★★★ (4/5) |
| Variety | ★★★★ (4/5) |
| Accreditation | ★★★★★(5/5) |
| Location | ★★★★(4/5) |
Braces Haven is another good place if you're looking for ceramic braces. The clinic is located at Kennevale Drive and offers a wide selection for its patients.
The ceramic braces here have different color options. Kids who have to wear braces will appreciate this because they can choose fun and unique colors that will make them proud of their braces.
Parents can also opt to buy their children colored ceramic braces to give them a unique feel. It really just depends on what their children will like and what they can afford.
Speaking of what they can afford, we have to mention that the ceramic braces in Braces Haven are quite expensive, ranging from $4000 to $8000.
This is quite a big price to pay, but parents can consider them as an investment because they're usually worn for more than a year and the results will last a lifetime.
If you're still unsure of what kind of braces to get, Braces Haven offers free consultations. This way, the dentists can assess the situation and recommend the best type of braces for you.
The clinic also offers financial plans so potential clients can pay in installments. This is a good alternative to just paying everything all in one go.
The only drawback with this company is the fact that there have been complaints about the admin staff not being responsive. It's also hard to contact the clinic's assigned phone number.
Luckily, it accepts walk-ins, so you may go to the clinic yourself and get a free consultation for yourself or for your children.
Offers free consultation
Also offers financial plans
Special services for new patients
Offers online booking
Some complaints about the admin staff
Difficult to communicate through phone
Customer Reviews
Done right!
"Our daughter is an artist, finding the right orthodontist was very important for us. We were looking for an orthodontist who could give our daughter a perfect smile and bring that confidence in her. Within a few months of her treatment with Dr. Cohen at Braces Haven, Anisha's confidence is at an all time high and she is smiling like she has never before!" – Bobby Gulati
Amazing
"My daughter picked up her retainer today after having her braces removed earlier this week. Dr. Cowan, Sindy and all the staff have been amazing with her since the first day we walked into their office 30 months ago. – D. Auger
4. Hog's Back Dental Centre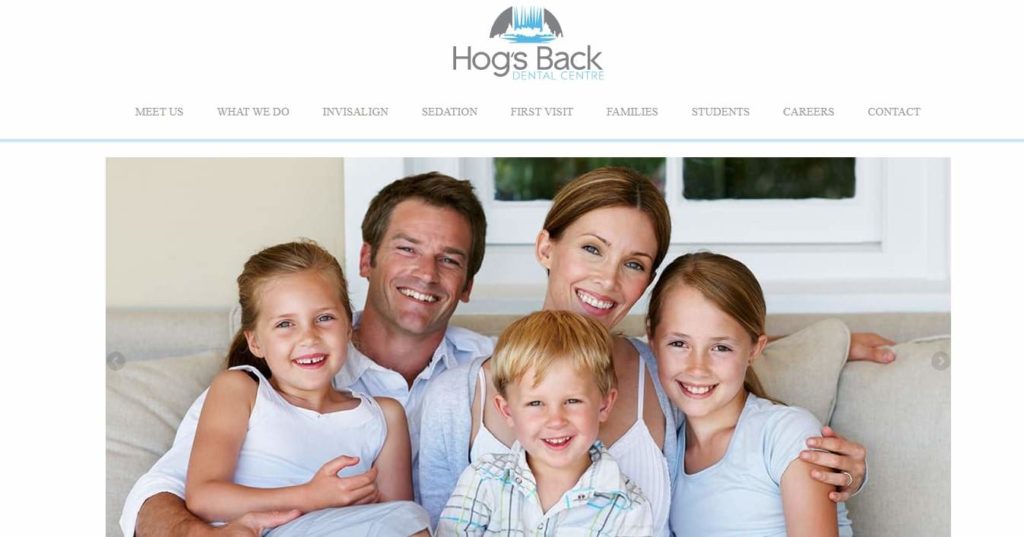 Test
Info
SERVICES
Ceramic Braces, Lingual Braces, Orthodontic Treatments
WEBSITE
https://www.hogsbackdental.ca/
ADDRESS
1390 Prince of Wales Dr, Ottawa, ON K2C 3N6, Canada
CONTACT DETAILS
613-226-2022
OPERATING HOURS
Monday 8AM–4PM

Tuesday 8AM–6PM

Wednesday 8AM–4PM

Thursday 8AM–4PM

Friday 8AM–1PM

Saturday Closed

Sunday Closed
| | |
| --- | --- |
| Criteria | Ratings |
| Rates | ★★★★ (4/5) |
| Variety | ★★★★ (4/5) |
| Accreditation | ★★★★★(5/5) |
| Location | ★★★★★(5/5) |
Hog's Back Dental Centre is a dental clinic located in Prince of Wales Drive. Aside from fixing damage to teeth, the clinic also offers braces.
One of its special products is Invisalign. Invisalign braces are basically ceramic braces that are less noticeable.
These are installed in the patient's teeth using digital scanners, which determine the exact measurement of one's teeth to make sure the fit is comfortable.
Invisalign was made to be as clear as possible without losing the sturdiness of the braces. It can also be removed easily for eating and brushing.
Another good thing with Hog's Back is the variety of braces it has available. If Invisalign is too expensive for you, the clinic also has ordinary ceramic braces and metallic braces.
It also offers specific deals for first-time visits. Students are given discounts, so if you have a child in need of braces, this is a great place to get them.
The clinic offers free consultations, and with the digital imaging technology it has available, the measuring should not take long.
The only shortcoming it has is its pricey services. But overall, with the options it offers and its 40 years of experience, it's definitely a great pick for your ceramic braces needs.
Multiple types of braces available
40 years of experience
Partners with Invisalign
Offers specific deals for first visits
Also offers discounts for students
Free consultation
Digital imaging
Customer Reviews
Outstanding experience
"I had an outstanding experience with Dr. Abraham Levin, he was very patient, honest and kind. I will be retaining him as my general dentist. Thanks a lot!" – Victoria Morita
Easygoing dentists
"I have a horrible fear of dentists but Dr. Levi is very easygoing and puts me at ease as soon as I sit in the chair. The staff is mostly new but professional and knowledgeable. Highly recommend this practice" – Lynn Spicer.
5. Ottawa West Orthodontics

Test
Info
SERVICES
Ceramic braces, Invisalign, Palatal Expander, Herbst Appliance, Carriere Motion Appliance, Forsus appliance
WEBSITE
http://www.ottawawestorthodontics.com/
ADDRESS
1800 Carling Ave., Ottawa, ON K2A 1E2
CONTACT DETAILS
613-820-2660
OPERATING HOURS
Monday 8AM–5PM

Tuesday 8AM–5PM

Wednesday 8AM–5PM

Thursday 8AM–5PM

Friday Closed

Saturday Closed

Sunday Closed
| | |
| --- | --- |
| Criteria | Ratings |
| Rates | ★★★★ (4/5) |
| Variety | ★★★★★(5/5) |
| Accreditation | ★★★★(4/5) |
| Location | ★★★★★(5/5) |
Back in 2021, Ottawa West Orthodontics was voted the top choice for orthodontic clinics in Ottawa. It offers multiple services such as braces, palatal expanders, and other dental treatments.
Ceramic braces are the best choice for people who don't want to be seen wearing braces. Unfortunately, they are much more fragile compared to metallic braces.
This is why Ottawa West offers the alternative Invisalign braces. These are essentially ceramic braces that are stronger.
They are also more comfortable to wear because they are installed using digital software that measures the patient's teeth as well as their bite pattern.
Ottawa West also offers ceramic braces that are colorful and pleasing to the eyes of children. Those who are scared of getting braces usually prefer this because it reminds them of the toys they play with.
The child-like aesthetic also extends to the clinic's walls. Parents will have an easier time convincing their children to get braces here because the clinic almost looks like a playground.
Sadly, Ottawa West only has one dentist available, so it is usually fully booked. There are also no financing options offered, which is a shame because ceramic braces are expensive.
Overall, if you have the budget and can wait a few days for an appointment, you should have no problem because this clinic is definitely one of Ottawa's best when it comes to ceramic braces.
Offers emergency services
Sells dental kits to take home
Has a child-like aesthetic to comfort scared children
Offers online booking
Only one dentist
No financing options mentioned
Customer Reviews
Good braces even for adults
"Adult braces were a big decision and choosing Ottawa West Orthodontics was the best decision! Dr. Borsuk and her team, from the reception to the hygienists and assistants, are amazing professionals, efficient, kind, and friendly. I can't speak more highly of them. Thank you for making my adult braces journey so much better!" – Joana Alves
Quick services
"Was long overdue for a replacement retainer. I reached out to several orthodontist offices around town and Ottawa West Orthodontics got back super quick, and was able to set up an appointment within the week. Staff were very friendly and professional and made the process so easy! I got my braces done ages ago in another province so assumed getting a replacement retainer out of province would be a hassle." – Gabrielle Bishop
FAQs about Ceramic Braces
---
That finishes our list of the best places to get ceramic braces in Ottawa!
Are you looking for more ways to make your teeth look good? How about teeth whitening? Check out the best teeth whitening services in Ottawa!