The 5 Best Carwash Services in Ottawa
Washing your car not only removes dirt and grime, but it can also help protect the paint job.
Sometimes, however, we don't have the time to wash our cars ourselves — that's where carwash services come in handy!
We will be reviewing the best carwash services in Ottawa so you can find the one that is best suited for you.
How much is a carwash service in Ottawa?
Carwash services in Ottawa usually cost between $20 and $40 for a basic wash and dry. Factors like the size of the car and the type of service you require can affect the price of your car wash.
The table gives an estimate of the average prices for various carwash services in the city. This should help you decide which service to use depending on your needs and budget.
| Service | Average cost |
| --- | --- |
| Automatic Carwash | $10 - $20 |
| Hand Carwash | $20 -$30 |
| Full-Service Carwash | $50 - $130 |
| Self-Service Carwash | $10 - $15 |
The Best Carwash Services in Ottawa
We compiled a list of the top carwash services in Ottawa based on the following standards:
1. Minute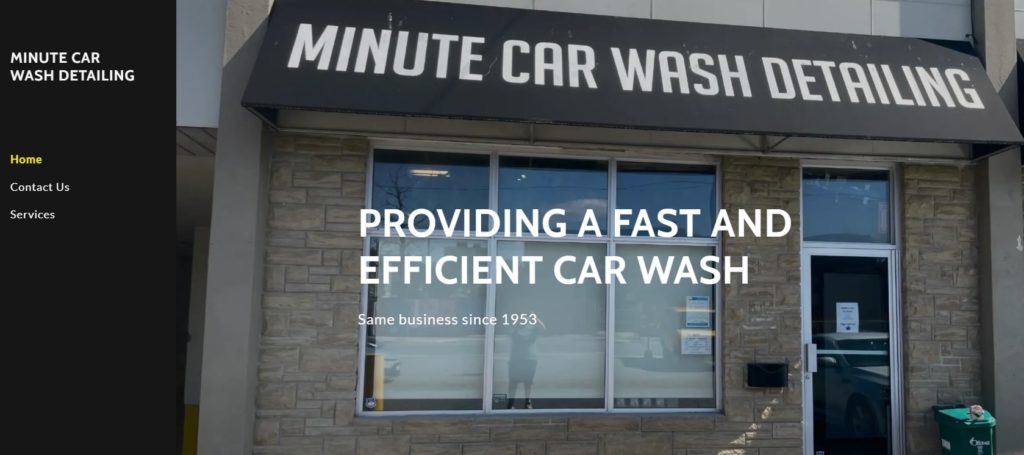 Test
Info
SERVICES

Quick Wash

Detailing

Full Wash

Carpet Shampoo

WEBSITE
https://minute-carwash.com/
ADDRESS
270 Catherine St, Ottawa, ON K1R 5T3, Canada
CONTACT DETAILS

Phone: 613-236-7328

OPERATING HOURS

Monday to Saturday : 8AM–4PM

Sunday : Closed
| | |
| --- | --- |
| Criteria | Ratings |
| Rates | ★★★★★(5/5) |
| Schedule | ★★★★(4/5) |
| Location | ★★★★(4/5) |
| Special Services | ★★★★★(5/5) |
Minute Carwash promises a 100% satisfaction guarantee on all of its services. What makes it excellent is that it's perfect for drivers who are in a rush and just need a quick wash of their vehicle.
Since 1953, this car wash has been providing residents of Ottawa with high-quality washes and detailing services. It is fully staffed with experienced technicians who take pride in their work.
Minute's quick wash takes around 10 minutes and the results are more than satisfactory. Of course, if you need a more thorough service, then the full-service option has you covered.
Carpet shampooing & vacuuming are available as well. The service includes a thorough interior and exterior cleaning – door jams, wheels, trunk, and windows included.
Minute's services are also affordable and include many add-ons to make your experience even more convenient.
Unfortunately, for those with bigger vehicles, not all services may be available as Minute Car Wash is only equipped with two high-speed vacuums and two brushes for medium and small vehicles.
Its area also isn't big enough to fit a lot of cars at once, so sometimes the line can be rather long. To make the most of your time, you can set an early appointment by calling its hotline.
Certified company
Offers detailing
Offers quick wash
Operational since 1953
Customer Reviews
Easy
"I just picked up my vehicle after a drop-in visit this morning and I am very impressed with the detailing work that was done. There were four people working on the vehicle and it is clear that all have pride in their work because the vehicle looks fantastic! Thank you so much for your time-efficient and thorough detailing." – Barry Armstrong
Professional and friendly
"Amazingly professional and friendly service. Those ladies really take pride in their work. My car has never been this clean, and we keep coming back, even after we have moved from the area. This place is well worth the trip!" – Elena C.
2. Crystal Carwash

Test
Info
SERVICES

Carwash

Carpet Shampoo

Waxing

Brak Dust Removal

Engine Shampoo

WEBSITE
https://www.crystalcarwash.ca/
ADDRESS
320 Queen St, Ottawa, ON K1R 5A3, Canada
CONTACT DETAILS

Phone: 613-232-8585

OPERATING HOURS

Monday to Friday : 8AM–5PM

Saturday : 9AM–5PM

Sunday : Closed
| | |
| --- | --- |
| Criteria | Ratings |
| Rates | ★★★★(4/5) |
| Schedule | ★★★★ (4/5) |
| Location | ★★★★★(5/5) |
| Special Services | ★★★★★(5/5) |
Crystal Carwash provides multiple carwash services that are perfect for your needs. It has a wide range of services, including a full-service carwash, express wash, and detailed wash.
Its location is also quite large and can fit a lot of cars at one time, making it one of the more popular carwashes in the city. Located on Queen Street, the car wash is easily accessible to anyone in the area.
Its premium detailing services are also highly sought-after by car owners who want their cars to look as good as new. Micro-scratches and stains can be fixed to ensure that your car will look spotless when you get it back from the car wash.
Carpet vacuuming services are also available to help remove dirt and dust from your car's carpets. There are packaged services for you to choose from that can suit your needs and budget.
Crystal has a winter special that you can take advantage of if you want your car to be cleaned on a budget. It includes a complete interior and exterior car wash, as well as a top-up of fluids for a fraction of the price you would normally pay.
The only drawback is the steep pricing of the individual services. But if you're looking for an all-in-one service that will get your car looking shiny and clean, Crystal Carwash is an excellent choice.
Multiple services available
Packaged services
Auto detailing
Winter special
Wax protection
Customer Reviews
Strongly recommend
"I absolutely loved the work they did. I have never had a car detailed so well and they spent hours on it. Three guys!! Strongly recommend." – Jennifer Ford
Excellent
"Very happy with the thorough service at Crystal Car Wash! They fit me in last minute and had the car ready within a few hours. It was super convenient to be able to drop off the car while I had a meeting downtown. Highly recommend!" – Marcie
3. Tops Car Wash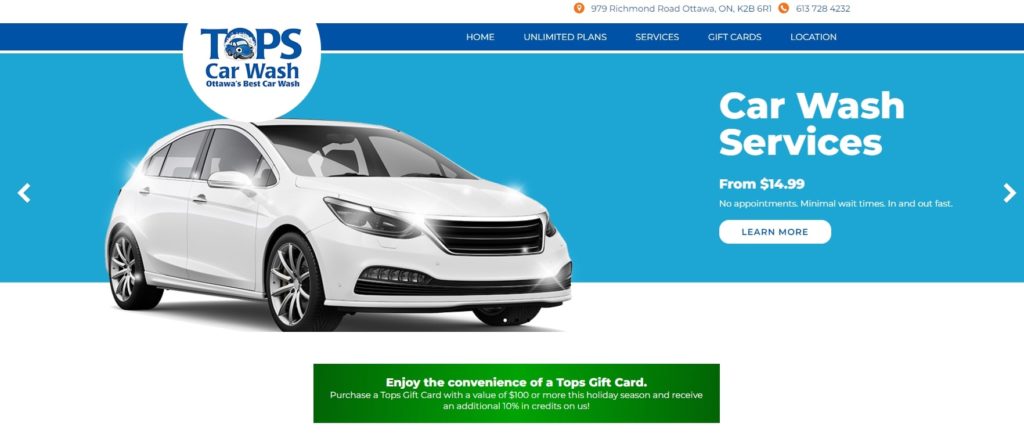 Test
Info
SERVICES

Car Wars

Express Wash In 'n Out

Express Detail

Interior Detail

Waxing

WEBSITE
https://topscarwash.com/
ADDRESS
979 Richmond Rd, Ottawa, ON K2B 6R1, Canada
CONTACT DETAILS

Phone: 613-728-4232

OPERATING HOURS

Monday to Saturday : 8AM–5PM

Sunday : Closed
| | |
| --- | --- |
| Criteria | Ratings |
| Rates | ★★★★★ (5/5) |
| Schedule | ★★★★ (4/5) |
| Location | ★★★★(4/5) |
| Special Services | ★★★★(4/5) |
Tops Car Wash specializes in detailed washing services. For car enthusiasts who like to keep their vehicles looking their best, it is the perfect option.
Among the services it offers are express interior and exterior washing, express detailing, interior detailing, and waxing. Quick wash is also available for those in a hurry!
Its locations provide automatic washing for those who don't want to get out of their car and just want a quick service.
Because most of its customers are enthusiasts, Tops offers monthly plans which allow customers to prepay for a certain number of washes per month.
This is great for people who are often too busy to wash their vehicles themselves but want to maintain the appearance of their cars at all times.
It accepts gift cards and offers loyalty discounts to customers who buy wash packages regularly.
Additionally, it has multiple locations, so customers can choose the one that's most convenient for them.
Carpet shampooing and vacuuming are included at no extra cost with the service, as is window cleaning at no additional charge.
However, even without the additional charge, the pricing of Tops can be steep, so make sure you have the right budget before visiting one of its many locations.
Detailing services
Unlimited wash membership
Accepts gift cards
Multiple locations
Customer Reviews
Quick services
"Considering how quick they do it, it's pretty acceptable to have a few spots that aren't necessarily sparkling clean." – Saeed Torbati
Good as new
"I've been impressed every time, I even upgraded to the "fast pass" for unlimited service even though I don't live close enough to use it often. We did some outdoor projects this summer and each time I would get dirt or sand over my trunk – took my car to tops weekly and it was good as new again." – Carley Denison
4. Suds Carwash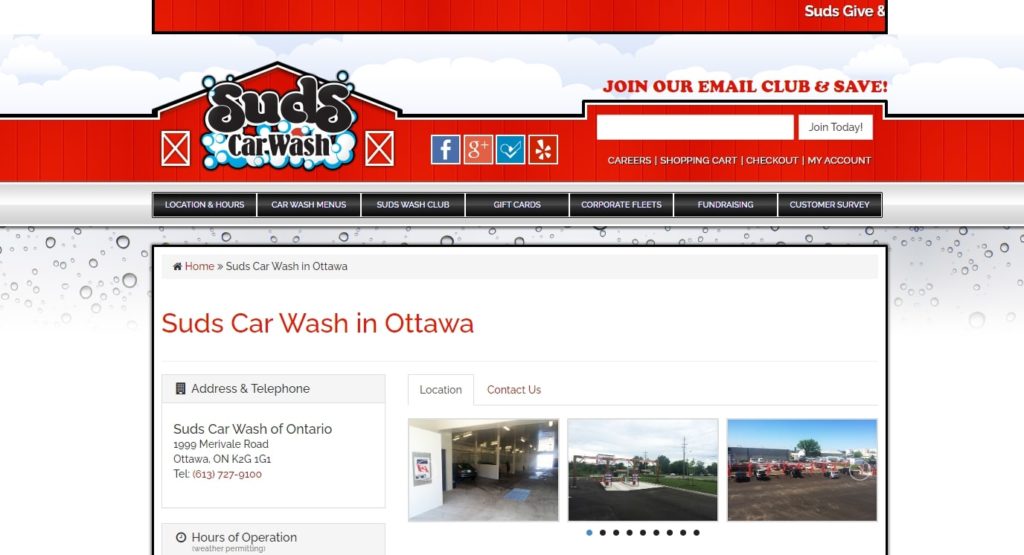 Test
Info
SERVICES

Car Wash

Self Service Car Wash

Vacuum

Tunnel Car Wash

WEBSITE
https://www.sudscarwash.ca/
ADDRESS
1999 Merivale Rd, Nepean, ON K2G 1G1, Canada
CONTACT DETAILS

Phone: 613-727-9100

OPERATING HOURS

Monday to Sunday : 7AM–9PM
| | |
| --- | --- |
| Criteria | Ratings |
| Rates | ★★★★ (4/5) |
| Schedule | ★★★★★(5/5) |
| Location | ★★★★★(5/5) |
| Special Services | ★★★★(4/5) |
Suds is a reliable carwash that provides multiple services like vacuuming, carpet washing, tunnel car wash, and more. It also offers a variety of packages to choose from, so you can find the perfect service for your needs.
Open every day from 7 AM to 9 PM, Suds is the perfect spot to get your car washed whenever you need it.
In addition to providing professional and reliable services, it also prides itself on offering competitive prices so you can get a great deal without breaking the bank.
Tire shining is also offered on-site at Suds. If you want your tires to shine and look as good as new, this service is just what you need.
What makes it unique is its 48-hour re-wash guarantee. If your car gets dirty again within 48 hours, you get a discounted second wash.
When it comes to carpet shampooing services, Suds uses a triple foam conditioner that cleans deeply and leaves your carpets looking brand new.
It also employs steam to remove stains and get deep into the fibers of the carpet, eliminating dirt and grime.
The only thing we're iffy about is the company's machine washing services, which can
sometimes glitch. But overall, we recommend Suds for its high-quality services.
48-hour discounted re-wash
Tire shining
Triple foam conditioner
Waxing services and vacuuming
Great equipment
Machine washing can sometimes glitch
Customer Reviews
Great equipment
"Suds had good prices, equipment is in good condition, and I always find the staff very helpful. I love washing my own vehicles from time to time to get them really clean, and suds is such a cool place to do it. As a bonus, if you love cool cars there are always a few in the parking lot!" – Will Mowat
The right place
"This is the right place for anyone who likes to wash their vehicles themselves. Enough room to move around, very good equipments, good lights at night time, amd overall a clean place. Prices are great and they also have discounted prices for night owls as of this post." – Ammer Baitalmal
5. Magic Car Wash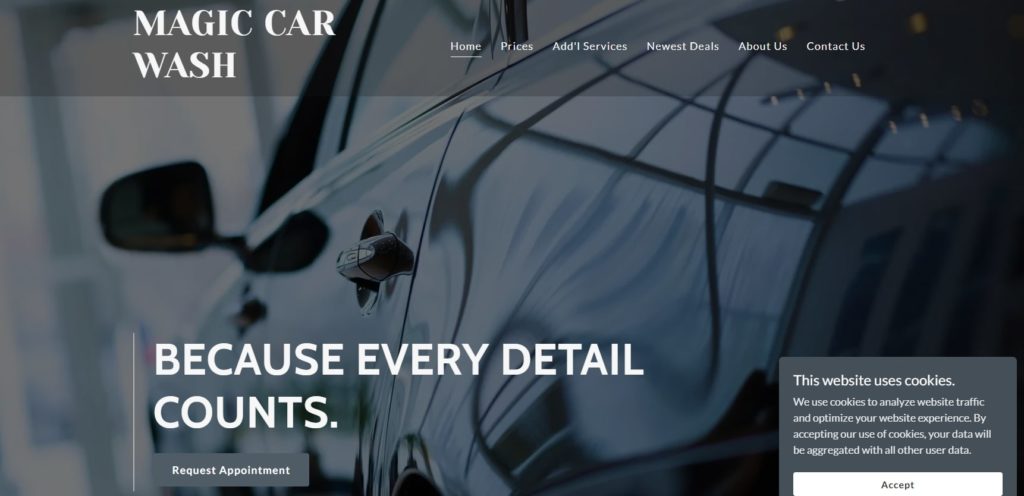 Test
Info
SERVICES

Carwash

Waxing

Tire Changing

Tire Cleaning

Dent Removal

Touch Up Paint

Scratch Removal

Waxing

Headlight Restoration

WEBSITE
https://magiccarwash.ca/
ADDRESS
350 Albert St, Ottawa, ON K1R 1A4, Canada
CONTACT DETAILS

Phone: 613-230-8585

OPERATING HOURS

Monday to Friday : 7AM–5PM

Saturday : 9AM–4PM

Sunday : Closed
| | |
| --- | --- |
| Criteria | Ratings |
| Rates | ★★★★ (4/5) |
| Schedule | ★★★★★(5/5) |
| Location | ★★★★(4/5) |
| Special Services | ★★★★★(5/5) |
Magic is an impressive car washing service located on Albert Street. It's an excellent option for luxury cars and their owners, with a wide range of services to meet their every need.
Each staff member of Magic has over 10 years of experience in the auto detailing industry. They can provide everything from full exterior wash to minor touch-ups to correct any damage that may have been done.
Aside from car wash services, the technicians also offer minor pain job fixes to make your car look its best. This is especially useful if you have scratches from parking on the street or a minor fender-bender.
The services can also be packaged to meet your specific needs.
The premium services that Magic offers are what make it stand out from the crowd but they also make it one of the more expensive options on the market.
Luckily, there are seasonal gift certificates and discounts that customers can avail of so they can still save a little when getting their cars cleaned with this company.
With its top-notch customer service and the variety of services it offers, Magic is definitely a decent choice for those looking for a car cleaning service in Ottawa.
Premium services
Packaged services
Partnerships with notable companies
Seasonal gift certificates
Also offers repair services
Customer Reviews
Friendly services
"Brought both my cars in that hadn't been detailed since I bought the cars nearly 4 years ago. They were able to remove all the dog hair, mud stains and salt stains throughout the whole car. Very friendly service! I will be going back again in the near future." – Nick H.
Absolutely recommended
"I come here rather frequently. Mourad delivers amazing service and my car is always pristine. He goes over and above for customer service. I absolutely recommend Magic Car Wash!" – Alexis M.
FAQs about Carwash Services
---
And that's it for the best carwash services in Ottawa. You may also be interested in the best jump-start car services in Ottawa.