The 5 Best Carpet Stores in Ottawa
Who doesn't love a warm, cozy carpet at home? Having good ones installed comes with multiple practical benefits.
Carpets provide warmth, comfort, and even soundproofing. Plus, they add a cozy style to your interiors too.
We listed the best carpet stores in Ottawa so you can check out which ones will best suit your home needs.
How much does carpet installations cost in Ottawa?
Though carpet floorings can have a lot of benefits, they also come at a price too. It helps to have an idea of how much you would be spending if you want to have them in your home.
Carpet floors are very much highly recommended for the upper floors of your homes to help with insulation and soundproofing. That's why it's also ideal for apartments and condominium units.
Depending on the floor area to be covered, carpet installations can take $1,700 to $20,000. This is considering different factors such as labor, supplies, and materials.
Though leaning on the more expensive side, carpets are definitely worth the investment. They actually increase the value of your home, should you decide to put it up on sale someday too.
Here's a rough estimate of costs based on a 1,200 Square Feet floor area:
| ITEM | FAIR PRICE |
| --- | --- |
| Carpet Cost | $2,730.80 per 1,200 square feet |
| Carpet Labor | $1,225.28 for 20 hours |
| Carpet Job Materials and Supplies | $292.14 per 1,200 square feet |
| Carpet Equipment Allowance | $36.33 |
| Total Cost to Install Carpeting | $4,284.55 |
| Average Cost Per Square Foot | $3.57 |
Things to Consider When Choosing Where to Buy Carpets
Carpets not only make your floors comfortable to walk on, they also make them extra warm during the winter season.
They're also best for families with kids. The extra padding makes it a little safer for little tots to run and tumble on.
With the many benefits that come from having carpets installed in your homes, it's always worth noting the factors that you should consider when looking for one.
More often than not, good carpet floorings depend on the quality and services offered by the stores you'll get them from.
Here, we looked into the things you need to consider when contacting stores for carpet installation.
We hope that our recommendations will help you in deciding where to get carpets that will suit your home and lifestyle the most!
1. End Of The Roll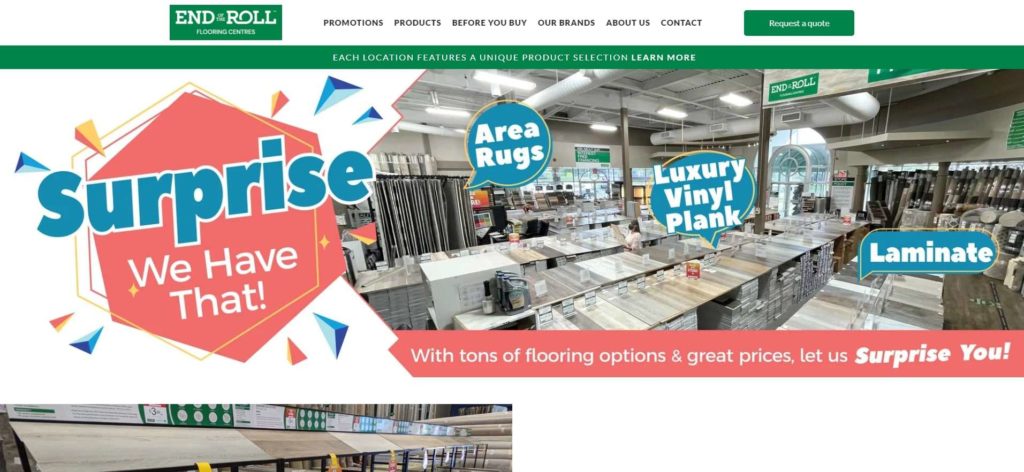 Test
Info
WEBSITE:
https://www.endoftheroll.com/ottawa-on
ADDRESS:

Laurent:

1760 St. Laurent Blvd., Ottawa




Bentley:

92 Bentley Ave., Ottawa

CONTACT DETAILS:
Laurent: (613) 738-9669

Bentley: (613) 224-9119

OPERATING HOURS:

Laurent:

Monday to Friday: 9 am to 6 pm

Saturday: 10 am to 5 pm

Sunday: 11 am to 4 pm




Bentley:

Monday to Friday: 9 am to 6 pm

Saturday: 9 am to 5 pm

Sunday: 11 am to 4 pm
| | |
| --- | --- |
| Quality of carpets | ★★★★☆ (4/5) |
| Variety of styles | ★★★★★ (5/5) |
| Installation and other services | ★★★★☆ (4/5) |
| Value for your money | ★★★★☆ (4/5) |
As their witty store name implies, they will guide you until the end of the carpet installation process. Starting from carpet selection, they will follow through to make sure your carpet is snug in place.
End Of The Roll boasts an extensive selection of carpet and flooring. Their staff really know what's the deal when it comes to carpets and will discuss them with you in great detail.
They're very keen on how their floorings will fit your home aesthetically and will even provide color matching services. They offer small swatches that you can take home to help you visualize how things would look.
This kind of customer assistance is very valuable when making decisions and selecting the right carpet that will suit your home.
Unfortunately, they don't have an in-house team of installers. What they do have is a long list of reputable independent installers that they have partnered with.
Their flooring advisor will be happy to make arrangements for you while keeping in mind your requirements and budget.
Otherwise, if you wish to install the carpet on your own, they will provide you with detailed instructions on what to do.
A good feature that you can find on their website is their flooring calculator. This helps you to determine or at least have a good estimate of the costs that you need to prepare.
You may also check the product list of the store near you. Just fill out a form with the details they need, and they will send you a quote.
Products may vary from branch to branch though, so don't always expect to see the same items in their Laurent and Bentley branches.
Both branches are open all seven days of the week, so you can visit their stores on any day.
All in all, their knowledge and expertise make them a cut above other carpet stores in Ottawa.
Extensive carpet options and choices
Very knowledgeable flooring advisors
Provides aesthetic and technical consultations
Can make arrangements for third-party installers
They have two active branches in Ottawa
Open all days of the week
No in-house team of installers
Their branches are independently owned, so products may vary from branch to branch
Customer Reviews
Top-notch Carpeting
My mother and I entered the store on Sunday afternoon in search of some carpeting for our stairwell. We were pleasantly surprised to have been greeted by my former colleague from a different industry Jonathan Morrison. It wasn't long before Jonathan manifested his expertise in his newly chosen industry. He very capably explained the differences between the different kinds of carpets which allowed us to make the right choice at the right price. Installation was completed only two days later and we could not be happier with the results! The installation people were fantastic and the experience we had from the beginning to the end was top notch. If you are looking for carpeting I strongly recommend that you go see Jonathan Morrison on at End of the Roll on St. Laurent Blvd. – Steve Dumas
Great Hassle-Free Service
I was referred to here from a colleague after discussing at work how every rug I've been looking at is expensive and feels overpriced, he mentioned this company and how great the prices are. that evening I went over to the business to see and I found a carpet I really liked at great price but my time was limited. They got me all wrapped up in a great amount of time with great service based on my needs. Save yourself the hassle and go here You will thank me later. – Sam Lalonde
2. Alexanian Carpet & Flooring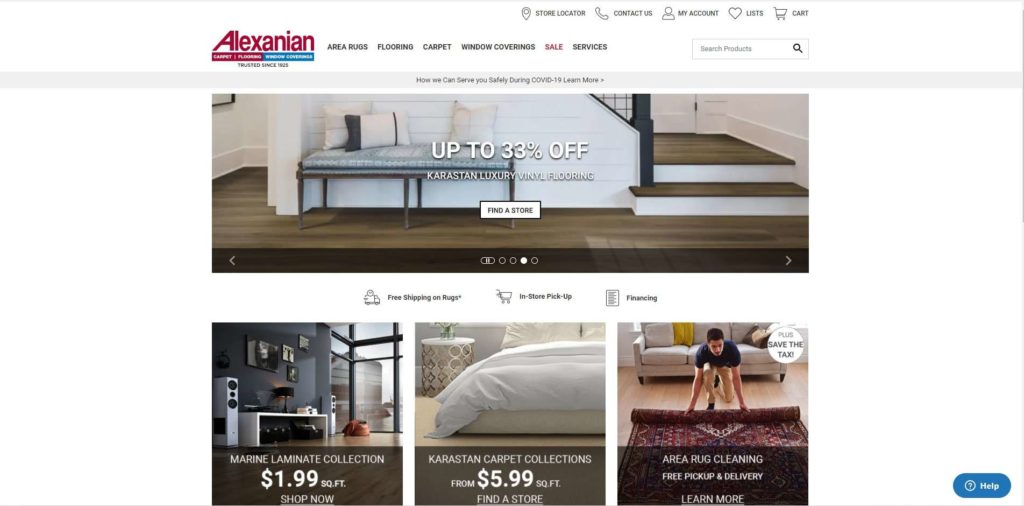 Test
Info
WEBSITE:
https://www.alexanian.com/
ADDRESS:

Ottawa East:

740 Industrial Ave. Ottawa




Ottawa Centre:

1547 Merivale Road, Ottawa




Ottawa West:

420 Hazeldean Rd. Unit 1, Ottawa

CONTACT DETAILS:

Ottawa East:

(613) 739-1790




Ottawa Centre:

(613) 225-1506




Ottawa West:

(613) 831-0230

OPERATING HOURS:

Ottawa East:

Monday to Wednesday: 9 am to 6 pm

Thursday to Friday: 9 am to 8 pm

Saturday: 9 am to 5 pm

Sunday: 11 am to 4 pm




Ottawa Centre:

Monday to Wednesday: 9 am to 6 pm

Thursday to Friday: 9 am to 7 pm

Saturday: 9 am to 5 pm

Sunday: 11 am to 4 pm




Ottawa West:

Monday to Wednesday: 9 am to 6 pm

Thursday to Friday: 9 am to 7 pm

Saturday: 9 am to 5 pm

Sunday: 11 am to 4 pm
| | |
| --- | --- |
| Quality of carpets | ★★★★☆ (4/5) |
| Variety of styles | ★★★★★ (5/5) |
| Installation and other services | ★★★★★ (5/5) |
| Value for your money | ★★★★☆ (4/5) |
Alexanian Carpet & Flooring is a family-owned business that's been up and running across different branches in Canada. They have three stores that you can visit in Ottawa.
One advantage they have over other shops is they truly are a specialty shop for carpets and rugs. They offer a wide range of carpet types, but more importantly, they'll let you know which ones are suited for your specific needs.
They have pet-friendly carpets, which are great options for pet-loving families. Then they also categorize carpets that are better for high traffic areas, shag carpets, and even natural fiber carpets that are more resilient to variable climates.
Their floor advisors understand that getting a carpet can be a big purchase. Thus, they will give you excellent recommendations if you discuss with them what you want and need for your home.
Interestingly enough, they also offer custom rug creations. You may opt to have rugs created based on your specifications or alter their existing ones to fit your needs.
One good thing to point out is that they have their own in-house team of trained and equipped carpet installers. This is a good service to avail because they know their products and the best methods to install them.
Compared to installing carpets on your own, professional carpet installers will make sure your carpets are not just installed properly but also seamlessly integrated into your home's design and aesthetically presentable.
Customers love their service, but they do have a strict return policy. They don't issue refunds if the material has been slightly cut or the packaging is open even if the product is still intact.
They will, however, go out of their way to correct errors if there were any that were done from their end.
Also, what puts them above other competitors is that they also provide maintenance services like carpet cleaning and rug repair. These are great services to keep in mind in the long run.
Remember, though, that carpets and the above-mentioned additional services are limited only within Ontario. You'd definitely miss out on a good carpet service if you're not from the area.
Offers a variety of carpet brands and designs
Provides installation services from their in-house team
Can customize rugs from scratch or preexisting ones
Offers carpet maintenance services like cleaning and repair
They have three active branches in Ottawa
Open all seven days of the week
Carpets, window coverings, and other maintenance services are not available outside of Ontario
Very strict return and refund policies
Some items or brands can be a little more expensive compared to other stores
Customer Reviews
Prompt and Professional
I needed to replace old carpeting in bedrooms and the main floor of house. Ali assistance was much appreciated in helping us to choose both the carpet and flooring. The installation teams for both were prompt and professional. The new carpet and flooring look great. There was one floor board out of line with all the others but they have promised to fix it. We have also ordered a new runner and look forward to its arrival. Thank you to the installation teams and to Ali. – Carol Long
Customers First
Alexanian carpet and flooring provides 'customer first' service. Ottawa store manager Tony was very helpful when an error was made in the ordering of carpet for our stair runner, he did not hesitate to re-order the correct carpet to ensure we were happy with our purchase. He agreed to this change even though it left the store with a stair runner they will probably not be able to sell. This is the type of customer service we don't see anymore, thank you Tony! – Sheilagh McCaskill
3. Cash & Carry Carpet Centre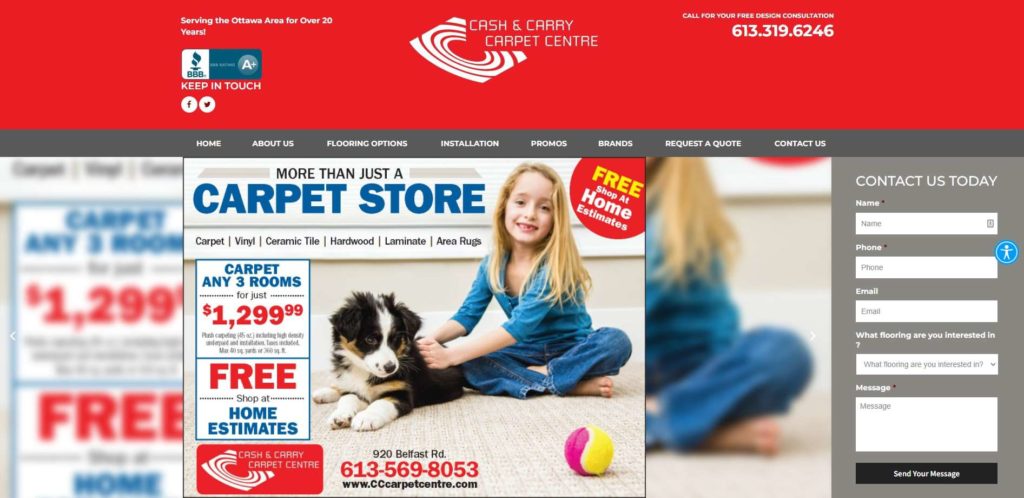 Test
Info
WEBSITE:
https://www.cccarpetcentre.com/
ADDRESS:
920 Belfast Rd, Ottawa
CONTACT DETAILS:
Tel: (613) 319-6246

Fax: (613) 569-8136

OPERATING HOURS:
Monday to Friday: 8:30 am to 5 pm

Saturday: 9 am to 1 pm

Closed on Sundays
| | |
| --- | --- |
| Quality of carpets | ★★★★☆ (4/5) |
| Variety of styles | ★★★★☆ (4/5) |
| Installation and other services | ★★★★☆ (4/5) |
| Value for your money | ★★★★☆ (4/5) |
When you say Cash & Carry Carpet Centre, the store's co-owners, Frank and George, will always come to the mind of their customers.
Customers absolutely love the personal assistance they give. They make sure the installation services they provide are done flawlessly.
However, despite the stellar feedback that the co-owners George and Frank do receive, their in-store staff may tend to be a little unorganized at times.
The good thing is if there are any mishaps along the way, the owners themselves take the time and effort to rectify the situation and make up for it.
The business review organization Better Business Bureau (BBB) has given them an A+ rating for consistent outstanding quality service. Getting a good score from them is a testament to the business's credibility.
To give you an idea of how this scoring system works, getting an A+ BBB rating means you have to have zero or just a few complaints filed against your business and services. They also take into account how you resolve them and satisfy the unhappy customer.
If you are on the lookout for a good carpet, you should give their showroom a visit. They feature an excellent array of branded carpets, vinyl, tiles, and other flooring products.
If you want to have a carpet installed or an old one replaced, they'll be happy to provide you with a free quotation. They consider both your needs and your budget.
They do installations for carpets, floorings, and other products they offer. However, they only offer this service to a limited number of areas, namely Ottawa, Orleans, Kanata, Stittsville, and Gatineau.
A+ BBB Rating
Initiates to amend customer complaints
Features a fantastic showroom on their store
Facilitates carpet and flooring installations through an in-house team of experts
Relatively lower price compared to other competitors
Installation services are limited to only a few areas in Ottawa and Gatineau
Apart from the store owners, their in-store staff may tend to be unorganized
Customer Reviews
Accommodating and Very Professional
Frank was very professional and helpful when selecting our carpet. Absolutely no pressure. He was very mindful that we we trying to coordinate the carpet install with another flooring project and the sale of our home. Frank was very accommodating and worked around our schedule. And…the carpeting looks great! Thank you! – One ManGang
Amazing Results
Awesome experience! We needed our basement stairs carpeted, so we went in and spoke to George. A little more than 24 hours later, the job is done (without breaking the bank), and the result looks amazing. We will definitely be back, and would gladly recommend Cash & Carry! – Richard LeClai
4. Flooring Liquidators Ottawa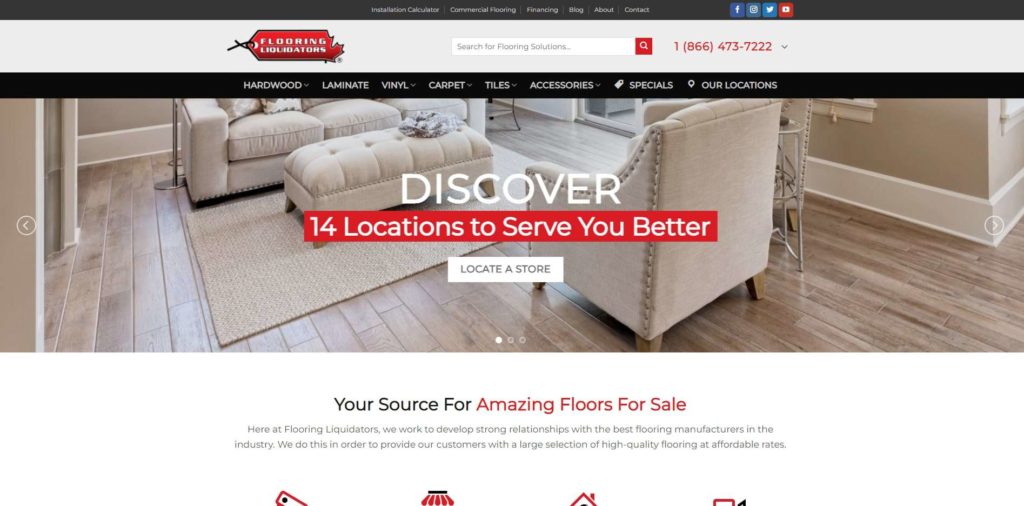 Test
Info
WEBSITE:
https://www.flooringliquidators.ca/
ADDRESS:
1260 Old Innes Road Unit 601 Ottawa
CONTACT DETAILS:
Phone: (613) 749-0046

Fax: (613) 745-5928

OPERATING HOURS:
Monday to Friday: 10 am to 6 pm

Saturday: 10 am to 5 pm

Sunday:11 am to 4 pm
| | |
| --- | --- |
| Quality of carpets | ★★★★☆ (4/5) |
| Variety of styles | ★★★☆☆ (3.5/5) |
| Installation and other services | ★★★☆☆ (3/5) |
| Value for your money | ★★★★☆ (4/5) |
With 14 different locations across Canada, the Flooring Liquidators branch in Ottawa clearly stands out with very positive reviews from hundreds of satisfied customers.
Although their creme of the crop is hardwood lumber flooring, their carpet offerings and installation services are also noteworthy.
Their team of professional flooring and carpeting installers is often regarded well for working efficiently and on time while delivering professional and quality results at the same time.
They also feature a showroom where flooring advisors can discuss with you the pros and cons of their selections. They don't do hard selling there but instead offer you realistic options and solutions.
Their in-house inventory of carpet selections, though, may not be as extensive as their competitors'. But if you're on a limited budget, they are very much willing to offer you alternatives that can fit your bill.
The good thing. though. is that you can order more selections through their website. They can have it delivered to you from their suppliers if it's not available in their physical store.
However, not everything goes well every day and some mismanagement issues have caused a few customers to be disappointed. It would be advisable to give them a follow-through should you have any unsatisfactory staff interactions.
It's worth noting, though, that they've had a change in management in the past couple of years. If you've had had a bad staff interaction before, that has most likely changed by now.
The current management and staff are open to criticisms and will own up to it should the error really come from their end.
Another positive point for them is they offer reasonable rates. Customers love that they get luxury quality results at a lower value compared to their more premium carpet store competitors.
All in all, Flooring Liquidators can be a good option if you are looking for decent carpet flooring and installation services whether for residential or commercial purposes.
Budget-friendly
All-rounder team of flooring and carpeting professionals
Does flooring and carpet installations
Commendable customer service and complaint management
Limited carpet options
Expertise lies more on hardwood lumber flooring
Customer Reviews
They Remember Us
We came in to Flooring Liquidators a couple of months ago and Austin helped us out. when we were ready to make the purchase, we came back and he remembered us and easily finalized the deal for us. We are very happy with the process and transaction! – Wendy Sawyer
Very Much Appreciate the Follow-through
Very happy with this place. Andrew is very patient and knowledgeable, he took time to answer all my questions. Price is reasonable. I asked for a sample but it was not available at that time, Andrew sent the sample to my home after a few days. Very appreciated! Thanks Andrew! – Li Zhang
5. Floor Coverings International Ottawa East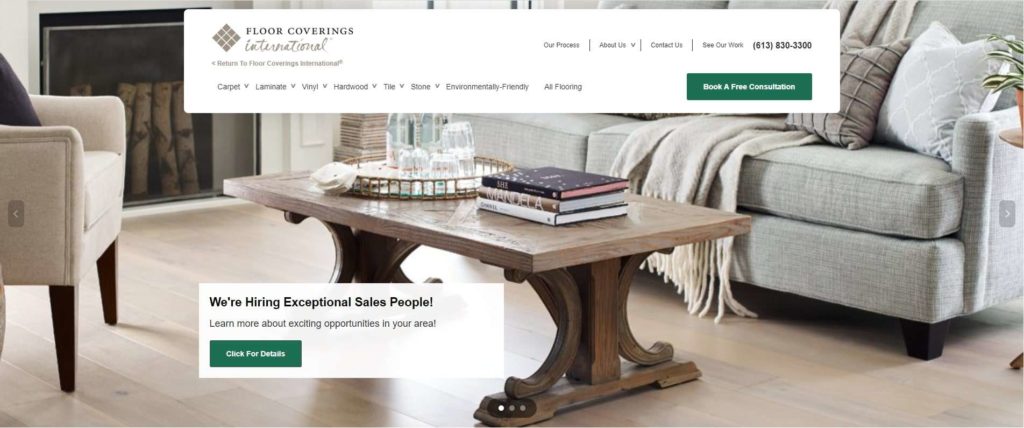 | | |
| --- | --- |
| Quality of carpets | ★★★★☆ (4/5) |
| Variety of styles | ★★★★☆ (4/5) |
| Installation and other services | ★★★★☆ (4/5) |
| Value for your money | ★★★☆☆ (4/5) |
Floor Coverings International is known more for their systematic installation process. They will cater to your flooring needs—from determining what your place needs to installation to follow-up.
They offer an in-home consultation so they can assess your area and provide you with the best options.
Another noteworthy feature is that you can choose from a number of their reputable partner brands through their Mobile Flooring Showroom®. You'll be able to assess from there how the look of their items can complement your home.
They also do the installations through their very own professional team, be it for carpets or other forms of floorings.
The best part is that they offer a follow-up guarantee process wherein they check if their installations are still intact. This is often scheduled on your preferred date, at least seven to ten days after the installation has been completed.
They may be highly regarded more for their flooring services and items like hardwood, vinyl, and tiles, but their carpets are also of decent quality and set at reasonable prices.
You can check a good amount carpet options from their website.
On the other hand, you may have to manage your expectations. The carpets are of good quality but may not exactly be comparable to premium luxury carpets.
They do, however, also offer the patented STAINMASTER® carpeting that is stain-resistant and can be cleaned easily. This type of carpet is best for homes with pets and kids or high-traffic commercial areas.
You might also take delight in the fact that they do donate a portion of their sales to notable charities like the St. Jude Children's Research Hospital and the Ronald McDonald House of Charities.
Decent carpets, good service, and giving back are notable qualities that may make you want to consider them for your next carpet purchase.
Utilizes the Mobile Flooring Showroom® to assess your flooring needs
Efficient purchase-installation process
Provides follow-up guarantee seven to ten days after completion of installations
Offers the patented STAINMASTER® carpeting
Involved in charity work
Items come with brand warranty
Expertise lies more on general flooring
Carpets are decent but may not be at par with premium branded counterparts
Customer Reviews
Above and Beyond
We wanted the carpet replaced in our new home as soon as possible after taking possession. Josh went above and beyond to make sure that the installation happened as soon as we got the keys. From picking the carpet to the installation everything was great. – Marcel Poirier
Proactive, Organized, and Caring
Would highly recommend Josh and his team without any hesitation! We recently had a project of removing our basement carpet flooring and replace it with vinyle tile. We are very satisfied with the overall experience and the results. The whole process wasn't complicated and was a piece of mind. Josh is very professional, he takes the time to answer questions and he is prompt to reply back. We also appreciated him keeping us informed because of the covid restrictions we had to postpone the orginal date. He was very proactive and would not only inform us of a delay before we inquire about the situation but would reschedule come up with a new specific date and not leave us in a let's wait and see before rescheduling. To us he's organized and seems like he really cares. – Nadia
FAQS about Carpet Stores in Ottawa
---
Already have carpets installed at home? Find out where you can get help to clean and maintain your carpet with our list of the best carpet cleaning services in Ottawa.