Top 5 Fashion Boutiques in Ottawa
Boutiques have become so popular that many have sprung up to meet demands. But with all the shops available, where exactly should one go to get the best merchandise and service?
To help you sort this out, we have amassed the top fashion boutiques in Ottawa in one list. But before we get there, let's first talk about how much common items in a boutique store would cost.
How much do common fashion boutique items cost in Ottawa?
The cost is affected by several factors. Among these include the brand, the material used, the design, and the origin.
To get a better picture of the costs, below is a table showing the price ranges of some of the most common items in a fashion boutique.
| Book Formats | Average Costs |
| --- | --- |
| Types of Items | Price Ranges |
| Bag | $40 - $430 |
| Belt | $25 - $95 |
| Bottoms | $35 - $300 |
| Denim | $25 - $450 |
| Dress | $60 - $310 |
| Footwear | $15 - $300 |
| Gloves | $40 - $110 |
| Hat | $35 - $190 |
| Outerwear | $60 - $440 |
| Scarf | $20 - $100 |
| Tops | $25 - $220 |
Top Fashion Boutiques in Ottawa
To get the best in the business, we used the following criteria in our selection process:
1. Vincent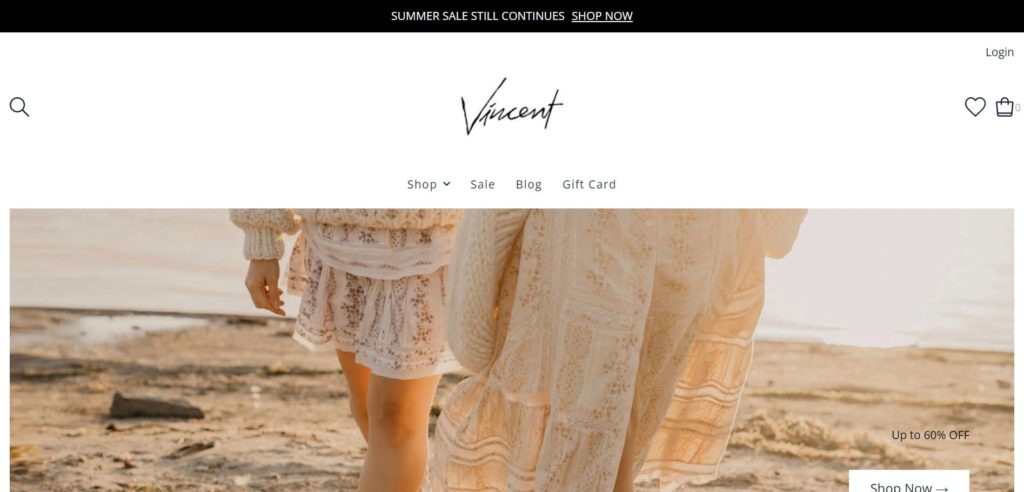 Test
Info
PRODUCTS
Tops, Bottoms, Dresses, Jumpsuit/Romper, Outerwear, Intimates, Activewear, Jewelry, Accessories, Handbags, Footwear, Apothecary, Gift Card
WEBSITE
https://www.shopvincent.ca/
ADDRESS
444 Preston St, Ottawa, ON K1S 4N6, Canada
CONTACT DETAILS
+1 613-680-4277
OPERATING HOURS
Tuesday to Wednesday 11 AM - 5 PM

Thursday to Friday 11 AM - 6 PM

Saturday 11 AM - 5 PM

Sunday 11 AM - 4 PM
| | |
| --- | --- |
| Criteria | Ratings |
| Variety of Selections | ★★★★★ (5/5) |
| Competitive Price | ★★★★★ (5/5) |
| Location | ★★★★★ (5/5) |
| Customer feedback | ★★★★★ (5/5) |
Vincent is a contemporary women's boutique that is situated in the heart of Little Italy in Ottawa. Since 2013, it has been cultivating creativity while simplifying the world of fashion.
One of the things we like about this boutique is that you will always be greeted with a smile by its friendly, helpful staff upon entering.
It's also great to see that everything else is well-organized to make your shopping experience a lot easier.
We like that it offers a wide range of items — from tops and dresses to intimates and accessories.
It's also great to see that the 2 owners with a great sense of style are there to provide feedback in selecting quality pieces. With the way they assist, you can tell that they care about their customers.
We trust the shop in its promise to have online orders shipped out within 3 business days from the date of purchase.
But since the boutique only offers a 14-day window for returns, you might want to keep that in mind when finalizing orders.
Vincent is open from Tuesday to Sunday, which we think is great. Its operating hours, however, might seem too short especially on Sundays when it opens at 11 AM and closes at 4 PM.
A vast selection of items
Competitive pricing
Organized store
Supportive staff
Relatively small store
Shorter operating hours
Customer Reviews
High-end quality
"I purchased a pair of jeans, and Angie helped me out. She is VERY knowledgeable and paired me with the best fitting jeans that I have ever owned. I had paired these jeans with the heirloom blouse that I had purchased last year from her. The outfit looked amazing!! I highly recommend this store. All of the clothing I have purchased from this store is high end quality, and are all my favourite pieces. Thank you so much Angie, you're amazing 🌺" — Brianna Habib, Google Reviews
Gorgeous boutique
"Gorgeous boutique curating classic high-quality modern inventory for work or weekend. Local, female owned and operated! The sisters make this place truly special, they are extremely helpful and adorable. Check out their fun & fashionable Instagram account too!" — Darcy Jamieson, Google Reviews
2. Flock Boutique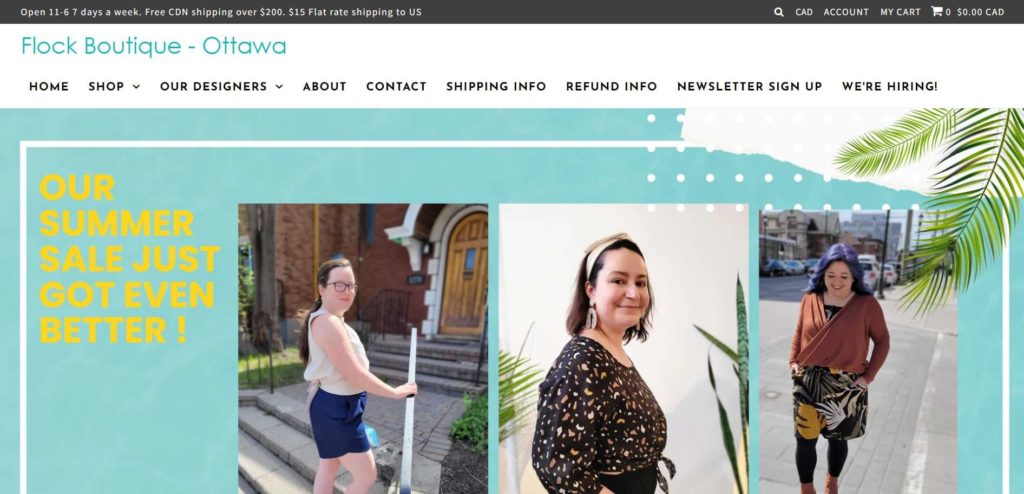 | Test | Info |
| --- | --- |
| PRODUCTS | Women's Clothing, Men's Clothing, Swimwear, Masks, Bath and Beauty, Curvy, Jewelry, Tasty Treats, Bags, Pouches, Wallets, Gifts, Gift Cards, Eco Fabrics, Winter Accessories, Workshop Handmade |
| WEBSITE | https://flockboutique.ca/ |
| ADDRESS | 1275 Wellington St. W, Ottawa, ON K1Y 3A6, Canada |
| CONTACT DETAILS | +1 613-695-0834 |
| OPERATING HOURS | Monday to Sunday 11 AM - 6 PM |
| | |
| --- | --- |
| Criteria | Ratings |
| Variety of Selections | ★★★★★ (5/5) |
| Competitive Price | ★★★★✩ (4/5) |
| Location | ★★★★★ (5/5) |
| Customer feedback | ★★★★★ (5/5) |
Conveniently located in Wellington Village, Flock Boutique is one of our top choices when looking for fashion boutiques in the area.
For almost 2 decades, it has been an outlet for local designers to showcase their creations.
With the owners' belief in ethical production and sustainable fashion, it has been carrying the work of more than 150 independent Canadian designers and makers.
It has stayed committed to all Canadian-made items, which we appreciate.
With a great number of designers that cater to various body shapes and sizes, we are confident that you'll find clothes here that will fit you best.
Today, it is full of pieces that people love. Among the products it offers include dresses, bold skirts, flattering tops, and all sorts of unique and fun accessories.
The only downside is that some of the items, particularly dresses, can cling to the pricier end.
There are curated selections for men too, making Flock Boutique an ideal place for everyone. Although limited, we appreciate that it also offers something for male customers.
We like that it is open daily, from 11 AM to 6 PM, to cater to patrons' needs. It's also nice to know that it offers free shipping, but only for orders costing over $200.
Wide variety of selections
Canadian-made items
Works with countless designers
Open daily
Some items can be pricier
Limited selections for men
Customer Reviews
Hands down
"Hands down, my favourite shop in Ottawa. My 13 year-old needed an outfit for a special occasion and it made my heart glad to know that she could shop in a space that is explicitly body-positive, full of beautiful, locally made clothes with a rad 'best-friend vibe'. Highly recommend Flock Boutique for anyone looking for quality apparel and a happy shopping experience." — Alisa Viner, Google Reviews
Love this store
"I love this store! A wonderful shop with beautiful clothing and accessories. They have their own line of tshirts and jewelry which I love. The designers they carry make beautiful dresses, tops, bags, and jewelry. The atmosphere is bright, open concept, and so pleasant. Staff are super friendly and helpful. I highly recommend stopping in. A go-to for myself and for gifts for family and friends." — Martha Copestake, Google Review
3. Fashion United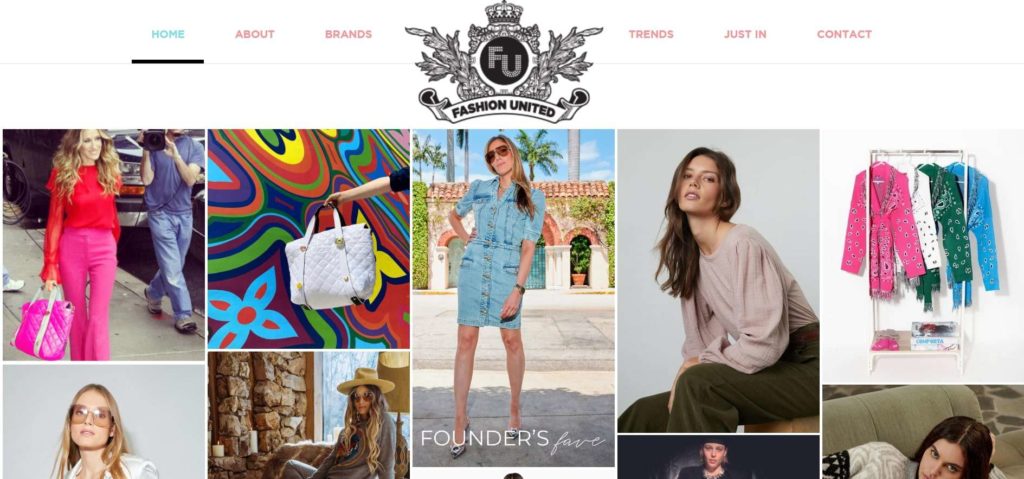 | Test | Info |
| --- | --- |
| PRODUCTS | Designer Clothing, Shoes, Handbags, Jewelry, Accessories |
| WEBSITE | https://www.fashion-united.ca/ |
| ADDRESS | 435 Richmond Rd, Ottawa, ON K2A 2Z4, Canada |
| CONTACT DETAILS | +1 613-728-2626 |
| OPERATING HOURS | Tuesday to Saturday 11 AM - 5 PM |
| | |
| --- | --- |
| Criteria | Ratings |
| Variety of Selections | ★★★★★ (5/5) |
| Competitive Price | ★★★★✩ (4/5) |
| Location | ★★★★★ (5/5) |
| Customer feedback | ★★★★★ (5/5) |
Coming from a lineage with a long history in the garment industry, Tamara and Olenka grew up learning about the family business that started in 1977.
As an Ottawa mainstay for more than 40 years, Fashion United is one fashion boutique to consider.
Located at Richmond Road near the gorgeous Westboro beach, it aims to be a one-stop shop for designer clothing, shoes, handbags, jewelry, and accessories.
This explains why it now has a vast array of products to offer. Today, its collections feature brands such as Cambio, Generation Love, Rose Carmine, and Kerry Rosenthal, which could be pricier.
On a different note, we just love how knowledgeable and helpful the staff members are. It's great that they are always extremely professional, providing honest and useful opinions about the products you intend to buy.
It's rather unfortunate, though, that the boutique only operates 5 days a week with relatively shorter operating hours from 11 AM – 5 PM.
It would be better if the hours or days were extended to accommodate clients who have daytime jobs.
Despite this, Fashion United remains one of our top choices for clothing needs. With reasonably priced items that are matched with quality customer service, this cute little boutique deserves a spot on this list.
Also worth noting is the free parking space located at the back of its building.
Specializes in designer items
Professional staff
Free parking
Limited operating days and hours
No selections for men
Customer Reviews
Better shopping experience
"This is such a cute little boutique with very unique and nice high end clothing. The women who worked there were so helpful and helped me pick out some great pieces for an upcoming vacation. It is a much better shopping experience than you would get at any store in Rideau Centre." — Kristen Marriott, Google Reviews
You'll fall in love
"Everytime I walk into this store it's like a new adventure. I just love looking through all the new items and seeing what Tamara and Olenka have picked out for the season. I guarantee you'll find something you'll fall in love with that's fun, fashionable and original!" — Erin Kealey, Google Reviews
4. Victoire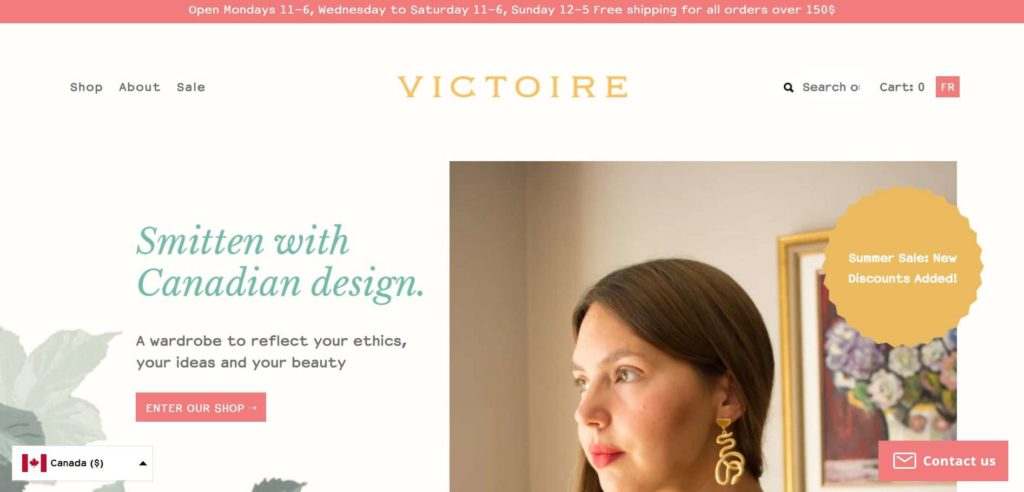 Test
Info
PRODUCTS
Clothing, Gifts, Jewelry, Accessories, Gift Card
WEBSITE
https://victoireboutique.com/
ADDRESS
1282 Wellington St. W Unit B, Ottawa, ON K1Y 3A7, Canada
CONTACT DETAILS
+1 613-421-0089
OPERATING HOURS
Monday 11 AM - 6 PM

Wednesday to Saturday 11 AM - 6 PM

Sunday 12 PM - 5 PM
| | |
| --- | --- |
| Criteria | Ratings |
| Variety of Selections | ★★★★★ (5/5) |
| Competitive Price | ★★★★✩ (4/5) |
| Location | ★★★★★ (5/5) |
| Customer feedback | ★★★★✩ (4/5) |
We like Victoire for it has been representing Canadian fashion since 2006. It has also been a useful platform to showcase the talent of both established and emerging Canadian designers.
Today, owners Katie and Regine take pride in their long-term relationships with designers such as Birds of North America and Eve Gravel.
This enables them to provide a vast array of high-quality, all-Canadian merchandise.
Among the products the boutique offers include dresses, tops, denim, graphic tees, and lingerie.
There are also accessories like bags, wallets, and jewelry that extend from statement earrings and simple chains to rings and bracelets.
One of the things we like about Victoire is its clean and organized store, which helps make the shopping experience of every customer more pleasurable.
The superb customer service it provides is another. Believing that customer service is comparable to hosting a party, the friendly staff members are always there to provide help.
There have been, however, some instances when the crew was deemed rude and pushy.
Further, since some unique clothes come with hefty price tags, you might want to resort to cheaper options or shell out more.
Nevertheless, Victoire remains one of our top boutiques, and visiting its shop will show you why.
Years in the business
Affiliation with many local designers
A variety of options
Clean and organized store
Issues with staff being rude
Some items can be expensive
Customer Reviews
Very clean and organized store
"Very clean and organized store. Absolutely gorgeous pieces sold in there, everything from cute accessories to beautiful pieces of clothing to funky art pieces! Great customer service too! I had an issue with a purchase and they handled it so well and in a timely manner!! Very awesome local business with a great purpose! 💗💗💗" — Arina Abdrakhmanova, Google Reviews
Always warmly welcomed
"Best selection of impeccably designed, conscious clothing in ottawa. I'm always warmly welcomed and given the utmost care when picking out a gem from their collection. It's rare to get this kind of customer service and quality merch together under one roof." — Madison Kelly, Google Reviews
5. Tallow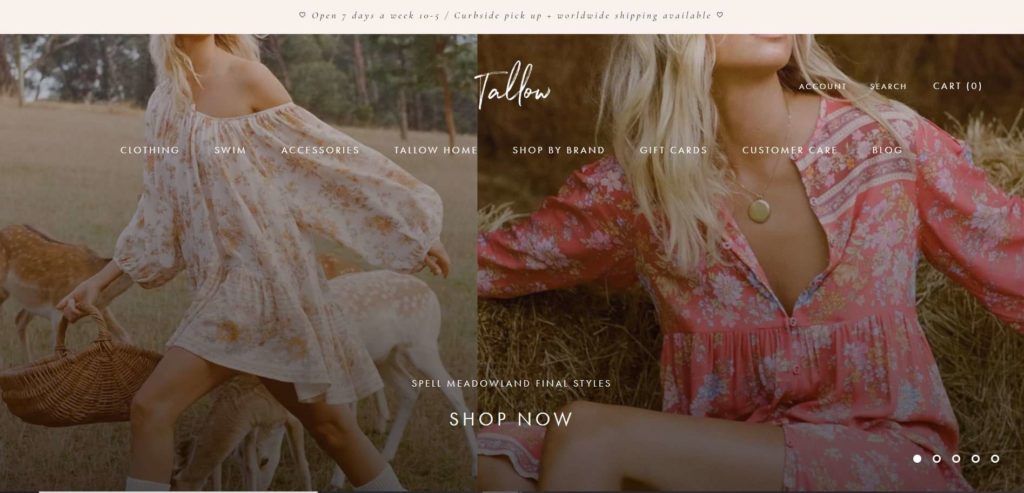 | Test | Info |
| --- | --- |
| PRODUCTS | Clothing, Swimwear, Accessories |
| WEBSITE | https://www.shoptallow.com/ |
| ADDRESS | 358 Richmond Rd, Ottawa, ON K2A 0E1, Canada |
| CONTACT DETAILS | +1 613-680-7881 |
| OPERATING HOURS | Monday to Sunday 10 AM - 5 PM |
| | |
| --- | --- |
| Criteria | Ratings |
| Variety of Selections | ★★★★★ (5/5) |
| Competitive Price | ★★★★★ (5/5) |
| Location | ★★★★★ (5/5) |
| Customer feedback | ★★★★✩ (4/5) |
Tallow was born in 2017 from the collaboration of childhood best friends Jen Dalgleish and Amber Stratton, and a veteran swimwear shop owner named Gemma Riley-Laurin.
Today, it has become the go-to fashion boutique for luxe-bohemian styles.
Having moved from Hintonburg, the shop's specialty in swimwear complements its current location, which is a few minutes away from the beautiful sands of the Westboro beach.
But the shop is more than just about swimwear.
Tallow offers a wide variety of products that include dresses, sweaters, pants, and shorts. There are accessories, too, which cover items like hats, bags, and some nice jewelry.
We like that its staff is a representation of quality service — patient, kind, and friendly. The operating hours are also commendable as the shop is open daily for 7 long hours each day.
The only downside we found is that the store has had some issues with its return policies. Because of this, we suggest reviewing or inquiring about them before buying.
Communication can also be improved, especially when updating customers regarding changes in operating hours.
This is just to ensure that no one wastes their time coming to the shop and not getting anything in the end.
Overall, with great people and nice quality products, we believe that Tallow is worth a visit.
Specializes in bohemian styles
Offer a variety of products
Great customer service
Open daily
Some issues with return policies
Communication can be improved
Customer Reviews
Love this little shop
"I love this little shop! If you're looking for beach-y Australian vibes, then this is the place to be. I found a dress for a very special occasion for $105 here. The girl working there, V., was one of the kindest and purest souls I've ever met. You will definitely see me back here!" — Mina Trandafilovski, Google Reviews
True perfection
"5 stars. Nothing more to be said. True perfection all in one small little space with boundless levels of love for service. Any outfit can be found here" — Madison McCausland, Google Reviews
FAQs about Fashion Boutiques
---
We hope that this list of boutiques has helped you find the right place for the perfect outfit!
Looking for cheaper options? This article on the best secondhand clothing stores in Ottawa is for you!