9 Best Blinds Stores in Ottawa
Whether it's to maintain your home's privacy or to keep temperatures even, your windows could definitely use blinds. So consider yourself lucky if you're in the market for them because we're discussing the best blinds stores in Ottawa today.
With this listicle comes a handy guide for the different prices you can expect from shops that sell blinds and other window accessories.
How Much Do Blinds Cost in Ottawa?
Let's assume you're going to be installing blinds that will perform the basic function of controlling the amount of light coming into a room. That's where we'll be basing prices and not on highly customized ones that are voice-activated (yes, they have those!).
There are several factors to consider to get an idea of how much new blinds will cost you. How big your window is, the material of the blinds, and if they have added features (is it motorized or insulated?) all contribute to the final invoice.
Installing window blinds in Ottawa can cost anywhere between $400 to $1,000. But on average, a customer typically spends $700 at one time to get blinds up in their house or office.
Because window sizes are mostly standardized, you can already buy blinds that are expressly cut to fit those windows. Should you have uniquely shaped windows, you can get blinds customized and be charged per square foot for them instead (at around $2.50 to $5 per square foot).
We created a table below to show the estimated cost of different materials for blinds. The price ranges are based on national averages.
| | |
| --- | --- |
| BLINDS MATERIAL | ESTIMATED COST |
| Wood | $30 – $200 |
| Vinyl | $11 – $20 |
| Plastic | $20 – $50 |
| Bamboo | $30 – $80 |
| Fabric | $50 – $100 |
| Aluminum | $20 – $70 |
| PVC | $30 – $60 |
| Metal | $15 – $40 |
Please note that prices are subject to change with installation labour, added features, delivery, HST, and other fees. A lot of blinds companies do offer free estimates so that's the best time to ask them for an exact quote.
The Best Blinds Stores in Ottawa
After getting some idea of their costs, you are now ready to check out the best stores selling blinds in Ottawa!
1. Blindall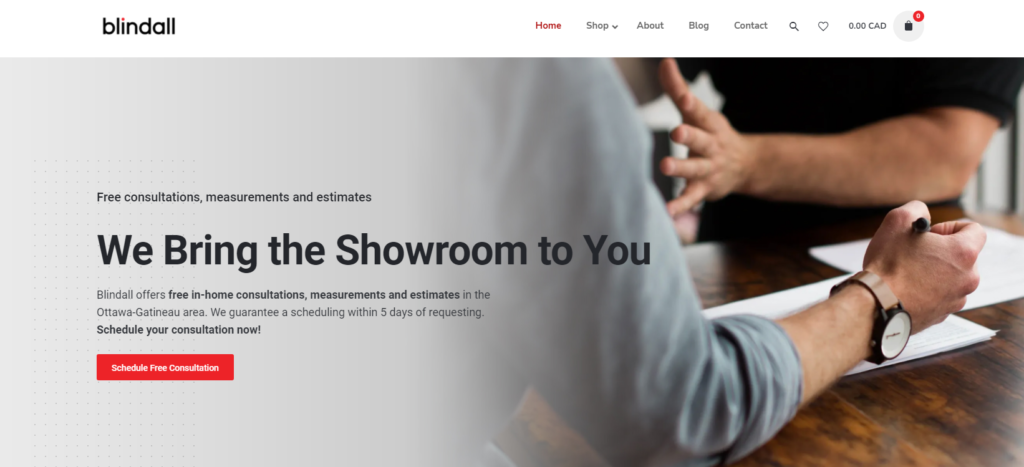 SERVICES
Free In-home Consultation
Free Installation

Zerba Blinds
Dual Shades
Roller Shades
Solar Shades
Cellular Shades
Faux Wood Blinds
Wood Blinds
Shutters
Motorization / Automation
ADDRESS
Ottawa, ON K2T 0C2
CONTACT NUMBER
+1.613.663.2990
WEBSITE
https://blindall.ca
OPERATING HOURS
Monday – Saturday
9 AM-5 PM
On the topic of best blinds stores in Ottawa, we'd be remiss not to include Blindall.
Blindall is an online blinds store that makes it convenient for the local community to acquire high-quality blinds of different materials for their properties. Blindall provides free in-home consultations as well as measurements and estimates to the Ottawa-Gatineu community.
It's also worth noting that clients need not wait long for a consultation schedule with Blindall. The typical wait time for a schedule is five days after the request has been made.
Now, in terms of the products, Blindall offers one of the most diverse selection we've seen so far. The shop's catalogue features cellular shades, faux wood and wood blinds, roller shades, solar shades, and zebra blinds.
These categories also come with different colour selections, making them highly customisable. Best of all is that these blinds are custom-made and available at competitive rates.
Offers free in-home consultations
Guarantees scheduling within 5 days of request
Offers competitive rates
Free shipping available
Secured payments
2. Blinds Ottawa
SERVICES
Design consultation, blinds installation, motorization, and repairs
ADDRESS
635 Chadburn Ave, Ottawa, ON K1G 0Y6
CONTACT NUMBER
(613) 319-8423


[email protected]

WEBSITE
https://blindsottawa.ca/
OPERATING HOURS
Monday to Sunday 8 AM – 9.30 PM (appointment required)
Blinds Ottawa (the name is a bit on the nose but handy for blinds-seekers in the area!) has been supplying and installing blinds and other window treatments in the Ottawa area for over 25 years.
Potential clients can request free quotes and consultations at Blinds Ottawa. The design consultants can help them pick out the most suitable blinds by discussing their space's needs and preferences for material, design, colour, and style.
The company has a team of professional installers to ensure that the blinds are properly fitted and installed in a home or office. It also offers a full year of service guarantee that ensures the blinds are functioning properly for at least 12 months.
Blinds Ottawa also offers limited lifetime warranties on the products it sells and installs. If the blinds become damaged or the original supplier no longer has them in stock, the company can either repair or propose an alternative replacement for them.
Caters to residential and commercial clients
Limited lifetime warranties
One-year service guarantee
Free consultation
Open 7 days a week
Doesn't provide pricing info on the site
Photo gallery could use descriptions
No BBB accreditation
Customer Reviews
Read this client feedback for Blinds Ottawa:
"Love the new blinds in our home… and the price :). Your installers were professional, clean and fast. Thanks for all your help." – John Lawson
3. Blinds 613
SERVICES
Commercial and residential blinds supplier, designer, installer
ADDRESS
107 Colonnade Rd S, Unit 2, Nepean, ON, K2E 7M3
CONTACT NUMBER
+1 613 226 6130


[email protected]

WEBSITE
https://blinds613.ca/
OPERATING HOURS
By appointment only
Tuesday to Thursday 10 AM – 6 PM
Friday to Saturday 10 AM – 5 PM
Sundays 12 PM- 4 PM
Closed on Mondays
Kevin Smith is the main force behind Blinds 613 with his 33 years of working experience in the blinds industry. Today, his company services both residential and commercial clients with an emphasis on accurate measurements and a unique selection of Canadian-made window products.
In fact, most of the client feedback left for the company mentions efficiency and professional services. And while there are "fixed" weekly operating hours, several customers commented how Kevin has accommodated their after-hours appointments.
Blinds 613 conducts free in-home sessions that take about a half-hour to measure and offer samples to clients. Once the best option is selected, Kevin and his team will reach out to suppliers for the chosen blinds and schedule both delivery and installation times with the customer.
We just wish there was an actual catalogue of products along with their price ranges on the site. As it is, its project gallery doesn't really describe the type and features of the blinds they installed for past clients.
Has residential and commercial clients
Open six days a week
Free quotes
Could do with a catalogue of products and prices
Confusing weekly operating hours
No BBB accreditation
Customer Reviews
Read the following client feedback for Blinds 613:
"My third job with Kevin and Blinds 613 included 14 windows on a residential home. Always a pleasure to deal with – everything is Canadian-made with great pricing and outstanding selection, quality, and installation. It's worth every penny. This job included blackout shades, roller shades, top-down bottom-up cellular shades, etc. Turned out perfectly. Thank you for another job well done." – Christopher Kushneriuk
"Highly recommend this company. They have great prices for amazing quality products. Kevin did a wonderful job doing my shutters in the kitchen. He is very friendly and knowledgeable." – Kaitlyn Smith
4. Gotcha Covered
SERVICES
Supplier of blinds, draperies, curtains, shades, and shutters
ADDRESS
323 Chapel Street Suite 202 Ottawa, ON K1N 7Z2
CONTACT NUMBER
(613) 801-0280


[email protected]

WEBSITE
https://www.gotchacovered.com
OPERATING HOURS
Monday to Saturday 8 AM – 5 PM
Closed on Sundays
We always like companies that offer free consultation and estimation, and Gotcha Covered is no exception. The company refers to it as a convenient way of bringing products to the client at no obligation.
To understand the client's goals as far as window treatments are concerned, the company sends consultants that have both the clients' needs and budgets in mind. And while there's a physical showroom to visit, Gotcha Covered believes that in-home visits allow clients to better see how samples will work in their actual spaces.
There's a wide array of blinds materials, styles, and features to choose from. The company offers everything from sheer blinds to woven wood sliding panels that add a rustic, tropical appeal to any home.
Warranties are available at Gotcha Covered for both its labour and products. However, the coverage varies according to the work involved and the products' suppliers (so it's best to ask about both during the free consultation).
Wide selection of hard and soft window treatments
Emphasizes cost-effective blinds solutions
Free design consultation
Open six days a week
Service warranties depend on the product
Photo galleries could use descriptions
No BBB accreditation
Customer Reviews
See how past clients liked Gotcha Covered:
"Excellent service and they were able to find a blackout solution for me that works great and were within my budget. Highly recommend them as I went to a few places in Ottawa for quotes. Some places just couldn't do what I needed (a blackout blind with side casings) and others could but were much more expensive! Cathleen immediately understood what it was I wanted and needed." – Tanima Majumdar
"Professional, good range of products and price points, great service; thoroughly recommend! Cathleen bent over backward to get my order in before Xmas and her installer, Vanessa, went out of her way to get my blinds up before the holidays. Thank you, ladies!! Both such a pleasure to deal with. And I love my blinds!" – Julie Mellor
5. Iconic Blinds
SERVICES
Cellular Shades
Dual Shades
Motorization
Roller Blinds
Roman Shades
Shutters
ADDRESS
5689 Power Road Ottawa, ON, Canada K1G3N4
CONTACT NUMBER
+1 343-988-1180
[email protected]
WEBSITE
https://iconicblindsco.com
OPERATING HOURS
Monday:
09:00 – 17:00
Tuesday:
09:00 – 17:00
Wednesday:
09:00 – 17:00
Thursday:
09:00 – 17:00
Friday:
09:00 – 17:00
Saturday:
10:00 – 17:00
Sunday:
11:00 – 17:00
Having been established in the early stages of the pandemic, Iconic Blinds & Co. is clearly younger compared to the other entries on this list. However, the company has already proven its dedication to service excellence and well-crafted products in the short amount of time it has been operating.
Iconic Blinds & Co. has become a go-to for many when it comes to securing quality window treatments in Ottawa. The shop offers a wide range of products, including cellular shades, dual shades, motorization, roller blinds, roman shades, and shutters.
As expected, each and every product that Iconic Blinds & Co. has to offer is custom fitted to the client's home. They offer free in-home consultation and even help with the installation.
Iconic Blinds & Co. operates seven days a week, with shorter hours in the weekend. Clients can book a consultation with the company through their website.
A- BBB Rating
Free in-home consultation
Large selection of products and customisations
Lifetime warranty
No pricing matrix provided
Customer Reviews
Read how past customers liked their experience with Iconic Blinds:
"Iconic blinds has amazing customer service. We recently used them for our shop and it was an amazing experience. They made sure we chose the perfect suited blind for our shop hat is washable and durable. Highly recommend Iconic to anyone looking for quality service!"
"I recommended Iconic Blinds to my parents after I had used them for my own home. My parents were absolutely thrilled with the final product and were very impressed with the professional service and seamless process. Will definitely recommend again!"
6. My Blinds Forever
My Blinds Forever offers its products in a straightforward manner. The company can supply clients with Venetian blinds, roller shades, California or plantation shutters, and zebra shades.
Clients can ask for tailor-made blinds or other window accessories and not worry about paying an estimation or assessment fee. My Blinds Forever provides free consultations for both homeowners and business owners who can be as candid as they want about budget considerations.
But if you're looking for more variety as far as blinds are concerned, this might not be the best place for it. My Blinds Forever only offers PVC, foam, or wood Venetian blinds which limits options considerably.
There are beautiful pictures on the site of past projects the company has done. However, there are no descriptions or captions that could give more information for clients who might like them as design inspirations.
Free quote/consultation
Serves both residential and commercial spaces
Open six days a week
Not a lot of options for blinds styles and materials
No descriptions on the photo gallery
No BBB accreditation
Customer Reviews
Read how past customers liked their experience with My Blinds Forever:
"Fabulous customer service. Really pleased with our blinds, had them installed in our entire house. Very professional and fast." – Jasmine Adamson
"Very pleased with my new blinds! They really elevated the appearance of my living room!! Thanks again to @myblindsforever Highly recommended!" – Naps Annie
7. TA Blinds and Interiors
TA Blinds and Interiors is a Better Business Bureau-accredited supplier of high-end window treatments. As far as prices go, the company confidently offers a price match for any (official) quote that a client can provide on comparable products.
It also throws in several free services in the mix. Aside from free, no-obligation estimates, TA Blinds and Interiors also currently offers free measurements and free installation for orders over $500 (pre-taxes)!
There are plenty of window treatment products and services at this company. What's even more impressive is how it describes each window product's function, aesthetics, and style.
Each type of window product has its own photo gallery of gorgeous client projects. And while there are still no lengthy descriptions of the materials or other useful information for each picture, TA Blinds and Interiors at least provides a short caption of what the product style is.
Free estimates
Regular promotions are offered on the site
Price match offered for comparable products
Free installation for orders $500 and up (pre-tax)
BBB-accredited, Aᐩ rating
Doesn't provide pricing info on the site
No informative descriptions on photo gallery
No fixed operating hours
Customer Reviews
The following clients have good things to say about TA Blinds and Interiors:
"Recently purchased shutters and shades from TA Blinds and Interiors. We received exceptional service both during the consultation and installation. We are very happy with the product and service. We would highly recommend it!" – Tammy Lee Christina
"This may be the second time I have ever posted a review and this one is 5-stars all the way. Every aspect of the experience was top-shelf: regular communication, thoughtful design choices and advice, professional installation, cleanliness, and thoughtfulness. They did not leave until they tested everything and tweaked what was not 100%. That's exactly what you want for the money. And the end result? Outstanding. My space has been transformed." – Joseph Pickerill
8. Blindsnisa
SERVICES
Zebra-Roller
Plicell and Honeycomb
Drapery and Curtain
Wood
Shutter
ADDRESS
22 – 174 Colonnade Rd, Nepean, ON K2E 7J5
CONTACT NUMBER
[email protected]
416-939-5069
873-355-1089
WEBSITE
https://blindsnisa.com
OPERATING HOURS
Monday to Friday : 9am to 6pm
Saturday and Sunday: 10am to 5pm
Next on our list is Blindsnisa, a curtain and fabric company that endeavours to help brighten and improve the atmosphere in living and working spaces. The company is headed by its founder, Amet S., who has worked in the curtain and fabric sector for over 20 years.
As a company with Turkish origins, Blindsnisa typically works with some of the best textile products manufactured in Turkey.
Blindsnisa procures only the finest quality materials and works to sell premium curtains, home goods, and window coverings to the people of Canada and the United States. In due time, the company hopes to include the rest of the world, showcasing what Turkey has to offer.
Some of the window coverings that Blindsnisa has to offer includes Zebra-Roller blinds, Plicell and Honeycomb Blinds, Wood Blinds, Shutters, Draperies, and Curtains.
Regardless of the choice of window covering, clients can expect Blindsnisa to customise the products to fit the specifications of the given room. The Blindsnisa team comes in for in-home design consultations, which are typically free from the company.
While the company has not specified fixed operating hours, they do make it easy to book appointments on their website. Clients can choose their preferred window covering and come across a mini calendar that allows them to book their preferred date for the appointment.
Free in-home design consultation
Online booking available
Wide range of blinds styles and materials
9. BlindsDirect4You
SERVICES
Zebra blinds/shades, roller blinds/shades, silhouette blinds, honeycomb blinds, double rollers,
ADDRESS
181 Principale St, Gatineau, Quebec J9H 6A6, Canada
CONTACT NUMBER
(613) 265 0899


[email protected]

WEBSITE
https://www.blindsdirect4you.ca/
OPERATING HOURS
Contact for more information
If you need quality shades to keep your home safe from prying eyes, then BlindsDirect4You has literally got you covered. They carry a huge selection of blinds ranging from roller blinds to zebra shades, all of which are fully customisable to your liking.
We like the fact that their design consultation services are totally free of charge and obligation, which can be arranged at a time most convenient to you. With this service, expect a member of their team to visit your home so they can recommend the best blinds that fits your needs.
Not only that, but they also offer free shipping too—another plus point for them. Sadly, you'll have to pay extra if you want them to install the blinds in your home.
Overall, we think that they're a great choice for homeowners, seeing that all their blinds are covered by a lifetime guarantee.
Free in-home design consultation
Wide range of blinds styles and materials
Free delivery
Lifetime guarantee on material defects and workmanship
No fixed operating hours
Separate installation costs
FAQs About Blinds Stores in Ottawa
---
We hope that this virtual trip to the best blinds stores in Ottawa can have your windows looking spiffy and elegant in no time.
Please tell us if you have other sources of great blinds in mind so we can review them ASAP.
But if it's your actual windows that require professional cleaning, you can read our listicle on the best window cleaners in Ottawa to make them sparkling and clear again.