The 6 Best Architects in Ottawa
Featured Image Source: Lex Photography via Pexels
Architects can help you bring your dream house from just a concept into life. This article can help you select brilliant architects from the best architectural firms in Ottawa to help turn your ideas into reality.
But before that, let's first dive into how much hiring the best architects in Ottawa would cost. After all, budget is a major consideration in any project.
How Much Do Architects in Ottawa Cost?
In general, there are a variety of ways that architects in Ottawa charge for their services. Depending on their experience and years as a professional, firms and more experienced architects would usually have an upfront flat fee while others prefer to charge by the hour.
The table below summarizes the average cost of architects in Ottawa.
| | |
| --- | --- |
| SERVICE | AVERAGE COST |
| Principal Architect | $150 to $250 per hour |
| Intern Architect | $45 to $90 per hour |
| Concept development and drafts | $2 to $5 per square foot |
| Construction documents | $2 to $5 per square foot |
The Best Architects in Ottawa
Now that you're informed about the costs of hiring an architect, let's get into the list of the top architects in Ottawa.
1. LineBox Studio
SERVICES
Residential Architecture, Commercial Architecture, Interior Design, Acoustics/Sound, Lighting, Landscape, Furniture Design
WEBSITE
http://www.linebox.ca/
ADDRESS
126 York St, Ottawa, ON
CONTACT DETAILS
Phone: +1 613 216-2609
OPERATING HOURS
Mondays to Fridays: 8:00 AM – 4:00 PM
Sundays: 10:00 AM – 3:00 PM
Linebox Studio is often the company that comes for architectural projects in Ottawa and for good reason. They do both residential and commercial projects, and they can handle every aspect of the construction process.
They started in residential design but also expanded into commercial work for restaurants, retail and offices. They provide end-to-end architectural services including interior design.
For customers conscious of integrating great design into their projects, Linebox delivers progressive and quality design.
They also have expert flat roof contractors, lighting and acoustic designers, landscaping professionals, and furniture designers. They're able to accomplish their projects well through maintaining good relationships with their clients, builders, trades, craftspeople, and suppliers.
They're also recommended by customers who are interested in making sustainability an inherent part of their design. Linebox is an environmentally conscious studio and has several Leadership in Energy and Environmental Design (LEED) certified architects on our team.
Ultimately, though, their goal is to create designs that reflect their clients' character.
They currently have around 30 architects, designers, and support staff in 3 different cities including Ottawa.
LEED-Certified architects
Expertise in both residential and commercial projects
Environmentally-conscious company
Offers services in interior design
Offers services in acoustics/sound and lighting design
Offers landscaping design services
Higher prices
No guarantees in helping with any approvals required by regulatory authorities
Customer Reviews
A five-star review from Matthew Carmichael says:
"Working with Andrew Reeves and the Linebox team was like reading a great book or watching a great movie and when it's over you are disappointed because you want more. The process was so gratifying that in a way I didn't want it to end. There is actual enjoyment in the discussion of design challenges and decisions during the project. The team truly feels that a collaborative approach between the studio and the client enables the project to achieve an end game that surpasses expectations of everyone involved."
Another review from Rob Woyzbun reads:
"We had a great journey with Andrew and the Linebox team. We had decided to replace our older, structurally challenged house with a new, modern structure. We hit it off with Andrew right from the interview stage! Andrew took considerable time to get to know us, our design interests and the desired outcome of building a new home. After living in, and with, the space Linebox designed, we would not change a thing; except we wish we had done it earlier!"
2. Christopher Simmonds Architect Inc.
| | |
| --- | --- |
| SERVICES | Single Family Homes, Major Renovations, Multi-Unit Residential Projects, Commercial and Public Buildings, Interior Design Services, Environmentally Responsive Architecture, Feasibility Studies |
| WEBSITE | https://www.csarchitect.com/ |
| ADDRESS | 340 Catherine St, Ottawa, ON K1R 1C4 |
| CONTACT DETAILS | Phone: +1 613 567-7888 |
| OPERATING HOURS | Mondays to Fridays: 9:00 AM – 4:00 PM |
Christopher Simmonds Architect Inc. is also one of the most recognized and one of the leading practitioners of contemporary architecture.
For customers looking to build projects from custom homes to larger-scale commercial and public buildings, Christopher Simmonds can provide a diverse portfolio to demonstrate their capabilities and award-winning projects.
Previous customers attest to the quality and attention to detail that the team of Christopher Simmonds provides. These customers have worked with Christopher Simmonds for building single-family homes, multi-unit residential projects, and even major renovations.
Their team is also committed to environmental sustainability, with several of their team members being LEED-accredited professionals and certified Passivhaus designers.
Their team also has knowledge on technologies that provide buildings with renewable energy, environmental sensitivities and low VOC materials, and many other carbon-neutral standards and considerations.
They're available not only for Ottawa clients but also for those across Canada. They can also work with residential and commercial developers, non-profit groups, and individual clients.
Has award-winning projects
Member of various professional industry associations
LEED-Certified architects
Coordinates any approvals required by regulatory authorities
Expertise in both residential and commercial projects
Environmentally-conscious company
Offers services in interior design
Offers landscaping design services
Higher prices
May not offer bilingual services
Customer Reviews
A five-star review from Jen Pinkstone via Google reads:
"Chris is a fantastic architect. He completed some drawings for our extension with professionalism and had great insights. Nothing was too much to ask and he often worked above and beyond for us. Thank you Chris!"
Another review from Jelka Lujic says:
"If you ever plan to build your dream house, choosing an expert architect is what will make the difference between an average house and the perfect house. And "Perfect" is what we have now thanks to Chris Simmonds and his team. He not only helped us build a beautiful house but also a warm, inviting and still very practical house.Chris just knows how to bring the outdoors into the house and create the perfect FengShui. The best testimony comes from all guests that have come to our house ; every one of them, with no exception, has noticed how welcoming and warm our modern house feels. Their first reaction when entering our home is always : Woaaa..!! The devil is in the details (and quality of materials) ; and that is just one of the number of areas Chris excels. I could go on and on!"
3. John Donkin Architect Inc.
| | |
| --- | --- |
| SERVICES | Architectural Services, Design Counselling |
| WEBSITE | https://www.jdarchitect.ca/ |
| ADDRESS | 138 Hopewell Ave, Ottawa, ON K1S 2Z3 |
| CONTACT DETAILS | Phone: +1 613 730-6918 |
John Donkin Architect Inc. is another architectural firm that focuses on great design on top of its full architectural services. They offer services from the initial conceptual design, through obtaining permits and overseeing construction.
They also are long-time members of multiple professional associations, including The Ontario Association of Architects. This helps ensure that the firm meets the professional standards established by 'The Architects Act'.
Their team provides services for residential, commercial, and mixed-use projects. John Donkin, the owner of the firm, also has experience in project design, management, and construction.
Customers looking for end-to-end services can benefit from his experiences and expertise which include zoning interpretation, architectural design, site planning, budget and cost analysis, construction documentation, and many others.
John Donkin is also experienced in energy-efficient building technology, including LEED Platinum and Silver, and Passivhaus energy standards.
They also offer design counselling, providing professional advice on an hourly basis to customers when full architectural services are not required. This service is helpful for anyone engaged in any stage of buying, building or renovating a property, building or home.
Award-winning projects
Member of various professional industry associations
LEED-Certified architects
Coordinates any approvals required by regulatory authorities
Expertise in both residential and commercial projects
Environmentally-conscious company
Provides design counselling
May not offer bilingual services
May not offer a warranty
Customer Reviews
A review from T Strauss reads:
"We would highly recommend John to anyone in Ottawa looking for an architect. Working with him was an absolute pleasure. Despite the complexities of our project, he was enthusiastic about problem solving and committed to making it work within our budget. His warmth as a person and his accessible and imaginative approach to providing architecture services also made us entirely at ease and excited about the possibilities for our home in all our meetings and communications. We didn't end up completing the project, as we made plans to move countries midway through the schematic design phase – if not for our own extenuating circumstances, we would have loved to keep working with him!"
Another review from Rachel Inch says:
"At the beginning of our "house building journey", John spent hours with us in our backyard getting a feel for the light, the trees, the neighbouring buildings and the neighbourhood. He took the time necessary to understand our lifestyle (and projected lifestyle!), learning our likes and dislikes, needs and wants. There was not much discussion on "how many rooms" or "how many square feet" – yet his design captured our requirements better than we could have ever expressed them.
Thanks to John, we now live in a beautiful, voluminous, light-filled house with not one bit of wasted space. Even after one year in our amazing new home we continue to be delighted with design details that help make our lives easier, and our time with our family more relaxed and enjoyable."
4. Flynn Architect Inc.
| | |
| --- | --- |
| SERVICES | Architectural Services, Green Design and Construction |
| WEBSITE | http://www.flynnarchitect.com/ |
| ADDRESS | 162 Preston St, Ottawa, ON K1R 7P7 |
| CONTACT DETAILS | Phone: +1 613 299-8505 |
| OPERATING HOURS | Mondays to Fridays: 9:00 AM – 5:00 PM |
Flynn Architect Inc. made it to the list for many reasons including their incredible reviews from their previous customers and their sustainable process in making dream spaces happen.
Their professional team aims to develop the design for their customers' new living space that meets their needs and their budget. For their commercial customers, their designs can capture energy savings and improve the efficiency and productivity of their customer's operations.
Design and construction projects involve a few steps with the first step being the decision-making between the homeowner and architect on what to build.
Specific goals will be established together, as well as the spaces required and how the client will live in the home and interact with the surrounding landscape.
The second step involves schematic design and rough sketches. After a review of the client's goals and a careful study of the site, a series of initial sketches will be prepared to show the general layout of rooms and the location of the building in the landscape.
The third step includes the design development as well as refining the design. This is where floor plans and preliminary outline specifications come into the picture, illustrating the intention, determining the success of the design, and listing the major material choices for the project.
The fourth step consists of the preparation of all construction documents. All the information required to satisfy the authorities and construct the building is compiled into a concise construction package.
The fifth step is hiring the contractor. Only pre-qualified contractors are invited to bid on the job and timelines are determined and regular site meetings are scheduled.
The sixth and final step is the construction administration. While the contractor builds the home, the architect assists the client in making sure that the project is built according to the plans and specifications.
Flynn Architect also builds one of the most sustainable designs in the area. Their designs incorporate reducing greenhouse gas emissions, reducing dependence on fossil fuels and foreign oil, and promoting the preservation of natural habitat and species diversification.
LEED-Certified architects
Coordinates any approvals required by regulatory authorities
Expertise in both residential and commercial projects
Environmentally-conscious company
May not offer a warranty
Landscaping and other specific design services may not be offered
Customer Reviews
A review from Toby Sanger says:
"Jason was our architect when we built our house 10 years ago and he was fabulous in every way. I had been looking for an architect for a few years, but none really felt right untl I was lucky to find him and he was perfect. With the beautiful design and sustainable materials we wanted, highly conscientious, understanding of our needs, super hard working, and fun (and charged us less than he should have… ). Our home was featured in a local home magazine and we still love it."
Another review from alisonflynn reads:
"Jason at Flynn Architect designed an incredible house for us. He took the time to understand our priorities and values in the house and walked us through a variety of options. The design was incredible: huge windows to let in tons of light and connect us to the surrounding forest; a master bedroom tucked away in the woods, efficient, well-designed spaces, and more! Truly a dream home!"
5. Amsted Construction Ltd.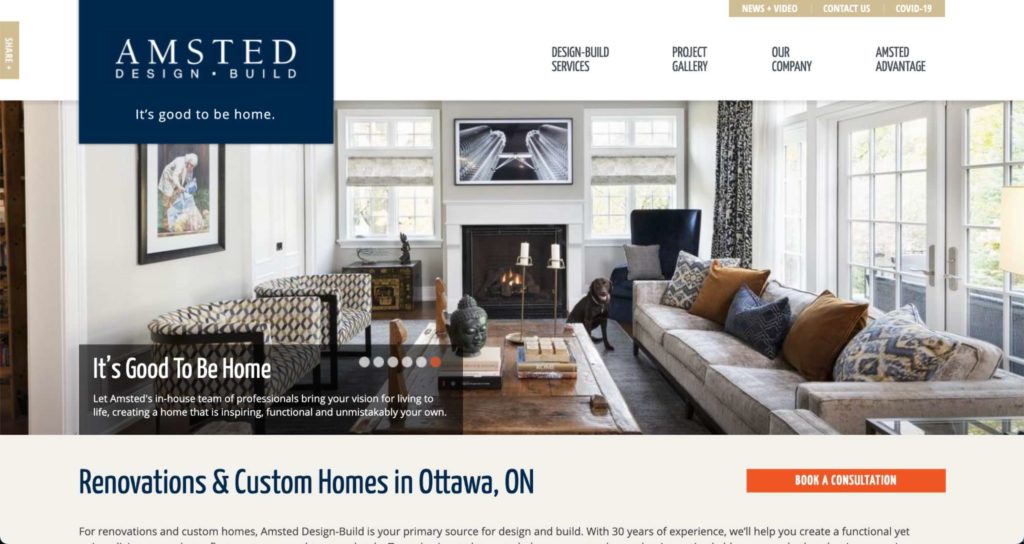 | | |
| --- | --- |
| SERVICES | Design-Build Services, Renovations + Additions, Custom Homes |
| WEBSITE | https://www.amsted.ca/ |
| ADDRESS | 7725 Flewellyn Road, Ottawa ON K2S 1B6 |
| CONTACT DETAILS | Phone: +1 613 836-7434 |
| OPERATING HOURS | Mondays to Fridays: 8:00 AM – 4:30 PM |
Amsted is another go-to architecture firm specializing in custom design-build projects, renovations, and home repairs.
Their design-build approach allows for customers who prefer one firm to have greater control over all aspects of a project, from concept to completion.
With 30 years of experience, their team of award-winning designers, carpenters, and project managers can also handle renovations or additions to homes. Their renovation professionals can tackle home exteriors and historic preservations.
For customers looking at renovating targeted areas of the home, like kitchens or bathrooms, Amsted has portfolios of previous renovations you can browse for ideas. From concept to completion, their team will apply their extensive familiarity with renovation best practices and meticulous quality control throughout the entire process.
Amsted is also one of only a select few Ottawa renovators qualified to display the Renomark™ Renovators Mark of Excellence, guaranteeing a level of professionalism in the building industry and a higher standard of quality and performance for renovations and remodelling projects.
The firm is also a member of industry regulatory boards and professional associations to ensure that they are meeting important standards, like Guild Quality and Greater Ottawa Home Builders' Association (GOHBA). To add to the security, Amsted also offers a five-year warranty.
Has award-winning projects
Includes a 5-year, industry-leading warranty
Member of various professional industry associations
LEED-Certified architects
Coordinates any approvals required by regulatory authorities
Offers historic preservations and home exterior services
Offers additions and renovations services
May not offer services for commercial projects
Landscaping and other specific design services may not be offered
Customer Reviews
A review from Jonathan Harte via Google says:
"Our project involved the demolition of an old addition to our century house in the Glebe and its replacement by a much larger one. We could not be happier with the outcome, and found Amsted to be a very professional, capable partner in turning our ideas into reality. They were a pleasure to work with, and we wouldn't hesitate to do so again should the opportunity arise."
Ian Hoffman also left a review saying:
"The Homecare service at Amsted was fantastic as I've used them a few times for various projects. Paul Myk was a dedicated and excellent project manager – everything was done when scheduled and the Amsted crew completed their work with the highest quality. The job site was always clean and the staff were dedicated professionals. I would highly recommend Amsted for any home service/remodelling/renovation/new build."
6. Robertson Martin Architects
SERVICES
Heritage Conservation, Architectural Planning, Design, Project Implementation, and Support
WEBSITE
https://robertsonmartin.com
ADDRESS
216 Pretoria Avenue
Ottawa, ON K1S 1X2
Canada
CONTACT DETAILS
613.567.1361
OPERATING HOURS
Contact for more information
Robertson Martin Architects is a professional firm that offers a comprehensive range of services to their clients. Many praise them for their excellent services, no matter the type of project they undertake.
Some of their services include architectural planning, design, project implementation, and support. No matter what you need, their professional team of architects will use their skills and expertise to meet your desired outcomes.
Moreover, their team comprises talented individuals with their own set of specialisations. Together, they work together to meet their client's architectural requirements, from start to finish.
Robertson Martin Architects has experience working on heritage sites, commercial and residential properties, institutional properties, and interiors. Given their extensive services and diverse experience, there's no doubt that they're an architectural firm worth considering.
Many years of experience
Comprehensive services
Professional team of experts
Diverse work experience
No operating hours on website
FAQs on Architects
---
And that concludes our list of the best architects in Ottawa. If you know other architects that should be on this list, let us know so we can check if they should be included here too!
Think your home could use a makeover? We've put together the best interior designers in Ottawa.