Top 9 Aesthetic Clinics in Ottawa
Staying young becomes easy when you know where to go. But if you don't, this list of the best aesthetic clinics in Ottawa might be a good start.
But since preserving your youthful looks often comes with a price, let's first talk about some of the costs involved.
How much do aesthetic procedures cost in Ottawa?
Since aesthetic procedures involve both surgical and non-surgical treatments, we have decided to limit the data to non-surgical ones.
To give you a better idea of how much a visit to an aesthetic clinic would cost, below is a table showing the price ranges of the most common non-surgical aesthetic treatments people get.
Please take note that the figures can still be affected by other factors. Some of these include the condition of your skin and the clinic you choose to visit.
| Types of Procedures | Price Ranges |
| --- | --- |
| Chemical peels | $125 - $750 |
| Neuromodulators | $300 - $600 |
| Dermal fillers | $525 - $800 |
| Dermaplaning | $150 - $250 |
| Laser resurfacing | $1,030 - $2,330 |
| Botox injections | $90 - $300 |
| Microdermabrasion | $100 - $250 |
Top Aesthetic Clinics in Ottawa
To get the best in the business, we used the following criteria in our selection process:
1. ElevateRX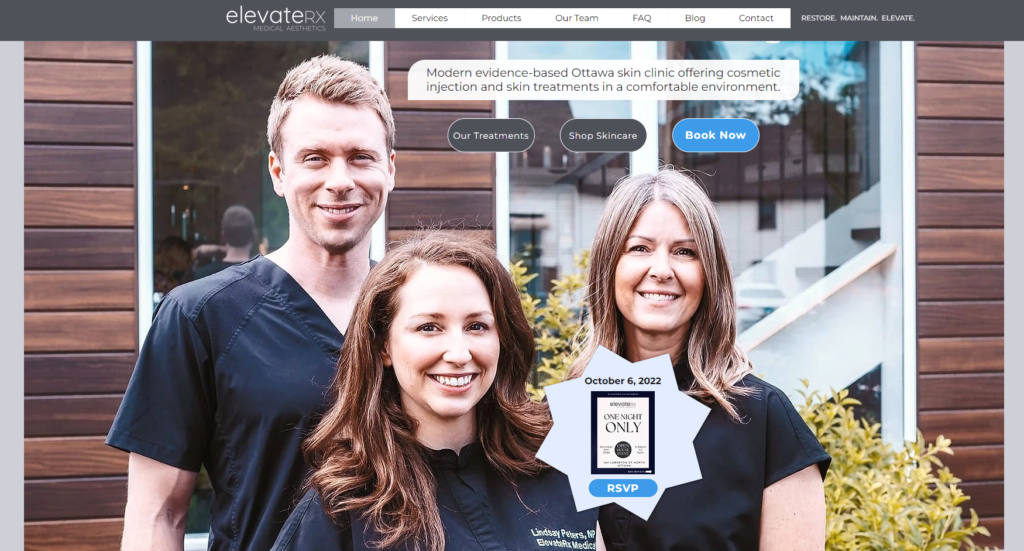 Test
Info
SERVICES
Aesthetic Injectables, Skin Health, Teeth Whitening, Hair Loss Treatment, Therapeutic, Wellness Therapies, Elevate for Men
WEBSITE
https://www.elevaterx.ca/
ADDRESS
164 Lebreton St. North Ottawa, Ontario
CONTACT DETAILS
Phone: 613-518-1942

Email: [email protected]

OPERATING HOURS
Monday to Friday: 9:30AM–8:00PM

Saturday: 10:00AM–2:00PM
| | |
| --- | --- |
| Criteria | Ratings |
| Experience | ★★★★★ (5/5) |
| Licenses and Certifications | ★★★★★ (5/5) |
| Competitive Rates | ★★★★★ (5/5) |
| Customer Feedback | ★★★★★ (5/5) |
While newer compared to other aesthetic clinics in the area, ElevateRX has managed to cement its place on our list for several reasons.
For one, ElevateRX's team comprises some of the best professionals in the field currently, including the clinic head Lindsay Peters, a very experienced Nurse Practitioner known for her approachable and caring demeanor and commitment to safety.
The rest of the team is equally qualified, with Medical Doctors (MD), Nurse Practitioners (NP), and Registered Nurses (RN) joining Lindsay Peters regularly.
Another reason we recommend ElevateRX is their list of services. See, beauty does not have to come at the cost of your health and safety, which is why ElevateRX's medical-backed services are such a breath of fresh air.
From aesthetic injectables to skin tightening treatments, you can rest easy knowing that you're receiving quality treatment from ElevateRX. All items used in procedures are medical grade and sourced from reputable suppliers.
All in all, if you're looking for a safe, professional, and effective aesthetic clinic in Ottawa, ElevateRX should be at the top of your list.
All treatments are evidence-based and conducted by experienced medical professionals
Wide variety of aesthetic treatments and brands offered
Competitively priced
Customer Reviews
Let's take a look at what their clients have to say:
"The clinic is easy to find, and easy to locate. It is very clean, and modern. Tamara (RN) is extremely knowledgable, honest, and pretty down to earth. She made both my husband and I feel comfortable getting our injections. Lindsay (NP) is another gem! I definitely enjoyed my first visit, and already thinking about some other services I could benefit from." — Ashlee Harmer

"I am so happy to have discovered this spot!! The owner Lindsay is so professional, approachable and just an all round nice person. Medical aesthetics can feel intimidating sometimes but she makes you feel so ease and provides you with all of the important information. The space itself is so clean and bright and I've always walked out very satisfied with my treatments!" — Katie Hession (@YOWCityStyle)
2. Luminesse Laser & Skin Clinic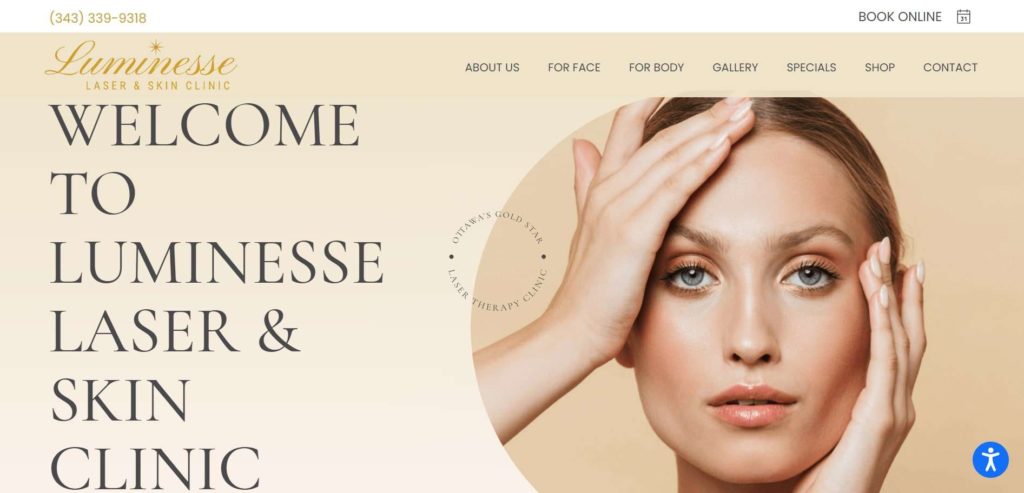 Test
Info
SERVICES
Microcurrent Facial Therapy, LED Light Therapy with Celluma, Picoway Laser, Chemical Peels, Hydrafacial, Secret RF Microneedling, Dermaplaning, Skin Analysis with OPTIC, Neurotoxins, Dermal Fillers, Tattoo Removal, Laser Hair Removal, Body Sculpting
WEBSITE
https://luminesselaser.ca/
ADDRESS
117 Centrepointe Dr Suite 255, Ottawa, ON K2G 5X3, Canada
CONTACT DETAILS
613 727 0714
OPERATING HOURS
Tuesday to Friday 10 AM - 6 PM

Saturday 10 AM - 3 PM
| | |
| --- | --- |
| Criteria | Ratings |
| Experience | ★★★★★ (5/5) |
| Licenses and Certifications | ★★★★★ (5/5) |
| Competitive Rates | ★★★★★ (5/5) |
| Customer Feedback | ★★★★✩ (4/5) |
With its mission to help individuals keep their skin healthy and beautiful through non-invasive procedures, Luminesse Laser & Skin Clinic has made it to this list.
We like its commitment to providing only the best treatments for its clients.
We trust this clinic because it is founded and led by Sandy, a laser specialist with over 20 years of experience within the medical aesthetic industry.
She is warm, friendly, and passionate about helping others become the best version of themselves.
It is also great that the team is composed of licensed professionals with varying expertise. Apart from Sandy, there's also a body contouring specialist, a skincare specialist, and an experienced nurse injector to get things done.
Today, some of the clinic's popular services include hydrafacial and chemical peel for the face, and laser hair and tattoo removal for the body.
Sadly enough, there are no price guides that customers can check out to make a more informed decision.
On a different note, we appreciate that the gallery on the website shows a number of previous works. Also worth noting is its shop, where clients can conveniently avail themselves of the things they need for their beauty regimen.
Overall, we believe that Luminesse Laser & Skin Clinic is one of the best options for your aesthetic needs. With its team of friendly professionals and great service, every visit will be worthwhile.
Various services offered
Licensed, professional team
Photo gallery of previous work
No price guides available
Closed on Sundays and Mondays
Customer Reviews
Always a great experience
"I have been coming to Luminesse for laser hair removal for a while and it is always a great experience. The service is impeccable, the staff is courteous and professional, the rooms are clean and well maintained and I have had wonderful results with the laser treatments. I highly recommend this venue. Thank you Sandy!" — Fred L., Google Reviews
Seeing great results
"I got my first chemical peel at Luminesse with Sandy and it was such a pleasant experience. The office is welcoming and inviting and all around enjoyable to be in. Sandy was extremely knowledgeable and very attentive to what I wanted to get out of treatment, she was incredibly honest, and not pushy by any means. I am already seeing great results from my peel on day 3 and I definitely plan to continue getting treatments at Luminesse!" — Julia Bouterakos, Google Reviews
3. Reborn Medical Aesthetics
| | |
| --- | --- |
| Criteria | Ratings |
| Experience | ★★★★★ (5/5) |
| Licenses and Certifications | ★★★★★ (5/5) |
| Competitive Rates | ★★★★★ (5/5) |
| Customer Feedback | ★★★★✩ (4/5) |
At Reborn Medical Aesthetics, our experience left us spellbound. From rejuvenating facials to cutting-edge non-surgical procedures, our journey through the world of aesthetics was nothing short of transformative.
First and foremost, convenience reigns supreme.
Their seamless appointment booking system and central location made scheduling a breeze. We appreciate a clinic that respects our time and busy lives.
Kudos to Reborn for that.
Reputation is earned, not bought. Reborn has earned its stripes.
Renowned for their meticulous approach and stellar results, we walked through their doors with high expectations, and they exceeded them. Their expert team radiates professionalism and expertise.
From Botox to dermal fillers, they've mastered the art of enhancing natural beauty. We felt like VIPs, receiving tailored treatments that addressed our unique concerns.
They don't do cookie-cutter things here.
But what about the cost, you ask? Well, quality does come at a price.
While Reborn isn't the most budget-friendly option, their results speak volumes. In the long run, the confidence boost is worth every penny.
We'd rather invest in excellence than cut corners on something as personal as aesthetics.
However, they don't offer promos yet. We advise checking their website for other affordable deals.
Expertise in aesthetics
Reputation for excellence
Convenient services
Personalized treatments
Customer Reviews
"Indeewari is such a sweet person. Our virtual consultation went so well. She's open to discussing more during the appointment about what would be our best option in terms of whatever we're looking for. Definitely my go to aesthetics clinic." — Ariba Kamran
"My first visit with Indeewari was truly amazing. Let me tell u I've been to several several cosmetic clinics ,Finally first time a Cosmetic RN injector that I saw a dramatic change No more marionette lines and wrinkles under and sids of my eyes. She is very knowledgeable and makes u feel you're at home. My place to go from now on." — Syvie Roy
4. Inskinity Aesthetic Clinic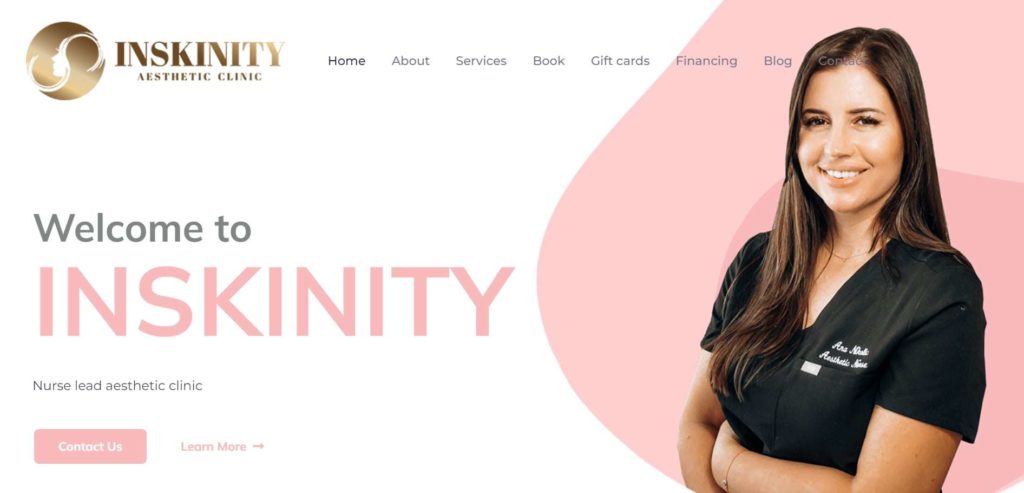 Test
Info
SERVICES
Aesthetic Injectables, Skin Health, Teeth Whitening, Hair Loss Treatment, Therapeutic, Wellness Therapies, Elevate for Men
WEBSITE
https://www.elevaterx.ca/
ADDRESS
164 Lebreton St. North Ottawa, Ontario
CONTACT DETAILS
Phone: 613-518-1942

Email: [email protected]

OPERATING HOURS
Monday to Friday: 9:30AM–8:00PM

Saturday: 10:00AM–2:00PM
| | |
| --- | --- |
| Criteria | Ratings |
| Experience | ★★★★★ (5/5) |
| Licenses and Certifications | ★★★★★ (5/5) |
| Competitive Rates | ★★★★★ (5/5) |
| Customer Feedback | ★★★★★ (5/5) |
Owned and led by an advanced nurse injector, Inskinity Aesthetic Clinic is one of our best choices for various aesthetic needs. Today, the clinic offers services that include hydrafacial and peels, among many others.
A member of the Canadian Association of Medical Aesthetics and Canadian Dermatology Nurses Association, Ana, the owner, is one you can trust.
We like that she is always passionate about health and maintains the desire to help others feel good about themselves. We appreciate that she does this in honest, professional, and personable ways.
Aside from being knowledgeable about the services her clinic offers, it's also great that she takes the time to explain things thoroughly to her clients. This simple gesture helps her patients feel calmer and more comfortable.
It was also nice to see a gallery on the clinic's website. Although limited, it was good that it has shown some before and after photos of previous work for reference.
We also appreciate that it has teamed up with Do Finance, which is a great help for people that need financial assistance for their cosmetic procedures. Unfortunately, there were no price guides provided to help expect costs better.
Nonetheless, we think that Inskinity Aesthetic Clinic is great for aesthetic needs, and its clients would most likely agree with us.
An array of services
With relevant certifications
Gallery of previous work
Financing options
No price guides provided
Closed on Sundays
Customer Reviews
An amazing experience
"Ana is wonderful – upon our initial consultation, she explained various options to enhance my skin with no pressure. She truly strives to do what's best for your skin. I've had the Vivier peel done, and Ana's space is so calm, soothing and relaxing. I've had an amazing experience and scheduled my next appointment already !!!! I highly recommend her for your next skin needs 😊" — S S, Google Reviews
Beyond thankful
"Ana is absolutely amazing! Very professional, personable and makes you feel very comfortable. I was a bit nervous as I had previously had a negative Botox experience at another clinic. Ana reassured me, did not pressure me and moved at a pace I was very comfortable with. She made suggestions and worked with me to achieve my desired goal. My results are perfect and I could not be happier! I'm beyond thankful for Ana." — Kaylie Anne, Google Reviews
4. Concept Medical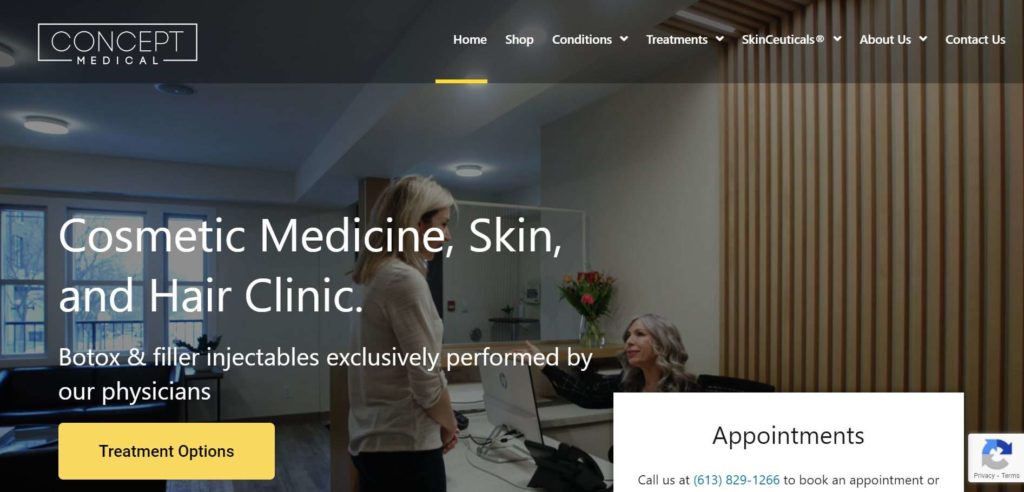 | Test | Info |
| --- | --- |
| SERVICES | Platelet-Rich Plasma, Belkyra, Botox, Chronic Migraine Treatments, Excessive Sweating Treatments, Chemical Peels, CoolSculpting, Dermal Fillers, Grinding/Bruxism, Laser Hair Removal, Laser Vein Treatments, Latisse, Lip Filler, Masseter Reduction, Mole & Skin Tag Removal, Microneedling, Photorejuvenation, SkinCeuticals Facials, Ultratherapy Skin Tightening |
| WEBSITE | https://conceptmedical.ca/ |
| ADDRESS | 1272 Wellington St. W, Ottawa, ON K1Y 3A7, Canada |
| CONTACT DETAILS | +1 613-829-1266 |
| OPERATING HOURS | Monday to Friday 9 AM - 5 PM |
| | |
| --- | --- |
| Criteria | Ratings |
| Experience | ★★★★★ (5/5) |
| Licenses and Certifications | ★★★★★ (5/5) |
| Competitive Rates | ★★★★★ (5/5) |
| Customer Feedback | ★★★★★ (5/5) |
For aesthetic needs, Concept Medical is one of our best bets. One reason is that it has won the Consumer Choice Award for 2 consecutive years — from 2021 to 2022.
Having won such awards speaks volumes of how trustworthy the clinic is when it comes to aesthetic procedures.
On top of this, it is also led by professional physicians and medical staff, who provide additional confidence in the services rendered.
With a strong dedication to helping people look and feel at their best safely, it only offers treatments that are supported by evidence-based research.
It also ensures that injectable consultations and procedures are only done by registered physicians.
As an advanced cosmetic, hair, and medical skin clinic, the services here extend from botox and dermal fillers to laser hair removal and photorejuvenation.
These treatments are great for concerns like wrinkles, hair loss, and even skin cancer.
Unfortunately, the website does not contain a portfolio of its team's previous work, which could be used by customers as a reference. There are also no price guides to help clients better decide on which treatments fall within their budgets.
Despite these, we appreciate that the care focuses on the patient's overall experience. We also commend the staff members who are always very welcoming and ready to help.
A range of services offered
Has won relevant awards
A team of licensed professionals
Evidence-based treatments
No price guides provided
Closed on weekends
Customer Reviews
Results were better than I would have expected
"What a gorgeous space! The staff at Concept Medical were so warm. They went above and beyond to make my experience memorable. Dr. Hetz is so inviting, knowledgeable and informative. He took his time to ensure I was well informed and felt comfortable. My entire experience went seamlessly and I felt so taken care. Best of all, the results were better than I would have expected!! I highly recommend Concept Medical and look forward to going back soon." — Dorota DiStefano, Google Reviews
The ultimate medical clinic
"From the moment you arrive at Concept Medical, you are greeted with inviting and knowledgeable staff. The new location on Wellington Street is absolutely stunning, each room is professionally decorated, allowing for a complete private experience. Dr. Hetz is extremely well suited to his job. He is personable and takes the time to explain all his procedures. There is never a feeling of pressure or uncertainty. I would say Concept Medical is the ultimate medical clinic in Ottawa, I highly recommend visiting them." — Karen Grand, Google Review
5. Capital Aesthetics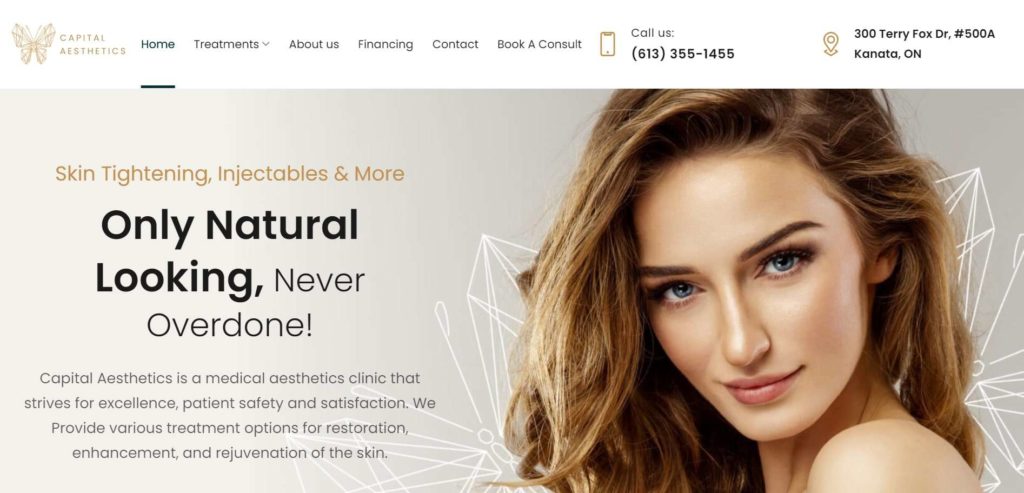 | Test | Info |
| --- | --- |
| SERVICES | Neuromodulator Injections, Dermal Fillers, Fat Dissolving, Microneedling, Skin Tightening, Threat Lift, PRP, Sclerotherapy, Sculptra, Laser Hair Removal |
| WEBSITE | https://www.capitalaesthetics.ca/ |
| ADDRESS | 300 Terry Fox Dr #500A, Kanata, ON K2K 0E3, Canada |
| CONTACT DETAILS | +1 613-355-1455 |
| OPERATING HOURS | Monday to Friday 10 AM - 6 PM |
| | |
| --- | --- |
| Criteria | Ratings |
| Experience | ★★★★★ (5/5) |
| Licenses and Certifications | ★★★★★ (5/5) |
| Competitive Rates | ★★★★★ (5/5) |
| Customer Feedback | ★★★★★ (5/5) |
We like Capital Aesthetics because it continually strives for excellence, patient safety, and overall customer satisfaction.
It provides different treatments that aim to restore, enhance, and rejuvenate the skin through non-invasive procedures.
Among the services it offers include neuromodulator injections, dermal fillers, and skin tightening, to mention a few.
Apart from having a team of highly qualified and medically trained aestheticians and medical injectors, we also appreciate that every procedure begins with a comprehensive consultation.
This allows patients to get a better idea of what to expect and gives them the opportunity to open up about their concerns to professionals.
The team stays committed to helping people feel good about themselves. They will also work with you to create a more personalized treatment plan, which we appreciate.
Having planned your personalized treatment, subtle and natural-looking results are achieved. Also worth noting is the use of products approved by Health Canada.
Although limited to botox procedures, we still appreciate that the website contains before and after photos of previous work done.
The upcoming financing options are also commendable as they can greatly help customers better deal with the cost of their cosmetic procedures.
With its extensive range of treatments and great staff, we trust that Capital Aesthetics will be great in addressing all your aesthetic needs.
An extensive range of services
Professional and licensed personnel
Free consultation
Personalized treatment
Limited gallery
Closed on weekends
Customer Reviews
Nothing but wonderful things
"I have absolutely nothing but wonderful things to say about Capital Aesthetics and Marina!!! She is incredibly honest, professional, kind and gentle. I'd never undergone any kind of cosmetic procedure prior to my meeting her, she explained everything to me in great detail, ensured I understood and was comfortable with her suggested plan to acheive my desired results. She in no way pushed any treatment, I was able to make all treatment plan decisions. I highly recommend Marina!! She is amazing. I am beyond thrilled with my results and will most certainly be a return customer! Thank you SO much Marina for setting my mind at ease throughout the whole process. I look forward to seeing you again ;)" — Amy Cinkant, Google Reviews
A great experience
"Truly had a great experience with Marina. Couldn't have asked for any better. She's honest, and makes the whole experience very comforting. I trust her completely – she really does have your best interest at heart which is quite hard to find. I got a lip flip, so now when I smile my top lip doesn't disappear 😅 It looks nice & natural which is what I want. Originally I came in wanting lip injections but together we decided a lip flip was all I needed, very happy with the results." — Veronica, Google Reviews
6. The Cosmetic Clinic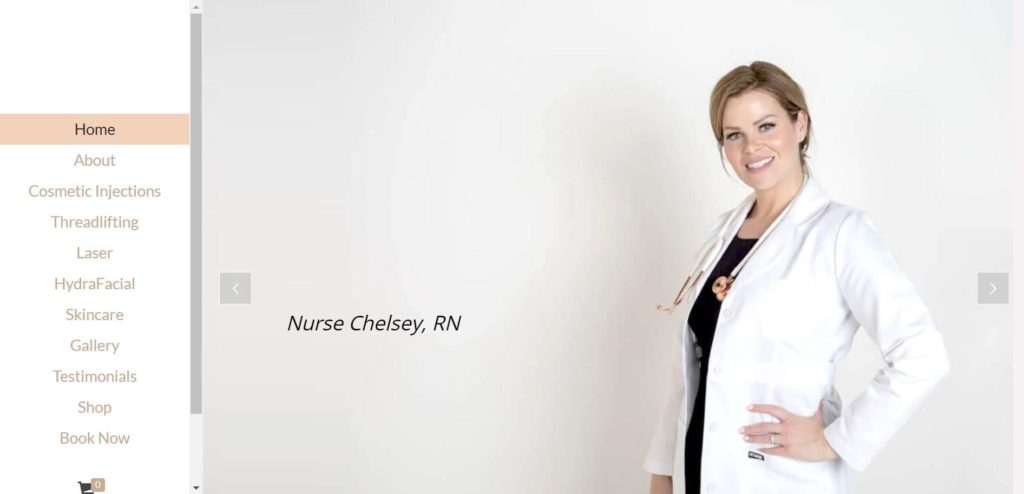 Test
Info
SERVICES
Cosmetic Injections, Thread Lifting, Laser Procedures Hydrafacial, Skincare
WEBSITE
https://www.thecosmeticclinic.ca/
ADDRESS
900 Greenbank Rd suite 204, Ottawa, ON K2J 1S8, Canada
CONTACT DETAILS
+1 613-913-2248
OPERATING HOURS
Monday to Wednesday 9:30 AM - 5:30 PM

Thursday 10 AM - 6 PM

Friday 9:30 AM - 5:30 PM
| | |
| --- | --- |
| Criteria | Ratings |
| Experience | ★★★★✩ (4/5) |
| Licenses and Certifications | ★★★★★ (5/5) |
| Competitive Rates | ★★★★★ (5/5) |
| Customer Feedback | ★★★★★ (5/5) |
Founded by Nurse Chelsey in 2019, The Cosmetic Clinic is one of our top options when searching for a good aesthetic clinic in the area. Led by a team of medical professionals, we trust in the quality of services it offers.
Talking about trust, we like that everyone in the clinic takes a 4-step approach with trust, comfort, medicine, and art as the main elements. We appreciate that it always ensures its clients that they are in good hands.
Also worth mentioning is how the doctors take the time to do things right at all times. Today, its services range from cosmetic injection and hydrafacial to thread lifting and laser hair removal.
While durations for these treatments were specified, prices were unfortunately not indicated.
It's great to know that the staff members continue to study and research how they could achieve the best outcome in every procedure. This translates to better safety and optimal results for the patrons.
It's also nice that every employee is required to be CPR-trained and that injection protocols are reviewed quarterly. Such efforts are commendable as they make every client feel safer and more confident.
The comprehensive gallery showing multiple jobs done in the past is great, too. Let's not also forget its shop where one can conveniently get supplies for an uninterrupted beauty regimen.
A decent array of services
Licensed, CPR-trained personnel
Comprehensive gallery
No price guides provided
Closed on weekends
Customer Reviews
Results are nothing short of incredible
"I came to the cosmetic clinic to get facial sculpting done on my jawline and a little bit of chin filler. Nurse Brianna was nothing short of amazing the whole way through! I had my concerns given I am someone with incredibly sensitive skin, Brianna provided support and education on the procedure and the product that she would be using (Radiesse) She went through what to expect during the procedure and through the healing process. While providing the procedure Brianna communicated what she was doing, where the filler was going and what the effect would have, which made me feel comfortable and confident through the process. The results are nothing short of incredible!! The Skin Clinic provided me with such an amazing experience through and through, all of the other staff were incredibly inviting and ultimately contributed to the experience. Thank you so much Nurse Briana!!!! I'll be back to see you again for sure!!!🖤" — Meagan MacQuatt, Google Reviews
Fantastic results
"I had my first experience at the Cosmetic Clinic yesterday. Chelsey made me feel extremely safe. She has a very calm and nurturing approach wich brings so much comfort. Chelsey takes her time to understand your needs and listens if you have any concerns. I didn't feel any pressure in undergoing anything or having to rush into my apointment. I srongly recommend The Cosmetic Clinic for their professionalism and fantastic results! Thank you!" — Jennifer Outschoorn, Google Reviews
7. The Aesthetic Lounge
SERVICES
Laser Treatments, Cosmetic Injectables, Neuromodulators, Medical Aesthetics, Body Treatments, Treatments for Men, and Sculptra®
WEBSITE
http://theaestheticlounge.ca
ADDRESS
1109 Wellington Street West
CONTACT DETAILS
613-729-8086
[email protected]
OPERATING HOURS
Monday 9:30 AM–6 PM
Tuesday 9 AM–5 PM
Wednesday 9 AM–5 PM
Thursday 9:30 AM–7 PM
Friday 9:30 AM–7 PM
| | |
| --- | --- |
| Criteria | Ratings |
| Experience | ★★★★✩ (4/5) |
| Licenses and Certifications | ★★★★★ (5/5) |
| Competitive Rates | ★★★★★ (5/5) |
| Customer Feedback | ★★★★★ (5/5) |
The Aesthetic Lounge has one of the most stunning and modern aesthetic clinics in Ottawa. The Lounge experience is unparalleled. They are happy to have established a warm and friendly environment where their clients can rest and enjoy their treatments in a safe, beautiful, and professional setting.
Their welcoming team has a plethora of knowledge and is dedicated to offering high-quality treatments to help you look and feel your best. Allow us to relax you while they enhance your natural beauty, leaving you feeling confident, invigorated, and revitalized.
The Aesthetic Lounge's mission is straightforward: to assist its clients find the beauty within themselves. Every customer who enters through their doors can anticipate only the best cutting-edge technologies and the most up-to-date cosmetic, non-surgical enhancement procedures and treatments.
High-end facilities
Great customer communication
Affordable rates
Customer Reviews
What an excellent service!
"What an excellent service! First class aesthetics, with state of the art equipment and facilities. The staff is the best in Ottawa. With an eye on balanced and natural beauty results this is my one and only choice for first class care, beautiful natural results that give me a great confidence when at work, on holiday, out for groceries. These procedures backed up with a healthy balanced lifestyle and nutrition I have a comprehensive result. Bravo!" – Jennifer Boudreau
I was very happy and will be back for sure.
"Excellent service! Shelia was amazing and helped tailor a treatment plan that gave me the best results. I was very happy and will be back for sure. All the staff were super friendly and helpful. The place itself is beautifully decorated, modern and clean." – Nadine Teeling
8. Vanity Skin Clinic
| | |
| --- | --- |
| Criteria | Ratings |
| Experience | ★★★★✩ (4/5) |
| Licenses and Certifications | ★★★★★ (5/5) |
| Competitive Rates | ★★★★★ (5/5) |
| Customer Feedback | ★★★★★ (5/5) |
If you want a skin treatment plan that is tailored to your skin, rather than cookie-cutter skin procedures that lack personalisation and customisation, go no further than Vanity Skin Clinic.Danika Fleming started the clinic in 2018 with the goal of revolutionizing skin for ladies suffering from acne through sophisticated skincare treatments.
By remaining transparent, they are devoted to offering the finest quality of service to their clients. Sincere and ethical. They commit to follow industry rules, to lead with integrity and value, and to raise awareness of misinformation in order to better inform their clientele.
Their prior patients have been astounded by their doctor' professionalism. They were particularly pleased with their microneedling, which uses Mesenchymal stem cells derived from bone marrow as a skin infusion throughout the process. The most potent and diverse stem cells, capable of transforming into a wide range of cell types to combat damage and inflammation, making them the gold standard for skin repair and rejuvenation.
At their clinic and in their care, they are results-oriented. They believe in a results-driven therapy strategy that prioritizes their customers, which includes taking the time to thoroughly discover the underlying reasons rather than simply masking the symptoms. When it comes to health and skincare, there is no such thing as a one-size-fits-all solution.
Tailor-made treatments depending on your skin type.
Experienced doctors
Provides a wide array of beauty treatment plans
Customer Reviews
Her products and treatments have done wonders on my skin.
"Danika is so kind, understanding and knowledgeable on skincare. Her products and treatments have done wonders on my skin. I cannot recommend her enought to others! She truly cares about her clients, I am so grateful to have met her!" – Annick Boustany
Danika is so knowledgeable and friendly!
"Danika is so knowledgeable and friendly! She's one of the best in Ottawa! I've been dealing with acne for a very long time and now my skin has never looked so good! I love her products and it has done wonders! Highly recommend this place!" – NTanya Gascon
9. Accent Image & Laser
SERVICES
Treatments: Laser Hair Removal, Electrolysis, HydraFacial, Custom Facials, IPL Photofacials, Chemical Peels, Venus Freeze Plus, Micro-Needling, Collagen BodyWave, and Pixel Perfect.
Aesthetics: Eyelash Extensions & Cosmetic Injectables
WEBSITE
accentimage.ca
ADDRESS
120 Terence Matthews Cres, Kanata ON K2M 1P7
CONTACT DETAILS
Phone: (613) 270-0632
Email: [email protected]
OPERATING HOURS
Monday – Friday, 10:00 AM – 8 PM
Saturday, 10:00 AM – 5 PM
Accent Image & Laser began as Santa Fe Sun Tanning, created over two decades ago by Kanata's Sawyer family. As the golden years passed, their desire to make you feel great prompted them to investigate the larger beauty business and, eventually, to broaden Their services. Accent Imaging & Laser revamped in 2014 and became the first clinic in Ottawa to offer HydraFacials and the Collagen BodyWave.
Since then, they've expanded their team of trained professionals and introduced the greatest new treatments and products to give you a confident, head-to-toe glow. Their ultimate goal is to be your one-stop medi-spa and aesthetics clinic that is down-to-earth, inexpensive, and effective.
They excel on their laser treatments including their laser hair treatment which is the gold standard for removing unwanted hair from any part of your body. Incredible effects are usually noticed after 8-12 sessions spaced 4-6 or 6-8 weeks apart depending on the location.
As such, they've packaged multiples to save you more money. Furthermore, their top-of-the-line Venus Velocity laser includes a special cooled tip that will make the entire experience much more comfortable for you.
Please keep in mind that their clinic is open during normal business hours, yet all treatments and services are currently only available by appointment. Don't hesitate to email them to plan your next treatment or to book a virtual consultation with one of their great professionals.
Experienced doctors
High-end facilities and equipment
Affordable rates
Customer Reviews
Highly recommend accent image and laser.
"Great experience so far! Still getting treatments. Siham is so amazing and she helps me most times with my treatments. She's calm and explains things to me patiently and gives great advice going forward. Highly recommend accent image and laser. Keep up the good work!" – Hilda Sampson
Amazing experience with Accent!
"Amazing experience with Accent! Everyone was incredibly friendly and accomodating, and they made it a priority to make sure I was comfortable during my treatments. Would absolutely recommend to anyone looking for laser hair removal!" – Christian Buckingham
FAQs about Aesthetic Clinics
---
We hope that our list has helped you find the right place to start your journey towards ageless beauty!
Since you're on this page, you might also find this article on the best dermatologists in Ottawa interesting.