5 Best Abortion Clinics in Ottawa
Having an unplanned or unwanted pregnancy could make a woman feel alone and in despair.
Should you find yourself in this situation, our review of the best abortion clinics in Ottawa can hopefully provide you with helpful and trustworthy resources when you need them most.
In the next section, we'll be taking a look at potential costs associated with going to an abortion clinic.
Is An Abortion Clinic Costly in Ottawa?
Not at all — if you're insured or have health care coverage, that is. Abortions are legal at any pregnancy stage in Canada but insurance coverage and resources can vary by region.
Thankfully, the Ontario Health Insurance Plan or OHIP covers the cost of surgical abortions done in clinics or hospitals. It also covers the cost of abortion-inducing pills early on in the pregnancy.
We made a table below to show the difference between patients covered by OHIP and some insurance plans with those who are uninsured. The estimated costs in the table are from regional averages though some clinics might have a different pricing matrix for every pregnancy stage.
ABORTION CLINIC SERVICE
ESTIMATED COST
Ontario Health Insurance Plan (OHIP)
$0
Interim Federal Health (IFH)
$0
University/College Health Insurance Plan (UHIP/CHIP)
$0
Uninsured patients
Pregnancy up to 11 weeks $500
Pregnancy up to 13 weeks $600
Pregnancy up to 16 weeks $750
Pregnancy up to 18 weeks $900
Please note that the figures above are applicable to Canadian residents only. Some clinics or centres could have policies revolving around immigration status and other issues.
The Best Abortion Clinics in Ottawa
In the following section, we'll be taking a closer look at some abortion clinics in Ottawa and what makes them trustworthy and reliable.
Since this is a sensitive topic, we made sure to provide a set of helpful FAQs toward the end of this listicle, as well.
1. The Morgentaler Clinic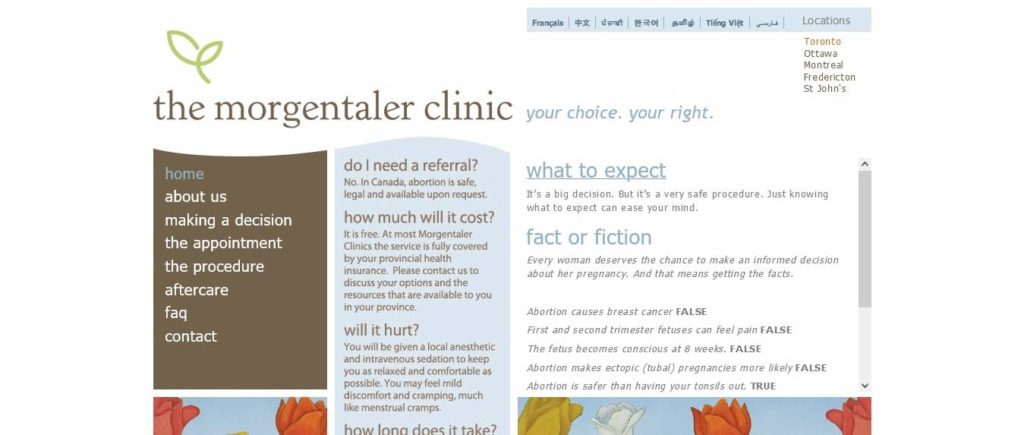 SERVICES
Abortion care and related services including counselling, contraceptive education and testing for sexually transmitted infections (STIs)
ADDRESS
65 Bank Street Ottawa, Ontario K1P 5N2
CONTACT NUMBER
Office (613) 567-8300
Appointments (613) 567-3360


[email protected]

WEBSITE
http://morgentaler.ca/contact_ottawa.html
OPERATING HOURS
By appointment only
One of the first things that the Morgentaler Clinic wants to assure its clients is utmost privacy and security. It's bound by the Ontario Privacy Act and abides by laws on patient confidentiality and the right to discreet abortion care services.
And if you're worried about violent protesters, the clinic aims to put your mind at ease about it. It describes its security measures as "extensive" along with a court order that prohibits demonstrators on its premises. No devices or big bags are allowed in the clinic, either.
The clinic provides all the steps to getting informed decisions in one visit. This means a client can get counselling, an ultrasound test, a doctor's examination, and an abortion procedure without having to return to the clinic several times.
Appointments typically last for a couple of hours. But the procedure itself is pretty short at around five to ten minutes and guaranteed to be safe with some recovery time afterward.
The clinic, unfortunately, does not provide pills or medical abortion options for clients. There could also be out-of-province fees for non-Ontario residents.
No doctor's referral needed
Has extensive security systems to protect clients
Counselling, ultrasound, exam and abortion done in one visit
Medical abortions not available at the clinic
Out-of-province fees for non-Ontario residents
No electronics are allowed during the appointment
Customer Reviews
Nobody was judging and just wanted to help
"Don't normally write reviews but felt like I should because of all the negative ones. I read all the negative reviews and it made me so so nervous. But I arrived at my appointment everyone was helpful and nice. You could tell nobody was judging they just wanted to help. I received pain medication through the iv but as to be expected it was mildly painful for sure. The doctor was amazing she was so kind and so nice and the procedure took maybe 3 minutes. The pain during the procedure is unavoidable but they do their best to make you as comfortable as possible and it is so fast. So grateful for the staff here." – Taylor W.
Had twice safe abortions here
"The best abortion clinic. I had twice safe abortions there. They are so friendly and kind and they are not gonna judge you very helpful. Ignore the negative comments they have the best nurses and doctor and counsellors." – Nz Rasouli
2. Medical Family Planning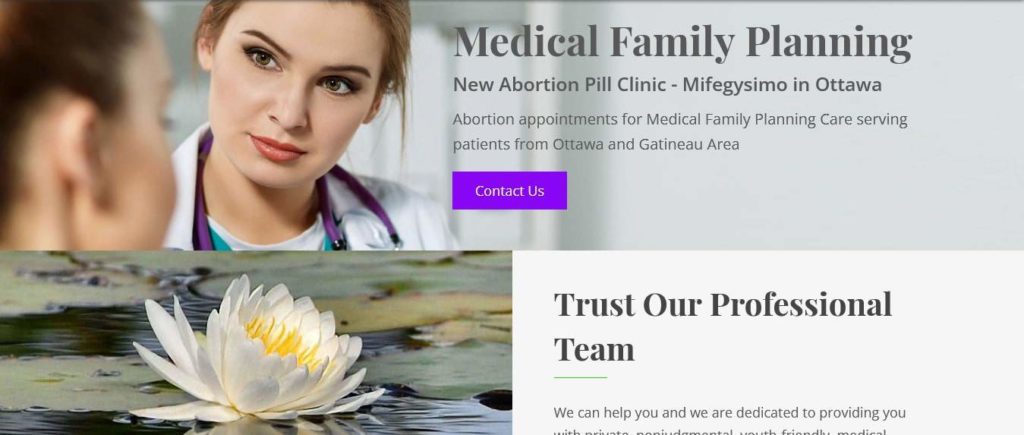 Taking pride in its non-judgemental, discreet, and pro-choice services, the Medical Family Planning Clinic is also a youth-friendly centre. It doesn't require doctor's referrals to make the entire process convenient and hassle-free.
It's primarily a medication-centred abortion clinic. It provides Mifegymiso and Misoprostol which are safe abortion pills with a success rate of 98% up to 7 weeks and 95% up to 10 weeks of pregnancy.
Both pills are covered by OHIP so there are no fees to pay at the clinic for them. The clinic accepts most health care coverage plans but non-insured clients will need to pay via debit or credit cards.
Aside from ultrasound to determine the stage of pregnancy, other lab tests for blood type, kidney and liver functions, and potential STDs could be requested by the clinic beforehand.
The downside is that this means the Medical Family Planning clinic does not provide surgical abortion on its premises. It also means it can only accommodate clients who are 10 weeks pregnant at most.
OHIP-covered abortion pills
Up to 98% success rate for 7-week pregnancies
Youth-friendly and pro-choice clinic
Accepts most health care plans
No surgical abortions offered
Cannot accommodate late-pregnancy clients
Does not accept cash for non-insured patients
Customer Reviews
Things were pretty quick
"Got my first abortion here. A very very scary experience, especially finding out at 6 weeks and only having until 8 weeks to have a medical abortion as I'd rather kill myself than do it surgically. Things were thankfully pretty quick, you have to get a blood test before they prescribe you the medication. The whole span between getting the first appointment and finishing with the abortion was about a week. I'd recommend it! I hope they're still performing abortions normally during the pandemic 🙁 I imagine it's extremely terrifying to be unwillingly pregnant at this time with everything closing sooner and appointments being scarce or just not available at all. And yep, I'm talking about abortion publically, normally, because it's normal and if you think otherwise, you hate women and deserve nothing." – "MilkBread"
Moral support and professionalism
"I would like to thank Maureen for her moral support and her professionalism she is very human she advised me well and reassured me it was really a pleasure to have her on the phone. Thank you." – Hela Guitni
3. Action Canada for Sexual Health and Rights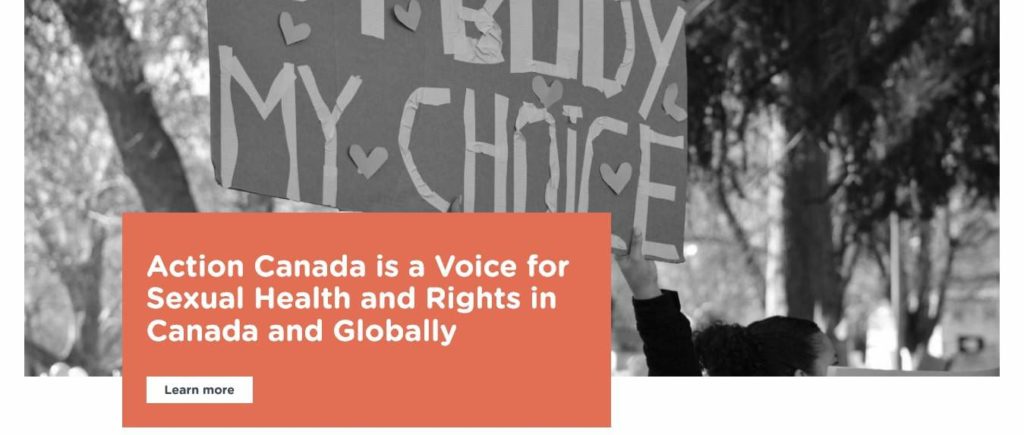 SERVICES
Non-profit centre for policy and advocacy resources such as reports and analysis, factsheets, policy briefs, and tools, sexual health resources such as sexual health information hub, directory of sexual health providers, information on Beyond the Basics, our sex-ed resource for educators
ADDRESS
501-240 Bank St Ottawa, ON, Canada K2P1X4
CONTACT NUMBER
+1 613-241-4474


[email protected]

WEBSITE
https://www.actioncanadashr.org
OPERATING HOURS
Monday to Friday 9 AM – 5 PM
Closed on Saturdays and Sundays
Though it's not an abortion clinic in Ottawa per se, Action Canada nevertheless provides helpful resources for those seeking specific sexual health care services and information. It collaborates with grassroots organizations across Canada and parts of the globe.
It has a directory of sexual health providers for those seeking surgical or medical abortions, STI testing, and even IUD insertion.
What makes this centre unique is its menu of resources on sexual health for indigenous clients who self-identify as Inuits and aboriginal youth.
It connects abortion service providers with those seeking safe and discreet procedures wherever they may be. And even if it's closed on weekends, the website has all the links and information available at any client's disposal.
But for a centre that's practically a one-stop-shop for reproductive health resources, it would be nice to have advocates and counsellors ready to take calls at all hours of the day instead of just between 9 AM and 9 PM EST.
One-stop centre for reproductive health resources
Collaborates with grassroots organizations for sexual rights advocacy
Can accommodate immediate clinic referrals via its referral line
Not an abortion clinic per se
The referral line is between 9 AM – 9 PM EST only
Open on weekdays only
Customer Reviews
Donate directly to Action Canada
"I actively fought against misinformation and the lack of support in the 1960s and 1970s by working directly in my community. Today, I donate directly to Action Canada because the work is not over." – Elinor
4. Planned Parenthood Ottawa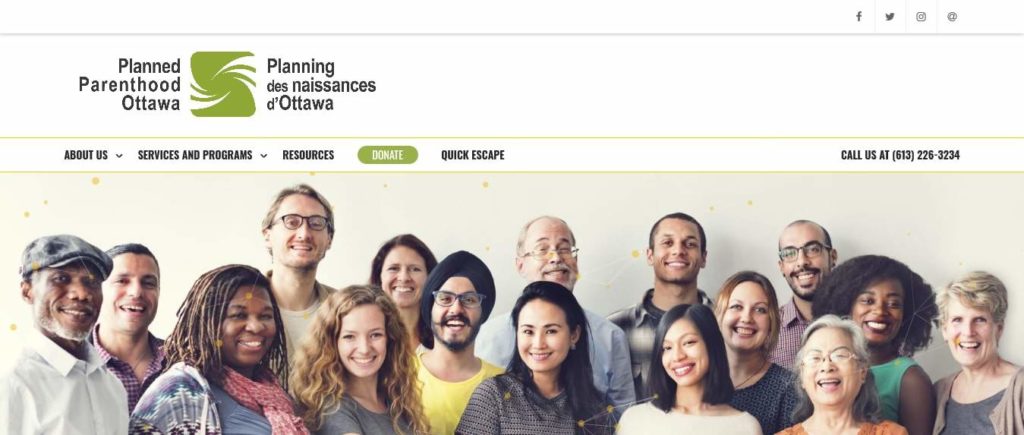 SERVICES
Options counselling, insight theatre, reproductive coercion project, education program, healthy relationships project
ADDRESS
222 Somerset Street West, Suite 404, Ottawa, ON K2P 2G3
CONTACT NUMBER
613-226-3234 dial 100 (for Options)


[email protected]

WEBSITE
https://ppottawa.ca/
OPERATING HOURS
Over the phone information/referral
Monday to Friday 10 AM – 5 PM
In-person Options counselling appointments
Monday to Friday 6 AM – 7 PM
Planned Parenthood in Ottawa is arguably one of the most recognized abortion clinics in and outside of Canada. However, it also offers a range of reproductive health services and programs.
Apart from providing online resources, the centre also offers options counselling which includes parenting, adoption, and abortion. It can be done both in-person and over the phone though the former is temporarily suspended due to the pandemic.
Walk-ins can be accommodated between 12 noon and 5 PM though this is subject to counsellor availability.
It also has something called the Reproductive Coercion Project which aims to build a coordinated community response to reproductive coercion, abuse and sexual and reproductive health. This lessens incidents of pregnancy pressure, coercion, birth control sabotage, and other manipulative behaviour that threatens a woman's reproductive health rights.
Planned Parenthood Ottawa's website and social media accounts are a wealth of information and resources on safe reproductive choices and rights. However, it would be more helpful to have an advocacy hotline or live chat feature for women and young girls who need them at all hours of the day.
Walk-ins can sometimes be accommodated between 12 PM – 5 PM
Options counselling offered to all clients
Actively supports sexual and reproductive health choices
Information and referral is open on weekdays only
In-person counselling temporarily closed
No 24-hour chat or immediate help hotlines
Customer Reviews
Helped make the best decision for treatment
"I came here for answers and solutions to a problem and received quick and virtually painless help in the office. They helped me make the best decision for my treatment and let me decide for myself what options I wanted to take. Quick and thorough team of professionals.
I live closer to the Chicago Metropolitan area, but was nearby Ottawa and am glad to have chosen this place to address certain questions and be provided with a prompt treatment plan. Glad to see they are still operating and in business." – Olivia K.
Incredibly caring and amazing group of people
"What an incredibly caring and amazing group of people. I am so glad to have come here & I am very grateful to every person who took the time to talk to me here. Thank you for helping me with all of my decisions. I will definitely recommend this place." – Black C.
5. First Place Options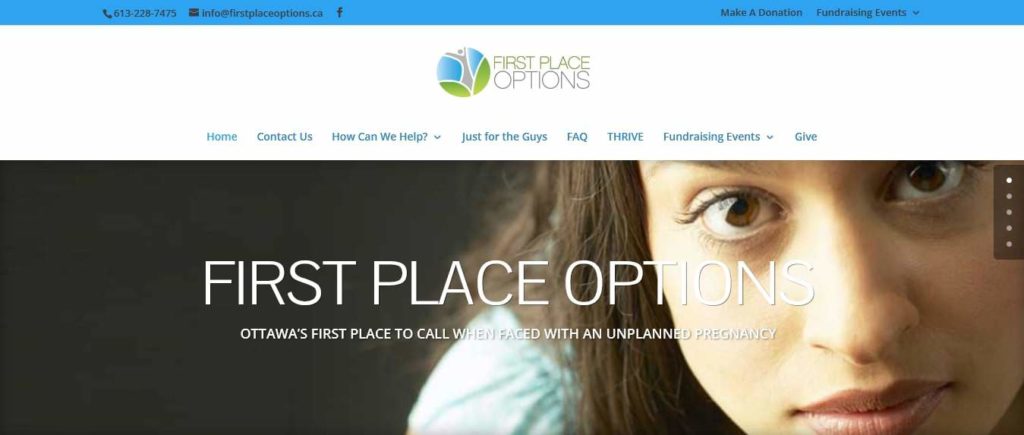 SERVICES
Free pregnancy tests, options counselling, post-abortion grief counselling, pregnancy and parenting support
ADDRESS
202 – 1600 Merivale Rd Ottawa, ON K2G 5J8
CONTACT NUMBER
613-228-7475


[email protected]

WEBSITE
https://www.firstplaceoptions.ca
OPERATING HOURS
Mondays 10 AM – 2.30 PM
Tuesdays 10 AM – 6.30 PM
Wednesdays 10 AM – 4.30 PM
Thursdays 10 AM – 6.30 PM
Fridays by appointment only
Closed on Saturdays and Sundays
First Place Options is first and foremost a charity organization aiming to promote informed decisions surrounding sexuality and pregnancy. It's not an abortion clinic per se, but it promises to be a non-judgemental, supportive, and true-choice resource centre.
It aims to be the first place a woman can call when it comes to unplanned pregnancies. It offers pregnancy options counselling as well as post-abortion grief support to clients.
Unfortunately, the centre is open only on weekdays. The hours for each weekday also vary from the previous one and the next which is a bit confusing.
Female clients can get free confidential appointments as well as free three-minute pregnancy tests at First Place Options. And we said "female" because the centre also accommodates male clients!
This is what makes this centre unique: it offers resources for men and their role in a woman's pregnancy and reproductive health decisions. There are handy advice cards and FAQs because it believes men are an important part of the process.
Free confidential appointment
Offers pregnancy options counselling
Free three-minute pregnancy tests
Gives practical advice to men
Not an abortion clinic per se
Somewhat confusing operating hours
Open on weekdays only
Customer Reviews
Extensive care, consultations, and follow up are discussed
"Warm and welcoming as expected. A most honest and clear presentation of the real options facing women and couples. No pressure. Extensive care, consultations and follow-up are discussed. A most compassionate and sensitive place to be for anyone seeking advice or solutions." – Gerry Organ
Compassionate and caring staff
"Compassionate and caring staff. No pressure. Greatly appreciated." – R. Savatar
FAQs About Abortion Clinics in Ottawa
---
The best abortion clinic in Ottawa can provide a range of services that help you make the best decision about your body and future.
If you need more intensive mental health services related to post-abortion or other issues, we recommend reading our resource on the best psychologists in Ottawa.
And if you have an abortion clinic to recommend for this listicle, send us a message so we can review it and we'll see if it makes our list.