The 6 Best Wood Cutting Services in Ottawa
In the early days of Ottawa, it was a small lumber town before becoming the bustling metropolis we now see today.
Even now, it's still rich with an abundance of tree species, but sometimes they can get a bit too close for comfort.
After getting a tree cut down, there's still the wood you have to worry about, and rather than giving it away, you can get a professional wood-cutting service instead. In this article, we'll take a look at the best wood-cutters here in Ottawa.
The Cost of Wood-Cutting Services in Ottawa
Wood-cutting services are usually dependent on the species of the wood you want to cut along with the condition of the log itself.
Different species of trees have different properties and characteristics, so it's expected that the price varies.
These services also take into account the length and thickness of the log you want them to work on. You can refer to the table below for a general estimate of some of the costs:
| Service | Average cost |
| --- | --- |
| Regular rate | $90/hr |
| Bamboo | $135/hr |
Top Wood Cutting Services in Ottawa
Although wood-cutting in itself is a tough job, some services are still better than others, and to find the best of the best, we made sure to use the following criteria:
1. My Urban Workshop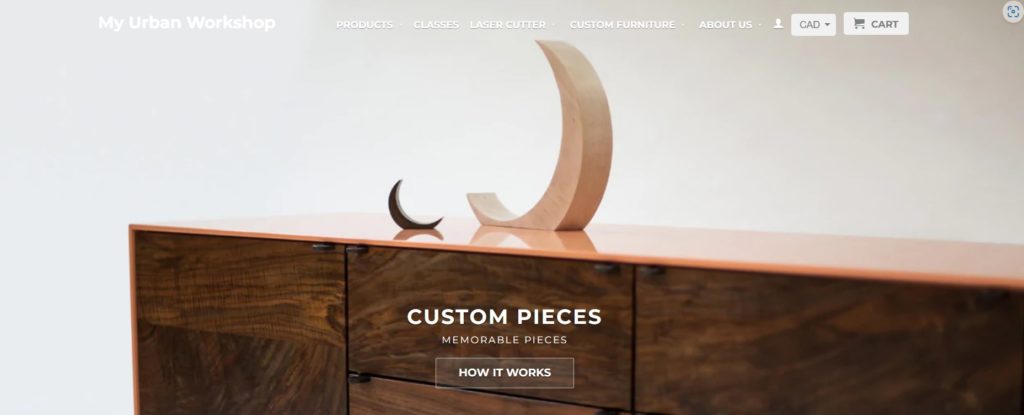 Test
Info
SERVICES
Wood-cutting services, custom furniture, custom laser engraving, woodworking courses
WEBSITE
https://myurbanworkshop.com/
ADDRESS
19 Grenfell Crescent Unit 7, Ottawa, ON K2G 0G3, Canada
CONTACT DETAILS
613 225 7777
OPERATING HOURS
Monday - Friday: 10:00 AM - 5:00 PM (by appointment)

Saturday - Sunday: CLOSED
| | |
| --- | --- |
| Rates | ★★★★★ (5/5) |
| Equipment | ★★★★★ (5/5) |
| Professionalism | ★★★★☆ (4/5) |
| Customer satisfaction | ★★★★☆ (4/5) |
My Urban Workshop is woodwork store that offers wood-cutting services and specializes in creating fine pieces of furniture all made from wood.
It offers products like cutting boards, laser-etched wooden signboards, and even custom wooden furniture.
As one of Ottawa's most reliable and affordable wood-cutting services, its team is equipped and experienced enough to route, drill, and cut according to your needs. It even cuts bamboo and laminates countertops too.
This shop charges an hourly rate of less than a hundred bucks and further in increments of 15 minutes. For bamboo, it charges a higher premium at a little less than a hundred and fifty since the material is more abrasive.
The team at My Urban Workshop is dedicated to accuracy and making as little mess as possible. Sadly, it no longer accepts walk-ins for wood-cutting services so you'd have to schedule an appointment for it.
If you're interested in seeing some of its past work, pictures are available on its website on the off-chance you want more than just wood-cutting done. We're honestly quite impressed at the skills of its team to be able to go from wood-cutting to woodwork.
It speaks a lot about its level of skill and My Urban Workshop is not lacking in that department. What it does lack is better scheduling and customer service, because there have been some complaints in that regard.
Variety of services
Hourly rate
Also cuts bamboo
Messy scheduling
Bad customer service
Customer Reviews
Very skilled and knowledgeable
"Very friendly service with a willingness to help. I appreciated the help I received. Greg is very skilled and knowledgeable. The workshop is also very cool inside.
Thank you so much My Urban Workshop!" – Olga C.
Amazing place and great service
"Amazing place and great service. Greg is very helpful. If I need anything wood, I'm definitely coming back here." – Mario Ibrahim
2. Capital Timber Company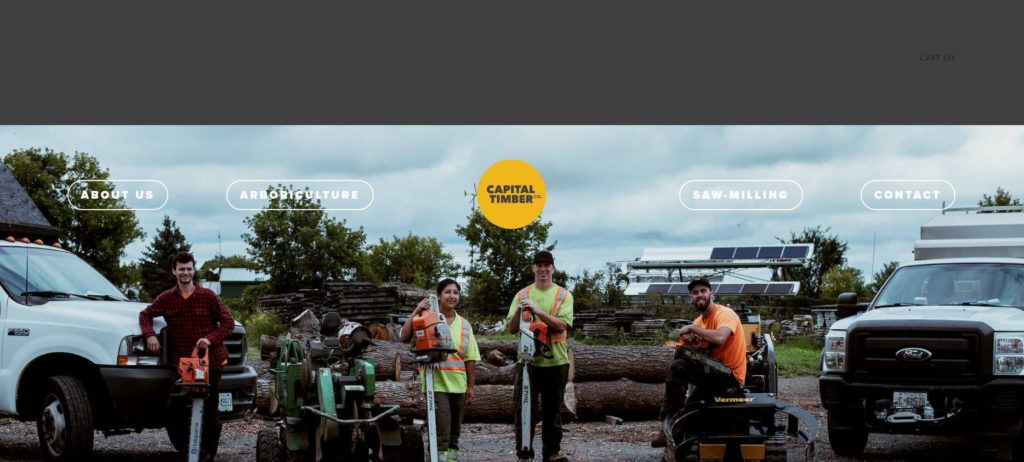 Test
Info
SERVICES
Wood-cutting services, tree pruning, tree removals, stump removals, support systems, emergency services
WEBSITE
https://capitaltimbercompany.ca/
ADDRESS
1394 Donald B. Munro, Carp, Ontario
CONTACT DETAILS
613 878 6799
OPERATING HOURS
Monday - Friday: 8:00 AM - 5:00 PM (by appointment)

Saturday - Sunday: CLOSED
| | |
| --- | --- |
| Rates | ★★★★☆ (4/5) |
| Equipment | ★★★★★ (5/5) |
| Professionalism | ★★★★★ (5/5) |
| Customer satisfaction | ★★★★☆ (4/5) |
The Capital Timber Company, as its name suggests, offers tree-related services of all kinds. This includes but isn't limited to, wood-cutting services, tree pruning, stump removals, and selling lumber.
From the start, we could already tell that this company is one that isn't afraid to get down and dirty to get the job done. When it comes to professionalism, its track record is almost spotless and past customers couldn't get enough of its stellar services.
As a small business owned and ran by a pair of siblings, it's nice to see the variety of services available. What's more, its focus on sustainability and tree preservation despite the nature of the industry it's in is simply admirable.
There's no need to worry when you hire the Capital Timber Company because it's insured up to $5 million in liabilities. Plus, its employees are covered by the Workplace Safety and Insurance Board.
With how much it cares for its own staff, you can rest assured that you'll be getting professional services for competitive rates.
When you're ready to avail of its wood-cutting services, you can bring them to the shop by yourself or get them delivered or picked up at its sawmill instead. Heck, once it's done, the wood can even be delivered right back to your place.
All in all, Capital Timber Company deserves its spot on our list. We just aren't fans of how you need an appointment to avail of its services.
Tree specialists
Small local business
Insured up to $5 million in liabilities
Offers delivery/pickup services
Customer Reviews
Did a great job
"Greg and Andrew cut down and removed an extremely large pine tree which had fallen on neighbour's property during the recent storm in Ottawa. It was a complicated job which they carried out in a highly professional manner. The job required important decision making and precision in cutting. We were very happy with not only the job carried out but with their positive attitude. They did a great job cleaning up branches and debris. We highly recommend Capital Timber. Best of all the tree was taken to their mill for processing into a lumber product. Nice to know the tree will live on!" – Jill Dale
High quality and very professional
"I had a tall red oak that had to be removed from my cottage property and I wanted to use the lumber for wood working projects. Capital Timber did an excellent job at both removing the tree and sawing it into about 500+ board feet of quarter-sawn lumber. They even delivered the lumber back to my cottage after one year air drying at their saw mill. Thanks so much for your high quality and very professional service. I definitely recommend Capital Timber for trees that you wish to salvage for lumber." – Robert Klassen
3. Cooper Creations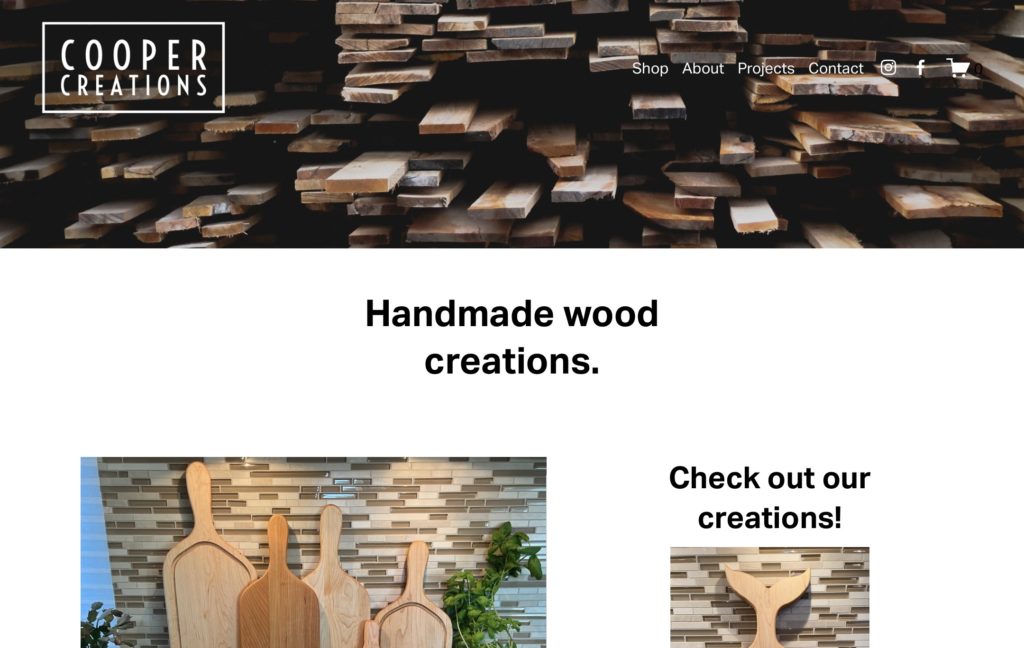 | | |
| --- | --- |
| Rates | ★★★★★ (5/5) |
| Equipment | ★★★★★ (5/5) |
| Professionalism | ★★★★☆ (4/5) |
| Customer satisfaction | ★★★★☆ (4/5) |
Oh boy, let us tell you about our wild ride with Cooper Creations, the wood cutting wizards of the modern era.
When it comes to services, these guys don't mess around. They carved their way into our hearts with their precision cuts and impeccable craftsmanship.
From delicate designs to intricate patterns, they can turn any piece of wood into a work of art. It's like they have a magic wand disguised as a saw.
Convenience? Check.
These wood warriors made our lives easier than a Sunday morning. With a snap of our fingers, they were at our doorstep, ready to turn our dreams into reality.
No more schlepping wood around or struggling with clumsy tools. Cooper Creations brought the convenience right to our doorstep.
These guys are also the talk of the town. Everyone and their grandma has sung praises about their woodworking wizardry, which impressed us.
It's like they have a secret pact with the wood gods, ensuring every customer walks away with a smile and a jaw-dropping piece of art. They've built a reputation so strong, it could probably support the weight of a thousand logs.
Now let's talk about the big one: cost.
Listen, quality craftsmanship doesn't come cheap, but these wood whisperers know how to find the sweet spot. Their prices won't leave your wallet crying for mercy, and the value you get in return is worth every penny.
However, their schedule can get pretty jammed up during peak seasons. We suggest calling them to reserve a slot so you can customize your dream furniture.
Superior craftsmanship
Convenient doorstep service
Stellar reputation
Affordable pricing
Can get busy during peak seasons
Customer Reviews
"Ordered a custom made magnetic knife holder. He went to pick out the material with me and finished the product on the same day. The product is sleek and very functional with delivery speed faster than amazing prime, amazing!" — Vincent
"I've seen first hand how much work, time, and attention to detail Calvin Cooper puts into making all of his wood working projects! Truly remarkable. Solid and made to last a lifetime! As well, the premium, high end wood he uses is the very best! You will be in awe of the work. I will only buy from Cooper because I trust what I get will be the highest end product out there!" — Eileen
4. Clarence Creek Wood Select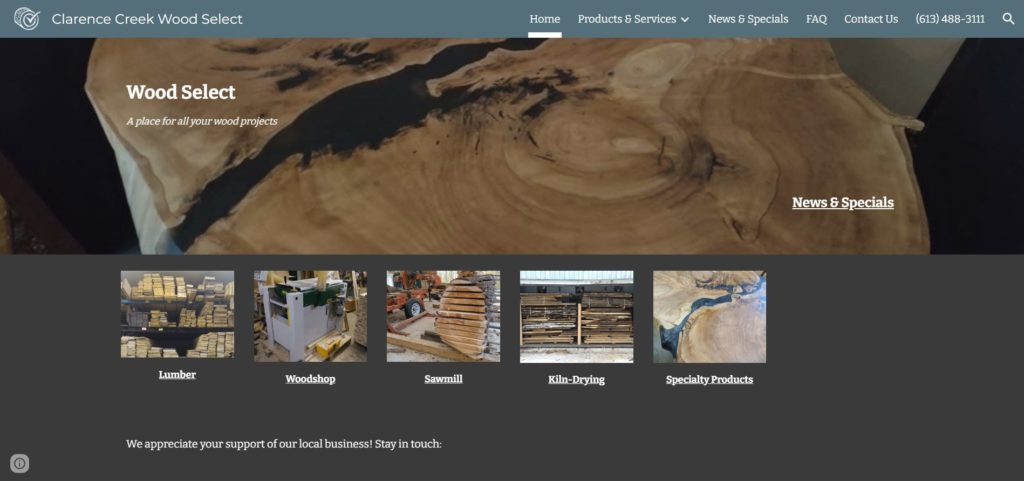 Test
Info
SERVICES
Wood-cutting services, kiln-drying, specialty products, lumber, woodshop
WEBSITE
https://www.woodselect.ca/home
ADDRESS
1571 Bouvier Rd, Clarence Creek, ON K0A 1N0, Canada
CONTACT DETAILS
613 488 3111
OPERATING HOURS
Tuesday - Friday: 9:00 AM - 5:00 PM

Saturday: 9:00 AM - 1:00 PM

Sunday - Monday: CLOSED
| | |
| --- | --- |
| Rates | ★★★★☆ (4/5) |
| Equipment | ★★★★☆ (4/5) |
| Professionalism | ★★★★★ (5/5) |
| Customer satisfaction | ★★★★★ (5/5) |
Clarence Creek Wood Select is a woodworking supply store that offers wood-cutting services using its own sawmill. It also has kiln-drying services available if you want a smoother finish to your wood instead of just a rough cut.
This shop allows customers to bring their own logs and even wait while the wood-cutting process is underway sometimes. Depending on the number of clients it has for the day, this might not always be possible.
If it's a small job, there's a higher chance you'll be allowed to wait for your order while they process your wood. Keep in mind that it doesn't allow any clients to watch the actual wood-cutting for safety reasons.
To make it easier for the staff at Clarence Creek Wood Select to process your wood, it's encouraged for customers to cut their wood into appropriate sizes before bringing it. At least 5ft in length is required.
For clients that want to use a felled tree, you can still avail of its wood-cutting services by giving its office a call. This is especially great for people who don't want to waste fallen trees on their property after a storm or if trees have sentimental value.
Has its own sawmill
Can also process fallen trees
Can be hard to book during peak seasons
Customer Reviews
Great to deal with
"Very nice people and great to deal with. The kind of personal touch you rarely find these days." – Sanden McNally
Excellent
"Excellent price, excellent inventory, excellent product." – Andrew Greenlaw
5. Malwood Sawmills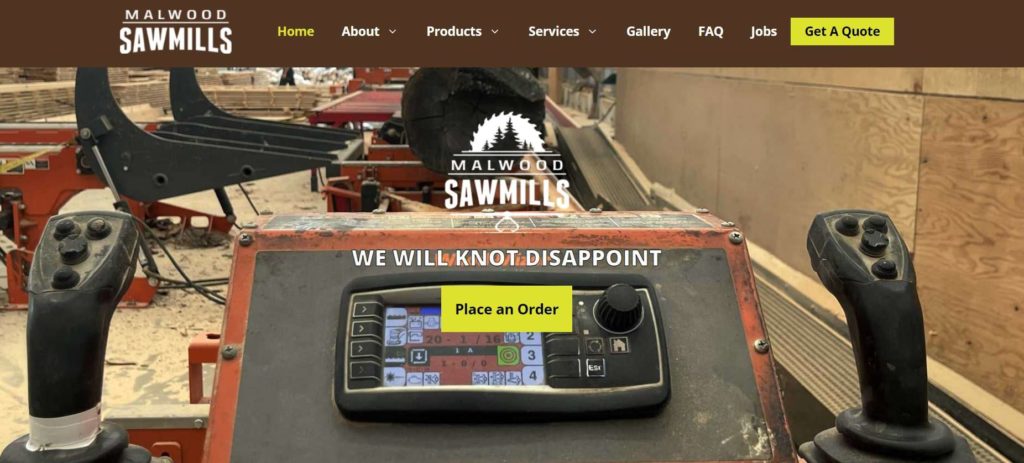 Test
Info
SERVICES
Wood-cutting services, kiln-drying, mulch shavings, firewood & kindling
WEBSITE
https://malwoodsawmills.ca/
ADDRESS
3609 County Road 21 Spencerville ON K0E 1X0
CONTACT DETAILS
613 884 9457
OPERATING HOURS
Monday - Friday: 8:00 AM - 5:00 PM

Saturday: 8:00 AM - 1:00 PM

Sunday: CLOSED
| | |
| --- | --- |
| Rates | ★★★★☆ (4/5) |
| Equipment | ★★★★★ (5/5) |
| Professionalism | ★★★★★ (5/5) |
| Customer satisfaction | ★★★★☆ (4/5) |
Malwood Sawmills doesn't just offer wood-cutting services. It also has a variety of products in store like lumber, mulch shavings, firewood & kindling, etc. It has a good amount of boards available in different sizes and different types of wood.
Thanks to its state-of-the-art equipment, it's capable of professionally cutting various kinds of wood. Its equipment includes an on-site portable sawmill, engine-powered hydraulic log handling and head controls, and a 55HP diesel engine.
Furthermore, it can produce siding & paneling, tongue & groove, v-joint, shiplap, wainscoting, decking, dimensional lumber, and specialty products for cabinetry. The good thing is, even with all of this, it still offers affordable prices for its services.
So you're not just getting some rough-cut lumber out of your logs, you can customize your orders and get more specialized products. One of our favorite things about Malwood Sawmills is that it does deliveries too!
You can avail of its own delivery services or if you're getting someone else, it can also stack and strap down your processed wood before being picked up. Just make sure someone is there to help do the unloading if you plan on availing of its delivery service.
So far, everyone who's worked with this service had nothing but good things to say about it. What we're worried about though is one customer who expressed their dissatisfaction, but refused to elaborate further on what got them so iffy.
Wide selection of services
State-of-the-art equipment
Has delivery service
Customer Reviews
Amazing and quick service
"Amazing and quick service! Dave from Mawood was more than happy to accommodate a single piece of custom cut lumber for a project I was working on." – Deanna Lichti
Great job
"Any one out there looking for nice kiln dry lumber ,call Dave @ Malwood Sawmille Local ,got a load yesterday very please with the way it was dry easy to plane because they did a great job cutting the boards ,Dave can even plane it for you" – Claude Blanchette
6. JFS Enterprises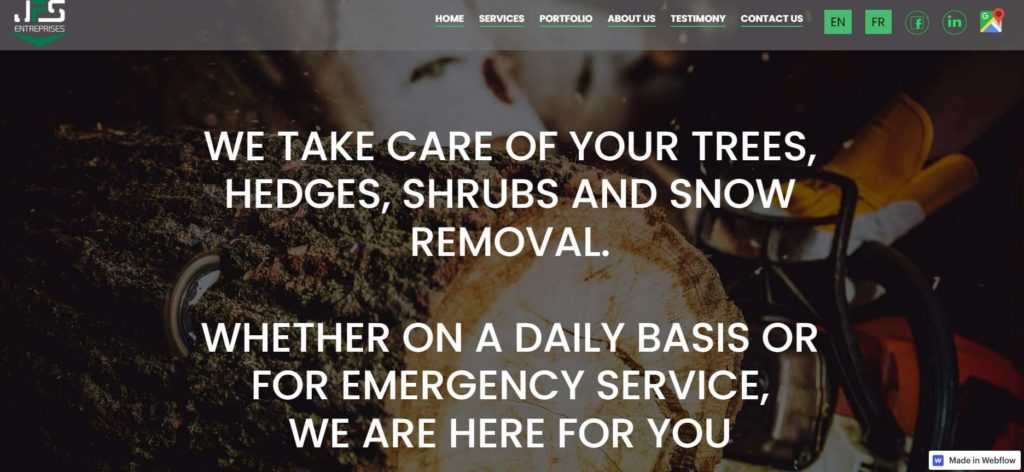 | Test | Info |
| --- | --- |
| SERVICES | Wood-cutting services, tree removal, tree pruning, stump removal |
| WEBSITE | https://www.arbresgatineau.com/home |
| ADDRESS | 399 Dalhousie St, Ottawa, ON K1N 9K4, Canada |
| CONTACT DETAILS | 613 606 1316 |
| | |
| --- | --- |
| Rates | ★★★★☆ (4/5) |
| Equipment | ★★★★☆ (4/5) |
| Professionalism | ★★★★★ (5/5) |
| Customer satisfaction | ★★★★★ (5/5) |
When we talk about wood-cutting services, it doesn't just talk about putting logs through a saw-mill to be processed into lumber for whatever woodworking project you want. To be specific, it's the act of cutting through wood that is no longer alive.
This is why we added JFS Enterprises as the final entry in our list of the best wood-cutting services in Ottawa.
It doesn't just remove living trees, it also works with dead trees that have been felled by strong winds, ergo, a wood-cutting service.
We mentioned in some of the previous services we listed that, aside from nuisance trees, dead trees can also be sent to sawmills. However, most sawmills prefer the wood to already be cut and processed to some degree.
That's why JFS Enterprises had to be included here — you need a service that will cut down your dead trees to more manageable sizes first. Once they've downsized, you can then contact the other services we listed to process them further.
From what its clients have been saying, they're definitely fans of how this business is run. Whether it's about professionalism or quality of service, people couldn't be happier.
We can only wish that it has more wood-cutting services available, but it's gonna need to invest in more wood-cutting-specific equipment to be able to add to its catalog.
Can handle heavy wood-cutting projects (i.e. dead trees)
Professional
Satisfied customers
Lack of more wood-cutting services
Needs more wood-cutting equipment
Customer Reviews
Excellent
"I cannot speak highly enough about this company!!! Professional. Quick to respond. "Nose to the grindstone" type of worker with all of the necessary equipment with him to do anything! This is the beginning of a long relationship I KNOW! Excellent!!!" – Carole Evans
Fantastic service
"Fantastic service. Had 2 large trees fall on my property – they were here same day and were fantastic. Extremely professional, polite, and took great care in insuring other surrounding trees were not damaged. They even followed up the following day to make sure I was happy with the service – wow!! Highly recommend and will absolutely be calling this company again. Many thanks." – Sonja
FAQs about Wood Cutting Services in Ottawa
---
If you're interested in other wood-related services, feel free to check out our article on the best woodworking services in Ottawa!