The 7 Best Website Builders in Ottawa
Website building is not an easy task. It needs a lot of skill to get the best results.
However, Ottawa has numerous companies that offer website-building services that can help you get started.
We will be reviewing the best website builders in Ottawa to help you find the right company for your type of business so you can build a professional website easily and effectively.
How much does it cost to hire a website builder?
The costs of website building will depend on various factors, including the number of
pages, features included, the type of design, etc.
Depending on the type of website you are looking for, prices can range anywhere from $100 – $1,000 per month.
The table below should provide you with a good overview of the different services you can choose from depending on your needs and budget.
| Website Type | Average Cost | Annual Recurring Fees |
| --- | --- | --- |
| Brochure Website | $600 - $1,500 | $150+ |
| Medium E-Commerce Site | $1,000 - $6,000 | $600+ |
| Large E-Commerce Site | $5,000 - $50,000 | $700+ |
| Website w/ Online Store | $40 - $100 monthly | N/A |
| Custom Website (multiple features and pages) | $10,000 - $75,000 | $3,000+ |
The Best Website Builders in Ottawa
To pinpoint the best website builders in Ottawa, we had to go deep and look at a lot of companies. Our list is based on the following criteria:
1. FullView Design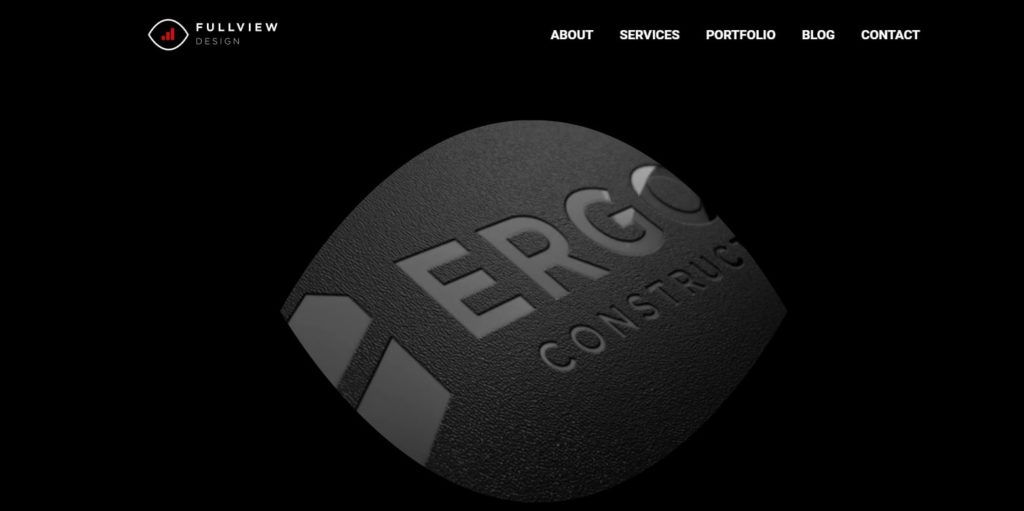 Test
Info
SERVICES
Website Design, Website Development, eCommerce, SEO, Print Design, Email Marketing, Digital Marketing, Photography, Video Production, Creative Consultation
WEBSITE
https://fullview.ca/
ADDRESS
207 Bank St Suite 407, Ottawa, ON K2P 2N2, Canada
CONTACT DETAILS
613-703-0003
OPERATING HOURS
Monday 8:30AM–4:30PM

Tuesday 8:30AM–4:30PM

Wednesday 8:30AM–4:30PM

Thursday 8:30AM–4:30PM

Friday 8:30AM–4:30PM

Saturday Closed

Sunday Closed
| | |
| --- | --- |
| Criteria | Ratings |
| Rates | ★★★★(4/5) |
| Availability | ★★★★(4/5) |
| Expertise | ★★★★★(5/5) |
| Feedback | ★★★★★(5/5) |
FullView Design on Bank St. offers website design, development and hosting services, and more.
Established in 2006, it has a wide range of services to choose from, making it an ideal choice for businesses in Ottawa looking for versatility.
Its founder and director, Stephane Trottier, has over 15 years of experience designing and building websites from scratch.
Along with his team of developers, editors, and graphic designers, FullView is ready to work with you to create stunning new websites.
If you already have an existing website and just need to update it, the company is able to offer website maintenance as well.
If you're interested, it is able to meet its potential clients online or in person to discuss the types of services it offers and the process for working with its team.
Its portfolio is featured on its website, so anyone interested can take a look and see what the company is capable of.
Fullview has received impressive feedback from its previous clients, so you can be sure that you will be in great hands if you decide to work with the agency.
Pricing is the only aspect of the company that can turn off some potential clients, but it's important to remember that the quality and variety of services you get in return can make the price well worth it.
Has a team with multiple expertise
Creative and unique ideas
Online consultation
Online portfolio
Customer Reviews
Proficient
"If you are looking for a reputable and proficient website designer, I highly encourage you to contact the staff at FullView Design. They are extremely professional, knowledgeable, polite, and courteous." – Annyx Day
Thank you
"We could not be happier with the work done by Stephane and the team at Full View. It has been about a year since we've obtained their services and our schedule is completely full and we're booking into the middle of next year. Their Search Engine Optimization services work very well and we've had a great return on our investment. Thanks Full View!" – Eduard Black
2. Web Design Ottawa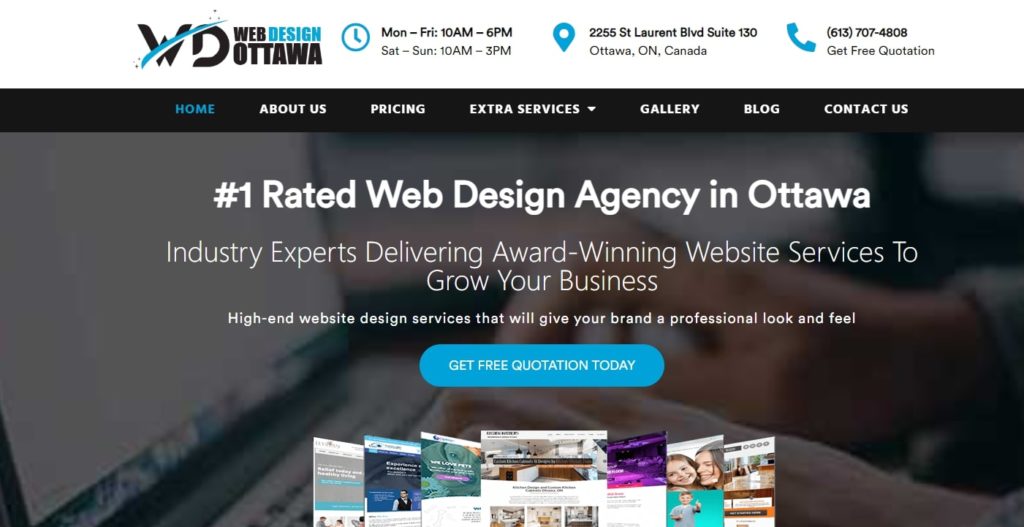 Test
Info
SERVICES
Web Design, Website Building, Digital Marketing, Google Ads Management, Hosting Services, Web Security
WEBSITE
https://webdesignottawa.com/
ADDRESS
2255 St. Laurent Blvd Suite 130, Ottawa, ON K1G 4K3, Canada
CONTACT DETAILS
613-707-4808
OPERATING HOURS
Monday 10AM–6PM

Tuesday 10AM–6PM

Wednesday 10AM–6PM

Thursday 10AM–6PM

Friday 10AM–6PM

Saturday 10AM–3PM

Sunday 10AM–3PM
| | |
| --- | --- |
| Criteria | Ratings |
| Rates | ★★★★★(5/5) |
| Availability | ★★★★ (4/5) |
| Expertise | ★★★★(4/5) |
| Feedback | ★★★★(4/5) |
Laurent Boulevard's Web Design Ottawa is the company for you if you're looking for a website builder that has a particular focus on web security and Google ads.
With over 500 websites under its belt, it's safe to say that it is one of the most trusted names in the industry. It also provides services such as web design, web hosting, SEO, and more.
We love that it's affordable compared to its competitors and its customer support team is also quick to respond. However, because of this, it has a lot of clients and takes quite some time to turn around some projects.
Still, the company is able to create impressive-looking websites with unique features and advanced functions that make them stand out.
It offers terrific customization options so you can make sure the website suits your brand perfectly.
Web Design Ottawa can tweak existing websites as well and offers regular maintenance packages to keep things running smoothly.
If you want to look at the company's portfolio and previous projects, you may do so on its site. It even has a live counter of all the projects it has worked on so far.
To put it simply, Web Design Ottawa, if given the proper amount of time, can design and build a website that definitely makes a mark.
Affordable compared to others
Security focused
Good customization options
Project counter
Free quotation
Customer Reviews
Best choice
"Started my real estate business from ground zero and I came across this company…Web design Ottawa agency was the best choice. They were able to deliver just what I wanted with a good price and expert advice, they were very professional and able to deliver. Highly recommend you reach out to them!" – Ahmad Moharam
Helped a lot with an urgent project
"I was looking for a web design company in Ottawa for an urgent project. WebDesignOttawa took on a project that was both incredibly difficult and had an aggressive deadline, but they delivered the website ahead of schedule with no hiccups. Looking forward to do more business together." – Helmy Shaklya
3. Algorank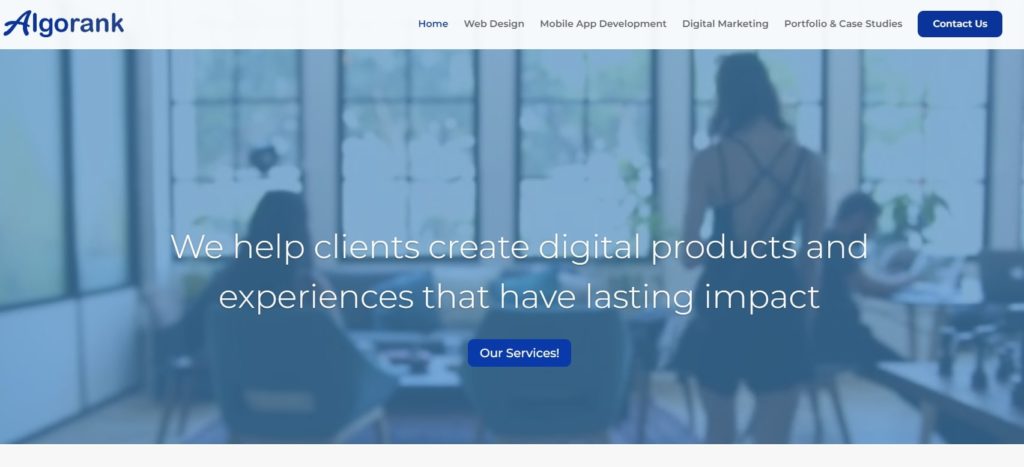 Test
Info
SERVICES
Website Building, SEO, Web Design, Mobile App Development, Digital Marketing
WEBSITE
https://algorank.ca/
ADDRESS
115 Bank St, Ottawa, ON K1P 5N5, Canada
CONTACT DETAILS
613-416-9512
OPERATING HOURS
Monday 9AM–5PM

Tuesday 9AM–5PM

Wednesday 9AM–5PM

Thursday 9AM–5PM

Friday 9AM–5PM

Saturday Closed

Sunday Closed
| | |
| --- | --- |
| Criteria | Ratings |
| Rates | ★★★★ (4/5) |
| Availability | ★★★★ (4/5) |
| Expertise | ★★★★★(5/5) |
| Feedback | ★★★★★(5/5) |
Algorank provides top-notch website-building services in Ottawa that make it easy to create a professional, engaging site that feels on-brand and reflects your unique business.
This is because it specializes in search engine optimization and algorithm-friendly branding.
The people behind Algorank believe that increasing your site's traffic will surely lead to increased sales and other positive outcomes for your business.
We love how this company's team does its research, asking their clients about their target customers and competitors before creating a design that reflects the client's personality, product or service, and business goals.
Another unique thing about Algorank is its expertise in designing how sites look on smartphones and mobile apps.
A lot of business owners don't know how to respond to this growing trend because it requires much more technical knowledge than traditional web design.
The only drawbacks of this company are its pricing and the fact that it's unavailable on weekends. Still, Algorank has a lot to offer businesses and we think it's a great choice for anyone who wants to start a website from scratch.
Multiple notable clients
SEO specialty
Mobile app focused
Has worked with different types of companies
Pricey
Unavailable on weekends
Customer Reviews
Great 4 years
"We have worked with Algorank for the past 4 years and they never disappoint. Their team is friendly and knowledgeable each time we connect, and the job always exceeds our expectations. Algorank worked on our web design and SEO, and we couldn't be more happier with the results. Excited to keep our relationship going and would highly recommend this company!" – Roberto R.
More leads
"After some research and referrals we ended up working with Algorank. Since choosing Algorank, we have seen more leads, better traffic flow to our website and they really gave us the professional look we were looking for." – Jesse Fernandes
4. Studio Crescent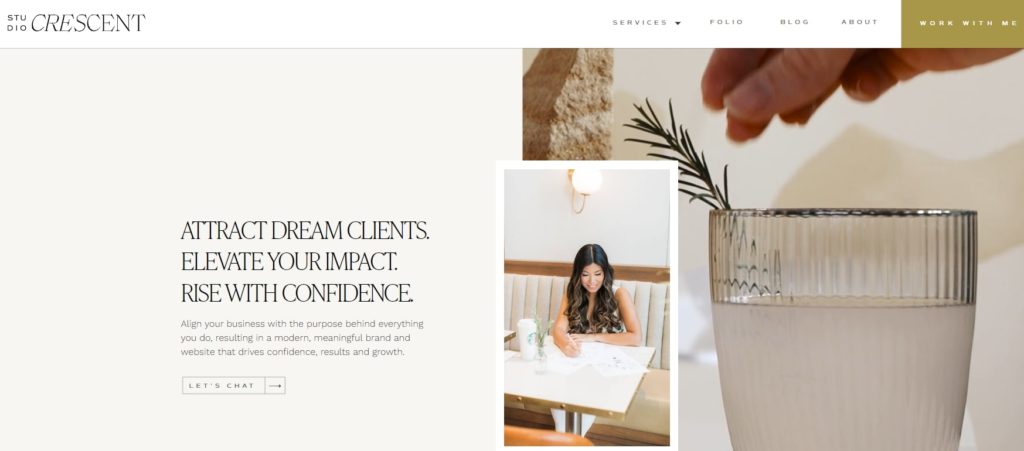 Test
Info
SERVICES
Web Building, Web Design, Branding, Custom Design, Design Intensives
WEBSITE
https://studiocrescent.co/
ADDRESS
1047 Edmond Ave, Ottawa, ON K1G 2P9, Canada
CONTACT DETAILS
OPERATING HOURS
Monday 1–4PM

Tuesday 12–5PM

Wednesday 12–5PM

Thursday 12–5PM

Friday 12–3PM

Saturday Closed

Sunday Closed
| | |
| --- | --- |
| Criteria | Ratings |
| Rates | ★★★★ (4/5) |
| Availability | ★★★★ (4/5) |
| Expertise | ★★★★★(5/5) |
| Feedback | ★★★★(4/5) |
Studio Crescent is a small business that focuses on website design and development. Located on Edmond Avenue, the company specializes in strategy, design, development, and hosting for numerous types of businesses.
What makes it awesome is the freebies that it offers for new clients. After your first conversation with a staff member about your website goals, they will offer you a free custom logo with your company's colors and a template to get you started.
Jess, the company's CEO, is a website design expert and personally oversees all projects. The personal touch she gives each client is unique to Studio Crescent's business model.
The company also offers very affordable monthly packages, which are perfect for startups and small businesses who want to build their online presence on a budget.
The young and sleek designs of this website builder are what make it stand out from the competition. If you are looking for a clean and modern website for your business, we highly recommend working with this one.
Unfortunately, it's not the best choice if your company is big and has a website that needs constant maintenance because Studio Crescent only has a small team of developers.
It's a better choice for companies who need a simple website to market their business online.
Offers freebies
Great portfolio
Perfect for start-ups
Young and sleek designs
Not for bigger companies
Small team
Customer Reviews
One of the best decisions I made
"Working with Jess is one of the best decisions I have made for my business. Jess helped me with a brand refresh, design services, and website customization." – Cassandra Boryszak
Took the time to understand my company
"I booked a design intensive experience with Jess and I was so impressed with how much she managed to accomplish in such a short period of time! The whole process was seamless and I had very little feedback as she really took the time to understand me, my style and my vision for my company." – Carolyn Greathead
5. Ignite Web Solutions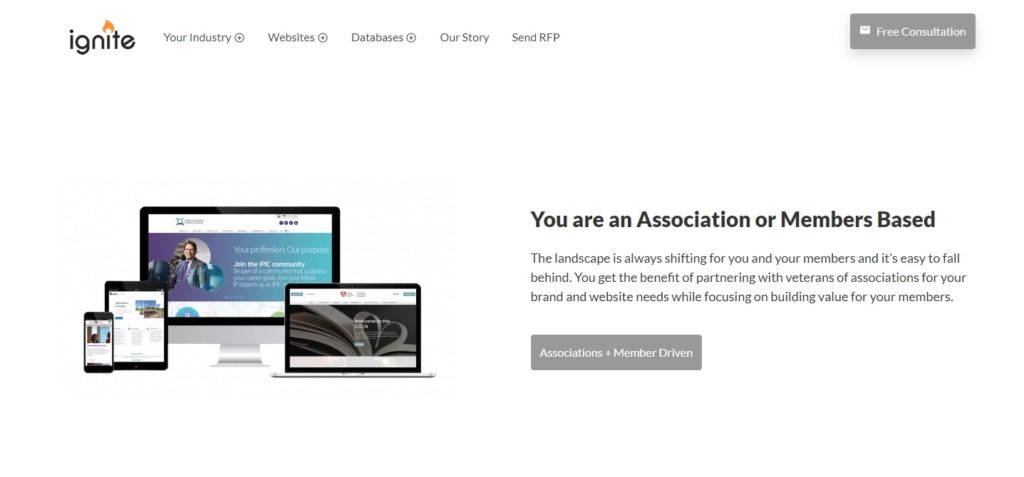 Test
Info
SERVICES
Website Building, Web Design, Search Engine Optimization, Database Services, Logos & Branding
WEBSITE
https://ottawawebdesign.ca/
ADDRESS
1402 Star Top Rd Suite 200M, Ottawa, ON K1B 4V7, Canada
CONTACT DETAILS
613-244-9475
OPERATING HOURS
Monday 9AM–4PM

Tuesday 9AM–4PM

Wednesday 9AM–4PM

Thursday 9AM–4PM

Friday 9AM–4PM

Saturday Closed

Sunday Closed
| | |
| --- | --- |
| Criteria | Ratings |
| Rates | ★★★★★(5/5) |
| Availability | ★★★★(4/5) |
| Expertise | ★★★★(4/5) |
| Feedback | ★★★★★(5/5) |
Ignite Web Solutions provides free consultations and affordable website design and development services in Ottawa.
Its small team of professionals has over a decade of combined experience in the web development and design industry.
The company has worked with numerous notable clients and is known for delivering high-quality, customized websites within the stipulated time and budget.
It's also a good choice if your business is hosting events, such as fundraisers, campaigns, and conferences, that need to be featured on your website.
Besides website design and hosting services, Ignite also offers graphic design at affordable rates. This can help with branding and marketing efforts for your business.
However, it should be noted that Ignite's team is small, which can be a problem for bigger and more established corporations. If you're still growing your business and are in need of a less expensive solution, then this is a good option for you.
If your site needs a brand new look or you've just launched a new pursuit and need a user-friendly site that reflects the personality of your business, Ignite might be the right company to contact.
Free consultation
Fresh ideas
Has worked with multiple clients
Affordable
Customer Reviews
Topnotch and dedicated
"One of the best website developer. We have been working with Ignite Solution for about 2 years. Customer support and technical support are top-notch. All team members are professional and dedicated." – Sean Kim
Reasonable pricing
"Ignite Web Solutions has provided the hosting service for my web site for many years. The site traffic has been exceptional. Any issues with the web site or any changes requested are always dealt with quickly. This is a great service for a reasonable cost!" – Steve Silverthorn
6. JavaLogix
SERVICES
Website Design, social media marketing, SEO, branding, PPC, reputation management, content marketing, marketing consultant, and funnel building.
WEBSITE
https://javalogix.ca
ADDRESS
Ottawa, Ontario, CA
CONTACT DETAILS
[email protected]
(514) 226-2940
OPERATING HOURS
Monday – Sunday, 24 hours
| | |
| --- | --- |
| Criteria | Ratings |
| Rates | ★★★★★(5/5) |
| Availability | ★★★★(4/5) |
| Expertise | ★★★★(4/5) |
| Feedback | ★★★★★(5/5) |
Java Logix is one of the leading full-service digital marketing agencies in Ottawa. They aim to provide ingenious solutions to grow their client's businesses and open new avenues and choices by offering effective marketing strategies
They are dedicated to uphold their goals by exploiting search engines, social networks, and other digital marketing options, working tirelessly to offer their clients worth for their investments.
With 9 outstanding services revolving around website design, search engine optimization, and content marketing, they offer realistic solutions and provide traffic growth and conversions based on in-depth analysis and expert opinion.
Among their services, we particularly liked their website design because they do not only make the website look stunning. They also ensure that it is speed optimized and search engine optimized.
We highly recommend their services for people who are looking to make their company's presence shine or for people who own a start-up or fast growing company.
Provides realistic and personalized solutions
Client-based services
Great customer support
Available 24/7
Rates are not available online
Customer Reviews
Java Logix has a great knowledge for web design and has a well knowledgeable network to help a client benefit.
"We had a great experience working with Preston and the Java Logix team. Preston helped us launch our business and never once made us feel like we were too demanding or asking for too much. They held firm to their quote for service and never sent us a surprise invoice. Java Logix has a great knowledge for web design and has a well knowledgeable network to help a client benefit. We plan to work with Java Logix again in the future on projects as they come about." – Scott Hurren
Very creative and deliver great success to our business!
"We have been working with Preston at Javalogix for the last 2 years and the team has been great. Proven results with each campaign we have taken on with this company and always a pleasure to deal with. Very creative and deliver great success to our business! Also built an amazing website. I highly recommended them." – Diana D
7. Vito Creative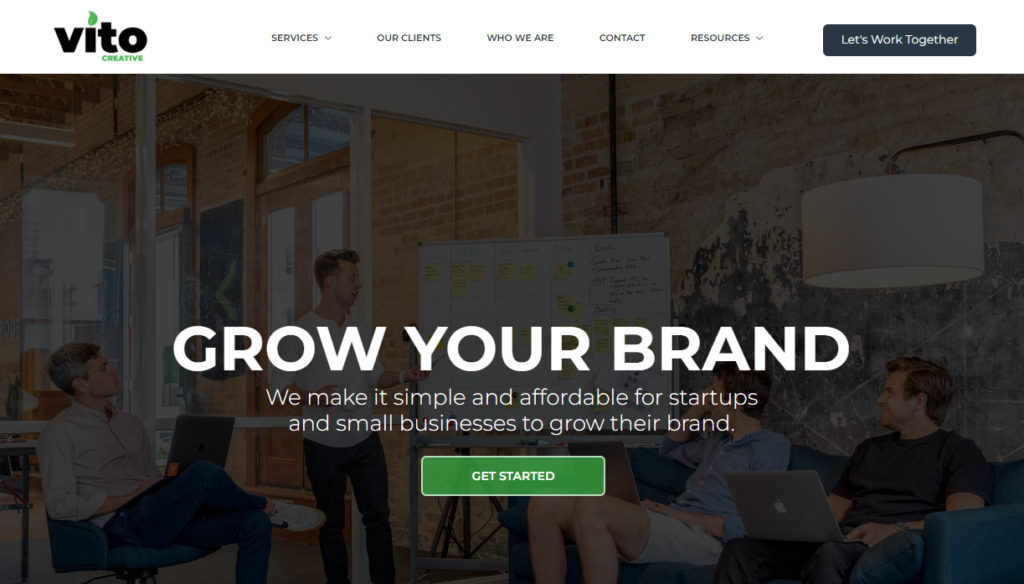 | Test | Info |
| --- | --- |
| SERVICES | Website Design, SEO, SEM & PPC, Content Marketing, Social Media Marketing, Email Marketing, VIdeo & Photography |
| WEBSITE | http://vitocreative.com |
| ADDRESS | 199 Slater Street, Ottawa, Ontario, Canada |
| CONTACT DETAILS | (613) 485-3359 |
| OPERATING HOURS | Open 24 hours |
| | |
| --- | --- |
| Criteria | Ratings |
| Rates | ★★★★(4/5) |
| Availability | ★★★★(4/5) |
| Expertise | ★★★★(4/5) |
| Feedback | ★★★★(4/5) |
Your website is a crucial part of your brand, one that contributes to your success.
With Vito Creative, you have an experienced team of website builders in Ottawa who can help design and build a website that best represents your branding and logo design.
They are committed to providing high-quality websites that meet the latest web standards. Their team has extensive knowledge and experience in web design, development, branding, and logo design.
Another reason we recommend Vito Creative is their customer service. They are always available to answer any questions and provide guidance. They are also dedicated to providing ongoing website maintenance services, ensuring that your website is always up-to-date with the latest technology and trends.
Simply put, Vito Creative offers reliable website builders in Ottawa who can deliver creative branding solutions for all types of businesses. We highly recommend them to anyone looking for professional branding solutions including logo design and website building.
Simple and affordable solutions
Especially helpful for startups and small businesses
Wide range of services
Few reviews on Google and Facebook
FAQs about Website Building
---
That finishes our list of the best website builders in Ottawa. For more knowledge on maintaining a website, you may be interested in reading about the signs that you need a website refresh.